Crop Protection Chemicals Market Outlook
Food Security and High Yielding Crops Create Unprecedented Demand for Crop Protection Chemicals
World's population is expected to reach 9.8 billion by 2050, which is likely to have huge impact on cultivable land that remains on the decline. The pressure of reconciling these issues gets more complicated with the constant pressure of food security, creating a demand better yield.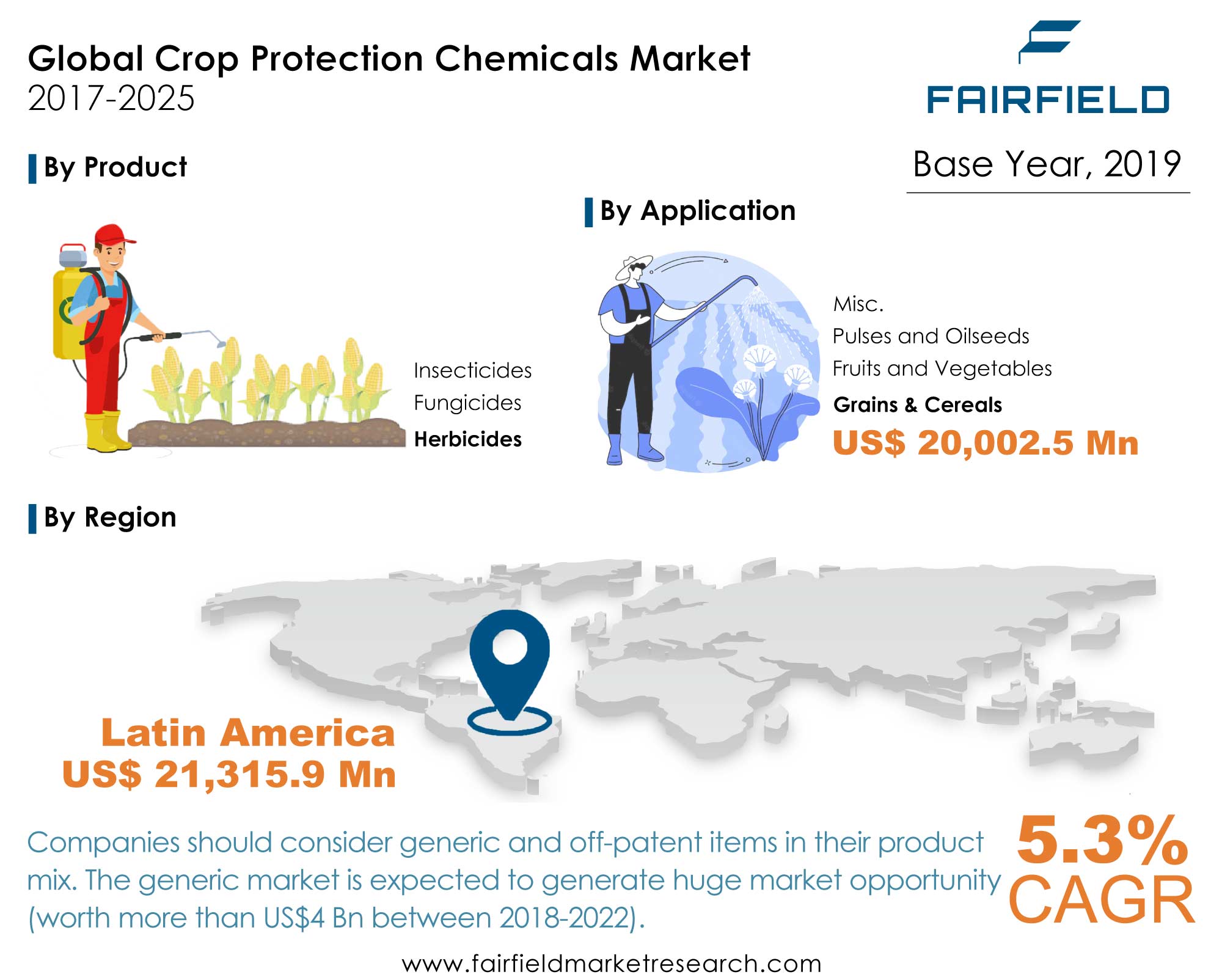 Study indicates that in developing economies the arable area per person will drop by more than 60%. Crop protection chemicals are the most economical way to improve the crop quality and yield. The crop protection chemicals market is constantly evolving especially in terms of product innovation, efficacy, and regulatory regime. Today, crop protection chemicals industry offers more than 800 active ingredients as compared to late 70's where only 100 active ingredients were available in the market. Herbicides, fungicides and insecticide were the most widely used crop protection chemicals across the globe.
In 2018, crop protection chemicals market was valued at US$64.3 Bn and it is expected to reach US$83.5 Bn by 2025, registering a healthy growth of 5.3% between 2021 and 2025. Historically, herbicides have dominated the crop protection chemicals market, accounting for more than 50% market share in 2018. These are used to regulate growth of weeds that otherwise reduce the crop acreage and yield. Modern herbicides are designed to be very selective in their role to minimize the impact on plant growth.
Furthermore, due to their efficacy the application per hectare has also declined in the past few years. Fungicides were second-largest consumed crop protection chemicals across all the regions. Fungal infection has been a major concern among the farmers with research showing at least 100 million tons of rice, wheat, corn, and soybeans being destroyed every year. Without usage of fungicides yield of majority of fruits, vegetables, and cereals would fall by 60%-70%.
Study indicates that the grains and cereals segment was the largest consumer of crop protection chemicals in 2018 and accounted for more than 30% in the global market. Wheat, rice, and corn had the major consumption of crop protection chemicals and is expected to continue similar trend over the coming years.
Latin America to Lead Crop Protection Chemicals Market
Asia Pacific and Latin America remained the largest crop protection chemicals markets in 2018. Latin America will be the fastest-growing market for crop protection chemicals and is expected to surge at a CAGR of 6.3% from 2021-2025. Worm, weed, and fungi infestations have become a key challenge in improving the crop quality and yield in the region. Evolving technologies and advancements in farming techniques have spurred the growth of crop protection chemicals in the region. In Latin America, Brazil, and Argentina continue to exhibit healthy growth rates. Brazil is one of the largest importers of crop protection chemicals. The country has approved record number of pesticide registrations in between 2018 and 2019, highest since 2010. Brazil, China, India, Southeast Asian countries are the fastest-growing markets owing to rise in demand for healthier and sustainable food.
Asia Pacific has shown rapid growth in population and relies heavily on other regions to meet the food demand. Since 2015, China has been continuously restructuring their crop protection chemicals market and adopted a 'zero-growth' action plan to regulate the consumption of crop protection chemicals by 2020. This in turn, is expected to slightly derail the growth of pesticide consumption in Asia Pacific region. Climate change, characterized by unexpected rain, dry weather, drought, and flooding, has severely impacted the demand for crop protection chemicals market in Europe and North America region. To add on, stringent regulatory regime and phasing out of key products/active ingredients are likely to have detrimental effect on the market growth.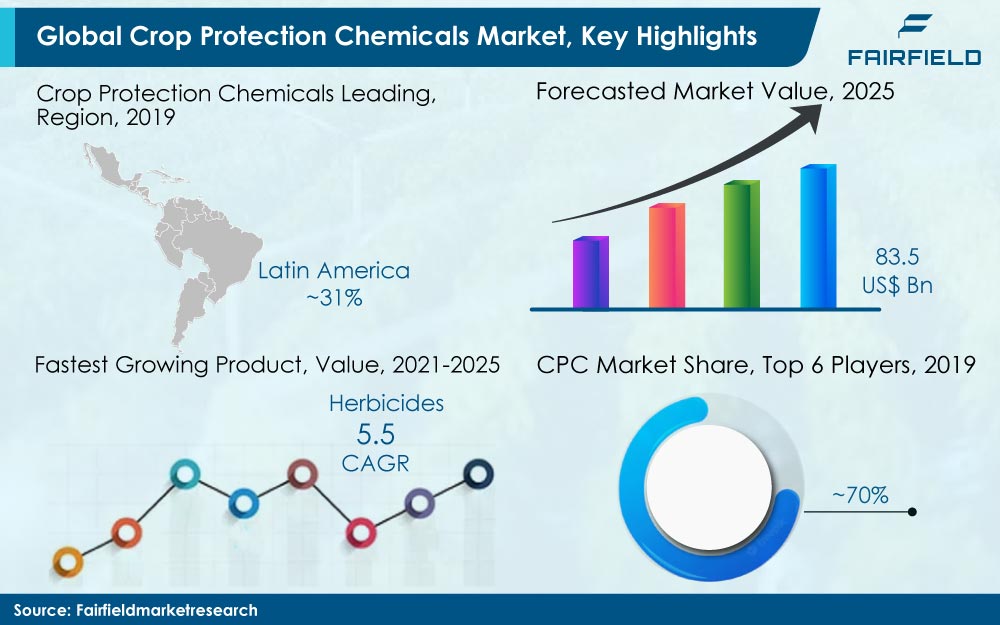 Integrated Pest Management (IPM) and Sustainable Farming a Key to the Future
The global crop protection chemicals market will play an important role in sustainable farming. Agronomy, technology, and societal changes are key elements in reshaping the crop protection chemical business. Rapid adoption of technologies has gained momentum in various applications such as spraying, harvesting, and others.
Digital platforms have also become feasible due to connectivity with improved agronomic guidance on various fungi and weed. There is a significant growth of Internet of Things (IoT) within the agriculture industry. IoT is expected to revolutionize the agricultural output and farming practices over the coming years. Furthermore, continuous development in IoT has also brought in major success in on-field pest management. Farm owners can select from wide range of sensors to monitor growth of pests and take necessary countermeasures to manage them depending upon the inputs and analytics.
Integrated pest management (IPM) has also become an effective and complete element in sustainable farming. IPM focuses on using combined pest control techniques including chemical, physical, biological, and cultural to control weeds, fungi, and insects. IPM has also become an integral part of various government policies across globe. Since 2014, EU has made IPM an obligation and considers it as a cornerstone for pest management and intensification of crop yield.
Long Product Development Cycles and Strict Regulatory Regime to Pose Challenge
Companies operating in the crop protection chemicals market have to invest 7%-10% of their revenues in R&D activities to develop a new active ingredient. New product development has become a costlier affair as more than US$250 million is required to develop a new ingredient. Of this, registrations and safety testing comprises the largest portion of the investment. Prolonged product development cycles have become the greatest challenge for the companies operating in the global crop protection chemicals market. Few decades back, an average new product development cycle for a new crop protection chemical was around 8 years, but today it has escalated to more than 10 years.
Tightening of environmental regulations especially in EU has not been helpful for the manufacturers, which is making it difficult to commercialize new active ingredients. Regulatory authorities are planning to ban some popular products such as glyphosates due to its impact on environment as well on the human health. A potential ban on glyphosate (WHO classified glyphosate as potential carcinogen) can have huge impact on the manufacturers as they might lose more than 35%-40% of their total sales.
Market Consolidation due to Megamergers and Business Restructuring to Remain Consistent in Global Crop Protection Chemicals Market
In the late 90's there were more than 10 major manufacturers of crop protection chemicals in the North America and Europe combined. However, poor business performance and investment in R&D activities due to stringent regulations and investors need for new growth synergies forced into market consolidation. The market has gone through megamergers and business restructuring in the past few years. Top six players Syngenta, Bayer Crop Science, BASF SE, Corteva (DowDuPont), FMC, and ADAMA hold more than half of the total crop protection chemicals market in 2018.
Licensing, acquisitions, and collaborations have become an integral platform to gain competitive advantage over the peers in the market. Companies are engaging into synergies via M&A route to add more molecules to their portfolio as managing cost and time required to develop a new ingredient has become a key challenge. Japanese companies are leading the trend for new developments in crop protection chemicals, with the country accounting for more than 25% of the products developed across the globe.
In 2020, Sumitomo launched KANAME®, a new fungicide containing INDIFLINTM, a novel active ingredient discovered by the company. It is targeted to control broad spectrum of diseases across cereals, fruits, and vegetables. The ingredient has improved fungicidal action, leaf penetration and systemic action as compared to other products in the market.
The Global Crop Protection Chemicals Market is Segmented as Below:
By Product Coverage
Herbicides
Insecticides
Fungicides
Misc.(Rodenticides, etc.)
By Crop Coverage
Grains & Cereals
Pulses and Oilseeds
Fruits and Vegetables
Misc.(Plantation Crops, etc.)
By Geographical Coverage
North America
Europe

Germany
France
UK
Italy
Spain
Russia
Turkey
Rest of Europe

Asia Pacific

China
Japan
India
Southeast Asia
Rest of Asia Pacific

Latin America

Brazil
Mexico
Argentina
Rest of Latin America

Middle East & Africa

GCC
South Africa
Rest of Middle East & Africa
Leading Companies
Bayer Cropscience
Syngenta
Corteva
BASF SE
FMC
UPL
ADAMA
Sumitomo Chemical
Nufarm
Jiangsu Yangong
Rainbow Chemical
Inside This Report You Will Find:
1. Executive Summary
2. Market Overview
3. Production Output and Trade Statistics
4. Price Trends Analysis and Future Projects, 2017 - 2025
5. Global Crop Protection Chemicals Market Outlook, 2017 - 2025
6. North America Crop Protection Chemicals Market Outlook, 2017 - 2025
7. Europe Crop Protection Chemicals Market Outlook, 2017 - 2025
8. Asia Pacific Crop Protection Chemicals Market Outlook, 2017 - 2025
9. Latin America Crop Protection Chemicals Market Outlook, 2017 - 2025
10. Middle East & Africa Crop Protection Chemicals Market Outlook, 2017 - 2025
11. Competitive Landscape
12. Appendix

Post Sale Support, Research Updates & Offerings:
We value the trust shown by our customers in Fairfield Market Research. We support our clients through our post sale support, research updates and offerings.
The report will be prepared in a PPT format and will be delivered in a PDF format.
Additionally, Market Estimation and Forecast numbers will be shared in Excel Workbook.
If a report being sold was published over a year ago, we will offer a complimentary copy of the updated research report along with Market Estimation and Forecast numbers within 2-3 weeks' time of the sale.
If we update this research study within the next 2 quarters, post purchase of the report, we will offer a Complimentary copy of the updated Market Estimation and Forecast numbers in Excel Workbook.
If there is a geopolitical conflict, pandemic, recession, and the like which can impact global economic scenario and business activity, which might entirely alter the market dynamics or future projections in the industry, we will create a Research Update upon your request at a nominal charge.
1. Executive Summary
1.1. Global Crop Protection Chemicals Market Snapshot
1.2. Future Projections
1.3. Key Market Trends
1.4. Analyst Recommendations


2. Market Overview
2.1. Market Definitions and Segmentations
2.2. Market Dynamics
2.2.1. Drivers
2.2.2. Restraints
2.2.3. Market Opportunities
2.3. Value Chain Analysis
2.4. Impact of Organic Farming on Crop Protection Chemicals
2.5. Porter's Five Forces Analysis
2.6. Covid-19 Impact Analysis
2.6.1. Supply
2.6.2. Demand
2.7. Economic Overview


3. Production Output and Trade Statistics


4. Price Trends Analysis and Future Projects, 2017 - 2025
4.1. Price Trends Analysis and Future Projects, by Product, 2017 - 2025
4.2. Regional Average Price Analysis, 2017 - 2025


5. Global Crop Protection Chemicals Market Outlook, 2017 - 2025
5.1. Global Crop Protection Chemicals Market Outlook, by Product, Volume (Kilo Tons) and Value (US$ Mn), 2017 - 2025
5.1.1. Key Highlights
5.1.1.1. Herbicides
5.1.1.2. Insecticides
5.1.1.3. Fungicides
5.1.1.4. Misc. (Rodenticides, etc.)
5.2. Global Crop Protection Chemicals Market Outlook, by Crop Type, Volume (Kilo Tons) and Value (US$ Mn), 2017 - 2025
5.2.1. Key Highlights
5.2.1.1. Grains & Cereals
5.2.1.2. Pulses and Oilseeds
5.2.1.3. Fruits and Vegetables
5.2.1.4. Misc. (Plantation Crops, etc.)
5.3. Global Crop Protection Chemicals Market Outlook, by Region, Volume (Kilo Tons) and Value (US$ Mn), 2017 - 2025
5.3.1. Key Highlights
5.3.1.1. North America
5.3.1.2. Europe
5.3.1.3. Asia Pacific
5.3.1.4. Latin America
5.3.1.5. Middle East & Africa


6. North America Crop Protection Chemicals Market Outlook, 2017 - 2025
6.1. North America Crop Protection Chemicals Market Outlook, by Product, Volume (Kilo Tons) and Value (US$ Mn), 2017 - 2025
6.1.1. Key Highlights
6.1.1.1. Herbicides
6.1.1.2. Insecticides
6.1.1.3. Fungicides
6.1.1.4. Misc. (Rodenticides, etc.)
6.1.2. BPS Analysis/Market Attractiveness Analysis
6.2. North America Crop Protection Chemicals Market Outlook, by Crop Type, Volume (Kilo Tons) and Value (US$ Mn), 2017 - 2025
6.2.1. Key Highlights
6.2.1.1. Grains & Cereals
6.2.1.2. Pulses and Oilseeds
6.2.1.3. Fruits and Vegetables
6.2.1.4. Misc. (Plantation Crops, etc.)
6.2.2. BPS Analysis/Market Attractiveness Analysis
6.3. North America Crop Protection Chemicals Market Outlook, by Country, Volume (Kilo Tons) and Value (US$ Mn), 2017 - 2025
6.3.1. Key Highlights
6.3.1.1. U.S. Crop Protection Chemicals Market by Product, Volume (Kilo Tons) and Value (US$ Mn), 2017 - 2025
6.3.1.2. U.S. Crop Protection Chemicals Market by Crop Type, Volume (Kilo Tons) and Value (US$ Mn), 2017 - 2025
6.3.1.3. Canada Crop Protection Chemicals Market by Product, Volume (Kilo Tons) and Value (US$ Mn), 2017 - 2025
6.3.1.4. Canada Crop Protection Chemicals Market by Crop Type, Volume (Kilo Tons) and Value (US$ Mn), 2017 - 2025
6.3.2. BPS Analysis/Market Attractiveness Analysis


7. Europe Crop Protection Chemicals Market Outlook, 2017 - 2025
7.1. Europe Crop Protection Chemicals Market Outlook, by Product, Volume (Kilo Tons) and Value (US$ Mn), 2017 - 2025
7.1.1. Key Highlights
7.1.1.1. Herbicides
7.1.1.2. Insecticides
7.1.1.3. Fungicides
7.1.1.4. Misc. (Rodenticides, etc.)
7.1.2. BPS Analysis/Market Attractiveness Analysis
7.2. Europe Crop Protection Chemicals Market Outlook, by Crop Type, Volume (Kilo Tons) and Value (US$ Mn), 2017 - 2025
7.2.1. Key Highlights
7.2.1.1. Grains & Cereals
7.2.1.2. Pulses and Oilseeds
7.2.1.3. Fruits and Vegetables
7.2.1.4. Misc. (Plantation Crops, etc.)
7.2.2. BPS Analysis/Market Attractiveness Analysis
7.3. Europe Crop Protection Chemicals Market Outlook, by Country, Volume (Kilo Tons) and Value (US$ Mn), 2017 - 2025
7.3.1. Key Highlights
7.3.1.1. Germany Crop Protection Chemicals Market by Product, Volume (Kilo Tons) and Value (US$ Mn), 2017 - 2025
7.3.1.2. Germany Crop Protection Chemicals Market by Crop Type, Volume (Kilo Tons) and Value (US$ Mn), 2017 - 2025
7.3.1.3. U.K. Crop Protection Chemicals Market by Product, Volume (Kilo Tons) and Value (US$ Mn), 2017 - 2025
7.3.1.4. U.K. Crop Protection Chemicals Market by Crop Type, Volume (Kilo Tons) and Value (US$ Mn), 2017 - 2025
7.3.1.5. France Crop Protection Chemicals Market by Product, Volume (Kilo Tons) and Value (US$ Mn), 2017 - 2025
7.3.1.6. France Crop Protection Chemicals Market by Crop Type, Volume (Kilo Tons) and Value (US$ Mn), 2017 - 2025
7.3.1.7. Italy Crop Protection Chemicals Market by Product, Volume (Kilo Tons) and Value (US$ Mn), 2017 - 2025
7.3.1.8. Italy Crop Protection Chemicals Market by Crop Type, Volume (Kilo Tons) and Value (US$ Mn), 2017 - 2025
7.3.1.9. Spain Crop Protection Chemicals Market by Product, Volume (Kilo Tons) and Value (US$ Mn), 2017 - 2025
7.3.1.10. Spain Crop Protection Chemicals Market by Crop Type, Volume (Kilo Tons) and Value (US$ Mn), 2017 - 2025
7.3.1.11. Turkey Crop Protection Chemicals Market by Product, Volume (Kilo Tons) and Value (US$ Mn), 2017 - 2025
7.3.1.12. Turkey Crop Protection Chemicals Market by Crop Type, Volume (Kilo Tons) and Value (US$ Mn), 2017 - 2025
7.3.1.13. Russia Crop Protection Chemicals Market by Product, Volume (Kilo Tons) and Value (US$ Mn), 2017 - 2025
7.3.1.14. Russia Crop Protection Chemicals Market by Crop Type, Volume (Kilo Tons) and Value (US$ Mn), 2017 - 2025
7.3.1.15. Rest of Europe Crop Protection Chemicals Market by Product, Volume (Kilo Tons) and Value (US$ Mn), 2017 - 2025
7.3.1.16. Rest of Europe Crop Protection Chemicals Market by Crop Type, Volume (Kilo Tons) and Value (US$ Mn), 2017 - 2025
7.3.2. BPS Analysis/Market Attractiveness Analysis


8. Asia Pacific Crop Protection Chemicals Market Outlook, 2017 - 2025
8.1. Asia Pacific Crop Protection Chemicals Market Outlook, by Product, Volume (Kilo Tons) and Value (US$ Mn), 2017 - 2025
8.1.1. Key Highlights
8.1.1.1. Herbicides
8.1.1.2. Insecticides
8.1.1.3. Fungicides
8.1.1.4. Misc. (Rodenticides, etc.)
8.1.2. BPS Analysis/Market Attractiveness Analysis
8.2. Asia Pacific Crop Protection Chemicals Market Outlook, by Crop Type, Volume (Kilo Tons) and Value (US$ Mn), 2017 - 2025
8.2.1. Key Highlights
8.2.1.1. Grains & Cereals
8.2.1.2. Pulses and Oilseeds
8.2.1.3. Fruits and Vegetables
8.2.1.4. Misc. (Plantation Crops, etc.)
8.2.2. BPS Analysis/Market Attractiveness Analysis
8.3. Asia Pacific Crop Protection Chemicals Market Outlook, by Country, Volume (Kilo Tons) and Value (US$ Mn), 2017 - 2025
8.3.1. Key Highlights
8.3.1.1. China Crop Protection Chemicals Market by Product, Volume (Kilo Tons) and Value (US$ Mn), 2017 - 2025
8.3.1.2. China Crop Protection Chemicals Market by Crop Type, Volume (Kilo Tons) and Value (US$ Mn), 2017 - 2025
8.3.1.3. Japan Crop Protection Chemicals Market by Product, Volume (Kilo Tons) and Value (US$ Mn), 2017 - 2025
8.3.1.4. Japan Crop Protection Chemicals Market by Crop Type, Volume (Kilo Tons) and Value (US$ Mn), 2017 - 2025
8.3.1.5. South Korea Crop Protection Chemicals Market by Product, Volume (Kilo Tons) and Value (US$ Mn), 2017 - 2025
8.3.1.6. South Korea Crop Protection Chemicals Market by Crop Type, Volume (Kilo Tons) and Value (US$ Mn), 2017 - 2025
8.3.1.7. India Crop Protection Chemicals Market by Product, Volume (Kilo Tons) and Value (US$ Mn), 2017 - 2025
8.3.1.8. India Crop Protection Chemicals Market by Crop Type, Volume (Kilo Tons) and Value (US$ Mn), 2017 - 2025
8.3.1.9. Southeast Asia Crop Protection Chemicals Market by Product, Volume (Kilo Tons) and Value (US$ Mn), 2017 - 2025
8.3.1.10. Southeast Asia Crop Protection Chemicals Market by Crop Type, Volume (Kilo Tons) and Value (US$ Mn), 2017 - 2025
8.3.1.11. Rest of Asia Pacific Crop Protection Chemicals Market by Product, Volume (Kilo Tons) and Value (US$ Mn), 2017 - 2025
8.3.1.12. Rest of Asia Pacific Crop Protection Chemicals Market by Crop Type, Volume (Kilo Tons) and Value (US$ Mn), 2017 - 2025
8.3.2. BPS Analysis/Market Attractiveness Analysis


9. Latin America Crop Protection Chemicals Market Outlook, 2017 - 2025
9.1. Latin America Crop Protection Chemicals Market Outlook, by Product, Volume (Kilo Tons) and Value (US$ Mn), 2017 - 2025
9.1.1. Key Highlights
9.1.1.1. Herbicides
9.1.1.2. Insecticides
9.1.1.3. Fungicides
9.1.1.4. Misc. (Rodenticides, etc.)
9.1.2. BPS Analysis/Market Attractiveness Analysis
9.2. Latin America Crop Protection Chemicals Market Outlook, by Crop Type, Volume (Kilo Tons) and Value (US$ Mn), 2017 - 2025
9.2.1. Key Highlights
9.2.1.1. Grains & Cereals
9.2.1.2. Pulses and Oilseeds
9.2.1.3. Fruits and Vegetables
9.2.1.4. Misc. (Plantation Crops, etc.)
9.2.2. BPS Analysis/Market Attractiveness Analysis
9.3. Latin America Crop Protection Chemicals Market Outlook, by Country, Volume (Kilo Tons) and Value (US$ Mn), 2017 - 2025
9.3.1. Key Highlights
9.3.1.1. Brazil Crop Protection Chemicals Market by Product, Volume (Kilo Tons) and Value (US$ Mn), 2017 - 2025
9.3.1.2. Brazil Crop Protection Chemicals Market by Crop Type, Volume (Kilo Tons) and Value (US$ Mn), 2017 - 2025
9.3.1.3. Mexico Crop Protection Chemicals Market by Product, Volume (Kilo Tons) and Value (US$ Mn), 2017 - 2025
9.3.1.4. Mexico Crop Protection Chemicals Market by Crop Type, Volume (Kilo Tons) and Value (US$ Mn), 2017 - 2025
9.3.1.5. Argentina Crop Protection Chemicals Market by Product, Volume (Kilo Tons) and Value (US$ Mn), 2017 - 2025
9.3.1.6. Argentina Crop Protection Chemicals Market by Crop Type, Volume (Kilo Tons) and Value (US$ Mn), 2017 - 2025
9.3.1.7. Rest of Latin America Crop Protection Chemicals Market by Product, Volume (Kilo Tons) and Value (US$ Mn), 2017 - 2025
9.3.1.8. Rest of Latin America Crop Protection Chemicals Market by Crop Type, Volume (Kilo Tons) and Value (US$ Mn), 2017 - 2025
9.3.2. BPS Analysis/Market Attractiveness Analysis


10. Middle East & Africa Crop Protection Chemicals Market Outlook, 2017 - 2025
10.1. Middle East & Africa Crop Protection Chemicals Market Outlook, by Product, Volume (Kilo Tons) and Value (US$ Mn), 2017 - 2025
10.1.1. Key Highlights
10.1.1.1. Herbicides
10.1.1.2. Insecticides
10.1.1.3. Fungicides
10.1.1.4. Misc. (Rodenticides, etc.)
10.1.2. BPS Analysis/Market Attractiveness Analysis
10.2. Middle East & Africa Crop Protection Chemicals Market Outlook, by Crop Type, Volume (Kilo Tons) and Value (US$ Mn), 2017 - 2025
10.2.1. Key Highlights
10.2.1.1. Grains & Cereals
10.2.1.2. Pulses and Oilseeds
10.2.1.3. Fruits and Vegetables
10.2.1.4. Misc. (Plantation Crops, etc.)
10.2.2. BPS Analysis/Market Attractiveness Analysis
10.3. Middle East & Africa Crop Protection Chemicals Market Outlook, by Country, Volume (Kilo Tons) and Value (US$ Mn), 2017 - 2025
10.3.1. Key Highlights
10.3.1.1. GCC Crop Protection Chemicals Market by Product, Volume (Kilo Tons) and Value (US$ Mn), 2017 - 2025
10.3.1.2. GCC Crop Protection Chemicals Market by Crop Type, Volume (Kilo Tons) and Value (US$ Mn), 2017 - 2025
10.3.1.3. South Africa Crop Protection Chemicals Market by Product, Volume (Kilo Tons) and Value (US$ Mn), 2017 - 2025
10.3.1.4. South Africa Crop Protection Chemicals Market by Crop Type, Volume (Kilo Tons) and Value (US$ Mn), 2017 - 2025
10.3.1.5. Rest of Middle East & Africa Crop Protection Chemicals Market by Product, Volume (Kilo Tons) and Value (US$ Mn), 2017 - 2025
10.3.1.6. Rest of Middle East & Africa Crop Protection Chemicals Market by Crop Type, Volume (Kilo Tons) and Value (US$ Mn), 2017 - 2025
10.3.2. BPS Analysis/Market Attractiveness Analysis


11. Competitive Landscape
11.1. Crop Protection Chemicals Market Structure
11.2. Company Market Share Analysis, 2019
11.3. Timeline: Major Strategic Collaborations
11.4. Company Profiles
11.4.1. Bayer Cropscience
11.4.1.1. Company Overview
11.4.1.2. Product Portfolio
11.4.1.3. Financial Overview
11.4.1.4. Business Strategies and Development
11.4.2. Syngenta
11.4.2.1. Company Overview
11.4.2.2. Product Portfolio
11.4.2.3. Financial Overview
11.4.2.4. Business Strategies and Development
11.4.3. Corteva
11.4.3.1. Company Overview
11.4.3.2. Product Portfolio
11.4.3.3. Financial Overview
11.4.3.4. Business Strategies and Development
11.4.4. BASF SE
11.4.4.1. Company Overview
11.4.4.2. Product Portfolio
11.4.4.3. Financial Overview
11.4.4.4. Business Strategies and Development
11.4.5. FMC
11.4.5.1. Company Overview
11.4.5.2. Product Portfolio
11.4.5.3. Financial Overview
11.4.5.4. Business Strategies and Development
11.4.6. UPL
11.4.6.1. Company Overview
11.4.6.2. Product Portfolio
11.4.6.3. Financial Overview
11.4.6.4. Business Strategies and Development
11.4.7. ADAMA
11.4.7.1. Company Overview
11.4.7.2. Product Portfolio
11.4.7.3. Financial Overview
11.4.7.4. Business Strategies and Development
11.4.8. Sumitomo Chemical
11.4.8.1. Company Overview
11.4.8.2. Product Portfolio
11.4.8.3. Financial Overview
11.4.8.4. Business Strategies and Development
11.4.9. Nufarm
11.4.9.1. Company Overview
11.4.9.2. Product Portfolio
11.4.9.3. Financial Overview
11.4.9.4. Business Strategies and Development
11.4.10. Jiangsu Yangong
11.4.10.1. Company Overview
11.4.10.2. Product Portfolio
11.4.10.3. Financial Overview
11.4.10.4. Business Strategies and Development
11.4.11. Rainbow Chemical
11.4.11.1. Company Overview
11.4.11.2. Product Portfolio
11.4.11.3. Financial Overview
11.4.11.4. Business Strategies and Development


12. Appendix
12.1. Research Methodology
12.2. Report Assumptions
12.3. Acronyms and Abbreviations