High Purity Quartz Market Outlook
High Purity Quartz Market Thrives as it Becomes Irreplaceable Mineral for High-Tech Industry
High purity quartz (HPQ) has become one of the most important strategic materials in high technology applications such as microcrystalline solar cells, semiconductor fused quartz, microelectronics, fibre optics and high-intensity lighting tubing. According to Fairfield Market Research, the global high purity quartz market is estimated to be worth US$1.13 Bn by the end of 2025 from US$705 Mn in 2017. During the forecast years of 2021 and 2025, the market is expected to register a CAGR of 7.5%.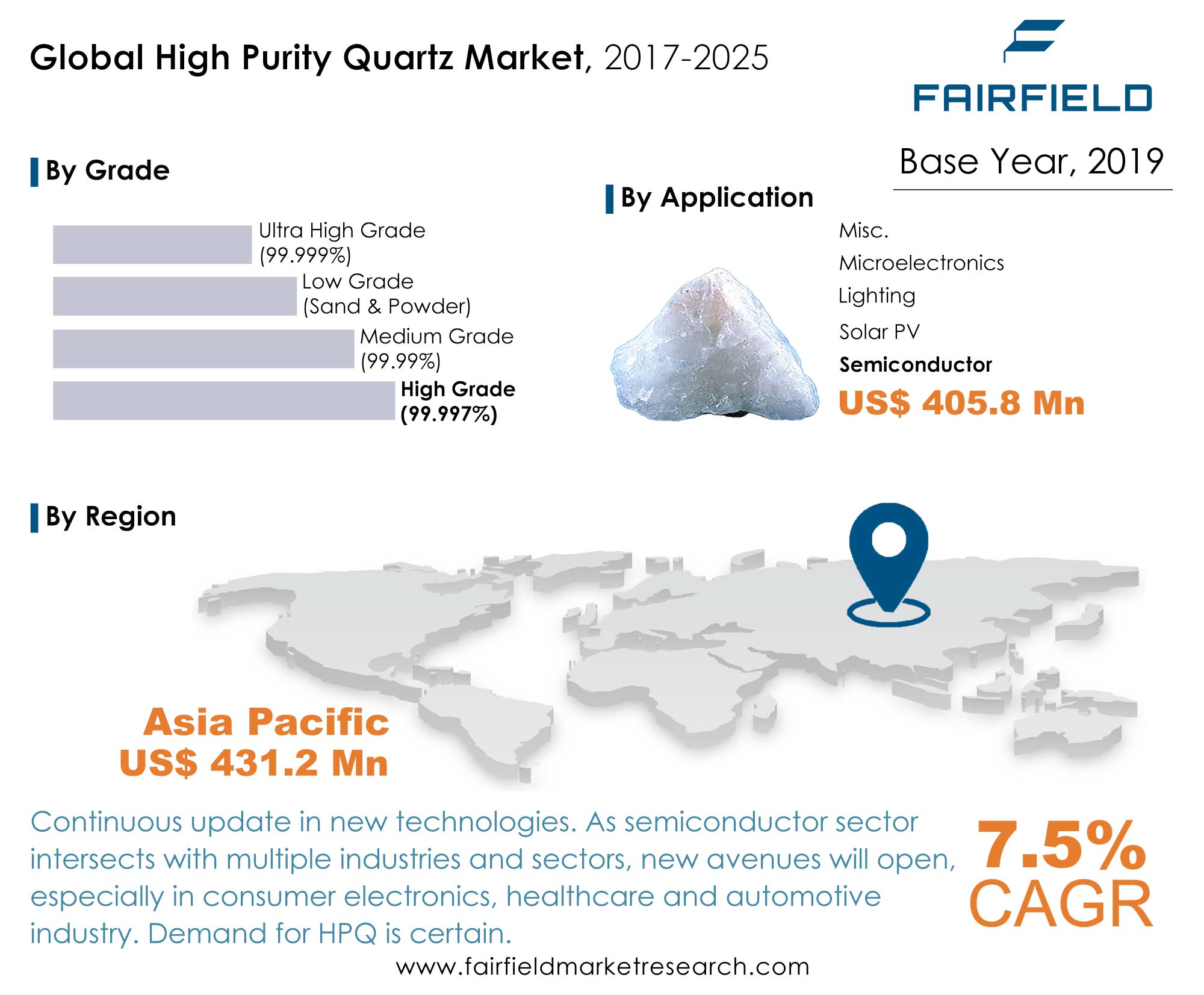 The widening applications of HPQ in the production of electronic components is expected to be the key driving force for the market. High purity quartz or high purity silica sand contains high concentrations of SiO2 (more than 99.99%) and is almost void of metal contaminants. IOTA® is the industry-standard benchmark associated with high purity quartz monitoring chemical and physical properties to meet distinctive blends of the industry.
In 2018, the estimated production of high purity quartz was 100,000 metric tons. In terms of revenue, the solar and semiconductors industry held more than 75% share in the global high purity quartz market in 2018. The growing demand for HPQ in the electronics industry, in recent years, can be attributed to an increase in the number of fabrication facilities.
High purity quartz is the only suitable material for high purity quartz crucibles and quartz glass products, as even the slightest of impurities can damage the conductivity of semiconductors. In terms of value, the semiconductor segment was the largest application segment as it accounted for about 52% of the total market in 2017. The semiconductor industry is expected to grow at 7%-10% during the period 2019 to 2025.
Quartz crucibles are key to the production of monocrystalline and polycrystalline. Widespread usage of electronic devices in India, China, and other Southeast Asian countries has propelled high purity quartz market in Asia Pacific region.
Though quartz is abundant in nature, deposits of high chemical quality and composition are scarce. Only vein quartz, crystal, pegmatite and metamorphic quartzite are natural occurring ores that have high purity and are thus suitable for players operating in the high purity quartz market for usage.
World's largest quality quartz deposits are located in the Spruce Pine in North Carolina, U.S. The region supplies most of the high and ultra-high purity quartz across the globe. Other major countries actively involved in the supply of high purity quartz include Russia and Norway.
Asia Pacific region accounted for more than half of the total high purity quartz demand in 2018. China and Japan accounted for more than two-third of the high purity quartz consumption owing to the large semiconductor and solar PV facilities. China is majorly dependent on imports as the domestic quality is not suitable for high-end applications.
Booming Broadband Market and Rapidly Growing 5G Technologies Augment High Purity Quartz Market Growth
Use of optical fibres in telecommunication and broadband market is expected to showcase a growth rate of more than 5% till 2030. The demand for high-speed internet connections along with developments in network bandwidth is expected to drive the fibre optics market across the globe. Fibre optic cables consist of a transparent core, which is enclosed by a translucent cladding made of high purity quartz. High purity quartz-based cladding material is key for sustaining efficiency of the transmission line, which has been its unique selling point. Government across the globe continue to invest in broadband networks. In 2020, the U.K. government announced plans to invest US$ 6.5 Bn to deliver full-fibre broadband across the country. The country is committed to funding a gigabit-capable broadband network. Thus, rise of telecommunications sector is expected to have a direct and positive impact on the global high purity quartz market.
Cumulative solar capacity reached 583.5 GW, including off-grid and grid-connected, in 2019. Researchers expect double-digit growth over the coming decade. High purity quartz is used in the production of solar PV wafers. Monocrystalline technology is currently flourishing and surpassed polycrystalline in the overall market share, as the former promises greater density and efficiencies compared to multicrystalline.
In 2015, more than 190 countries and the EU signed an agreement "The Paris Agreement" to fight climate change and GHG emissions. Solar energy has since gained significant traction due to global shift towards renewable energy sources in a bid to save the planet.
High Purity Quartz Market Shows Concentrated Supply Sources and High Product Prices
Two noteworthy mines, one, Spruce Pine, U.S. and Kyshtym, Russia, together they account for more than 90% of the total production. Supply sources of high purity quartz are highly concentrated in the U.S. Manufacturers are exploring deposits in Australia, Russia, Canada, and Mauritania, however, the quality fails to meet IOTA® standard.
The solar PV manufacturing is highly concentrated in China and depends on imports to meet the growing demand for high purity quartz in the solar industry. Overdependence on pure quartz deposits in the U.S and unexpected bottlenecks in the supply chain are likely to severely impact the solar PV business.
Majority of companies operating in the global high purity quartz market are privately held and are engaged in contractual agreements with end-users. Quality and purity are the main elements affecting the prices. Furthermore, the demand is projected to surpass supply in the coming years and is expected to have a huge impact on the prices of high purity quartz across all the regions.
New Production Technologies Resulting Less Waste to Take Centre Stage in High Purity Quartz Market
At present, two manufacturers, Sibelco and Quartz Corp., account for more than 80% of the total market share. These two players have operational mines in Spruce Pine, North Carolina, U.S.
Currently, high purity quartz processing technologies in the market are energy-intensive and less environment friendly. Large amounts of impurities are removed during the process thus producing a lot of harmful waste. The industry is in dire need of a disruptive technology that is cost-competitive as well as eco-friendly.
Golovach Quartz, Vietnam, has developed a new technology that recycles reagents, leaving no hazardous waste. There is no prerequisite for the process, which allows any kind of mined quartz to be used as starting material. The result is a high purity/quality product with low production cost as compared to ongoing technologies. Such innovative developments are expected to set a precedence in the near future.
The Global High Purity Quartz Market is Segmented as Below:
By Product Coverage
Low Grade (Sand and Powder)
Medium Grade (99.99%)
High Grade (99.997%)
Ultra High Grade (99.999%)
By Application Coverage
Semiconductor
Solar PV
Lighting
Telecom & Fibre Optics
Microelectronics
Misc.
By Geographical Coverage
North America
Europe

Germany
France
UK
Italy
Spain
Russia
Rest of Europe

Asia Pacific

China
Japan
South Korea
India
Southeast Asia
Rest of Asia Pacific

Latin America

Brazil
Mexico
Rest of Latin America

Middle East & Africa

GCC
Rest of Middle East & Africa
Leading Companies
Sibelco N.V.
The Quartz Corporation
Russian Quartz
Jiangsu Pacific Quartz Co. Ltd.
High Purity Quartz Pty Ltd.
Yilgarn Minerals Limited
Creswick Quartz Pty Ltd.
Inside This Report You Will Find:
1. Executive Summary
2. Market Overview
3. Production Output and Trade Statistics
4. Price Trends Analysis and Future Projects, 2017 - 2025
5. Global High Purity Quartz Market Outlook, 2017 - 2025
6. North America High Purity Quartz Market Outlook, 2017 - 2025
7. Europe High Purity Quartz Market Outlook, 2017 - 2025
8. Asia Pacific High Purity Quartz Market Outlook, 2017 - 2025
9. Latin America High Purity Quartz Market Outlook, 2017 - 2025
10. Middle East & Africa High Purity Quartz Market Outlook, 2017 - 2025
11. Competitive Landscape
12. Appendix
Post Sale Support, Research Updates & Offerings:
We value the trust shown by our customers in Fairfield Market Research. We support our clients through our post sale support, research updates and offerings.
The report will be prepared in a PPT format and will be delivered in a PDF format.
Additionally, Market Estimation and Forecast numbers will be shared in Excel Workbook.
If a report being sold was published over a year ago, we will offer a complimentary copy of the updated research report along with Market Estimation and Forecast numbers within 2-3 weeks' time of the sale.
If we update this research study within the next 2 quarters, post purchase of the report, we will offer a Complimentary copy of the updated Market Estimation and Forecast numbers in Excel Workbook.
If there is a geopolitical conflict, pandemic, recession, and the like which can impact global economic scenario and business activity, which might entirely alter the market dynamics or future projections in the industry, we will create a Research Update upon your request at a nominal charge.
1. Executive Summary
1.1. Global High Purity Quartz Market Snapshot
1.2. Future Projections
1.3. Key Market Trends
1.4. Analyst Recommendations


2. Market Overview
2.1. Market Definitions and Segmentations
2.2. Market Dynamics
2.2.1. Drivers
2.2.2. Restraints
2.2.3. Market Opportunities
2.3. Value Chain Analysis
2.4. High Purity Quartz: Supply – Chain Interpretation
2.5. Porter's Five Forces Analysis
2.6. Covid-19 Impact Analysis
2.6.1. Supply
2.6.2. Demand
2.7. High Purity Quartz Production Process
2.8. Economic Overview
2.9. Raw Materials Impact Analysis


3. Production Output and Trade Statistics


4. Price Trends Analysis and Future Projects, 2017 - 2025
4.1. Price Trends Analysis and Future Projects, 2017 - 2025
4.2. Global Average Price Analysis, by Grade vs Application, US$ per Kg


5. Global High Purity Quartz Market Outlook, 2017 - 2025
5.1. Global High Purity Quartz Market Outlook, by Grade, Volume (Tons) and Value (US$ Mn), 2017 - 2025
5.1.1. Key Highlights
5.1.1.1. Low Grade (Sand and Powder)
5.1.1.2. Medium Grade (99.99%)
5.1.1.3. High Grade (99.997%)
5.1.1.4. Ultra High Grade (99.999%)
5.2. Global High Purity Quartz Market Outlook, by Application, Volume (Tons) and Value (US$ Mn), 2017 - 2025
5.2.1. Key Highlights
5.2.1.1. Semiconductor
5.2.1.2. Solar PV
5.2.1.3. Lighting
5.2.1.4. Telecom & Fiber Optics
5.2.1.5. Microelectronics
5.2.1.6. Misc.
5.3. Global High Purity Quartz Market Outlook, by Region, Volume (Tons) and Value (US$ Mn), 2017 - 2025
5.3.1. Key Highlights
5.3.1.1. North America
5.3.1.2. Europe
5.3.1.3. Asia Pacific
5.3.1.4. Latin America
5.3.1.5. Middle East & Africa


6. North America High Purity Quartz Market Outlook, 2017 - 2025
6.1. North America High Purity Quartz Market Outlook, by Grade, Volume (Tons) and Value (US$ Mn), 2017 - 2025
6.1.1. Key Highlights
6.1.1.1. Low Grade (Sand and Powder)
6.1.1.2. Medium Grade (99.99%)
6.1.1.3. High Grade (99.997%)
6.1.1.4. Ultra High Grade (99.999%)
6.1.2. BPS Analysis/Market Attractiveness Analysis
6.2. North America High Purity Quartz Market Outlook, by Application, Volume (Tons) and Value (US$ Mn), 2017 - 2025
6.2.1. Key Highlights
6.2.1.1. Semiconductor
6.2.1.2. Solar PV
6.2.1.3. Lighting
6.2.1.4. Telecom & Fiber Optics
6.2.1.5. Microelectronics
6.2.1.6. Misc.
6.2.2. BPS Analysis/Market Attractiveness Analysis
6.3. North America High Purity Quartz Market Outlook, by Country, Volume (Tons) and Value (US$ Mn), 2017 - 2025
6.3.1. Key Highlights
6.3.1.1. U.S. High Purity Quartz Market by Grade, Volume (Tons) and Value (US$ Mn), 2017 - 2025
6.3.1.2. U.S. High Purity Quartz Market by Application, Volume (Tons) and Value (US$ Mn), 2017 - 2025
6.3.1.3. Canada High Purity Quartz Market by Grade, Volume (Tons) and Value (US$ Mn), 2017 - 2025
6.3.1.4. Canada High Purity Quartz Market by Application, Volume (Tons) and Value (US$ Mn), 2017 - 2025
6.3.2. BPS Analysis/Market Attractiveness Analysis


7. Europe High Purity Quartz Market Outlook, 2017 - 2025
7.1. Europe High Purity Quartz Market Outlook, by Grade, Volume (Tons) and Value (US$ Mn), 2017 - 2025
7.1.1. Key Highlights
7.1.1.1. Low Grade (Sand and Powder)
7.1.1.2. Medium Grade (99.99%)
7.1.1.3. High Grade (99.997%)
7.1.1.4. Ultra High Grade (99.999%)
7.1.2. BPS Analysis/Market Attractiveness Analysis
7.2. Europe High Purity Quartz Market Outlook, by Application, Volume (Tons) and Value (US$ Mn), 2017 - 2025
7.2.1. Key Highlights
7.2.1.1. Semiconductor
7.2.1.2. Solar PV
7.2.1.3. Lighting
7.2.1.4. Telecom & Fiber Optics
7.2.1.5. Microelectronics
7.2.1.6. Misc.
7.2.2. BPS Analysis/Market Attractiveness Analysis
7.3. Europe High Purity Quartz Market Outlook, by Country, Volume (Tons) and Value (US$ Mn), 2017 - 2025
7.3.1. Key Highlights
7.3.1.1. Germany High Purity Quartz Market by Grade, Volume (Tons) and Value (US$ Mn), 2017 - 2025
7.3.1.2. Germany High Purity Quartz Market by Application, Volume (Tons) and Value (US$ Mn), 2017 - 2025
7.3.1.3. U.K. High Purity Quartz Market by Grade, Volume (Tons) and Value (US$ Mn), 2017 - 2025
7.3.1.4. U.K. High Purity Quartz Market by Application, Volume (Tons) and Value (US$ Mn), 2017 - 2025
7.3.1.5. France High Purity Quartz Market by Grade, Volume (Tons) and Value (US$ Mn), 2017 - 2025
7.3.1.6. France High Purity Quartz Market by Application, Volume (Tons) and Value (US$ Mn), 2017 - 2025
7.3.1.7. Italy High Purity Quartz Market by Grade, Volume (Tons) and Value (US$ Mn), 2017 - 2025
7.3.1.8. Italy High Purity Quartz Market by Application, Volume (Tons) and Value (US$ Mn), 2017 - 2025
7.3.1.9. Spain High Purity Quartz Market by Grade, Volume (Tons) and Value (US$ Mn), 2017 - 2025
7.3.1.10. Spain High Purity Quartz Market by Application, Volume (Tons) and Value (US$ Mn), 2017 - 2025
7.3.1.11. Russia High Purity Quartz Market by Grade, Volume (Tons) and Value (US$ Mn), 2017 - 2025
7.3.1.12. Russia High Purity Quartz Market by Application, Volume (Tons) and Value (US$ Mn), 2017 - 2025
7.3.1.13. Rest of Europe High Purity Quartz Market by Grade, Volume (Tons) and Value (US$ Mn), 2017 - 2025
7.3.1.14. Rest of Europe High Purity Quartz Market by Application, Volume (Tons) and Value (US$ Mn), 2017 - 2025
7.3.2. BPS Analysis/Market Attractiveness Analysis


8. Asia Pacific High Purity Quartz Market Outlook, 2017 - 2025
8.1. Asia Pacific High Purity Quartz Market Outlook, by Grade, Volume (Tons) and Value (US$ Mn), 2017 - 2025
8.1.1. Key Highlights
8.1.1.1. Low Grade (Sand and Powder)
8.1.1.2. Medium Grade (99.99%)
8.1.1.3. High Grade (99.997%)
8.1.1.4. Ultra High Grade (99.999%)
8.1.2. BPS Analysis/Market Attractiveness Analysis
8.2. Asia Pacific High Purity Quartz Market Outlook, by Application, Volume (Tons) and Value (US$ Mn), 2017 - 2025
8.2.1. Key Highlights
8.2.1.1. Semiconductor
8.2.1.2. Solar PV
8.2.1.3. Lighting
8.2.1.4. Telecom & Fiber Optics
8.2.1.5. Microelectronics
8.2.1.6. Misc.
8.2.2. BPS Analysis/Market Attractiveness Analysis
8.3. Asia Pacific High Purity Quartz Market Outlook, by Country, Volume (Tons) and Value (US$ Mn), 2017 - 2025
8.3.1. Key Highlights
8.3.1.1. China High Purity Quartz Market by Grade, Volume (Tons) and Value (US$ Mn), 2017 - 2025
8.3.1.2. China High Purity Quartz Market by Application, Volume (Tons) and Value (US$ Mn), 2017 - 2025
8.3.1.3. Japan High Purity Quartz Market by Grade, Volume (Tons) and Value (US$ Mn), 2017 - 2025
8.3.1.4. Japan High Purity Quartz Market by Application, Volume (Tons) and Value (US$ Mn), 2017 - 2025
8.3.1.5. South Korea High Purity Quartz Market by Grade, Volume (Tons) and Value (US$ Mn), 2017 - 2025
8.3.1.6. South Korea High Purity Quartz Market by Application, Volume (Tons) and Value (US$ Mn), 2017 - 2025
8.3.1.7. India High Purity Quartz Market by Grade, Volume (Tons) and Value (US$ Mn), 2017 - 2025
8.3.1.8. India High Purity Quartz Market by Application, Volume (Tons) and Value (US$ Mn), 2017 - 2025
8.3.1.9. Southeast Asia High Purity Quartz Market by Grade, Volume (Tons) and Value (US$ Mn), 2017 - 2025
8.3.1.10. Southeast Asia High Purity Quartz Market by Application, Volume (Tons) and Value (US$ Mn), 2017 - 2025
8.3.1.11. Rest of Asia Pacific High Purity Quartz Market by Grade, Volume (Tons) and Value (US$ Mn), 2017 - 2025
8.3.1.12. Rest of Asia Pacific High Purity Quartz Market by Application, Volume (Tons) and Value (US$ Mn), 2017 - 2025
8.3.2. BPS Analysis/Market Attractiveness Analysis


9. Latin America High Purity Quartz Market Outlook, 2017 - 2025
9.1. Latin America High Purity Quartz Market Outlook, by Grade, Volume (Tons) and Value (US$ Mn), 2017 - 2025
9.1.1. Key Highlights
9.1.1.1. Low Grade (Sand and Powder)
9.1.1.2. Medium Grade (99.99%)
9.1.1.3. High Grade (99.997%)
9.1.1.4. Ultra High Grade (99.999%)
9.1.2. BPS Analysis/Market Attractiveness Analysis
9.2. Latin America High Purity Quartz Market Outlook, by Application, Volume (Tons) and Value (US$ Mn), 2017 - 2025
9.2.1. Key Highlights
9.2.1.1. Semiconductor
9.2.1.2. Solar PV
9.2.1.3. Lighting
9.2.1.4. Telecom & Fiber Optics
9.2.1.5. Microelectronics
9.2.1.6. Misc.
9.2.2. BPS Analysis/Market Attractiveness Analysis
9.3. Latin America High Purity Quartz Market Outlook, by Country, Volume (Tons) and Value (US$ Mn), 2017 - 2025
9.3.1. Key Highlights
9.3.1.1. Brazil High Purity Quartz Market by Grade, Volume (Tons) and Value (US$ Mn), 2017 - 2025
9.3.1.2. Brazil High Purity Quartz Market by Application, Volume (Tons) and Value (US$ Mn), 2017 - 2025
9.3.1.3. Mexico High Purity Quartz Market by Grade, Volume (Tons) and Value (US$ Mn), 2017 - 2025
9.3.1.4. Mexico High Purity Quartz Market by Application, Volume (Tons) and Value (US$ Mn), 2017 - 2025
9.3.1.5. Rest of Latin America High Purity Quartz Market by Grade, Volume (Tons) and Value (US$ Mn), 2017 - 2025
9.3.1.6. Rest of Latin America High Purity Quartz Market by Application, Volume (Tons) and Value (US$ Mn), 2017 - 2025
9.3.2. BPS Analysis/Market Attractiveness Analysis


10. Middle East & Africa High Purity Quartz Market Outlook, 2017 - 2025
10.1. Middle East & Africa High Purity Quartz Market Outlook, by Grade, Volume (Tons) and Value (US$ Mn), 2017 - 2025
10.1.1. Key Highlights
10.1.1.1. Low Grade (Sand and Powder)
10.1.1.2. Medium Grade (99.99%)
10.1.1.3. High Grade (99.997%)
10.1.1.4. Ultra High Grade (99.999%)
10.1.2. BPS Analysis/Market Attractiveness Analysis
10.2. Middle East & Africa High Purity Quartz Market Outlook, by Application, Volume (Tons) and Value (US$ Mn), 2017 - 2025
10.2.1. Key Highlights
10.2.1.1. Semiconductor
10.2.1.2. Solar PV
10.2.1.3. Lighting
10.2.1.4. Telecom & Fiber Optics
10.2.1.5. Microelectronics
10.2.1.6. Misc.
10.2.2. BPS Analysis/Market Attractiveness Analysis
10.3. Middle East & Africa High Purity Quartz Market Outlook, by Country, Volume (Tons) and Value (US$ Mn), 2017 - 2025
10.3.1. Key Highlights
10.3.1.1. GCC High Purity Quartz Market by Grade, Volume (Tons) and Value (US$ Mn), 2017 - 2025
10.3.1.2. GCC High Purity Quartz Market by Application, Volume (Tons) and Value (US$ Mn), 2017 - 2025
10.3.1.3. South Africa High Purity Quartz Market by Grade, Volume (Tons) and Value (US$ Mn), 2017 - 2025
10.3.1.4. South Africa High Purity Quartz Market by Application, Volume (Tons) and Value (US$ Mn), 2017 - 2025
10.3.1.5. Rest of Middle East & Africa High Purity Quartz Market by Grade, Volume (Tons) and Value (US$ Mn), 2017 - 2025
10.3.1.6. Rest of Middle East & Africa High Purity Quartz Market by Application, Volume (Tons) and Value (US$ Mn), 2017 - 2025
10.3.2. BPS Analysis/Market Attractiveness Analysis


11. Competitive Landscape
11.1. Product vs Application Heatmap
11.2. High Purity Quartz Market Structure
11.3. Company Market Share Analysis, 2019
11.4. Technological Developments
11.5. Company Manufacturing Footprint Analysis
11.6. Company Profiles
11.6.1. Sibelco N.V.
11.6.1.1. Company Overview
11.6.1.2. Product Portfolio
11.6.1.3. Financial Overview
11.6.1.4. Business Strategies and Development
11.6.2. The Quartz Corporation
11.6.2.1. Company Overview
11.6.2.2. Product Portfolio
11.6.2.3. Financial Overview
11.6.2.4. Business Strategies and Development
11.6.3. Russian Quartz
11.6.3.1. Company Overview
11.6.3.2. Grade Portfolio
11.6.3.3. Financial Overview
11.6.3.4. Business Strategies and Development
11.6.4. Jiangsu Pacific Quartz Co. Ltd.
11.6.4.1. Company Overview
11.6.4.2. Grade Portfolio
11.6.4.3. Financial Overview
11.6.4.4. Business Strategies and Development
11.6.5. High Purity Quartz Pty Ltd.
11.6.5.1. Company Overview
11.6.5.2. Grade Portfolio
11.6.5.3. Financial Overview
11.6.5.4. Business Strategies and Development
11.6.6. Yilgarn Minerals Limited
11.6.6.1. Company Overview
11.6.6.2. Product Portfolio
11.6.7. Creswick Quartz Pty Ltd.
11.6.7.1. Company Overview
11.6.7.2. Product Portfolio


12. Appendix
12.1. Research Methodology
12.2. Report Assumptions
12.3. Acronyms and Abbreviations