Pigments Market Outlook
Global pigments market is expected to reach revenue worth US$40.2 Bn toward the end of forecast year, 2025. The insights offered in this report are expected to aid in market growth examination over the forecast timeline.

Market Analysis in Brief
A steady rise in global population, higher penetration of emerging markets, as well as greater urbanization and industrialization, have all collectively led to the augmentation of the global pigments market. The market is slated to grow at a projected CAGR of 4.6% over the forecast period. The increasing demand for these products from continually growing end-use industries such as the paints and coatings, plastics, paper, and leather sectors, are expected to further boost the growth trajectory of the global pigments industry in the years ahead.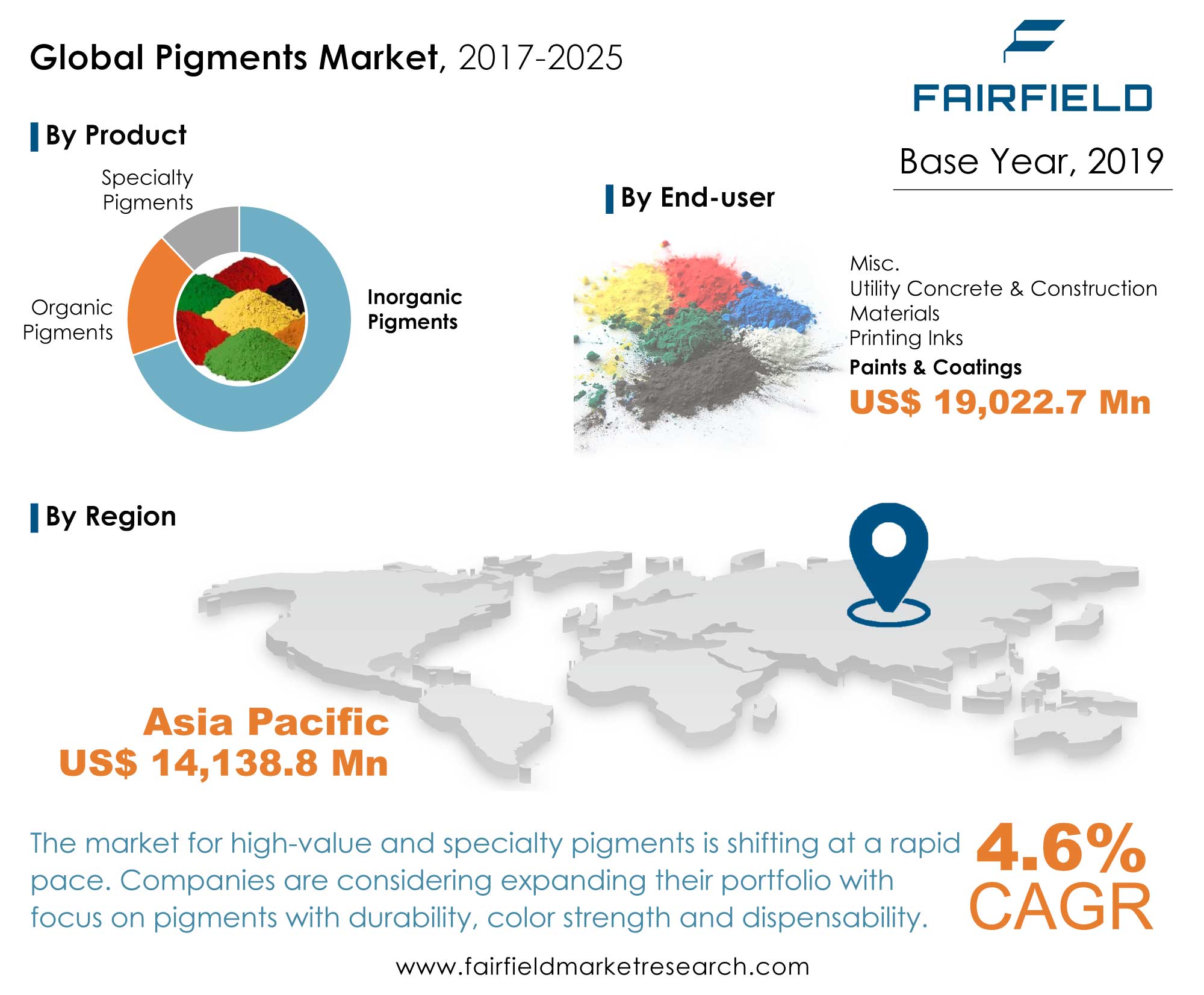 Key Report Findings
The global pigments market is projected to achieve a valuation of US$40.2 Bn by 2025
BASF SE is the largest pigments company in the world, with sales over €3.3 billion in 2020
Titanium dioxide (TiO2) segment accounted for over 65% of the total pigment demand in 2018
Asia Pacific to remain a regional frontrunner over the forecast period
Growth Drivers
Consumer Inclination Toward Vibrant, Bright, and Eco-friendly Color Shades
Pigments are extensively used in the production of paints & coatings to achieve a desired colour and finish. Pigments also enable paints to protect surfaces against corrosion and extreme weather conditions. Growing urbanization and infrastructure activities have created new growth avenues for players in the paints & coatings, plastics, and building materials spaces. The demand for pigments is expected to grow significantly in the coming years owing to a shift towards sustainable and eco-friendly products in mature pigments markets such as Europe, and North America.
Consumer preferences for vibrant, bright, and eco-friendly colour shades have compelled manufacturers to develop and innovate new chemistries. Furthermore, this market has also observed an upward trend in the consumption of complex and specialty pigments for building products in the last few years. The use of nanoparticles and nanotechnology is also expected to improve pigment performance. Very bright colours such as peacock feather and blue tarantula are created from nanostructures. Nanostructures are likely to create a unique, dynamic effect while ensuring exceptional durability. This is expected to lead to higher adoption of pigment products by consumers in the coming years, in turn boosting pigments market revenue.
Booming Synergies and Expansion Strategies
The pigment market in Europe is expected to go through a restructuring phase in the coming years, with BASF, and Clariant looking to divest their respective pigment businesses. Stiff competition from Asia-based pigment manufacturers, especially from China, and India, has forced companies in developed economies to divest their lower margin businesses in the pigments market space. Companies in Europe will also focus on high performance pigments, especially for the automotive industry.
Companies are also looking to launch new products to align their given portfolios with changing consumer preferences, new legislations, and to ensure that they still are environmentally efficient. For instance, Venator launched pigments to boost solar reflectance and for ultra-low moisture applications in the plastics industry. Croda launched an effect pigment to meet changing consumer preferences in the personal care sector.
The implementation of various strategies to ensure industry players keep or improve their market standing by developing novel products or by boosting operational efficiency is expected to have a positive influence on the growth trajectory of the global pigments market.
Growth Challenges
Pigments Market Hindered by Regulatory Roadblocks
The steady rise in energy costs and raw material prices are key challenges that are expected to hamper growth prospects for the global pigment market. Furthermore, in the last few years, the pigment industry has been under intense scrutiny by environmental and regulatory authorities for the emission of toxic pollutants. These regulations might result in the mushrooming of small non-compliant producers, particularly in the Asia Pacific region.
The pigments market of Asia is heavily dependent on China for intermediaries and finished products. Recently, the Chinese government had taken strict measures to deter polluters resulting in a substantial price rise for organic pigments. Obstacles such as this are expected to negatively affect the projected growth of the global pigments industry.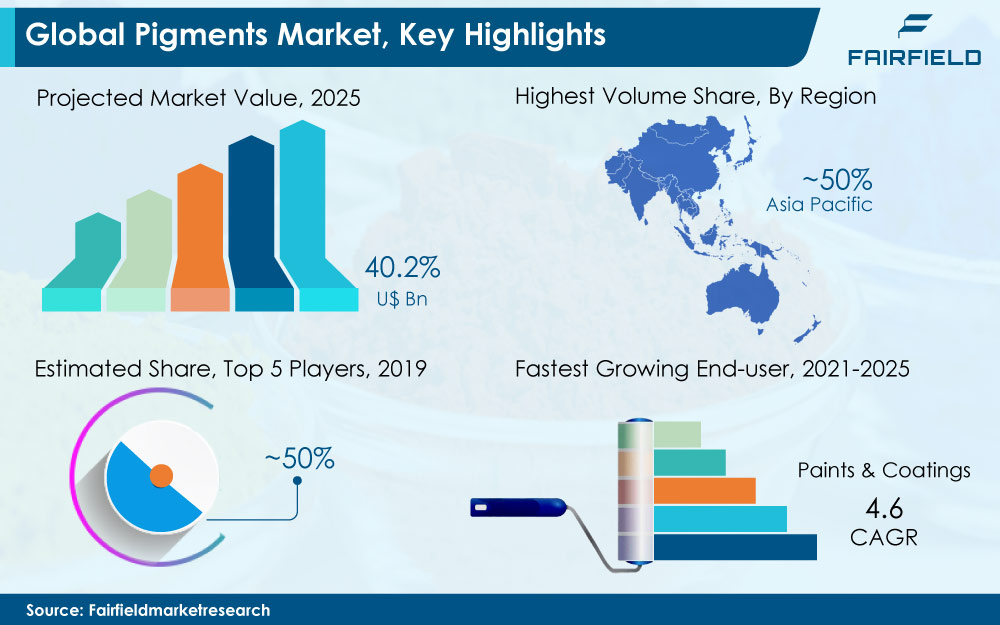 Growth Opportunities Across Regions
Asia Pacific to Strike a Lead with the Highest Production and Consumption
Asia Pacific is the largest producer and consumer in the global pigments market. Over the last couple of decades, the production of pigments has migrated to the Asia Pacific region, with China and India becoming major producers. Companies are expecting optimal growth in decorative coatings as disposable incomes in emerging economies continue to improve. This trend is expected to be fuelled by manufacturers complying with regulations, especially in the production of lead chromate and VOCs.
On the other hand, opportunities in North America and Europe are slated to be highlighted by the growing demand for industrial coatings, where high-performance pigments are required to meet standards. Multinational companies no longer have patent protection for their high-value pigments resulting in the migration of production bases to China.
Recently, there has been a downward trend in the production of pigments in North America, Europe, and Japan resulting in market restructuring and subsequent plant closures owing to lower margins. Furthermore, intense competition from Asia-based producers has compelled manufacturers in the mature pigments market to employ strategic decisions for their pigment businesses, thus transitioning toward higher value and customer-oriented pigment demand.
Key Market Players – Pigments Landscape
Some key companies in the global pigments market include BASF SE, Clariant AG, DIC Corporation, Ferro Corporation, Huntsman Corporation, Lanxess AG, the Chemours Company, Heubach GmbH, Merck KGaA, Sun Chemical Corporation, Dainichiseika Color & Chemicals Mfg. Co. Ltd., Sudarshan Chemical Industries Limited, KRONOS Worldwide Inc., Shepherd Color Company, and Cathay Industries Group, to name a few. To gain a competitive edge, various established industry players are now more focused on new product launches, partnerships, collaborations, acquisitions, and alliances.
Recent Notable Developments
In August 2022, Chemours commenced mining its newest sand mine in Florida, allowing it to boost TiO2 outputs, which is used in white pigments.
In October 2021, KRONOS introduced 9900 Digital White pigment, a newly developed aqueous pigment concentrate designed to fulfil the demands of the digital printing industry.
In 2019, Tronox acquired the TiO2 business of Crystal to become the world's largest vertically integrated TiO2 Furthermore, INEOS acquired Crystal's North American business from Tronox in the same year. The acquisition will help Tronox strengthen its foothold in emerging and other developed markets.
The Global Pigments Market is Segmented as Below:
Product Coverage
Inorganic

Titanium Dioxide
Iron Oxide
Carbon Black
Chromium Compounds
Misc.

Organic

Azo
Phthalocyanine
Quinacridone
Misc.

Specialty

Classic Organic
Metallic
High performance organic
Light Interference
Complex Inorganic
Fluorescent
Luminescent/phosphorescent
Thermochromic
Misc.
Application Coverage
Paints & Coatings
Printing Inks
Plastics
Construction Materials
Misc.
Geographical Coverage
North America
Europe

Germany
France
UK
Italy
Spain
Russia
Rest of Europe

Asia Pacific

China
Japan
India
Southeast Asia
Rest of Asia Pacific

Latin America

Brazil
Mexico
Rest of Latin America

Middle East & Africa

GCC
Egypt
Rest of Middle East & Africa
Leading Companies
Chemours
TRONOX Holding PLC
Venator
Lomon Billions Group
KRONOS Worldwide Inc.
LANXESS
DIC Corporation
Altana AG
Heubach GmbH
Ferro Corporation
Cathay Industries Group
Inside This Report You Will Find:
1. Executive Summary
2. Market Overview
3. Production Output and Trade Statistics, 2018 - 2020
4. Price Trends Analysis and Future Projects, 2017 - 2025
5. Global Pigments Market Outlook, 2017 - 2025
6. North America Pigments Market Outlook, 2017 - 2025
7. Europe Pigments Market Outlook, 2017 - 2025
8. Asia Pacific Pigments Market Outlook, 2017 - 2025
9. Latin America Pigments Market Outlook, 2017 - 2025
10. Middle East & AfricaPigments Market Outlook, 2017 - 2025
11. Competitive Landscape
12. Appendix
Post Sale Support, Research Updates & Offerings:
We value the trust shown by our customers in Fairfield Market Research. We support our clients through our post sale support, research updates and offerings.
The report will be prepared in a PPT format and will be delivered in a PDF format.
Additionally, Market Estimation and Forecast numbers will be shared in Excel Workbook.
If a report being sold was published over a year ago, we will offer a complimentary copy of the updated research report along with Market Estimation and Forecast numbers within 2-3 weeks' time of the sale.
If we update this research study within the next 2 quarters, post purchase of the report, we will offer a Complimentary copy of the updated Market Estimation and Forecast numbers in Excel Workbook.
If there is a geopolitical conflict, pandemic, recession, and the like which can impact global economic scenario and business activity, which might entirely alter the market dynamics or future projections in the industry, we will create a Research Update upon your request at a nominal charge.
1. Executive Summary
1.1. Global Pigments Market Snapshot
1.2. Future Projections
1.3. Key Market Trends
1.4. Analyst Recommendations
2. Market Overview
2.1. Market Definitions and Segmentations
2.2. Market Dynamics
2.2.1. Drivers
2.2.2. Restraints
2.2.3. Market Opportunities
2.3. Value Chain Analysis
2.4. Porter's Five Forces Analysis
2.5. Covid-19 Impact Analysis
2.5.1. Supply Chain
2.5.2. Demand
2.6. Economic Overview
2.6.1. Microeconomic Trends
2.6.2. Macroeconomic Trends
2.7. Raw Materials Impact Analysis


3. Production Output and Trade Statistics, 2018-2020
4. Price Trends Analysis and Future Projects, 2017 - 2025
4.1. Key Highlights
4.2. By Product/By End-user/By Application
4.3. By Region
5. Global Pigments Market Outlook, 2017 - 2025
5.1. Global Pigments Market Outlook, by Product, Volume (Tons) and Value (US$ Mn), 2017 - 2025
5.1.1. Key Highlights
5.1.1.1. Inorganic
5.1.1.1.1. Titanium Dioxide
5.1.1.1.2. Iron Oxide
5.1.1.1.3. Carbon Black
5.1.1.1.4. Chromium Compounds
5.1.1.1.5. Misc.
5.1.1.2. Organic
5.1.1.2.1. Azo
5.1.1.2.2. Phthalocyanine
5.1.1.2.3. Quinacridone
5.1.1.2.4. Misc.
5.1.1.3. Specialty
5.1.1.3.1. Classic Organic
5.1.1.3.2. Metallic
5.1.1.3.3. High performance organic
5.1.1.3.4. Light Interference
5.1.1.3.5. Complex Inorganic
5.1.1.3.6. Fluorescent
5.1.1.3.7. Luminescent/phosphorescent
5.1.1.3.8. Thermochromic
5.1.1.3.9. Misc.
5.1.2. BPS Analysis/Market Attractiveness Analysis
5.2. Global Pigments Market Outlook, by End-user, Volume (Tons) and Value (US$ Mn), 2017 - 2025
5.2.1. Key Highlights
5.2.1.1. Paints & Coatings
5.2.1.2. Printing Inks
5.2.1.3. Plastics
5.2.1.3.1. Commodity Plastics
5.2.1.3.2. Engineered Plastics
5.2.1.4. Construction Materials
5.2.1.5. Misc.
5.2.2. BPS Analysis/Market Attractiveness Analysis
5.3. Global Pigments Market Outlook, by Region, Volume (Tons) and Value (US$ Mn), 2017 - 2025
5.3.1. Key Highlights
5.3.1.1. North America
5.3.1.2. Europe
5.3.1.3. Asia Pacific
5.3.1.4. Latin America
5.3.1.5. Middle East & Africa
5.3.2. BPS Analysis/Market Attractiveness Analysis


6. North America Pigments Market Outlook, 2017 - 2025
6.1. North America Pigments Market Outlook, by Product, Volume (Tons) and Value (US$ Mn), 2017 - 2025
6.1.1. Key Highlights
6.1.1.1. Inorganic
6.1.1.1.1. Titanium Dioxide
6.1.1.1.2. Iron Oxide
6.1.1.1.3. Carbon Black
6.1.1.1.4. Chromium Compounds
6.1.1.1.5. Misc.
6.1.1.2. Organic
6.1.1.2.1. Azo
6.1.1.2.2. Phthalocyanine
6.1.1.2.3. Quinacridone
6.1.1.2.4. Misc.
6.1.1.3. Specialty
6.1.1.3.1. Classic Organic
6.1.1.3.2. Metallic
6.1.1.3.3. High performance organic
6.1.1.3.4. Light Interference
6.1.1.3.5. Complex Inorganic
6.1.1.3.6. Fluorescent
6.1.1.3.7. Luminescent/phosphorescent
6.1.1.3.8. Thermochromic
6.1.1.3.9. Misc.
6.1.2. BPS Analysis/Market Attractiveness Analysis
6.2. North America Pigments Market Outlook, by End-user, Volume (Tons) and Value (US$ Mn), 2017 - 2025
6.2.1. Key Highlights
6.2.1.1. Paints & Coatings
6.2.1.2. Printing Inks
6.2.1.3. Plastics
6.2.1.3.1. Commodity Plastics
6.2.1.3.2. Engineered Plastics
6.2.1.4. Construction Materials
6.2.1.5. Misc.
6.2.2. BPS Analysis/Market Attractiveness Analysis
6.3. North America Pigments Market Outlook, by Country, Volume (Tons) and Value (US$ Mn), 2017 - 2025
6.3.1. Key Highlights
6.3.1.1. U.S. Pigments Market by Product, Volume (Tons) and Value (US$ Mn), 2017 - 2025
6.3.1.2. U.S. Pigments Market by End-user, Volume (Tons) and Value (US$ Mn), 2017 - 2025
6.3.1.3. Canada Pigments Market by Product, Volume (Tons) and Value (US$ Mn), 2017 - 2025
6.3.1.4. Canada Pigments Market by End-user, Volume (Tons) and Value (US$ Mn), 2017 - 2025
6.3.2. BPS Analysis/Market Attractiveness Analysis


7. Europe Pigments Market Outlook, 2017 - 2025
7.1. Europe Pigments Market Outlook, by Product, Volume (Tons) and Value (US$ Mn), 2017 - 2025
7.1.1. Key Highlights
7.1.1.1. Inorganic
7.1.1.1.1. Titanium Dioxide
7.1.1.1.2. Iron Oxide
7.1.1.1.3. Carbon Black
7.1.1.1.4. Chromium Compounds
7.1.1.1.5. Misc.
7.1.1.2. Organic
7.1.1.2.1. Azo
7.1.1.2.2. Phthalocyanine
7.1.1.2.3. Quinacridone
7.1.1.2.4. Misc.
7.1.1.3. Specialty
7.1.1.3.1. Classic Organic
7.1.1.3.2. Metallic
7.1.1.3.3. High performance organic
7.1.1.3.4. Light Interference
7.1.1.3.5. Complex Inorganic
7.1.1.3.6. Fluorescent
7.1.1.3.7. Luminescent/phosphorescent
7.1.1.3.8. Thermochromic
7.1.1.3.9. Misc.
7.1.2. BPS Analysis/Market Attractiveness Analysis
7.2. Europe Pigments Market Outlook, by End-user, Volume (Tons) and Value (US$ Mn), 2017 - 2025
7.2.1. Key Highlights
7.2.1.1. Paints & Coatings
7.2.1.2. Printing Inks
7.2.1.3. Plastics
7.2.1.3.1. Commodity Plastics
7.2.1.3.2. Engineered Plastics
7.2.1.4. Construction Materials
7.2.1.5. Misc.
7.2.2. BPS Analysis/Market Attractiveness Analysis
7.3. Europe Pigments Market Outlook, by Country, Volume (Tons) and Value (US$ Mn), 2017 - 2025
7.3.1. Key Highlights
7.3.1.1. Germany Pigments Market by Product, Volume (Tons) and Value (US$ Mn), 2017 - 2025
7.3.1.2. Germany Pigments Market by End-user, Volume (Tons) and Value (US$ Mn), 2017 - 2025
7.3.1.3. U.K. Pigments Market by Product, Volume (Tons) and Value (US$ Mn), 2017 - 2025
7.3.1.4. U.K. Pigments Market by End-user, Volume (Tons) and Value (US$ Mn), 2017 - 2025
7.3.1.5. Spain Pigments Market by Product, Volume (Tons) and Value (US$ Mn), 2017 - 2025
7.3.1.6. Spain Pigments Market by End-user, Volume (Tons) and Value (US$ Mn), 2017 - 2025
7.3.1.7. Italy Pigments Market by Product, Volume (Tons) and Value (US$ Mn), 2017 - 2025
7.3.1.8. Italy Pigments Market by End-user, Volume (Tons) and Value (US$ Mn), 2017 - 2025
7.3.1.9. Russia Pigments Market by Product, Volume (Tons) and Value (US$ Mn), 2017 - 2025
7.3.1.10. Russia Pigments Market by End-user, Volume (Tons) and Value (US$ Mn), 2017 - 2025
7.3.1.11. Rest of Europe Pigments Market by Product, Volume (Tons) and Value (US$ Mn), 2017 - 2025
7.3.1.12. Rest of Europe Pigments Market by End-user, Volume (Tons) and Value (US$ Mn), 2017 - 2025
7.3.2. BPS Analysis/Market Attractiveness Analysis


8. Asia Pacific Pigments Market Outlook, 2017 - 2025
8.1. Asia Pacific Pigments Market Outlook, by Product, Volume (Tons) and Value (US$ Mn), 2017 - 2025
8.1.1. Key Highlights
8.1.1.1. Inorganic
8.1.1.1.1. Titanium Dioxide
8.1.1.1.2. Iron Oxide
8.1.1.1.3. Carbon Black
8.1.1.1.4. Chromium Compounds
8.1.1.1.5. Misc.
8.1.1.2. Organic
8.1.1.2.1. Azo
8.1.1.2.2. Phthalocyanine
8.1.1.2.3. Quinacridone
8.1.1.2.4. Misc.
8.1.1.3. Specialty
8.1.1.3.1. Classic Organic
8.1.1.3.2. Metallic
8.1.1.3.3. High performance organic
8.1.1.3.4. Light Interference
8.1.1.3.5. Complex Inorganic
8.1.1.3.6. Fluorescent
8.1.1.3.7. Luminescent/phosphorescent
8.1.1.3.8. Thermochromic
8.1.1.3.9. Misc.
8.1.2. BPS Analysis/Market Attractiveness Analysis
8.2. Asia Pacific Pigments Market Outlook, by End-user, Volume (Tons) and Value (US$ Mn), 2017 - 2025
8.2.1. Key Highlights
8.2.1.1. Paints & Coatings
8.2.1.2. Printing Inks
8.2.1.3. Plastics
8.2.1.3.1. Commodity Plastics
8.2.1.3.2. Engineered Plastics
8.2.1.4. Construction Materials
8.2.1.5. Misc.
8.2.2. BPS Analysis/Market Attractiveness Analysis
8.3. Asia Pacific Pigments Market Outlook, by Country, Volume (Tons) and Value (US$ Mn), 2017 - 2025
8.3.1. Key Highlights
8.3.1.1. China Pigments Market by Product, Volume (Tons) and Value (US$ Mn), 2017 - 2025
8.3.1.2. China Pigments Market by End-user, Volume (Tons) and Value (US$ Mn), 2017 - 2025
8.3.1.3. Japan Pigments Market by Product, Volume (Tons) and Value (US$ Mn), 2017 - 2025
8.3.1.4. Japan Pigments Market by End-user, Volume (Tons) and Value (US$ Mn), 2017 - 2025South Korea
8.3.1.5. India Pigments Market by Product, Volume (Tons) and Value (US$ Mn), 2017 - 2025
8.3.1.6. India Pigments Market by End-user, Volume (Tons) and Value (US$ Mn), 2017 - 2025
8.3.1.7. Southeast Asia Pigments Market by Product, Volume (Tons) and Value (US$ Mn), 2017 - 2025
8.3.1.8. Southeast Asia Pigments Market by End-user, Volume (Tons) and Value (US$ Mn), 2017 - 2025
8.3.1.9. Rest of Asia Pacific Pigments Market by Product, Volume (Tons) and Value (US$ Mn), 2017 - 2025
8.3.1.10. Rest of Asia Pacific Pigments Market by End-user, Volume (Tons) and Value (US$ Mn), 2017 - 2025
8.3.2. BPS Analysis/Market Attractiveness Analysis


9. Latin America Pigments Market Outlook, 2017 - 2025
9.1. Latin America Pigments Market Outlook, by Product, Volume (Tons) and Value (US$ Mn), 2017 - 2025
9.1.1. Key Highlights
9.1.1.1. Inorganic
9.1.1.1.1. Titanium Dioxide
9.1.1.1.2. Iron Oxide
9.1.1.1.3. Carbon Black
9.1.1.1.4. Chromium Compounds
9.1.1.1.5. Misc.
9.1.1.2. Organic
9.1.1.2.1. Azo
9.1.1.2.2. Phthalocyanine
9.1.1.2.3. Quinacridone
9.1.1.2.4. Misc.
9.1.1.3. Specialty
9.1.1.3.1. Classic Organic
9.1.1.3.2. Metallic
9.1.1.3.3. High performance organic
9.1.1.3.4. Light Interference
9.1.1.3.5. Complex Inorganic
9.1.1.3.6. Fluorescent
9.1.1.3.7. Luminescent/phosphorescent
9.1.1.3.8. Thermochromic
9.1.1.3.9. Misc.
9.1.2. BPS Analysis/Market Attractiveness Analysis
9.2. Latin America Pigments Market Outlook, by End-user, Volume (Tons) and Value (US$ Mn), 2017 - 2025
9.2.1. Key Highlights
9.2.1.1. Paints & Coatings
9.2.1.2. Printing Inks
9.2.1.3. Plastics
9.2.1.3.1. Commodity Plastics
9.2.1.3.2. Engineered Plastics
9.2.1.4. Construction Materials
9.2.1.5. Misc.
9.2.2. BPS Analysis/Market Attractiveness Analysis
9.3. Latin America Pigments Market Outlook, by Country, Volume (Tons) and Value (US$ Mn), 2017 - 2025
9.3.1. Key Highlights
9.3.1.1. Brazil Pigments Market by Product, Volume (Tons) and Value (US$ Mn), 2017 - 2025
9.3.1.2. Brazil Pigments Market by End-user, Volume (Tons) and Value (US$ Mn), 2017 - 2025
9.3.1.3. Mexico Pigments Market by Product, Volume (Tons) and Value (US$ Mn), 2017 - 2025
9.3.1.4. Mexico Pigments Market by End-user, Volume (Tons) and Value (US$ Mn), 2017 - 2025
9.3.1.5. Rest of Latin America Pigments Market by Product, Volume (Tons) and Value (US$ Mn), 2017 - 2025
9.3.1.6. Rest of Latin America Pigments Market by End-user, Volume (Tons) and Value (US$ Mn), 2017 - 2025
9.3.2. BPS Analysis/Market Attractiveness Analysis


10. Middle East & AfricaPigments Market Outlook, 2017 - 2025
10.1. Middle East & AfricaPigments Market Outlook, by Product, Volume (Tons) and Value (US$ Mn), 2017 - 2025
10.1.1. Key Highlights
10.1.1.1. Inorganic
10.1.1.1.1. Titanium Dioxide
10.1.1.1.2. Iron Oxide
10.1.1.1.3. Carbon Black
10.1.1.1.4. Chromium Compounds
10.1.1.1.5. Misc.
10.1.1.2. Organic
10.1.1.2.1. Azo
10.1.1.2.2. Phthalocyanine
10.1.1.2.3. Quinacridone
10.1.1.2.4. Misc.
10.1.1.3. Specialty
10.1.1.3.1. Classic Organic
10.1.1.3.2. Metallic
10.1.1.3.3. High performance organic
10.1.1.3.4. Light Interference
10.1.1.3.5. Complex Inorganic
10.1.1.3.6. Fluorescent
10.1.1.3.7. Luminescent/phosphorescent
10.1.1.3.8. Thermochromic
10.1.1.3.9. Misc.
10.1.2. BPS Analysis/Market Attractiveness Analysis
10.2. Middle East & AfricaPigments Market Outlook, by End-user, Volume (Tons) and Value (US$ Mn), 2017 - 2025
10.2.1. Key Highlights
10.2.1.1. Paints & Coatings
10.2.1.2. Printing Inks
10.2.1.3. Plastics
10.2.1.3.1. Commodity Plastics
10.2.1.3.2. Engineered Plastics
10.2.1.4. Construction Materials
10.2.1.5. Misc.
10.2.2. BPS Analysis/Market Attractiveness Analysis
10.3. Middle East & AfricaPigments Market Outlook, by Country, Volume (Tons) and Value (US$ Mn), 2017 - 2025
10.3.1. Key Highlights
10.3.1.1. GCC Pigments Market by Product, Volume (Tons) and Value (US$ Mn), 2017 - 2025
10.3.1.2. GCC Pigments Market by End-user, Volume (Tons) and Value (US$ Mn), 2017 - 2025
10.3.1.3. South Africa Pigments Market by Product, Volume (Tons) and Value (US$ Mn), 2017 - 2025
10.3.1.4. South Africa Pigments Market by End-user, Volume (Tons) and Value (US$ Mn), 2017 - 2025
10.3.1.5. Egypt Pigments Market by Product, Volume (Tons) and Value (US$ Mn), 2017 - 2025
10.3.1.6. Egypt Pigments Market by End-user, Volume (Tons) and Value (US$ Mn), 2017 - 2025
10.3.1.7. Rest of Middle East & Africa Pigments Market by Product, Volume (Tons) and Value (US$ Mn), 2017 - 2025
10.3.1.8. Rest of Middle East & Africa Pigments Market by End-user, Volume (Tons) and Value (US$ Mn), 2017 - 2025
10.3.2. BPS Analysis/Market Attractiveness Analysis


11. Competitive Landscape
11.1. Company Market Share Analysis, 2019
11.2. Product Heatmap
11.3. Strategic Collaborations
11.4. Company Profiles
11.4.1. Chemours
11.4.1.1. Company Overview
11.4.1.2. Product Portfolio
11.4.1.3. Financial Overview
11.4.1.4. Business Strategies and Development
11.4.2. Altana AG
11.4.2.1. Company Overview
11.4.2.2. Product Portfolio
11.4.2.3. Financial Overview
11.4.2.4. Business Strategies and Development
11.4.3. Venator
11.4.3.1. Company Overview
11.4.3.2. Product Portfolio
11.4.3.3. Financial Overview
11.4.3.4. Business Strategies and Development
11.4.4. TRONOX
11.4.4.1. Company Overview
11.4.4.2. Product Portfolio
11.4.4.3. Financial Overview
11.4.4.4. Business Strategies and Development
11.4.5. Lomon Billions Group
11.4.5.1. Company Overview
11.4.5.2. Product Portfolio
11.4.5.3. Financial Overview
11.4.5.4. Business Strategies and Development
11.4.6. BASF SE
11.4.6.1. Company Overview
11.4.6.2. Product Portfolio
11.4.6.3. Financial Overview
11.4.6.4. Business Strategies and Development
11.4.7. Clariant
11.4.7.1. Company Overview
11.4.7.2. Product Portfolio
11.4.7.3. Financial Overview
11.4.7.4. Business Strategies and Development
11.4.8. DIC Corporation
11.4.8.1. Company Overview
11.4.8.2. Product Portfolio
11.4.8.3. Financial Overview
11.4.8.4. Business Strategies and Development
11.4.9. Heubach GmbH
11.4.9.1. Company Overview
11.4.9.2. Product Portfolio
11.4.9.3. Financial Overview
11.4.9.4. Business Strategies and Development
11.4.10. LANXESS
11.4.10.1. Company Overview
11.4.10.2. Product Portfolio
11.4.10.3. Financial Overview
11.4.10.4. Business Strategies and Development
11.4.11. Cathay Industries Group
11.4.11.1. Company Overview
11.4.11.2. Product Portfolio
11.4.11.3. Financial Overview
11.4.11.4. Business Strategies and Development
11.4.12. Ferro Corporation
11.4.12.1. Company Overview
11.4.12.2. Product Portfolio
11.4.12.3. Financial Overview
11.4.12.4. Business Strategies and Development
11.4.13. Carl Schlenk AG
11.4.13.1. Company Overview
11.4.13.2. Product Portfolio
11.4.13.3. Financial Overview
11.4.13.4. Business Strategies and Development
11.4.14. Merck KGaA
11.4.14.1. Company Overview
11.4.14.2. Product Portfolio
11.4.14.3. Financial Overview
11.4.14.4. Business Strategies and Development


12. Appendix
12.1. Research Methodology
12.2. Report Assumptions
12.3. Acronyms and Abbreviations