Rare Earth Elements Market
Global rare earth elements market was valued at US$3.5 Bn in 2020 and is predicted to reach US$7.3 Bn by the end of 2026. The report says the rare earth elements market is expected to exhibit a CAGR of 10.2% between 2022 and 2026.
Market Analysis in Brief
Rare earth elements (REE), also known as rare earth oxides (REO) or lanthanides, are a collection of elements along with yttrium. Over the last couple of decades, the global production of rare earth elements has ramped up significantly, with electric vehicles, clean energy technologies, and high-tech industries continuously being in the limelight. The momentous clean energy revolution predominantly drives rare earth elements industry. Based on atomic weights, REEs are classified as light elements (LREE), and heavy elements (HREE), of which the latter tend to be more expensive and represent the niche markets. Rare earth elements are used in a wide range of application areas ranging from magnets to glass, and from functional ceramics to defense applications, which will continue to sustain the growth of rare earth elements market.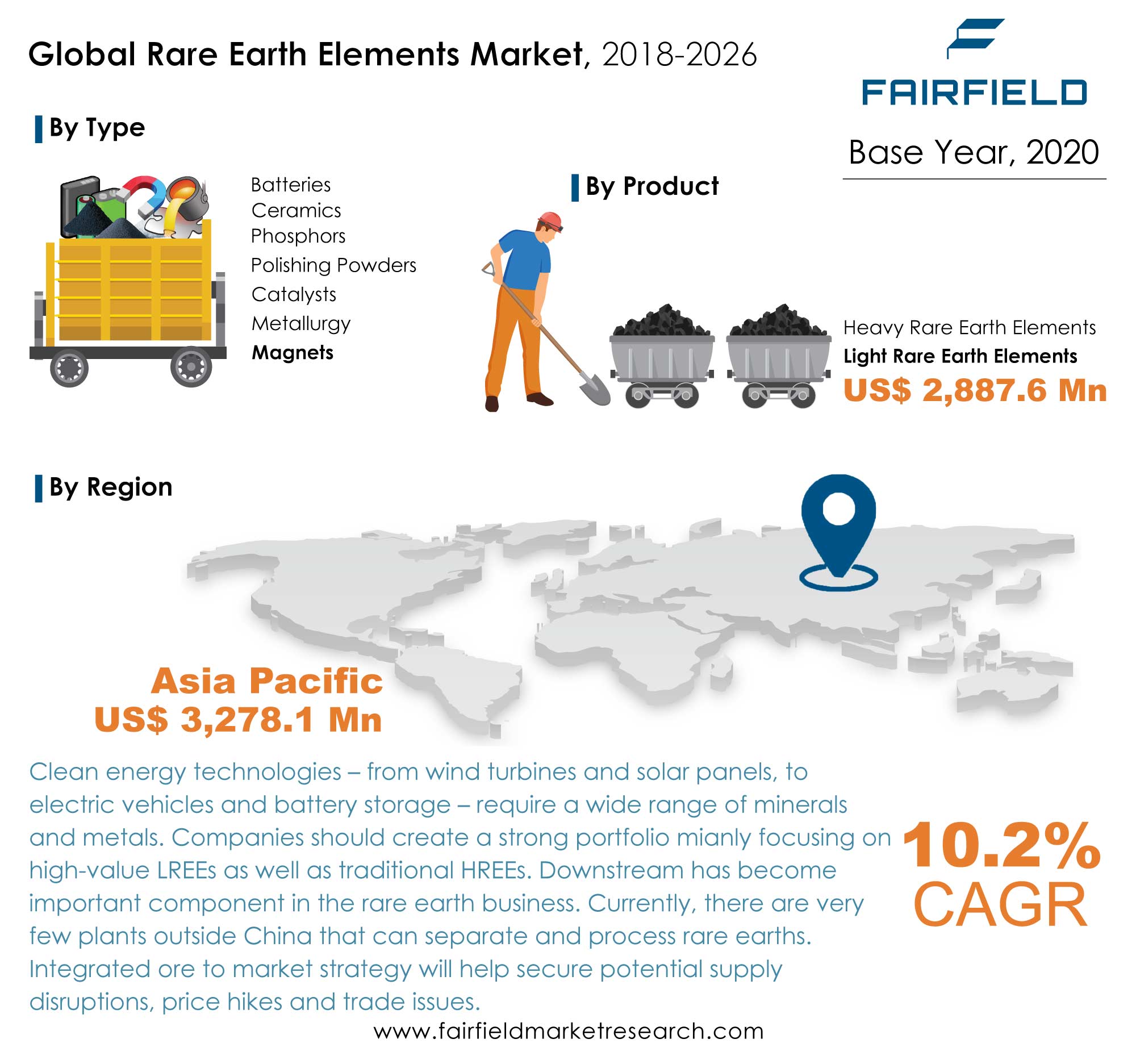 Key Report Findings
In 2026, rare earth elements industry to reach nearly US$7.3 Bn in revenue
Worldwide rare earth elements market to see more than 2x value growth through 2026
Escalating number of wind farms to boost light and heavy RREs
China leads its way in both production, and demand
Precarious trade policies of China hold a massive influence on industry
Growth Drivers
Clean Energy Technologies Steal the Limelight
As per Fairfield's analysis, magnets are supposed to hold a value share of over 80% in the rare earth elements industry by 2026. Clean energy technologies such as electric vehicles, and wind power generation are expected to drive the expansion of rare earth elements market over the foreseeable future. Neodymium based magnets, considered ideal for EVs, are set to see an uprise in the demand. The global sales of electric vehicles market are predicted to reach 32 million units by 2030, a 10x rise from the existing sales.
Sustained Uptake by Wind Farms
Another major application that might benefit from vehicle electrification is NiMH batteries, an active element in hybrid vehicles. Light rare earth elements such as lanthanum, cerium, praseodymium, and samarium are key beneficiaries of this trend. Besides, REEs also forms an integral part of modern wind farms. The growth of wind farms will remain the mainstay to drive demand for light as well as heavy rare earth elements such as neodymium, praseodymium, and dysprosium used in wind turbine motors.
In 2020, despite the pandemic, the global offshore wind industry had its second-best year ever. The cumulative offshore wind power capacity is forecasted to reach 228 GW by 2030 with 40 GW/year new installations between 2020 and 2030. According to International Renewable Energy Agency (IRENA), wind energy could account for more than 35% of the global energy mix.
Growing Application in Efficient Lighting
Rare earth elements market is also expected to thrive on the back of growing application of magnets in phosphors, thus becoming an essential accessory to modern-day energy-efficient lights. Investment in newer technologies and innovation in recycling will create new opportunities for the market. There is a huge possibility of reclaiming REEs from end-of-life electronics which in turn will draw new investments from both new entrants as well as existing companies in the rare earth elements industry.
Growth Challenges
REE Scarcity
Apart from REEs use as a permanent magnet in electronics, polishing powders, phosphors, and functional ceramics have also become key REE applications. There is also growing adoption of REEs in the polishing powders also known as cerium oxide polishing powder. These cerium oxide powders have become main polishing material for tablet, smartphone, and LCD screens. Owing to the current shortages in the rare earth elements market, recovery of rare earths from secondary resources such as the rare-earth polishing powder waste (REPPW), has become a hot topic in global research.
Constant Threat in Form of Export Quotas, and China's Trade Policy
In the recent past, the rare earth elements market has become highly susceptible to supply chain disruptions, fluctuating tariffs, sourcing restrictions & regulations, as well as soaring product prices. Current COVID-19 crisis has also highlighted supply chain issues prompting governments and downstream industries to look for effective alternatives. The first half of 2022 has observed rare-earth prices hitting the highest point in a decade.
With burgeoning demand for rare earth elements and projected supply shortages, there is a hanging sword of lowered export quotas from China to fulfil its own ambitions. To tackle the issue governments across the Western economies are targeting the recycling of rare earth elements as one of the key supply sources in the future. This will perhaps alleviate market supply volatility and soaring price issues for some of the products. One of the major challenges in the current market scenario is to establish a robust supply chain outside China.
Overview of Key Segments
Magnets accounted for more than 30% of total rare earth volume owing to the mounting consumption from EVs, consumer electronics and wind turbine technologies. Catalyst is another major application area, especially in the U.S., and Europe chiefly driven by petroleum refining, and vehicle exhaust catalytic converters. Lanthanum, and Cerium are the foundation of these catalysts as they are used to stabilize the chemistry and structure of zeolites used in crude oil refining. Lean NOx Trap (LNT) technology uses cerium as a foremost catalyst to control emissions.
Growth Opportunities Across Regions
China Spearheads Demand, and Production
In 2020, global production of rare earth elements stood at 243 KT, with China leading the market. In 2020, China accounted for more than 85% of the refined supply (separation and processing) of rare earth elements. China maintains its dominance on the rare earth sources; however, over decade its share in the supply of REE ore and concentrates has drastically dropped to 58% in 2020. Australia, the U.S., and Myanmar have increased their share substantially in the global rare earth elements market. Asia Pacific continues to be the largest consumer of rare earth elements and is expected to hold over 80% of the global market.
Countries such as China, Japan, and South Korea have very strong downstream integrated capacities to convert REE into value added products such as magnets, catalysts, alloys, and metals. On the other hand, North America, and Europe are the major import destinations, relying mostly on China to meet its growing demand for REE into the foreseeable future. There are upcoming mining projects in Australia, and Eastern & Southern countries in Africa. Quad nations (the U.S, India, Australia, and Japan) intends to build a supply-chain to break China's monopoly; however, it will be a huge challenge to compete with China's downstream capabilities in the global rare earth elements market.
New Processing Capacities, and Strategic Collaborations Collectively Gather Momentum Outside China
Companies positioned in China have state-backed funding in both infrastructure, and technology giving them an upper hand in the global rare earth elements market. These companies largely control the prices, making it challenging for other regions to compete. Illegal extraction and mining in China have remained a major challenge with the government determined to curb the problem. To tackle this issue, in 2021, China merged Chinalco, China Minmetals Corporation, and Ganzhou Rare Earth Group to form 'China Rare Earth Group Co. Ltd.'. The top five players in the market accounted for more than 70% of the total REE market in 2021.
Outside China, Lynas Rare Earth Ltd., and MP Materials are among the largest producers of rare earth elements. Lynas extracts ore from Australia and sends it to Malaysia for further separating and processing, wherein MP Materials transfer its ore concentrates to China. Private companies have an opportunity to join the rare earth elements market due to their financial backing and operational flexibilities. The U.S. along with its DoE has planned to bring on one or more projects to curb its dependency on China. Russia also has unveiled a US$1.5 Bn plan with cheaper loans and lower mining taxes to compete with China's monopoly on the market.
The Global Rare Earth Elements Market is Segmented as Below:
By Product Coverage
Light Rare Earth Elements

Lanthanum
Cerium
Neodymium
Samarium
Praseodymium
Misc. (Europium, etc.)

Heavy Rare Earth Elements

Yttrium
Dysprosium
Gadolinium
Terbium
Erbium
Misc. (Holmium, Thulium, etc.)
By Application Coverage
Magnets
Catalysts

FCC Catalysts
Automotive Catalysts

Metallurgy
Polishing Powders
Phosphors
Ceramics
Batteries
Misc. (Defence, Chemical, Glass, etc.)
By Geographical Coverage
North America
Europe

Germany
France
UK
Italy
Netherlands
Russia
Rest of Europe

Asia Pacific

China
Japan
South Korea
India
Southeast Asia
Rest of Asia Pacific

Latin America

Brazil
Mexico
Rest of Latin America

Middle East & Africa

GCC
South Africa
Rest of Middle East & Africa
Leading Companies
China Northern Rare Earth (Group) High-Tech Co. Ltd.
China Minmetals Rare Earth Co. Ltd.
Jiangxi Copper Corporation Limited
Shenghe Resources Holdings Co. Ltd.
Xiamen Tungsten Co., Ltd.
Guangdong Rare Earth Industry Group Co., Ltd.
Grinm Advanced Materials Co., Ltd.
China Rare Earth Holdings Limited
MP Materials
Lynas Rare Earths, Ltd.
IREL Limited
Inside This Report You Will Find:
1. Executive Summary
2. Market Overview
3. Production Output and Trade Statistics
4. Price Trends Analysis and Future Projects, 2018 - 2026
5. Global Rare Earth Elements Market Outlook, 2018 - 2026
6. North America Rare Earth Elements Market Outlook, 2018 - 2026
7. Europe Rare Earth Elements Market Outlook, 2018 - 2026
8. Asia Pacific Rare Earth Elements Market Outlook, 2018 - 2026
9. Latin America Rare Earth Elements Market Outlook, 2018 - 2026
10. Middle East & Africa Rare Earth Elements Market Outlook, 2018 - 2026
11. Competitive Landscape
12. Appendix
Post Sale Support, Research Updates & Offerings:
We value the trust shown by our customers in Fairfield Market Research. We support our clients through our post sale support, research updates and offerings.
The report will be prepared in a PPT format and will be delivered in a PDF format.
Additionally, Market Estimation and Forecast numbers will be shared in Excel Workbook.
If a report being sold was published over a year ago, we will offer a complimentary copy of the updated research report along with Market Estimation and Forecast numbers within 2-3 weeks' time of the sale.
If we update this research study within the next 2 quarters, post purchase of the report, we will offer a Complimentary copy of the updated Market Estimation and Forecast numbers in Excel Workbook.
If there is a geopolitical conflict, pandemic, recession, and the like which can impact global economic scenario and business activity, which might entirely alter the market dynamics or future projections in the industry, we will create a Research Update upon your request at a nominal charge.
1. Executive Summary
1.1. Global Rare Earth Elements (REE) Market Snapshot
1.2. Future Projections
1.3. Key Market Trends
1.4. Analyst Recommendations

2. Market Overview
2.1. Market Definitions and Segmentations
2.2. Market Dynamics
2.2.1. Drivers
2.2.2. Restraints
2.2.3. Market Opportunities
2.3. Value Chain Analysis
2.4. Porter's Five Forces Analysis
2.5. Covid-19 Impact Analysis
2.5.1. Supply
2.5.2. Demand
2.6. Economic Overview
2.6.1. World Economic Projections
2.6.2. Electric Car Registrations and Market Share, 2015-2021
2.6.3. Electric Motor Technology Trends and Breakdown
2.6.4. Upcoming Offshore Capacity, Asia Pacific, 2020 – 2025

3. Production Output and Trade Statistics
3.1. Production Output, 2018-2021
3.2. Global Reserves and Refined Supply
3.3. Trade Statistics, 2018-2020

4. Price Trends Analysis and Future Projects, 2018 - 2026
4.1. Global Average Price Analysis, by Product, US$ per Kg
4.2. Global Average Price Analysis, by Region, US$ per Kg

5. Global Rare Earth Elements (REE) Market Outlook, 2018 - 2026
5.1. Global Rare Earth Elements (REE) Market Outlook, by Product, Volume (Kilo Tons) and Value (US$ Mn), 2018 - 2026
5.1.1. Key Highlights
5.1.1.1. Light Rare Earth Elements
5.1.1.1.1. Lanthanum
5.1.1.1.2. Cerium
5.1.1.1.3. Neodymium
5.1.1.1.4. Samarium
5.1.1.1.5. Praseodymium
5.1.1.1.6. Misc. (Europium, etc.)
5.1.1.2. Heavy Rare Earth Elements
5.1.1.2.1. Yttrium
5.1.1.2.2. Dysprosium
5.1.1.2.3. Gadolinium
5.1.1.2.4. Terbium
5.1.1.2.5. Erbium
5.1.1.2.6. Misc. (Holmium, Thulium, etc.)
5.2. Global Rare Earth Elements (REE) Market Outlook, by Application, Volume (Kilo Tons) and Value (US$ Mn), 2018 - 2026
5.2.1. Key Highlights
5.2.1.1. Magnets
5.2.1.2. Catalysts
5.2.1.2.1. FCC Catalysts
5.2.1.2.2. Automotive Catalysts
5.2.1.3. Metallurgy
5.2.1.4. Polishing Powders
5.2.1.5. Phosphors
5.2.1.6. Ceramics
5.2.1.7. Batteries
5.2.1.8. Misc. (Defense, Chemical, Glass, etc.)
5.3. Global Rare Earth Elements (REE) Market Outlook, by Region, Volume (Kilo Tons) and Value (US$ Mn), 2018 - 2026
5.3.1. Key Highlights
5.3.1.1. North America
5.3.1.2. Europe
5.3.1.3. Asia Pacific
5.3.1.4. Latin America
5.3.1.5. Middle East & Africa

6. North America Rare Earth Elements (REE) Market Outlook, 2018 - 2026
6.1. North America Rare Earth Elements (REE) Market Outlook, by Product, Volume (Tons) and Value (US$ Thousand), 2018 - 2026
6.1.1. Key Highlights
6.1.1.1. Light Rare Earth Elements
6.1.1.1.1. Lanthanum
6.1.1.1.2. Cerium
6.1.1.1.3. Neodymium
6.1.1.1.4. Samarium
6.1.1.1.5. Praseodymium
6.1.1.1.6. Misc. (Europium, etc.)
6.1.1.2. Heavy Rare Earth Elements
6.1.1.2.1. Yttrium
6.1.1.2.2. Dysprosium
6.1.1.2.3. Gadolinium
6.1.1.2.4. Terbium
6.1.1.2.5. Erbium
6.1.1.2.6. Misc. (Holmium, Thulium, etc.)
6.1.2. BPS Analysis/Market Attractiveness Analysis
6.2. North America Rare Earth Elements (REE) Market Outlook, by Application, Volume (Tons) and Value (US$ Thousand), 2018 - 2026
6.2.1. Key Highlights
6.2.1.1. Magnets
6.2.1.2. Catalysts
6.2.1.2.1. FCC Catalysts
6.2.1.2.2. Automotive Catalysts
6.2.1.3. Metallurgy
6.2.1.4. Polishing Powders
6.2.1.5. Phosphors
6.2.1.6. Ceramics
6.2.1.7. Batteries
6.2.1.8. Misc. (Defense, Chemical, Glass, etc.)
6.2.2. BPS Analysis/Market Attractiveness Analysis
6.3. North America Rare Earth Elements (REE) Market Outlook, by Country, Volume (Tons) and Value (US$ Thousand), 2018 - 2026
6.3.1. Key Highlights
6.3.1.1. U.S. Rare Earth Elements (REE) Market by Product, Volume (Tons) and Value (US$ Thousand), 2018 - 2026
6.3.1.2. U.S. Rare Earth Elements (REE) Market by Application, Volume (Tons) and Value (US$ Thousand), 2018 - 2026
6.3.1.3. Canada Rare Earth Elements (REE) Market by Product, Volume (Tons) and Value (US$ Thousand), 2018 - 2026
6.3.1.4. Canada Rare Earth Elements (REE) Market by Application, Volume (Tons) and Value (US$ Thousand), 2018 - 2026
6.3.2. BPS Analysis/Market Attractiveness Analysis

7. Europe Rare Earth Elements (REE) Market Outlook, 2018 - 2026
7.1. Europe Rare Earth Elements (REE) Market Outlook, by Product, Volume (Tons) and Value (US$ Thousand), 2018 - 2026
7.1.1. Key Highlights
7.1.1.1. Light Rare Earth Elements
7.1.1.1.1. Lanthanum
7.1.1.1.2. Cerium
7.1.1.1.3. Neodymium
7.1.1.1.4. Samarium
7.1.1.1.5. Praseodymium
7.1.1.1.6. Misc. (Europium, etc.)
7.1.1.2. Heavy Rare Earth Elements
7.1.1.2.1. Yttrium
7.1.1.2.2. Dysprosium
7.1.1.2.3. Gadolinium
7.1.1.2.4. Terbium
7.1.1.2.5. Erbium
7.1.1.2.6. Misc. (Holmium, Thulium, etc.)
7.1.2. BPS Analysis/Market Attractiveness Analysis
7.2. Europe Rare Earth Elements (REE) Market Outlook, by Application, Volume (Tons) and Value (US$ Thousand), 2018 - 2026
7.2.1. Key Highlights
7.2.1.1. Magnets
7.2.1.2. Catalysts
7.2.1.2.1. FCC Catalysts
7.2.1.2.2. Automotive Catalysts
7.2.1.3. Metallurgy
7.2.1.4. Polishing Powders
7.2.1.5. Phosphors
7.2.1.6. Ceramics
7.2.1.7. Batteries
7.2.1.8. Misc. (Defense, Chemical, Glass, etc.)
7.2.2. BPS Analysis/Market Attractiveness Analysis
7.3. Europe Rare Earth Elements (REE) Market Outlook, by Country, Volume (Tons) and Value (US$ Thousand), 2018 - 2026
7.3.1. Key Highlights
7.3.1.1. Germany Rare Earth Elements (REE) Market by Product, Volume (Tons) and Value (US$ Thousand), 2018 - 2026
7.3.1.2. Germany Rare Earth Elements (REE) Market by Application, Volume (Tons) and Value (US$ Thousand), 2018 - 2026
7.3.1.3. U.K. Rare Earth Elements (REE) Market by Product, Volume (Tons) and Value (US$ Thousand), 2018 - 2026
7.3.1.4. U.K. Rare Earth Elements (REE) Market by Application, Volume (Tons) and Value (US$ Thousand), 2018 - 2026
7.3.1.5. France Rare Earth Elements (REE) Market by Product, Volume (Tons) and Value (US$ Thousand), 2018 - 2026
7.3.1.6. France Rare Earth Elements (REE) Market by Application, Volume (Tons) and Value (US$ Thousand), 2018 - 2026
7.3.1.7. Italy Rare Earth Elements (REE) Market by Product, Volume (Tons) and Value (US$ Thousand), 2018 - 2026
7.3.1.8. Italy Rare Earth Elements (REE) Market by Application, Volume (Tons) and Value (US$ Thousand), 2018 - 2026
7.3.1.9. Netherlands Rare Earth Elements (REE) Market by Product, Volume (Tons) and Value (US$ Thousand), 2018 - 2026
7.3.1.10. Netherlands Rare Earth Elements (REE) Market by Application, Volume (Tons) and Value (US$ Thousand), 2018 - 2026
7.3.1.11. Russia Rare Earth Elements (REE) Market by Product, Volume (Tons) and Value (US$ Thousand), 2018 - 2026
7.3.1.12. Russia Rare Earth Elements (REE) Market by Application, Volume (Tons) and Value (US$ Thousand), 2018 - 2026
7.3.1.13. Rest of Europe Rare Earth Elements (REE) Market by Product, Volume (Tons) and Value (US$ Thousand), 2018 - 2026
7.3.1.14. Rest of Europe Rare Earth Elements (REE) Market by Application, Volume (Tons) and Value (US$ Thousand), 2018 - 2026
7.3.2. BPS Analysis/Market Attractiveness Analysis

8. Asia Pacific Rare Earth Elements (REE) Market Outlook, 2018 - 2026
8.1. Asia Pacific Rare Earth Elements (REE) Market Outlook, by Product, Volume (Tons) and Value (US$ Thousand), 2018 - 2026
8.1.1. Key Highlights
8.1.1.1. Light Rare Earth Elements
8.1.1.1.1. Lanthanum
8.1.1.1.2. Cerium
8.1.1.1.3. Neodymium
8.1.1.1.4. Samarium
8.1.1.1.5. Praseodymium
8.1.1.1.6. Misc. (Europium, etc.)
8.1.1.2. Heavy Rare Earth Elements
8.1.1.2.1. Yttrium
8.1.1.2.2. Dysprosium
8.1.1.2.3. Gadolinium
8.1.1.2.4. Terbium
8.1.1.2.5. Erbium
8.1.1.2.6. Misc. (Holmium, Thulium, etc.)
8.1.2. BPS Analysis/Market Attractiveness Analysis
8.2. Asia Pacific Rare Earth Elements (REE) Market Outlook, by Application, Volume (Tons) and Value (US$ Thousand), 2018 - 2026
8.2.1. Key Highlights
8.2.1.1. Magnets
8.2.1.2. Catalysts
8.2.1.2.1. FCC Catalysts
8.2.1.2.2. Automotive Catalysts
8.2.1.3. Metallurgy
8.2.1.4. Polishing Powders
8.2.1.5. Phosphors
8.2.1.6. Ceramics
8.2.1.7. Batteries
8.2.1.8. Misc. (Defense, Chemical, Glass, etc.)
8.2.2. BPS Analysis/Market Attractiveness Analysis
8.3. Asia Pacific Rare Earth Elements (REE) Market Outlook, by Country, Volume (Tons) and Value (US$ Thousand), 2018 - 2026
8.3.1. Key Highlights
8.3.1.1. China Rare Earth Elements (REE) Market by Product, Volume (Tons) and Value (US$ Thousand), 2018 - 2026
8.3.1.2. China Rare Earth Elements (REE) Market by Application, Volume (Tons) and Value (US$ Thousand), 2018 - 2026
8.3.1.3. Japan Rare Earth Elements (REE) Market by Product, Volume (Tons) and Value (US$ Thousand), 2018 - 2026
8.3.1.4. Japan Rare Earth Elements (REE) Market by Application, Volume (Tons) and Value (US$ Thousand), 2018 - 2026
8.3.1.5. South Korea Rare Earth Elements (REE) Market by Product, Volume (Tons) and Value (US$ Thousand), 2018 - 2026
8.3.1.6. South Korea Rare Earth Elements (REE) Market by Application, Volume (Tons) and Value (US$ Thousand), 2018 - 2026
8.3.1.7. India Rare Earth Elements (REE) Market by Product, Volume (Tons) and Value (US$ Thousand), 2018 - 2026
8.3.1.8. India Rare Earth Elements (REE) Market by Application, Volume (Tons) and Value (US$ Thousand), 2018 - 2026
8.3.1.9. Southeast Asia Rare Earth Elements (REE) Market by Product, Volume (Tons) and Value (US$ Thousand), 2018 - 2026
8.3.1.10. Southeast Asia Rare Earth Elements (REE) Market by Application, Volume (Tons) and Value (US$ Thousand), 2018 - 2026
8.3.1.11. Rest of Asia Pacific Rare Earth Elements (REE) Market by Product, Volume (Tons) and Value (US$ Thousand), 2018 - 2026
8.3.1.12. Rest of Asia Pacific Rare Earth Elements (REE) Market by Application, Volume (Tons) and Value (US$ Thousand), 2018 - 2026
8.3.2. BPS Analysis/Market Attractiveness Analysis

9. Latin America Rare Earth Elements (REE) Market Outlook, 2018 - 2026
9.1. Latin America Rare Earth Elements (REE) Market Outlook, by Product, Volume (Tons) and Value (US$ Thousand), 2018 - 2026
9.1.1. Key Highlights
9.1.1.1. Light Rare Earth Elements
9.1.1.1.1. Lanthanum
9.1.1.1.2. Cerium
9.1.1.1.3. Neodymium
9.1.1.1.4. Samarium
9.1.1.1.5. Praseodymium
9.1.1.1.6. Misc. (Europium, etc.)
9.1.1.2. Heavy Rare Earth Elements
9.1.1.2.1. Yttrium
9.1.1.2.2. Dysprosium
9.1.1.2.3. Gadolinium
9.1.1.2.4. Terbium
9.1.1.2.5. Erbium
9.1.1.2.6. Misc. (Holmium, Thulium, etc.)
9.1.2. BPS Analysis/Market Attractiveness Analysis
9.2. Latin America Rare Earth Elements (REE) Market Outlook, by Application, Volume (Tons) and Value (US$ Thousand), 2018 - 2026
9.2.1. Key Highlights
9.2.1.1. Magnets
9.2.1.2. Catalysts
9.2.1.2.1. FCC Catalysts
9.2.1.2.2. Automotive Catalysts
9.2.1.3. Metallurgy
9.2.1.4. Polishing Powders
9.2.1.5. Phosphors
9.2.1.6. Ceramics
9.2.1.7. Batteries
9.2.1.8. Misc. (Defense, Chemical, Glass, etc.)
9.2.2. BPS Analysis/Market Attractiveness Analysis
9.3. Latin America Rare Earth Elements (REE) Market Outlook, by Country, Volume (Tons) and Value (US$ Thousand), 2018 - 2026
9.3.1. Key Highlights
9.3.1.1. Brazil Rare Earth Elements (REE) Market by Product, Volume (Tons) and Value (US$ Thousand), 2018 - 2026
9.3.1.2. Brazil Rare Earth Elements (REE) Market by Application, Volume (Tons) and Value (US$ Thousand), 2018 - 2026
9.3.1.3. Mexico Rare Earth Elements (REE) Market by Product, Volume (Tons) and Value (US$ Thousand), 2018 - 2026
9.3.1.4. Mexico Rare Earth Elements (REE) Market by Application, Volume (Tons) and Value (US$ Thousand), 2018 - 2026
9.3.1.5. Rest of Latin America Rare Earth Elements (REE) Market by Product, Volume (Tons) and Value (US$ Thousand), 2018 - 2026
9.3.1.6. Rest of Latin America Rare Earth Elements (REE) Market by Application, Volume (Tons) and Value (US$ Thousand), 2018 - 2026
9.3.2. BPS Analysis/Market Attractiveness Analysis

10. Middle East & Africa Rare Earth Elements (REE) Market Outlook, 2018 - 2026
10.1. Middle East & Africa Rare Earth Elements (REE) Market Outlook, by Product, Volume (Tons) and Value (US$ Thousand), 2018 - 2026
10.1.1. Key Highlights
10.1.1.1. Light Rare Earth Elements
10.1.1.1.1. Lanthanum
10.1.1.1.2. Cerium
10.1.1.1.3. Neodymium
10.1.1.1.4. Samarium
10.1.1.1.5. Praseodymium
10.1.1.1.6. Misc. (Europium, etc.)
10.1.1.2. Heavy Rare Earth Elements
10.1.1.2.1. Yttrium
10.1.1.2.2. Dysprosium
10.1.1.2.3. Gadolinium
10.1.1.2.4. Terbium
10.1.1.2.5. Erbium
10.1.1.2.6. Misc. (Holmium, Thulium, etc.)
10.1.2. BPS Analysis/Market Attractiveness Analysis
10.2. Middle East & Africa Rare Earth Elements (REE) Market Outlook, by Application, Volume (Tons) and Value (US$ Thousand), 2018 - 2026
10.2.1. Key Highlights
10.2.1.1. Magnets
10.2.1.2. Catalysts
10.2.1.2.1. FCC Catalysts
10.2.1.2.2. Automotive Catalysts
10.2.1.3. Metallurgy
10.2.1.4. Polishing Powders
10.2.1.5. Phosphors
10.2.1.6. Ceramics
10.2.1.7. Batteries
10.2.1.8. Misc. (Defense, Chemical, Glass, etc.)
10.2.2. BPS Analysis/Market Attractiveness Analysis
10.3. Middle East & Africa Rare Earth Elements (REE) Market Outlook, by Country, Volume (Tons) and Value (US$ Thousand), 2018 - 2026
10.3.1. Key Highlights
10.3.1.1. GCC Rare Earth Elements (REE) Market by Product, Volume (Tons) and Value (US$ Thousand), 2018 - 2026
10.3.1.2. GCC Rare Earth Elements (REE) Market by Application, Volume (Tons) and Value (US$ Thousand), 2018 - 2026
10.3.1.3. South Africa Rare Earth Elements (REE) Market by Product, Volume (Tons) and Value (US$ Thousand), 2018 - 2026
10.3.1.4. South Africa Rare Earth Elements (REE) Market by Application, Volume (Tons) and Value (US$ Thousand), 2018 - 2026
10.3.1.5. Rest of Middle East & Africa Rare Earth Elements (REE) Market by Product, Volume (Tons) and Value (US$ Thousand), 2018 - 2026
10.3.1.6. Rest of Middle East & Africa Rare Earth Elements (REE) Market by Application, Volume (Tons) and Value (US$ Thousand), 2018 - 2026
10.3.2. BPS Analysis/Market Attractiveness Analysis

11. Competitive Landscape
11.1. Product vs Application Heatmap
11.2. Rare Earth Elements (REE) Market Structure
11.3. Company Market Share Analysis, 2021
11.4. Key Existing and Upcoming Projects Outside China
11.5. Company Profiles
11.5.1. China Northern Rare Earth (Group) High-Tech Co. Ltd.
11.5.1.1. Company Overview
11.5.1.2. Product Portfolio
11.5.1.3. Financial Overview
11.5.1.4. Business Strategies and Development
11.5.2. China Minmetals Rare Earth Co. Ltd.
11.5.2.1. Company Overview
11.5.2.2. Product Portfolio
11.5.2.3. Financial Overview
11.5.2.4. Business Strategies and Development
11.5.3. Jiangxi Copper Corporation Limited
11.5.3.1. Company Overview
11.5.3.2. Product Portfolio
11.5.3.3. Financial Overview
11.5.3.4. Business Strategies and Development
11.5.4. Shenghe Resources Holdings Co. Ltd.
11.5.4.1. Company Overview
11.5.4.2. Product Portfolio
11.5.4.3. Financial Overview
11.5.4.4. Business Strategies and Development
11.5.5. Xiamen Tungsten Co., Ltd.
11.5.5.1. Company Overview
11.5.5.2. Product Portfolio
11.5.5.3. Production Capacities
11.5.5.4. Business Strategies and Development
11.5.6. Guangdong Rare Earth Industry Group Co., Ltd.
11.5.6.1. Company Overview
11.5.6.2. Product Portfolio
11.5.6.3. Business Strategies and Development
11.5.7. Grinm Advanced Materials Co., Ltd.
11.5.7.1. Company Overview
11.5.7.2. Product Portfolio
11.5.7.3. Production Capacities
11.5.7.4. Business Strategies and Development
11.5.8. China Rare Earth Holdings Limited
11.5.8.1. Company Overview
11.5.8.2. Product Portfolio
11.5.8.3. Production Capacities
11.5.8.4. Business Strategies and Development
11.5.9. MP Materials
11.5.9.1. Company Overview
11.5.9.2. Product Portfolio
11.5.9.3. Production Capacities
11.5.9.4. Business Strategies and Development
11.5.10. Lynas Rare Earths, Ltd.
11.5.10.1. Company Overview
11.5.10.2. Product Portfolio
11.5.10.3. Production Capacities
11.5.10.4. Business Strategies and Development
11.5.11. IREL Limited
11.5.11.1. Company Overview
11.5.11.2. Product Portfolio
11.5.11.3. Production Capacities
11.5.11.4. Business Strategies and Development

12. Appendix
12.1. Research Methodology
12.2. Report Assumptions
12.3. Acronyms and Abbreviations
BASE YEAR

HISTORICAL DATA

FORECAST PERIOD

UNITS

2020

2018 - 2020

2022 - 2026

Value: US$ Thousand

Volume: Tons
REPORT FEATURES

DETAILS

Product Coverage

Light Rare Earth Elements

Lanthanum

Cerium

Neodymium

Samarium

Praseodymium

Misc. (Europium, etc.)

Heavy Rare Earth Elements

Application Coverage

Magnets

Catalysts

FCC Catalysts

Automotive Catalysts

Metallurgy

Polishing Powders

Phosphors

Ceramics

Batteries

Misc. (Defence, Chemical, Glass, etc.)

Geographical Coverage

North America

Europe

Germany

France

U.K.

Italy

Netherlands

Russia

Rest of Europe

Asia Pacific

China

Japan

South Korea

India

Southeast Asia

Rest of Asia Pacific

Latin America

Brazil

Mexico

Rest of Latin America

Middle East & Africa

Leading Companies

China Northern Rare Earth (Group) High-Tech Co. Ltd.

China Minmetals Rare Earth Co. Ltd.

Jiangxi Copper Corporation Limited

Shenghe Resources Holdings Co. Ltd.

Xiamen Tungsten Co., Ltd.

Guangdong Rare Earth Industry Group Co., Ltd.

Grinm Advanced Materials Co., Ltd.

China Rare Earth Holdings Limited

MP Materials

Lynas Rare Earths, Ltd.

IREL Limited

Report Highlights

Market Estimates and Forecast, Market Dynamics, Industry Trends, Production Output, Trade Statistics, Competition Landscape, Product-, Application-, Region-, Country-wise Trends & Analysis, COVID-19 Impact Analysis (Demand and Supply), Key Market Trends