The worldwide green hydrogen market size will witness staggering expansion at a CAGR of 17.8% between 2023 and 2030. By the end of forecast year, the market value is expected to reach around US$25.4 Bn.
Market Analysis in Brief
As the implications of climate change become more obvious, more people are becoming interested in finding and implementing alternative energy solutions that lessen, if not completely remove, the carbon footprint in the environment. To accomplish these shared objectives, numerous countries and concerned authorities are now adopting tougher laws. This will lay a strong foundation for the establishment and expansion of the global hydrogen economy, in turn boosting green hydrogen industry. Currently, grey hydrogen production constitutes more than 90% of hydrogen production. Future energy needs can be significantly reduced by using green hydrogen, which is produced from sustainable resources like solar, and wind. The economics of green hydrogen are difficult now, mainly due to the significant disparity in the fundamental costs and supply of renewable energy sources.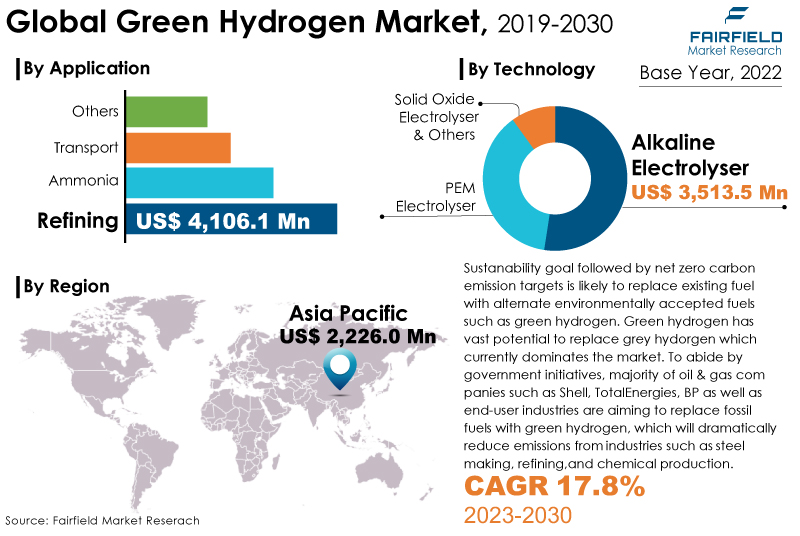 Key Report Findings
Toward the end of forecast year, the green hydrogen market valuation will possibly surpass the US$25 Bn mark.
Over 90% of the worldwide hydrogen industry is currently accounted by grey hydrogen.
The commercial viability of producing green hydrogen has increased owing to consistently declining costs for renewable energy sources, dropping electrolyser costs, and increased efficiency brought on by technological advancements.
In 2022, the refining segment constituted more than 61% market share while the alkaline electrolyser category made up for over 52% share.
The solar PV technology segment constituted more than 53% share in 2022.
Asia Pacific dominates with over 1/3rd market value share, followed by Europe.
Market Drivers
Growing Awareness About Green Hydrogen as a Potential Alternative to Fossil Fuel, and Grey Hydrogen
The understanding of hydrogen as an energy carrier that solely reacts with oxygen to form heat and water is continuing to rise. Furthermore, there are no greenhouse gases or other pollutants produced when hydrogen fuel cells are used. According to research by the US Department of Energy, hydrogen-based fuel cells may generate electricity with an efficiency of up to 60%, compared to a traditional combustion-based power plant's efficiency of 33-35%. This is a significant aspect that is anticipated to increase the rate of adoption of this technology, which will raise the market growth possibilities for potential participants in the global green hydrogen market.
Favourable Perception as a Strong Medium to Attain Net Zero Carbon Emission Goals
The number of public events and campaigns aimed at raising awareness about this issue has increased, and many powerful people have lent their support to numerous organisations that advocate the adoption of cleaner technology for a variety of uses. Additionally, a lot of businesses are currently concentrating on creating greener hydrogen technology that is more efficient and can easily replace the use of conventional energy sources.
Market Challenges
Expensive Production Costs
The initial set-up costs connected with the production, storage, conversion, and transportation of green hydrogen in addition to the ongoing upkeep of the required infrastructure, are significant factors that are anticipated to negatively impact the projected growth of the global green hydrogen market. The market's acceptance and expansion are expected to be positively impacted by increased investments, and ongoing R&D projects aimed at creating low-cost, effective production technologies.
The COVID-19 Impact
As a result of the COVID-19 epidemic, various countries-imposed restrictions on the movement of people and products, impeded the supply of essential raw resources, and faced other operational challenges. As a result, many industries saw a large drop in their generated income, and the market was no exception. The global green hydrogen market has since returned to its pre-COVID-19 condition of operation, however, since limitations have been gradually loosened following the third and fourth waves.
Overview of Key Segments
Refining Application Dominates, May Lose Share by 2030
In terms of application, the global green hydrogen market has been segregated into refining, ammonia, transport, and others. In 2022, refining constituted 61.3% share which is likely to fall gradually over the next seven years. Others segments such as transport and other (iron & steel, chemical) would gain additional market share in the years to come as several companies are targeting to use green hydrogen in transport, iron & steel, and chemical industries.
Preference for PEM Electrolyser to Grow Strong by 2030
In terms of technology, the global green hydrogen market has been segregated into alkaline electrolyser, PEM electrolyser, and solid oxide electrolyser & others. In 2022, alkaline electrolyser constituted 52.4% share which is likely to fall gradually over the next seven years. PEM electrolyser is likely to grab additional market share by 2030 on account of the rising popularity for their capability to produce high-purity hydrogen, and easy cooling. Considerable increase in penetration of solid oxide electrolyser is expected by 2030.
Solar PV Source to Maintain Dominance till 2030
In terms of source, the global green hydrogen market has been fragmented into solar PV, offshore wind, and onshore wind. In 2022, the global green hydrogen market was dominated by solar PV technology which constituted 53.8% share. Solar based power is highly preferred to run electrolysers, especially in nations where sun's intensity is high.
Moreover, numerous planned projects are likely to use solar energy as a key source to produce green hydrogen. The solar PV segment is thus expected to register strong growth by 2030, expanding at a CAGR of 17.9% by value.
Growth Opportunities Across Regions
Europe to Register Strong Growth in Both Production, and Consumption
Currently, Asia Pacific dominates the global green hydrogen market and constituted 33.4% closely followed by Europe. China dominates the Asia Pacific green hydrogen market and constituted more than 60% share in 2022. India has already launched numerous green hydrogen pilot projects in a bid to achieve 8 million tons of green hydrogen capacity by 2030. In Australia, ongoing green hydrogen projects are "Western green energy hub (28GW) and "Asia renewable energy hub (14 GW). Asia renewable energy hub project could achieve 1.75 million tons of green hydrogen each year.
Majority of the nations are eyeing green hydrogen for transport sector, however, in Europe apart from refining and ammonia applications, strong growth is expected to primary metal sector, especially steel where they have plans to produce "green steel" by replacing fossil fuel with green hydrogen. In Europe - Spain, France, and Germany HyDeal is roping 95GW solar power to drive its 67GW of electrolyser. Around 30 energy companies including electrolyser manufacturer McPhy are collaborate working to achieve this target. Europe is aiming to reduce green hydrogen cost to 1.5 Euros/Kg by 2030. Ongoing green hydrogen projects include NortH2 (Less than 10GW)- Netherland and Germany, AquaVentus (10GW)- Germany.
North America Flourishes on the Back of Favourable Clean Energy Legislation
In North America, the US dominates the green hydrogen market in 2022. Close to five new green hydrogen projects are expected to commence in 2023 - St. Gabriel Green Hydrogen Plant, Sauk Valley Green Hydrogen Plant, Kingsland Green Hydrogen Plant, Casa Grande Green Hydrogen Plant, and Donaldsonville Green Hydrogen Project. However, as of now the biggest 20 GW PEM electrolyser plant is based in Canada developed by Air Liquide's. A significant aspect that is anticipated to lead to this regional market controlling the largest share of this industry is the significant investments made by several European countries toward the transition to a clean, green hydrogen-based economy.
On the other side, North America is anticipated to expand at a favourable rate over the anticipated time frame because of the implementation of numerous clean energy legislation. However, more crucially, markets in the Asia Pacific region are anticipated to see the greatest CAGR, with Canada, and Australia playing a major role in the market expansion for green hydrogen.
Green Hydrogen Market: Competitive Landscape
Some of the major players in the global green hydrogen market include FuelCell Energy, Inc., Adani Green Energy, Bloom Energy Corporation, Linde Plc, Royal Dutch Shell, Plug Power, Inc., Air Products & Chemicals Inc., Air Liquide S.A., Reliance Industries, and TotalEnergies, and BP p.l.c.
Notable Developments
In May 2022, Toyota Motor Europe signed an MoU along with Air Liquide, and CaetanoBus over the development of integrated hydrogen solutions like hydrogen vehicles, or hydrogen fuel cell-powered electric vehicles. The collective expertise here aims to effectively address the complete hydrogen mobility value chain.
In May 2022, Air Products & Chemicals announced a collaboration with Schenk-TankTransport, and Road Transport Project for the development of hydrogen trucks along with a hydrogen refuelling station in Rotterdam.
In June 2022, Siemens Energy, and Air Liquide collectively announced a joint venture, solely concerned with the renewable hydrogen electrolyzes manufacturing in Europe. The former is claimed to account for a 74.6% stake while the latter accounts for the remaining 25.1%.
In July 2022, Iberdrola S.A. entered a strategic collaboration with BP with a mutual objective of decarbonisation of the industrial and transport sectors by expediting the development of EV charging infrastructure, as well as the green hydrogen generation hubs in frontrunning countries like the UK, Portugal, and Spain.
The Global Green Hydrogen Market is Segmented as Below:
By Application
Refining
Ammonia
Transport
Others
By Technology
Alkaline Electrolyser
PEM Electrolyser
Solid Oxide Electrolyser & Others
By Source
Solar PV
Offshore Wind
Onshore Wind
By Geographical Coverage
North America
Europe

Germany
Netherlands
Poland
Spain
Italy
U.K.
Rest of EU

Asia Pacific

China
India
Japan
Indonesia
Rest of APAC

Middle East & Africa

Iran
Saudi Arabia
Egypt
Rest of MEA

Latin America

Brazil
Trinidad & Tobago
Rest of LA
Leading Companies
FuelCell Energy, Inc.
Adani Green Energy
Bloom Energy Corporation
Royal Dutch Shell
Air Products & Chemicals Inc.
Air Liquide S.A.
Reliance Industries
BP
Others
1. Executive Summary
1.1. Global Green Hydrogen Market Snapshot
1.2. Future Projections
1.3. Key Market Trends
1.4. Analyst Recommendations

2. Market Overview
2.1. Market Definitions and Segmentations
2.2. Market Dynamics
2.2.1. Drivers
2.2.2. Restraints
2.2.3. Market Opportunities
2.2.4. Economic Trends
2.3. Value Chain Analysis
2.4. Porter's Five Forces Analysis
2.5. COVID-19 Impact
2.5.1. Supply Chain
2.5.2. End-user Industry Customer Impact Analysis

3. Green Hydrogen Production outlook, Price Trends Analysis, 2019 - 2030

4. Global Green Hydrogen Market Outlook, 2019 - 2030
4.1. Global Green Hydrogen Market Outlook, by Application, Value (US$ Mn) & Volume (Kilo Tons), 2019 - 2030
4.1.1. Key Highlights
4.1.1.1. Refining
4.1.1.2. Ammonia
4.1.1.3. Transport
4.1.1.4. Others (Iron & Steel, Chemicals, etc.)
4.1.2. BPS Analysis/Market Attractiveness Analysis, by Application
4.2. Global Green Hydrogen Market Outlook, by Technology, Value (US$ Mn) & Volume (Kilo Tons), 2019 - 2030
4.2.1. Key Highlights
4.2.1.1. Alkaline Electrolyser
4.2.1.2. PEM Electrolyser
4.2.1.3. Solid Oxide Electrolyser & Others
4.2.2. BPS Analysis/Market Attractiveness Analysis, by Technology
4.3. Global Green Hydrogen Market Outlook, by Source, Value (US$ Mn) & Volume (Kilo Tons), 2019 - 2030
4.3.1. Key Highlights
4.3.1.1. Solar PV
4.3.1.2. Offshore Wind
4.3.1.3. Onshore Wind
4.3.2. BPS Analysis/Market Attractiveness Analysis, by Source
4.4. Global Green Hydrogen Market Outlook, by Region, Value (US$ Mn) & Volume (Kilo Tons), 2019 - 2030
4.4.1. Key Highlights
4.4.1.1. North America
4.4.1.2. Europe
4.4.1.3. Asia Pacific
4.4.1.4. Middle East & Africa
4.4.1.5. Latin America
4.4.2. BPS Analysis/Market Attractiveness Analysis, by Region


5. North America Green Hydrogen Market Outlook, 2019 - 2030
5.1. North America Green Hydrogen Market Outlook, by Application, Value (US$ Mn) & Volume (Kilo Tons), 2019 - 2030
5.1.1. Key Highlights
5.1.1.1. Refining
5.1.1.2. Ammonia
5.1.1.3. Transport
5.1.1.4. Others (Iron & Steel, Chemicals, etc.)
5.2. North America Green Hydrogen Market Outlook, by Technology, Value (US$ Mn) & Volume (Kilo Tons), 2019 - 2030
5.2.1. Key Highlights
5.2.1.1. Alkaline Electrolyser
5.2.1.2. PEM Electrolyser
5.2.1.3. Solid Oxide Electrolyser & Others
5.3. North America Green Hydrogen Market Outlook, by Source, Value (US$ Mn) & Volume (Kilo Tons), 2019 - 2030
5.3.1. Key Highlights
5.3.1.1. Solar PV
5.3.1.2. Offshore Wind
5.3.1.3. Onshore Wind
5.4. North America Green Hydrogen Market Outlook, by Country, Value (US$ Mn) & Volume (Kilo Tons), 2019 - 2030
5.4.1. Key Highlights
5.4.1.1. U.S. Green Hydrogen Market, Value (US$ Mn) & Volume (Kilo Tons), by Application, Technology, and Source 2019 - 2030
5.4.1.2. Canada Green Hydrogen Market, Value (US$ Mn) & Volume (Kilo Tons), by Application, Technology, and Source 2019 - 2030

6. Europe Green Hydrogen Market Outlook, 2019 - 2030
6.1. Europe Green Hydrogen Market Outlook, by Application, Value (US$ Mn) & Volume (Kilo Tons), 2019 - 2030
6.1.1. Key Highlights
6.1.1.1. Refining
6.1.1.2. Ammonia
6.1.1.3. Transport
6.1.1.4. Others (Iron & Steel, Chemicals, etc.)
6.2. Europe Green Hydrogen Market Outlook, by Technology, Value (US$ Mn) & Volume (Kilo Tons), 2019 - 2030
6.2.1. Key Highlights
6.2.1.1. Alkaline Electrolyser
6.2.1.2. PEM Electrolyser
6.2.1.3. Solid Oxide Electrolyser & Others
6.3. Europe Green Hydrogen Market Outlook, by Source, Value (US$ Mn) & Volume (Kilo Tons), 2019 - 2030
6.3.1. Key Highlights
6.3.1.1. Solar PV
6.3.1.2. Offshore Wind
6.3.1.3. Onshore Wind
6.4. Europe Green Hydrogen Market Outlook, by Country, Value (US$ Mn) & Volume (Kilo Tons), 2019 - 2030
6.4.1. Key Highlights
6.4.1.1. Germany Green Hydrogen Market, Value (US$ Mn) & Volume (Kilo Tons), by Application, Technology, and Source 2019 - 2030
6.4.1.2. Italy Green Hydrogen Market, Value (US$ Mn) & Volume (Kilo Tons), by Application, Technology, and Source 2019 - 2030
6.4.1.3. The Netherlands Green Hydrogen Market, Value (US$ Mn) & Volume (Kilo Tons), by Application, Technology, and Source 2019 - 2030
6.4.1.4. Spain Green Hydrogen Market, Value (US$ Mn) & Volume (Kilo Tons), by Application, Technology, and Source 2019 - 2030
6.4.1.5. Russia & CIS Green Hydrogen Market, Value (US$ Mn) & Volume (Kilo Tons), by Application, Technology, and Source 2019 - 2030
6.4.1.6. Rest of Europe Green Hydrogen Market, Value (US$ Mn) & Volume (Kilo Tons), by Application, Technology, and Source 2019 - 2030

7. Asia Pacific Green Hydrogen Market Outlook, 2019 - 2030
7.1. Asia Pacific Green Hydrogen Market Outlook, by Application, Value (US$ Mn) & Volume (Kilo Tons), 2019 - 2030
7.1.1. Key Highlights
7.1.1.1. Refining
7.1.1.2. Ammonia
7.1.1.3. Transport
7.1.1.4. Others (Iron & Steel, Chemicals, etc.)
7.2. Asia Pacific Green Hydrogen Market Outlook, by Technology, Value (US$ Mn) & Volume (Kilo Tons), 2019 - 2030
7.2.1. Key Highlights
7.2.1.1. Alkaline Electrolyser
7.2.1.2. PEM Electrolyser
7.2.1.3. Solid Oxide Electrolyser & Others
7.3. Asia Pacific Green Hydrogen Market Outlook, by Source, Value (US$ Mn) & Volume (Kilo Tons), 2019 - 2030
7.3.1. Key Highlights
7.3.1.1. Solar PV
7.3.1.2. Offshore Wind
7.3.1.3. Onshore Wind
7.4. Asia Pacific Green Hydrogen Market Outlook, by Country, Value (US$ Mn) & Volume (Kilo Tons), 2019 - 2030
7.4.1. Key Highlights
7.4.1.1. China Green Hydrogen Market, Value (US$ Mn) & Volume (Kilo Tons), by Application, Technology, and Source 2019 - 2030
7.4.1.2. India Green Hydrogen Market, Value (US$ Mn) & Volume (Kilo Tons), by Application, Technology, and Source 2019 - 2030
7.4.1.3. Japan Green Hydrogen Market, Value (US$ Mn) & Volume (Kilo Tons), by Application, Technology, and Source 2019 - 2030
7.4.1.4. Indonesia Green Hydrogen Market, Value (US$ Mn) & Volume (Kilo Tons), by Application, Technology, and Source 2019 - 2030
7.4.1.5. Rest of Asia Pacific Green Hydrogen Market, Value (US$ Mn) & Volume (Kilo Tons), by Application, Technology, and Source 2019 - 2030

8. Middle East & Africa Green Hydrogen Market Outlook, 2019 - 2030
8.1. Middle East & Africa Green Hydrogen Market Outlook, by Application, Value (US$ Mn) & Volume (Kilo Tons), 2019 - 2030
8.1.1. Key Highlights
8.1.1.1. Refining
8.1.1.2. Ammonia
8.1.1.3. Transport
8.1.1.4. Others (Iron & Steel, Chemicals, etc.)
8.2. Middle East & Africa Green Hydrogen Market Outlook, by Technology, Value (US$ Mn) & Volume (Kilo Tons), 2019 - 2030
8.2.1. Key Highlights
8.2.1.1. Alkaline Electrolyser
8.2.1.2. PEM Electrolyser
8.2.1.3. Solid Oxide Electrolyser & Others
8.3. Middle East & Africa Green Hydrogen Market Outlook, by Source, Value (US$ Mn) & Volume (Kilo Tons), 2019 - 2030
8.3.1. Key Highlights
8.3.1.1. Solar PV
8.3.1.2. Offshore Wind
8.3.1.3. Onshore Wind
8.4. Middle East & Africa Green Hydrogen Market Outlook, by Country, Value (US$ Mn) & Volume (Kilo Tons), 2019 - 2030
8.4.1. Key Highlights
8.4.1.1. Iran Green Hydrogen Market, Value (US$ Mn) & Volume (Kilo Tons), by Application, Technology, and Source 2019 - 2030
8.4.1.2. Saudi Arabia Green Hydrogen Market, Value (US$ Mn) & Volume (Kilo Tons), by Application, Technology, and Source 2019 - 2030
8.4.1.3. Egypt Green Hydrogen Market, Value (US$ Mn) & Volume (Kilo Tons), by Application, Technology, and Source 2019 - 2030
8.4.1.4. Rest of Middle East & Africa Green Hydrogen Market, Value (US$ Mn) & Volume (Kilo Tons), by Application, Technology, and Source 2019 - 2030

9. Latin America Green Hydrogen Market Outlook, 2019 - 2030
9.1. Latin America Green Hydrogen Market Outlook, by Application, Value (US$ Mn) & Volume (Kilo Tons), 2019 - 2030
9.1.1. Key Highlights
9.1.1.1. Refining
9.1.1.2. Ammonia
9.1.1.3. Transport
9.1.1.4. Others (Iron & Steel, Chemicals, etc.)
9.2. Latin America Green Hydrogen Market Outlook, by Technology, Value (US$ Mn) & Volume (Kilo Tons), 2019 - 2030
9.2.1. Key Highlights
9.2.1.1. Alkaline Electrolyser
9.2.1.2. PEM Electrolyser
9.2.1.3. Solid Oxide Electrolyser & Others
9.3. Middle East & Africa Green Hydrogen Market Outlook, by Source, Value (US$ Mn) & Volume (Kilo Tons), 2019 - 2030
9.3.1. Key Highlights
9.3.1.1. Solar PV
9.3.1.2. Offshore Wind
9.3.1.3. Onshore Wind
9.4. Latin America Green Hydrogen Market Outlook, by Country, Value (US$ Mn) & Volume (Kilo Tons), 2019 - 2030
9.4.1. Key Highlights
9.4.1.1. Brazil Green Hydrogen Market, Value (US$ Mn) & Volume (Kilo Tons), by Application, Technology, and Source 2019 - 2030
9.4.1.2. Trinidad & Tobago Green Hydrogen Market, Value (US$ Mn) & Volume (Kilo Tons), by Application, Technology, and Source, 2019 - 2030
9.4.1.3. Rest of Latin America Green Hydrogen Market, Value (US$ Mn) & Volume (Kilo Tons), by Application, Technology, and Source, 2019 - 2030

10. Competitive Landscape
10.1. Company Market Share Analysis, 2022
10.2. Strategic Collaborations
10.3. Company Profiles
10.3.1. Royal Dutch Shell
10.3.1.1. Company Overview
10.3.1.2. Product Portfolio
10.3.1.3. Financial Overview
10.3.1.4. Business Strategies and Development
10.3.2. FuelCell Energy, Inc.
10.3.2.1. Company Overview
10.3.2.2. Product Portfolio
10.3.2.3. Financial Overview
10.3.2.4. Business Strategies and Development
10.3.3. Bloom Energy Corp
10.3.3.1. Company Overview
10.3.3.2. Product Portfolio
10.3.3.3. Financial Overview
10.3.3.4. Business Strategies and Development
10.3.4. Plug Power, Inc.
10.3.4.1. Company Overview
10.3.4.2. Product Portfolio
10.3.4.3. Financial Overview
10.3.4.4. Business Strategies and Development
10.3.5. Air Products and Chemicals Inc.
10.3.5.1. Company Overview
10.3.5.2. Product Portfolio
10.3.5.3. Financial Overview
10.3.5.4. Business Strategies and Development
10.3.6. Air Liquide S.A.
10.3.6.1. Company Overview
10.3.6.2. Product Portfolio
10.3.6.3. Financial Overview
10.3.6.4. Business Strategies and Development
10.3.7. Adani Green Energy
10.3.7.1. Company Overview
10.3.7.2. Product Portfolio
10.3.7.3. Financial Overview
10.3.7.4. Business Strategies and Development
10.3.8. Linde Plc
10.3.8.1. Company Overview
10.3.8.2. Product Portfolio
10.3.8.3. Financial Overview
10.3.8.4. Business Strategies and Development
10.3.9. Reliance Industries
10.3.9.1. Company Overview
10.3.9.2. Product Portfolio
10.3.9.3. Financial Overview
10.3.9.4. Business Strategies and Development
10.3.10. TotalEnergies
10.3.10.1. Company Overview
10.3.10.2. Product Portfolio
10.3.10.3. Financial Overview
10.3.10.4. Business Strategies and Development
10.3.11. BP
10.3.11.1. Company Overview
10.3.11.2. Product Portfolio
10.3.11.3. Financial Overview
10.3.11.4. Business Strategies and Development

11. Appendix
11.1. Research Methodology
11.2. Report Assumptions
11.3. Acronyms and Abbreviations
BASE YEAR

HISTORICAL DATA

FORECAST PERIOD

UNITS

2022

2019 - 2022

2023 - 2030

Value: US$ Million Volume: Kilo Tons
REPORT FEATURES

DETAILS

Application Coverage

Refining
Ammonia
Transport
Others

Technology Coverage

Alkaline Electrolyser
PEM Electrolyser
Solid Oxide Electrolyser & Others

Source Coverage

Solar PV
Offshore Wind
Onshore Wind

Geographical Coverage

North America
Europe

Germany
Netherlands
Poland
Spain
Italy
U.K.
Rest of EU

Asia Pacific

China
India
Japan
Indonesia
Rest of APAC

Middle East & Africa

Iran
Saudi Arabia
Egypt
Rest of MEA

Latin America

Brazil
Trinidad & Tobago
Rest of LA

Leading Companies

FuelCell Energy, Inc.
Adani Green Energy
Bloom Energy Corporation
Linde Plc
Royal Dutch Shell
Plug Power, Inc.
Air Products & Chemicals Inc.
Air Liquide S.A.
Reliance Industries
TotalEnergies
BP
Others

Report Highlights

Key Market Indicators, Macro-micro economic impact analysis, Technological Roadmap, Key Trends, Driver, Restraints, and Future Opportunities & Revenue Pockets, Porter's 5 Forces Analysis, Historical Trend (2019-2021), Price Trend Analysis, Market Estimates and Forecast, Market Dynamics, Industry Trends, Competition Landscape, Category, Region, Country-wise Trends & Analysis, COVID-19 Impact Analysis (Demand and Supply Chain)