Global Heavy-duty Autonomous Vehicles Market Forecast
Global heavy-duty autonomous vehicles market size to expand at a CAGR of 20% during 2023 - 2030
Market revenue slated to reach a value of US$ 200 Bn by the end of 2030
Market Analysis in Brief
Heavy-duty autonomous vehicles are self-driving vehicles made for tasks that call for a large load-carrying capacity and the ability to negotiate difficult terrains, such as transporting materials and cargo across construction sites and mines. LiDAR sensors, GPS, and sophisticated algorithms are just a few of the technology that heavy-duty autonomous vehicles employ to navigate their surroundings and decide how to operate safely and effectively. With limited commercial deployment and fewer market participants, the heavy-duty autonomous vehicle market is still in its early stages of development and adoption. The market is primarily centered on industrial applications including mining, construction, and logistics where there is a high need for big, strong vehicles that can drive themselves in difficult terrain. Although the market for heavy-duty autonomous vehicles is now smaller than that for all autonomous vehicles, it is anticipated to expand quickly over the next several years as technology develops and the advantages of autonomous operation are better understood.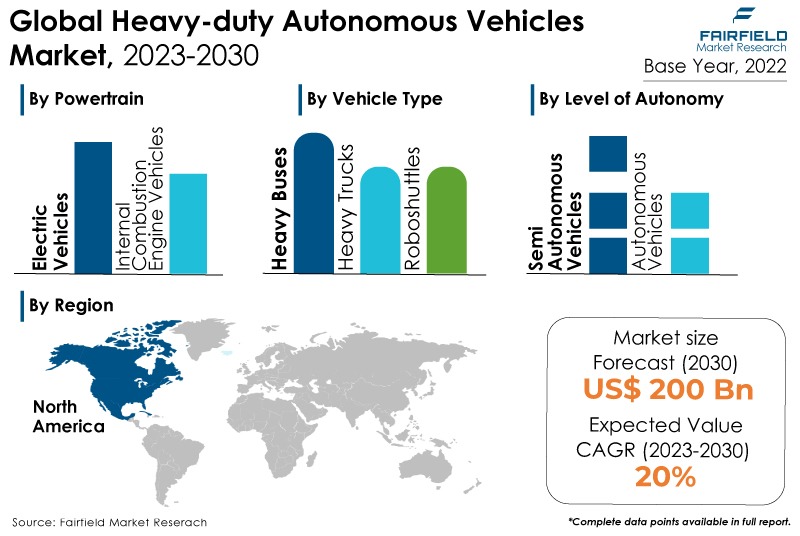 Key Report Findings
The heavy-duty autonomous cars market will see revenue growth of 5x during the forecast period. i.e. between 2023 and 2030.
Rising demand for autonomous driving increased technological advancements, and integration of heavy-duty driverless vehicles in public transportation are all predicted to contribute to the growth of the market for heavy-duty autonomous vehicles.
Electric vehicles held the highest heavy-duty autonomous vehicles market revenue share in 2022.
The heavy buses category is anticipated to dominate the market over the forecast period.
Semi-autonomous vehicles are more in demand in the heavy-duty autonomous vehicle sector.
North America will maintain its dominance, while the Asia Pacific heavy-duty autonomous vehicle industry will develop the fastest until 2030.
Growth Drivers
Improved Safety Features
The rise in demand for vehicles with autonomous driving capabilities and the development of cutting-edge autonomous commercial vehicle solutions, are propelling the market for heavy-duty autonomous vehicles. Furthermore, due to advantages including improved driver and vehicle safety features and fuel/battery power efficiency, the demand for heavy-duty autonomous cars is on the rise. Additionally, the development of heavy-duty autonomous vehicles is the subject of intense interest and funding, and numerous businesses are vying for a piece of this growing industry.
Growing Efforts for Road Safety Measures
Road accidents are becoming more frequent every day. More than a million individuals every year lose their lives in traffic accidents, according to the Association for Safe International Road Travel (ASIRT). Human error, which happens when there is uncertainty in the course of events, such as head-on collisions caused by a driver's misunderstanding, is the main factor in accidents. Accidents may also happen as a result of equipment or component failure, such as brake or axle failure.
Many governments are tightening the laws that can address concerns about road safety. Because heavy-duty autonomous vehicles are more technologically advanced and equipped with a variety of driving assistance systems, including navigation systems, lane management systems, and anti-collision systems, among others, and are connected to a central processing and decision-making system, they are safer than traditional heavy vehicles.
Furthermore, it may be possible to reduce traffic congestion with the help of heavy-duty autonomous vehicles. Autonomous vehicles can communicate with other vehicles to reduce traffic jams. Additionally, with the growth of the sharing economy, self-driving cars can provide travelers with a simple, practical, and efficient point-to-point journey with the least amount of traffic congestion.
Increased Adoption of Commercial Vehicle Electrification
The current global megatrend of commercial vehicle electrification is also having an impact on the heavy-duty autonomous cars market's expansion. The market is expected to expand as a result of rising demand for commercial vehicles free of emissions and equipped with enhanced safety and driver assistance features for effective supply chain, logistics, and trucking operations across key sectors.
Automotive pollution control is subject to strict laws in developed economies like China, the European Union, and the United States. For instance, in November 2022, the European Union unveiled the Euro VII emission standard. According to the new standard, buses, and lorries will emit 56% less nitric oxide (NOx) by 2035 compared to Euro VI, and cars, vans, and pickup trucks would emit 35% less NOx.
It is thus projected that the heavy-duty autonomous cars market growth in the years to come would be boosted by booming new-generation electric trucks and bus sales with a substantial level of autonomy. Moreover, it is projected that in the upcoming years, demand for self-driving trucks and buses will increase due to fleet managers' focus on deploying an emission-free autonomous fleet of trucks to save operating costs and increase efficiency.
Growth Challenges
Security Concerns
Data, such as current position data and sensor information, is crucial for heavy-duty autonomous vehicles. It is essential to ensure the security and privacy of this data to guard against potential breaches and abuse. As a result, the market for heavy-duty autonomous vehicles is faced with growing worries about cybersecurity and data privacy.
According to a report on issues in autonomous vehicle testing and deployment released by the Congressional Research Service, the USA's policy institute, in February 2020, concerns for data security and the defense of the onboard system against intrusion are growing as a result of technological advancements. A lot of data is produced on heavy vehicles, their performance, the behavior of the driver, and their precise location by the built-in automated components.
Governments at the state and federal levels, as well as service providers, manufacturers, and consumers, are extremely concerned about safeguarding heavy-duty autonomous vehicles from hackers. Therefore, as technology develops, worries about data security and privacy emerge, which is anticipated to significantly slow the growth of the market for heavy-duty autonomous vehicles.
Overview of Key Segments
Electric Vehicles Powertrain Segment Surges Ahead
The electric vehicles category in application-for electronics led the market in 2022. In comparison to vehicles powered by internal combustion engines (ICEs), electric vehicles (EVs) require more sophisticated equipment. When compared to internal combustion cars, electric vehicles are dominating the market for heavy-duty autonomous vehicles for several reasons.
Since they have no exhaust emissions and a smaller carbon footprint than internal combustion cars, electric vehicles are seen as being more environmentally friendly and sustainable. This fits with the expanding trend across businesses to cut carbon emissions and promote sustainability.
Additionally, compared to internal combustion vehicles, electric vehicles are typically quieter and provide a smoother ride, which can be advantageous in some sectors, like public transportation, where noise and vibration might be an issue.
Electric cars have also become more useful and convenient for heavy-duty applications as a result of developments in battery technology and charging infrastructure. Electric vehicles can already compete with internal combustion vehicles in terms of performance and usability thanks to quickly expanding charging infrastructures and longer driving range capabilities.
Growth Opportunities Across Regions
North America Spearheads
The heavy-duty autonomous vehicles market will continue to see dominance of North America due to the existence of numerous reputable manufacturers. Additionally, there are several legislative and policy measures in the region that promote the creation and use of autonomous vehicles, particularly heavy-duty vehicles. The sector has witnessed significant investment from both established automakers and tech firms, which has sped up the creation of autonomous heavy-duty vehicle technologies.
Furthermore, in North America, the legislative framework for autonomous vehicles differs between states and provinces. While some places have accepted testing and pilot projects, others have stricter laws that could affect rollout. The size and weight of heavy-duty trucks make safety a top priority. The potential reduction of accidents brought on by human mistakes is what motivates the deployment of autonomous technology.
In North America, it is typical for technology firms, automakers, and logistical service providers to work together. This strategy integrates knowledge of transportation operations, software, and hardware.
Asia Pacific Presents an Influx of Opportunities
The market for heavy-duty autonomous vehicles across the Asia Pacific will display a significant CAGR over the forecast period. Asia Pacific nations like China, Japan, and South Korea are at the forefront of technological advancement. As a result, there has been a significant advancement in the creation of autonomous technology for heavy-duty autonomous vehicles.
Additionally, the need for effective freight and logistics solutions is being driven by dense urban populations and expanding e-commerce sectors in nations like China, and India, making autonomous heavy-duty vehicles a desirable alternative. Furthermore, several regional governments are actively funding, regulating, and investing in the research and testing of autonomous vehicles. These programs are designed to make their nations the world leaders in autonomous technology.
Heavy-duty Autonomous Vehicles Market: Competitive Landscape
Some of the leading players at the forefront in the heavy-duty autonomous vehicles market space include AB Volvo, General Motors, Mercedes-Benz Group AG, BMW Group, Volkswagen AG, PACCAR Inc., Renault Trucks, Traton Group, Shanghai Newrizon Technology Co., Ltd., New Flyer (NFI Group), Karsan, Proterra, 2getthere B.V., Apollo (Baidu), Magna International Inc., ZF Friedrichshafen AG, Zoox, Inc., Cruise LLC, Schaeffler AG, P3 Mobility, HOLON GmbH, Embark Trucks Inc., Kodiak Robotics, Inc., TuSimple, Torc Robotics, Aurora Innovation Inc., PlusAI, Inc., Waymo LLC, and Mobileye.
Recent Notable Developments
In May 2022, Kodiak Robotics, Inc. and Ambarella, Inc., a company that makes AI semiconductors, formed a cooperation to integrate Ambarella's CV2AQ AI perception system-on-chip (SoC) for all camera data processing into Kodiak's self-driving trucks.
In March 2023, ZF Friedrichshafen AG Group announced a $194.0 million investment to assist the expansion of eMobility while also expanding activities in Juarez, Mexico.
In February 2023, an agreement for Torc Robotics to purchase Algolux Inc. was reached. For its highly acclaimed intellectual property and expertise in computer vision and machine learning, Torc acquired Algolux.
Global Heavy-duty Autonomous Vehicles Market is Segmented as Below:
By Powertrain
Internal Combustion Engine Vehicles
Electric Vehicles
By Vehicle Type
Heavy Trucks
Heavy Buses
Roboshuttles
By Level of Autonomy
Semi-Autonomous Vehicles
Autonomous Vehicles
By Geographic Coverage
North America
Europe

U.K.
Germany
France
Italy
Spain
Rest of Europe

Asia Pacific

Japan
China
India
Australia
Rest of Asia Pacific

Rest of the World

Latin America
Middle East and Africa
1. Executive Summary
1.1. Global Heavy-Duty Autonomous Vehicles Market Snapshot
1.2. Future Projections
1.3. Key Market Trends
1.4. Regional Snapshot, by Value, 2022
1.5. Analyst Recommendations
2. Market Overview
2.1. Market Definitions and Segmentations
2.2. Market Dynamics
2.2.1. Drivers
2.2.2. Restraints
2.2.3. Market Opportunities
2.3. Value Chain Analysis
2.4. Porter's Five Forces Analysis
2.5. Covid-19 Impact Analysis
2.5.1. Supply
2.5.2. Demand
2.6. Impact of Ukraine-Russia Conflict
2.7. Economic Overview
2.7.1. World Economic Projections
2.8. PESTLE Analysis
3. Global Heavy-Duty Autonomous Vehicles Market Outlook, 2018 - 2030
3.1. Global Heavy-Duty Autonomous Vehicles Market Outlook, by Powertrain, Value (US$ Bn), 2018 - 2030
3.1.1. Key Highlights
3.1.1.1. Internal Combustion Engine Vehicles
3.1.1.2. Electric Vehicles
3.2. Global Heavy-Duty Autonomous Vehicles Market Outlook, by Level of Autonomy, Value (US$ Bn), 2018 - 2030
3.2.1. Key Highlights
3.2.1.1. Semi-Autonomous Vehicles
3.2.1.2. Autonomous Vehicles
3.3. Heavy-Duty Autonomous Vehicles Market Outlook, by Vehicle Type, Value (US$ Bn), 2018 - 2030
3.3.1. Key Highlights
3.3.1.1. Heavy Trucks
3.3.1.2. Heavy Buses
3.3.1.3. Roboshuttles
3.4. Global Heavy-Duty Autonomous Vehicles Market Outlook, by Region, Value (US$ Bn), 2018 - 2030
3.4.1. Key Highlights
3.4.1.1. North America
3.4.1.2. Europe
3.4.1.3. Asia Pacific
3.4.1.4. Latin America
3.4.1.5. Middle East & Africa
4. North America Heavy-Duty Autonomous Vehicles Market Outlook, 2018 - 2030
4.1. North America Heavy-Duty Autonomous Vehicles Market Outlook, by Powertrain, Value (US$ Bn), 2018 - 2030
4.1.1. Key Highlights
4.1.1.1. Internal Combustion Engine Vehicles
4.1.1.2. Electric Vehicles
4.2. North America Heavy-Duty Autonomous Vehicles Market Outlook, by Level of Autonomy, Value (US$ Bn), 2018 - 2030
4.2.1. Key Highlights
4.2.1.1. Semi-Autonomous Vehicles
4.2.1.2. Autonomous Vehicles
4.3. North America Heavy-Duty Autonomous Vehicles Market Outlook, by Vehicle Type, Value (US$ Bn), 2018 - 2030
4.3.1. Key Highlights
4.3.1.1. Heavy Trucks
4.3.1.2. Heavy Buses
4.3.1.3. Roboshuttles
4.3.2. Market Attractiveness Analysis
4.4. North America Heavy-Duty Autonomous Vehicles Market Outlook, by Country, Value (US$ Bn), 2018 - 2030
4.4.1. Key Highlights
4.4.1.1. U.S. Heavy-Duty Autonomous Vehicles Market by Powertrain, Value (US$ Bn), 2018 - 2030
4.4.1.2. U.S. Heavy-Duty Autonomous Vehicles Market by Level of Autonomy, Value (US$ Bn), 2018 - 2030
4.4.1.3. U.S. Heavy-Duty Autonomous Vehicles Market by Vehicle Type, Value (US$ Bn), 2018 - 2030
4.4.1.4. Canada Heavy-Duty Autonomous Vehicles Market by Powertrain, Value (US$ Bn), 2018 - 2030
4.4.1.5. Canada Heavy-Duty Autonomous Vehicles Market by Level of Autonomy, Value (US$ Bn), 2018 - 2030
4.4.1.6. Canada Heavy-Duty Autonomous Vehicles Market by Vehicle Type, Value (US$ Bn), 2018 - 2030
4.4.2. BPS Analysis/Market Attractiveness Analysis
5. Europe Heavy-Duty Autonomous Vehicles Market Outlook, 2018 - 2030
5.1. Europe Heavy-Duty Autonomous Vehicles Market Outlook, by Powertrain, Value (US$ Bn), 2018 - 2030
5.1.1. Key Highlights
5.1.1.1. Internal Combustion Engine Vehicles
5.1.1.2. Electric Vehicles
5.1.2. BPS Analysis/Market Attractiveness Analysis
5.2. Europe Heavy-Duty Autonomous Vehicles Market Outlook, by Level of Autonomy, Value (US$ Bn), 2018 - 2030
5.2.1. Key Highlights
5.2.1.1. Semi-Autonomous Vehicles
5.2.1.2. Autonomous Vehicles
5.3. Europe Heavy-Duty Autonomous Vehicles Market Outlook, by Vehicle Type, Value (US$ Bn), 2018 - 2030
5.3.1. Key Highlights
5.3.1.1. Heavy Trucks
5.3.1.2. Heavy Buses
5.3.1.3. Roboshuttles
5.4. Europe Heavy-Duty Autonomous Vehicles Market Outlook, by Country, Value (US$ Bn), 2018 - 2030
5.4.1. Key Highlights
5.4.1.1. Germany Heavy-Duty Autonomous Vehicles Market by Powertrain, Value (US$ Bn), 2018 - 2030
5.4.1.2. Germany Heavy-Duty Autonomous Vehicles Market by Level of Autonomy, Value (US$ Bn), 2018 - 2030
5.4.1.3. Germany Heavy-Duty Autonomous Vehicles Market by Vehicle Type, Value (US$ Bn), 2018 - 2030
5.4.1.4. U.K. Heavy-Duty Autonomous Vehicles Market by Powertrain, Value (US$ Bn), 2018 - 2030
5.4.1.5. U.K. Heavy-Duty Autonomous Vehicles Market by Level of Autonomy, Value (US$ Bn), 2018 - 2030
5.4.1.6. U.K. Heavy-Duty Autonomous Vehicles Market by Vehicle Type, Value (US$ Bn), 2018 - 2030
5.4.1.7. France Heavy-Duty Autonomous Vehicles Market by Powertrain, Value (US$ Bn), 2018 - 2030
5.4.1.8. France Heavy-Duty Autonomous Vehicles Market by Level of Autonomy, Value (US$ Bn), 2018 - 2030
5.4.1.9. France Heavy-Duty Autonomous Vehicles Market by Vehicle Type, Value (US$ Bn), 2018 - 2030
5.4.1.10. Italy Heavy-Duty Autonomous Vehicles Market by Powertrain, Value (US$ Bn), 2018 - 2030
5.4.1.11. Italy Heavy-Duty Autonomous Vehicles Market by Level of Autonomy, Value (US$ Bn), 2018 - 2030
5.4.1.12. Italy Heavy-Duty Autonomous Vehicles Market by Vehicle Type, Value (US$ Bn), 2018 - 2030
5.4.1.13. Russia Heavy-Duty Autonomous Vehicles Market by Powertrain, Value (US$ Bn), 2018 - 2030
5.4.1.14. Russia Heavy-Duty Autonomous Vehicles Market by Level of Autonomy, Value (US$ Bn), 2018 - 2030
5.4.1.15. Russia Heavy-Duty Autonomous Vehicles Market by Vehicle Type, Value (US$ Bn), 2018 - 2030
5.4.1.16. Rest of Europe Heavy-Duty Autonomous Vehicles Market by Powertrain, Value (US$ Bn), 2018 - 2030
5.4.1.17. Rest of Europe Heavy-Duty Autonomous Vehicles Market by Level of Autonomy, Value (US$ Bn), 2018 - 2030
5.4.1.18. Rest of Europe Heavy-Duty Autonomous Vehicles Market by Vehicle Type, Value (US$ Bn), 2018 - 2030
5.4.2. BPS Analysis/Market Attractiveness Analysis
6. Asia Pacific Heavy-Duty Autonomous Vehicles Market Outlook, 2018 - 2030
6.1. Asia Pacific Heavy-Duty Autonomous Vehicles Market Outlook, by Powertrain, Value (US$ Bn), 2018 - 2030
6.1.1. Key Highlights
6.1.1.1. Internal Combustion Engine Vehicles
6.1.1.2. Electric Vehicles
6.1.2. BPS Analysis/Market Attractiveness Analysis
6.2. Asia Pacific Heavy-Duty Autonomous Vehicles Market Outlook, by Level of Autonomy, Value (US$ Bn), 2018 - 2030
6.2.1. Key Highlights
6.2.1.1. Semi-Autonomous Vehicles
6.2.1.2. Autonomous Vehicles
6.3. Asia Pacific Heavy-Duty Autonomous Vehicles Market Outlook, by Vehicle Type, Value (US$ Bn), 2018 - 2030
6.3.1. Key Highlights
6.3.1.1. Heavy Trucks
6.3.1.2. Heavy Buses
6.3.1.3. Roboshuttles
6.4. Asia Pacific Heavy-Duty Autonomous Vehicles Market Outlook, by Country, Value (US$ Bn), 2018 - 2030
6.4.1. Key Highlights
6.4.1.1. China Heavy-Duty Autonomous Vehicles Market by Powertrain, Value (US$ Bn), 2018 - 2030
6.4.1.2. China Heavy-Duty Autonomous Vehicles Market by Level of Autonomy, Value (US$ Bn), 2018 - 2030
6.4.1.3. China Heavy-Duty Autonomous Vehicles Market by Vehicle Type, Value (US$ Bn), 2018 - 2030
6.4.1.4. Japan Heavy-Duty Autonomous Vehicles Market by Powertrain, Value (US$ Bn), 2018 - 2030
6.4.1.5. Japan Heavy-Duty Autonomous Vehicles Market by Level of Autonomy, Value (US$ Bn), 2018 - 2030
6.4.1.6. Japan Heavy-Duty Autonomous Vehicles Market by Vehicle Type, Value (US$ Bn), 2018 - 2030
6.4.1.7. South Korea Heavy-Duty Autonomous Vehicles Market by Powertrain, Value (US$ Bn), 2018 - 2030
6.4.1.8. South Korea Heavy-Duty Autonomous Vehicles Market by Level of Autonomy, Value (US$ Bn), 2018 - 2030
6.4.1.9. South Korea Heavy-Duty Autonomous Vehicles Market by Vehicle Type, Value (US$ Bn), 2018 - 2030
6.4.1.10. India Heavy-Duty Autonomous Vehicles Market by Powertrain, Value (US$ Bn), 2018 - 2030
6.4.1.11. India Heavy-Duty Autonomous Vehicles Market by Level of Autonomy, Value (US$ Bn), 2018 - 2030
6.4.1.12. India Heavy-Duty Autonomous Vehicles Market by Vehicle Type, Value (US$ Bn), 2018 - 2030
6.4.1.13. Southeast Asia Heavy-Duty Autonomous Vehicles Market by Powertrain, Value (US$ Bn), 2018 - 2030
6.4.1.14. Southeast Asia Heavy-Duty Autonomous Vehicles Market by Level of Autonomy, Value (US$ Bn), 2018 - 2030
6.4.1.15. Southeast Asia Heavy-Duty Autonomous Vehicles Market by Vehicle Type, Value (US$ Bn), 2018 - 2030
6.4.1.16. Rest of Asia Pacific Heavy-Duty Autonomous Vehicles Market by Powertrain, Value (US$ Bn), 2018 - 2030
6.4.1.17. Rest of Asia Pacific Heavy-Duty Autonomous Vehicles Market by Level of Autonomy, Value (US$ Bn), 2018 - 2030
6.4.1.18. Rest of Asia Pacific Heavy-Duty Autonomous Vehicles Market by Vehicle Type, Value (US$ Bn), 2018 - 2030
6.4.2. BPS Analysis/Market Attractiveness Analysis
7. Latin America Heavy-Duty Autonomous Vehicles Market Outlook, 2018 - 2030
7.1. Latin America Heavy-Duty Autonomous Vehicles Market Outlook, by Powertrain, Value (US$ Bn), 2018 - 2030
7.1.1.1. Internal Combustion Engine Vehicles
7.1.1.2. Electric Vehicles
7.1.2. BPS Analysis/Market Attractiveness Analysis
7.2. Latin America Heavy-Duty Autonomous Vehicles Market Outlook, by Level of Autonomy, Value (US$ Bn), 2018 - 2030
7.2.1. Key Highlights
7.2.1.1. Semi-Autonomous Vehicles
7.2.1.2. Autonomous Vehicles
7.3. Latin America Heavy-Duty Autonomous Vehicles Market Outlook, by Vehicle Type, Value (US$ Bn), 2018 - 2030
7.3.1. Key Highlights
7.3.1.1. Heavy Trucks
7.3.1.2. Heavy Buses
7.3.1.3. Roboshuttles
7.4. Latin America Heavy-Duty Autonomous Vehicles Market Outlook, by Country, Value (US$ Bn), 2018 - 2030
7.4.1. Key Highlights
7.4.1.1. Brazil Heavy-Duty Autonomous Vehicles Market by Powertrain, Value (US$ Bn), 2018 - 2030
7.4.1.2. Brazil Heavy-Duty Autonomous Vehicles Market by Level of Autonomy, Value (US$ Bn), 2018 - 2030
7.4.1.3. Brazil Heavy-Duty Autonomous Vehicles Market by Vehicle Type, Value (US$ Bn), 2018 - 2030
7.4.1.4. Mexico Heavy-Duty Autonomous Vehicles Market by Powertrain, Value (US$ Bn), 2018 - 2030
7.4.1.5. Mexico Heavy-Duty Autonomous Vehicles Market by Level of Autonomy, Value (US$ Bn), 2018 - 2030
7.4.1.6. Mexico Heavy-Duty Autonomous Vehicles Market by Vehicle Type, Value (US$ Bn), 2018 - 2030
7.4.1.7. Rest of Latin America Heavy-Duty Autonomous Vehicles Market by Powertrain, Value (US$ Bn), 2018 - 2030
7.4.1.8. Rest of Latin America Heavy-Duty Autonomous Vehicles Market by Level of Autonomy, Value (US$ Bn), 2018 - 2030
7.4.1.9. Rest of Latin America Heavy-Duty Autonomous Vehicles Market by Vehicle Type, Value (US$ Bn), 2018 - 2030
7.4.2. BPS Analysis/Market Attractiveness Analysis
8. Middle East & Africa Heavy-Duty Autonomous Vehicles Market Outlook, 2018 - 2030
8.1. Middle East & Africa Heavy-Duty Autonomous Vehicles Market Outlook, by Powertrain, Value (US$ Bn), 2018 - 2030
8.1.1. Key Highlights
8.1.1.1. Internal Combustion Engine Vehicles
8.1.1.2. Electric Vehicles
8.1.2. BPS Analysis/Market Attractiveness Analysis
8.2. Middle East & Africa Heavy-Duty Autonomous Vehicles Market Outlook, by Level of Autonomy, Value (US$ Bn), 2018 - 2030
8.2.1. Key Highlights
8.2.1.1. Semi-Autonomous Vehicles
8.2.1.2. Autonomous Vehicles
8.3. Middle East & Africa Heavy-Duty Autonomous Vehicles Market Outlook, by Vehicle Type, Value (US$ Bn), 2018 - 2030
8.3.1. Key Highlights
8.3.1.1. Heavy Trucks
8.3.1.2. Heavy Buses
8.3.1.3. Roboshuttles
8.4. Middle East & Africa Heavy-Duty Autonomous Vehicles Market Outlook, by Country, Value (US$ Bn), 2018 - 2030
8.4.1. Key Highlights
8.4.1.1. GCC Heavy-Duty Autonomous Vehicles Market by Powertrain, Value (US$ Bn), 2018 - 2030
8.4.1.2. GCC Heavy-Duty Autonomous Vehicles Market by Level of Autonomy, Value (US$ Bn), 2018 - 2030
8.4.1.3. GCC Heavy-Duty Autonomous Vehicles Market by Vehicle Type, Value (US$ Bn), 2018 - 2030
8.4.1.4. South Africa Heavy-Duty Autonomous Vehicles Market by Powertrain, Value (US$ Bn), 2018 - 2030
8.4.1.5. South Africa Heavy-Duty Autonomous Vehicles Market by Level of Autonomy, Value (US$ Bn), 2018 - 2030
8.4.1.6. South Africa Heavy-Duty Autonomous Vehicles Market by Vehicle Type, Value (US$ Bn), 2018 - 2030
8.4.1.7. Rest of Middle East & Africa Heavy-Duty Autonomous Vehicles Market by Powertrain, Value (US$ Bn), 2018 - 2030
8.4.1.8. Rest of Middle East & Africa Heavy-Duty Autonomous Vehicles Market by Level of Autonomy, Value (US$ Bn), 2018 - 2030
8.4.1.9. Rest of Middle East & Africa Heavy-Duty Autonomous Vehicles Market by Vehicle Type, Value (US$ Bn), 2018 - 2030
8.4.2. BPS Analysis/Market Attractiveness Analysis
9. Competitive Landscape
9.1. Product vs Application Heatmap
9.2. Manufacturer vs Application Heatmap
9.3. Company Market Share Analysis, 2022
9.4. Competitive Dashboard
9.5. Company Profiles
9.5.1. AB Volvo
9.5.1.1. Company Overview
9.5.1.2. Product Portfolio
9.5.1.3. Financial Overview
9.5.1.4. Business Strategies and Development
9.5.2. General Motors
9.5.2.1. Company Overview
9.5.2.2. Product Portfolio
9.5.2.3. Financial Overview
9.5.2.4. Business Strategies and Development
9.5.3. Mercedes-Benz Group AG
9.5.3.1. Company Overview
9.5.3.2. Product Portfolio
9.5.3.3. Financial Overview
9.5.3.4. Business Strategies and Development
9.5.4. BMW Group
9.5.4.1. Company Overview
9.5.4.2. Product Portfolio
9.5.4.3. Financial Overview
9.5.4.4. Business Strategies and Development
9.5.5. Volkswagen AG
9.5.5.1. Company Overview
9.5.5.2. Product Portfolio
9.5.5.3. Financial Overview
9.5.5.4. Business Strategies and Development
9.5.6. PACCAR Inc.
9.5.6.1. Company Overview
9.5.6.2. Product Portfolio
9.5.6.3. Financial Overview
9.5.6.4. Business Strategies and Development
9.5.7. Renault Trucks
9.5.7.1. Company Overview
9.5.7.2. Product Portfolio
9.5.7.3. Financial Overview
9.5.7.4. Business Strategies and Development
9.5.8. Traton Group
9.5.8.1. Company Overview
9.5.8.2. Product Portfolio
9.5.8.3. Financial Overview
9.5.8.4. Business Strategies and Development
9.5.9. Shanghai Newrizon Technology Co., Ltd.
9.5.9.1. Company Overview
9.5.9.2. Product Portfolio
9.5.9.3. Financial Overview
9.5.9.4. Business Strategies and Development
9.5.10. New Flyer (NFI Group)
9.5.10.1. Company Overview
9.5.10.2. Product Portfolio
9.5.10.3. Financial Overview
9.5.10.4. Business Strategies and Development
9.5.11. Karsan
9.5.11.1. Company Overview
9.5.11.2. Product Portfolio
9.5.11.3. Financial Overview
9.5.11.4. Business Strategies and Development
9.5.12. Proterra
9.5.12.1. Company Overview
9.5.12.2. Product Portfolio
9.5.12.3. Financial Overview
9.5.12.4. Business Strategies and Development
9.5.13. 2getthere B.V.
9.5.13.1. Company Overview
9.5.13.2. Product Portfolio
9.5.13.3. Financial Overview
9.5.13.4. Business Strategies and Development
9.5.14. Magna International Inc.
9.5.14.1. Company Overview
9.5.14.2. Product Portfolio
9.5.14.3. Financial Overview
9.5.14.4. Business Strategies and Development
9.5.15. Apollo (Baidu)
9.5.15.1. Company Overview
9.5.15.2. Product Portfolio
9.5.15.3. Financial Overview
9.5.15.4. Business Strategies and Development
9.5.16. ZF Friedrichshafen AG
9.5.16.1. Company Overview
9.5.16.2. Product Portfolio
9.5.16.3. Financial Overview
9.5.16.4. Business Strategies and Development
9.5.17. Zoox, Inc.
9.5.17.1. Company Overview
9.5.17.2. Product Portfolio
9.5.17.3. Financial Overview
9.5.17.4. Business Strategies and Development
9.5.18. Cruise LLC
9.5.18.1. Company Overview
9.5.18.2. Product Portfolio
9.5.18.3. Financial Overview
9.5.18.4. Business Strategies and Development
9.5.19. Schaeffler AG
9.5.19.1. Company Overview
9.5.19.2. Product Portfolio
9.5.19.3. Financial Overview
9.5.19.4. Business Strategies and Development
9.5.20. Waymo LLC
9.5.20.1. Company Overview
9.5.20.2. Product Portfolio
9.5.20.3. Financial Overview
9.5.20.4. Business Strategies and Development
10. Appendix
1.1. Research Methodology
1.2. Report Assumptions
1.3. Acronyms and Abbreviations
BASE YEAR

HISTORICAL DATA

FORECAST PERIOD

UNITS

2022

2018 - 2022

2023 - 2030

Value: US$ Million
REPORT FEATURES

DETAILS

Powertrain Coverage

Internal Combustion Engine Vehicles
Electric Vehicles

Vehicle Type Coverage

Heavy Trucks
Heavy Buses
Roboshuttles

Level of Autonomy Coverage

Semi-Autonomous Vehicles
Autonomous Vehicles

Geographical Coverage

Germany
UK
France
Italy
Spain
Rest of EU

China
Japan
India
South Korea
Rest of APAC

Brazil
Mexico
Rest of Latin America

GCC Countries
South Africa
Rest of Middle East & Africa

Leading Companies

AB Volvo
General Motors
Mercedes-Benz Group AG
BMW Group
Volkswagen AG
PACCAR Inc.
Renault Trucks
Traton Group
Shanghai Newrizon Technology Co., Ltd.
New Flyer (NFI Group)
Karsan
Proterra
2getthere B.V.
Apollo (Baidu)
Magna International Inc.
ZF Friedrichshafen AG
Zoox, Inc.
Cruise LLC
Schaeffler AG
Waymo LLC

Report Highlights

Key Market Indicators, Macro-micro economic impact analysis,

Technological Roadmap, Key Trends, Driver, Restraints, and Future

Opportunities & Revenue Pockets, Porter's 5 Forces Analysis, Historical

Trend (2019-2021), Market Estimates and Forecast, Market Dynamics,

Industry Trends, Competition Landscape, Category, Region, Country

wise Trends & Analysis, COVID-19 Impact Analysis (Demand and

Supply Chain)