Global Hybrid Electric Aircraft Market Forecast
The approximately US$1.1 Bn global hybrid electric aircraft market (2022) poised to take a leap to reach US$12 Bn in 2030
Hybrid electric aircraft market valuation likely to expand at a stellar CAGR of 40% over 2023 - 2030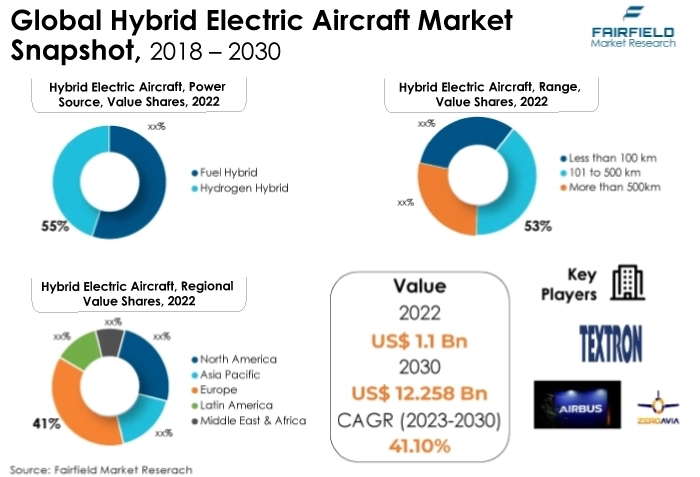 Quick Report Digest
The overall market for hybrid electric aircraft has grown as a result of increased government regulations governing aviation pollution. This factor drives OEMs to focus on these aircraft to capture newer markets across both developed and developing regions, along with the rising demand for fuel cells across electric aircraft, technically advanced battery materials, as well as cutting-edge asynchronous propeller technology to cater for a huge spectrum of consumer requirements. The hybrid electric aircraft market share is expected to grow significantly over the forecast period.
The hybrid electric aircraft market is predicted to grow, owing mostly to rising demand for improved aircraft results while using electric technology to reduce carbon emissions.
Furthermore, the hybrid electric aircraft business benefits from increasing regulatory standards, such as national pollution regulations and carbon emission reduction strategies implemented by several countries.
Additionally, growth in airline passengers results in a considerable increase in aircraft orders placed on the market. These aircraft have advantages such as increased manoeuvrability, increased safety, and reduced noise.
Norway hopes to eliminate aviation's contribution to greenhouse gas emissions by 2040 by using electric planes. To accommodate regional demand, the Norwegian government has also asked aircraft manufacturers to develop a 30-seat airliner powered by electric motors that might enter service as soon as 2025.
Furthermore, Zunum Aero, a startup backed by Boeing and JetBlue Airways, stated in May 2018 that it will launch its first hybrid-electric jet by 2022. As a result, the market for electric aircraft is anticipated to grow significantly shortly due to rising demand for environmentally friendly, fuel-efficient aircraft.
Europe is expected to expand the fastest during the projection period. The United Kingdom dominates the European market for electric aircraft. The rise of the European electric aircraft sector is being driven by major market participants. Furthermore, citizens in the region have access to corporate jets, which is boosting Europe's demand for electric aircraft. Furthermore, favourable government policies are promoting market expansion.
The Asia Pacific region electric aircraft market is booming due to the presence of multiple significant industry participants and their increasing R&D expenditure. The growing commercial aviation industry increases demand for electric aircraft in countries such as India. Furthermore, China and Japan are expected to contribute significantly to the region's revenue growth.
A Look Back and a Look Forward - Comparative Analysis
The critical need to transform the aircraft industry towards a power-driven future is driving OEMs and designers to commercialise all-electric versions of aeroplanes. Furthermore, it significantly reduces fuel expenditures, saving the aircraft industry money.
These market estimations are expected to rise even further as the global aircraft fleet and air travel expand further. As a result, there is a continuing and pressing demand for electric and hybrid-electric aircraft to aid in reducing the carbon spread of the aviation industry. These are the elements that are propelling the global hybrid electric aircraft market forward.
The market witnessed staggered growth during the historical period 2018 – 2022. Governments are investing for the growth of heavy-speed propulsion systems such as ramjet and scramjet propulsion systems. Because of their air-breathing ramjet and scramjet engines, high-speed aircraft can hover at quite high speeds.
To decrease carbon emissions and improve the sustainability of the aviation industry, the US aerospace company Boeing, and Abu Dhabi's Etihad Airways launched a cooperation programme in 2020 that will use the Greenliner, a specially modified 787 Dreamliner.
Given that the number of emissions produced by aircraft is expected to more than triple by 2050, international organisations and governing bodies such as the International Civil Aviation Organization, the Federal Aviation Administration, and the European Union Aviation Safety Agency have called for discussions about sustainable aviation fuel alternatives.
Electric engines generate little to no aeroplane noise because they lack the noise associated with jet or combustion engines. The producers want to boost efficiency and innovation by replacing hydraulically controlled systems in an electric aeroplane with electric systems.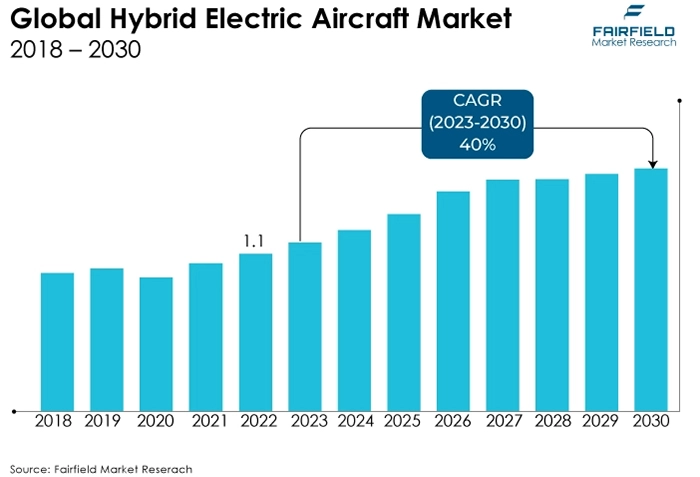 Key Growth Determinants
Greater Emphasis on Low Carbon Emissions, Especially Across Developed Economies
Hybrid electric and electric designs, whose acceptability is facilitated by advancements in electrical component technology, can contribute to the settlement of difficulties connected to lowering the environmental impact of transport aircraft. Aircraft manufacturers are researching innovative aircraft propulsion systems to reduce aeroplane emissions.
The addition of such cutting-edge electric aviation equipment alters the aircraft's traditional design, proportions, and performance. For example, the United States, and Russia were the first to invest in hybrid aircraft, but the practice swiftly spread to other countries.
Demand for hybrid aircraft is likely to rise during the forecast period as many countries raise their military budget and expenditure on hybrid aircraft.
Rising Concerns Around Environment Protection
The rapid rise of the hybrid aircraft industry provides not only major social and economic benefits but also an increasing number of contentious environmental pollution challenges.
The rising demand for environmental protection has pushed the hybrid aviation sector towards a one-way green aviation model, and technological innovation to meet this demand will stymie the hybrid aviation industry's considerable improvements.
A majority of aviation paraffin used in conventional aircraft emits a variety of contaminants. The principal environmental effect of these contaminants is the greenhouse effect, which results in increased surface UV radiation. The chemical makeup of molecules in the atmosphere can be altered by the NOx generated by aircraft.
Domestic air travel has expanded dramatically in both developed and developing countries, contributing significantly to the increase in air traffic. Domestic flights offered by American Airlines carried around 688 million passengers in 2022. This was a huge rise above the 612 million domestic passengers transported by United States airlines in 2021.
Domestic airlines in India carried 123.245 million passengers from January 2022 to December 2022. This figure reflects a huge (47.05%) increase over the 83.814 million passengers handled in 2021.
Personal income climbed by $1.97 trillion (10.5 per cent) and disposable personal income (DPI) increased by $2.13 trillion in April 2020, according to the Bureau of Economics. Because of expanding disposable income, the number of air travellers is fast increasing in several countries.
Major Growth Barriers
The high manufacture and maintenance expenses of eVTOLs are impeding the initial rollout because it is uncertain how much money would be invested overall. The procurement of innovative materials required to produce effective and lightweight electric aircraft accounts for the most of the production costs.
Many countries' antiquated infrastructure is expected to become a major issue in the coming years. Although developing countries such as India, Nigeria, Malaysia, and China show enormous promise for electric aircraft development, their progress is hampered by a lack of contemporary infrastructure.
Limitation of Battery Development
The battery technology required for electric aircraft is still in its early stages in terms of economic feasibility. Battery constraints are common in electric vertical take-off and landing (VTOL) aircraft. eVTOLs require high-power cell discharge and lightning-fast charging capabilities.
When considering the weight, size, and power, the unavailability of an energy-dense battery that is tiny and light is a significant limiting factor. Because of this constraint, many manufacturers have chosen a hybrid option that provides access to high-energy fuel.
Key Trends and Opportunities to Look at
Rising Investments Across the Electric Aviation Industry
Electric aeroplanes have a huge potential to cut emissions, noise, and operating costs across a range of various applications to help the aviation industry realise its goal of having net-zero CO2 emissions by the year 2050.
For example, on January 26, 2023, the United States Air Force selected Electra Aero, Inc. for a US$85 Mn Strategic Funding Partnership to develop electric short takeoff and landing (eSTOL) aircraft. This strategic funding relationship includes the development of a full-scale, pre-production eSTOL aircraft prototype.
The money will be supplemented by government funding, private investment, and matching Small Business Innovation Research (SBIR) funding.
Growing Sustainability Across the Aviation Industry
A multifaceted approach is required to fulfil the aviation industry's decarbonisation target. This entails combining diverse technologies and techniques. To begin, improving infrastructure and operations is critical for optimising energy efficiency, lowering emissions, and improving overall sustainability.
Moreover, the use of sustainable aviation fuel (SAF) is critical. SAF is sourced from renewable sources and reduces carbon emissions significantly as compared to traditional jet fuel.
Finally, technology improvements in electric and hybrid aircraft, hydrogen-powered engines, and air traffic management systems are critical in the decarbonisation path. The aviation sector may make significant progress towards its decarbonisation goals by incorporating these various solutions.
Growing Inclination Toward Short-Haul Range Connectivity
Short-haul flights serve regional markets by linking smaller cities and outlying areas that may lack the infrastructure to support large airports. Hybrid aircraft can provide versatile and cost-effective alternatives for regional air travel, hence promoting regional connectivity and economic development.
In the years to come, there is a good likelihood that governments and regulatory organisations will prioritise and promote the development and deployment of hybrid aircraft for short-haul flights.
As hybrid aircraft technology advances, their capabilities, and performance improve, making them more viable for short-distance operations.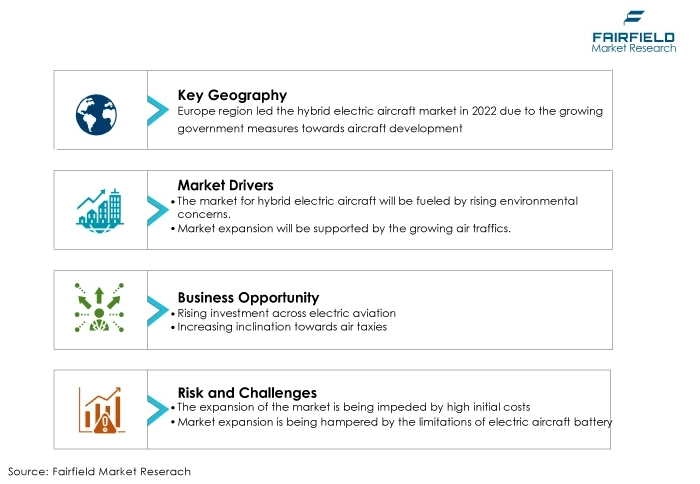 How Does the Regulatory Scenario Shape this Industry?
Governments are putting a lot of money into researching high-speed propulsion system concepts like ramjet and scramjet. Air-breathing ramjet and scramjet engines enable high-speed aircraft to hover at extreme speeds. Various measures are also being taken to curb the environmental harm occurring due to increasing carbon emissions.
For Instance, in February 2023, The UK government announced a £113 million investment in the Aerospace Technology Institute (ATI) Programme to help pioneer electric aircraft to reduce aviation emissions. The investment will help the UK aviation industry develop cutting-edge zero-emission electric aircraft technologies.
The funding might lead to the creation of electric flying taxis and hydrogen-powered aircraft in the country, allowing the UK to meet its carbon-neutral ambitions.
Fairfield's Ranking Board
Top Segments
Electric Motors Ahead of Batteries and Fuel Cells
Electric motors are utilised for propulsion; they are lighter than piston engines and are employed in smaller aircraft for shorter flights. These motors have the potential to reduce the energy density discrepancy between electric and petrol vehicles.
Flight control systems, environmental control systems, avionics systems, door actuation systems, landing and braking systems, and interior cabin systems all employ electric motors.
By replacing normally heavy hydraulic and pneumatic systems with electric motor-driven distribution systems, aeroplanes can lose weight. As a result of the improved power-to-weight ratio during the projected period, the electric motor segment is expected to develop.
During the forecast period, the batteries and fuel cells will be the fastest increasing. Two types of natural materials are used in aeroplane batteries. Nickel-cadmium and lead acid batteries are the two types of materials.
These are innovative batteries with numerous features such as enormous energy storage capacity and a wide range of sizes. Furthermore, batteries have a lengthy shelf life.
STOL Lead the Way Through 2030
A short take-off and landing (STOL) aircraft requires a short runway for take-off and landing. A runway of almost 1200m is required for STOL, although there have been improvements on aircraft that would require a runway as short as 600 m for take-off and landing. For take-off and landing, these aircraft might use vectored thrusts and a hybrid wing type as a lift plus cruise.
Companies such as Plana (South Korea) and Electra Aero (US) are developing STOL aircraft. During the projected period, the STOL segment will be driven by the increasing demand for shorter takeoff for hybrid aircraft.
In 2022, the VTOL category expanded the fastest. Vertical takeoff and landing (VTOL) aircraft land vertically rather than on a runway. This sort of aircraft is completely self-sufficient. Vertical takeoff and landing (VTOL) aircraft use batteries and electric motors rather than fuel-powered engines. Vertical takeoff and landing (VTOL) aircraft are extremely cost-effective.
Hydrogen Hybrid Segment Takes the Lead
Hydrogen electric aircraft have expanded range capabilities comparable to conventional aircraft, as well as faster refuelling times when compared to battery charging. Electric hydrogen aeroplanes are positioned as a possible alternative for sustainable air transportation since hydrogen fuel cells generate power without generating greenhouse emissions.
As a result, the hydrogen hybrid segment's lower maintenance and vibration-free capability will enhance the hydrogen hybrid segment power source segment over the projected period.
The fuel hybrid category is expected to experience the fastest growth within the forecast time frame. A hybrid electric aircraft (HEA) is propelled by a combination of traditional fossil fuel-powered engines and electric motors.
Electric motors are commonly used for take-off and landing in HEAs, while conventional engines provide power while in the air. Electric motors are powered by batteries or other energy storage systems such as fuel cells. Using a hybrid fuel power source saves energy and may assist in reducing pollution.
Light and Ultralight Aircraft Category Spearhaeds
In 2022, the light and ultralight aircraft sector led the electric aircraft market. The market for light and ultralight aircraft is increasing rapidly. This is attributable to aircraft modernisation, technological breakthroughs, and new product development in the electric aircraft market.
Furthermore, light, and ultralight aircraft are simple to pilot. Furthermore, increased recreational activities are propelling the expansion of the light and ultralight aircraft market.
In 2022, the business jet category will be the fastest-expanding segment of the electric aircraft market. The expanding tourism sector is helping to propel the segment forward. This is due to an increase in the number of persons with high net worth and the emergence of business jet programmes.
Furthermore, businessmen primarily employ business jets to travel within a region to save time.
Autonomous Category Leads
In 2022, the autonomous aircraft sector led the electric aircraft market. With growing technological updates across electric aviation, the development of autonomous electric aircraft is gaining pace. For instance, In February 2022, Boeing joined forces with GE Aviation.
The business made a $450 million investment in Wisk Aero, an OEM dedicated solely to the development of all-electric, self-driving passenger aircraft. The investment placed Wisk Aero as one of the world's best-funded Advanced Air Mobility (AAM) firms.
The piloted segment will be the fastest-growing segment. Since 2000, around 17 piloted electrical fixed-wing aeroplanes have been produced, beginning with the Antares 20E, and advancing to the Electraflyer C, Yuneec 430, and Cri-Cri. Electric motor power density and efficiency have grown in recent years, making this architecture possible.
The 101 to 500 km Range Category at the Forefront
According to the vision of clean aviation, by mid-2030, people and goods mobility would experience gradual changes, particularly across distances of less than 500 km (inter-urban regional linkages).
Innovations and technology relating to propulsion, fuel optimisation, and airframe characteristics will mature and become available for regional air transport as well as other present and future air vehicles operating over similar distances. The more than 500 km range segment will exhibit the fastest CAGR over the forecasted period due to initiatives taken by market players.
For instance, In November 2021, Zuri, a Czech firm, began hover testing on its first near-scale VTOL air taxi tech demonstrator. This team boasts real-world range numbers of up to 720 km (447 miles) at cruise speeds of up to 320 km/h with a hybrid powertrain on board.
Regional Frontrunners
Europe Continues to be the Largest Revenue Contributor
The presence of a significant number of manufacturers like as Airbus SE, Rolls Royce, Siemens AG, Boeing, and Easy Jet is the key market driver due to which Europe is expected to display the strongest growth in the market during the forecast period and the UK remains the largest country contributing to the regional growth.
Furthermore, Europe is expected to maintain its market dominance over the forecast period, owing to an increase in the number of manufacturers, collaboration, and partnerships.
In addition, favourable government policies and citizens having access to corporate jets, are boosting the region's demand for hybrid electric aircraft.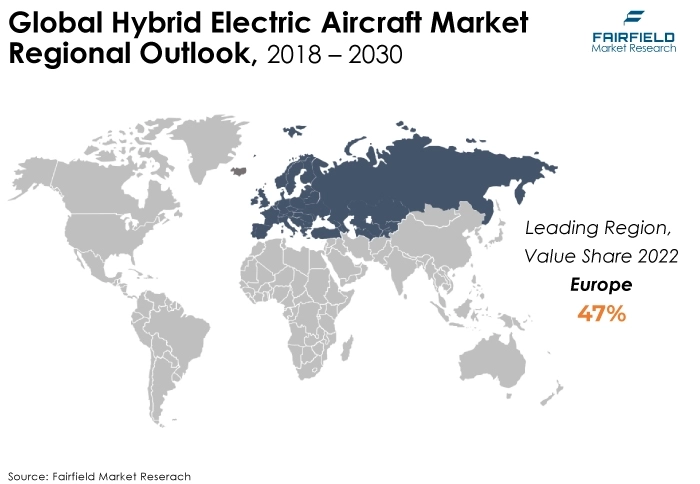 North America to Witness the Significant Growth
During the projection period, the United States is predicted to be the largest electric aircraft market in North America. The Environmental Protection Agency in the United States has declared rules for aviation greenhouse gas emissions.
More than 11% of all US transportation greenhouse gas emissions and approximately 4% of all US greenhouse gas emissions are attributed to aviation.
The EPA is planning to adopt severe regulations to reduce aviation emissions. Furthermore, technological advancements and increased R&D expenditures by market participants are expected to boost regional market share throughout the projection period.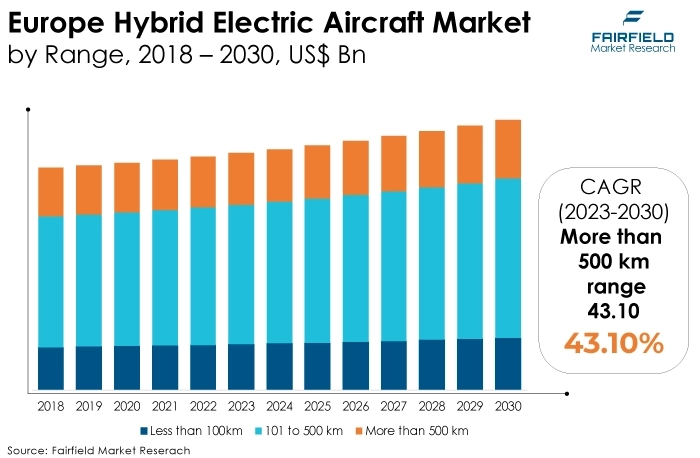 Fairfield's Competitive Landscape Analysis
The global hybrid electric aircraft market is a consolidated market with fewer major players present across the globe. The key players are introducing new products as well as working on the distribution channels to enhance their worldwide presence. Moreover, Fairfield Market Research is expecting the market to witness more consolidation over the coming years.
Who are the Leaders in Global Hybrid Electric Aircraft Space?
Significant Company Developments
Partnerships and Agreements
July 2023: GE Aerospace and NASA collaborated to reveal the paint scheme for the hybrid electric aircraft that will be flown as part of NASA's Electrified Powertrain Flight Demonstration (EPFD) project.
February 2022: MagniX announced a partnership with DESAER, a Brazilian aviation business, to develop the ATL-100H, a hybrid electric variant of the ATL-100 regional aircraft. The ATL-100H is predicted to save between 25 and 40% of gasoline depending on the range of operation, representing a substantial achievement in terms of carbon emission reductions.
September 2022: Air Canada has announced a purchase deal with Heart Aerospace of Sweden for 30 ES-30 electric-hybrid aircraft. The revolutionary regional aircraft, which is anticipated to enter service in 2028, would produce zero emissions while flying on battery power and will result in considerable operating savings and benefits. Air Canada has also acquired a US$5 Mn ownership investment in Heart Aerospace as part of the arrangement.
Product Developments
December 2022: Raytheon Technologies reported the successful maiden engine run of their regional hybrid-electric flight demonstrator, creating an important step towards flight testing, which is scheduled to commence in 2024.
June 2022: Rolls-Royce has formally revealed the advancement of turbogenerator technology, which includes the development of the latest and compact engine designed for hybrid-electric operation.
An Expert's Eye
Demand and Future Growth
As per Fairfield's Analysis, the plane requires a lot of fuel and petrol. This results in high manufacturing costs for the aviation industry. This element is propelling the widespread usage and acceptance of electric aeroplanes.
Furthermore, the growing inclination for technologically superior items is assisting the worldwide hybrid electric aircraft market expansion.
Another element driving the global hybrid electric aircraft market is technological advancements in the aviation industry. Some electric aircraft are also used in the military and defence industries. All these factors are driving the global expansion of the electric aircraft industry.
Supply Side of the Market
According to our analysis, in response to the rising need for fuel cells in electric aircraft, technologically advanced battery materials, and cutting-edge technology to cater to the wide range of consumer requirements, the OEMs are trying to concentrate on these aircraft to capture newer markets in developed and developing countries.
For instance, In May 2018, Zunum Aero, a startup backed by Boeing and JetBlue Airways, anticipated that its first hybrid-electric plane would be ready in 2022. As a result, the market for electric aircraft is anticipated to expand significantly shortly due to rising demand for environmentally friendly, fuel-efficient aircraft.
Global Hybrid Electric Aircraft Market is Segmented as Below:
By Aircraft Type:
Regional transport aircraft
Business jets
Light and ultralight aircraft
Unmanned aerial vehicles
Advanced air mobility
By Power Source:
Fuel hybrid
Hydrogen hybrid
By Mode of Operation:
By Range:
Less than 100 km
101 km to 500 km
More than 500 km
By Lift Technology:
By Geographic Coverage:
North America
Europe

Germany
U.K.
France
Italy
Russia
Rest of Europe

Asia Pacific

China
Japan
South Korea
India
Southeast Asia
Rest of Asia Pacific

Latin America

Brazil
Mexico
Rest of Latin America

Middle East & Africa

GCC
South Africa
Rest of the Middle East & and Africa
1. Executive Summary
1.1. Global Hybrid Electric Aircraft Market Snapshot
1.2. Future Projections
1.3. Key Market Trends
1.4. Regional Snapshot, by Value, 2022
1.5. Analyst Recommendations

2. Market Overview
2.1. Market Definitions and Segmentations
2.2. Market Dynamics
2.2.1. Drivers
2.2.2. Restraints
2.2.3. Market Opportunities
2.3. Value Chain Analysis
2.4. Porter's Five Forces Analysis
2.5. Covid-19 Impact Analysis
2.5.1. Supply
2.5.2. Demand
2.6. Impact of Ukraine-Russia Conflict
2.7. Economic Overview
2.7.1. World Economic Projections
2.8. PESTLE Analysis

3. Global Hybrid Electric Aircraft Market Outlook, 2018 - 2030
3.1. Global Hybrid Electric Aircraft Market Outlook, by Aircraft type, Value (US$ Bn), 2018 - 2030
3.1.1. Key Highlights
3.1.1.1. Regional transport aircraft
3.1.1.2. Business jets
3.1.1.3. Light and ultralight aircraft
3.1.1.4. Unmanned aerial vehicles
3.1.1.5. Advanced air mobility
3.2. Global Hybrid Electric Aircraft Market Outlook, by Power Source, Value (US$ Bn), 2018 - 2030
3.2.1. Key Highlights
3.2.1.1. Fuel hybrid
3.2.1.2. Hydrogen hybrid
3.3. Global Hybrid Electric Aircraft Market Outlook, by Mode of Operation, Value (US$ Bn), 2018 - 2030
3.3.1. Key Highlights
3.3.1.1. Piloted
3.3.1.2. Automated
3.4. Global Hybrid Electric Aircraft Market Outlook, by Range, Value (US$ Bn), 2018 - 2030
3.4.1. Key Highlights
3.4.1.1. Less than 100
3.4.1.2. 101 km to 500 km
3.4.1.3. More than 500 km
3.5. Global Hybrid Electric Aircraft Market Outlook, by Lift Technology, Value (US$ Bn), 2018 - 2030
3.5.1. Key Highlights
3.5.1.1. CTOL
3.5.1.2. STOL
3.5.1.3. VTOL
3.6. Global Hybrid Electric Aircraft Market Outlook, by Region, Value (US$ Bn), 2018 - 2030
3.6.1. Key Highlights
3.6.1.1. North America
3.6.1.2. Europe
3.6.1.3. Asia Pacific
3.6.1.4. Latin America
3.6.1.5. Middle East & Africa

4. North America Hybrid Electric Aircraft Market Outlook, 2018 - 2030
4.1. North America Hybrid Electric Aircraft Market Outlook, by Aircraft type, Value (US$ Bn), 2018 - 2030
4.1.1. Key Highlights
4.1.1.1. Regional transport aircraft
4.1.1.2. Business jets
4.1.1.3. Light and ultralight aircraft
4.1.1.4. Unmanned aerial vehicles
4.1.1.5. Advanced air mobility
4.2. North America Hybrid Electric Aircraft Market Outlook, by Power source, Value (US$ Bn), 2018 - 2030
4.2.1. Key Highlights
4.2.1.1. Fuel hybrid
4.2.1.2. Hydrogen hybrid
4.3. North America Hybrid Electric Aircraft Market Outlook, by Mode of operation, Value (US$ Bn), 2018 - 2030
4.3.1. Key Highlights
4.3.1.1. Piloted
4.3.1.2. Automated
4.4. North America Hybrid Electric Aircraft Market Outlook, by Range, Value (US$ Bn), 2018 - 2030
4.4.1. Key Highlights
4.4.1.1. Less than 100 km
4.4.1.2. 101 km to 500 km
4.4.1.3. More than 500 km
4.5. North America Hybrid Electric Aircraft Market Outlook, by Lift Technology, Value (US$ Bn), 2018 - 2030
4.5.1. Key Highlights
4.5.1.1. CTOL
4.5.1.2. STOL
4.5.1.3. VTOL
4.5.2. BPS Analysis/Market Attractiveness Analysis
4.6. North America Hybrid Electric Aircraft Market Outlook, by Country, Value (US$ Bn), 2018 - 2030
4.6.1. Key Highlights
4.6.1.1. U.S. Hybrid Electric Aircraft Market by Aircraft type, Value (US$ Bn), 2018 - 2030
4.6.1.2. U.S. Hybrid Electric Aircraft Market by Power source, Value (US$ Bn), 2018 - 2030
4.6.1.3. U.S. Hybrid Electric Aircraft Market by Mode of operation, Value (US$ Bn), 2018 - 2030
4.6.1.4. U.S. Hybrid Electric Aircraft Market by Range, Value (US$ Bn), 2018 - 2030
4.6.1.5. U.S. Hybrid Electric Aircraft Market by Lift Technology, Value (US$ Bn), 2018 - 2030
4.6.1.6. Canada Hybrid Electric Aircraft Market by Aircraft type, Value (US$ Bn), 2018 - 2030
4.6.1.7. Canada Hybrid Electric Aircraft Market by Power source, Value (US$ Bn), 2018 - 2030
4.6.1.8. Canada Hybrid Electric Aircraft Market by Mode of operation, Value (US$ Bn), 2018 - 2030
4.6.1.9. Canada Hybrid Electric Aircraft Market by Range, Value (US$ Bn), 2018 - 2030
4.6.1.10. Canada Hybrid Electric Aircraft Market by Lift Technology, Value (US$ Bn), 2018 - 2030
4.6.2. BPS Analysis/Market Attractiveness Analysis

5. Europe Hybrid Electric Aircraft Market Outlook, 2018 - 2030
5.1. Europe Hybrid Electric Aircraft Market Outlook, by Aircraft type, Value (US$ Bn), 2018 - 2030
5.1.1. Key Highlights
5.1.1.1. Regional transport aircraft
5.1.1.2. Business jets
5.1.1.3. Light and ultralight aircraft
5.1.1.4. Unmanned aerial vehicles
5.2. Europe Hybrid Electric Aircraft Market Outlook, by Power source, Value (US$ Bn), 2018 - 2030
5.2.1. Key Highlights
5.2.1.1. Fuel hybrid
5.2.1.2. Hydrogen hybrid
5.3. Europe Hybrid Electric Aircraft Market Outlook, by Mode of operation, Value (US$ Bn), 2018 - 2030
5.3.1. Key Highlights
5.3.1.1. Piloted
5.3.1.2. Automated
5.4. Europe Hybrid Electric Aircraft Market Outlook, by Range, Value (US$ Bn), 2018 - 2030
5.4.1. Key Highlights
5.4.1.1. Less than 100 km
5.4.1.2. 101 km to 500 km
5.4.1.3. More than 500 km
5.5. Europe Hybrid Electric Aircraft Market Outlook, by Lift Technology, Value (US$ Bn), 2018 - 2030
5.5.1. Key Highlights
5.5.1.1. CTOL
5.5.1.2. STOL
5.5.1.3. VTOL
5.5.2. BPS Analysis/Market Attractiveness Analysis
5.6. Europe Hybrid Electric Aircraft Market Outlook, by Country, Value (US$ Bn), 2018 - 2030
5.6.1. Key Highlights
5.6.1.1. Germany Hybrid Electric Aircraft Market by Aircraft type, Value (US$ Bn), 2018 - 2030
5.6.1.2. Germany Hybrid Electric Aircraft Market Power source, Value (US$ Bn), 2018 - 2030
5.6.1.3. Germany Hybrid Electric Aircraft Market Mode of operation, Value (US$ Bn), 2018 - 2030
5.6.1.4. Germany Hybrid Electric Aircraft Market by Range, Value (US$ Bn), 2018 - 2030
5.6.1.5. Germany Hybrid Electric Aircraft Market by Lift Technology, Value (US$ Bn), 2018 - 2030
5.6.1.6. U.K. Hybrid Electric Aircraft Market by Aircraft type, Value (US$ Bn), 2018 - 2030
5.6.1.7. U.K. Hybrid Electric Aircraft Market Power source, Value (US$ Bn), 2018 - 2030
5.6.1.8. U.K. Hybrid Electric Aircraft Market Mode of operation, Value (US$ Bn), 2018 - 2030
5.6.1.9. U.K. Hybrid Electric Aircraft Market by Range, Value (US$ Bn), 2018 - 2030
5.6.1.10. U.K. Hybrid Electric Aircraft Market Lift Technology, Value (US$ Bn), 2018 - 2030
5.6.1.11. France Hybrid Electric Aircraft Market by Aircraft type, Value (US$ Bn), 2018 - 2030
5.6.1.12. France Hybrid Electric Aircraft Market Power source, Value (US$ Bn), 2018 - 2030
5.6.1.13. France Hybrid Electric Aircraft Market Mode of operation, Value (US$ Bn), 2018 - 2030
5.6.1.14. France Hybrid Electric Aircraft Market by Range, Value (US$ Bn), 2018 - 2030
5.6.1.15. France Hybrid Electric Aircraft Market by Lift Technology, Value (US$ Bn), 2018 - 2030
5.6.1.16. Italy Hybrid Electric Aircraft Market by Aircraft type, Value (US$ Bn), 2018 - 2030
5.6.1.17. Italy Hybrid Electric Aircraft Market Power source, Value (US$ Bn), 2018 - 2030
5.6.1.18. Italy Hybrid Electric Aircraft Market Mode of operation, Value (US$ Bn), 2018 - 2030
5.6.1.19. Italy Hybrid Electric Aircraft Market by Range, Value (US$ Bn), 2018 - 2030
5.6.1.20. Italy Hybrid Electric Aircraft Market by Lift Technology, Value (US$ Bn), 2018 - 2030
5.6.1.21. Russia Hybrid Electric Aircraft Market by Aircraft type, Value (US$ Bn), 2018 - 2030
5.6.1.22. Russia Hybrid Electric Aircraft Market by Power source, Value (US$ Bn), 2018 - 2030
5.6.1.23. Russia Hybrid Electric Aircraft Market by Mode of operation, Value (US$ Bn), 2018 - 2030
5.6.1.24. Russia Hybrid Electric Aircraft Market by Range, Value (US$ Bn), 2018 - 2030
5.6.1.25. Russia Hybrid Electric Aircraft Market by Lift Technology, Value (US$ Bn), 2018 - 2030
5.6.1.26. Rest of Europe Hybrid Electric Aircraft Market by Aircraft type, Value (US$ Bn), 2018 - 2030
5.6.1.27. Rest of Europe Hybrid Electric Aircraft Market Power source, Value (US$ Bn), 2018 - 2030
5.6.1.28. Rest of Europe Hybrid Electric Aircraft Market Mode of operation, Value (US$ Bn), 2018 - 2030
5.6.1.29. Rest of Europe Hybrid Electric Aircraft Market by Range, Value (US$ Bn), 2018 - 2030
5.6.1.30. Rest of Europe Hybrid Electric Aircraft Market by Lift Technology, Value (US$ Bn), 2018 - 2030
5.6.2. BPS Analysis/Market Attractiveness Analysis

6. Asia Pacific Hybrid Electric Aircraft Market Outlook, 2018 - 2030
6.1. Asia Pacific Hybrid Electric Aircraft Market Outlook, by Aircraft type, Value (US$ Bn), 2018 - 2030
6.1.1. Key Highlights
6.1.1.1. Regional transport aircraft
6.1.1.2. Business jets
6.1.1.3. Light and ultralight aircraft
6.1.1.4. Unmanned aerial vehicles
6.1.1.5. Advanced Air mobility
6.2. Asia Pacific Hybrid Electric Aircraft Market Outlook, by Power source, Value (US$ Bn), 2018 - 2030
6.2.1. Key Highlights
6.2.1.1. Fuel hybrid
6.2.1.2. Hydrogen hybrid
6.3. Asia Pacific Hybrid Electric Aircraft Market Outlook, by Mode of operation, Value (US$ Bn), 2018 - 2030
6.3.1. Key Highlights
6.3.1.1. Piloted
6.3.1.2. Automated
6.4. Asia Pacific Hybrid Electric Aircraft Market Outlook, by Range, Value (US$ Bn), 2018 - 2030
6.4.1. Key Highlights
6.4.1.1. Less than 100 km
6.4.1.2. 101 km to 500 km
6.4.1.3. More than 500 km
6.5. Asia Pacific Hybrid Electric Aircraft Market Outlook, by Lift Technology, Value (US$ Bn), 2018 - 2030
6.5.1. Key Highlights
6.5.1.1. CTOL
6.5.1.2. STOL
6.5.1.3. VTOL
6.5.2. BPS Analysis/Market Attractiveness Analysis
6.6. Asia Pacific Hybrid Electric Aircraft Market Outlook, by Country, Value (US$ Bn), 2018 - 2030
6.6.1. Key Highlights
6.6.1.1. China Hybrid Electric Aircraft Market by Aircraft type, Value (US$ Bn), 2018 - 2030
6.6.1.2. China Hybrid Electric Aircraft Market, by Range, Value (US$ Bn), 2018 - 2030
6.6.1.3. China Hybrid Electric Aircraft Market, by Lift Technology, Value (US$ Bn), 2018 - 2030
6.6.1.4. China Hybrid Electric Aircraft Market, by Power source, Value (US$ Bn), 2018 - 2030
6.6.1.5. China Hybrid Electric Aircraft Market, by Mode of operation, Value (US$ Bn), 2018 - 2030
6.6.1.6. Japan Hybrid Electric Aircraft Market by Aircraft type, Value (US$ Bn), 2018 - 2030
6.6.1.7. Japan Hybrid Electric Aircraft Market Power source, Value (US$ Bn), 2018 - 2030
6.6.1.8. Japan Hybrid Electric Aircraft Market by Range, Value (US$ Bn), 2018 - 2030
6.6.1.9. Japan Hybrid Electric Aircraft Market Lift Technology, Value (US$ Bn), 2018 - 2030
6.6.1.10. Japan Hybrid Electric Aircraft Market Mode of operation, Value (US$ Bn), 2018 - 2030
6.6.1.11. South Korea Hybrid Electric Aircraft Market by Aircraft type, Value (US$ Bn), 2018 - 2030
6.6.1.12. South Korea Hybrid Electric Aircraft Market Power source, Value (US$ Bn), 2018 - 2030
6.6.1.13. South Korea Hybrid Electric Aircraft Market Mode of operation, Value (US$ Bn), 2018 - 2030
6.6.1.14. South Korea Hybrid Electric Aircraft Market by Range, Value (US$ Bn), 2018 - 2030
6.6.1.15. South Korea Hybrid Electric Aircraft Market Lift Technology, Value (US$ Bn), 2018 - 2030
6.6.1.16. India Hybrid Electric Aircraft Market by Aircraft type, Value (US$ Bn), 2018 - 2030
6.6.1.17. India Hybrid Electric Aircraft Market Power source, Value (US$ Bn), 2018 - 2030
6.6.1.18. India Hybrid Electric Aircraft Market Mode of operation, Value (US$ Bn), 2018 - 2030
6.6.1.19. India Hybrid Electric Aircraft Market by Range, Value (US$ Bn), 2018 - 2030
6.6.1.20. India Hybrid Electric Aircraft Market Lift Technology, Value (US$ Bn), 2018 - 2030
6.6.1.21. Southeast Asia Hybrid Electric Aircraft Market by Aircraft type, Value (US$ Bn), 2018 - 2030
6.6.1.22. Southeast Asia Hybrid Electric Aircraft Market Power source, Value (US$ Bn), 2018 - 2030
6.6.1.23. Southeast Asia Hybrid Electric Aircraft Market Mode of operation, Value (US$ Bn), 2018 - 2030
6.6.1.24. Southeast Asia Hybrid Electric Aircraft Market by Range, Value (US$ Bn), 2018 - 2030
6.6.1.25. Southeast Asia Hybrid Electric Aircraft Market Lift Technology, Value (US$ Bn), 2018 - 2030
6.6.1.26. Rest of Asia Pacific Hybrid Electric Aircraft Market by Aircraft type, Value (US$ Bn), 2018 - 2030
6.6.1.27. Rest of Asia Pacific Hybrid Electric Aircraft Market Power source, Value (US$ Bn), 2018 - 2030
6.6.1.28. Rest of Asia Pacific Hybrid Electric Aircraft Market Mode of operation, Value (US$ Bn), 2018 - 2030
6.6.1.29. Rest of Asia Pacific Hybrid Electric Aircraft Market by Range, Value (US$ Bn), 2018 - 2030
6.6.1.30. Rest of Asia Pacific Hybrid Electric Aircraft Market Lift Technology, Value (US$ Bn), 2018 - 2030
6.6.2. BPS Analysis/Market Attractiveness Analysis

7. Latin America Hybrid Electric Aircraft Market Outlook, 2018 - 2030
7.1. Latin America Hybrid Electric Aircraft Market Outlook, by Aircraft type, Value (US$ Bn), 2018 - 2030
7.1.1. Key Highlights
7.1.1.1. Regional transport aircraft
7.1.1.2. Business jets
7.1.1.3. Light and ultralight aircraft
7.1.1.4. Unmanned aerial vehicles
7.2. Latin America Hybrid Electric Aircraft Market Outlook, by Power source, Value (US$ Bn), 2018 - 2030
7.2.1. Key Highlights
7.2.1.1. Fuel hybrid
7.2.1.2. Hydrogen hybrid
7.3. Latin America Hybrid Electric Aircraft Market Outlook, by Mode of operation, Value (US$ Bn), 2018 - 2030
7.3.1. Key Highlights
7.3.1.1. Piloted
7.3.1.2. Automated
7.4. Latin America Hybrid Electric Aircraft Market Outlook, by Range, Value (US$ Bn), 2018 - 2030
7.4.1. Key Highlights
7.4.1.1. Less than 100 km
7.4.1.2. 101 km to 500 km
7.4.1.3. More than 500 km
7.5. Latin America Hybrid Electric Aircraft Market Outlook, by Lift Technology, Value (US$ Bn), 2018 - 2030
7.5.1. Key Highlights
7.5.1.1. CTOL
7.5.1.2. STOL
7.5.1.3. VTOL
7.5.2. BPS Analysis/Market Attractiveness Analysis
7.6. Latin America Hybrid Electric Aircraft Market Outlook, by Country, Value (US$ Bn), 2018 - 2030
7.6.1. Key Highlights
7.6.1.1. Brazil Hybrid Electric Aircraft Market by Aircraft type, Value (US$ Bn), 2018 - 2030
7.6.1.2. Brazil Hybrid Electric Aircraft Market by Power source, Value (US$ Bn), 2018 - 2030
7.6.1.3. Brazil Hybrid Electric Aircraft Market by Mode of operation, Value (US$ Bn), 2018 - 2030
7.6.1.4. Brazil Hybrid Electric Aircraft Market by Range, Value (US$ Bn), 2018 - 2030
7.6.1.5. Brazil Hybrid Electric Aircraft Market by Lift Technology, Value (US$ Bn), 2018 - 2030
7.6.1.6. Mexico Hybrid Electric Aircraft Market by Aircraft type, Value (US$ Bn), 2018 - 2030
7.6.1.7. Mexico Hybrid Electric Aircraft Market by Power source, Value (US$ Bn), 2018 - 2030
7.6.1.8. Mexico Hybrid Electric Aircraft Market by Mode of operation, Value (US$ Bn), 2018 - 2030
7.6.1.9. Mexico Hybrid Electric Aircraft Market by Range, Value (US$ Bn), 2018 - 2030
7.6.1.10. Mexico Hybrid Electric Aircraft Market by Lift Technology, Value (US$ Bn), 2018 - 2030
7.6.1.11. Rest of Latin America Hybrid Electric Aircraft Market by Aircraft type, Value (US$ Bn), 2018 - 2030
7.6.1.12. Rest of Latin America Hybrid Electric Aircraft Market by Power source, Value (US$ Bn), 2018 - 2030
7.6.1.13. Rest of Latin America Hybrid Electric Aircraft Market by Mode of operation, Value (US$ Bn), 2018 - 2030
7.6.1.14. Rest of Latin America Hybrid Electric Aircraft Market by Range, Value (US$ Bn), 2018 - 2030
7.6.1.15. Rest of Latin America Hybrid Electric Aircraft Market by Lift Technology, Value (US$ Bn), 2018 - 2030
7.6.2. BPS Analysis/Market Attractiveness Analysis

8. Middle East & Africa Hybrid Electric Aircraft Market Outlook, 2018 - 2030
8.1. Middle East & Africa Hybrid Electric Aircraft Market Outlook, by Aircraft type, Value (US$ Bn), 2018 - 2030
8.1.1. Key Highlights
8.1.1.1. Regional transport aircraft
8.1.1.2. Business jets
8.1.1.3. Light and ultralight aircraft
8.1.1.4. Unmanned aerial vehicles
8.2. Middle East & Africa Hybrid Electric Aircraft Market Outlook, by Power source, Value (US$ Bn), 2018 - 2030
8.2.1. Key Highlights
8.2.1.1. Fuel hybrid
8.2.1.2. Hydrogen hybrid
8.3. Middle East & Africa Hybrid Electric Aircraft Market Outlook, by Mode of operation, Value (US$ Bn), 2018 - 2030
8.3.1. Key Highlights
8.3.1.1. Piloted
8.3.1.2. Automated
8.4. Middle East & Africa Hybrid Electric Aircraft Market Outlook, by Range, Value (US$ Bn), 2018 - 2030
8.4.1. Key Highlights
8.4.1.1. Less than 100 km
8.4.1.2. 101 km to 500 km
8.4.1.3. More than 500 km
8.5. Middle East & Africa Hybrid Electric Aircraft Market Outlook, by Lift Technology, Value (US$ Bn), 2018 - 2030
8.5.1. Key Highlights
8.5.1.1. CTOL
8.5.1.2. STOL
8.5.1.3. VTOL
8.5.2. BPS Analysis/Market Attractiveness Analysis
8.6. Middle East & Africa Hybrid Electric Aircraft Market Outlook, by Country, Value (US$ Bn), 2018 - 2030
8.6.1. Key Highlights
8.6.1.1. GCC Hybrid Electric Aircraft Market by Aircraft type, Value (US$ Bn), 2018 - 2030
8.6.1.2. GCC Hybrid Electric Aircraft Market by Power source, Value (US$ Bn), 2018 - 2030
8.6.1.3. GCC Hybrid Electric Aircraft Market by Mode of operation, Value (US$ Bn), 2018 - 2030
8.6.1.4. GCC Hybrid Electric Aircraft Market by Range, Value (US$ Bn), 2018 - 2030
8.6.1.5. GCC Hybrid Electric Aircraft Market by Lift Technology, Value (US$ Bn), 2018 - 2030
8.6.1.6. South Africa Hybrid Electric Aircraft Market by Aircraft type, Value (US$ Bn), 2018 - 2030
8.6.1.7. South Africa Hybrid Electric Aircraft Market by Power source, Value (US$ Bn), 2018 - 2030
8.6.1.8. South Africa Hybrid Electric Aircraft Market by Mode of operation, Value (US$ Bn), 2018 - 2030
8.6.1.9. South Africa Hybrid Electric Aircraft Market by Range, Value (US$ Bn), 2018 - 2030
8.6.1.10. South Africa Hybrid Electric Aircraft Market by Lift Technology, Value (US$ Bn), 2018 - 2030
8.6.1.11. Rest of Middle East & Africa Hybrid Electric Aircraft Market by Aircraft type, Value (US$ Bn), 2018 - 2030
8.6.1.12. Rest of Middle East & Africa Hybrid Electric Aircraft Market by Power source, Value (US$ Bn), 2018 - 2030
8.6.1.13. Rest of Middle East & Africa Hybrid Electric Aircraft Market by Mode of operation, Value (US$ Bn), 2018 - 2030
8.6.1.14. Rest of Middle East & Africa Hybrid Electric Aircraft Market by Range, Value (US$ Bn), 2018 - 2030
8.6.1.15. Rest of Middle East & Africa Hybrid Electric Aircraft Market by Lift Technology, Value (US$ Bn), 2018 - 2030
8.6.2. BPS Analysis/Market Attractiveness Analysis

9. Competitive Landscape
9.1. Mode of operation vs Application Heatmap
9.2. Manufacturer vs Application Heatmap
9.3. Company Market Share Analysis, 2022
9.4. Competitive Dashboard
9.5. Company Profiles
9.5.1. Electra.Aero, Inc.
9.5.1.1. Company Overview
9.5.1.2. Product Portfolio
9.5.1.3. Financial Overview
9.5.1.4. Business Strategies and Development
9.5.2. Manta Aircraft
9.5.2.1. Company Overview
9.5.2.2. Product Portfolio
9.5.2.3. Financial Overview
9.5.2.4. Business Strategies and Development
9.5.3. AMSL Aero PTY Ltd.
9.5.3.1. Company Overview
9.5.3.2. Product Portfolio
9.5.3.3. Financial Overview
9.5.3.4. Business Strategies and Development
9.5.4. Transcend Air Corporation.
9.5.4.1. Company Overview
9.5.4.2. Product Portfolio
9.5.4.3. Financial Overview
9.5.4.4. Business Strategies and Development
9.5.5. AVA Propulsion Inc.
9.5.5.1. Company Overview
9.5.5.2. Product Portfolio
9.5.5.3. Financial Overview
9.5.5.4. Business Strategies and Development
9.5.6. Skyfly Technologies Ltd.
9.5.6.1. Company Overview
9.5.6.2. Product Portfolio
9.5.6.3. Financial Overview
9.5.6.4. Business Strategies and Development
9.5.7. H2Fly
9.5.7.1. Company Overview
9.5.7.2. Product Portfolio
9.5.7.3. Financial Overview
9.5.7.4. Business Strategies and Development
9.5.8. Costruzioni Aeronautiche Technam S.P.A.
9.5.8.1. Company Overview
9.5.8.2. Product Portfolio
9.5.8.3. Financial Overview
9.5.8.4. Business Strategies and Development
9.5.9. Elroy Air.
9.5.9.1. Company Overview
9.5.9.2. Product Portfolio
9.5.9.3. Business Strategies and Development
9.5.10. Airspace Experience Technologies Inc.
9.5.10.1. Company Overview
9.5.10.2. Product Portfolio
9.5.10.3. Financial Overview
9.5.10.4. Business Strategies and Development
9.5.11. Airbus S.A.S
9.5.11.1. Company Overview
9.5.11.2. Product Portfolio
9.5.11.3. Financial Overview
9.5.11.4. Business Strategies and Development
9.5.12. Cranfield Aerospace Solutions
9.5.12.1. Company Overview
9.5.12.2. Product Portfolio
9.5.12.3. Financial Overview
9.5.12.4. Business Strategies and Development
9.5.13. Boeing.
9.5.13.1. Company Overview
9.5.13.2. Product Portfolio
9.5.13.3. Financial Overview
9.5.13.4. Business Strategies and Development
9.5.14. General Electric Company
9.5.14.1. Company Overview
9.5.14.2. Product Portfolio
9.5.14.3. Financial Overview
9.5.14.4. Business Strategies and Development
9.5.15. Honeywell International Inc.
9.5.15.1. Company Overview
9.5.15.2. Product Portfolio
9.5.15.3. Financial Overview
9.5.15.4. Business Strategies and Development

10. Appendix
10.1. Research Methodology
10.2. Report Assumptions
10.3. Acronyms and Abbreviations