This study intends to unfurl the multiple facets of global intelligent pumps market. The market is likely to reach the revenue of around US$ 1,033.6 Mn by 2029 end and the insights offered in the report aid in detailed market growth examination during the forecast period.
Rapid Expanse of Industrial Automation to Drive Intelligent Pumps Market
Pumps have outgrown their traditional role as the mechanical workhorses of manufacturing with the addition of digital technology and rather entered the process control domain. In their new role, intelligent pumps have the potential to improve process control, enable better management of their health, and assist plants in reducing total energy consumption. The value proposition of intelligent pumps is high enough to be a process control game changer yet overcoming the work culture in the process industries is proving to be the greatest challenge for suppliers as manufacturers and owner-operators drag their feet into incorporating pumps into their control schemes. This will continue to influence the performance of intelligent pumps market worldwide.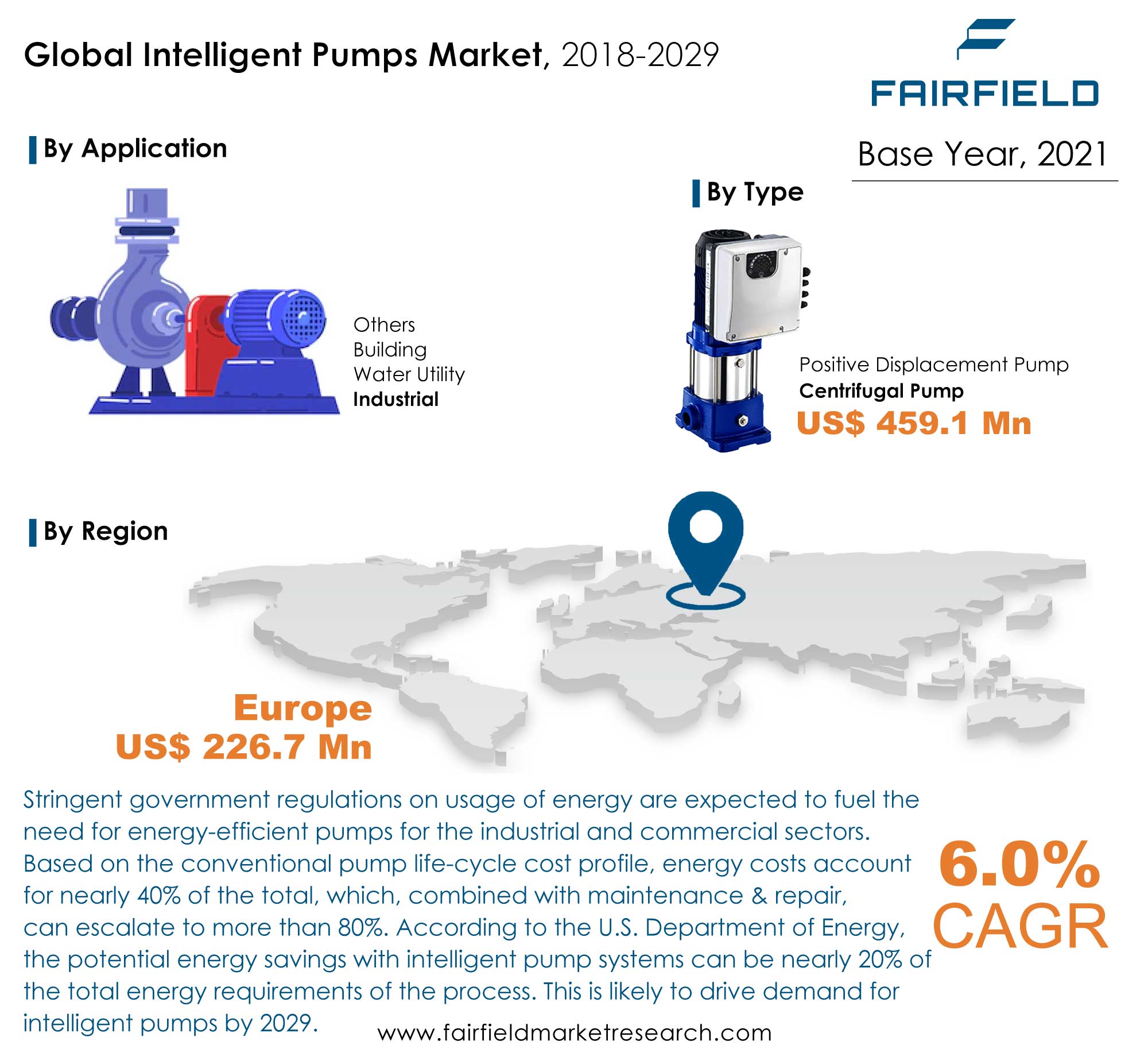 An intelligent pump is a specially integrated and automated pump that can regulate the flow or pressure. The key advantages of an intelligent pump, i.e., energy efficiency, lifetime improvements, and system cost reductions. The key capabilities of an intelligent pump to automatically adjust operations to match the head requirements of the system that account for effectiveness and efficiency of pumps will predominantly drive the growth of intelligent pumps market. Extensive application in boilers and systems, temperature control, water treatment, industrial water supply, wash and clean, machining, and desalination predominantly fuels the expansion of global intelligent pumps market.
Better Operational Efficiency, and Energy Savings Account for Proliferating Adoption Across Intelligent Pumps Market
The initial cost of investment is high, which hampers the entry of new players in intelligent pumps market. However, stringent government norms about greenhouse gas (GHG) emissions, and the overall carbon emissions have encouraged the entry of new players in global intelligent pumps market. Consequently, the rate of penetration is moderate since the market is diversified and entertains several players. The market for intelligent pumps is governed by the rising need for improved operational efficiency, greater energy savings, and effective automation. Suppliers are forming strategic short-term or long-term contracts with companies involved in the manufacturing of gas turbines.
Major pump manufacturers have been preferring backward or forward integration to secure their supply of components, thereby lowering the bargaining power of raw material suppliers. Several companies such as Grundfos Holdings AS, and ITT Goulds Pumps are offering intelligent pumps to enhance the performance and efficiency. Intelligent pumps developed by these companies are predominantly supplied to various end-use industries, such as power, oil and gas, and construction. Technological investments pertaining to manufacturing of intelligent pumps are high when compared to traditional pumps available on the market. Thus, companies involved in manufacturing of intelligent pumps have acquired technological patents related to F-class, and H-class intelligent pumps solutions. This limits the small players involved in the pumps market to invest on technology front. Thus, high capital investments involved in setting up of intelligent pumps production facilities is the key restraint hampering the growth of intelligent pumps market.
Installed Base of Centrifugal Pumps Remains High, Positive Displacement Pumps to Emerge Lucrative in Intelligent Pumps Market
In terms of type, the market has been segmented into centrifugal pump, and positive displacement pumps. In 2021, centrifugal pumps constituted the lion's share of 71% of the global intelligent pumps market and is expected to grow at a CAGR of 6.1% during 2022-2029. Centrifugal pumps are used widely for their simple design, high efficiency, superior capacity, smooth flow, and ease of operations. Demand for centrifugal pumps is driven by ease in availability, and high operational efficiency. However, the positive displacement pump segment is anticipated to significantly expand during the forecast period. Positive displacement pumps are gaining momentum and are projected to expand at a rate higher than that of the centrifugal pumps estimated during the forecast period. Companies involved in the development of intelligent pumps depend on automation. These companies are thus dependent on providers of drives with variable frequency.
Intelligent Pumps Market to Benefit from High Demand for Automation in Variable Speed Drives
In terms of component, the market has been segmented into pump motor, variable speed drive, and control systems. In 2021, variable speed drive constituted 41% share of the global intelligent pumps market and the same trend is expected to continue during the forecast period. Variable-frequency drive or variable-speed drive is a piece of equipment that regulates the speed and rotational force (or torque output) of an electric motor. There exist two types of variable-speed drives, viz. high-quality variable-speed drives, and low-quality variable-speed drives. Research marks the fact that variable-speed drives are expensive as compared to other components used in the manufacture of a complete pumping solution.
High Demand in Industrial Operations Will Maintain Buoyancy of Intelligent Pumps Market
In terms of application, the market has been segmented into building, industrial, water utilities, and others. In 2021, industrial segment constituted more than 60% share of the global intelligent pumps market and the trend is expected to prevail during the forecast period. Several industries such as oil & gas, food & beverages, and power plants utilize intelligent pumps to optimize operational efficiency. Pressure boosting is dominant as these intelligent pumps are widely used to boost the pressure of fluids to move them from one place to another. In the industrial segment, traditional pumps are being replaced with smart pumping solutions. This has forced several suppliers to collaborate with technology manufacturers.
Europe Spearheads Intelligent Pumps Market, Asia Pacific Likely to Generate Spike in Demand
Europe constituted 35.2% of the global intelligent pumps market in 2021. Demand for intelligent pumps in European markets is driven by the deployment of these pumps in several industries, coupled with strong presence of some of the world's major manufacturers across European countries that have been the early adopters of intelligent pumping solutions, especially in the industrial, and water utility-based industries. Europe thus has been the key manufacturer as well as consumer of intelligent pumps. Most pump sales are driven by the rising demand from end-use industries, and strict government-imposed regulations related to energy efficiency. The European Commission, through the Energy Intelligent Europe (EIE) programme, has introduced a project named Energy + Pumps, which is expected to initiate a market transformation to new and highly energy-efficient pumps and technologies for small- and medium-sized circulators in domestic heating systems.
Asia Pacific is likely to register strongest growth between 2022 and 2029 owing to increase in industrialization, followed by upgradation of existing power plants. China dominates the Asia Pacific intelligent pumps market and constituted more than 55% share in 2021. In China, several manufacturers of pumping equipment and solutions also deal in intelligent pumping solutions. Furthermore, end-use industries in the country are focusing on the operational efficiency of pumps and are thus adopting intelligent pumping solutions. This has triggered investments in the intelligent pumps market in the country.
North America also holds a significant share in the global intelligent pumps market. Rising demand from the water and wastewater treatment sectors in North America is expected to drive the market in this region. On the other hand, Asia Pacific is also developing a lucrative market for manufacturers, and suppliers of intelligent pumps. Asian economies, China being the key nation pioneering the deployment of intelligent pumping solutions, present a high-potential market. Other regions such as the Middle East, and Africa do not possess domestic manufacturing bases for pump production and thus rely completely on imports. These regions have thus emerged as attractive export destinations with low-priced Indian, and Chinese pump sets, creating an advantage over their high-cost American, and European counterparts.
Global Intelligent Pumps Market: Competitive Landscape
Some of the key players steering global intelligent pumps market include Grundfos Holding A/S, Goulds Pumps, Danfoss A/S, Alfa Laval, Wilo SE, QuantumFlo, Inc., Allweiler GmbH, Xylem Inc., Kirloskar Brothers Limited, and Armstrong Fluid Technology. Grundfos Holdings AS according to the report remains the global leader in terms of sales, and installation of intelligent pumps. The company is among the trendsetters in intelligent pumping solutions landscape.
Recent Notable Developments
In 2022, Grundfos, a global leader in advanced pump solutions and water technologies is supporting Arla Foods in its important mission to reduce carbon emissions in its operations by 63 percent by 2030


In 2021, WILO USA LLC, a subsidiary of WILO SE, has acquired the operating business of QuantumFlo, Inc, a specialist in pressure boosting systems and intelligent pump systems. The company, based in Sanford, Florida/USA, offers high-quality products and innovative, user-friendly software solutions for the design and control of pressure boosting systems
The Global Intelligent Pumps Market is Segmented as Below:
By Type Coverage
Centrifugal Pump
Positive Displacement Pump
By Component Coverage
Pump Motor
Variable Speed Drive
Control Systems
Others
By Application Coverage
Building
Industrial
Water Utility
Others
By Geographical Coverage
North America
Europe

Germany
France
UK
Italy
Rest of Europe

Asia Pacific

China
Japan
India
ASEAN
Rest of Asia Pacific

Latin America

Brazil
Mexico
Rest of Latin America

Middle East & Africa

GCC
South Africa
Rest of Middle East & Africa
Leading Companies
Grundfos Holding A/S
Goulds Pumps
Danfoss A/S
Alfa Laval
Wilo SE
QuantumFlo, Inc.
Allweiler GmbH
Xylem Inc.
Kirloskar Brothers Limited
Armstrong Fluid Technology
Inside This Report You Will Find:

1. Executive Summary
2. Market Overview
3. Price Trends Analysis
4. Global Intelligent Pumps Market Outlook, 2018 - 2029
5. North America Intelligent Pumps Market Outlook, 2018 - 2029
6. Europe Intelligent Pumps Market Outlook, 2018 - 2029
7. Asia Pacific Intelligent Pumps Market Outlook, 2018 - 2029
8. Latin America Intelligent Pumps Market Outlook, 2018 - 2029
9. Middle East & Africa Intelligent Pumps Market Outlook, 2018 - 2029
10. Competitive Landscape
11. Appendix

Post Sale Support, Research Updates & Offerings
We value the trust shown by our customers in Fairfield Market Research. We support our clients through our post sale support, research updates and offerings.
The report will be prepared in a PPT format and will be delivered in a PDF format.
Additionally, Market Estimation and Forecast numbers will be shared in Excel Workbook.
If a report being sold was published over a year ago, we will offer a complimentary copy of the updated research report along with Market Estimation and Forecast numbers within 2-3 weeks' time of the sale.
If we update this research study within the next 2 quarters, post purchase of the report, we will offer a Complimentary copy of the updated Market Estimation and Forecast numbers in Excel Workbook.
If there is a geopolitical conflict, pandemic, recession, and the like which can impact global economic scenario and business activity, which might entirely alter the market dynamics or future projections in the industry, we will create a Research Update upon your request at a nominal charge.
Disclaimer:
The segmentation/company profiles/countries depicted above may vary in the actual report.
1. Executive Summary
1.1. Global Intelligent Pumps Market Snapshot
1.2. Future Projections
1.3. Key Market Trends
1.4. Analyst Recommendations

2. Market Overview
2.1. Market Definitions and Segmentations
2.2. Market Dynamics
2.2.1. Drivers
2.2.2. Restraints
2.2.3. Market Opportunities
2.2.4. Economic Trends
2.3. Value Chain Analysis
2.4. Porter's Five Forces Analysis
2.5. Covid-19 Impact
2.5.1. Supply Chain
2.5.2. Application Customer Impact Analysis

3. Price Trends Analysis

4. Global Intelligent Pumps Market Outlook, 2018 - 2029
4.1. Global Intelligent Pumps Market Outlook, by Type, Value (US$ Mn), 2018 - 2029
4.1.1. Key Highlights
4.1.1.1. Centrifugal Pump
4.1.1.2. Positive Displacement Pump
4.1.2. BPS Analysis/Market Attractiveness Analysis, by Type
4.2. Global Intelligent Pumps Market Outlook, by Component, Value (US$ Mn), 2018 - 2029
4.2.1. Key Highlights
4.2.1.1. Pump Motor
4.2.1.2. Variable Speed Drive
4.2.1.3. Control Systems
4.2.1.4. Others
4.2.2. BPS Analysis/Market Attractiveness Analysis, by Component
4.3. Global Intelligent Pumps Market Outlook, by Application, Value (US$ Mn), 2018 - 2029
4.3.1. Key Highlights
4.3.1.1. Building
4.3.1.2. Industrial
4.3.1.3. Water Utility
4.3.1.4. Others
4.3.2. BPS Analysis/Market Attractiveness Analysis, by Application
4.4. Global Intelligent Pumps Market Outlook, by Region, Value (US$ Mn), 2018 - 2029
4.4.1. Key Highlights
4.4.1.1. North America
4.4.1.2. Europe
4.4.1.3. Asia Pacific
4.4.1.4. Latin America
4.4.1.5. Middle East & Africa
4.4.2. BPS Analysis/Market Attractiveness Analysis, by Region

5. North America Intelligent Pumps Market Outlook, 2018 - 2029
5.1. North America Intelligent Pumps Market Outlook, by Type, Value (US$ Mn), 2018 - 2029
5.1.1. Key Highlights
5.1.1.1. Centrifugal Pump
5.1.1.2. Positive Displacement Pump
5.2. North America Intelligent Pumps Market Outlook, by Component, Value (US$ Mn), 2018 - 2029
5.2.1. Key Highlights
5.2.1.1. Pump Motor
5.2.1.2. Variable Speed Drive
5.2.1.3. Control Systems
5.2.1.4. Others
5.3. North America Intelligent Pumps Market Outlook, by Application, Value (US$ Mn), 2018 - 2029
5.3.1. Key Highlights
5.3.1.1. Building
5.3.1.2. Industrial
5.3.1.3. Water Utility
5.3.1.4. Others
5.4. North America Intelligent Pumps Market Outlook, by Country, Value (US$ Mn), 2018 - 2029
5.4.1. Key Highlights
5.4.1.1. U.S. Intelligent Pumps Market, Value (US$ Mn), by Type, Component, Application, 2018 - 2029
5.4.1.2. Canada Intelligent Pumps Market, Value (US$ Mn), by Type, Component, Application, 2018 - 2029

6. Europe Intelligent Pumps Market Outlook, 2018 - 2029
6.1. Europe Intelligent Pumps Market Outlook, by Type, Value (US$ Mn), 2018 - 2029
6.1.1. Key Highlights
6.1.1.1. Centrifugal Pump
6.1.1.2. Positive Displacement Pump
6.2. Europe Intelligent Pumps Market Outlook, by Component, Value (US$ Mn), 2018 - 2029
6.2.1. Key Highlights
6.2.1.1. Pump Motor
6.2.1.2. Variable Speed Drive
6.2.1.3. Control Systems
6.2.1.4. Others
6.3. Europe Intelligent Pumps Market Outlook, by Application, Value (US$ Mn), 2018 - 2029
6.3.1. Key Highlights
6.3.1.1. Building
6.3.1.2. Industrial
6.3.1.3. Water Utility
6.3.1.4. Others
6.4. Europe Intelligent Pumps Market Outlook, by Country, Value (US$ Mn), 2018 - 2029
6.4.1. Key Highlights
6.4.1.1. Germany Intelligent Pumps Market, Value (US$ Mn), by Type, Component, Application, 2018 - 2029
6.4.1.2. France Intelligent Pumps Market, Value (US$ Mn), by Type, Component, Application, 2018 - 2029
6.4.1.3. U.K. Intelligent Pumps Market, Value (US$ Mn), by Type, Component, Application, 2018 - 2029
6.4.1.4. Italy Intelligent Pumps Market, Value (US$ Mn), by Type, Component, Application, 2018 - 2029
6.4.1.5. Rest of Europe Intelligent Pumps Market, Value (US$ Mn), by Type, Component, Application, 2018 - 2029

7. Asia Pacific Intelligent Pumps Market Outlook, 2018 - 2029
7.1. Asia Pacific Intelligent Pumps Market Outlook, by Type, Value (US$ Mn), 2018 - 2029
7.1.1. Key Highlights
7.1.1.1. Centrifugal Pump
7.1.1.2. Positive Displacement Pump
7.2. Asia Pacific Intelligent Pumps Market Outlook, by Component, Value (US$ Mn), 2018 - 2029
7.2.1. Key Highlights
7.2.1.1. Pump Motor
7.2.1.2. Variable Speed Drive
7.2.1.3. Control Systems
7.2.1.4. Others
7.3. Asia Pacific Intelligent Pumps Market Outlook, by Application, Value (US$ Mn), 2018 - 2029
7.3.1. Key Highlights
7.3.1.1. Building
7.3.1.2. Industrial
7.3.1.3. Water Utility
7.3.1.4. Others
7.4. Asia Pacific Intelligent Pumps Market Outlook, by Country, Value (US$ Mn), 2018 - 2029
7.4.1. Key Highlights
7.4.1.1. China Intelligent Pumps Market, Value (US$ Mn), by Type, Component, Application, 2018 - 2029
7.4.1.2. Japan Intelligent Pumps Market, Value (US$ Mn), by Type, Component, Application, 2018 - 2029
7.4.1.3. India Intelligent Pumps Market, Value (US$ Mn), by Type, Component, Application, 2018 - 2029
7.4.1.4. ASEAN Intelligent Pumps Market, Value (US$ Mn), by Type, Component, Application, 2018 - 2029
7.4.1.5. Rest of Asia Pacific Intelligent Pumps Market, Value (US$ Mn), by Type, Component, Application, 2018 - 2029

8. Latin America Intelligent Pumps Market Outlook, 2018 - 2029
8.1. Latin America Intelligent Pumps Market Outlook, by Type, Value (US$ Mn), 2018 - 2029
8.1.1. Key Highlights
8.1.1.1. Centrifugal Pump
8.1.1.2. Positive Displacement Pump
8.2. Latin America Intelligent Pumps Market Outlook, by Component, Value (US$ Mn), 2018 - 2029
8.2.1. Key Highlights
8.2.1.1. Pump Motor
8.2.1.2. Variable Speed Drive
8.2.1.3. Control Systems
8.2.1.4. Others
8.3. Latin America Intelligent Pumps Market Outlook, by Application, Value (US$ Mn), 2018 - 2029
8.3.1. Key Highlights
8.3.1.1. Building
8.3.1.2. Industrial
8.3.1.3. Water Utility
8.3.1.4. Others
8.4. Latin America Intelligent Pumps Market Outlook, by Country, Value (US$ Mn), 2018 - 2029
8.4.1. Key Highlights
8.4.1.1. Brazil Intelligent Pumps Market, Value (US$ Mn), by Type, Component, Application, 2018 - 2029
8.4.1.2. Mexico Intelligent Pumps Market, Value (US$ Mn), by Type, Component, Application, 2018 - 2029
8.4.1.3. Rest of Latin America Intelligent Pumps Market, Value (US$ Mn), by Type, Component, Application, 2018 - 2029

9. Middle East & Africa Intelligent Pumps Market Outlook, 2018 - 2029
9.1. Middle East & Africa Intelligent Pumps Market Outlook, by Type, Value (US$ Mn), 2018 - 2029
9.1.1. Key Highlights
9.1.1.1. Centrifugal Pump
9.1.1.2. Positive Displacement Pump
9.2. Middle East & Africa Intelligent Pumps Market Outlook, by Component, Value (US$ Mn), 2018 - 2029
9.2.1. Key Highlights
9.2.1.1. Pump Motor
9.2.1.2. Variable Speed Drive
9.2.1.3. Control Systems
9.2.1.4. Others
9.3. Middle East & Africa Intelligent Pumps Market Outlook, by Application, Value (US$ Mn), 2018 - 2029
9.3.1. Key Highlights
9.3.1.1. Building
9.3.1.2. Industrial
9.3.1.3. Water Utility
9.3.1.4. Others
9.4. Middle East & Africa Intelligent Pumps Market Outlook, by Country, Value (US$ Mn), 2018 - 2029
9.4.1. Key Highlights
9.4.1.1. GCC Intelligent Pumps Market, Value (US$ Mn), by Type, Component, Application, 2018 - 2029
9.4.1.2. South Africa Intelligent Pumps Market, Value (US$ Mn), by Type, Component, Application, 2018 - 2029
9.4.1.3. Rest of Middle East & Africa Intelligent Pumps Market, Value (US$ Mn), by Type, Component, Application, 2018 - 2029

10. Competitive Landscape
10.1. Company Market Share Analysis, 2021
10.2. Strategic Collaborations
10.3. Company Profiles
10.3.1. Grundfos Holding A/S
10.3.1.1. Company Overview
10.3.1.2. Product Portfolio
10.3.1.3. Financial Overview
10.3.1.4. Business Strategies and Development
10.3.2. Goulds Pump
10.3.2.1. Company Overview
10.3.2.2. Product Portfolio
10.3.2.3. Financial Overview
10.3.2.4. Business Strategies and Development
10.3.3. Danfoss A/S
10.3.3.1. Company Overview
10.3.3.2. Product Portfolio
10.3.3.3. Financial Overview
10.3.3.4. Business Strategies and Development
10.3.4. Alfa Laval
10.3.4.1. Company Overview
10.3.4.2. Product Portfolio
10.3.4.3. Financial Overview
10.3.4.4. Business Strategies and Development
10.3.5. Wilo SE
10.3.5.1. Company Overview
10.3.5.2. Product Portfolio
10.3.5.3. Financial Overview
10.3.5.4. Business Strategies and Development
10.3.6. QuantumFlo, Inc.
10.3.6.1. Company Overview
10.3.6.2. Product Portfolio
10.3.6.3. Financial Overview
10.3.6.4. Business Strategies and Development
10.3.7. Allweiler GmbH
10.3.7.1. Company Overview
10.3.7.2. Product Portfolio
10.3.7.3. Financial Overview
10.3.7.4. Business Strategies and Development
10.3.8. Xylem Inc.
10.3.8.1. Company Overview
10.3.8.2. Product Portfolio
10.3.8.3. Financial Overview
10.3.8.4. Business Strategies and Development
10.3.9. Kirloskar Brothers Limited
10.3.9.1. Company Overview
10.3.9.2. Product Portfolio
10.3.9.3. Financial Overview
10.3.9.4. Business Strategies and Development
10.3.10. Armstrong Fluid Technology
10.3.10.1. Company Overview
10.3.10.2. Product Portfolio
10.3.10.3. Financial Overview
10.3.10.4. Business Strategies and Development
11. Appendix
11.1. Research Methodology
11.2. Report Assumptions
11.3. Acronyms and Abbreviations
BASE YEAR

HISTORICAL DATA

FORECAST PERIOD

UNITS

2021

2018 - 2021

2022 - 2029

Value: US$ Million
REPORT FEATURES

DETAILS

Type Coverage

Component Coverage

Pump Motor

Variable Speed Drive

Control Systems

Others

Application Coverage

Building

Industrial

Water Utility

Others

Geographical Coverage

North America

Europe

Germany

France

U

.

K

.

Italy

Rest of Europe

Asia Pacific

China

Japan

India

ASEAN

Rest of Asia Pacific

Latin America

Brazil

Mexico

Rest of Latin America

Middle East & Africa

Leading Companies

Grundfos Holding A/S

Goulds Pumps

Danfoss A/S

Alfa Laval

Wilo SE

QuantumFlo, Inc.

Allweiler GmbH

Xylem Inc.

Kirloskar Brothers Limited

Armstrong Fluid Technology

Report Highlights

Key Market Indicators, Macro-micro economic impact analysis, Technological Roadmap, Key Trends, Driver, Restraints, and Future Opportunities & Revenue Pockets, Porter's 5 Forces Analysis, Historical Trend (2018-2021), Price Trend Analysis, Market Estimates and Forecast, Market Dynamics, Industry Trends, Competition Landscape, Category, Region, Country-wise Trends & Analysis, COVID-19 Impact Analysis (Demand and Supply Chain)