The global laser diodes & direct diode lasers market will rise at a significant pace of 12.4% CAGR during the period of assessment 2023 - 2030, reaching a market value of around US$21.5 Bn at the end of 2030.
Market Analysis in Brief
A semiconductor device that produces coherent radiations in the visible and infrared (IR) spectrum when current flows through it is referred to as a laser diode or a direct diode laser. With applications in many fields, including communications, optical fiber systems, CD players, laser printers, remote controls, intrusion detection systems, industrial processing machinery, and laser pointers, laser diodes and direct diode lasers are gaining popularity and playing a key role in advanced technology. Furthermore, it is utilised in various industries, including automotive, consumer electronics, and others. Growing consumer electronics manufacturing need for particular component manufacture will support the expansion of the laser diodes & direct diode lasers market.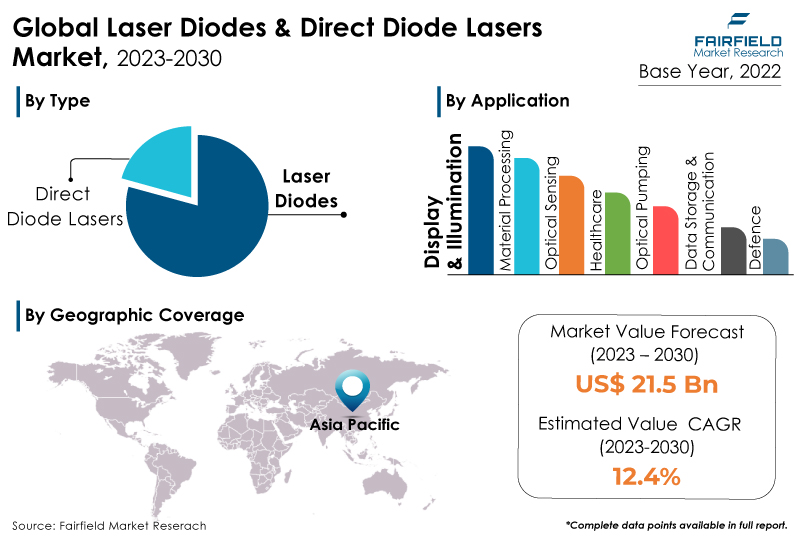 According to the Consumer Electronics and Appliances Manufacturers Association, the worldwide consumer electronics market was estimated to be worth US$2.9 Tn in 2020 and is expanding quickly. The main reason is the rising demand for high-tech gadgets like smartphones, and IoT-connected devices. The production of these components frequently makes use of laser diodes & direct diode lasers. Moreover, the leading market players will continue to create sophisticated technology-based laser solutions, fueling market expansion.
Key Report Findings
The market for laser diodes & direct diode lasers will demonstrate monumental expansion in revenue over the years to come, i.e., between 2023 and 2030.
Market expansion will be supported by growing consumer electronics manufacturing demand for specific component manufacturers.
The laser diodes & direct diode lasers industry has a higher demand for laser diodes.
The display & illumination held the highest laser diodes & direct diode lasers market revenue share in 2022.
Asia Pacific will continue to lead its way, whereas North America laser diodes & direct diode lasers market will experience the strongest growth till 2030.
Growth Drivers
Rising Adoption in Healthcare Industry
The demand for laser diodes & direct diode lasers in the healthcare industry has expanded over the past few years due to their ability to help doctors concentrate the beam more precisely on intended locations while minimising unintended damage to the surrounding area. However, these lasers are utilised for polymer processing, which involves processing plastics for medical equipment. Cosmetic surgery methods, such as surgical and non-surgical ones that enhance and reshape the body's structure to improve look, are in more demand.
For instance, the growth of the energy-based aesthetic treatment system can be attributed to the nearly 18 million people who underwent surgical and minimally invasive cosmetic procedures in the United States in 2018 for skin resurfacing, wrinkle and pigmentation reduction, and tattoo removal. This data comes from the American Society of Plastic Surgeons (ASPS).
Green laser diodes work more efficiently than other wavelengths than any other laser diodes & direct diode laser operating ranges. The growth potential of this type of laser diode & direct diode lasers is significant due to its ability to operate in a wide range of temperatures, extended lifespan, and good reliability at continuous operation.
Additionally, green laser diodes have a variety of uses, including those in projection, biotechnology, spectroscopy, and medicine. Moreover, femtosecond and picosecond lasers are gradually gaining popularity in medical equipment. Often known as polymer processing, these laser diodes & direct diode lasers are used to prepare plastics for use in medical equipment. For instance, the overall number of minimally invasive cosmetic procedures has increased by 228% since 2000, according to the American Society of Plastic Surgeons (ASPS).​
Increased Demand for Autonomous Vehicles for LiDAR and Radar Systems
One of the key drivers influencing the market is the growing use of laser diodes & direct diode lasers in autonomous vehicles for LiDAR, and radar systems, among other uses. In self-driving cars, a LiDAR system takes the place of the driver's eyes and continuously scans the area to steer the car to its destination safely.
Currently, most self-driving cars utilise a combination of LiDAR, radar, and cameras to build a 3D map of their environment. The LiDAR technology measures distances and creates a comprehensive 3D map using laser pulses that bounce off objects and return to the sensor. These systems include a laser source, electronics for data processing, a photodetector, and machinery for motion control.
The fact that laser diodes & direct diode lasers are less expensive than other laser devices is a major factor in their rising popularity. The comparison of camera data with GPS, acceleration, and speed data is how autonomous vehicles determine their overall orientation. Several new activities, such as mergers and acquisitions and developing new products, are being seen in this sector.
For instance, Power Technology, Inc. introduced a new 532 nm high-power diode module for OEM applications in April 2022. The LiDAR system does have certain limits, though. This technology does not function correctly in bad weather because pulse power needs to be restricted. After all, this wavelength can be harmful to the eye. The low pulse power limits the detection system's range to roughly 100m.
Additionally, increased demand for autonomous vehicles in both developed and emerging nations is anticipated to drive the laser diodes & direct diode lasers market during the projected period. The expansion of the laser diodes & direct diode lasers market has also been supported by rising investments in the creation of autonomous vehicles and ongoing technical advancements in the automotive sector.
Growth Challenges
Higher Initial Investments Compared to Other LED Counterparts
A significant barrier to the growth of the laser diodes & direct diode lasers market is the higher initial investment needed for laser diodes & direct diode lasers compared to other light-emitting diodes. Hundred to thousands of watts of laser power are needed for various systems, processes, and applications.
Although laser products might save labour costs in manufacturing and the car industry, installing laser items is quite expensive. Installing items with laser capabilities typically costs 30–40% more than doing so the old-fashioned way. The assembly line must be completely redesigned, which calls for substantial capital investment, to incorporate the newest laser-enabled goods in sectors like the automotive.
Overview of Key Segments
Laser Diodes Represent the Leading Segment
The laser diodes category held the largest share of the market in 2022. Laser diodes are replacing traditional semiconductors due to their affordability and small design. Furthermore, they satisfy the requirements of many end-use sectors since they emanate narrow light with a wide wavelength and are well-directed.
Additionally, since these lasers run on low-voltage batteries and use less energy than gas and solid-state lasers, which require up to kilovolts, demand is rising in various industries. The laser diode is anticipated to increase demand due to its lightweight, compact volume, low power consumption, and rising demand in the telecommunication, medical, and industrial sectors.
Blue laser diodes can cut, mark, and engrave various metals, wood, and plastic materials. The growing use of this type of diode in projection, telecom, and vehicle headlamps is anticipated to fuel demand for laser diodes during the projected period. Additionally, the segment's expansion is supported by expanding components of internet traffic, rising bandwidth requirements, and opt electronic technologies. Moreover, the use of the laser diode in the industrial sector has grown, particularly for digital video images and inspection.
Display & Illumination Leading Application Area
The display & illumination category in the application led the market in 2022 because laser diodes & direct diode laser technology have advanced, resulting in more brightness, greater efficiency, and lower costs. Both the commercial and industrial sectors can use it. In many different industries and consumer goods, laser diodes & direct diode lasers are employed for various display and illumination applications.
In cutting-edge display technology, they are essential. They are utilised in laser projectors, TVs, and other display systems that demand excellent colour accuracy and high brightness. Due to their capacity to produce vivid and precise images, laser projectors have grown in popularity in home theaters, theaters, and large-scale venues.
Furthermore, when high-intensity and efficient illumination are needed, laser diodes & direct diode lasers are employed in lighting applications. Energy efficiency, longevity, and fine-grained control over colour temperature and intensity are all benefits of laser-based lighting systems. They are used in professional lighting systems for vehicles, buildings, entertainment, and other areas.
Automotive headlight systems use laser diodes, which produce brighter, more focused beams for increased visibility and safety. Additionally, they are utilised in advanced driver assistance systems (ADAS), and light detection and ranging (LiDAR) systems for driverless vehicles.
Growth Opportunities Across Regions
Asia Pacific Spearheads
The laser diodes & direct diode lasers market will continue to see dominance of Asia Pacific owing to the profusion of electronics and vehicle manufacturing companies as well as the rise in consumer purchasing power. The region is also seeing an increase in the use of smartphones and the digitisation of corporate operations, encouraging laser diode used to support the burgeoning consumer electronics and automotive industries.
The rising demand for smartphones and other significant consumer electronics items from nations like China, the Republic of Korea, India, and Singapore motivates numerous businesses to create manufacturing facilities in the Asia Pacific area. For instance, in October 2019, the Australian semiconductor company BluGlass Ltd. announced the launch of its direct-to-market business unit, which will provide GaN laser diodes with increased brightness and efficiency.
The laser diodes & direct diode lasers can be utilised for various industrial lasers, automotive and general illumination, displays, life sciences, and other commercial applications. Strong domestic demand helped the Asia Pacific semiconductors industry grow, making it the largest market in the world. The Asia Pacific semiconductor market, excluding Japan, was predicted by WSTS to generate revenues of about US$297 Bn in 2019.
North America Develops a Lucrative Market
The market for laser diodes & direct diode lasers across North America will display a significant CAGR over the forecast period. The expansion of the laser diodes & direct diode lasers market in this region is fueled by a high output of electric vehicles, rising consumer spending power, and technical advancements. Research and development efforts and the existence of sizable telecom companies are helping the market expand. For the 3D printing environment, "Snapmaker" recently produced a 10W high-power laser module to address the lifespan of diodes & direct diode lasers.
Furthermore, major automobile OEMs have their headquarters in this area, which also benefits from a significant support infrastructure and government support for electric vehicles. In addition, profitable prospects are expected to arise from the rising inclination of young people for high-end and luxury vehicles.
Moreover, the increase in R&D operations in the military and defense industry, the expansion of diode applications in the healthcare industry, and the presence of some significant communications companies in the area all contribute to the rise. Additionally, the use of laser diodes & direct diode lasers in cosmetic surgery, LASIK surgery, hair removal, body contouring, tattoo removal, and pigmentation reduction is increasing demand.
Laser Diodes & Direct Diode Lasers Market: Competitive Landscape
Some of the leading players at the forefront in the laser diodes & direct diode lasers market space include Coherent Inc. Cutting Edge Optronics Inc. (Northrop Grumman Corp.), OSRAM Opto Semiconductors Inc., TRUMPF Inc., IPG Photonics Corporation, Sharp Corporation, ROHM Semiconductor USA LLC​, Frankfurt Laser Company, Sumitomo uCorporation, OSI Laser Diode Inc., Jenoptik AG, and Nichia Corporation.
Recent Notable Developments
In November 2020, Soraa Laser Diode, Inc. was purchased by Kyocera Corp., a Japanese electronic manufacturing firm, for an unknown sum. With this acquisition, Kyocera broadens its fine ceramics-related industries by fusing its current R&D and production methods with SLD. Located in the US, Soraa Laser Diode Inc. creates visible laser sources for specialised and automotive applications.
In October 2021, RLD90QZW3, a high optical output laser diode, was introduced by ROHM. The RLD90QZW3 is designed for use in automated guided vehicles (AGVs), service robots for the industrial market, robot vacuums for the consumer market, and other similar pieces of LiDAR-equipped equipment.
In April 2022, the FemtoBlade laser system was developed by Lumentum Holdings Inc. to expand flexibility and provide high power at high repetition rates, allowing for faster processing and higher throughput for micromachining applications.
The Global Laser Diodes & Direct Diode Lasers Market is Segmented as Below:
By Type
Laser Diodes
Direct Diode Lasers
By Application
Material Processing
Optical Sensing
Healthcare
Optical Pumping
Display & Illumination
Data Storage & Communication
Defence
By Geographic Coverage
North America
Europe

Germany
U.K.
France
Italy
Turkey
Russia
Rest of Europe

Asia Pacific

China
Japan
South Korea
India
Southeast Asia
Rest of Asia Pacific

Latin America

Brazil
Mexico
Argentina
Rest of Latin America

Middle East & Africa

GCC
South Africa
Egypt
Nigeria
Rest of Middle East & Africa
Leading Companies
Sumitomo Corporation
TRUMPF Inc.
Cutting Edge Optronics Inc. (Northrop Grumman Corp.)
IPG Photonics Corporation
ROHM Semiconductor USA LLC​
Frankfurt Laser Company
OSI Laser Diode Inc.
Hamamatsu Photonics K.K.
Jenoptik AG
Nichia Corporation
1. Executive Summary
1.1. Global Laser Diodes & Direct Diode Lasers Market Snapshot
1.2. Future Projections
1.3. Key Market Trends
1.4. Regional Snapshot, by Value, 2022
1.5. Analyst Recommendations

2. Market Overview
2.1. Market Definitions and Segmentations
2.2. Market Dynamics
2.2.1. Drivers
2.2.2. Restraints
2.2.3. Market Opportunities
2.3. Value Chain Analysis
2.4. Porter's Five Forces Analysis
2.5. Covid-19 Impact Analysis
2.5.1. Supply
2.5.2. Demand
2.6. Impact of Ukraine-Russia Conflict
2.7. Economic Overview
2.7.1. World Economic Projections
2.8. PESTLE Analysis

3. Global Laser Diodes & Direct Diode Lasers Market Outlook, 2018 - 2030
3.1. Global Laser Diodes & Direct Diode Lasers Market Outlook, by Type, Value (US$ Bn), 2018 - 2030
3.1.1. Key Highlights
3.1.1.1. Laser Diodes
3.1.1.2. Direct Diode Lasers
3.2. Global Laser Diodes & Direct Diode Lasers Market Outlook, by Application, Value (US$ Bn), 2018 - 2030
3.2.1. Key Highlights
3.2.1.1. Material Processing
3.2.1.2. Optical Sensing
3.2.1.3. Healthcare
3.2.1.4. Optical Pumping
3.2.1.5. Display & Illumination
3.2.1.6. Data Storage & Communication
3.2.1.7. Defence
3.3. Global Laser Diodes & Direct Diode Lasers Market Outlook, by Region, Value (US$ Bn), 2018 - 2030
3.3.1. Key Highlights
3.3.1.1. North America
3.3.1.2. Europe
3.3.1.3. Asia Pacific
3.3.1.4. Latin America
3.3.1.5. Middle East & Africa
4. North America Laser Diodes & Direct Diode Lasers Market Outlook, 2018 - 2030
4.1. North America Laser Diodes & Direct Diode Lasers Market Outlook, by Type, Value (US$ Bn), 2018 - 2030
4.1.1. Key Highlights
4.1.1.1. Laser Diodes
4.1.1.2. Direct Diode Lasers
4.2. North America Laser Diodes & Direct Diode Lasers Market Outlook, by Application, Value (US$ Bn), 2018 - 2030
4.2.1. Key Highlights
4.2.1.1. Material Processing
4.2.1.2. Optical Sensing
4.2.1.3. Healthcare
4.2.1.4. Optical Pumping
4.2.1.5. Display & Illumination
4.2.1.6. Data Storage & Communication
4.2.1.7. Defence
4.2.2. Market Attractiveness Analysis
4.3. North America Laser Diodes & Direct Diode Lasers Market Outlook, by Country, Value (US$ Bn), 2018 - 2030
4.3.1. Key Highlights
4.3.1.1. U.S. Laser Diodes & Direct Diode Lasers Market by Type, Value (US$ Bn), 2018 - 2030
4.3.1.2. U.S. Laser Diodes & Direct Diode Lasers Market Application, Value (US$ Bn), 2018 - 2030
4.3.1.3. Canada Laser Diodes & Direct Diode Lasers Market by Type, Value (US$ Bn), 2018 - 2030
4.3.1.4. Canada Laser Diodes & Direct Diode Lasers Market Application, Value (US$ Bn), 2018 - 2030
4.3.2. BPS Analysis/Market Attractiveness Analysis

5. Europe Laser Diodes & Direct Diode Lasers Market Outlook, 2018 - 2030
5.1. Europe Laser Diodes & Direct Diode Lasers Market Outlook, by Type, Value (US$ Bn), 2018 - 2030
5.1.1. Key Highlights
5.1.1.1. Laser Diodes
5.1.1.2. Direct Diode Lasers
5.2. Europe Laser Diodes & Direct Diode Lasers Market Outlook, by Application, Value (US$ Bn), 2018 - 2030
5.2.1. Key Highlights
5.2.1.1. Material Processing
5.2.1.2. Optical Sensing
5.2.1.3. Healthcare
5.2.1.4. Optical Pumping
5.2.1.5. Display & Illumination
5.2.1.6. Data Storage & Communication
5.2.1.7. Defence
5.2.2. BPS Analysis/Market Attractiveness Analysis
5.3. Europe Laser Diodes & Direct Diode Lasers Market Outlook, by Country, Value (US$ Bn), 2018 - 2030
5.3.1. Key Highlights
5.3.1.1. Germany Laser Diodes & Direct Diode Lasers Market by Type, Value (US$ Bn), 2018 - 2030
5.3.1.2. Germany Laser Diodes & Direct Diode Lasers Market Application, Value (US$ Bn), 2018 - 2030
5.3.1.3. U.K. Laser Diodes & Direct Diode Lasers Market by Type, Value (US$ Bn), 2018 - 2030
5.3.1.4. U.K. Laser Diodes & Direct Diode Lasers Market Application, Value (US$ Bn), 2018 - 2030
5.3.1.5. France Laser Diodes & Direct Diode Lasers Market by Type, Value (US$ Bn), 2018 - 2030
5.3.1.6. France Laser Diodes & Direct Diode Lasers Market Application, Value (US$ Bn), 2018 - 2030
5.3.1.7. Italy Laser Diodes & Direct Diode Lasers Market by Type, Value (US$ Bn), 2018 - 2030
5.3.1.8. Italy Laser Diodes & Direct Diode Lasers Market Application, Value (US$ Bn), 2018 - 2030
5.3.1.9. Turkey Laser Diodes & Direct Diode Lasers Market by Type, Value (US$ Bn), 2018 - 2030
5.3.1.10. Turkey Laser Diodes & Direct Diode Lasers Market Application, Value (US$ Bn), 2018 - 2030
5.3.1.11. Russia Laser Diodes & Direct Diode Lasers Market by Type, Value (US$ Bn), 2018 - 2030
5.3.1.12. Russia Laser Diodes & Direct Diode Lasers Market Application, Value (US$ Bn), 2018 - 2030
5.3.1.13. Rest of Europe Laser Diodes & Direct Diode Lasers Market by Type, Value (US$ Bn), 2018 - 2030
5.3.1.14. Rest of Europe Laser Diodes & Direct Diode Lasers Market Application, Value (US$ Bn), 2018 - 2030
5.3.2. BPS Analysis/Market Attractiveness Analysis

6. Asia Pacific Laser Diodes & Direct Diode Lasers Market Outlook, 2018 - 2030
6.1. Asia Pacific Laser Diodes & Direct Diode Lasers Market Outlook, by Type, Value (US$ Bn), 2018 - 2030
6.1.1. Key Highlights
6.1.1.1. Laser Diodes
6.1.1.2. Direct Diode Lasers
6.2. Asia Pacific Laser Diodes & Direct Diode Lasers Market Outlook, by Application, Value (US$ Bn), 2018 - 2030
6.2.1. Key Highlights
6.2.1.1. Material Processing
6.2.1.2. Optical Sensing
6.2.1.3. Healthcare
6.2.1.4. Optical Pumping
6.2.1.5. Display & Illumination
6.2.1.6. Data Storage & Communication
6.2.1.7. Defence
6.2.2. BPS Analysis/Market Attractiveness Analysis
6.3. Asia Pacific Laser Diodes & Direct Diode Lasers Market Outlook, by Country, Value (US$ Bn), 2018 - 2030
6.3.1. Key Highlights
6.3.1.1. China Laser Diodes & Direct Diode Lasers Market by Type, Value (US$ Bn), 2018 - 2030
6.3.1.2. China Laser Diodes & Direct Diode Lasers Market Application, Value (US$ Bn), 2018 - 2030
6.3.1.3. Japan Laser Diodes & Direct Diode Lasers Market by Type, Value (US$ Bn), 2018 - 2030
6.3.1.4. Japan Laser Diodes & Direct Diode Lasers Market Application, Value (US$ Bn), 2018 - 2030
6.3.1.5. South Korea Laser Diodes & Direct Diode Lasers Market by Type, Value (US$ Bn), 2018 - 2030
6.3.1.6. South Korea Laser Diodes & Direct Diode Lasers Market Application, Value (US$ Bn), 2018 - 2030
6.3.1.7. India Laser Diodes & Direct Diode Lasers Market by Type, Value (US$ Bn), 2018 - 2030
6.3.1.8. India Laser Diodes & Direct Diode Lasers Market Application, Value (US$ Bn), 2018 - 2030
6.3.1.9. Southeast Asia Laser Diodes & Direct Diode Lasers Market by Type, Value (US$ Bn), 2018 - 2030
6.3.1.10. Southeast Asia Laser Diodes & Direct Diode Lasers Market Application, Value (US$ Bn), 2018 - 2030
6.3.1.11. Rest of Asia Pacific Laser Diodes & Direct Diode Lasers Market by Type, Value (US$ Bn), 2018 - 2030
6.3.1.12. Rest of Asia Pacific Laser Diodes & Direct Diode Lasers Market Application, Value (US$ Bn), 2018 - 2030
6.3.2. BPS Analysis/Market Attractiveness Analysis

7. Latin America Laser Diodes & Direct Diode Lasers Market Outlook, 2018 - 2030
7.1. Latin America Laser Diodes & Direct Diode Lasers Market Outlook, by Type, Value (US$ Bn), 2018 - 2030
7.1.1. Key Highlights
7.1.1.1. Laser Diodes
7.1.1.2. Direct Diode Lasers
7.2. Latin America Laser Diodes & Direct Diode Lasers Market Outlook, by Application, Value (US$ Bn), 2018 - 2030
7.2.1. Key Highlights
7.2.1.1. Material Processing
7.2.1.2. Optical Sensing
7.2.1.3. Healthcare
7.2.1.4. Optical Pumping
7.2.1.5. Display & Illumination
7.2.1.6. Data Storage & Communication
7.2.1.7. Defence
7.2.2. BPS Analysis/Market Attractiveness Analysis
7.3. Latin America Laser Diodes & Direct Diode Lasers Market Outlook, by Country, Value (US$ Bn), 2018 - 2030
7.3.1. Key Highlights
7.3.1.1. Brazil Laser Diodes & Direct Diode Lasers Market by Type, Value (US$ Bn), 2018 - 2030
7.3.1.2. Brazil Laser Diodes & Direct Diode Lasers Market Application, Value (US$ Bn), 2018 - 2030
7.3.1.3. Mexico Laser Diodes & Direct Diode Lasers Market by Type, Value (US$ Bn), 2018 - 2030
7.3.1.4. Mexico Laser Diodes & Direct Diode Lasers Market Application, Value (US$ Bn), 2018 - 2030
7.3.1.5. Argentina Laser Diodes & Direct Diode Lasers Market by Type, Value (US$ Bn), 2018 - 2030
7.3.1.6. Argentina Laser Diodes & Direct Diode Lasers Market Application, Value (US$ Bn), 2018 - 2030
7.3.1.7. Rest of Latin America Laser Diodes & Direct Diode Lasers Market by Type, Value (US$ Bn), 2018 - 2030
7.3.1.8. Rest of Latin America Laser Diodes & Direct Diode Lasers Market Application, Value (US$ Bn), 2018 - 2030
7.3.2. BPS Analysis/Market Attractiveness Analysis

8. Middle East & Africa Laser Diodes & Direct Diode Lasers Market Outlook, 2018 - 2030
8.1. Middle East & Africa Laser Diodes & Direct Diode Lasers Market Outlook, by Type, Value (US$ Bn), 2018 - 2030
8.1.1. Key Highlights
8.1.1.1. Laser Diodes
8.1.1.2. Direct Diode Lasers
8.2. Middle East & Africa Laser Diodes & Direct Diode Lasers Market Outlook, by Application, Value (US$ Bn), 2018 - 2030
8.2.1. Key Highlights
8.2.1.1. Material Processing
8.2.1.2. Optical Sensing
8.2.1.3. Healthcare
8.2.1.4. Optical Pumping
8.2.1.5. Display & Illumination
8.2.1.6. Data Storage & Communication
8.2.1.7. Defence
8.2.2. BPS Analysis/Market Attractiveness Analysis
8.3. Middle East & Africa Laser Diodes & Direct Diode Lasers Market Outlook, by Country, Value (US$ Bn), 2018 - 2030
8.3.1. Key Highlights
8.3.1.1. GCC Laser Diodes & Direct Diode Lasers Market by Type, Value (US$ Bn), 2018 - 2030
8.3.1.2. GCC Laser Diodes & Direct Diode Lasers Market Application, Value (US$ Bn), 2018 - 2030
8.3.1.3. South Africa Laser Diodes & Direct Diode Lasers Market by Type, Value (US$ Bn), 2018 - 2030
8.3.1.4. South Africa Laser Diodes & Direct Diode Lasers Market Application, Value (US$ Bn), 2018 - 2030
8.3.1.5. Egypt Laser Diodes & Direct Diode Lasers Market by Type, Value (US$ Bn), 2018 - 2030
8.3.1.6. Egypt Laser Diodes & Direct Diode Lasers Market Application, Value (US$ Bn), 2018 - 2030
8.3.1.7. Nigeria Laser Diodes & Direct Diode Lasers Market by Type, Value (US$ Bn), 2018 - 2030
8.3.1.8. Nigeria Laser Diodes & Direct Diode Lasers Market Application, Value (US$ Bn), 2018 - 2030
8.3.1.9. Rest of Middle East & Africa Laser Diodes & Direct Diode Lasers Market by Type, Value (US$ Bn), 2018 - 2030
8.3.1.10. Rest of Middle East & Africa Laser Diodes & Direct Diode Lasers Market Application, Value (US$ Bn), 2018 - 2030
8.3.2. BPS Analysis/Market Attractiveness Analysis

9. Competitive Landscape
9.1. Product vs Application Heatmap
9.2. Manufacturer vs Application Heatmap
9.3. Company Market Share Analysis, 2022
9.4. Competitive Dashboard
9.5. Company Profiles
9.5.1. Coherent Inc.
9.5.1.1. Company Overview
9.5.1.2. Product Portfolio
9.5.1.3. Financial Overview
9.5.1.4. Business Strategies and Development
9.5.2. Cutting Edge Optronics Inc. (Northrop Grumman Corp.)
9.5.2.1. Company Overview
9.5.2.2. Product Portfolio
9.5.2.3. Financial Overview
9.5.2.4. Business Strategies and Development
9.5.3. IPG Photonics Corporation
9.5.3.1. Company Overview
9.5.3.2. Product Portfolio
9.5.3.3. Financial Overview
9.5.3.4. Business Strategies and Development
9.5.4. OSRAM Opto Semiconductors Inc.
9.5.4.1. Company Overview
9.5.4.2. Product Portfolio
9.5.4.3. Financial Overview
9.5.4.4. Business Strategies and Development
9.5.5. TRUMPF Inc.
9.5.5.1. Company Overview
9.5.5.2. Product Portfolio
9.5.5.3. Financial Overview
9.5.5.4. Business Strategies and Development
9.5.6. Sharp Corporation
9.5.6.1. Company Overview
9.5.6.2. Product Portfolio
9.5.6.3. Financial Overview
9.5.6.4. Business Strategies and Development
9.5.7. Sumitomo Corporation
9.5.7.1. Company Overview
9.5.7.2. Product Portfolio
9.5.7.3. Financial Overview
9.5.7.4. Business Strategies and Development
9.5.8. ROHM Semiconductor USA LLC
9.5.8.1. Company Overview
9.5.8.2. Product Portfolio
9.5.8.3. Financial Overview
9.5.8.4. Business Strategies and Development
9.5.9. Frankfurt Laser Company
9.5.9.1. Company Overview
9.5.9.2. Product Portfolio
9.5.9.3. Financial Overview
9.5.9.4. Business Strategies and Development
9.5.10. OSI Laser Diode Inc.
9.5.10.1. Company Overview
9.5.10.2. Product Portfolio
9.5.10.3. Financial Overview
9.5.10.4. Business Strategies and Development
9.5.11. Hamamatsu Photonics K.K.
9.5.11.1. Company Overview
9.5.11.2. Product Portfolio
9.5.11.3. Financial Overview
9.5.11.4. Business Strategies and Development
9.5.12. Jenoptik AG
9.5.12.1. Company Overview
9.5.12.2. Product Portfolio
9.5.12.3. Financial Overview
9.5.12.4. Business Strategies and Development
9.5.13. Nichia Corporation
9.5.13.1. Company Overview
9.5.13.2. Product Portfolio
9.5.13.3. Financial Overview
9.5.13.4. Business Strategies and Development

10. Appendix
10.1. Research Methodology
10.2. Report Assumptions
10.3. Acronyms and Abbreviations