Global last mile delivery market will reach revenue worth US$720.9 Bn by the end of 2025. The market is likely to exhibit a robust CAGR of 16.6% over 2021 - 2025.

Global Last Mile Delivery Market Disrupts Logistics Industry as Technology Offers Superior Solutions
Urban mobility has a renewed outlook, chiefly driven by the upsurge of last mile delivery market. The global last mile delivery market offers solution to executes the supply chain's last phase in the entire ecosystem of delivering goods to the end consumers. The last leg involves disbursement of goods from the distribution centre to consumer's doorstep. Inception of rapidly evolving technology has totally disrupted the logistics industry, fostering development of last mile delivery system. Technology being at its centre stage, the last mile delivery market is constantly striving for agile and lean solutions to meet the ever-changing consumer expectations. In recent years, retail sector underwent modernization through technological advancements, transforming brick and mortar retail outlets into e-commerce platforms with strong online presence. This change has been the turning point in the birth of the global last mile delivery market.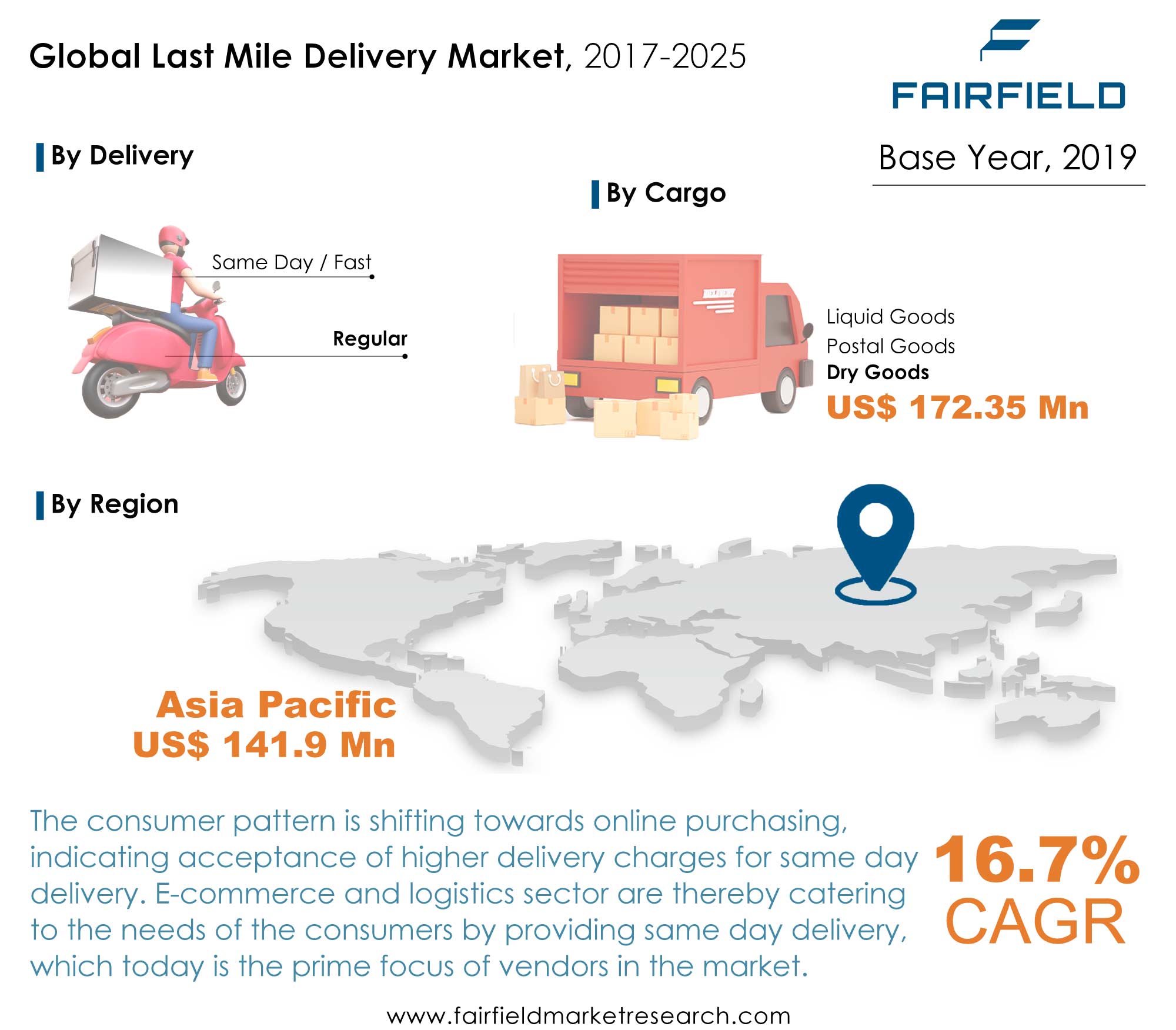 E-commerce is now playing a critical role fulfilling the demand for daily necessities. It has evolved profoundly over the last couple of years. As a result, the shift from conventional to online shopping has penetrated to the rural areas too. The e-commerce industry is expected to proliferate by over 30% in the coming years on the back of rising consumer demand. The last mile delivery system is the fulcrum defining the interdependent relationship of e-commerce, and logistics sector. For improved efficiency, technologies Last mile delivery systems have observed rapid deployments with technologies being designed to make these systems time efficient. For instance, announcement of droids and fully operational inter-hospital drones have led the change. The future of last mile delivery market is expected to see autonomous vehicles in the coming years.
E-commerce Expansion, and Rise in Trade Volume to Drive Last Mile Delivery Market
Tremendous focus on bringing in technological advancements to the e-commerce industry over the recent years have uplifted consumer expectations and influenced their buying behavior. Fairfield Market Research indicates that nearly 25% of consumers are willing to shell out extra money for same day delivery. Increased digitalization and online shopping platforms have aided the e-commerce market proliferation over the last decade. Growth in online shopping led to increased trade volume requiring swift deliveries. Quicker deliveries including same day deliveries have been prime focus areas for the e-commerce and logistic sectors to ensure customer satisfaction. This in turn is anticipated to propel the need for delivery service providers, thereby fueling the expansion of the last mile delivery market.
As per the World Economic Forum, urban demand for last mile delivery in world's top 100 cities is expected to surge by 60% over the next decade. Eradication of capital investment in the physical brick and mortar structures is expected to propel the market demand. E-commerce model waives off brick and mortar structures and additional maintenance overheads of such structures from the expense books. Additionally, such business models aid in curtailing redundant expenses. These programs have assisted manufacturers and companies in minimizing their cost centres, thus boosting their profit margins through direct online sales. Thus, traded volumes over ecommerce platforms are highly attributable towards a positive development of the last mile delivery market growth.
Impact of COVID-19 on Last Mile Delivery Market
The COVID-19 pandemic led to short term disruptions, while it assisted in long term changes in structure. These changes have been executed based on the soaring demand witnessed from groceries and home care products. Demand for last mile delivery spiked with supply of daily needs and FMCG essentials relying on e-commerce. In the light of the new normal defined by social distancing, the pandemic is predicted to act as a catalyst in spurring unattended, contactless, and autonomous delivering techniques.
FMCG Sector to be Key User Segment in Last Mile Delivery Market
The FMCG sector is likely to retain its leading position in the last mile delivery market. Rising e-commerce platforms will chiefly drive the demand for online shopping, boosting sales of perishable items such as food and beverages. This will generate a high usage of last mile delivery systems for quick delivery to ensure product integrity. Improved internet access will future boost e-tailing market, creating a lucrative ground for the last mile delivery market in question. The other key end user that drives expansion of last mile delivery market includes the pharmaceutical industry.
Asia Pacific's Last Mile Delivery Market Promises Incredible Opportunities
Asian countries are likely to retain their forefront position in terms of revenue share contribution to last mile delivery market. Introduction of e-commerce platforms gaining momentum due to their convenient utility have been the biggest selling point in Asian countries amidst the pandemic. Rising volume traded over these platforms have been instrumental in keeping the last mile delivery demand upbeat over the recent years. Intensifying foreign investments like have been few other parameters helping the regional share swell over the recent past.
A strong population base, characterized by generation Z, and millennials have also been pivotal in this regional success. As growing number of youngsters with a decent disposable income prefer online shopping, the last mile delivery systems in the region are likely to be pushed in the upward direction. In addition to FMCG, sale of personal care products, apparel and fitness gear will see a high demand that will require last mile delivery solutions in the immediate future. This is expected to drive the growth of last mile delivery market.
JVs, Mergers and Acquisitions, and Collaborations to Capture Top Priority in Last Mile Delivery Market
Competitiveness amongst the key players and new entrants in global last mile delivery market is resulting into stiffer competition. To stay ahead of the game, competitors to find new arrays of strategies such as joint ventures, mergers & acquisitions, and collaborations. Many players are examining new ways to sustain the rising cost involved in the last leg of journey during goods delivery. Additionally, the restaurant operators and retail outlets have collaborated with last mile delivery service suppliers to overcome the issues related to management of supply chain and logistics. During their efforts to attain cost efficacy, delivery models like direct to customer are undergoing innovative advancements. A few players have diversified their businesses and are turning out to be a tough competition to the incumbents. For instance, Uber, and similar other cab aggregators are utilizing their resources to establish their last mile delivery services, which is likely to provide the last mile delivery market with a strong impetus in the near future.
Some of the key stakeholders steering the growth of last mile delivery market are Cargo Carriers, CJ Logistics, CEVA Logistics, Concargo Private Ltd, DB SCHENKER, Interlogix Pty Ltd., DHL Paket GmbH, Estes Express Lines, FedEx Corporation, Kuehne + Nagel, Nippon Express Co., Ltd., J&J Global Limited, KART, SNCF Geodis, Swift Transportation, TNT Holding B.V., Procet Freight, Tuma Transport, Yamato Holdings Co., Ltd., and United Parcel Service Inc. among others.
The Global Last Mile Delivery Market is Segmented as Below:
By Service Coverage
Business-To-Business B2B
Business-To-Consumer B2C
Customer-To-Customer C2C
By Vehicle Coverage
Two Wheelers
Light Commercial Vehicle
Medium & Heavy Commercial Vehicle
Drones
By Delivery Time Coverage
Regular Delivery
Same Day/ Instant Delivery
By Topography Coverage
Rural
Tier 3 Cities
Tier 2 Cities
Tier 1 - Metros
By Cargo Type Coverage
Dry Goods
Postal Goods
Liquid Goods
By End Use Industry Coverage
Chemical
Pharmaceutical and Healthcare
FMCG
Hi-tech Product Industry
Food and Beverage
Others
By Geographical Coverage
North America
Europe

Germany
UK
France
Italy
Spain
Rest of Europe

Asia Pacific

China
Japan
India
South Korea
ANZ
ASEAN
Rest of Asia Pacific

Latin America

Brazil
Mexico
Rest of Latin America

Middle East & Africa

Saudi Arabia
UAE
South Africa
Rest of Middle East & Africa
Leading Companies
Nippon Express Co., Ltd.
CEVA Logistics AG
DB Schenker (Deutsche Bahn AG)
DHL (Deutsche Post AG)
Kuehne + Nagel International AG
USPS
UPS
XPO Logistics
FedEx
Amazon
DSV A/S
GEODIS
Delhivery
Lalamove
Starship Technologies
Walmart
Others(J.B.Hunt, Nuro, LogiNext, PostMates, Bringg, Matternet, Deliv, Roadie, Routific)
Inside This Report You Will Find:
1. Executive Summary
2. Last Mile Delivery Market Outlook
3. Global Last Mile Delivery Market Outlook, 2017 - 2025
4. North America Last Mile Delivery Market Outlook, 2017 - 2025
5. Europe Last Mile Delivery Market Outlook, 2017 - 2025
6. Asia Pacific Last Mile Delivery Market Outlook, 2017 - 2025
7. Latin America Last Mile Delivery Market Outlook, 2017 - 2025
8. Middle East & Africa Last Mile Delivery Market Outlook, 2017 - 2025
9. Competitive Landscape
10. Appendix
Post Sale Support, Research Updates & Offerings:
We value the trust shown by our customers in Fairfield Market Research. We support our clients through our post sale support, research updates and offerings.
The report will be prepared in a PPT format and will be delivered in a PDF format.
Additionally, Market Estimation and Forecast numbers will be shared in Excel Workbook.
If a report being sold was published over a year ago, we will offer a complimentary copy of the updated research report along with Market Estimation and Forecast numbers within 2-3 weeks' time of the sale.
If we update this research study within the next 2 quarters, post purchase of the report, we will offer a Complimentary copy of the updated Market Estimation and Forecast numbers in Excel Workbook.
If there is a geopolitical conflict, pandemic, recession, and the like which can impact global economic scenario and business activity, which might entirely alter the market dynamics or future projections in the industry, we will create a Research Update upon your request at a nominal charge.
1. Executive Summary
1.1. Global Last Mile Delivery Market : Snapshot
1.2. Future Projections, 2017 - 2025 (US$ Mn)
1.3. Key Segment Analysis and Competitive Insights
1.4. Premium Insights


2. Last Mile Delivery Market Outlook
2.1. Market Definitions and Segmentation
2.2. Market Dynamics
2.2.1. Driver
2.2.2. Restraint
2.2.3. Industry Challenges & Opportunities
2.3. Regulations and Norms
2.4. Market Forces Analysis
2.4.1. Value Chain Analysis
2.4.2. Porters Five Forces Analysis
2.4.3. SWOT Analysis
2.5. Technology Roadmap
2.6. Impact Analysis
2.6.1. Pre and Post Covid-19 Analysis
2.6.2. Economic Indicators (GDP Per Capita, BREXIT Analysis, Ecommerce etc.)
2.6.3. Vehicle Electrification
2.6.4. Parent Industry Trends


3. Global Last Mile Delivery Market Outlook, 2017 - 2025
3.1. Global Last Mile Delivery Market Value Forecast, By Service Type, 2017 - 2025 (US$ Mn)
3.1.1. Key Highlights
3.1.1.1. Market Growth & Projections (Y-o-Y)
3.1.1.2. Base Point Share Analysis, By Service Type, 2019 & 2025
3.1.2. Business-To-Business (B2B)
3.1.3. Business-To-Consumer (B2C)
3.1.4. Customer-To-Customer (C2C)
3.1.5. Market Attractiveness Analysis, By Service Type
3.2. Global Last Mile Delivery Market Value Forecast, by Vehicle Type, 2017 - 2025 (US$ Mn)
3.2.1. Key Highlights
3.2.1.1. Market Growth & Projections (Y-o-Y)
3.2.1.2. Base Point Share Analysis, By Vehicle Type, 2019 & 2025
3.2.2. Two Wheelers
3.2.3. Light Commercial Vehicle
3.2.4. Medium & Heavy Commercial Vehicle
3.2.5. Other (Drones)
3.2.6. Market Attractiveness Analysis, By Vehicle Type
3.3. Global Last Mile Delivery Market Value Forecast, by Delivery Time, 2017 - 2025 (US$ Mn)
3.3.1. Key Highlights
3.3.1.1. Market Growth & Projections (Y-o-Y)
3.3.1.2. Base Point Share Analysis, By Delivery Time, 2019 & 2025
3.3.2. Regular
3.3.3. Same Day
3.3.4. Market Attractiveness Analysis, By Delivery Time
3.4. Global Last Mile Delivery Market Value Forecast, By Topography, 2017 - 2025 (US$ Mn)
3.4.1. Key Highlights
3.4.1.1. Market Growth & Projections (Y-o-Y)
3.4.1.2. Base Point Share Analysis, By Topography, 2019 & 2025
3.4.2. Tier 1 - Metros
3.4.3. Tier 2 Cities
3.4.4. Tier 3 Cities
3.4.5. Rural
3.4.6. Market Attractiveness Analysis, by Topography
3.5. Global Last Mile Delivery Market Value Forecast, Cargo Type, 2017 - 2025 (US$ Mn)
3.5.1. Key Highlights
3.5.1.1. Market Growth & Projections (Y-o-Y)
3.5.1.2. Base Point Share Analysis, By Cargo Type, 2019 & 2025
3.5.2. Dry Goods
3.5.3. Postal Goods
3.5.4. Liquid Goods
3.5.5. Market Attractiveness Analysis, by Cargo Type
3.6. Global Last Mile Delivery Market Value Forecast, By End Use Industry, 2017 - 2025 (US$ Mn)
3.6.1. Key Highlights
3.6.1.1. Market Growth & Projections (Y-o-Y)
3.6.1.2. Base Point Share Analysis, By End Use Industry, 2019 & 2025
3.6.2. Chemical
3.6.3. Pharmaceutical and Healthcare
3.6.4. FMCG
3.6.5. Hi-tech Product Industry
3.6.6. Food and Beverage
3.6.7. Market Attractiveness Analysis, by End Use Industry
3.7. Global Last Mile Delivery Market Outlook, by Region (US$ Mn), 2017-2025
3.7.1. Key Highlights
3.7.1.1. Market Growth & Projections (Y-o-Y)
3.7.1.2. Base Point Share Analysis, By End Use Industry, 2019 & 2025
3.7.1.3. North America
3.7.1.4. Europe
3.7.1.5. Asia Pacific
3.7.1.6. Latin America
3.7.1.7. Middle East & Africa
3.7.2. Global Market Attractiveness Analysis, by Regions


4. North America Last Mile Delivery Market Outlook, 2017-2025
4.1. North America Market Snapshot
4.1.1. Last Mile Delivery Market Value Forecast, By Service Type, 2017 - 2025 (US$ Mn)
4.1.1.1. Business-To-Business (B2B)
4.1.1.2. Business-To-Consumer (B2C)
4.1.1.3. Customer-To-Customer (C2C)
4.1.2. Last Mile Delivery Market Value Forecast, By Vehicle Type, 2017 - 2025 (US$ Mn)
4.1.2.1. Two Wheelers
4.1.2.2. Light Commercial Vehicle
4.1.2.3. Medium & Heavy Commercial Vehicle
4.1.2.4. Other (Drones)
4.1.3. Last Mile Delivery Market Value Forecast, By Topography, 2017 - 2025 (US$ Mn)
4.1.3.1. Tier 1 - Metros
4.1.3.2. Tier 2 Cities
4.1.3.3. Tier 3 Cities
4.1.3.4. Rural
4.1.4. Last Mile Delivery Market Value Forecast, By Delivery Time, 2017 - 2025 (US$ Mn)
4.1.4.1. Regular
4.1.4.2. Same Day
4.1.5. Last Mile Delivery Market Value Forecast, By Cargo Type, 2017 - 2025 (US$ Mn)
4.1.5.1. Dry Goods
4.1.5.2. Postal Goods
4.1.5.3. Liquid Goods
4.1.6. Last Mile Delivery Market Value Forecast, By End Use Industry, 2017 - 2025 (US$ Mn)
4.1.6.1. Chemical
4.1.6.2. Pharmaceutical and Healthcare
4.1.6.3. FMCG
4.1.6.4. Hi-tech Product Industry
4.1.6.5. Food and Beverage
4.2. United States
4.2.1. Last Mile Delivery Market Value Forecast, By Service Type, 2017 - 2025 (US$ Mn)
4.2.2. Last Mile Delivery Market Value Forecast, By Vehicle Type, 2017 - 2025 (US$ Mn)
4.2.3. Last Mile Delivery Market Value Forecast, By Topography, 2017 - 2025 (US$ Mn)
4.2.4. Last Mile Delivery Market Value Forecast, By Delivery Time, 2017 - 2025 (US$ Mn)
4.2.5. Last Mile Delivery Market Value Forecast, By Cargo Type, 2017 - 2025 (US$ Mn)
4.2.6. Last Mile Delivery Market Value Forecast, By End Use Industry, 2017 - 2025 (US$ Mn)
4.3. Canada
4.3.1. Last Mile Delivery Market Value Forecast, By Service Type, 2017 - 2025 (US$ Mn)
4.3.2. Last Mile Delivery Market Value Forecast, By Vehicle Type, 2017 - 2025 (US$ Mn)
4.3.3. Last Mile Delivery Market Value Forecast, By Topography, 2017 - 2025 (US$ Mn)
4.3.4. Last Mile Delivery Market Value Forecast, By Delivery Time, 2017 - 2025 (US$ Mn)
4.3.5. Last Mile Delivery Market Value Forecast, By Cargo Type, 2017 - 2025 (US$ Mn)
4.3.6. Last Mile Delivery Market Value Forecast, By End Use Industry, 2017 - 2025 (US$ Mn)


5. Europe Last Mile Delivery Market Outlook, 2017-2025
5.1. European Market Snapshot
5.1.1. Last Mile Delivery Market Value Forecast, By Service Type, 2017 - 2025 (US$ Mn)
5.1.1.1. Business-To-Business (B2B)
5.1.1.2. Business-To-Consumer (B2C)
5.1.1.3. Customer-To-Customer (C2C)
5.1.2. Last Mile Delivery Market Value Forecast, By Vehicle Type, 2017 - 2025 (US$ Mn)
5.1.2.1. Two Wheelers
5.1.2.2. Light Commercial Vehicle
5.1.2.3. Medium & Heavy Commercial Vehicle
5.1.2.4. Other (Drones)
5.1.3. Last Mile Delivery Market Value Forecast, By Topography, 2017 - 2025 (US$ Mn)
5.1.3.1. Tier 1 - Metros
5.1.3.2. Tier 2 Cities
5.1.3.3. Tier 3 Cities
5.1.3.4. Rural
5.1.4. Last Mile Delivery Market Value Forecast, By Delivery Time, 2017 - 2025 (US$ Mn)
5.1.4.1. Regular
5.1.4.2. Same Day
5.1.5. Last Mile Delivery Market Value Forecast, By Cargo Type, 2017 - 2025 (US$ Mn)
5.1.5.1. Dry Goods
5.1.5.2. Postal Goods
5.1.5.3. Liquid Goods
5.1.6. Last Mile Delivery Market Value Forecast, By End Use Industry, 2017 - 2025 (US$ Mn)
5.1.6.1. Chemical
5.1.6.2. Pharmaceutical and Healthcare
5.1.6.3. FMCG
5.1.6.4. Hi-tech Product Industry
5.1.6.5. Food and Beverage
5.2. Germany
5.2.1. Last Mile Delivery Market Value Forecast, By Service Type, 2017 - 2025 (US$ Mn)
5.2.2. Last Mile Delivery Market Value Forecast, By Vehicle Type, 2017 - 2025 (US$ Mn)
5.2.3. Last Mile Delivery Market Value Forecast, By Topography, 2017 - 2025 (US$ Mn)
5.2.4. Last Mile Delivery Market Value Forecast, By Delivery Time, 2017 - 2025 (US$ Mn)
5.2.5. Last Mile Delivery Market Value Forecast, By Cargo Type, 2017 - 2025 (US$ Mn)
5.2.6. Last Mile Delivery Market Value Forecast, By End Use Industry, 2017 - 2025 (US$ Mn)
5.3. France
5.3.1. Last Mile Delivery Market Value Forecast, By Service Type, 2017 - 2025 (US$ Mn)
5.3.2. Last Mile Delivery Market Value Forecast, By Vehicle Type, 2017 - 2025 (US$ Mn)
5.3.3. Last Mile Delivery Market Value Forecast, By Topography, 2017 - 2025 (US$ Mn)
5.3.4. Last Mile Delivery Market Value Forecast, By Delivery Time, 2017 - 2025 (US$ Mn)
5.3.5. Last Mile Delivery Market Value Forecast, By Cargo Type, 2017 - 2025 (US$ Mn)
5.3.6. Last Mile Delivery Market Value Forecast, By End Use Industry, 2017 - 2025 (US$ Mn)
5.4. United Kingdom
5.4.1. Last Mile Delivery Market Value Forecast, By Service Type, 2017 - 2025 (US$ Mn)
5.4.2. Last Mile Delivery Market Value Forecast, By Vehicle Type, 2017 - 2025 (US$ Mn)
5.4.3. Last Mile Delivery Market Value Forecast, By Topography, 2017 - 2025 (US$ Mn)
5.4.4. Last Mile Delivery Market Value Forecast, By Delivery Time, 2017 - 2025 (US$ Mn)
5.4.5. Last Mile Delivery Market Value Forecast, By Cargo Type, 2017 - 2025 (US$ Mn)
5.4.6. Last Mile Delivery Market Value Forecast, By End Use Industry, 2017 - 2025 (US$ Mn)
5.5. Italy
5.5.1. Last Mile Delivery Market Value Forecast, By Service Type, 2017 - 2025 (US$ Mn)
5.5.2. Last Mile Delivery Market Value Forecast, By Vehicle Type, 2017 - 2025 (US$ Mn)
5.5.3. Last Mile Delivery Market Value Forecast, By Topography, 2017 - 2025 (US$ Mn)
5.5.4. Last Mile Delivery Market Value Forecast, By Delivery Time, 2017 - 2025 (US$ Mn)
5.5.5. Last Mile Delivery Market Value Forecast, By Cargo Type, 2017 - 2025 (US$ Mn)
5.5.6. Last Mile Delivery Market Value Forecast, By End Use Industry, 2017 - 2025 (US$ Mn)
5.6. Spain
5.6.1. Last Mile Delivery Market Value Forecast, By Service Type, 2017 - 2025 (US$ Mn)
5.6.2. Last Mile Delivery Market Value Forecast, By Vehicle Type, 2017 - 2025 (US$ Mn)
5.6.3. Last Mile Delivery Market Value Forecast, By Topography, 2017 - 2025 (US$ Mn)
5.6.4. Last Mile Delivery Market Value Forecast, By Delivery Time, 2017 - 2025 (US$ Mn)
5.6.5. Last Mile Delivery Market Value Forecast, By Cargo Type, 2017 - 2025 (US$ Mn)
5.6.6. Last Mile Delivery Market Value Forecast, By End Use Industry, 2017 - 2025 (US$ Mn)
5.7. Rest of Europe
5.7.1. Last Mile Delivery Market Value Forecast, By Service Type, 2017 - 2025 (US$ Mn)
5.7.2. Last Mile Delivery Market Value Forecast, By Vehicle Type, 2017 - 2025 (US$ Mn)
5.7.3. Last Mile Delivery Market Value Forecast, By Topography, 2017 - 2025 (US$ Mn)
5.7.4. Last Mile Delivery Market Value Forecast, By Delivery Time, 2017 - 2025 (US$ Mn)
5.7.5. Last Mile Delivery Market Value Forecast, By Cargo Type, 2017 - 2025 (US$ Mn)
5.7.6. Last Mile Delivery Market Value Forecast, By End Use Industry, 2017 - 2025 (US$ Mn)


6. Asia Pacific Last Mile Delivery Market Outlook, 2017-2025
6.1. Asia Pacific Market Snapshot
6.1.1. Last Mile Delivery Market Value Forecast, By Service Type, 2017 - 2025 (US$ Mn)
6.1.1.1. Business-To-Business (B2B)
6.1.1.2. Business-To-Consumer (B2C)
6.1.1.3. Customer-To-Customer (C2C)
6.1.2. Last Mile Delivery Market Value Forecast, By Vehicle Type, 2017 - 2025 (US$ Mn)
6.1.2.1. Two Wheelers
6.1.2.2. Light Commercial Vehicle
6.1.2.3. Medium & Heavy Commercial Vehicle
6.1.2.4. Other (Drones)
6.1.3. Last Mile Delivery Market Value Forecast, By Topography, 2017 - 2025 (US$ Mn)
6.1.3.1. Tier 1 - Metros
6.1.3.2. Tier 2 Cities
6.1.3.3. Tier 3 Cities
6.1.3.4. Rural
6.1.4. Last Mile Delivery Market Value Forecast, By Delivery Time, 2017 - 2025 (US$ Mn)
6.1.4.1. Regular
6.1.4.2. Same Day
6.1.5. Last Mile Delivery Market Value Forecast, By Cargo Type, 2017 - 2025 (US$ Mn)
6.1.5.1. Dry Goods
6.1.5.2. Postal Goods
6.1.5.3. Liquid Goods
6.1.6. Last Mile Delivery Market Value Forecast, By End Use Industry, 2017 - 2025 (US$ Mn)
6.1.6.1. Chemical
6.1.6.2. Pharmaceutical and Healthcare
6.1.6.3. FMCG
6.1.6.4. Hi-tech Product Industry
6.1.6.5. Food and Beverage
6.2. Japan
6.2.1. Last Mile Delivery Market Value Forecast, By Service Type, 2017 - 2025 (US$ Mn)
6.2.2. Last Mile Delivery Market Value Forecast, By Vehicle Type, 2017 - 2025 (US$ Mn)
6.2.3. Last Mile Delivery Market Value Forecast, By Topography, 2017 - 2025 (US$ Mn)
6.2.4. Last Mile Delivery Market Value Forecast, By Delivery Time, 2017 - 2025 (US$ Mn)
6.2.5. Last Mile Delivery Market Value Forecast, By Cargo Type, 2017 - 2025 (US$ Mn)
6.2.6. Last Mile Delivery Market Value Forecast, By End Use Industry, 2017 - 2025 (US$ Mn)
6.3. China
6.3.1. Last Mile Delivery Market Value Forecast, By Service Type, 2017 - 2025 (US$ Mn)
6.3.2. Last Mile Delivery Market Value Forecast, By Vehicle Type, 2017 - 2025 (US$ Mn)
6.3.3. Last Mile Delivery Market Value Forecast, By Topography, 2017 - 2025 (US$ Mn)
6.3.4. Last Mile Delivery Market Value Forecast, By Delivery Time, 2017 - 2025 (US$ Mn)
6.3.5. Last Mile Delivery Market Value Forecast, By Cargo Type, 2017 - 2025 (US$ Mn)
6.3.6. Last Mile Delivery Market Value Forecast, By End Use Industry, 2017 - 2025 (US$ Mn)
6.4. India
6.4.1. Last Mile Delivery Market Value Forecast, By Service Type, 2017 - 2025 (US$ Mn)
6.4.2. Last Mile Delivery Market Value Forecast, By Vehicle Type, 2017 - 2025 (US$ Mn)
6.4.3. Last Mile Delivery Market Value Forecast, By Topography, 2017 - 2025 (US$ Mn)
6.4.4. Last Mile Delivery Market Value Forecast, By Delivery Time, 2017 - 2025 (US$ Mn)
6.4.5. Last Mile Delivery Market Value Forecast, By Cargo Type, 2017 - 2025 (US$ Mn)
6.4.6. Last Mile Delivery Market Value Forecast, By End Use Industry, 2017 - 2025 (US$ Mn)
6.5. South Korea
6.5.1. Last Mile Delivery Market Value Forecast, By Service Type, 2017 - 2025 (US$ Mn)
6.5.2. Last Mile Delivery Market Value Forecast, By Vehicle Type, 2017 - 2025 (US$ Mn)
6.5.3. Last Mile Delivery Market Value Forecast, By Topography, 2017 - 2025 (US$ Mn)
6.5.4. Last Mile Delivery Market Value Forecast, By Delivery Time, 2017 - 2025 (US$ Mn)
6.5.5. Last Mile Delivery Market Value Forecast, By Cargo Type, 2017 - 2025 (US$ Mn)
6.5.6. Last Mile Delivery Market Value Forecast, By End Use Industry, 2017 - 2025 (US$ Mn)
6.6. Australia & New Zealand
6.6.1. Last Mile Delivery Market Value Forecast, By Service Type, 2017 - 2025 (US$ Mn)
6.6.2. Last Mile Delivery Market Value Forecast, By Vehicle Type, 2017 - 2025 (US$ Mn)
6.6.3. Last Mile Delivery Market Value Forecast, By Topography, 2017 - 2025 (US$ Mn)
6.6.4. Last Mile Delivery Market Value Forecast, By Delivery Time, 2017 - 2025 (US$ Mn)
6.6.5. Last Mile Delivery Market Value Forecast, By Cargo Type, 2017 - 2025 (US$ Mn)
6.6.6. Last Mile Delivery Market Value Forecast, By End Use Industry, 2017 - 2025 (US$ Mn)
6.6.7. ASEAN
6.6.8. Last Mile Delivery Market Value Forecast, By Service Type, 2017 - 2025 (US$ Mn)
6.6.9. Last Mile Delivery Market Value Forecast, By Vehicle Type, 2017 - 2025 (US$ Mn)
6.6.10. Last Mile Delivery Market Value Forecast, By Topography, 2017 - 2025 (US$ Mn)
6.6.11. Last Mile Delivery Market Value Forecast, By Delivery Time, 2017 - 2025 (US$ Mn)
6.6.12. Last Mile Delivery Market Value Forecast, By Cargo Type, 2017 - 2025 (US$ Mn)
6.6.13. Last Mile Delivery Market Value Forecast, By End Use Industry, 2017 - 2025 (US$ Mn)
6.7. Rest of Asia Pacific
6.7.1. Last Mile Delivery Market Value Forecast, By Service Type, 2017 - 2025 (US$ Mn)
6.7.2. Last Mile Delivery Market Value Forecast, By Vehicle Type, 2017 - 2025 (US$ Mn)
6.7.3. Last Mile Delivery Market Value Forecast, By Topography, 2017 - 2025 (US$ Mn)
6.7.4. Last Mile Delivery Market Value Forecast, By Delivery Time, 2017 - 2025 (US$ Mn)
6.7.5. Last Mile Delivery Market Value Forecast, By Cargo Type, 2017 - 2025 (US$ Mn)
6.7.6. Last Mile Delivery Market Value Forecast, By End Use Industry, 2017 - 2025 (US$ Mn)


7. Latin America Last Mile Delivery Market Outlook, 2017-2025
7.1. Latin America Market Snapshot
7.1.1. Last Mile Delivery Market Value Forecast, By Service Type, 2017 - 2025 (US$ Mn)
7.1.1.1. Business-To-Business (B2B)
7.1.1.2. Business-To-Consumer (B2C)
7.1.1.3. Customer-To-Customer (C2C)
7.1.2. Last Mile Delivery Market Value Forecast, By Vehicle Type, 2017 - 2025 (US$ Mn)
7.1.2.1. Two Wheelers
7.1.2.2. Light Commercial Vehicle
7.1.2.3. Medium & Heavy Commercial Vehicle
7.1.2.4. Other (Drones)
7.1.3. Last Mile Delivery Market Value Forecast, By Topography, 2017 - 2025 (US$ Mn)
7.1.3.1. Tier 1 - Metros
7.1.3.2. Tier 2 Cities
7.1.3.3. Tier 3 Cities
7.1.3.4. Rural
7.1.4. Last Mile Delivery Market Value Forecast, By Delivery Time, 2017 - 2025 (US$ Mn)
7.1.4.1. Regular
7.1.4.2. Same Day
7.1.5. Last Mile Delivery Market Value Forecast, By Cargo Type, 2017 - 2025 (US$ Mn)
7.1.5.1. Dry Goods
7.1.5.2. Postal Goods
7.1.5.3. Liquid Goods
7.1.6. Last Mile Delivery Market Value Forecast, By End Use Industry, 2017 - 2025 (US$ Mn)
7.1.6.1. Chemical
7.1.6.2. Pharmaceutical and Healthcare
7.1.6.3. FMCG
7.1.6.4. Hi-tech Product Industry
7.1.6.5. Food and Beverage
7.2. Brazil
7.2.1. Last Mile Delivery Market Value Forecast, By Service Type, 2017 - 2025 (US$ Mn)
7.2.2. Last Mile Delivery Market Value Forecast, By Vehicle Type, 2017 - 2025 (US$ Mn)
7.2.3. Last Mile Delivery Market Value Forecast, By Topography, 2017 - 2025 (US$ Mn)
7.2.4. Last Mile Delivery Market Value Forecast, By Delivery Time, 2017 - 2025 (US$ Mn)
7.2.5. Last Mile Delivery Market Value Forecast, By Cargo Type, 2017 - 2025 (US$ Mn)
7.2.6. Last Mile Delivery Market Value Forecast, By End Use Industry, 2017 - 2025 (US$ Mn)
7.3. Mexico
7.3.1. Last Mile Delivery Market Value Forecast, By Service Type, 2017 - 2025 (US$ Mn)
7.3.2. Last Mile Delivery Market Value Forecast, By Vehicle Type, 2017 - 2025 (US$ Mn)
7.3.3. Last Mile Delivery Market Value Forecast, By Topography, 2017 - 2025 (US$ Mn)
7.3.4. Last Mile Delivery Market Value Forecast, By Delivery Time, 2017 - 2025 (US$ Mn)
7.3.5. Last Mile Delivery Market Value Forecast, By Cargo Type, 2017 - 2025 (US$ Mn)
7.3.6. Last Mile Delivery Market Value Forecast, By End Use Industry, 2017 - 2025 (US$ Mn)
7.4. Rest of Latin America
7.4.1. Last Mile Delivery Market Value Forecast, By Service Type, 2017 - 2025 (US$ Mn)
7.4.2. Last Mile Delivery Market Value Forecast, By Vehicle Type, 2017 - 2025 (US$ Mn)
7.4.3. Last Mile Delivery Market Value Forecast, By Topography, 2017 - 2025 (US$ Mn)
7.4.4. Last Mile Delivery Market Value Forecast, By Delivery Time, 2017 - 2025 (US$ Mn)
7.4.5. Last Mile Delivery Market Value Forecast, By Cargo Type, 2017 - 2025 (US$ Mn)
7.4.6. Last Mile Delivery Market Value Forecast, By End Use Industry, 2017 - 2025 (US$ Mn)


8. Middle East & Africa Last Mile Delivery Market Outlook, 2017-2025
8.1. Middle East & Africa Market Snapshot
8.1.1. Last Mile Delivery Market Value Forecast, By Service Type, 2017 - 2025 (US$ Mn)
8.1.1.1. Business-To-Business (B2B)
8.1.1.2. Business-To-Consumer (B2C)
8.1.1.3. Customer-To-Customer (C2C)
8.1.2. Last Mile Delivery Market Value Forecast, By Vehicle Type, 2017 - 2025 (US$ Mn)
8.1.2.1. Two Wheelers
8.1.2.2. Light Commercial Vehicle
8.1.2.3. Medium & Heavy Commercial Vehicle
8.1.2.4. Other (Drones)
8.1.3. Last Mile Delivery Market Value Forecast, By Topography, 2017 - 2025 (US$ Mn)
8.1.3.1. Tier 1 - Metros
8.1.3.2. Tier 2 Cities
8.1.3.3. Tier 3 Cities
8.1.3.4. Rural
8.1.4. Last Mile Delivery Market Value Forecast, By Delivery Time, 2017 - 2025 (US$ Mn)
8.1.4.1. Regular
8.1.4.2. Same Day
8.1.5. Last Mile Delivery Market Value Forecast, By Cargo Type, 2017 - 2025 (US$ Mn)
8.1.5.1. Dry Goods
8.1.5.2. Postal Goods
8.1.5.3. Liquid Goods
8.1.6. Last Mile Delivery Market Value Forecast, By End Use Industry, 2017 - 2025 (US$ Mn)
8.1.6.1. Chemical
8.1.6.2. Pharmaceutical and Healthcare
8.1.6.3. FMCG
8.1.6.4. Hi-tech Product Industry
8.1.6.5. Food and Beverage
8.2. Saudi Arabia
8.2.1. Last Mile Delivery Market Value Forecast, By Service Type, 2017 - 2025 (US$ Mn)
8.2.2. Last Mile Delivery Market Value Forecast, By Vehicle Type, 2017 - 2025 (US$ Mn)
8.2.3. Last Mile Delivery Market Value Forecast, By Topography, 2017 - 2025 (US$ Mn)
8.2.4. Last Mile Delivery Market Value Forecast, By Delivery Time, 2017 - 2025 (US$ Mn)
8.2.5. Last Mile Delivery Market Value Forecast, By Cargo Type, 2017 - 2025 (US$ Mn)
8.2.6. Last Mile Delivery Market Value Forecast, By End Use Industry, 2017 - 2025 (US$ Mn)
8.3. United Arab of Emirates
8.3.1. Last Mile Delivery Market Value Forecast, By Service Type, 2017 - 2025 (US$ Mn)
8.3.2. Last Mile Delivery Market Value Forecast, By Vehicle Type, 2017 - 2025 (US$ Mn)
8.3.3. Last Mile Delivery Market Value Forecast, By Topography, 2017 - 2025 (US$ Mn)
8.3.4. Last Mile Delivery Market Value Forecast, By Delivery Time, 2017 - 2025 (US$ Mn)
8.3.5. Last Mile Delivery Market Value Forecast, By Cargo Type, 2017 - 2025 (US$ Mn)
8.3.6. Last Mile Delivery Market Value Forecast, By End Use Industry, 2017 - 2025 (US$ Mn)
8.4. South Africa
8.4.1. Last Mile Delivery Market Value Forecast, By Service Type, 2017 - 2025 (US$ Mn)
8.4.2. Last Mile Delivery Market Value Forecast, By Vehicle Type, 2017 - 2025 (US$ Mn)
8.4.3. Last Mile Delivery Market Value Forecast, By Topography, 2017 - 2025 (US$ Mn)
8.4.4. Last Mile Delivery Market Value Forecast, By Delivery Time, 2017 - 2025 (US$ Mn)
8.4.5. Last Mile Delivery Market Value Forecast, By Cargo Type, 2017 - 2025 (US$ Mn)
8.4.6. Last Mile Delivery Market Value Forecast, By End Use Industry, 2017 - 2025 (US$ Mn)
8.5. Rest of Middle East & Africa
8.5.1. Last Mile Delivery Market Value Forecast, By Service Type, 2017 - 2025 (US$ Mn)
8.5.2. Last Mile Delivery Market Value Forecast, By Vehicle Type, 2017 - 2025 (US$ Mn)
8.5.3. Last Mile Delivery Market Value Forecast, By Topography, 2017 - 2025 (US$ Mn)
8.5.4. Last Mile Delivery Market Value Forecast, By Delivery Time, 2017 - 2025 (US$ Mn)
8.5.5. Last Mile Delivery Market Value Forecast, By Cargo Type, 2017 - 2025 (US$ Mn)
8.5.6. Last Mile Delivery Market Value Forecast, By End Use Industry, 2017 - 2025 (US$ Mn)


9. Competitive Landscape
9.1. Company Market Share Analysis, 2019
9.2. Competition Matrix (By Tier and Size of companies)
9.3. Strategic Collaborations
9.3.1. Joint Ventures
9.3.2. Mergers & Acquisitions
9.4. Company Profiles
9.4.1. Amazon
9.4.1.1. Company Overview
9.4.1.2. Financial Performance
9.4.1.3. Manufacturing Footprint
9.4.1.4. Strategic Overview
9.4.1.5. Key Developments
(*Note: Above details would be available for below list of companies on the basis of availability)
9.4.2. CEVA Logistics
9.4.3. DB Schenker (Deutsche Bahn AG)
9.4.4. Delhivery
9.4.5. DHL
9.4.6. DSV A/S
9.4.7. FedEx
9.4.8. GEODIS
9.4.9. Kuehne + Nagel International AG
9.4.10. Lalamove
9.4.11. Nippon Express Co. Ltd.
9.4.12. Starship Technologies
9.4.13. UPS
9.4.14. USPS
9.4.15. Walmart
9.4.16. XPO
(Any other leading players)


10. Appendix
10.1. Acronyms and Abbreviations
10.2. Research Scope & Assumptions
10.3. Research Methodology and Information Sources