According to Fairfield Market Research, global maritime security market was valued at US$22.4 Bn in 2019 and is expected to be worth over US$38 Bn by 2027 end. Between the years of 2021 and 2027, the global market is anticipated to register a CAGR of more than 7% during the forecast period.
Maritime Security Market Gains a Boost from Increasing Requirement for Handling Complicated Supply Chain Operations, and Improve Sustainability
To function efficiently and effectively, the marine industry must be able to handle complex procedures and changing market situations. The industry is embracing a spike in digital technology use for shipping logistics as a chance to improve efficiency, build smarter ships and fleets, and get ready to take advantage of global expansion. Maritime security market is likely to receive a strong impetus with the deepening penetration of advancing technologies. As consumer demand rises, global supply networks are expanding and growing more complex. Increased environmental effect is a direct result of increased demand for goods, commodities, and raw materials. Marine businesses must immediately put new strategies into place to maximise efficiency and streamline their supply chains in today's fiercely competitive market. Innovative technologies integrated into maritime and marine management software enable end users to easily arrange inventory data digitally, track and manage shipping and tracking information, and generate electronic invoicing. To save their business time and money, shipping businesses can cut down on the amount of time spent shipping, receiving, tracking, and gathering order data. All this is expected to subsequently firm up the growth of maritime security market.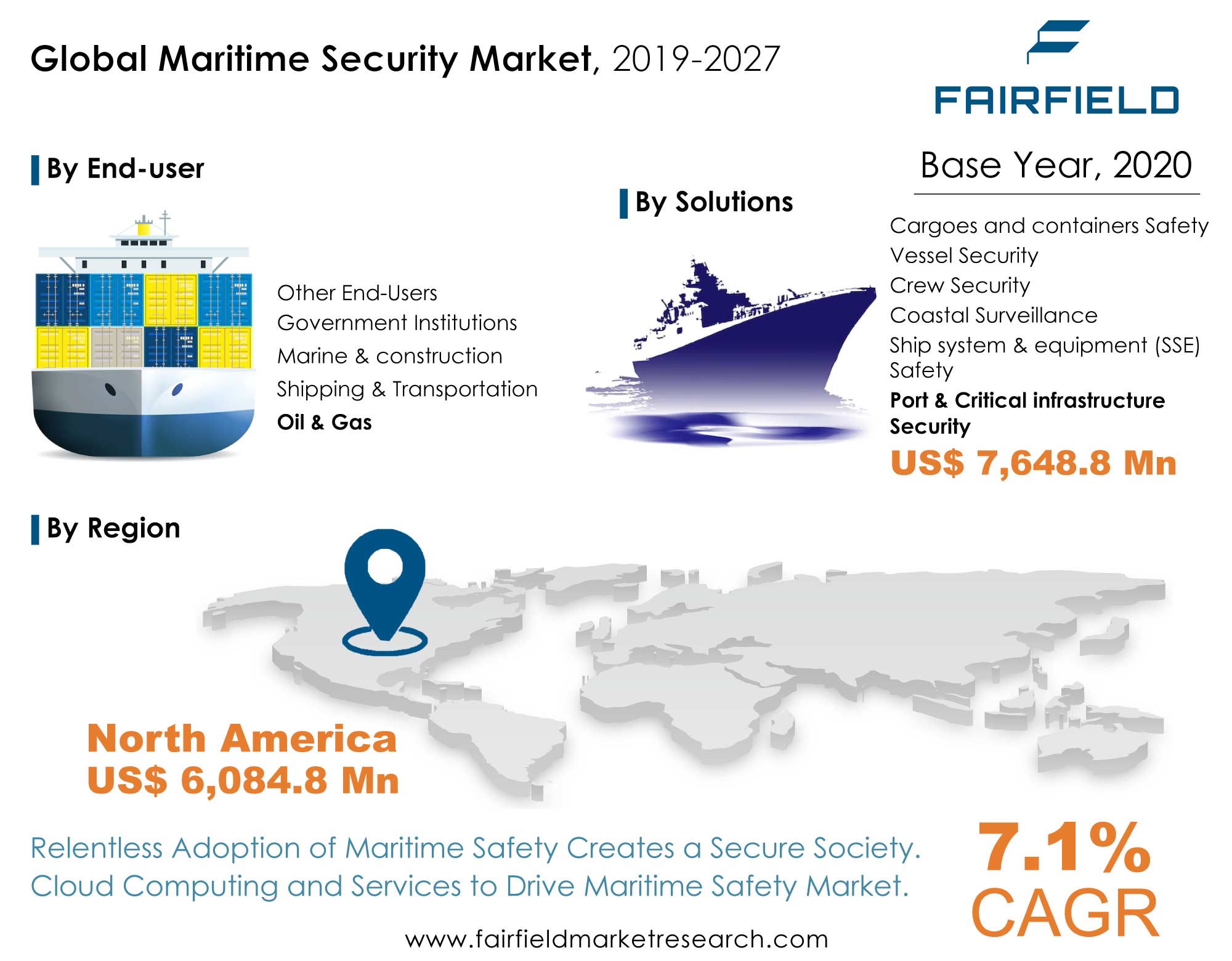 Additionally, the importance of digitalisation, and recent advancements in AI, blockchain, IoT, and automation technology are favouring the progress of marine industry as they aid in streamlining existing procedures, developing fresh commercial prospects, and transforming supply networks. End users can take advantage of capabilities like design and simulation tools, warehouse management, transportation and yard management, and end-to-end control of the logistics network provided by the marine and marine management software to manage supply chain activities successfully. Additionally, stricter environmental regulations continue to influence the maritime transportation industry because transporters must keep up service standards, cut costs, and guarantee sustainability in operations. This naturally demands reliable safety and security measures for the entire system, which drives the growth of maritime security market.
Increasing Concerns Pertaining to Piracy Indicate Strong Growth Prospects of Maritime Security Market
Over the past 15 years, there has been an increase in the number of pirate attacks on ships. Compared to other West African maritime routes, the Gulf of Aden, and the Indian Ocean have fewer piracy attacks. These routes take longer and use more gasoline, though. Customers are responsible for paying the additional gasoline costs. In locations where there are significant piracy dangers, marine safety must be addressed in order to reduce this. It will thus keep the maritime security market afloat. A global database on maritime piracy is now being created. A few tools and technology can examine piracy networks. This will make it easier for the nations to find and apprehend pirates on the high seas. The volume of data being gathered from sources across networks, users, endpoints, and applications is increasing as businesses expand.
Global Maritime Security Market: Geographical Presence and Competitive Landscape
With surging demand for cutting-edge technology for the detection of various hazards and communication with all the available officials across the maritime sector, maritime safety solutions and services have proven to be highly effective in most organisations, and verticals across North America. The goal of integrating maritime safety solutions into its market is being moved forward by Europe. Latin America, and the Middle East & Africa are slowly adopting maritime safety in the light of growing need for identification, and elimination of the potential threats, including terrorist attacks, business transaction crimes, environmental damages, illegal immigration, and maritime piracy. On the other hand, Asia Pacific is exhibiting a significant rise in terms of generating demand for maritime safety solutions and services, in turn driving the maritime security market across the region.
Some of the key players profiled in maritime security market report, include Honeywell, Thales Group, Smiths Group, Elbit Systems, Northrop Grumman, Raytheon Anschut, Saab Group, BAE Systems, Airbus, and Rolta.
Recent Notable Developments
In January 2022, Honeywell announced an innovative, new low-global-warming-potential (GWP) refrigerant for commercial and industrial refrigeration that is optimized for supermarkets. The product meets the needs of grocers and retailers who are seeking low-global-warming solutions ahead of likely regulatory changes


In January 2022, Elbit Systems Sweden agreed to supply combat management systems to the Royal Swedish Navy. It would enable underwater detection and surface tracks, based on real-time data, live video streaming, and imagery data, thereby expanding the operational envelope, increasing flexibility, and enabling effective decision making during MCM missions


In December 2021, Everbridge, has launched its next-generation Travel Risk Management (TRM) solution for new and existing customers. It helps businesses and organizations quickly locate and communicate with traveling employees, remote workers, and those returning to the office, who may be in harm's way


In December 2021, Honeywell announced a new, user-friendly Transmission risk air monitor that alerts users when indoor air conditions may present an increased risk of potentially transmitting airborne viruses in schools, restaurants, and other spaces. It is an easy-to-deploy, portable device that measures carbon dioxide and features a proprietary risk alerting system based on user-selected activity levels within a room
The Global Maritime Security Market is Segmented as Below:
Components Coverage
Solutions
Services

Professional Services

Training and Consulting
Risk Assessment and Investigation
Support and Maintenance

Managed Services
Security Type Coverage
Port and Critical infrastructure Security
Coastal Surveillance
Vessel Security
Crew Security
Cargoes and containers Safety
Ship system and equipment (SSE) Safety
Other Security Type (Yacht Security, Safety of marine installations, Shipyard security, and cyber security)
System Coverage
Ship Security Reporting System
Automatic Identification System (AIS)
Global Maritime Distress Safety System (GMDSS)
Long Range Tracking and Identification (LRIT) System
Vessel Monitoring and Management System
Other Systems (Automated Manifest System (AMS), and Automated Mutual Assistance Vessel Rescue System (AMVER))
Application Coverage
Loss prevention and detection
Security management
Counter piracy
Coastal monitoring
Pollution Prevention and Response (PPR) management
End User Coverage
Government Institutions
Oil & Gas
Marine & construction
Shipping & Transportation
Other End-Users (Yachts, Boat Owners, and Ship Agencies)
Geographical Coverage
North America
Europe

Germany
France
UK
Italy
Turkey
Spain
Russia
Rest of Europe

Asia Pacific

China
Japan
South Korea
India
Southeast Asia
Rest of Asia Pacific

Latin America

Brazil
Mexico
Rest of Latin America

Middle East & Africa

GCC
Egypt
Rest of Middle East & Africa
Leading Companies
Honeywell
Thales Group
Smiths Group
Elbit Systems
Northrop Grumman
Raytheon Anschutz
Saab Group
BAE Systems
Airbus
Rolta
Inside This Report You Will Find:
1. Executive Summary
2. Market Overview
3. Global Maritime Security Market Outlook, 2019 - 2027
4. North America Maritime Security Market Outlook, 2019 - 2027
5. Europe Maritime Security Market Outlook, 2019 - 2027
6. Asia Pacific Maritime Security Market Outlook, 2019 - 2027
7. Middle East & Africa Maritime Security Market Outlook, 2019 - 2027
8. Competitive Landscape
9. Appendix
Post Sale Support, Research Updates & Offerings:
We value the trust shown by our customers in Fairfield Market Research. We support our clients through our post sale support, research updates and offerings.
The report will be prepared in a PPT format and will be delivered in a PDF format.
Additionally, Market Estimation and Forecast numbers will be shared in Excel Workbook.
If a report being sold was published over a year ago, we will offer a complimentary copy of the updated research report along with Market Estimation and Forecast numbers within 2-3 weeks' time of the sale.
If we update this research study within the next 2 quarters, post purchase of the report, we will offer a Complimentary copy of the updated Market Estimation and Forecast numbers in Excel Workbook.
If there is a geopolitical conflict, pandemic, recession, and the like which can impact global economic scenario and business activity, which might entirely alter the market dynamics or future projections in the industry, we will create a Research Update upon your request at a nominal charge.
1. Executive Summary
1.1. Global Maritime Security Market Snapshot
1.2. Future Projections
1.3. Key Market Trends
1.4. Analyst Recommendations

2. Market Overview
2.1. Market Definitions
2.2. Market Taxonomy
2.3. Market Dynamics
2.3.1. Drivers
2.3.2. Restraints
2.4. Value Chain Analysis
2.5. Porter's Five Forces Analysis
2.6. Covid-19 Impact Analysis
2.7. Key Patents

3. Global Maritime Security Market Outlook, 2019 - 2027
3.1. Global Maritime Security Market Outlook, by Components (US$ '000), 2019 - 2027
3.1.1. Key Highlights
3.1.1.1. Solutions
3.1.1.2. Services
3.1.1.2.1. Professional Services
3.1.1.2.1.1. Training and Consulting
3.1.1.2.1.2. Risk Assessment and Investigation
3.1.1.2.1.3. Support and Maintenance
3.1.1.2.2. Managed Services
3.1.2. BPS Analysis/Market Attractiveness Analysis
3.2. Global Maritime Security Market Outlook, by Security Type, Value (US$ '000), 2019 - 2027
3.2.1. Key Highlights
3.2.1.1. Port and Critical Infrastructure Security
3.2.1.2. Coastal Surveillance
3.2.1.3. Vessel Security
3.2.1.4. Crew Security
3.2.1.5. Cargoes and containers Safety
3.2.1.6. Ship system and equipment (SSE) Safety
3.2.1.7. Other Security Type (Yacht Security, Safety of marine installations, Shipyard security, and cyber security)
3.2.2. BPS Analysis/Market Attractiveness Analysis
3.3. Global Maritime Security Market Outlook, by System, Value (US$ '000), 2019 - 2027
3.3.1. Key Highlights
3.3.1.1. Ship Security Reporting System
3.3.1.2. Automatic Identification System (AIS)
3.3.1.3. Global Maritime Distress Safety System (GMDSS)
3.3.1.4. Long Range Tracking and Identification (LRIT) System
3.3.1.5. Vessel Monitoring and Management System
3.3.1.6. Other Systems (Automated Manifest System (AMS), and Automated Mutual Assistance Vessel Rescue System (AMVER)
3.3.2. BPS Analysis/Market Attractiveness Analysis
3.4. Global Maritime Security Market Outlook, by Application, Value (US$ '000), 2019 - 2027
3.4.1. Key Highlights
3.4.1.1. Loss prevention and detection
3.4.1.2. Security management
3.4.1.3. Counter piracy
3.4.1.4. Coastal monitoring
3.4.1.5. Pollution Prevention and Response (PPR) management
3.4.2. BPS Analysis/Market Attractiveness Analysis
3.5. Global Maritime Security Market Outlook, by End User, Value (US$ '000), 2019 - 2027
3.5.1. Key Highlights
3.5.1.1. Government Institutions
3.5.1.2. Oil & Gas
3.5.1.3. Marine & construction
3.5.1.4. Shipping & Transportation
3.5.1.5. Other End-Users (Yachts, Boat Owners, and Ship Agencies)
3.5.2. BPS Analysis/Market Attractiveness Analysis
3.6. Global Maritime Security Market Outlook, by Region, Value (US$ '000), 2019 - 2027
3.6.1. Key Highlights
3.6.1.1. North America
3.6.1.2. Europe
3.6.1.3. Asia Pacific
3.6.1.4. Latin America
3.6.1.5. Middle East & Africa
3.6.2. BPS Analysis/Market Attractiveness Analysis

4. North America Maritime Security Market Outlook, 2019 - 2027
4.1. North America Maritime Security Market Outlook, by Components (US$ '000), 2019 - 2027
4.1.1. Key Highlights
4.1.1.1. Solutions
4.1.1.2. Services
4.1.1.2.1. Professional Services
4.1.1.2.1.1. Training and Consulting
4.1.1.2.1.2. Risk Assessment and Investigation
4.1.1.2.1.3. Support and Maintenance
4.1.1.2.2. Managed Services
4.1.2. BPS Analysis/Market Attractiveness Analysis
4.2. North America Maritime Security Market Outlook, by Security Type, Value (US$ '000), 2019 - 2027
4.2.1. Key Highlights
4.2.1.1. Port and Critical Infrastructure Security
4.2.1.2. Coastal Surveillance
4.2.1.3. Vessel Security
4.2.1.4. Crew Security
4.2.1.5. Cargoes and containers Safety
4.2.1.6. Ship system and equipment (SSE) Safety
4.2.1.7. Other Security Type (Yacht Security, Safety of marine installations, Shipyard security, and cyber security)
4.2.2. BPS Analysis/Market Attractiveness Analysis
4.3. North America Maritime Security Market Outlook, by System, Value (US$ '000), 2019 - 2027
4.3.1. Key Highlights
4.3.1.1. Ship Security Reporting System
4.3.1.2. Automatic Identification System (AIS)
4.3.1.3. Global Maritime Distress Safety System (GMDSS)
4.3.1.4. Long Range Tracking and Identification (LRIT) System
4.3.1.5. Vessel Monitoring and Management System
4.3.1.6. Other Systems (Automated Manifest System (AMS), and Automated Mutual Assistance Vessel Rescue System (AMVER)
4.3.2. BPS Analysis/Market Attractiveness Analysis
4.4. North America Maritime Security Market Outlook, by Application, Value (US$ '000), 2019 - 2027
4.4.1. Key Highlights
4.4.1.1. Loss prevention and detection
4.4.1.2. Security management
4.4.1.3. Counter piracy
4.4.1.4. Coastal monitoring
4.4.1.5. Pollution Prevention and Response (PPR) management
4.4.2. BPS Analysis/Market Attractiveness Analysis
4.5. North America Maritime Security Market Outlook, by End User, Value (US$ '000), 2019 - 2027
4.5.1. Key Highlights
4.5.1.1. Government Institutions
4.5.1.2. Oil & Gas
4.5.1.3. Marine & construction
4.5.1.4. Shipping & Transportation
4.5.1.5. Other End-Users (Yachts, Boat Owners, and Ship Agencies)
4.6. North America Maritime Security Market Outlook, by Country, Value (US$ '000), 2019 - 2027
4.6.1. Key Highlights
4.6.1.1. U.S. Maritime Security Market by Value (US$ '000), 2019 - 2027
4.6.1.2. Canada Maritime Security Market by Value (US$ '000), 2019 - 2027
4.6.2. BPS Analysis/Market Attractiveness Analysis

5. Europe Maritime Security Market Outlook, 2019 - 2027
5.1. Europe Maritime Security Market Outlook, by Components (US$ '000), 2019 - 2027
5.1.1. Key Highlights
5.1.1.1. Solutions
5.1.1.2. Services
5.1.1.2.1. Professional Services
5.1.1.2.1.1. Training and Consulting
5.1.1.2.1.2. Risk Assessment and Investigation
5.1.1.2.1.3. Support and Maintenance
5.1.1.2.2. Managed Services
5.1.2. BPS Analysis/Market Attractiveness Analysis
5.2. Europe Maritime Security Market Outlook, by Security Type, Value (US$ '000), 2019 - 2027
5.2.1. Key Highlights
5.2.1.1. Port and Critical Infrastructure Security
5.2.1.2. Coastal Surveillance
5.2.1.3. Vessel Security
5.2.1.4. Crew Security
5.2.1.5. Cargoes and containers Safety
5.2.1.6. Ship system and equipment (SSE) Safety
5.2.1.7. Other Security Type (Yacht Security, Safety of marine installations, Shipyard security, and cyber security)
5.2.2. BPS Analysis/Market Attractiveness Analysis
5.3. Europe Maritime Security Market Outlook, by System, Value (US$ '000), 2019 - 2027
5.3.1. Key Highlights
5.3.1.1. Ship Security Reporting System
5.3.1.2. Automatic Identification System (AIS)
5.3.1.3. Global Maritime Distress Safety System (GMDSS)
5.3.1.4. Long Range Tracking and Identification (LRIT) System
5.3.1.5. Vessel Monitoring and Management System
5.3.1.6. Other Systems (Automated Manifest System (AMS), and Automated Mutual Assistance Vessel Rescue System (AMVER)
5.3.2. BPS Analysis/Market Attractiveness Analysis
5.4. Europe Maritime Security Market Outlook, by Application, Value (US$ '000), 2019 - 2027
5.4.1. Key Highlights
5.4.1.1. Loss prevention and detection
5.4.1.2. Security management
5.4.1.3. Counter piracy
5.4.1.4. Coastal monitoring
5.4.1.5. Pollution Prevention and Response (PPR) management
5.4.2. BPS Analysis/Market Attractiveness Analysis
5.5. Europe Maritime Security Market Outlook, by End User, Value (US$ '000), 2019 - 2027
5.5.1. Key Highlights
5.5.1.1. Government Institutions
5.5.1.2. Oil & Gas
5.5.1.3. Marine & construction
5.5.1.4. Shipping & Transportation
5.5.1.5. Other End-Users (Yachts, Boat Owners, and Ship Agencies)
5.5.2. BPS Analysis/Market Attractiveness Analysis
5.6. Europe Maritime Security Market Outlook, by Country, Value (US$ '000), 2019 - 2027
5.6.1. Key Highlights
5.6.1.1. Germany Maritime Security Market by Value (US$ '000), 2019 - 2027
5.6.1.2. France Maritime Security Market by Product, Value (US$ '000), 2019 - 2027
5.6.1.3. U.K. Maritime Security Market by Value (US$ '000), 2019 - 2027
5.6.1.4. Italy Maritime Security Market by Value (US$ '000), 2019 - 2027
5.6.1.5. Spain Maritime Security Market by Product, Value (US$ '000), 2019 - 2027
5.6.1.6. Rest of Europe Maritime Security Market Value (US$ '000), 2019 - 2027
5.6.2. BPS Analysis/Market Attractiveness Analysis

6. Asia Pacific Maritime Security Market Outlook, 2019 - 2027
6.1. Asia Pacific Maritime Security Market Outlook, by Components (US$ '000), 2019 - 2027
6.1.1. Key Highlights
6.1.1.1. Solutions
6.1.1.2. Services
6.1.1.2.1. Professional Services
6.1.1.2.1.1. Training and Consulting
6.1.1.2.1.2. Risk Assessment and Investigation
6.1.1.2.1.3. Support and Maintenance
6.1.1.2.2. Managed Services
6.1.2. BPS Analysis/Market Attractiveness Analysis
6.2. Asia Pacific Maritime Security Market Outlook, by Security Type, Value (US$ '000), 2019 - 2027
6.2.1. Key Highlights
6.2.1.1. Port and Critical Infrastructure Security
6.2.1.2. Coastal Surveillance
6.2.1.3. Vessel Security
6.2.1.4. Crew Security
6.2.1.5. Cargoes and containers Safety
6.2.1.6. Ship system and equipment (SSE) Safety
6.2.1.7. Other Security Type (Yacht Security, Safety of marine installations, Shipyard security, and cyber security)
6.2.2. BPS Analysis/Market Attractiveness Analysis
6.3. Asia Pacific Maritime Security Market Outlook, by System, Value (US$ '000), 2019 - 2027
6.3.1. Key Highlights
6.3.1.1. Ship Security Reporting System
6.3.1.2. Automatic Identification System (AIS)
6.3.1.3. Global Maritime Distress Safety System (GMDSS)
6.3.1.4. Long Range Tracking and Identification (LRIT) System
6.3.1.5. Vessel Monitoring and Management System
6.3.1.6. Other Systems (Automated Manifest System (AMS), and Automated Mutual Assistance Vessel Rescue System (AMVER)
6.3.2. BPS Analysis/Market Attractiveness Analysis
6.4. Asia Pacific Maritime Security Market Outlook, by Application, Value (US$ '000), 2019 - 2027
6.4.1. Key Highlights
6.4.1.1. Loss prevention and detection
6.4.1.2. Security management
6.4.1.3. Counter piracy
6.4.1.4. Coastal monitoring
6.4.1.5. Pollution Prevention and Response (PPR) management
6.4.2. BPS Analysis/Market Attractiveness Analysis
6.5. Asia Pacific Maritime Security Market Outlook, by End User, Value (US$ '000), 2019 - 2027
6.5.1. Key Highlights
6.5.1.1. Government Institutions
6.5.1.2. Oil & Gas
6.5.1.3. Marine & construction
6.5.1.4. Shipping & Transportation
6.5.1.5. Other End-Users (Yachts, Boat Owners, and Ship Agencies)
6.5.2. BPS Analysis/Market Attractiveness Analysis
6.6. Asia Pacific Maritime Security Market Outlook, by Country, Value (US$ '000), 2019 - 2027
6.6.1. Key Highlights
6.6.1.1. India Maritime Security Market by Value (US$ '000), 2019 - 2027
6.6.1.2. China Maritime Security Market by Value (US$ '000), 2019 - 2027
6.6.1.3. Japan Maritime Security Market by Value (US$ '000), 2019 - 2027
6.6.1.4. Australia & New Zealand Maritime Security Market Value (US$ '000), 2019 - 2027
6.6.1.5. Rest of Asia Pacific Market by Value (US$ '000), 2019 - 2027
6.6.2. BPS Analysis/Market Attractiveness Analysis
6.7. Latin America Maritime Security Market Outlook, by Components (US$ '000), 2019 - 2027
6.7.1. Key Highlights
6.7.1.1. Solutions
6.7.1.2. Services
6.7.1.2.1. Professional Services
6.7.1.2.1.1. Training and Consulting
6.7.1.2.1.2. Risk Assessment and Investigation
6.7.1.2.1.3. Support and Maintenance
6.7.1.2.2. Managed Services
6.7.2. BPS Analysis/Market Attractiveness Analysis
6.8. Latin America Maritime Security Market Outlook, by Security Type, Value (US$ '000), 2019 - 2027
6.8.1. Key Highlights
6.8.1.1. Port and Critical Infrastructure Security
6.8.1.2. Coastal Surveillance
6.8.1.3. Vessel Security
6.8.1.4. Crew Security
6.8.1.5. Cargoes and containers Safety
6.8.1.6. Ship system and equipment (SSE) Safety
6.8.1.7. Other Security Type (Yacht Security, Safety of marine installations, Shipyard security, and cyber security)
6.8.2. BPS Analysis/Market Attractiveness Analysis
6.9. Latin America Maritime Security Market Outlook, by System, Value (US$ '000), 2019 - 2027
6.9.1. Key Highlights
6.9.1.1. Ship Security Reporting System
6.9.1.2. Automatic Identification System (AIS)
6.9.1.3. Global Maritime Distress Safety System (GMDSS)
6.9.1.4. Long Range Tracking and Identification (LRIT) System
6.9.1.5. Vessel Monitoring and Management System
6.9.1.6. Other Systems (Automated Manifest System (AMS), and Automated Mutual Assistance Vessel Rescue System (AMVER)
6.9.2. BPS Analysis/Market Attractiveness Analysis
6.10. Latin America Maritime Security Market Outlook, by Application, Value (US$ '000), 2019 - 2027
6.10.1. Key Highlights
6.10.1.1. Loss prevention and detection
6.10.1.2. Security management
6.10.1.3. Counter piracy
6.10.1.4. Coastal monitoring
6.10.1.5. Pollution Prevention and Response (PPR) management
6.10.2. BPS Analysis/Market Attractiveness Analysis
6.11. Latin America Maritime Security Market Outlook, by End User, Value (US$ '000), 2019 - 2027
6.11.1. Key Highlights
6.11.1.1. Government Institutions
6.11.1.2. Oil & Gas
6.11.1.3. Marine & construction
6.11.1.4. Shipping & Transportation
6.11.1.5. Other End-Users (Yachts, Boat Owners, and Ship Agencies)
6.11.2. BPS Analysis/Market Attractiveness Analysis
6.12. Latin America Maritime Security Market Outlook, by Country, Value (US$ '000), 2019 - 2027
6.12.1. Key Highlights
6.12.1.1. Brazil Maritime Security Market by Value (US$ '000), 2019 - 2027
6.12.1.2. Mexico Maritime Security Market by Value (US$ '000), 2019 - 2027
6.12.1.3. Rest of Latin America Maritime Security Market by Value (US$ '000), 2019 - 2027
6.12.2. BPS Analysis/Market Attractiveness Analysis

7. Middle East & Africa Maritime Security Market Outlook, 2019 - 2027
7.1. Global Maritime Security Market Outlook, by Components (US$ '000), 2019 - 2027
7.1.1. Key Highlights
7.1.1.1. Solutions
7.1.1.2. Services
7.1.1.2.1. Professional Services
7.1.1.2.1.1. Training and Consulting
7.1.1.2.1.2. Risk Assessment and Investigation
7.1.1.2.1.3. Support and Maintenance
7.1.1.2.2. Managed Services
7.1.2. BPS Analysis/Market Attractiveness Analysis
7.2. Middle East & Africa Maritime Security Market Outlook, by Security Type, Value (US$ '000), 2019 - 2027
7.2.1. Key Highlights
7.2.1.1. Port and Critical Infrastructure Security
7.2.1.2. Coastal Surveillance
7.2.1.3. Vessel Security
7.2.1.4. Crew Security
7.2.1.5. Cargoes and containers Safety
7.2.1.6. Ship system and equipment (SSE) Safety
7.2.1.7. Other Security Type (Yacht Security, Safety of marine installations, Shipyard security, and cyber security)
7.2.2. BPS Analysis/Market Attractiveness Analysis
7.3. Middle East & Africa Maritime Security Market Outlook, by System, Value (US$ '000), 2019 - 2027
7.3.1. Key Highlights
7.3.1.1. Ship Security Reporting System
7.3.1.2. Automatic Identification System (AIS)
7.3.1.3. Global Maritime Distress Safety System (GMDSS)
7.3.1.4. Long Range Tracking and Identification (LRIT) System
7.3.1.5. Vessel Monitoring and Management System
7.3.1.6. Other Systems (Automated Manifest System (AMS), and Automated Mutual Assistance Vessel Rescue System (AMVER)
7.3.2. BPS Analysis/Market Attractiveness Analysis
7.4. Middle East & Africa Maritime Security Market Outlook, by Application, Value (US$ '000), 2019 - 2027
7.4.1. Key Highlights
7.4.1.1. Loss prevention and detection
7.4.1.2. Security management
7.4.1.3. Counter piracy
7.4.1.4. Coastal monitoring
7.4.1.5. Pollution Prevention and Response (PPR) management
7.4.2. BPS Analysis/Market Attractiveness Analysis
7.5. Middle East & Africa Maritime Security Market Outlook, by End User, Value (US$ '000), 2019 - 2027
7.5.1. Key Highlights
7.5.1.1. Government Institutions
7.5.1.2. Oil & Gas
7.5.1.3. Marine & construction
7.5.1.4. Shipping & Transportation
7.5.1.5. Other End-Users (Yachts, Boat Owners, and Ship Agencies)
7.5.2. BPS Analysis/Market Attractiveness Analysis
7.6. Middle East & Africa Maritime Security Market Outlook, by Country, Value (US$ '000), 2019 - 2027
7.6.1. Key Highlights
7.6.1.1. GCC Maritime Security Market by Value (US$ '000), 2019 - 2027
7.6.1.2. South Africa Maritime Security Market by Value (US$ '000), 2019 - 2027
7.6.1.3. Rest of Middle East & Africa Maritime Security Market by Value (US$ '000), 2019 - 2027
7.6.2. BPS Analysis/Market Attractiveness Analysis
8. Competitive Landscape
8.1. Company Market Share Analysis, 2019
8.2. Company Profiles
8.2.1. Honeywell
8.2.1.1. Company Overview
8.2.1.2. Key Retailing Partners
8.2.1.3. Business Segment Revenue
8.2.1.4. Ingredient Overview
8.2.1.5. Product Offering & its Presence
8.2.1.6. Certifications & Claims
8.2.2. Thales Group
8.2.3. Smiths Group
8.2.4. Elbit Systems
8.2.5. Northrop Grumman
8.2.6. Raytheon Anschutz
8.2.7. Saab Group
8.2.8. BAE Systems
8.2.9. Airbus
8.2.10. Rolta

9. Appendix
9.1. Research Methodology
9.2. Report Assumptions
9.3. Acronyms and Abbreviations