Global methanol market was valued at around US$44.4 Bn in 2021 and is projected to reach nearly US$72.9 Bn by the end of 2029, exhibiting a healthy CAGR of 4.7% between 2022 and 2029. By 2029 end, the global methanol market is poised to see 1.4x expansion as compared to 2022.
A Versatile Application Base Sustains Robust Growth Rate of Global Methanol Market
Methanol, popularly referred to as wood alcohol, or wood spirit, serves a vital role in production of several chemicals and energy products. As one of the primary building blocks across chemical industry, methanol offers a key alternative solution to the challenge of achieving full decarbonization. Not just paints, solvents, and mattresses account for its widespread use - methanol is also used as a transportation fuel, (cars, trucks, ships), and biodiesel. Rising methanol conversion to olefins further contribute toward the growth of methanol market. It is an essential building block of hundreds of products that are used in everyday lives of consumers. In the past few years, methanol is being increasingly perceived as a preferred fuel alternative to conventional gasoline and is extensively used across the key regions such as North America, and Europe. The global methanol market has observed tremendous growth in energy-related applications, especially in gasoline/fuel blending.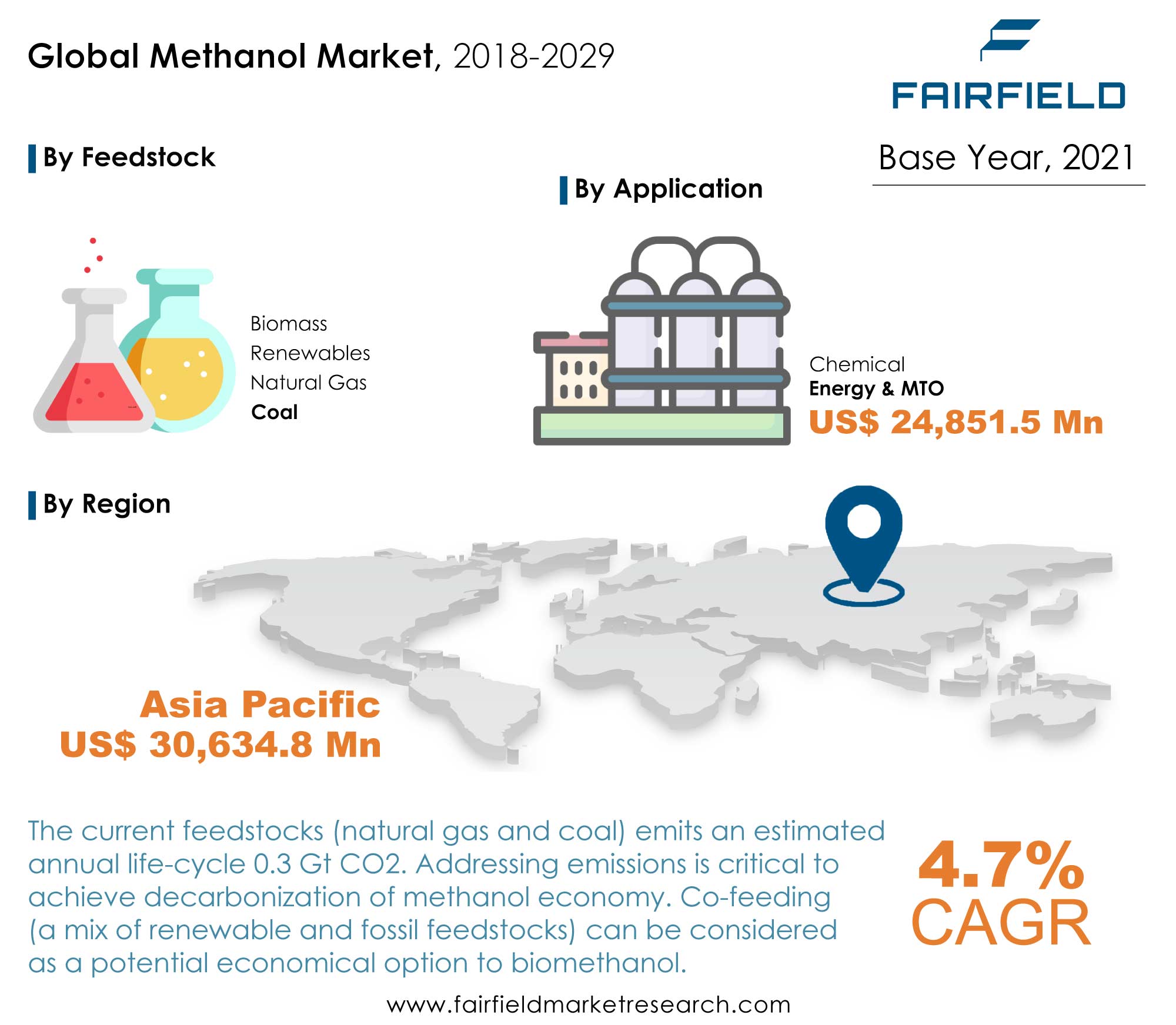 The flexibility of methanol lies in its ability to be produced from a wide range of feedstocks - from coal, natural gas, waste, and captured CO2 combined with green hydrogen. Its exceptional efficiency and ready availability remain the key factors powering the demand for methanol worldwide. In the past few years, plummeting natural gas prices had favoured the growth of the methanol market, especially in North America, and Europe. Methanol is majorly consumed in China to produce olefins in the processes called coal-to-olefins (CTO), and methanol-to-olefins (MTO). The global methanol market is highly influenced by factors such as natural gas prices, fuel prices & demand, liquid biofuel mandates, environmental regulations, olefins consumptions, and construction markets.
Coal Remains the Most Preferred Feedstock Among Methanol Market Participants
Feedstock has been the most influential cost component in the total cash-cost of methanol comprising as much as 90% in some regions. Gaining access to cost-competitive feedstocks is vital to the methanol economies and market competitiveness. In 2021, coal was the major feedstock to produce methanol and accounted for more than 65% of the total methanol market. Most methanol produced in China is based on coal and fuel oil, whereas natural gas is the mostly used feedstock worldwide. In volume terms, the natural gas-based methanol demand is expected to grow with a CAGR of 7.3% between 2022 and 2029. Regions with access to natural gas such as the US, Middle East, and Latin America has seen surge in methanol capacity additions in the past few years.
In the past few years, methanol market has been observing the focus shifting toward production of methanol using renewable energy, and feedstocks. The lifecycle emissions with the existing production techniques are around 0.3 gigatonnes (Gt) CO2 per annum which accounts for 10% of the total emissions from the chemical sector. The demand for biomethanol, and green methanol is gathering momentum as methanol produced via these processes emits zero to minimal amount of greenhouse gases. Methanol is becoming a crucial component to sustainable production and net-zero plans. Currently, the production costs are high as compared to fossil fuels, however, with process improvements and technological developments, the final cost can be lowered to make it competitive against natural gas, and coal. In 2022, PTT Exploration and Production, Air Liquide, Oiltanking Asia Pacific, YTL PowerSeraya, Kenoil Marine Services, and Maersk signed a memorandum of understanding (MoU) on a Green Methanol Value Chain Collaboration. This partnership will explore the feasibility of commencing a green methanol pilot plant based on biogenic CO2 capture technique.
Energy & MTO Applications Remain Instrumental to Methanol Market Build-up
Formaldehyde remained the most sought-after chemical segment, backed by notable consumption in the key end-use sectors such as construction, automotive, electronic appliances, pesticides, and furniture & bedding. More than 70% of the formaldehyde is consumed in the production of urea-, melamine-, and phenol formaldehyde resins. In 2021, formaldehyde accounted for more than 1/5th of the total methanol market. Rising construction projects, and home improvement activities has been key driving factor contributing to demand growth of chemicals such as formaldehyde, and acetic acid, in turn boosting the expansion of methanol market.
In terms of volume, MTO & energy applications are expected to account for more than 60% of the methanol market by 2029. Region wide acceptance of methanol in fuel blending, biodiesel, MTBE/TAME, and DME has been crucial to the methanol growth in energy applications. Methanol-to-olefins has become the key consumer of methanol, especially in China. Large volume of methanol is consumed in MTO applications as compared to other uses, a MTO unit requires 3 tons of methanol to produce 1 ton of olefins. The demand for methanol-to-olefins is likely to reach around 50 Mn tons by 2029, growing at a CAGR of 8.4% between 2022 and 2029.
With growing demand for cleaner marine fuel globally, many shippers are exploring methanol as a fuel alternative. Methanol is an accessible, and cost-efficient transition fuel that holds strong potential to play a pivotal role in helping the marine transportation sector meet emission reduction targets set by the International Maritime Organization (IMO) for 2030. Around half the vessels that would be ordered post-2025 are likely to be powered by multi-fuel engines and would utilise methanol in large volumes. In a nutshell, methanol is set to become a preferred transition fuel for marine transportation soon, which is expected to elevate the growth prospects of methanol market.
China's Dominance Prevails in Methanol Market with New CTO/MTO Units
In 2021, China was the largest producer and consumer of methanol worldwide and accounted for more than 65% of the global methanol market. The growth in China is particularly focused on production of light-olefins and energy related applications. Diversification from conventional naphtha cracking process toward CTO/MTO units to produce olefins has been the key driver behind the growth in China. Growing urbanization, increasing investment in housing activities, and rise in automotive sales will drive the demand for methanol chemicals and energy applications. India's methanol market is expected to exhibit the highest growth of around 8% between 2022 and 2029, to remain the most lucrative market across Asia. Low-cost shale-derived feedstock has been key driving factor for the increasing methanol production in the US Bar Middle East, the methanol production in the US has become economical as compared to other regions (Europe, China) which are considered as marginal producers.
Firm demand for housing activities, and automotive applications is expected to keep the demand in the US methanol market steady. Furthermore, IEA expects biodiesel production to increase substantially driving demand for fuel applications. Demand in Europe is expected to be hampered by geopolitical tensions, and rising energy costs. Relatively high price point of natural gas across the continent is accounting for the non-cost-competitive price of methanol pressuring the margins of producers. Europe largely relies on imports from Russia which accounts for more than 13% of the total European imports. Europe is likely to shift toward the US, China, and Middle East to meet the rising methanol demand, especially for energy-related applications.
Focus on Capacity Expansion and Biomethanol Key to Gain a Competitive Advantage in Global Methanol Market
Methanex Corporation, the global methanol market leader, has been reaping the benefit of a solid, extensive supply chain, and distribution network worldwide. The company has strong production presence across Asia, Europe, and African markets in addition to that in North and Latin America. The methanol market is highly fragmented with the top six players (Methanex, Proman AG, SABIC, Yankuang, Zagros, and OCI) accounting for over 35% of the total methanol market valuation recorded in 2021. These companies are focusing on capacity expansion and green methanol projects to gain competitive advantage, and sustainable production in the market. In 2021, Fairway Methanol LLC, a JV between Celanese Corporation, and Mitsui & Co. Ltd. announced expansion of methanol production using recycled CO2 feedstock at its Clear Lake Facility in the US. Besides, several other prominent players are stirring the competition in methanol market, including OCI N.V., PETRONAS Chemicals Group Berhad, Metafrax, and MGC.
The Global Methanol Market is Segmented as Below:
By Feedstock Coverage
Natural Gas
Coal
Biomass
Renewable Electricity
By Application Coverage
Chemical

Formaldehyde
Acetic Acid
Solvents
Methyl Methacrylate
Methylamines
Misc. (Silicone, Chloromethane, etc.)

Energy & MTO

Methanol-to-Olefins (MTO)
MTBE/TAME
Biodiesel
Dimethyl Ether (DME)
Fuel Blending
Marine Fuel
By Geographical Coverage
North America
Europe

Germany
France
UK
Italy
Spain
Turkey
Russia
Rest of Europe

Asia Pacific

China
Japan
South Korea
India
Southeast Asia
Rest of Asia Pacific

Latin America

Brazil
Mexico
Rest of Latin America

Middle East & Africa

GCC
South Africa
Iran
Rest of Middle East & Africa
Leading Companies
Methanex Corporation
Proman AG
SABIC
Yankuang Energy Group Company Limited
Zagros Petrochemical Company
OCI N.V.
PETRONAS Chemicals Group Berhad
Mitsubishi Gas Chemical Company, Inc.
Celanese Corporation
LyondellBasell Industries N.V.
Metafrax Chemicals PAO
Ningxia Baofeng Energy Group Co. Ltd.
Inside This Report You Will Find:
1. Executive Summary
2. Market Overview
3. Production Output and Trade Statistics
4. Price Trends Analysis and Future Projects, 2018 - 2029
5. Global Methanol Market Outlook, 2018 - 2029
6. North America Methanol Market Outlook, 2018 - 2029
7. Europe Methanol Market Outlook, 2018 - 2029
8. Asia Pacific Methanol Market Outlook, 2018 - 2029
9. Latin America Methanol Market Outlook, 2018 - 2029
10. Middle East & Africa Methanol Market Outlook, 2018 - 2029
11. Competitive Landscape
12. Appendix

Post Sale Support, Research Updates & Offerings:
We value the trust shown by our customers in Fairfield Market Research. We support our clients through our post sale support, research updates and offerings.
The report will be prepared in a PPT format and will be delivered in a PDF format.
Additionally, Market Estimation and Forecast numbers will be shared in Excel Workbook.
If a report being sold was published over a year ago, we will offer a complimentary copy of the updated research report along with Market Estimation and Forecast numbers within 2-3 weeks' time of the sale.
If we update this research study within the next 2 quarters, post purchase of the report, we will offer a Complimentary copy of the updated Market Estimation and Forecast numbers in Excel Workbook.
If there is a geopolitical conflict, pandemic, recession, and the like which can impact global economic scenario and business activity, which might entirely alter the market dynamics or future projections in the industry, we will create a Research Update upon your request at a nominal charge.
1. Executive Summary
1.1.Global Methanol Market Snapshot
1.2.Future Projections
1.3.Key Market Trends
1.4.Regional Snapshot, by Volume, 2021
1.5.Analyst Recommendations

2. Market Overview
2.1.Market Definitions and Segmentations
2.2.Market Dynamics
2.2.1.Drivers
2.2.2.Restraints
2.2.3.Market Opportunities
2.3.Value Chain Analysis
2.4.Supply Chain Interpretation
2.5.Porter's Five Forces Analysis
2.6.Covid - 19 Impact Analysis
2.6.1.Supply
2.6.2.Demand
2.7.Impact of Ukraine - Russia Conflict
2.8. Economic Overview
2.8.1.GDP per Capita, 2021
2.8.2.World Economic Projections
2.8.3.Global Construction Output, 2019 - 2030
2.9.PESTLE Analysis

3. Production Output and Trade Statistics
3.1.Global Primary Methanol Production, 2018 - 2021
3.2.Methanol Import Statistics, 2018 - 2021
3.3.Methanol Export Statistics, 2018 - 2021

4. Price Trends Analysis and Future Projects, 2018 - 2029
4.1.Global Average Price Analysis, by Source, US$ per Kg
4.2.Prominent Factors Affecting Methanol Prices
4.3.Global Average Price Analysis, by Region, US$ per Kg

5. Global Methanol Market Outlook, 2018 - 2029
5.1.Global Methanol Market Outlook, by Source, Volume (Kilo Tons) and Value (US$ Mn), 2018 - 2029
5.1.1.Key Highlights
5.1.1.1.Natural Gas
5.1.1.2.Coal
5.1.1.3.Biomass
5.1.1.4.Renewable Electricity
5.2.Global Methanol Market Outlook, by End - users, Volume (Kilo Tons) and Value (US$ Mn), 2018 - 2029
5.2.1.Key Highlights
5.2.1.1.Chemical
5.2.1.1.1.Formaldehyde
5.2.1.1.2.Acetic Acid
5.2.1.1.3.Solvents
5.2.1.1.4.Methyl Methacrylate
5.2.1.1.5.Methylamines
5.2.1.1.6.Misc. (Silicone, Chloromethane, etc.)
5.2.1.2. Energy & MTO
5.2.1.2.1.Methanol - to - Olefins (MTO)
5.2.1.2.2.MTBE/FAME
5.2.1.2.3.Biodiesel
5.2.1.2.4.Dimethyl Ether (DME)
5.2.1.2.5.Fuel Blending
5.2.1.2.6.Marine Fuel
5.3.Global Methanol Market Outlook, by Region, Volume (Kilo Tons) and Value (US$ Mn), 2018 - 2029
5.3.1.Key Highlights
5.3.1.1.North America
5.3.1.2. Europe
5.3.1.3.Asia Pacific
5.3.1.4.Latin America
5.3.1.5.Middle East & Africa

6. North America Methanol Market Outlook, 2018 - 2029
6.1.North America Methanol Market Outlook, by Source, Volume (Kilo Tons) and Value (US$ Mn), 2018 - 2029
6.1.1.Key Highlights
6.1.1.1.Natural Gas
6.1.1.2.Coal
6.1.1.3.Biomass
6.1.1.4.Renewable Electricity
6.2.North America Methanol Market Outlook, by End - users, Volume (Kilo Tons) and Value (US$ Mn), 2018 - 2029
6.2.1.Key Highlights
6.2.1.1.Chemical
6.2.1.1.1.Formaldehyde
6.2.1.1.2.Acetic Acid
6.2.1.1.3.Solvents
6.2.1.1.4.Methyl Methacrylate
6.2.1.1.5.Methylamines
6.2.1.1.6.Misc. (Silicone, Chloromethane, etc.)
6.2.1.2. Energy & MTO
6.2.1.2.1.Methanol - to - Olefins (MTO)
6.2.1.2.2.MTBE/FAME
6.2.1.2.3.Biodiesel
6.2.1.2.4.Dimethyl Ether (DME)
6.2.1.2.5.Fuel Blending
6.2.1.3.Marine Fuel
6.2.2.Market Attractiveness Analysis
6.3.North America Methanol Market Outlook, by Country, Volume (Kilo Tons) and Value (US$ Mn), 2018 - 2029
6.3.1.Key Highlights
6.3.1.1.U.S. Methanol Market by Product, Volume (Kilo Tons) and Value (US$ Mn), 2018 - 2029
6.3.1.2.U.S. Methanol Market by Application, Volume (Kilo Tons) and Value (US$ Mn), 2018 - 2029
6.3.1.3.Canada Methanol Market by Product, Volume (Kilo Tons) and Value (US$ Mn), 2018 - 2029
6.3.1.4.Canada Methanol Market by Application, Volume (Kilo Tons) and Value (US$ Mn), 2018 - 2029
6.3.2.BPS Analysis/Market Attractiveness Analysis

7. Europe Methanol Market Outlook, 2018 - 2029
7.1. Europe Methanol Market Outlook, by Source, Volume (Kilo Tons) and Value (US$ Mn), 2018 - 2029
7.1.1.Key Highlights
7.1.1.1.Natural Gas
7.1.1.2.Coal
7.1.1.3.Biomass
7.1.1.4.Renewable Electricity
7.2. Europe Methanol Market Outlook, by End - users, Volume (Kilo Tons) and Value (US$ Mn), 2018 - 2029
7.2.1.Key Highlights
7.2.1.1.Chemical
7.2.1.1.1.Formaldehyde
7.2.1.1.2.Acetic Acid
7.2.1.1.3.Solvents
7.2.1.1.4.Methyl Methacrylate
7.2.1.1.5.Methylamines
7.2.1.1.6.Misc. (Silicone, Chloromethane, etc.)
7.2.1.2. Energy & MTO
7.2.1.2.1.Methanol - to - Olefins (MTO)
7.2.1.2.2.MTBE/FAME
7.2.1.2.3.Biodiesel
7.2.1.2.4.Dimethyl Ether (DME)
7.2.1.2.5.Fuel Blending
7.2.1.3.Marine Fuel
7.2.2.BPS Analysis/Market Attractiveness Analysis
7.3. Europe Methanol Market Outlook, by Country, Volume (Kilo Tons) and Value (US$ Mn), 2018 - 2029
7.3.1.Key Highlights
7.3.1.1.Germany Methanol Market by Product, Volume (Kilo Tons) and Value (US$ Mn), 2018 - 2029
7.3.1.2.Germany Methanol Market by Application, Volume (Kilo Tons) and Value (US$ Mn), 2018 - 2029
7.3.1.3.U.K. Methanol Market by Product, Volume (Kilo Tons) and Value (US$ Mn), 2018 - 2029
7.3.1.4.U.K. Methanol Market by Application, Volume (Kilo Tons) and Value (US$ Mn), 2018 - 2029
7.3.1.5.France Methanol Market by Product, Volume (Kilo Tons) and Value (US$ Mn), 2018 - 2029
7.3.1.6.France Methanol Market by Application, Volume (Kilo Tons) and Value (US$ Mn), 2018 - 2029
7.3.1.7.Italy Methanol Market by Product, Volume (Kilo Tons) and Value (US$ Mn), 2018 - 2029
7.3.1.8.Italy Methanol Market by Application, Volume (Kilo Tons) and Value (US$ Mn), 2018 - 2029
7.3.1.9.Turkey Methanol Market by Product, Volume (Kilo Tons) and Value (US$ Mn), 2018 - 2029
7.3.1.10.Turkey Methanol Market by Application, Volume (Kilo Tons) and Value (US$ Mn), 2018 - 2029
7.3.1.11.Russia Methanol Market by Product, Volume (Kilo Tons) and Value (US$ Mn), 2018 - 2029
7.3.1.12.Russia Methanol Market by Application, Volume (Kilo Tons) and Value (US$ Mn), 2018 - 2029
7.3.1.13.Rest of Europe Methanol Market by Product, Volume (Kilo Tons) and Value (US$ Mn), 2018 - 2029
7.3.1.14.Rest of Europe Methanol Market by Application, Volume (Kilo Tons) and Value (US$ Mn), 2018 - 2029
7.3.2.BPS Analysis/Market Attractiveness Analysis

8. Asia Pacific Methanol Market Outlook, 2018 - 2029
8.1.Asia Pacific Methanol Market Outlook, by Source, Volume (Kilo Tons) and Value (US$ Mn), 2018 - 2029
8.1.1.Key Highlights
8.1.1.1.Natural Gas
8.1.1.2.Coal
8.1.1.3.Biomass
8.1.1.4.Renewable Electricity
8.2.Asia Pacific Methanol Market Outlook, by End - users, Volume (Kilo Tons) and Value (US$ Mn), 2018 - 2029
8.2.1.Key Highlights
8.2.1.1.Chemical
8.2.1.1.1.Formaldehyde
8.2.1.1.2.Acetic Acid
8.2.1.1.3.Solvents
8.2.1.1.4.Methyl Methacrylate
8.2.1.1.5.Methylamines
8.2.1.1.6.Misc. (Silicone, Chloromethane, etc.)
8.2.1.2. Energy & MTO
8.2.1.2.1.Methanol - to - Olefins (MTO)
8.2.1.2.2.MTBE/FAME
8.2.1.2.3.Biodiesel
8.2.1.2.4.Dimethyl Ether (DME)
8.2.1.2.5.Fuel Blending
8.2.1.3.Marine Fuel
8.2.2.BPS Analysis/Market Attractiveness Analysis
8.3.Asia Pacific Methanol Market Outlook, by Country, Volume (Kilo Tons) and Value (US$ Mn), 2018 - 2029
8.3.1.Key Highlights
8.3.1.1.China Methanol Market by Product, Volume (Kilo Tons) and Value (US$ Mn), 2018 - 2029
8.3.1.2.China Methanol Market by Application, Volume (Kilo Tons) and Value (US$ Mn), 2018 - 2029
8.3.1.3.Japan Methanol Market by Product, Volume (Kilo Tons) and Value (US$ Mn), 2018 - 2029
8.3.1.4.Japan Methanol Market by Application, Volume (Kilo Tons) and Value (US$ Mn), 2018 - 2029
8.3.1.5.South Korea Methanol Market by Product, Volume (Kilo Tons) and Value (US$ Mn), 2018 - 2029
8.3.1.6.South Korea Methanol Market by Application, Volume (Kilo Tons) and Value (US$ Mn), 2018 - 2029
8.3.1.7.India Methanol Market by Product, Volume (Kilo Tons) and Value (US$ Mn), 2018 - 2029
8.3.1.8.India Methanol Market by Application, Volume (Kilo Tons) and Value (US$ Mn), 2018 - 2029
8.3.1.9.Southeast Asia Methanol Market by Product, Volume (Kilo Tons) and Value (US$ Mn), 2018 - 2029
8.3.1.10.Southeast Asia Methanol Market by Application, Volume (Kilo Tons) and Value (US$ Mn), 2018 - 2029
8.3.1.11.Rest of Asia Pacific Methanol Market by Product, Volume (Kilo Tons) and Value (US$ Mn), 2018 - 2029
8.3.1.12.Rest of Asia Pacific Methanol Market by Application, Volume (Kilo Tons) and Value (US$ Mn), 2018 - 2029
8.3.2.BPS Analysis/Market Attractiveness Analysis

9. Latin America Methanol Market Outlook, 2018 - 2029
9.1.Latin America Methanol Market Outlook, by Source, Volume (Kilo Tons) and Value (US$ Mn), 2018 - 2029
9.1.1.Key Highlights
9.1.1.1.Natural Gas
9.1.1.2.Coal
9.1.1.3.Biomass
9.1.1.4.Renewable Electricity
9.2.Latin America Methanol Market Outlook, by End - users, Volume (Kilo Tons) and Value (US$ Mn), 2018 - 2029
9.2.1.Key Highlights
9.2.1.1.Chemical
9.2.1.1.1.Formaldehyde
9.2.1.1.2.Acetic Acid
9.2.1.1.3.Solvents
9.2.1.1.4.Methyl Methacrylate
9.2.1.1.5.Methylamines
9.2.1.1.6.Misc. (Silicone, Chloromethane, etc.)
9.2.1.2. Energy & MTO
9.2.1.2.1.Methanol - to - Olefins (MTO)
9.2.1.2.2.MTBE/FAME
9.2.1.2.3.Biodiesel
9.2.1.2.4.Dimethyl Ether (DME)
9.2.1.2.5.Fuel Blending
9.2.1.3.Marine Fuel
9.2.2.BPS Analysis/Market Attractiveness Analysis
9.3.Latin America Methanol Market Outlook, by Country, Volume (Kilo Tons) and Value (US$ Mn), 2018 - 2029
9.3.1.Key Highlights
9.3.1.1.Brazil Methanol Market by Product, Volume (Kilo Tons) and Value (US$ Mn), 2018 - 2029
9.3.1.2.Brazil Methanol Market by Application, Volume (Kilo Tons) and Value (US$ Mn), 2018 - 2029
9.3.1.3.Mexico Methanol Market by Product, Volume (Kilo Tons) and Value (US$ Mn), 2018 - 2029
9.3.1.4.Mexico Methanol Market by Application, Volume (Kilo Tons) and Value (US$ Mn), 2018 - 2029
9.3.1.5.Rest of Latin America Methanol Market by Product, Volume (Kilo Tons) and Value (US$ Mn), 2018 - 2029
9.3.1.6.Rest of Latin America Methanol Market by Application, Volume (Kilo Tons) and Value (US$ Mn), 2018 - 2029
9.3.2.BPS Analysis/Market Attractiveness Analysis

10. Middle East & Africa Methanol Market Outlook, 2018 - 2029
10.1.Middle East & Africa Methanol Market Outlook, by Source, Volume (Kilo Tons) and Value (US$ Mn), 2018 - 2029
10.1.1.Key Highlights
10.1.1.1.Natural Gas
10.1.1.2.Coal
10.1.1.3.Biomass
10.1.1.4.Renewable Electricity
10.2.Middle East & Africa Methanol Market Outlook, by End - users, Volume (Kilo Tons) and Value (US$ Mn), 2018 - 2029
10.2.1.Key Highlights
10.2.1.1.Chemical
10.2.1.1.1.Formaldehyde
10.2.1.1.2.Acetic Acid
10.2.1.1.3.Solvents
10.2.1.1.4.Methyl Methacrylate
10.2.1.1.5.Methylamines
10.2.1.1.6.Misc. (Silicone, Chloromethane, etc.)
10.2.1.2. Energy & MTO
10.2.1.2.1.Methanol - to - Olefins (MTO)
10.2.1.2.2.MTBE/FAME
10.2.1.2.3.Biodiesel
10.2.1.2.4.Dimethyl Ether (DME)
10.2.1.2.5.Fuel Blending
10.2.1.2.6.Marine Fuel
10.2.2.BPS Analysis/Market Attractiveness Analysis
10.3.Middle East & Africa Methanol Market Outlook, by Country, Volume (Kilo Tons) and Value (US$ Mn), 2018 - 2029
10.3.1.Key Highlights
10.3.1.1.GCC Methanol Market by Product, Volume (Kilo Tons) and Value (US$ Mn), 2018 - 2029
10.3.1.2.GCC Methanol Market by Application, Volume (Kilo Tons) and Value (US$ Mn), 2018 - 2029
10.3.1.3.South Africa Methanol Market by Product, Volume (Kilo Tons) and Value (US$ Mn), 2018 - 2029
10.3.1.4.South Africa Methanol Market by Application, Volume (Kilo Tons) and Value (US$ Mn), 2018 - 2029
10.3.1.5.Iran Methanol Market by Product, Volume (Kilo Tons) and Value (US$ Mn), 2018 - 2029
10.3.1.6.Iran Methanol Market by Application, Volume (Kilo Tons) and Value (US$ Mn), 2018 - 2029
10.3.1.7.Rest of Middle East & Africa Methanol Market by Product, Volume (Kilo Tons) and Value (US$ Mn), 2018 - 2029
10.3.1.8.Rest of Middle East & Africa Methanol Market by Application, Volume (Kilo Tons) and Value (US$ Mn), 2018 - 2029
10.3.2.BPS Analysis/Market Attractiveness Analysis

11. Competitive Landscape
11.1.Product vs Application Heatmap
11.2.Manufacturer vs Application Heatmap
11.3.Company Market Share Analysis, 2021
11.4.Competitive Dashboard
11.5.Company Profiles
11.5.1.Methanex Corporation
11.5.1.1.Company Overview
11.5.1.2.Product Portfolio
11.5.1.3.Financial Overview
11.5.1.4.Business Strategies and Development
11.5.2.Proman AG
11.5.2.1.Company Overview
11.5.2.2.Product Portfolio
11.5.2.3.Financial Overview
11.5.2.4.Business Strategies and Development
11.5.3.SABIC
11.5.3.1.Company Overview
11.5.3.2.Product Portfolio
11.5.3.3.Financial Overview
11.5.3.4.Business Strategies and Development
11.5.4.Yankuang Energy Group Company Limited
11.5.4.1.Company Overview
11.5.4.2.Product Portfolio
11.5.4.3.Financial Overview
11.5.4.4.Business Strategies and Development
11.5.5.Zagros Petrochemical Company
11.5.5.1.Company Overview
11.5.5.2.Product Portfolio
11.5.5.3.Financial Overview
11.5.5.4.Business Strategies and Development
11.5.6.OCI N.V.
11.5.6.1.Company Overview
11.5.6.2.Product Portfolio
11.5.6.3.Financial Overview
11.5.6.4.Business Strategies and Development
11.5.7.PETRONAS Chemicals Group Berhad
11.5.7.1.Company Overview
11.5.7.2.Product Portfolio
11.5.7.3.Financial Overview
11.5.7.4.Business Strategies and Development
11.5.8.Mitsubishi Gas Chemical Company, Inc.
11.5.8.1.Company Overview
11.5.8.2.Product Portfolio
11.5.8.3.Business Strategies and Development
11.5.9.Celanese Corporation
11.5.9.1.Company Overview
11.5.9.2.Product Portfolio
11.5.9.3.Financial Overview
11.5.9.4.Business Strategies and Development
11.5.10.LyondellBasell Industries N.V.
11.5.10.1.Company Overview
11.5.10.2.Product Portfolio
11.5.10.3.Financial Overview
11.5.10.4.Business Strategies and Development
11.5.11.Metafrax Chemicals PAO
11.5.11.1.Company Overview
11.5.11.2.Product Portfolio
11.5.11.3.Financial Overview
11.5.11.4.Business Strategies and Development
11.5.12.Ningxia Baofeng Energy Group Co. Ltd.
11.5.12.1.Company Overview
11.5.12.2.Product Portfolio
11.5.12.3.Financial Overview
11.5.12.4.Business Strategies and Development

12. Appendix
12.1.Research Methodology
12.2.Report Assumptions
12.3.Acronyms and Abbreviations
BASE YEAR

HISTORICAL DATA

FORECAST PERIOD

UNITS

2021

2018 - 2021

2022 - 2029

Value: US$ Mn

Volume: Kilo Tons
REPORT FEATURES

DETAILS

Feedstock Coverage

Natural Gas

Coal

Biomass

Renewable Electricity

Application Coverage

Geographical Coverage

North America

Europe

Germany

France

U.K.

Italy

Spain

Turkey

Russia

Rest of Europe

Asia Pacific

China

Japan

South Korea

India

Southeast Asia

Rest of Asia Pacific

Latin America

Brazil

Mexico

Rest of Latin America

Middle East & Africa

Leading Companies

Methanex Corporation

Proman AG

SABIC

Yankuang Energy Group Company Limited

Zagros Petrochemical Company

OCI N.V.

PETRONAS Chemicals Group Berhad

Mitsubishi Gas Chemical Company, Inc.

Celanese Corporation

LyondellBasell Industries N.V.

Metafrax Chemicals PAO

Ningxia Baofeng Energy Group Co. Ltd.

Report Highlights

Market Estimates and Forecast, Market Dynamics, Industry Trends, Production Output, Trade Statistics, Prices Trend Analysis, Competition Landscape, Feedstock-, Application-, Region-, Country-wise Trends & Analysis, COVID-19 Impact Analysis (Demand and Supply), Key Market Trends