The global micro EV market will rise at a significant CAGR of 12.9% CAGR during the period of assessment 2023 - 2030, reaching a market value of around US$20.8 Bn by the end of 2030.
Market Analysis in Brief
A one- or two-seater mini-electric vehicle (micro EV) is propelled by an electric motor and is fuelled by a small battery pack. Micro EVs are compact electric cars that accommodate one or two people and their belongings. The micro EV market expansion can be due to the rising awareness of environmentally friendly transportation solutions and the global demand for electric vehicles. Favourable government regulations and tax benefits have accelerated the global adoption of micro EVs. To address issues such as high initial investment, and the lack of adequate charging infrastructure, governments worldwide have implemented various laws and incentives to encourage consumers to buy tiny EVs. Increasing transportation demand in developing economies creates a market potential for mini-EVs. They provide people and companies looking for a viable form of travel in congested urban areas with an affordable, efficient, and environmentally friendly option. Although widespread adoption of these cars still has a long way to go due to multiple roadblocks, the potential advantages make it a bright future for development and expansion in the transportation industry.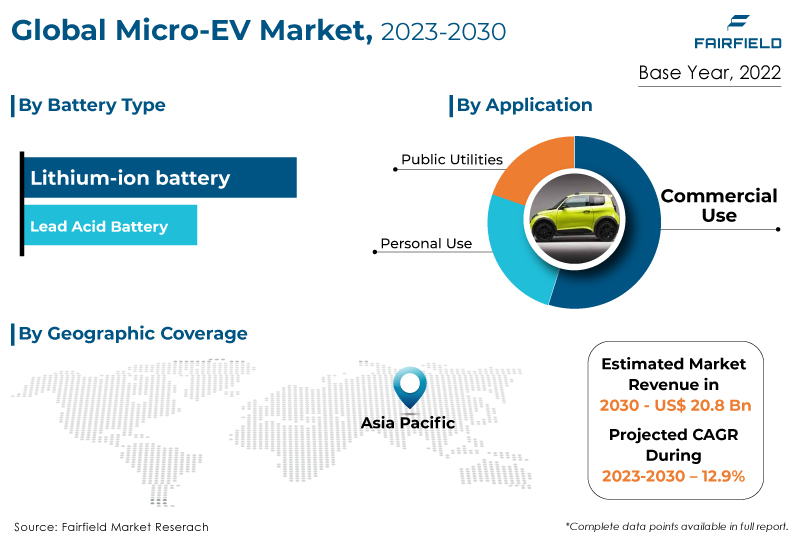 Key Report Findings
The market for micro EVs will demonstrate more than 22x expansion in revenue between 2023 and 2030.
The market growth may result from the increased demand for electric vehicles around the world, and growing awareness of greener transportation options.
The micro EV industry continues to create incessant opportunity for lithium-ion battery.
Commercial use held the largest micro EV market revenue share in 2022.
Asia Pacific will continue to lead its way, whereas North America micro EV market will experience the strongest growth till 2030.
Growth Drivers
Government Policies and Incentives
Numerous governments are enacting legislation and providing incentives to encourage the use of electric vehicles, especially tiny electric ones. Consumers and manufacturers can benefit from tax breaks, refunds, and subsidies. Governments worldwide have adopted a range of policies and incentives to encourage customers to purchase micro EVs to overcome concerns like high initial investment and insufficient EV charging infrastructure. For instance, the UK government announced a 2035 delivery plan in July 2021 and a transport decarbonisation plan. This plan outlines the government's investments and regulations to facilitate the transition to zero-emission vehicles and vans.
In addition, the government released 'Taking Charge: The Electric Car Infrastructure Strategy' in March 2022, which set forth the goal of removing charging infrastructure as a perceived and actual barrier to the adoption of electric vehicles. In addition, the Building Regulations 2010 changes for June 2022 included the provision of charging infrastructure. The US government has also created several subsidies and incentives to encourage the purchase of EVs. For instance, starting on January 1, 2023, the Clean Vehicle Credit (CVC) rule eliminated manufacturer sales restrictions, expanded the list of eligible vehicles to include both electric and fuel cell electric vehicles (FCEV), and mandated that traction batteries must be at least 7 kilowatt-hours (kWh) in size.
Increasing Environmental Awareness
Growing environmental consciousness is one of the key factors propelling the micro EV market. With increased awareness of climate change and environmental degradation, many people seek ways to reduce their carbon footprints. Micro electric vehicles offer a sustainable and pollution-free mode of transportation that reduces reliance on fossil fuels.
In addition, several industrialised and emerging nations have begun implementing plans to phase out automobiles powered by petrol and diesel engines over the next 10 to 30 years. For instance, the European Union resolved in March 2023 to phase out new fossil-fuel automobiles by 2035. Thus, sales of automobiles powered by petrol and diesel will end. These kinds of automobiles will no longer be sold in many other nations as well.
By 2030, a few EU nations, notably Sweden, the Netherlands, and Ireland, intend to switch to zero-emission automobiles. In 2030, new petrol and diesel car sales will be restricted in Singapore, Britain and Israel. With hundreds of companies making cars and abundant state subsidies available, China has assumed the top spot in the production of battery electric vehicles. India expects electric vehicles to account for 30% of all sales by 2030. Chile has plans for 2035 and is a big source of the lithium used in batteries.
Additionally, urban areas can reduce their noise pollution using micro electric vehicles. Electric vehicles are substantially quieter than conventional automobiles, making them ideal for use in congested environments. Furthermore, the advent of shared mobility services, such as car-sharing and bike-sharing, which are becoming more and more popular in cities all over the world, is a reflection of the rising environmental consciousness. As more individuals look for environmentally friendly and sustainable modes of transportation, growing environmental awareness is a key factor influencing the rise in demand for micro electric vehicles.
Market Challenges
Indirect Environmental Impact Caused Due to EVs
A significant obstacle to expanding the worldwide micro EV industry is the indirect environmental pollution caused by power lines that provide electricity for electric vehicles. The indirect consequences of electric vehicles on the environment and people continue to worry the automobile industry. Some automotive specialists and scientists claim that electric automobiles do not directly harm the environment.
Air pollution is caused by energy infrastructure, such as coal-powered power grids. Large amounts of toxic gases are released by power grids that use coal as a fuel source, which results in poor air quality and health issues for people. Manufacturing batteries for electric vehicles has also been shown to pollute the environment.
Additionally, even though battery technology is constantly improving in both technology and manufacturing, concerns about the current coal-powered power networks' detrimental effects on the environment persist. Scientists claim that their pollution is almost as bad as that produced by gasoline-powered automobiles, if not worse. Therefore, during the forecast period, these indirect negative consequences of electric vehicles will restrain the growth of the worldwide micro electric vehicle market.
Overview of Key Segments
Lithium-ion Battery Category Most Attractive
The Li-ion battery category held the largest share of the market in 2022 due to the rising sales and demand for battery-powered cars. However, the market is being constrained by electric vehicles, whose rising sales drive the market. This industry is also driven by tougher emission regulations, improved fuel efficiency, and government incentives. Vehicle sales are rising due to partnerships between battery makers and OEMs. China, Japan, and Singapore are just a few Asian Pacific nations whose governments have eliminated or significantly reduced taxes on electric vehicle purchases.
With rising sales of lithium-ion batteries, these government programmes have encouraged many consumers to purchase electric vehicles. While vehicles powered by internal combustion engines still rule the road, start-stop and micro-hybrid car electrification has already seized a sizeable market share. Nearly 80% of new automobiles in Europe and 75% in the United States are anticipated to be micro-hybrid by 2030, making up about 60% of all new cars globally.
Since lead battery performance has also shown overwhelming improvements over the past decade, the start-stop and micro-hybrid applications have recorded more frequent utilisation of these batteries. The market for micro-hybrid vehicles is also growing quickly due to industrialisation, and technical improvements. Lithium-ion battery demand is expected to increase due to recent breakthroughs, and other factors.
Micro EV Plays a Vital Role in Commercial Use Application Sector
The commercial application category of the micro EV market led in 2022. Increasing government activities and restrictions on decreasing carbon emissions from transportation sources will likely result in significant growth for this market. For instance, as part of its initiatives to lower air pollution and enhance public health, the city of Paris proposed a proposal in 2017 to outlaw the entry of all non-electric vehicles by 2028.
Over the forecast period, such initiatives are anticipated to increase demand for micro EVs in metropolitan areas across different regions. In civil applications like passenger transportation, law enforcement, and firefighting, micro electric vehicles are increasingly employed. Compared to conventional gasoline-powered vehicles, these have many benefits, such as less pollution, less noise, and reduced operating expenses.
Growth Opportunities Across Regions
Asia Pacific Spearheads
The micro EV market will continue to experience the most significant prospects in Asia Pacific. On the back of strongly growing car sales, China occupies a sizeable portion of the market for hybrid automobiles. This might be ascribed to their growing population supporting the rise in vehicle sales and strict government emission standards.
For instance, starting in July 2020, the Chinese government will apply China 6 norms for pollution control in the area, which are stronger than previous China 5 norms and are based on EURO 6 norms. This will help to support the market for micro-hybrid vehicles in the area. Chinese buyers of electric and hybrid vehicles are entitled to several subsidies (tax cuts and incentives). Additionally, the Chinese government unveiled plans to extend tax breaks and subsidies due to expire in 2020 to assist the nation's struggling new energy vehicle (NEV) industry, which the COVID-19 outbreak has severely impacted.
Additionally, the government made vague references to potential new investments that may eventually help the country's hybrid electric vehicle market. The hybrid vehicle market in China has been controlled by automakers like Toyota and Honda, whose models include the Toyota Corolla Hybrid and Honda Accord Hybrid.
In addition, the Indian government has mandated that any automobiles registered on or after April 1st, 2020, must comply with BS-VI. However, dealerships and production facilities were shut down beginning in mid-March due to the COVId-19 outbreak nationwide, which led to the inventory having many BS-IV automobiles. Government officials have extended the deadline. After the nation's lockdown is lifted, this will unquestionably help the market.
North America Develops a Lucrative Market
The market for micro EV across North America will display a significant CAGR over the forecast period. The US and Canada, where there is a high demand for quadricycles, electric golf carts, and mobility vehicles for individuals with impairments, account for most of the market in North America's revenue. Micro electric cars were once called neighborhood electric cars in various US states.
Reducing greenhouse gas emissions and the nation's carbon footprint is a top priority for the US government. To achieve this goal, it has implemented several subsidies and incentives to stimulate the market's demand for micro electric vehicles.
The US government also works on numerous programs to boost the auto sector. More than 50% of intercity drives, according to statistics, last less than 15 minutes, which speaks something about driving patterns in the area. For such driving areas, micro EV-like neighbourhood electric vehicles-represent an appropriate source of transportation. These elements are causing the demand for tiny electric vehicles in the area to increase.
Micro EV Market: Competitive Landscape
Some of the leading players at the forefront in the micro EV market space include Polaris Inc., Club Car, Italcar Industrial S.r.l., Micro Mobility Systems Ltd., Zhejiang Geely Holding Group Co., Ltd., SAIC-GM-Wuling, Toyota Motor Corporation, Stellantis N.V., and Eli Electric Vehicles.
Recent Notable Developments
In April 2023, Cenntro Electric Group Limited a leading EV technology company launched a new vehicle product line 'Avantier', a electric micro-cars intended for urban use in Europe and Central America.
In November 2022, PMV Electric, an India-based electric vehicle manufacturer launched 'Eas-E', the country's most affordable electric four wheeler. The higher trims of the car feature bigger battery packs and offer 160 - 200 Km ranges per charge.
The Global Micro EV Market is Segmented as Below:
By Battery Type
Lead Acid Battery
Lithium-ion Battery
By Application
Commercial Use
Personal Use
Public Utilities
By Geographic Coverage
North America
Europe

Germany
U.K.
France
Italy
Russia
Rest of Europe

Asia Pacific

Japan
China
India
South Korea
Southeast Asia
Rest of Asia Pacific

Latin America

Brazil
Mexico
Rest of Latin America

Middle East and Africa

GCC
Rest of Middle East & Africa
Leading Companies
Micro Mobility Systems Ltd.
Zhejiang Geely Holding Group Co., Ltd.
SAIC-GM-Wuling
Toyota Motor Corporation
Stellantis N.V.
Italcar Industrial S.r.l.
Eli Electric Vehicles
Polaris Inc.
PMV Electric
Wink Motors Inc.
Waev Inc.
Club Car
Cenntro Electric Group Limited
CEVO Mobility Corp.
Siticars
1. Executive Summary
1.1. Global Micro EV Market Snapshot
1.2. Future Projections
1.3. Key Market Trends
1.4. Regional Snapshot, by Value, 2022
1.5. Analyst Recommendations

2. Market Overview
2.1. Market Definitions and Segmentations
2.2. Market Dynamics
2.2.1. Drivers
2.2.2. Restraints
2.2.3. Market Opportunities
2.3. Value Chain Analysis
2.4. Porter's Five Forces Analysis
2.5. Covid-19 Impact Analysis
2.5.1. Supply
2.5.2. Demand
2.6. Impact of Ukraine-Russia Conflict
2.7. Global Electric Vehicle Market - Overview
2.8. Economic Overview
2.8.1. World Economic Projections
2.9. PESTLE Analysis

3. Production Output and Trade Statistics
3.1. Global Micro EV Production, 2018 - 2022
3.1.1. North America
3.1.2. Europe
3.1.3. Asia Pacific
3.1.4. Rest of the World

4. Price Trends Analysis and Future Projects, 2018 - 2030
4.1. Global Average Price Analysis, by Powertrain, US$ per Unit
4.2. Prominent Factors Affecting Electric and Fuel Cell Truck Prices
4.3. Global Average Price Analysis, by Region, US$ per Units


5. Global Micro EV Market Outlook, 2018 - 2030
5.1. Global Micro EV Market Outlook, by Battery Type, Value (US$ Mn), 2018 - 2030
5.1.1. Key Highlights
5.1.1.1. Lead Acid Battery
5.1.1.2. Lithium-Ion Battery
5.2. Global Micro EV Market Outlook, by Applications, Value (US$ Mn), 2018 - 2030
5.2.1. Key Highlights
5.2.1.1. Commercial Use
5.2.1.2. Personal Use
5.2.1.3. Public Utilities
5.3. Global Micro EV Market Outlook, by Region, Value (US$ Mn), 2018 - 2030
5.3.1. Key Highlights
5.3.1.1. North America
5.3.1.2. Europe
5.3.1.3. Asia Pacific
5.3.1.4. Latin America
5.3.1.5. Middle East & Africa

6. North America Micro EV Market Outlook, 2018 - 2030
6.1. North America Micro EV Market Outlook, by Battery Type, Value (US$ Mn), 2018 - 2030
6.1.1. Key Highlights
6.1.1.1. Lead Acid Battery
6.1.1.2. Lithium-Ion Battery
6.2. North America Micro EV Market Outlook, by Applications, Value (US$ Mn), 2018 - 2030
6.2.1. Key Highlights
6.2.1.1. Commercial Use
6.2.1.2. Personal Use
6.2.1.3. Public Utilities
6.2.2. Market Attractiveness Analysis
6.3. North America Micro EV Market Outlook, by Country, Value (US$ Mn), 2018 - 2030
6.3.1. Key Highlights
6.3.1.1. U.S. Micro EV Market by Battery Type, Value (US$ Mn), 2018 - 2030
6.3.1.2. U.S. Micro EV Market Application, Value (US$ Mn), 2018 - 2030
6.3.1.3. Canada Micro EV Market by Battery Type, Value (US$ Mn), 2018 - 2030
6.3.1.4. Canada Micro EV Market Application, Value (US$ Mn), 2018 - 2030
6.3.2. BPS Analysis/Market Attractiveness Analysis

7. Europe Micro EV Market Outlook, 2018 - 2030
7.1. Europe Micro EV Market Outlook, by Battery Type, Value (US$ Mn), 2018 - 2030
7.1.1. Key Highlights
7.1.1.1. Lead Acid Battery
7.1.1.2. Lithium-Ion Battery
7.2. Europe Micro EV Market Outlook, by Applications, Value (US$ Mn), 2018 - 2030
7.2.1. Key Highlights
7.2.1.1. Commercial Use
7.2.1.2. Personal Use
7.2.1.3. Public Utilities
7.2.2. BPS Analysis/Market Attractiveness Analysis
7.3. Europe Micro EV Market Outlook, by Country, Value (US$ Mn), 2018 - 2030
7.3.1. Key Highlights
7.3.1.1. Germany Micro EV Market by Battery Type, Value (US$ Mn), 2018 - 2030
7.3.1.2. Germany Micro EV Market Application, Value (US$ Mn), 2018 - 2030
7.3.1.3. U.K. Micro EV Market by Battery Type, Value (US$ Mn), 2018 - 2030
7.3.1.4. U.K. Micro EV Market Application, Value (US$ Mn), 2018 - 2030
7.3.1.5. France Micro EV Market by Battery Type, Value (US$ Mn), 2018 - 2030
7.3.1.6. France Micro EV Market Application, Value (US$ Mn), 2018 - 2030
7.3.1.7. Italy Micro EV Market by Battery Type, Value (US$ Mn), 2018 - 2030
7.3.1.8. Italy Micro EV Market Application, Value (US$ Mn), 2018 - 2030
7.3.1.9. Turkey Micro EV Market by Battery Type, Value (US$ Mn), 2018 - 2030
7.3.1.10. Turkey Micro EV Market Application, Value (US$ Mn), 2018 - 2030
7.3.1.11. Russia Micro EV Market by Battery Type, Value (US$ Mn), 2018 - 2030
7.3.1.12. Russia Micro EV Market Application, Value (US$ Mn), 2018 - 2030
7.3.1.13. Rest of Europe Micro EV Market by Battery Type, Value (US$ Mn), 2018 - 2030
7.3.1.14. Rest of Europe Micro EV Market Application, Value (US$ Mn), 2018 - 2030
7.3.2. BPS Analysis/Market Attractiveness Analysis

8. Asia Pacific Micro EV Market Outlook, 2018 - 2030
8.1. Asia Pacific Micro EV Market Outlook, by Battery Type, Value (US$ Mn), 2018 - 2030
8.1.1. Key Highlights
8.1.1.1. Lead Acid Battery
8.1.1.2. Lithium-Ion Battery
8.2. Asia Pacific Micro EV Market Outlook, by Applications, Value (US$ Mn), 2018 - 2030
8.2.1. Key Highlights
8.2.1.1. Commercial Use
8.2.1.2. Personal Use
8.2.1.3. Public Utilities
8.2.2. BPS Analysis/Market Attractiveness Analysis
8.3. Asia Pacific Micro EV Market Outlook, by Country, Value (US$ Mn), 2018 - 2030
8.3.1. Key Highlights
8.3.1.1. China Micro EV Market by Battery Type, Value (US$ Mn), 2018 - 2030
8.3.1.2. China Micro EV Market Application, Value (US$ Mn), 2018 - 2030
8.3.1.3. Japan Micro EV Market by Battery Type, Value (US$ Mn), 2018 - 2030
8.3.1.4. Japan Micro EV Market Application, Value (US$ Mn), 2018 - 2030
8.3.1.5. South Korea Micro EV Market by Battery Type, Value (US$ Mn), 2018 - 2030
8.3.1.6. South Korea Micro EV Market Application, Value (US$ Mn), 2018 - 2030
8.3.1.7. India Micro EV Market by Battery Type, Value (US$ Mn), 2018 - 2030
8.3.1.8. India Micro EV Market Application, Value (US$ Mn), 2018 - 2030
8.3.1.9. Southeast Asia Micro EV Market by Battery Type, Value (US$ Mn), 2018 - 2030
8.3.1.10. Southeast Asia Micro EV Market Application, Value (US$ Mn), 2018 - 2030
8.3.1.11. Rest of Asia Pacific Micro EV Market by Battery Type, Value (US$ Mn), 2018 - 2030
8.3.1.12. Rest of Asia Pacific Micro EV Market Application, Value (US$ Mn), 2018 - 2030
8.3.2. BPS Analysis/Market Attractiveness Analysis

9. Latin America Micro EV Market Outlook, 2018 - 2030
9.1. Latin America Micro EV Market Outlook, by Battery Type, Value (US$ Mn), 2018 - 2030
9.1.1. Key Highlights
9.1.1.1. Lead Acid Battery
9.1.1.2. Lithium-Ion Battery
9.2. Latin America Micro EV Market Outlook, by Applications, Value (US$ Mn), 2018 - 2030
9.2.1. Key Highlights
9.2.1.1. Commercial Use
9.2.1.2. Personal Use
9.2.1.3. Public Utilities
9.2.2. BPS Analysis/Market Attractiveness Analysis
9.3. Latin America Micro EV Market Outlook, by Country, Value (US$ Mn), 2018 - 2030
9.3.1. Key Highlights
9.3.1.1. Brazil Micro EV Market by Battery Type, Value (US$ Mn), 2018 - 2030
9.3.1.2. Brazil Micro EV Market Application, Value (US$ Mn), 2018 - 2030
9.3.1.3. Mexico Micro EV Market by Battery Type, Value (US$ Mn), 2018 - 2030
9.3.1.4. Mexico Micro EV Market Application, Value (US$ Mn), 2018 - 2030
9.3.1.5. Rest of Latin America Micro EV Market by Battery Type, Value (US$ Mn), 2018 - 2030
9.3.1.6. Rest of Latin America Micro EV Market Application, Value (US$ Mn), 2018 - 2030
9.3.2. BPS Analysis/Market Attractiveness Analysis

10. Middle East & Africa Micro EV Market Outlook, 2018 - 2030
10.1. Middle East & Africa Micro EV Market Outlook, by Battery Type, Value (US$ Mn), 2018 - 2030
10.1.1. Key Highlights
10.1.1.1. Lead Acid Battery
10.1.1.2. Lithium-Ion Battery
10.2. Middle East & Africa Micro EV Market Outlook, by Applications, Value (US$ Mn), 2018 - 2030
10.2.1. Key Highlights
10.2.1.1. Commercial Use
10.2.1.2. Personal Use
10.2.1.3. Public Utilities
10.2.2. BPS Analysis/Market Attractiveness Analysis
10.3. Middle East & Africa Micro EV Market Outlook, by Country, Value (US$ Mn), 2018 - 2030
10.3.1. Key Highlights
10.3.1.1. GCC Micro EV Market by Battery Type, Value (US$ Mn), 2018 - 2030
10.3.1.2. GCC Micro EV Market Application, Value (US$ Mn), 2018 - 2030
10.3.1.3. Rest of Middle East & Africa Micro EV Market by Battery Type, Value (US$ Mn), 2018 - 2030
10.3.1.4. Rest of Middle East & Africa Micro EV Market Application, Value (US$ Mn), 2018 - 2030
10.3.2. BPS Analysis/Market Attractiveness Analysis

11. Competitive Landscape
11.1. Product vs Application Heatmap
11.2. Manufacturer vs Application Heatmap
11.3. Company Market Share Analysis, 2022
11.4. Competitive Dashboard
11.5. Company Profiles
11.5.1. Micro Mobility Systems Ltd.
11.5.1.1. Company Overview
11.5.1.2. Product Portfolio
11.5.1.3. Financial Overview
11.5.1.4. Business Strategies and Development
11.5.2. Polaris Inc.
11.5.2.1. Company Overview
11.5.2.2. Product Portfolio
11.5.2.3. Financial Overview
11.5.2.4. Business Strategies and Development
11.5.3. Club Car
11.5.3.1. Company Overview
11.5.3.2. Product Portfolio
11.5.3.3. Financial Overview
11.5.3.4. Business Strategies and Development
11.5.4. SAIC-GM-Wuling
11.5.4.1. Company Overview
11.5.4.2. Product Portfolio
11.5.4.3. Financial Overview
11.5.4.4. Business Strategies and Development
11.5.5. Italcar Industrial S.r.l.
11.5.5.1. Company Overview
11.5.5.2. Product Portfolio
11.5.5.3. Financial Overview
11.5.5.4. Business Strategies and Development
11.5.6. Stellantis N.V.
11.5.6.1. Company Overview
11.5.6.2. Product Portfolio
11.5.6.3. Financial Overview
11.5.6.4. Business Strategies and Development
11.5.7. Eli Electric Vehicles
11.5.7.1. Company Overview
11.5.7.2. Product Portfolio
11.5.7.3. Financial Overview
11.5.7.4. Business Strategies and Development
11.5.8. Toyota Motor Corporation
11.5.8.1. Company Overview
11.5.8.2. Product Portfolio
11.5.8.3. Financial Overview
11.5.8.4. Business Strategies and Development
11.5.9. Zhejiang Geely Holding Group Co., Ltd.
11.5.9.1. Company Overview
11.5.9.2. Product Portfolio
11.5.9.3. Financial Overview
11.5.9.4. Business Strategies and Development
11.5.10. PMV Electric
11.5.10.1. Company Overview
11.5.10.2. Product Portfolio
11.5.10.3. Financial Overview
11.5.10.4. Business Strategies and Development
11.5.11. Wink Motors Inc.
11.5.11.1. Company Overview
11.5.11.2. Product Portfolio
11.5.11.3. Financial Overview
11.5.11.4. Business Strategies and Development
11.5.12. Waev Inc.
11.5.12.1. Company Overview
11.5.12.2. Product Portfolio
11.5.12.3. Financial Overview
11.5.12.4. Business Strategies and Development
11.5.13. CEVO Mobility Corp.
11.5.13.1. Company Overview
11.5.13.2. Product Portfolio
11.5.13.3. Financial Overview
11.5.13.4. Business Strategies and Development
11.5.14. Cenntro Electric Group Limited
11.5.14.1. Company Overview
11.5.14.2. Product Portfolio
11.5.14.3. Financial Overview
11.5.14.4. Business Strategies and Development
11.5.15. Siticars
11.5.15.1. Company Overview
11.5.15.2. Product Portfolio
11.5.15.3. Financial Overview
11.5.15.4. Business Strategies and Development
12. Appendix
12.1. Research Methodology
12.2. Report Assumptions
12.3. Acronyms and Abbreviations
BASE YEAR

HISTORICAL DATA

FORECAST PERIOD

UNITS

2022

2018 - 2022

2023 - 2030

Value: US$ Million Volume: Million Tons
REPORT FEATURES

DETAILS

Battery Type Coverage

Lead Acid Battery
Lithium-ion Battery

Application Coverage

Commercial Use

Personal Use

Public Utilities

Geographical Coverage

Europe

United Kingdom

Germany

France

Italy

Russia

Rest of Europe

Asia Pacific

Japan

China

South Korea

India

Southeast Asia

Rest of Asia Pacific

Latin America

Brazil

Mexico

Rest of Latin America

Middle East and Africa

Leading Companies

Micro Mobility Systems Ltd.

Zhejiang Geely Holding Group Co., Ltd.

SAIC-GM-Wuling

Toyota Motor Corporation

Stellantis N.V.

Italcar Industrial S.r.l.

Eli Electric Vehicles

Polaris Inc.

PMV Electric

Wink Motors Inc.

Waev Inc.

Club Car

Cenntro Electric Group Limited

CEVO Mobility Corp.

Siticars

Report Highlights

Key Market Indicators, Macro-micro economic impact analysis, Technological Roadmap, Key Trends, Driver, Restraints, and Future Opportunities & Revenue Pockets, Porter's 5 Forces Analysis, Historical Trend (2019-2021), Price Trend Analysis, Market Estimates and Forecast, Market Dynamics, Industry Trends, Competition Landscape, Category, Region, Country-wise Trends & Analysis, COVID-19 Impact Analysis (Demand and Supply Chain)