The global micro-LED displays market will rise at a significant pace of a whopping 75% CAGR during the period of assessment 2023 - 2030, reaching a market value of around US$25.8 Bn by the end of 2030.
Market Analysis in Brief
A screen with tiny micro-light emitting diodes (LEDs) of various colours placed in an array is referred to as an LED display. It is made using gallium nitride that enables the scattering of RGB LED lights to shine brighter for longer. It delivers high wavelength uniformity, greater brightness, ultra-high definition (UHD) picture quality, and enhanced colour saturation. One of the main variables that favourably influence the market performance is the rise in individual discretionary income levels, and improving living standards. Additionally, the demand for consumer electronics is rising, and customer expectations are inclined more toward bright, energy-efficient display panels for high-quality energy-efficient lighting and low maintenance and energy costs.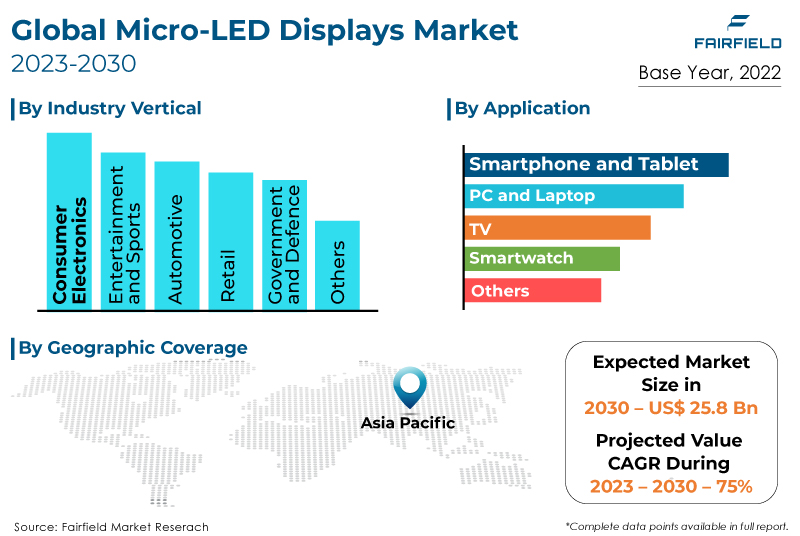 The market for micro-LED displays is currently supported by government programs to stimulate electronic manufacturing. Accordingly, due to their low power consumption traits, micro-LEDs are attracting much attention in the visible light communication (VLC) industry for marine exploration and underwater connectivity, providing manufacturers of micro-LED with significant growth potential. Furthermore, to address the expensive and complex production processes, top manufacturers are heavily spending on R&D activities. They also focus on miniaturising and reducing inspection and maintenance time to increase production yield. Highly efficient micro-LEDs ideal for augmented reality (AR), and virtual reality (VR) are expected to fuel the market.
Key Report Findings
The market for micro-LED displays will demonstrate more than 3x expansion in revenue over the decade, i.e., between 2023 and 2030.
The factors such as the rising demand for brilliant, power-efficient display panels, and the growing preference of major electronic companies for micro-LED technology will drive the market ahead.
The micro-LED displays industry experiences higher demand for smartphone and tablet applications.
Consumer electronics held the highest micro-LED displays market revenue share in 2022.
Asia Pacific will continue to lead, whereas North America micro-LED displays market will experience the strongest growth till 2030.
Growth Drivers
Shooting Demand for More Appealing and Stronger Display Panels
The consumer electronics sector is one of the fastest-expanding economies in the world due to the rapid advancement and accessibility of new technologies. To suit customer needs, technology is developing quickly, which will open new business options. Due to rising per capita disposable income, rapid population expansion, and Internet penetration, smartphones and laptops are among the popular consumer products in both developed and developing nations. Significant technological advancements is becoming more prevalent in many economies further boosting the growth of the micro-LED displays market.
Mobile phones, desktop monitors, TVs, tablets, data projectors, and other devices for AR and VR are just a few of the numerous applications of display technology. To satisfy consumer demand for technologically complex products, electronic displays must be enhanced. The most popular flat panel displays are organic light-emitting diode (OLED), and liquid crystal (LCD). Cathode ray tubes (CRTs), which were large and heavy, have been replaced as LCDs' predominant technology since the 2000s.
Rocketing Sales of High-end Smartphones
Micro-LED displays are used in various devices, including AR/VR headsets, primary displays for fitness bands, smartphones, tablets, IT displays, smartwatches, and, of course, TVs and even larger-area format displays. The first commonly utilised display applications are for augmented reality, small primary displays (such as fitness bands, and automobile HVAC screens), and large-area TVs.
Micro-LED displays have a lot of potential because the technology offers emissive displays with performance comparable to OLED displays and enhanced brightness and efficiency. OLEDs eventually lose brightness due to their organic components, which causes deterioration and lower image quality. Micro-LED resist burn-in, a problem with OLED displays when the same image is displayed for an extended period. The technology is providing better brightness, colour gamut, and dynamic range. It also provides a faster update rate and a wider field of view.
Market Challenges
Cyclical Nature of Semiconductor Sector
One of the issues restraining the growth of the micro-LED display market is the cyclical nature of the semiconductor sector. Changes in demand for electronic items such as consumer and mobile devices can result in an excess or undersupply of semiconductor integrated circuits. Meanwhile, vendors may make products based on customer demand projections, which may vary dramatically. Such variations may result in high inventory and manufacturing expenses before real sales.
Vendors would thus demand a large amount of working capital to cover these charges. Incorrect projections or cancellations of product orders can also have a negative impact on vendors' operational costs, which can be a big deterrent for vendors in the micro-LED displays market.
Overview of Key Segments
Smartphone and Tablet Category Prominent Segment
The smartphone and tablet category held the largest share of the market in 2022. Increasing R&D spending and increased disposable income of customers worldwide are the primary drivers driving revenue growth in this market. Furthermore, major smartphone and tablet makers invest heavily in developing innovative products to meet shifting consumer tastes. Companies also invest in establishing their application processor to increase profit margins. For instance, on November 10, 2020, Apple Inc., a leading producer of smartphones and tablets, developed its application processor that will be integrated into all its products. This has significantly increased company revenues and allowed them to compete more effectively in the worldwide market.
Micro-LED display technology is preferred by smartphone and tablet manufacturers because it improves user experience by providing better and enhanced picture quality. Because these displays use individual LEDs, they have a high brightness and contrast level. Furthermore, smartphone and tablet makers are rapidly choosing this display technology because of the inclusion of inorganic chemicals, which provide superior brightness and have a longer lifespan than other display technologies.
Micro-LED Displays Play a Vital Role in Consumer Electronics Industry Vertical
The consumer electronics category in application for Micro-led the market in 2022. Increasing government initiatives in many nations is a key factor driving revenue growth in this segment. Furthermore, developing smart and user-friendly household appliances has accelerated the global expansion of consumer electronics.
Governments worldwide are investing heavily and pursuing measures to boost their economies. For instance, the Government of India issued its National Electronics Policy in 2018, intending to reach a domestic electronics manufacturing turnover of around US$400 Bn by 2025. As a result, high-end technologies such as Fifth Generation (5G), Internet of Things (IoT), Artificial Intelligence (AI), and Machine Learning (ML) have demonstrated widespread adoption in the country.
Furthermore, people are increasingly requesting eco-friendly LED backlights in electronic devices, as these improve display qualities and make products more energy efficient. Experts in the consumer electronics business are increasingly using micro-LED displays due to various advantages. The technology is used in consumer items such as smartphones and televisions to increase picture quality and provide customers with a more immersive experience. Micro-LED displays are built of gallium nitride (GaN), dramatically boosting display longevity.
Growth Opportunities Across Regions
Asia Pacific Captures a Commanding Revenue Share
The micro-LED displays market will continue to dominate in Asia Pacific owing to rapid technical improvements in the electronics industry. Furthermore, big electronics businesses such as LG Electronics, Samsung Electronics, and others are spending heavily on expanding their production capacity. These companies are working on products that use micro-LED screens to provide users with a more immersive experience. LG Electronics, for instance, has announced plans to launch a new line of screens called XLED, SLED, and XLLED.
Due to the presence of many display manufacturers such as Konka, Refond, and others, the market in China accounted for the biggest revenue share. These companies are investing in and aiming to create micro-LED display solutions to provide potential customers with a more realistic viewing experience. Furthermore, the Government of these respective countries has adopted various initiatives to boost the growth of their manufacturing sectors. For instance, Chinese LED chip producer Sanan Optoelectronics claimed in December 2019 that the firm got local government subsidies for its Micro-LED project, which began in 2019 based on its US$1.7 Bn investment in Hubei Province, China.
North America Holds Ample Opportunity
The market for micro-LED displays across North America will display a significant CAGR over the forecast period. Rising smartphone penetration and customer desire for new electronic items drive market revenue growth in this region. Because of large corporations and the country's quick adoption of smart home appliances, the United States accounts for the bulk of total regional demand.
Furthermore, prominent firms such as LG Electronics, and others are expected to offer various smart feature-enabled consumer products in the United States to capitalise on growth prospects and expand demand for sophisticated display technology in the region. In addition, these companies are forming trade alliances and producing flexible mini-LED and micro-LED lighting technologies for the automobile industries.
Micro-LED Displays Market: Competitive Landscape
Some of the leading players at the forefront in the micro-LED displays market space include VueReal, Samsung Electronics Co. Ltd., eLux Inc., Glo AB, Aledia, Sony Corporation, LG Display, Apple Inc., PlayNitride Inc., and Rohinni LLC.
Recent Notable Developments
In February 2022, Taiwan-based Bolite Optoelectronics, based in Hsinchu, developed a highly customizable laser-based, automated side-wiring system that manages wrap-around wires on display panel sides, enabling a smooth and efficient connection between micro LEDs and Integrated Circuit (IC). Furthermore, it supports a variety of panel sizes and offers high-precision alignment. In addition, the business asserted that its new solution would help display producers meet worldwide demand for thin-bezel displays and aid in commercialising big, flawlessly tiled micro-LED panels.
In January 2023, Samsung Electronics launched SmartThings Station, a low-cost and user-friendly hub for smart homes that also functions as a rapid charging station. As the smart home sector grows, users will require dependable, user-friendly means to connect an expanding number of devices. SmartThings Station delivers quick setup and interoperability with smart home goods, including Matter devices, with the convenience of use that users expect from Samsung.
In February 2023, Porotech created DynamicPixelTuning (DPT) for micro-LEDs using their patented PoroGaN material, allowing a single micro-LED chip to produce any visible colour from a single pixel, even dazzling white light.
The Global Micro-LED Displays Market is Segmented as Below:
By Product
Micro Display
Large scale Display
Small and Medium-sized Display
By Application
Smartphone and Tablet
PC and Laptop
TV
Smartwatch
Others
By Industry Vertical
Consumer Electronics
Entertainment and Sports
Automotive
Retail
Government and Defence
Others
By Geographic Coverage
North America
Europe

United Kingdom
Germany
France
Italy
Spain
Rest of Europe

Asia Pacific

Japan
China
India
South Korea
Southeast Asia
Rest of Asia Pacific

Latin America

Brazil
Mexico
Rest of Latin America

Middle East and Africa

GCC
South Africa
Rest of Middle East and Africa
Leading Companies
VueReal
Samsung Electronics Co. Ltd.
eLux Inc.
Glo AB
Aledia
Sony Corporation
LG Display
Apple Inc.
PlayNitride Inc.
Rohinni LLC
1. Executive Summary
1.1. Global Micro-LED Displays Market Snapshot
1.2. Future Projections
1.3. Key Market Trends
1.4. Regional Snapshot, by Value, 2022
1.5. Analyst Recommendations

2. Market Overview
2.1. Market Definitions and Segmentations
2.2. Market Dynamics
2.2.1. Drivers
2.2.2. Restraints
2.2.3. Market Opportunities
2.3. Value Chain Analysis
2.4. Porter's Five Forces Analysis
2.5. Covid-19 Impact Analysis
2.5.1. Supply
2.5.2. Demand
2.6. Impact of Ukraine-Russia Conflict
2.7. Economic Overview
2.7.1. World Economic Projections
2.8. PESTLE Analysis

3. Global Micro-LED Displays Market Outlook, 2018 - 2030
3.1. Global Micro-LED Displays Market Outlook, by Product Type, Value (US$ Bn), 2018 - 2030
3.1.1. Key Highlights
3.1.1.1. Micro Display
3.1.1.2. Large scale Display
3.1.1.3. Small and Medium-sized Display
3.2. Global Micro-LED Displays Market Outlook, by Application, Value (US$ Bn), 2018 - 2030
3.2.1. Key Highlights
3.2.1.1. Smartphone and Tablet
3.2.1.2. PC and Laptop
3.2.1.3. TV
3.2.1.4. Smartwatch
3.2.1.5. Others
3.3. Global Micro-LED Displays Market Outlook, by Industry Vertical, Value (US$ Bn), 2018 - 2030
3.3.1. Key Highlights
3.3.1.1. Consumer Electronics
3.3.1.2. Entertainment and Sports
3.3.1.3. Automotive
3.3.1.4. Retail
3.3.1.5. Government and Defence
3.3.1.6. Others
3.4. Global Micro-LED Displays Market Outlook, by Region, Value (US$ Bn), 2018 - 2030
3.4.1. Key Highlights
3.4.1.1. North America
3.4.1.2. Europe
3.4.1.3. Asia Pacific
3.4.1.4. Latin America
3.4.1.5. Middle East & Africa

4. North America Micro-LED Displays Market Outlook, 2018 - 2030
4.1. North America Micro-LED Displays Market Outlook, by Product Type, Value (US$ Bn), 2018 - 2030
4.1.1. Key Highlights
4.1.1.1. Micro Display
4.1.1.2. Large scale Display
4.1.1.3. Small and Medium-sized Display
4.2. North America Micro-LED Displays Market Outlook, by Application, Value (US$ Bn), 2018 - 2030
4.2.1. Key Highlights
4.2.1.1. Smartphone and Tablet
4.2.1.2. PC and Laptop
4.2.1.3. TV
4.2.1.4. Smartwatch
4.2.1.5. Others
4.3. North America Micro-LED Displays Market Outlook, by Industry Vertical, Value (US$ Bn), 2018 - 2030
4.3.1. Key Highlights
4.3.1.1. Consumer Electronics
4.3.1.2. Entertainment and Sports
4.3.1.3. Automotive
4.3.1.4. Retail
4.3.1.5. Government and Defense
4.3.1.6. Others
4.3.2. Market Attractiveness Analysis
4.4. North America Micro-LED Displays Market Outlook, by Country, Value (US$ Bn), 2018 - 2030
4.4.1. Key Highlights
4.4.1.1. U.S. Micro-LED Displays Market by Product Type, Value (US$ Bn), 2018 - 2030
4.4.1.2. U.S. Micro-LED Displays Market Application, Value (US$ Bn), 2018 - 2030
4.4.1.3. U.S. Micro-LED Displays Market Industry Vertical, Value (US$ Bn), 2018 - 2030
4.4.1.4. Canada Micro-LED Displays Market by Product Type, Value (US$ Bn), 2018 - 2030
4.4.1.5. Canada Micro-LED Displays Market Application, Value (US$ Bn), 2018 - 2030
4.4.1.6. Canada Micro-LED Displays Market Industry Vertical, Value (US$ Bn), 2018 - 2030
4.4.2. BPS Analysis/Market Attractiveness Analysis

5. Europe Micro-LED Displays Market Outlook, 2018 - 2030
5.1. Europe Micro-LED Displays Market Outlook, by Product Type, Value (US$ Bn), 2018 - 2030
5.1.1. Key Highlights
5.1.1.1. Micro Display
5.1.1.2. Large scale Display
5.1.1.3. Small and Medium-sized Display
5.2. Europe Micro-LED Displays Market Outlook, by Application, Value (US$ Bn), 2018 - 2030
5.2.1. Key Highlights
5.2.1.1. Smartphone and Tablet
5.2.1.2. PC and Laptop
5.2.1.3. TV
5.2.1.4. Smartwatch
5.2.1.5. Others
5.3. Europe Micro-LED Displays Market Outlook, by Industry Vertical, Value (US$ Bn), 2018 - 2030
5.3.1. Key Highlights
5.3.1.1. Consumer Electronics
5.3.1.2. Entertainment and Sports
5.3.1.3. Automotive
5.3.1.4. Retail
5.3.1.5. Government and Defence
5.3.1.6. Others
5.3.2. BPS Analysis/Market Attractiveness Analysis
5.4. Europe Micro-LED Displays Market Outlook, by Country, Value (US$ Bn), 2018 - 2030
5.4.1. Key Highlights
5.4.1.1. Germany Micro-LED Displays Market by Product Type, Value (US$ Bn), 2018 - 2030
5.4.1.2. Germany Micro-LED Displays Market Application, Value (US$ Bn), 2018 - 2030
5.4.1.3. Germany Micro-LED Displays Market Industry Vertical, Value (US$ Bn), 2018 - 2030
5.4.1.4. U.K. Micro-LED Displays Market by Product Type, Value (US$ Bn), 2018 - 2030
5.4.1.5. U.K. Micro-LED Displays Market Application, Value (US$ Bn), 2018 - 2030
5.4.1.6. U.K. Micro-LED Displays Market Industry Vertical, Value (US$ Bn), 2018 - 2030
5.4.1.7. France Micro-LED Displays Market by Product Type, Value (US$ Bn), 2018 - 2030
5.4.1.8. France Micro-LED Displays Market Application, Value (US$ Bn), 2018 - 2030
5.4.1.9. France Micro-LED Displays Market Industry Vertical, Value (US$ Bn), 2018 - 2030
5.4.1.10. Italy Micro-LED Displays Market by Product Type, Value (US$ Bn), 2018 - 2030
5.4.1.11. Italy Micro-LED Displays Market Application, Value (US$ Bn), 2018 - 2030
5.4.1.12. Italy Micro-LED Displays Market Industry Vertical, Value (US$ Bn), 2018 - 2030
5.4.1.13. Spain Micro-LED Displays Market by Product Type, Value (US$ Bn), 2018 - 2030
5.4.1.14. Spain Micro-LED Displays Market Application, Value (US$ Bn), 2018 - 2030
5.4.1.15. Spain Micro-LED Displays Market Industry Vertical, Value (US$ Bn), 2018 - 2030
5.4.1.16. Russia Micro-LED Displays Market by Product Type, Value (US$ Bn), 2018 - 2030
5.4.1.17. Russia Micro-LED Displays Market Application, Value (US$ Bn), 2018 - 2030
5.4.1.18. Russia Micro-LED Displays Market Industry Vertical, Value (US$ Bn), 2018 - 2030
5.4.1.19. Rest of Europe Micro-LED Displays Market by Product Type, Value (US$ Bn), 2018 - 2030
5.4.1.20. Rest of Europe Micro-LED Displays Market Application, Value (US$ Bn), 2018 - 2030
5.4.1.21. Rest of Europe Micro-LED Displays Market Industry Vertical, Value (US$ Bn), 2018 - 2030
5.4.2. BPS Analysis/Market Attractiveness Analysis


6. Asia Pacific Micro-LED Displays Market Outlook, 2018 - 2030
6.1. Asia Pacific Micro-LED Displays Market Outlook, by Product Type, Value (US$ Bn), 2018 - 2030
6.1.1. Key Highlights
6.1.1.1. Micro Display
6.1.1.2. Large scale Display
6.1.1.3. Small and Medium-sized Display
6.2. Asia Pacific Micro-LED Displays Market Outlook, by Application, Value (US$ Bn), 2018 - 2030
6.2.1. Key Highlights
6.2.1.1. Smartphone and Tablet
6.2.1.2. PC and Laptop
6.2.1.3. TV
6.2.1.4. Smartwatch
6.2.1.5. Others
6.3. Asia Pacific Micro-LED Displays Market Outlook, by Industry Vertical, Value (US$ Bn), 2018 - 2030
6.3.1. Key Highlights
6.3.1.1. Consumer Electronics
6.3.1.2. Entertainment and Sports
6.3.1.3. Automotive
6.3.1.4. Retail
6.3.1.5. Government and Defense
6.3.1.6. Others
6.3.2. BPS Analysis/Market Attractiveness Analysis
6.4. Asia Pacific Micro-LED Displays Market Outlook, by Country, Value (US$ Bn), 2018 - 2030
6.4.1. Key Highlights
6.4.1.1. China Micro-LED Displays Market by Product Type, Value (US$ Bn), 2018 - 2030
6.4.1.2. China Micro-LED Displays Market Application, Value (US$ Bn), 2018 - 2030
6.4.1.3. China Micro-LED Displays Market Industry Vertical, Value (US$ Bn), 2018 - 2030
6.4.1.4. Japan Micro-LED Displays Market by Product Type, Value (US$ Bn), 2018 - 2030
6.4.1.5. Japan Micro-LED Displays Market by Application, Value (US$ Bn), 2018 - 2030
6.4.1.6. Japan Micro-LED Displays Market by Industry Vertical, Value (US$ Bn), 2018 - 2030
6.4.1.7. South Korea Micro-LED Displays Market by Product Type, Value (US$ Bn), 2018 - 2030
6.4.1.8. South Korea Micro-LED Displays Market by Application, Value (US$ Bn), 2018 - 2030
6.4.1.9. South Korea Micro-LED Displays Market by Industry Vertical, Value (US$ Bn), 2018 - 2030
6.4.1.10. India Micro-LED Displays Market by Product Type, Value (US$ Bn), 2018 - 2030
6.4.1.11. India Micro-LED Displays Market by Application, Value (US$ Bn), 2018 - 2030
6.4.1.12. India Micro-LED Displays Market by Industry Vertical, Value (US$ Bn), 2018 - 2030
6.4.1.13. Southeast Asia Micro-LED Displays Market by Product Type, Value (US$ Bn), 2018 - 2030
6.4.1.14. Southeast Asia Micro-LED Displays Market by Application, Value (US$ Bn), 2018 - 2030
6.4.1.15. Southeast Asia Micro-LED Displays Market by Industry Vertical, Value (US$ Bn), 2018 - 2030
6.4.1.16. Rest of Asia Pacific Micro-LED Displays Market by Product Type, Value (US$ Bn), 2018 - 2030
6.4.1.17. Rest of Asia Pacific Micro-LED Displays Market by Application, Value (US$ Bn), 2018 - 2030
6.4.1.18. Rest of Asia Pacific Micro-LED Displays Market by Industry Vertical, Value (US$ Bn), 2018 - 2030
6.4.2. BPS Analysis/Market Attractiveness Analysis

7. Latin America Micro-LED Displays Market Outlook, 2018 - 2030
7.1. Latin America Micro-LED Displays Market Outlook, by Product Type, Value (US$ Bn), 2018 - 2030
7.1.1. Key Highlights
7.1.1.1. Micro Display
7.1.1.2. Large scale Display
7.1.1.3. Small and Medium-sized Display
7.2. Latin America Micro-LED Displays Market Outlook, by Application, Value (US$ Bn), 2018 - 2030
7.2.1. Key Highlights
7.2.1.1. Smartphone and Tablet
7.2.1.2. PC and Laptop
7.2.1.3. TV
7.2.1.4. Smartwatch
7.2.1.5. Others
7.3. Latin America Micro-LED Displays Market Outlook, by Industry Vertical, Value (US$ Bn), 2018 - 2030
7.3.1. Key Highlights
7.3.1.1. Consumer Electronics
7.3.1.2. Entertainment and Sports
7.3.1.3. Automotive
7.3.1.4. Retail
7.3.1.5. Government and Defense
7.3.1.6. Others
7.3.2. BPS Analysis/Market Attractiveness Analysis
7.4. Latin America Micro-LED Displays Market Outlook, by Country, Value (US$ Bn), 2018 - 2030
7.4.1. Key Highlights
7.4.1.1. Brazil Micro-LED Displays Market by Product Type, Value (US$ Bn), 2018 - 2030
7.4.1.2. Brazil Micro-LED Displays Market by Application, Value (US$ Bn), 2018 - 2030
7.4.1.3. Brazil Micro-LED Displays Market by Industry Vertical, Value (US$ Bn), 2018 - 2030
7.4.1.4. Mexico Micro-LED Displays Market by Product Type, Value (US$ Bn), 2018 - 2030
7.4.1.5. Mexico Micro-LED Displays Market by Application, Value (US$ Bn), 2018 - 2030
7.4.1.6. Mexico Micro-LED Displays Market by Industry Vertical, Value (US$ Bn), 2018 - 2030
7.4.1.7. Rest of Latin America Micro-LED Displays Market by Product Type, Value (US$ Bn), 2018 - 2030
7.4.1.8. Rest of Latin America Micro-LED Displays Market by Application, Value (US$ Bn), 2018 - 2030
7.4.1.9. Rest of Latin America Micro-LED Displays Market by Industry Vertical, Value (US$ Bn), 2018 - 2030
7.4.2. BPS Analysis/Market Attractiveness Analysis

8. Middle East & Africa Micro-LED Displays Market Outlook, 2018 - 2030
8.1. Middle East & Africa Micro-LED Displays Market Outlook, by Product Type, Value (US$ Bn), 2018 - 2030
8.1.1. Key Highlights
8.1.1.1. Micro Display
8.1.1.2. Large scale Display
8.1.1.3. Small and Medium-sized Display
8.2. Middle East & Africa Micro-LED Displays Market Outlook, by Application, Value (US$ Bn), 2018 - 2030
8.2.1. Key Highlights
8.2.1.1. Smartphone and Tablet
8.2.1.2. PC and Laptop
8.2.1.3. TV
8.2.1.4. Smartwatch
8.2.1.5. Others
8.3. Middle East & Africa Micro-LED Displays Market Outlook, by Industry Vertical, Value (US$ Bn), 2018 - 2030
8.3.1. Key Highlights
8.3.1.1. Consumer Electronics
8.3.1.2. Entertainment and Sports
8.3.1.3. Automotive
8.3.1.4. Retail
8.3.1.5. Government and Defense
8.3.1.6. Others
8.3.2. BPS Analysis/Market Attractiveness Analysis
8.4. Middle East & Africa Micro-LED Displays Market Outlook, by Country, Value (US$ Bn), 2018 - 2030
8.4.1. Key Highlights
8.4.1.1. GCC Micro-LED Displays Market by Product Type, Value (US$ Bn), 2018 - 2030
8.4.1.2. GCC Micro-LED Displays Market by Application, Value (US$ Bn), 2018 - 2030
8.4.1.3. GCC Micro-LED Displays Market by Industry Vertical, Value (US$ Bn), 2018 - 2030
8.4.1.4. South Africa Micro-LED Displays Market by Product Type, Value (US$ Bn), 2018 - 2030
8.4.1.5. South Africa Micro-LED Displays Market by Application, Value (US$ Bn), 2018 - 2030
8.4.1.6. South Africa Micro-LED Displays Market by Industry Vertical, Value (US$ Bn), 2018 - 2030
8.4.1.7. Rest of Middle East & Africa Micro-LED Displays Market by Product Type, Value (US$ Bn), 2018 - 2030
8.4.1.8. Rest of Middle East & Africa Micro-LED Displays Market by Application, Value (US$ Bn), 2018 - 2030
8.4.1.9. Rest of Middle East & Africa Micro-LED Displays Market by Industry Vertical, Value (US$ Bn), 2018 - 2030
8.4.2. BPS Analysis/Market Attractiveness Analysis

9. Competitive Landscape
9.1. Manufacturer vs Application Heatmap
9.2. Company Market Share Analysis, 2022
9.3. Competitive Dashboard
9.4. Company Profiles
9.4.1. VueReal
9.4.1.1. Company Overview
9.4.1.2. Product Portfolio
9.4.1.3. Financial Overview
9.4.1.4. Business Strategies and Development
9.4.2. Samsung Electronics Co. Ltd.
9.4.2.1. Company Overview
9.4.2.2. Product Portfolio
9.4.2.3. Financial Overview
9.4.2.4. Business Strategies and Development
9.4.3. eLux Inc.
9.4.3.1. Company Overview
9.4.3.2. Product Portfolio
9.4.3.3. Financial Overview
9.4.3.4. Business Strategies and Development
9.4.4. Glo AB
9.4.4.1. Company Overview
9.4.4.2. Product Portfolio
9.4.4.3. Financial Overview
9.4.4.4. Business Strategies and Development
9.4.5. Aledia
9.4.5.1. Company Overview
9.4.5.2. Product Portfolio
9.4.5.3. Financial Overview
9.4.5.4. Business Strategies and Development
9.4.6. Sony Corporation
9.4.6.1. Company Overview
9.4.6.2. Product Portfolio
9.4.6.3. Financial Overview
9.4.6.4. Business Strategies and Development
9.4.7. LG Display
9.4.7.1. Company Overview
9.4.7.2. Product Portfolio
9.4.7.3. Financial Overview
9.4.7.4. Business Strategies and Development
9.4.8. Apple Inc.
9.4.8.1. Company Overview
9.4.8.2. Product Portfolio
9.4.8.3. Financial Overview
9.4.8.4. Business Strategies and Development
9.4.9. PlayNitride Inc.
9.4.9.1. Company Overview
9.4.9.2. Product Portfolio
9.4.9.3. Financial Overview
9.4.9.4. Business Strategies and Development
9.4.10. Rohinni LLC
9.4.10.1. Company Overview
9.4.10.2. Product Portfolio
9.4.10.3. Financial Overview
9.4.10.4. Business Strategies and Development

10. Appendix
10.1. Research Methodology
10.2. Report Assumptions
10.3. Acronyms and Abbreviations
BASE YEAR

HISTORICAL DATA

FORECAST PERIOD

UNITS

2022

2018 - 2022

2023 - 2030

Value: US$ Million Volume: Million Tons
REPORT FEATURES

DETAILS

Product Coverage

Application Coverage

Smartphone and Tablet

PC and Laptop

TV

Smartwatch

Others

Industry Vertical Coverage

Consumer Electronics

Entertainment and Sports

Automotive

Retail

Government and Defence

Others

Geographical Coverage

North America

Europe

United Kingdom

Germany

France

Italy

Norway

Russia

Rest of Europe

Asia Pacific

Japan

China

India

South Korea

Southeast Asia

Rest of Asia Pacific

Rest of the World

Latin America

Middle East and Africa

Leading Companies

Report Highlights

Key Market Indicators, Macro-micro economic impact analysis, Technological Roadmap, Key Trends, Driver, Restraints, and Future Opportunities & Revenue Pockets, Porter's 5 Forces Analysis, Historical Trend (2019-2021), Price Trend Analysis, Market Estimates and Forecast, Market Dynamics, Industry Trends, Competition Landscape, Category, Region, Country-wise Trends & Analysis, COVID-19 Impact Analysis (Demand and Supply Chain)