The global multifunctional composites market will rise at a robust CAGR during the period of assessment 2023 - 2030, reaching a market value of around US$10 Bn in the end of 2030.
Market Analysis in Brief
Materials that integrate two or more distinct capabilities into a single component are known as multifunctional composites. The structural qualities of composite materials, such as their light weight, stiffness, and high strength, are highly valued by designers and engineers of organisations. These materials are employed in various industries, including electrical, capacitors, batteries, hybrid ground vehicles, cars, airplanes, and energy conversion. The development of multifunctional composites, which offer a variety of qualities, has benefited several industrial industries. Multiple key functions take place successively over time in multifunctional materials and systems.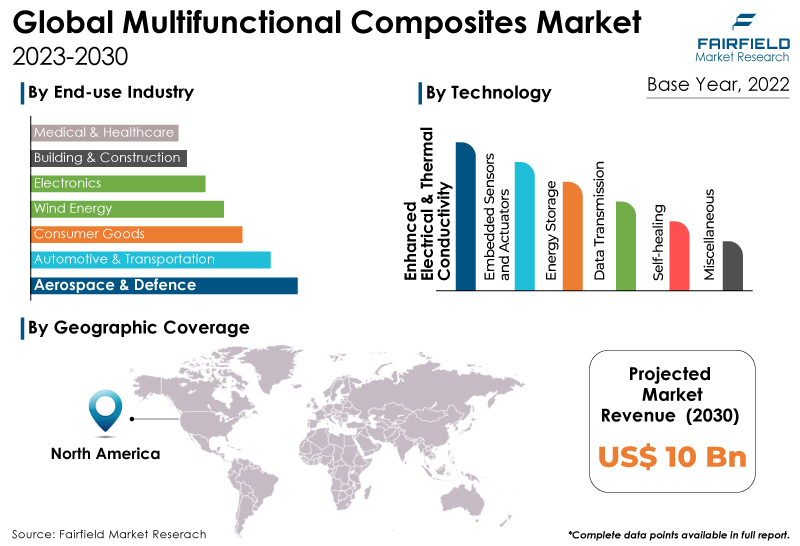 Due to the rising demand for lightweight, strong, and high-performance materials across various industries, the multifunctional composites market is expanding quickly. Furthermore, the market for multifunctional composites is also significantly fueled by the automobile industry. Due to the rising demand for lightweight automobiles, multifunctional composites are being used in automotive applications such as body panels, bumpers, and chassis components. Additionally, the market is also significantly influenced by the aerospace sector. Multifunctional composites are used in these applications due to the demand for high-performance materials in aircraft and spacecraft.
Key Report Findings
The market for multifunctional composites will exhibit huge expansion in revenue over the course of upcoming years.
The increased adoption in the aerospace industry is crucial in driving the market for multifunctional composites.
The multifunctional composites industry will continue to witness higher growth in demand for enhanced electrical & thermal conductivity.
North America will continue to lead its way, whereas Asia Pacific multifunctional composites market will experience the strongest growth till 2030-end.
Growth Drivers
High Demand from Aerospace and Aviation Industries
The technological revolution has always been a part of the aerospace industry. The advancement of innovative engineering materials has been encouraged by aerospace engineering. The industry continues to push innovation to new heights by creating space vehicles and the next generation of supersonic aircraft. In low and high temperatures, qualities like strength, stiffness, damage tolerance, density, and corrosion resistance are crucial for developing multifunctional composites.
Manufacturers seek high-performance, economical material solutions to address complicated challenges and avoid risk. A lighter design has significant economic and ecological advantages since it reduces the take-off weight of an aircraft, spacecraft, or satellite, directly impacting how much fuel is burnt. The aerospace and aircraft industries have many established uses for multifunctional composite materials.
Since composites have many advantages over metals, including their lightweight nature, high strength, resistance to corrosion, superior fatigue and fracture properties, and multifunctional capabilities like self-healing and self-assembly, the use of multifunctional composite materials in the aerospace industry is steadily expanding. Creating superior and distinctive materials like reinforcement and matrix material occurs when two or more diverse materials are mixed.
Strength and rigidity provided by the reinforcement aid in supporting the structural loads. When these two elements are joined, a lightweight, rigid, strong, and tough material is created. The matrix or binder, which helps retain the reinforcement's position and orientation, is more brittle. This factor will accelerate the multifunctional composites market expansion over the anticipated time frame.
Market Opportunity
Opportunities Abound with Rising Need for High-performance Lightweight Materials
One of the key factors propelling the market for multifunctional composites is the rising demand for lightweight, strong, and high-performance materials. This is due to the rising demand for these materials in numerous sectors, including the automotive, aerospace, and defense industries. To satisfy fuel economy targets, automotive OEMs worldwide are stepping up their efforts to use many materials in weight reduction/lightweighting. Due to their widespread use in interior, exterior, and under-the-hood applications, multifunctional composite materials have recently become a crucial component of vehicle lightweighting plans.
Another element promoting the use of multifunctional composites in automobiles is electric mobility. Electric vehicle (EVs) range is one of its most crucial characteristics, and weight significantly contributes to this. By lowering weight and reducing reliance on heavier, denser metals, multifunctional composites can play a larger part in achieving a greater range.
Furthermore, there is a rising need in the defense sector for high-performance materials that can resist the abrasive environment of battle. Composite materials with several uses can be used to make lightweight parts that are also robust and long-lasting parts. They are becoming common for defense-related products like armour, guns, and electrical systems.
Moreover, wind energy is a sustainable, affordable, and clean solution in contrast to fossil fuels. Manufacturers are concentrating on developing wind turbines with longer blades to capture more wind and produce more power. Composites can be crucial in providing lightweight, energy-efficient blades to meet the rising demand for wind turbines.
Market Challenges
Limited Supply of Raw Material
The limited supply of raw materials significantly constrains the market for multifunctional composites. The availability of some of the basic elements utilised in multifunctional composites, like carbon fibres, and carbon nanotubes, is limited. This can reduce supply and raise prices for certain materials. Several factors contribute to the limited accessibility of basic materials utilised in multifunctional composites. Furthermore, leftovers from other sectors or recycled materials are frequently used to create these materials. This indicates that the availability of these materials is less consistent than the availability of more common materials like metals, and plastics.
Moreover, some of these materials are challenging to manufacture. For instance, carbon is spun into fibers to create carbon fibres. The equipment needed for this process is sophisticated and complex. As a result, there are only so many carbon fibres available. The cost of producing some of these materials is another factor. The rolling of carbon atoms into tubes produces carbon nanotubes. Because of how energy-intensive this method is, carbon nanotube production is pricey.
Overview of Key Segments
Enhanced Electrical & Thermal Conductivity Category Leads
The enhanced electrical & thermal conductivity category held the largest market share in 2022 because there is a growing need for these materials in many different applications, including lightning protection, EMI shielding, and thermal management. Enhanced thermal and electrical conductivity is being used more frequently in the industry. The various approaches to improved conductivity using metallic or nanocarbon (graphene and CNT) additives, coatings, mats, and wires stand out as the most significant. Deicing, hot tooling, and thermal dissipation are the primary drivers of thermal conductivity. Furthermore, the transportation industry is once more the driving force behind electrical conductivity, with entire circuitry, EMI shielding, electrostatic coating, and lightning strike protection as the key applications.
Multifunctional composites with improved thermal conductivity drain heat from systems and electronic devices in thermal management applications. These composites are created using fillers that transfer heat well, such as graphene, metal powders, or carbon fibres. The composite may dissipate heat more effectively due to the fillers' increased thermal conductivity. Moreover, they are also utilised in applications for EMI shielding and lightning strike protection. Conductive fillers, including carbon fibres, carbon nanotubes, or metal powders, are used to create these composite materials. The fillers make the composite more electrically conductive, which improves its ability to shield against EMI and prevent lightning strikes.
Growth Opportunities Across Regions
North America Has the Largest Contributory Share
The multifunctional composites market will continue to witness dominance of North America clearly attributing to the region's mature industrial sector. The significant investment in R&D, which fuels the expansion of the North American multifunctional composites market, is primarily responsible for introducing novel multifunctional composites for end-use industries like packaging and automotive. The multifunctional composites market is expected to increase in North America due to well-established industries, including aerospace and the car industry. The multifunctional composites market is additionally driven by significant energy, sensor, and coating applications.
The US is the primary contributor to the regions market growth. As more research institutions, universities, and product manufacturers work together to produce next-generation multifunctional composites for the aerospace & military, automotive, electrical, and other industries, the market value is projected to increase.
Asia Pacific Reflects Growing Market Attractiveness
The market for multifunctional composites across Asia Pacific will display a significant CAGR over the forecast period. The expansion is attributed to the region's robust economic growth rate and significant investments made in several different industries, including wind energy, electrical and electronics, building and construction, and the automotive sector. The market for multifunctional composites in this region is also anticipated to increase due to numerous government initiatives designed to draw foreign investment and encourage domestic demand. This is because many industries, including those in China, India, and Japan, use multifunctional composites extensively.
Furthermore, demand for multifunctional composites would also increase as governments make more efforts to promote FDI inflow. Thus, throughout the forecast period, technological advancements in the automotive and construction sectors will open up lucrative opportunities for the worldwide graphene composites market. The Organization Internationale des Constructeurs d'Automobiles (OICA) estimates that in 2019, Vietnam produced 5,71,632 and 2,50,000 automobiles, up 1.2% and 5.5%, respectively, over the previous year. In November 2020, Boeing predicted that during the following 20 years, Chinese airlines would spend US$1.4 trillion on 8,600 new aircraft and US$1.7 trillion on commercial aircraft services. Because of this, demand for multifunctional composites is anticipated to rise during the forecast period.
Multifunctional Composites Market: Competitive Landscape
Some of the leading players at the forefront in the multifunctional composites market space include Acellent Technologies, Bekaert, DexMat, Continuous Composites, Imperial College Composites Centre, Inca Fiber, N12 Technologies, Tortech Nano Fiber, TWI, and Villinger R&D.
Recent Notable Developments
In July 2019, Teijin and an Australian company called AEV Robotics have inked a cooperative agreement to co-develop lightweight vehicle parts and solutions for cutting-edge transportation that will reinvent aged transportation models.
In October 2020, Teijin Group and AZL Partner New York have a strategic partnership for lightweight production technology. With this technology, they hope to revolutionize their business strategy and produce next-generation vehicles that are more lightweight and multifunctional.
Global Multifunctional Composites Market is Segmented as Below:
By Technology
Enhanced Electrical & Thermal conductivity
Embedded Sensors and Actuators
Energy Storage & Harvesting
Data Transmission
Self-healing
Miscellaneous
By End-use Industry
Aerospace & Defence
Automotive & Transportation
Consumer Goods
Wind Energy
Electronics
Building & Construction
Medical & Healthcare
Miscellaneous
By Geographic Coverage
North America
Europe

Germany
U.K.
France
Italy
Spain
Russia
Rest of Europe

Asia Pacific

China
Japan
South Korea
India
Southeast Asia
Rest of Asia Pacific

Latin America

Brazil
Mexico
Rest of Latin America

Middle East & Africa

GCC
South Africa
Rest of Middle East & Africa
Leading Companies
Teijin Limited
Celanese Corporation
DIAB Group
GKN Aerospace
Solvay S.A.
Huntsman Corporation
Gurit
Mitsubishi Chemical Corporation
1. Executive Summary
1.1. Global Multifunctional Composites Market Snapshot
1.2. Future Projections
1.3. Key Market Trends
1.4. Regional Snapshot, by Value, 2022
1.5. Analyst Recommendations

2. Market Overview
2.1. Market Definitions and Segmentations
2.2. Market Dynamics
2.2.1. Drivers
2.2.2. Restraints
2.2.3. Market Opportunities
2.3. Value Chain Analysis
2.4. Porter's Five Forces Analysis
2.5. Covid-19 Impact Analysis
2.5.1. Supply
2.5.2. Demand
2.6. Impact of Ukraine-Russia Conflict
2.7. Global Composites Market – Overview
2.8. Economic Overview
2.8.1. World Economic Projections
2.9. PESTLE Analysis


3. Global Multifunctional Composites Market Outlook, 2018 - 2030
3.1. Global Multifunctional Composites Market Outlook, by Technology, Value (US$ Mn), 2018 - 2030
3.1.1. Key Highlights
3.1.1.1. Enhanced Electrical & Thermal Conductivity
3.1.1.2. Embedded Sensors and Actuators
3.1.1.3. Energy Storage & Harvesting
3.1.1.4. Data Transmission
3.1.1.5. Self-healing
3.1.1.6. Misc.
3.2. Global Multifunctional Composites Market Outlook, by End-use Industry, Value (US$ Mn), 2018 - 2030
3.2.1. Key Highlights
3.2.1.1. Aerospace & Defence
3.2.1.2. Automotive & Transportation
3.2.1.3. Consumer Goods
3.2.1.4. Wind Energy
3.2.1.5. Electronics
3.2.1.6. Building & Construction
3.2.1.7. Medical & Healthcare
3.2.1.8. Misc.
3.3. Global Multifunctional Composites Market Outlook, by Region, Value (US$ Mn), 2018 - 2030
3.3.1. Key Highlights
3.3.1.1. North America
3.3.1.2. Europe
3.3.1.3. Asia Pacific
3.3.1.4. Latin America
3.3.1.5. Middle East & Africa

4. North America Multifunctional Composites Market Outlook, 2018 - 2030
4.1. North America Multifunctional Composites Market Outlook, by Technology, Value (US$ Mn), 2018 - 2030
4.1.1. Key Highlights
4.1.1.1. Enhanced Electrical & Thermal Conductivity
4.1.1.2. Embedded Sensors and Actuators
4.1.1.3. Energy Storage & Harvesting
4.1.1.4. Data Transmission
4.2. North America Multifunctional Composites Market Outlook, by End-use Industry, Value (US$ Mn), 2018 - 2030
4.2.1. Key Highlights
4.2.1.1. Aerospace & Defence
4.2.1.2. Automotive & Transportation
4.2.1.3. Consumer Goods
4.2.1.4. Wind Energy
4.2.1.5. Electronics
4.2.1.6. Building & Construction
4.2.1.7. Medical & Healthcare
4.2.1.8. Misc.
4.2.2. Market Attractiveness Analysis
4.3. North America Multifunctional Composites Market Outlook, by Country, Value (US$ Mn), 2018 - 2030
4.3.1. Key Highlights
4.3.1.1. U.S. Multifunctional Composites Market by Technology, Value (US$ Mn), 2018 - 2030
4.3.1.2. U.S. Multifunctional Composites Market by End-use Industry, Value (US$ Mn), 2018 - 2030
4.3.1.3. Canada Multifunctional Composites Market by Technology, Value (US$ Mn), 2018 - 2030
4.3.1.4. Canada Multifunctional Composites Market by End-use Industry, Value (US$ Mn), 2018 - 2030
4.3.2. BPS Analysis/Market Attractiveness Analysis


5. Europe Multifunctional Composites Market Outlook, 2018 - 2030
5.1. Europe Multifunctional Composites Market Outlook, by Technology, Value (US$ Mn), 2018 - 2030
5.1.1. Key Highlights
5.1.1.1. Enhanced Electrical & Thermal Conductivity
5.1.1.2. Embedded Sensors and Actuators
5.1.1.3. Energy Storage & Harvesting
5.1.1.4. Data Transmission
5.1.1.5. Self-healing
5.1.1.6. Misc.
5.2. Europe Multifunctional Composites Market Outlook, by End-use Industry, Value (US$ Mn), 2018 - 2030
5.2.1. Key Highlights
5.2.1.1. Aerospace & Defence
5.2.1.2. Automotive & Transportation
5.2.1.3. Consumer Goods
5.2.1.4. Wind Energy
5.2.1.5. Electronics
5.2.1.6. Building & Construction
5.2.1.7. Medical & Healthcare
5.2.1.8. Misc.
5.2.2. BPS Analysis/Market Attractiveness Analysis
5.3. Europe Multifunctional Composites Market Outlook, by Country, Value (US$ Mn), 2018 - 2030
5.3.1. Key Highlights
5.3.1.1. Germany Multifunctional Composites Market by Technology, Value (US$ Mn), 2018 - 2030
5.3.1.2. Germany Multifunctional Composites Market by End-use Industry, Value (US$ Mn), 2018 - 2030
5.3.1.3. U.K. Multifunctional Composites Market by Technology, Value (US$ Mn), 2018 - 2030
5.3.1.4. U.K. Multifunctional Composites Market by End-use Industry, Value (US$ Mn), 2018 - 2030
5.3.1.5. France Multifunctional Composites Market by Technology, Value (US$ Mn), 2018 - 2030
5.3.1.6. France Multifunctional Composites Market by End-use Industry, Value (US$ Mn), 2018 - 2030
5.3.1.7. Italy Multifunctional Composites Market by Technology, Value (US$ Mn), 2018 - 2030
5.3.1.8. Turkey Multifunctional Composites Market by Technology, Value (US$ Mn), 2018 - 2030
5.3.1.9. Turkey Multifunctional Composites Market by End-use Industry, Value (US$ Mn), 2018 - 2030
5.3.1.10. Russia Multifunctional Composites Market by Technology, Value (US$ Mn), 2018 - 2030
5.3.1.11. Russia Multifunctional Composites Market by End-use Industry, Value (US$ Mn), 2018 - 2030
5.3.1.12. Rest of Europe Multifunctional Composites Market by Technology, Value (US$ Mn), 2018 - 2030
5.3.1.13. Rest of Europe Multifunctional Composites Market by End-use Industry, Value (US$ Mn), 2018 - 2030
5.3.2. BPS Analysis/Market Attractiveness Analysis

6. Asia Pacific Multifunctional Composites Market Outlook, 2018 - 2030
6.1. Asia Pacific Multifunctional Composites Market Outlook, by Technology, Value (US$ Mn), 2018 - 2030
6.1.1. Key Highlights
6.1.1.1. Enhanced Electrical & Thermal Conductivity
6.1.1.2. Embedded Sensors and Actuators
6.1.1.3. Energy Storage & Harvesting
6.1.1.4. Data Transmission
6.1.1.5. Self-healing
6.1.1.6. Misc.
6.2. Asia Pacific Multifunctional Composites Market Outlook, by End-use Industry, Value (US$ Mn), 2018 - 2030
6.2.1. Key Highlights
6.2.1.1. Aerospace & Defence
6.2.1.2. Automotive & Transportation
6.2.1.3. Consumer Goods
6.2.1.4. Wind Energy
6.2.1.5. Electronics
6.2.1.6. Building & Construction
6.2.1.7. Medical & Healthcare
6.2.1.8. Misc.
6.2.2. BPS Analysis/Market Attractiveness Analysis
6.3. Asia Pacific Multifunctional Composites Market Outlook, by Country, Value (US$ Mn), 2018 - 2030
6.3.1. Key Highlights
6.3.1.1. China Multifunctional Composites Market by Technology, Value (US$ Mn), 2018 - 2030
6.3.1.2. China Multifunctional Composites Market by End-use Industry, Value (US$ Mn), 2018 - 2030
6.3.1.3. Japan Multifunctional Composites Market by Technology, Value (US$ Mn), 2018 - 2030
6.3.1.4. Japan Multifunctional Composites Market by End-use Industry, Value (US$ Mn), 2018 - 2030
6.3.1.5. South Korea Multifunctional Composites Market by Technology, Value (US$ Mn), 2018 - 2030
6.3.1.6. South Korea Multifunctional Composites Market by End-use Industry, Value (US$ Mn), 2018 - 2030
6.3.1.7. India Multifunctional Composites Market by Technology, Value (US$ Mn), 2018 - 2030
6.3.1.8. India Multifunctional Composites Market by End-use Industry, Value (US$ Mn), 2018 - 2030
6.3.1.9. Southeast Asia Multifunctional Composites Market by Technology, Value (US$ Mn), 2018 - 2030
6.3.1.10. Southeast Asia Multifunctional Composites Market by End-use Industry, Value (US$ Mn), 2018 - 2030
6.3.1.11. Rest of Asia Pacific Multifunctional Composites Market by Technology, Value (US$ Mn), 2018 - 2030
6.3.1.12. Rest of Asia Pacific Multifunctional Composites Market by End-use Industry, Value (US$ Mn), 2018 - 2030
6.3.2. BPS Analysis/Market Attractiveness Analysis


7. Latin America Multifunctional Composites Market Outlook, 2018 - 2030
7.1. Latin America Multifunctional Composites Market Outlook, by Technology, Value (US$ Mn), 2018 - 2030
7.1.1. Key Highlights
7.1.1.1. Enhanced Electrical & Thermal Conductivity
7.1.1.2. Embedded Sensors and Actuators
7.1.1.3. Energy Storage & Harvesting
7.1.1.4. Data Transmission
7.1.1.5. Self-healing
7.1.1.6. Misc.
7.2. Latin America Multifunctional Composites Market Outlook, by End-use Industry, Value (US$ Mn), 2018 - 2030
7.2.1. Key Highlights
7.2.1.1. Aerospace & Defence
7.2.1.2. Automotive & Transportation
7.2.1.3. Consumer Goods
7.2.1.4. Wind Energy
7.2.1.5. Electronics
7.2.1.6. Building & Construction
7.2.1.7. Medical & Healthcare
7.2.1.8. Misc.
7.2.2. BPS Analysis/Market Attractiveness Analysis
7.3. Latin America Multifunctional Composites Market Outlook, by Country, Value (US$ Mn), 2018 - 2030
7.3.1. Key Highlights
7.3.1.1. Brazil Multifunctional Composites Market by Technology, Value (US$ Mn), 2018 - 2030
7.3.1.2. Brazil Multifunctional Composites Market by End-use Industry, Value (US$ Mn), 2018 - 2030
7.3.1.3. Mexico Multifunctional Composites Market by Technology, Value (US$ Mn), 2018 - 2030
7.3.1.4. Mexico Multifunctional Composites Market by End-use Industry, Value (US$ Mn), 2018 - 2030
7.3.1.5. Rest of Latin America Multifunctional Composites Market by Technology, Value (US$ Mn), 2018 - 2030
7.3.1.6. Rest of Latin America Multifunctional Composites Market by End-use Industry, Value (US$ Mn), 2018 - 2030
7.3.2. BPS Analysis/Market Attractiveness Analysis


8. Middle East & Africa Multifunctional Composites Market Outlook, 2018 - 2030
8.1. Middle East & Africa Multifunctional Composites Market Outlook, by Technology, Value (US$ Mn), 2018 - 2030
8.1.1. Key Highlights
8.1.1.1. Enhanced Electrical & Thermal Conductivity
8.1.1.2. Embedded Sensors and Actuators
8.1.1.3. Energy Storage & Harvesting
8.1.1.4. Data Transmission
8.1.1.5. Self-healing
8.1.1.6. Misc.
8.2. Middle East & Africa Multifunctional Composites Market Outlook, by End-use Industry, Value (US$ Mn), 2018 - 2030
8.2.1. Key Highlights
8.2.1.1. Aerospace & Defence
8.2.1.2. Automotive & Transportation
8.2.1.3. Consumer Goods
8.2.1.4. Wind Energy
8.2.1.5. Electronics
8.2.1.6. Building & Construction
8.2.1.7. Medical & Healthcare
8.2.1.8. Misc.
8.2.2. BPS Analysis/Market Attractiveness Analysis
8.3. Middle East & Africa Multifunctional Composites Market Outlook, by Country, Value (US$ Mn), 2018 - 2030
8.3.1. Key Highlights
8.3.1.1. GCC Multifunctional Composites Market by Technology, Value (US$ Mn), 2018 - 2030
8.3.1.2. GCC Multifunctional Composites Market by End-use Industry, Value (US$ Mn), 2018 - 2030
8.3.1.3. South Africa Multifunctional Composites Market by Technology, Value (US$ Mn), 2018 - 2030
8.3.1.4. South Africa Multifunctional Composites Market by End-use Industry, Value (US$ Mn), 2018 - 2030
8.3.1.5. Rest of Middle East & Africa Multifunctional Composites Market by Technology, Value (US$ Mn), 2018 - 2030
8.3.1.6. Rest of Middle East & Africa Multifunctional Composites Market by End-use Industry, Value (US$ Mn), 2018 - 2030
8.3.2. BPS Analysis/Market Attractiveness Analysis

9. Competitive Landscape
9.1. Technology vs Application Heatmap
9.2. Manufacturer vs Application Heatmap
9.3. Company Market Share Analysis, 2022
9.4. Competitive Dashboard
9.5. Company Profiles
9.5.1. Toray Industries Inc.
9.5.1.1. Company Overview
9.5.1.2. Product Portfolio
9.5.1.3. Financial Overview
9.5.1.4. Business Strategies and Development
9.5.2. Hexcel Corporation
9.5.2.1. Company Overview
9.5.2.2. Product Portfolio
9.5.2.3. Financial Overview
9.5.2.4. Business Strategies and Development
9.5.3. Hexion Inc.
9.5.3.1. Company Overview
9.5.3.2. Product Portfolio
9.5.3.3. Financial Overview
9.5.3.4. Business Strategies and Development
9.5.4. Teijin Limited
9.5.4.1. Company Overview
9.5.4.2. Product Portfolio
9.5.4.3. Financial Overview
9.5.4.4. Business Strategies and Development
9.5.5. Imperial College Composites Centre
9.5.5.1. Company Overview
9.5.5.2. Product Portfolio
9.5.5.3. Financial Overview
9.5.5.4. Business Strategies and Development
9.5.6. Celanese Corporation
9.5.6.1. Company Overview
9.5.6.2. Product Portfolio
9.5.6.3. Financial Overview
9.5.6.4. Business Strategies and Development
9.5.7. DIAB Group
9.5.7.1. Company Overview
9.5.7.2. Product Portfolio
9.5.7.3. Financial Overview
9.5.7.4. Business Strategies and Development
9.5.8. GKN Aerospace
9.5.8.1. Company Overview
9.5.8.2. Product Portfolio
9.5.8.3. Financial Overview
9.5.8.4. Business Strategies and Development
9.5.9. Solvay S.A.
9.5.9.1. Company Overview
9.5.9.2. Product Portfolio
9.5.9.3. Financial Overview
9.5.9.4. Business Strategies and Development
9.5.10. Huntsman Corporation
9.5.10.1. Company Overview
9.5.10.2. Product Portfolio
9.5.10.3. Financial Overview
9.5.10.4. Business Strategies and Development
9.5.11. Gurit
9.5.11.1. Company Overview
9.5.11.2. Product Portfolio
9.5.11.3. Financial Overview
9.5.11.4. Business Strategies and Development
9.5.12. Mitsubishi Chemical Corporation
9.5.12.1. Company Overview
9.5.12.2. Product Portfolio
9.5.12.3. Financial Overview
9.5.12.4. Business Strategies and Development

10. Appendix
10.1. Research Methodology
10.2. Report Assumptions
10.3. Acronyms and Abbreviations