N95 Medical Protective Masks Market Outlook 2023 Update Available Enquire Now
Global N95 Medical Protective Masks Market Soars as Variants Remain Unstoppable
N95 grade protective masks are being effectively used to prevent the transmission of contamination to and from healthcare workers (HCWs) and patients. The N95 masks remain the main stay of protection against airborne pathogens. Increasing cases of covid-19 is driving the N95 grade protective masks market exponentially. Fairfield Market Research indicates that the global N95 medical protective masks market revenue is anticipated to rise at a healthy pace of 9.5% CAGR during the period as the market reaches US$1,994.8.0 Mn by 2026 from US$ 1,159.4.0 Mn in 2020.
Almost every country across the globe is affected with this novel corona. Rapid industrialization and numerous government regulations on workplace health are increasing demand for N95 grade protective masks. N95 face masks that can filter out at least 95% of all airborne particles, regardless of their size are regulated by The National Institute for Occupational Safety and Health (NIOSH). N95 respirator provides much better protection than a face covering that doesn't meet N95 standards.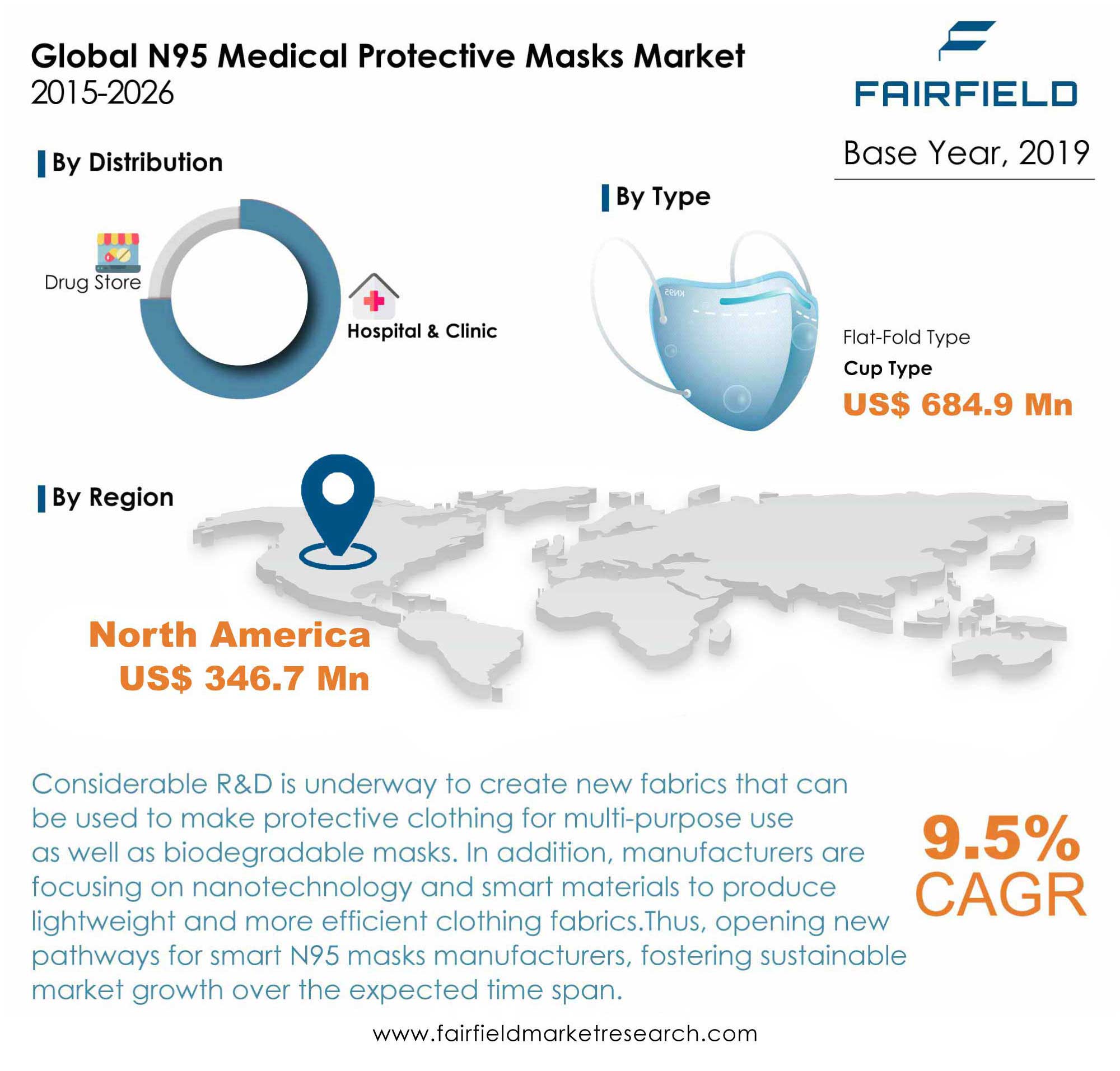 Considerable R&D is underway to create new fabrics that can be used to make protective clothing for multi-purpose use as well as biodegradable masks. In addition, manufacturers are focusing on nanotechnology and smart materials to produce lightweight and more efficient clothing fabrics. Thus, opening new pathways for smart N95 masks manufacturers, fostering sustainable market growth over the expected time span.
Short-Term Market Growth on Cards as Manufacturers Ramp Up Production
Manufacturers are facing the challenge to ramp up the production process due to import and export restrictions owing to the pandemic, the ongoing lockdown, and the centralized procurement procedure through a single government agency. The WHO has shipped almost half a million sets of personal protective equipment including N95 grade protective masks to 47 countries so far, but quantities are running out rapidly.
Governments have been implementing unprecedented measures such as subsidies for capital investment to mask factories and other manufacturing facilities, and support for the procurement of raw materials. To help alleviate supply pressures, the FDA provides expedition of review of manufacturing site changes or premarket submissions. Manufacturers of PPE contact FDA regarding plans to increase availability of these products to the U.S. market. Thus, the need to overcome the shortage and manufacture the masks with standard approaches is driving the global N95 grade masks market.
Cup Type Masks Dominate N95 Medical Protective Masks Market
The cup type mask segment is expected to hold the largest share in terms of revenue in the global N95 medical protective masks market as it is poised to capture 69.5% market share by 2026. The cup shape allows for more breathing room inside the mask and remains stiff, allowing the wearer to breathe easily. An aluminium noseband makes the mask easy to adjust, plus the metal is encased in thick, ultrasoft foam so it does not dig into the bridge of the nose. On the other hand, flat-fold type is the fastest growing segment during the forecast period of 202-2026 with 10.1% CAGR. Flat-fold respirators reduce the wearer's exposure to airborne particles such as dusts and mists, but only if worn correctly. The demand for these masks will also see a jump as they cannot be used multiple times. Thus, the need for constant repurchase will work in favour of global N95 medical protective masks market.
Hospitals and Clinic Segment to Capture Major Share as Healthcare Workers Seek Best Protection
The report estimates that the hospital and clinic segment will contribute 59% to the global N95 medical protective masks market. Centers for Disease Control and Prevention states that N95 respirators are critical supplies that should be prioritized for healthcare workers and other medical first responders to prevent supply shortages. Protection of clinicians and other health care workers from severe acute respiratory syndrome such as coronavirus infection by respiratory aerosol and contact transmission remains a major concern in this coronavirus outbreak. All health caregivers are trained adequately and are required to receive transmission-based precautions while interacting with patients isolated for suspected or confirmed infections. Thus, hospital and clinic segment capture a major market revenue share in 2019 and expected to maintain its position in the forecast period.
Developed Countries Hold Dominance; Europe to Register Solid Demand Growth
Currently, North America dominates the global N95 medical protective masks market, in terms of revenue, surging ahead with a CAGR of 8.9% between the forecast years of 2020 and 2026. Europe follows closely with a CAGR of 10.2% in the forecast period. European countries have reported shortages of N95 grade protective masks, ventilators, and testing kits, particularly in the Netherlands, France, Italy, and Spain where there are very high coronavirus patient loads, requiring intensive care. U.K., Italy, Germany and France are likely to be the three biggest countries in Europe region demanding N95 grade protective masks. According to the European council on N95 grade protective masks Italy, Germany, France and the UK are responsible for more than the half of PPE production in Europe and Italy was the leading manufacturer of PPE in the EU, followed by Germany and France.
Asia Pacific, on the other hand, is also anticipated to witness lucrative growth over the forecast period. China addressed the issue of the supply of non-woven fabric early on by also establishing a plan to increase the production of melt-blown polypropylene. About 103 companies were involved in stepping up production so that mask manufacturers would not face a shortage for their key input.
Difficulty in tolerating the mask for long durations, requirement of individualized fitting, and variations in the mask fit due to facial shape and hair are some of the factors restricting the use of these masks. Inadequate supply of N95 masks has been the biggest problem along with competition and price gouging for the masks., thus hindering the access. Disruptions in transport and logistics have made the delivery of masks to final customers more complicated.
Players Prioritise Increase in Production of Masks in Order to Meet Overwhelming Demand
Meeting demand for face masks has become one of the main issues for governments fighting the pandemic. Owing to the continuously increasing demand for the N95 Mask, companies like 3M and Honeywell have doubled their production capacity in 2020 to fight coronavirus. 3M accounts for approximately 28% of the market share in the global market followed by Honeywell and Kimberly-Clark. 3M's total production of N95 masks in 2020 amounted to approximately two billion units worldwide. The production rate in 2021 will be 2.5 billion units.
Cardinal Health, Ansell, GERSON, Shanghai Dasheng, Moldex-Metric, and CM Industrial & Safety Supply Inc., are some of the prominent companies steering the competition in the global N95 medical protective masks market.
The Global N95 Medical Protective Masks Market is Segmented as Below:
By N95 Grade Mask Type
By Distribution Channel
Hospitals and Clinics
Drug Stores
Online
By Geographic Coverage
North America

United States
Canada
Mexico

Europe

Germany
France
United Kingdom
Italy
Spain
Rest of Europe

Asia Pacific

Japan
China
India
Australia
South Korea
Rest of Asia Pacific

Central and South America

Brazil
Argentina
Rest of Central and South America

Middle East and Africa

Saudi Arabia
UAE
South Africa
Rest of Middle East and Africa
Leading Companies
3M
Honeywell
Kimberly-Clark
CardinalHealth
Ansel
Gerson
Shanghai Dasheng
Moldex-Metric
CM Industrial
Inside This Report You Will Find:
1. Market Players Analysis
2. Manufacturing Plant Analysis
3. Market Dynamics and Competition Analysis
4. Impact of COVID-19 on N95 Medical Protective Masks Market
5. Industry Overview of N95 Medical Protective Masks
6. N95 Medical Protective Masks Market By Type
7. N95 Medical Protective Masks Market By Distribution Channel
8. North America N95 Medical Protective Masks Market
9. Europe N95 Medical Protective Masks Market
10. Asia Pacific N95 Medical Protective Masks Market
11. Central and South America N95 Medical Protective Masks Market
12. Middle East and Africa N95 Medical Protective Masks Market
13. Methodology and Data Source
2023 Update Available Enquire Now
Post Sale Support, Research Updates & Offerings:
We value the trust shown by our customers in Fairfield Market Research. We support our clients through our post sale support, research updates and offerings.
The report will be prepared in a PPT format and will be delivered in a PDF format.
Additionally, Market Estimation and Forecast numbers will be shared in Excel Workbook.
If a report being sold was published over a year ago, we will offer a complimentary copy of the updated research report along with Market Estimation and Forecast numbers within 2-3 weeks' time of the sale.
If we update this research study within the next 2 quarters, post purchase of the report, we will offer a Complimentary copy of the updated Market Estimation and Forecast numbers in Excel Workbook.
If there is a geopolitical conflict, pandemic, recession, and the like which can impact global economic scenario and business activity, which might entirely alter the market dynamics or future projections in the industry, we will create a Research Update upon your request at a nominal charge.
1. Market Players Analysis
1.1. 3M
1.1.1. Company Snapshot
1.1.2. Business Overview
1.1.2.1. Operations
1.1.2.2. Geographic Reach
1.1.2.3. Sales and Marketing
1.1.2.4. Strategy
1.1.2.5. Mergers and Acquisitions
1.1.2.6. Financial Overview
1.1.3. Financial Overview
1.1.3.1. Revenue and Price, 2019
1.1.3.2. N95 Medical Protective Masks Business Regional Distribution, 2019
1.1.4. Product Portfolio
1.2. Honeywell
1.2.1. Company Snapshot
1.2.2. Business Overview
1.2.2.1. Operations
1.2.2.2. Geographic Reach
1.2.2.3. Strategy
1.2.2.4. Mergers and Acquisitions
1.2.3. Financial Overview
1.2.3.1. Revenue and Price, 2019
1.2.3.2. Honeywell N95 Medical Protective Masks Business Regional Distribution, 2019
1.2.4. Product Portfolio
1.3. Kimberly-Clark
1.3.1. Company Snapshot
1.3.2. Business Overview
1.3.2.1. Operations
1.3.2.2. Geographic Reach
1.3.2.3. Strategy
1.3.3. Financial Overview
1.3.3.1. Revenue and Price, 2019
1.3.3.2. Kimberly-Clark N95 Medical Protective Masks Business Regional Distribution, 2019
1.3.4. Product Portfolio
1.4. CardinalHealth
1.4.1. Company Snapshot
1.4.2. Business Overview
1.4.2.1. Operations
1.4.2.2. Geographic Reach
1.4.2.3. Sales and Marketing
1.4.2.4. Strategy
1.4.2.5. Mergers and Acquisitions
1.4.3. Financial Overview
1.4.3.1. Revenue and Price, 2019
1.4.3.2. CardinalHealth N95 Medical Protective Masks Business Regional Distribution, 2019
1.4.4. Product Portfolio
1.5. Ansell
1.5.1. Company Snapshot
1.5.2. Business Overview
1.5.2.1. Strategy
1.5.3. Financial Overview
1.5.3.1. Revenue and Price, 2019
1.5.3.2. Ansell N95 Medical Protective Masks Business Regional Distribution, 2019
1.5.4. Product Portfolio
1.6. Gerson
1.6.1. Company Snapshot
1.6.2. Business Overview
1.6.3. Financial Overview
1.6.3.1. Revenue and Price, 2019
1.6.3.2. GERSON N95 Medical Protective Masks Business Regional Distribution, 2019
1.6.4. Product Portfolio
1.7. Shanghai Dasheng
1.7.1. Company Snapshot
1.7.2. Business Overview
1.7.3. Financial Overview
1.7.3.1. Revenue and Price, 2019
1.7.3.2. Shanghai Dasheng N95 Medical Protective Masks Business Regional Distribution, 2019
1.7.4. Product Portfolio
1.8. Moldex-Metric
1.8.1. Company Snapshot
1.8.2. Business Overview
1.8.3. Product Portfolio
1.9. CM Industrial & Safety Supply Inc.
1.9.1. Company Snapshot
1.9.2. Business Overview
1.9.3. Product Portfolio

2. Manufacturing Plant Analysis
2.1. Capacity and Commercial Production Date of Global N95 Medical Protective Masks Major Manufacturers in 2018
2.2. Manufacturing Plants Distribution of Global N95 Medical Protective Masks Major Manufacturers in 2019

3. Market Dynamics and Competition Analysis
3.1. Drivers
3.2. Restraint
3.3. Opportunity
3.4. Porters Five Forces
3.4.1. Bargaining Power of Suppliers
3.4.2. Bargaining Power of Buyers
3.4.3. Threat of Substitute
3.4.4. Threat of New Entrants
3.4.5. Industrial Rivalry
3.5. Value Chain Analysis
3.6. Cost Structure Analysis
3.6.1. Proportion of Manufacturing Cost Structure
3.7. Competitive Landscape, 2019

4. Impact of COVID-19 on N95 Medical Protective Masks Market
4.1. Impact of COVID-19
4.2. Shortage of supply due to production
4.3. Regional Impact of Coronavirus
4.3.1. North America
4.3.2. Europe
4.3.3. Asia Pacific
4.3.4. Latin America
4.3.5. Middle East and Africa
4.4. Key Distribution Strategies for PPE (Personal Protective Equipment)

5. Industry Overview of N95 Medical Protective Masks
5.1. Definition and Scope
5.1.1. Market Segmentation
5.1.1.1. Market By Type
5.1.1.2. Market By Distribution Channel
5.1.1.3. Market By Region
5.2. N95 Medical Protective Masks Market By Type
5.2.1. Global N95 Medical Protective Masks Market Revenue and Growth Rate Comparison By Type (2015 - 2026)
5.2.1.1. Flat-Fold Type
5.2.1.2. Cup Type
5.3. N95 Medical Protective Masks Market By Distribution Channel
5.3.1. Global N95 Medical Protective Masks Market Revenue and Growth Rate Comparison By Distribution Channel (2015 - 2026)
5.3.1.1. Hospital & Clinic
5.3.1.2. Drug Store
5.3.1.3. Online
5.4. N95 Medical Protective Masks Market By Region
5.4.1. Global N95 Medical Protective Masks Market Revenue and Growth Rate Comparison By Region (2015 - 2026)
5.4.1.1. North America
5.4.1.2. Europe
5.4.1.3. Asia Pacific
5.4.1.4. Central & South America
5.4.1.5. Middle East & Africa

6. N95 Medical Protective Masks Market By Type
6.1. Global N95 Medical Protective Masks Market Revenue and Growth Rate Comparison By Type (2015 - 2026)
6.1.1. Flat-Fold Type
6.1.2. Cup Type

7. N95 Medical Protective Masks Market By Distribution Channel
7.1. Global N95 Medical Protective Masks Market Revenue and Growth Rate Comparison By Distribution Channel (2015 - 2026)
7.1.1. Hospital & Clinic
7.1.2. Drug Store
7.1.3. Online

8. North America N95 Medical Protective Masks Market
8.1. Market Size and Forecast
8.1.1. North America N95 Medical Protective Masks Market Revenue and Growth Rate Comparison By Country (2015 - 2026)
8.1.2. North America N95 Medical Protective Masks Market Revenue and Growth Rate Comparison By Type (2015 - 2026)
8.1.3. North America N95 Medical Protective Masks Market Revenue and Growth Rate Comparison By Distribution Channel (2015 - 2026)
8.2. U.S.
8.3. Canada
8.4. Mexico

9. Europe N95 Medical Protective Masks Market
9.1. Market Size and Forecast
9.1.1. Europe N95 Medical Protective Masks Market Revenue and Growth Rate Comparison By Country (2015 - 2026)
9.1.2. Europe N95 Medical Protective Masks Market Revenue and Growth Rate Comparison By Type (2015 - 2026)
9.1.3. Europe N95 Medical Protective Masks Market Revenue and Growth Rate Comparison By Distribution Channel (2015 - 2026)
9.2. Germany
9.3. France
9.4. U.K.
9.5. Italy
9.6. Spain
9.7. Rest of Europe

10. Asia Pacific N95 Medical Protective Masks Market
10.1. Market Size and Forecast
10.1.1. Asia Pacific N95 Medical Protective Masks Market Revenue and Growth Rate Comparison By Country (2015 - 2026)
10.1.2. Asia Pacific N95 Medical Protective Masks Market Revenue and Growth Rate Comparison By Type (2015 - 2026)
10.1.3. Asia Pacific N95 Medical Protective Masks Market Revenue and Growth Rate Comparison By Distribution Channel (2015 - 2026)
10.2. China
10.3. India
10.4. Japan
10.5. Australia
10.6. South Korea
10.7. Rest of Asia Pacific

11. Central and South America N95 Medical Protective Masks Market
11.1. Market Size and Forecast
11.1.1. Central and South America N95 Medical Protective Masks Market Revenue and Growth Rate Comparison By Country (2015 - 2026)
11.1.2. Central and South America N95 Medical Protective Masks Market Revenue and Growth Rate Comparison By Type (2015 - 2026)
11.1.3. Central and South America N95 Medical Protective Masks Market Revenue and Growth Rate Comparison By Distribution Channel (2015 - 2026)
11.2. Brazil
11.3. Argentina
11.4. Rest of Central and South America

12. Middle East and Africa N95 Medical Protective Masks Market
12.1. Market Size and Forecast
12.1.1. Middle East and Africa N95 Medical Protective Masks Market Revenue and Growth Rate Comparison By Country (2015 - 2026)
12.1.2. Middle East and Africa N95 Medical Protective Masks Market Revenue and Growth Rate Comparison By Type (2015 - 2026)
12.1.3. Middle East and Africa N95 Medical Protective Masks Market Revenue and Growth Rate Comparison By Distribution Channel (2015 - 2026)
12.2. Saudi Arabia
12.3. U.A.E
12.4. South Africa
12.5. Rest of Middle East and Africa

13. Methodology and Data Source
13.1. Methodology/Research Approach
13.1.1. Research Programs/Design
13.1.2. Research Methodology
13.1.3. Industry Analysis
13.1.4. Research Process
13.1.5. Market Size Estimation
13.1.6. Market Breakdown and Data Triangulation
13.2. Data Source
13.2.1. Secondary Sources
13.2.2. Primary Sources