Urgent Need for Detection Via Patient Advocacy to Improves Scope for Global Narcolepsy Drugs Market
The global narcolepsy drugs market is all set to exhibit robust revenue growth during the forecast years from 2021 to 2026 as prevalence and awareness around narcolepsy gains momentum. Fairfield Market Research indicates that the global narcolepsy drugs market revenue is anticipated to rise at a healthy pace of 11.2% CAGR during the period as the market reaches US$6588.0 Mn by 2026 from US$ 3875.1 Mn in 2021.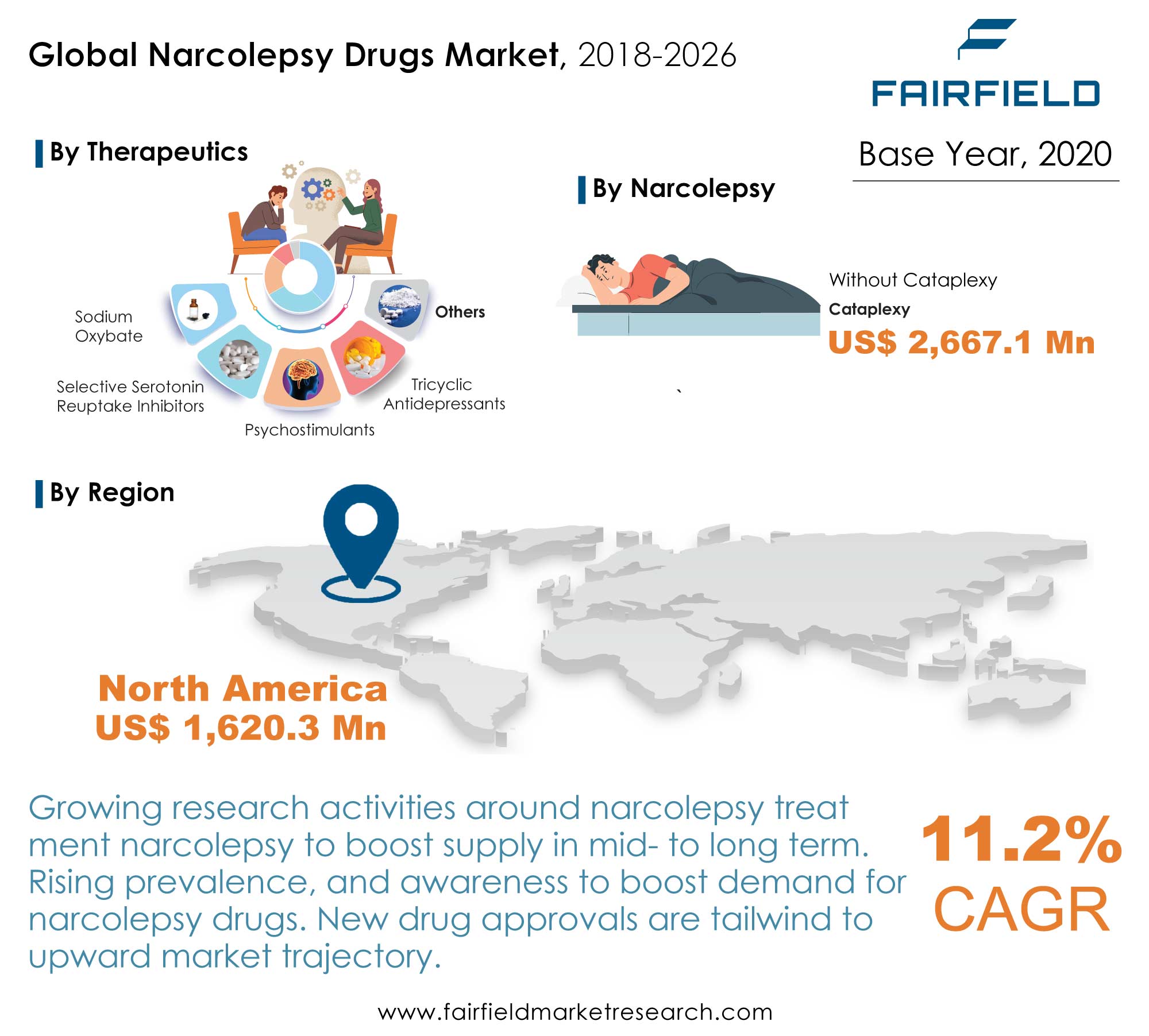 As per the Narcolepsy Network, the neurological condition roughly affects one in every 2000 people in the U.S. Roughly 70% of the patients experience cataplexy, which is a sudden loss of muscle strength, manifesting in slurred speech and affected body movements. This hinders patients to perform with normal functionality at workplaces and in social situations. As per Narcolepsy UK, at least 25,000 people in UK are suffering from narcolepsy whereas 75% remains misdiagnosed.
The need to live a relatively normal life has urged patients to seek drugs for this debilitating ailment that can exert a significant emotional, social, and financial toll. Dysfunctional lifestyle that is result of excessive daytime sleepiness (EDS), automatic behaviours (walking or eating, in a semiconscious way), cataplexy, hallucinations, and sleep paralysis has created a demand for narcolepsy drugs. Though first symptoms appear between the years of 7 to 25, gradually reducing the patient's ability to regulate sleep-wake cycles, narcolepsy remains undiagnosed for the majority.
According to Stanford Medicine Center for Narcolepsy, the condition has been termed as a frequent disorder. It remains the second leading cause of EDS after sleep apnea. Research conducted on the epidemiology of narcolepsy state an incidence of 0.2 to 1.6 per thousand across European countries, Japan, and the U.S. These statistics remain closest to that of Multiple Sclerosis, indicating an urgent need to wake up the call of treating this crippling condition for patients with early diagnosis.
The awareness around narcolepsy is on the rise recently, mostly because of the campaigns from patient advocacy groups, and welfare associations, viz. Narcolepsy Network Inc., European Narcolepsy Network, American Sleep Association, and Wake Up Narcolepsy. This remains a strong factor supporting the growth of the global narcolepsy drugs market.
Narcolepsy with Cataplexy Dominates Global Narcolepsy Drugs Market
Narcolepsy has two main types based on the presence of cataplexy, type 1, which is narcolepsy with cataplexy and type 2, which is narcolepsy without cataplexy. There is also a condition known as secondary narcolepsy, resulting out of the hypothalamus injury. As per the study of the National Sleep Foundation, almost 60-70% of narcoleptic patients suffer from type 1 narcolepsy. Moreover, cataplexy is the confirming symptom for the conclusive diagnosis of narcolepsy, although it is rarely the first symptom of narcolepsy. Some patients, even when treated, may develop cataplexy as a new symptom over the time. This segment is expected to hold the largest in the global narcolepsy drugs market as it is poised to capture 68% market share by 2026. On the other hand, type 2 narcolepsy is the fastest-growing segment during the forecast period 2021-2026 with 11.9% CAGR, attributable to the rapid increase in public awareness regarding the disease.
Sodium Oxybate and Selective Serotonin to Hold Promise for Patients Boosting Uptake
Narcolepsy has no complete cure; however, drug therapies are employed to improve the patients' quality of life. There are two approved drug classes for narcolepsy treatment, including stimulants such as modafinil, amodafonil, antidepressents, and tricuclicals, and selective serotonin that includes nor-adrenegic reuptake inhibitors and sodium oxybate. Sodium oxybate is a preferred prescription drug for narcolepsy. It is also anticipated to exhibit robust growth rate during the forecast period as it remains the best-known drug for marginally improving the condition for patients.
Sodum oxybate is retailed under the name Xyrem and has FDA approval for treating cataplexy and associated EDS. The American Academy of Sleep Medicine (ASSM) has recommended Xyrem as gold standard for narcolepsy with EDS and cataplexy. It can be reimbursed under Medicare and Medicaid. Moreover, manufacturers extend assistance programmes for patients without insurance coverage. The report estimates that the sodium oxybate segment will make a contribution of ~52% to the global narcolepsy drugs market in 2021.
Meanwhile, psychostimulants will lose on market share owing to patent expiration of Provigil and Nuvigil, predicts Fairfield Market Research. A few other stimulants and antidepressants are also used as off-label narcolepsy drugs. Lifestyle modifications such as diet control, exercise, and regular napping can also help patients manage disease symptoms. The US Food and Drug Administration (FDA)-approved drugs are not available yet, specifically for the paediatric narcolepsy treatment.
Growing Research Activities Around Narcolepsy Treatment to Support Drugs Innovation
In the U.S., the National Institute of Neurological Disorders and Stroke (NINDS) along with National Institutes of Health (NIH) and several other facilities and centres support research on narcolepsy through grants. Moreover, National Heart, Lung, and Blood Institute manages the National Center on Sleep Disorders Research (NCSDR), which provides support to the U.S. Federal Government on sleep research activities to educate the public and healthcare professionals. NINDS-sponsored researchers are conducting studies devoted to clarifying the range of genetic -HLA genes and non-HLA genes, and environmental factors that may cause narcolepsy.
Other investigators are using animal models to better understand hypocretin, and other chemicals such as glutamate that may play a key role in regulating sleep, and wakefulness. Scientists have also demonstrated the presence of unusual activity of the immune system in people with narcolepsy. The NINDS continues to support investigations into the basic biology of sleep such as examining the brain mechanisms involved in generating, and regulating REM sleep and other sleep behaviours.
Developed Countries Hold a Majority of Market; Asia Pacific to Register Solid Demand Growth
Currently, North America dominates the global narcolepsy drugs market, surging ahead with a CAGR of 11.3% between the forecast years of 2021 and 2026. Europe follows closely as the pandemic unravelled a spectrum of sleep disorders.
The NINDS estimates that around 200,000 people in the U.S. alone are living with narcolepsy. The growing demand for sleep disorder treatment in the U.S. and Canada, coupled with high healthcare expenditure is expected to fuel the market growth in North America. Moreover, favourable reimbursement policies, and strong clinical pipeline are the other factors to boost the revenue growth in this region. In Europe, the H1N1 influenza pandemic had resulted in heightening prevalence of sleep-related disorders.
Asia Pacific, on the other hand, is anticipated to witness lucrative growth over the forecast period. Shift-work sleep disorder and increased stress levels are expected to expand the patient base in Asia Pacific. These factors may contribute to the growing demand for drugs in these economies. Constantly improving healthcare reimbursement policies are expected to boost demand further over the forecast period.
This regional market will also benefit from the improving living standards. The region is set to exhibit lucrative growth during the forecast period on account of growing awareness about narcolepsy, and consistently growing healthcare expenditure. While populous economies like India, and China will facilitate further market growth in the region, Japan already has high narcolepsy prevalence.
Key Market Players Prioritise R&D, and Collaborative Activities to Strengthen Market Positioning
Key companies in the narcolepsy drugs market are exploring collaborative opportunities as a part of strategic expansions. In January 2019, Takeda acquired Provigil from Shire. In addition, companies are supporting patients through out-of-pocket co-pays, & free products for eligible patients. For instance, Jazz Pharmaceuticals plc has initiated Patient Assistance Programs for those without insurance coverage for narcolepsy drug therapies.
Harmony Biosciences, Avadel Pharmaceuticals plc, Axsome Therapeutics, Inc., Arena Pharmaceuticals, Inc., GrayMark Healtcare Inc., Teva Pharmaceutical Industries Ltd., Shionogi Inc., and Ligand Pharmaceuticals, Inc. are some of the prominent companies steering the competition in the global narcolepsy drugs market.
The Global Narcolepsy Drugs Market is Segmented as Below:
By Therapeutics
Psychostimulants
Tricyclic Antidepressants
Sodium Oxybate
Selective Serotonin Reuptake Inhibitors
Others
By Narcolepsy Type
Cataplexy
Without Cataplexy
By Geographic Coverage
North America
Europe

Germany
France
United Kingdom
Italy
Spain
Rest of Europe

Asia Pacific

Japan
China
India
Australia & New Zealand
Rest of Asia Pacific

Rest of World

Latin America
Middle East & Africa
Leading Companies
Jazz Pharmaceuticals, Inc.
Harmony Biosciences
Avadel Pharmaceuticals plc
Axsome Therapeutics, Inc.
Arena Pharmaceuticals, Inc.
Graymark Healthcare, Inc.
Teva Pharmaceutical Industries Ltd.
Shionogi Inc.
Ligand Pharmaceuticals, Inc.
Inside This Report You Will Find:
1. Executive Summary
2. Market Overview
3. Global Narcolepsy Drugs Market Outlook, 2018 - 2026
4. North America Narcolepsy Drugs Market Outlook, 2018 - 2026
5. Europe Narcolepsy Drugs Market Outlook, 2018 - 2026
6. Asia Pacific Narcolepsy Drugs Market Outlook, 2018 - 2026
7. Rest of World Narcolepsy Drugs Market Outlook, 2018 - 2026
8. Competitive Landscape
9. Appendix
Post Sale Support, Research Updates & Offerings:
We value the trust shown by our customers in Fairfield Market Research. We support our clients through our post sale support, research updates and offerings.
The report will be prepared in a PPT format and will be delivered in a PDF format.
Additionally, Market Estimation and Forecast numbers will be shared in Excel Workbook.
If a report being sold was published over a year ago, we will offer a complimentary copy of the updated research report along with Market Estimation and Forecast numbers within 2-3 weeks' time of the sale.
If we update this research study within the next 2 quarters, post purchase of the report, we will offer a Complimentary copy of the updated Market Estimation and Forecast numbers in Excel Workbook.
If there is a geopolitical conflict, pandemic, recession, and the like which can impact global economic scenario and business activity, which might entirely alter the market dynamics or future projections in the industry, we will create a Research Update upon your request at a nominal charge.
1. Executive Summary
1.1. Snip Bits
1.2. Global Narcolepsy Drugs Market Outlook, 2018 - 2026 (US$ Million)
1.3. Global Narcolepsy Drugs Market Incremental Opportunity, 2018 - 2026 (US$ Million)
1.4. Key Takeaways

2. Market Overview
2.1. Market Definitions and Segmentations
2.2. Market Dynamics
2.2.1. Market Drivers
2.2.2. Market Restraints
2.2.3. Market Opportunities
2.3. Narcolepsy Drugs Pipeline Analysis
3. Global Narcolepsy Drugs Market Outlook, 2018 - 2026
3.1. Global Narcolepsy Drugs Market Outlook, By Therapeutics, 2018 - 2026
3.1.1. Key Highlights
3.1.2. Global Narcolepsy Drugs Market Outlook, by Therapeutics, Value (US$ Million), 2018 - 2026
3.1.2.1. Psychostimulants
3.1.2.2. Tricyclic Antidepressants
3.1.2.3. Sodium Oxybate
3.1.2.4. Selective Serotonin Reuptake Inhibitors
3.1.2.5. Others
3.1.3. Global Narcolepsy Drugs Market Share and BPS Analysis, by Therapeutics, 2021 and 2026
3.1.4. Global Narcolepsy Drugs Market Attractiveness Analysis, by Therapeutics, 2021-2026
3.2. Global Narcolepsy Drugs Market Outlook, By Narcolepsy Type, 2018 - 2026
3.2.1. Key Highlights
3.2.2. Global Narcolepsy Drugs Market Outlook, by Narcolepsy Type, Value (US$ Million), 2018 - 2026
3.2.2.1. Cataplexy
3.2.2.2. Without Cataplexy
3.2.3. Global Narcolepsy Drugs Market Share and BPS Analysis, by Narcolepsy Type, 2021 and 2026
3.2.4. Global Narcolepsy Drugs Market Attractiveness Analysis, by Narcolepsy Type, 2021-2026
3.3. Global Narcolepsy Drugs Market Outlook, By Region, 2018 - 2026
3.3.1. Key Highlights
3.3.2. Global Narcolepsy Drugs Market Outlook, by Region, Value (US$ Million), 2018 - 2026
3.3.2.1. North America
3.3.2.2. Europe
3.3.2.3. Asia Pacific
3.3.2.4. Rest of World
3.3.3. Global Narcolepsy Drugs Market Share and BPS Analysis, by Region, 2021 and 2026
3.3.4. Global Narcolepsy Drugs Market Attractiveness Analysis, by Region, 2021-2026
4. North America Narcolepsy Drugs Market Outlook, 2018 - 2026
4.1. North America Narcolepsy Drugs Market Outlook, By Therapeutics, 2018 - 2026
4.1.1. Key Highlights
4.1.2. North America Narcolepsy Drugs Market Outlook, by Therapeutics, Value (US$ Million), 2018 - 2026
4.1.2.1. Psychostimulants
4.1.2.2. Tricyclic Antidepressants
4.1.2.3. Sodium Oxybate
4.1.2.4. Selective Serotonin Reuptake Inhibitors
4.1.2.5. Others
4.1.3. North America Narcolepsy Drugs Market Share and BPS Analysis, by Therapeutics, 2021 and 2026
4.2. North America Narcolepsy Drugs Market Outlook, By Narcolepsy Type, 2018 - 2026
4.2.1. Key Highlights
4.2.2. North America Narcolepsy Drugs Market Outlook, by Narcolepsy Type, Value (US$ Million), 2018 - 2026
4.2.2.1. Cataplexy
4.2.2.2. Without Cataplexy
4.2.3. North America Narcolepsy Drugs Market Share and BPS Analysis, by Narcolepsy Type, 2021 and 2026
4.3. North America Narcolepsy Drugs Market Outlook, By Country, 2018 - 2026
4.3.1. Key Highlights
4.3.2. North America Narcolepsy Drugs Market Outlook, by Country, Value (US$ Million), 2018 - 2026
4.3.2.1. U.S.
4.3.2.2. Canada
4.3.3. North America Narcolepsy Drugs Market Share and BPS Analysis, by Country, 2021 and 2026
5. Europe Narcolepsy Drugs Market Outlook, 2018 - 2026
5.1. Europe Narcolepsy Drugs Market Outlook, By Therapeutics, 2018 - 2026
5.1.1. Key Highlights
5.1.2. Europe Narcolepsy Drugs Market Outlook, by Therapeutics, Value (US$ Million), 2018 - 2026
5.1.2.1. Psychostimulants
5.1.2.2. Tricyclic Antidepressants
5.1.2.3. Sodium Oxybate
5.1.2.4. Selective Serotonin Reuptake Inhibitors
5.1.2.5. Others
5.1.3. Europe Narcolepsy Drugs Market Share and BPS Analysis, by Therapeutics, 2021 and 2026
5.2. Europe Narcolepsy Drugs Market Outlook, By Narcolepsy Type, 2018 - 2026
5.2.1. Key Highlights
5.2.2. Europe Narcolepsy Drugs Market Outlook, by Narcolepsy Type, Value (US$ Million), 2018 - 2026
5.2.2.1. Cataplexy
5.2.2.2. Without Cataplexy
5.2.3. Europe Narcolepsy Drugs Market Share and BPS Analysis, by Narcolepsy Type, 2021 and 2026
5.3. Europe Narcolepsy Drugs Market Outlook, By Country, 2018 - 2026
5.3.1. Key Highlights
5.3.2. Europe Narcolepsy Drugs Market Outlook, by Country, Value (US$ Million), 2018 - 2026
5.3.2.1. Germany
5.3.2.2. France
5.3.2.3. United Kingdom
5.3.2.4. Italy
5.3.2.5. Spain
5.3.2.6. Rest of Europe
5.3.3. Europe Narcolepsy Drugs Market Share and BPS Analysis, by Country, 2021 and 2026
6. Asia Pacific Narcolepsy Drugs Market Outlook, 2018 - 2026
6.1. Asia Pacific Narcolepsy Drugs Market Outlook, By Therapeutics, 2018 - 2026
6.1.1. Key Highlights
6.1.2. Asia Pacific Narcolepsy Drugs Market Outlook, by Therapeutics, Value (US$ Million), 2018 - 2026
6.1.2.1. Psychostimulants
6.1.2.2. Tricyclic Antidepressants
6.1.2.3. Sodium Oxybate
6.1.2.4. Selective Serotonin Reuptake Inhibitors
6.1.2.5. Others
6.1.3. Asia Pacific Narcolepsy Drugs Market Share and BPS Analysis, by Therapeutics, 2021 and 2026
6.2. Asia Pacific Narcolepsy Drugs Market Outlook, By Narcolepsy Type, 2018 - 2026
6.2.1. Key Highlights
6.2.2. Asia Pacific Narcolepsy Drugs Market Outlook, by Narcolepsy Type, Value (US$ Million), 2018 - 2026
6.2.2.1. Cataplexy
6.2.2.2. Without Cataplexy
6.2.3. Asia Pacific Narcolepsy Drugs Market Share and BPS Analysis, by Narcolepsy Type, 2021 and 2026
6.3. Asia Pacific Narcolepsy Drugs Market Outlook, By Country, 2018 - 2026
6.3.1. Key Highlights
6.3.2. Asia Pacific Narcolepsy Drugs Market Outlook, by Country, Value (US$ Million), 2018 - 2026
6.3.2.1. China
6.3.2.2. Japan
6.3.2.3. India
6.3.2.4. Australia & New Zealand
6.3.2.5. Rest of Asia Pacific
6.3.3. Asia Pacific Narcolepsy Drugs Market Share and BPS Analysis, by Country, 2021 and 2026
7. Rest of World Narcolepsy Drugs Market Outlook, 2018 - 2026
7.1. Rest of World Narcolepsy Drugs Market Outlook, By Therapeutics, 2018 - 2026
7.1.1. Key Highlights
7.1.2. Rest of World Narcolepsy Drugs Market Outlook, by Therapeutics, Value (US$ Million), 2018 - 2026
7.1.2.1. Psychostimulants
7.1.2.2. Tricyclic Antidepressants
7.1.2.3. Sodium Oxybate
7.1.2.4. Selective Serotonin Reuptake Inhibitors
7.1.2.5. Others
7.1.3. Rest of World Narcolepsy Drugs Market Share and BPS Analysis, by Therapeutics, 2021 and 2026
7.2. Rest of World Narcolepsy Drugs Market Outlook, By Narcolepsy Type, 2018 - 2026
7.2.1. Key Highlights
7.2.2. Rest of World Narcolepsy Drugs Market Outlook, by Narcolepsy Type, Value (US$ Million), 2018 - 2026
7.2.2.1. Cataplexy
7.2.2.2. Without Cataplexy
7.2.3. Rest of World Narcolepsy Drugs Market Share and BPS Analysis, by Narcolepsy Type, 2021 and 2026
7.3. Rest of World Narcolepsy Drugs Market Outlook, By Sub-Region, 2018 - 2026
7.3.1. Key Highlights
7.3.2. Rest of World Narcolepsy Drugs Market Outlook, by Sub-Region, Value (US$ Million), 2018 - 2026
7.3.2.1. Latin America
7.3.2.2. Middle East & Africa
7.3.3. Rest of World Narcolepsy Drugs Market Share and BPS Analysis, by Sub-Region, 2021 and 2026
8. Competitive Landscape
8.1. Market Share Analysis, 2021
8.2. Company Profiles
8.2.1. Jazz Pharmaceuticals, Inc.
8.2.1.1. Company overview
8.2.1.2. Financial performance
8.2.1.3. Product Pipeline
8.2.1.4. Recent Developments
Above details will include, but not be limited to below list of companies based on availability
8.2.2. Harmony Biosciences
8.2.3. Avadel Pharmaceuticals plc
8.2.4. Axsome Therapeutics, Inc.
8.2.5. Arena Pharmaceuticals, Inc.
8.2.6. Graymark Healthcare, Inc.
8.2.7. Teva Pharmaceutical Industries Ltd.
8.2.8. Shionogi Inc.
8.2.9. Ligand Pharmaceuticals, Inc.
Other Leading Players
9. Appendix
9.1. Research Methodology
9.2. Report Specific Research Approach
BASE YEAR

HISTORICAL DATA

FORECAST PERIOD

UNITS

2020

2018 - 2019

2021 - 2026

Value: US$ Million
REPORT FEATURES

DETAILS

Therapeutics

Psychostimulants

Tricyclic Antidepressants

Sodium Oxybate

Selective Serotonin Reuptake Inhibitors

Others

Narcolepsy Type

Cataplexy

Without Cataplexy

Geographic Coverage

Germany

France

United Kingdom

Italy

Spain

Rest of Europe

Japan

China

India

Australia & New Zealand

Rest of Asia Pacific

Latin America

Middle East & Africa

Leading Companies

Jazz Pharmaceuticals, Inc.

Harmony Biosciences

Avadel Pharmaceuticals plc

Axsome Therapeutics, Inc.

Arena Pharmaceuticals, Inc.

Graymark Healthcare, Inc.

Teva Pharmaceutical Industries Ltd.

Shionogi Inc.

Ligand Pharmaceuticals, Inc.

Report Highlights

Key Market Indicators, Market Estimates and Forecast, Market Dynamics, COVID-19 Impact Analysis, Competitive Landscape, Company Profiles, Regional Insights, Narcolepsy

Drugs Pipeline Analysis