Passenger Information System Market Outlook
Passenger Information System Market Thrives as Information Becomes Crucial to Public Safety
Passenger information systems offer a reliable link between passengers and transit systems. According to the International Civil Aviation Organization (ICAO), the total number of passengers who travelled worldwide increased by 6.4% in 2018 to 4.3 Bn. Furthermore, the United Nations predicted that urbanization would result in higher usage of public transportation, such as transit buses, rail, and metro will increase in urban areas by 2030. Over the forecast period, the market is expected to rise due to an increase in the number of travelers and passengers, as well as the expansion of public transportation infrastructure around the world. The soaring rise in the number of passengers and travelers is thus expected to drive the demand in the global passenger information systems market.
In the recent study conducted by Fairfield Market Research, the global passenger information system market was valued at US$19,264 Mn in 2018 and it is expected to reach US$42,027 Mn by 2026, registering a whopping CAGR of 11.9% between 2021 and 2026.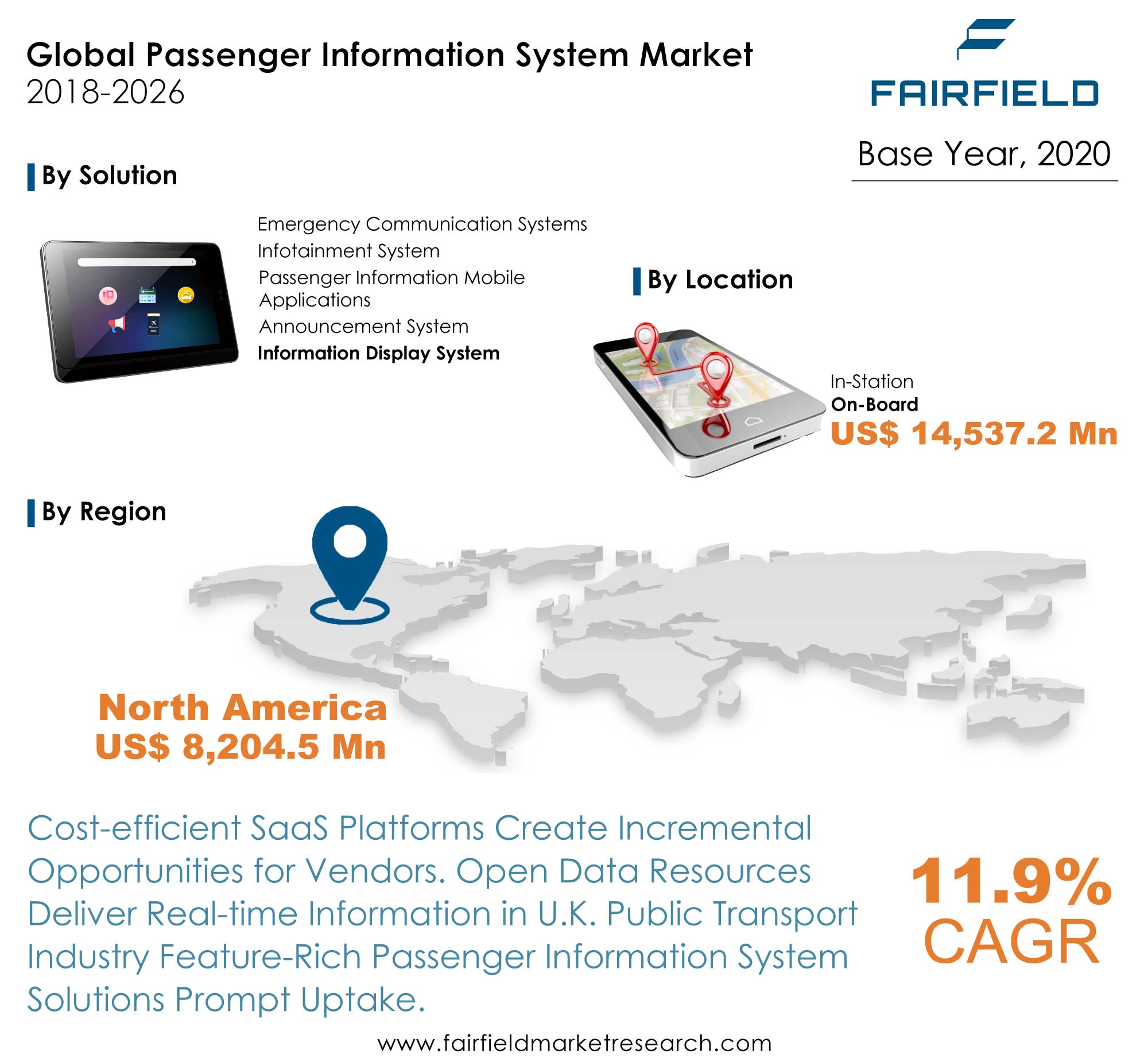 Global Workforce Creates Golden Opportunities for Passenger Information System Market
Rail and bus operators must differentiate themselves in an increasingly connected world by making their services more appealing to travelers and passengers. Furthermore, with rising passenger expectations for safe, on-time, and comfortable travel, there is an ongoing demand for real-time, consistent, and trustworthy data. They anticipate detailed information on essential elements like as arrival timings, connections, alternate routes, disruptions, and on-board amenities. The digitization of transit operations has resulted from the growing wants and demands of passengers, which will fuel market expansion in the next years.
Improving Public Transport Systems in Urban Areas to Stoke Global Passenger Information System Market
The market is likely to be driven by an increase in urbanization, as well as an increase in various public transportation services such as buses, trams, metros, and railways. The industry has a strong growth potential to be tapped in the coming years, because to advances in data connectivity, mobile device usage, and a rise in transportation technology aggregators. The expansion and development of public transportation systems have resulted in a boom in the number of passengers using public transportation. Furthermore, rising fuel prices and the difficulty of finding a parking spot are encouraging individuals to use public transportation, which will drive market growth over time.
Adoption of IoT, 5G, and Automation Technologies to Enhance Transportation Infrastructure
The major accelerators in growing the next industrial revolution, which is likely to promote the growth of transportation infrastructure, are artificial intelligence, machine learning, Internet of Things (IoT), and big data. To boost connectivity and speed up the transmission of transit information, AI, machine learning, and IoT will be used to supplement the passenger information system with communication network technology. Transport IT solution providers are attempting to meet the demands of dynamic passenger information needs and a variety of state-of-the-art information channels in order to acquire a competitive advantage in the market. For example, the INIT Departures Live app from Innovation in traffic systems SE smoothly supports the necessary cross-media communication for real-time passenger and emergency information.
Legacy Systems to Hinder Growth of Passenger Information System Market
Legacy systems are obsolete computer software and hardware that are still in use after modern technologies have been installed. Legacy systems are critical for businesses because they provide some of the most important business functions. Organizations must modernize their legacy systems since it is difficult to continue using systems whose providers' services have been withdrawn. Many legacy systems lack the necessary configuration to connect to smart devices and improved communication networks. The presence of these legacy systems with the many components present in the smart public transportation ecosystem is a problem for passenger information system market players. Multiple suppliers are involved in the smart public transportation ecosystem, which integrates multiple technology elements such as software, hardware, and network elements. The integration of smart technology elements with legacy transportation systems is highly complex due to the lack of an open interface and protocol issues. These integration issues would then lead to communication gaps between traditional systems and technologically advanced systems. In addition, the upgradation of legacy systems requires high investments. These complexities are expected to restrict the PIS market growth in the coming years.
North America to Account for Largest Market Share in Global Passenger Information System Market
North America accounted for a market share of over 30.0% in 2019 owing to a greater focus on development in transportation infrastructure along with high investments in intelligent transportation systems made by private and public sector companies. As per the U.S. Department of Transportation, in 2018, the department made a total of US$63.9 Bn investments in major transportation infrastructure projects across the nation. Besides, the European Union (EU) has also made major investments of US$390.0 Bn for its transportation infrastructure through its Cohesion policy (2004-2020). Moreover, Europe is likely to witness substantial market growth over the forecast period owing to the presence of major key players such as Alstom, Siemens AG, Advantech Co., and Thales Group.
In December 2019, the World Health Organization (WHO) declared a public emergency amid the outbreak of COVID-19 disease that has spread to almost all the countries across the globe. The shutdown, travel bans, and quarantine measures declared by the countries have adversely affected the economies and industries. As per the recent estimates projected by the IATA, the annual loss for the airline industry is expected to be around US$200+ Bn. A similar downtrend is expected to be noticed among rail and public transport industry. Owing to this impact, temporary repercussions on the market are likely to be witnessed in the coming year. However, with the relaxation of worldwide restrictions on the travel industry and public transport systems, the utility of passenger information systems is anticipated to witness a positive growth post 2022.
Companies Focus on Interoperability Integration to Make a Mark in Global Passenger Information System Market
The global passenger information system market is diversified with multinational companies such as Medha Servo Drives Private Limited, Mitsubishi Electric Corporati0on, Toshiba Infrastructure Systems & Solutions Corporation, Advantech Co., Ltd., Teleste Corporation, ALSTOM, Siemens Mobility, Quester Tangent, indra, ST Engineering, Thales Group, Lunetta, Cubic Corporation, r2P GmbH, Kentkart, Tattile, Masstrans, Televic Group NV, and Icon Multimedia among others.
Many contracts and agreements are also initiated by the companies' worldwide which are also accelerating the passenger information system market.
In June 2020, Mitsubishi Electric Corporation announced that it has acquired EKE-Electronics Ltd., a Finnish manufacturer of train information systems. This acquisition will allow Mitsubishi Electric to drive business collaboration with EKE-Electronics in order to enhance its train passenger information systems business in overseas market
In July 2018, Toshiba Digital Solutions and JUNPUZI Launch Trials for AI-based Demand Responsive Rideshare Transportation System that alleviated transport access difficulties and contributed to community revitalization. This acquisition helped the company to expand its technology and portfolio.
The Global Passenger Information System Market is Segmented as Below:
By Location Coverage
By Components Coverage
Hardware
Software
Services

Training Support & Maintenance
Consulting & Integration Services
By Mode of Transportation
Airways & Waterways
Railway
Roadway
By End-Use Coverage
Information Display System
Announcement System
Infotainment System
Passenger Information Mobile Applications
Emergency Communication Systems
By Geographical Coverage
North America
Europe

Germany
France
UK
Italy
Turkey
Spain
Russia
Rest of Europe

Asia Pacific

China
Japan
South Korea
India
Southeast Asia
Rest of Asia Pacific

Latin America

Brazil
Mexico
Rest of Latin America

Middle East & Africa

GCC
Egypt
Rest of Middle East & Africa
Leading Companies
Advantech
Alstom
Wabtec
Hitachi
Huawei
Thales
Teleste
Televic
Quester Tangent
Passio Technologies
Inside This Report You Will Find:
1. Executive Summary
2. Market Overview
3. Global Passenger Information System Market Outlook, 2018 - 2026
4. North America Passenger Information System Market Outlook, 2018 - 2026
5. Europe Passenger Information System Market Outlook, 2018 - 2026
6. Asia Pacific Passenger Information System Market Outlook, 2018 - 2026
7. Latin America Passenger Information System Market Outlook, 2018 - 2026
8. Middle East & Africa Passenger Information System Market Outlook, 2018 - 2026
9. Competitive Landscape
10. Appendix
Post Sale Support, Research Updates & Offerings:
We value the trust shown by our customers in Fairfield Market Research. We support our clients through our post sale support, research updates and offerings.
The report will be prepared in a PPT format and will be delivered in a PDF format.
Additionally, Market Estimation and Forecast numbers will be shared in Excel Workbook.
If a report being sold was published over a year ago, we will offer a complimentary copy of the updated research report along with Market Estimation and Forecast numbers within 2-3 weeks' time of the sale.
If we update this research study within the next 2 quarters, post purchase of the report, we will offer a Complimentary copy of the updated Market Estimation and Forecast numbers in Excel Workbook.
If there is a geopolitical conflict, pandemic, recession, and the like which can impact global economic scenario and business activity, which might entirely alter the market dynamics or future projections in the industry, we will create a Research Update upon your request at a nominal charge.
1. Executive Summary
1.1. Global Passenger Information System Market Snapshot
1.2. Future Projections
1.3. Key Market Trends
1.4. Analyst Recommendations

2. Market Overview
2.1. Market Definitions
2.2. Market Taxonomy
2.3. Market Dynamics
2.3.1. Drivers
2.3.2. Restraints
2.4. Value Chain Analysis
2.5. Porter's Five Forces Analysis
2.6. Covid-19 Impact Analysis
2.7. Key Patents

3. Global Passenger Information System Market Outlook, 2018-2026
3.1. Global Passenger Information System Market Outlook, by Location Type, Value (US$ '000), 2018-2026
3.1.1. Key Highlights
3.1.1.1. On-Board
3.1.1.2. In Station
3.1.2. BPS Analysis/Market Attractiveness Analysis
3.2. Global Passenger Information System Market Outlook, by Solution, Value (US$ '000), 2018-2026
3.2.1. Key Highlights
3.2.1.1. Information Display System
3.2.1.2. Announcement System
3.2.1.3. Infotainment System
3.2.1.4. Passenger Information Mobile Applications
3.2.1.5. Emergency Communication Systems
3.2.2. BPS Analysis/Market Attractiveness Analysis
3.3. Global Passenger Information System Market Outlook, by Components, Value (US$ '000), 2018-2026
3.3.1. Key Highlights
3.3.2. Hardware
3.3.3. Software
3.3.4. Services
3.3.4.1. Training Support & Maintenance
3.3.4.2. Consulting & Integration
3.4. Services BPS Analysis/Market Attractiveness Analysis
3.5. Global Passenger Information System Market Outlook, by Components, Value (US$ '000), 2018-2026
3.5.1. Key Highlights
3.5.1.1. Airways & Waterways
3.5.1.2. Railway
3.5.1.2.1. Trains
3.5.1.2.2. Trams
3.5.1.1.3. Roadway
3.6. Services BPS Analysis/Market Attractiveness Analysis
3.7. Global Passenger Information System Market Outlook, by Region, Value (US$ '000), 2018-2026
3.7.1. Key Highlights
3.7.1.1. North America
3.7.1.2. Europe
3.7.1.3. Asia Pacific
3.7.1.4. Latin America
3.7.1.5. Middle East & Africa
3.7.2. BPS Analysis/Market Attractiveness Analysis

4. North America Passenger Information System Market Outlook, 2018-2026
4.1. North America Passenger Information System Market Outlook, by Location Type, Value (US$ '000), 2018-2026
4.1.1. Key Highlights
4.1.1.1. On-Board
4.1.1.2. In Station
4.1.2. BPS Analysis/Market Attractiveness Analysis
4.2. North America Passenger Information System Market Outlook, by Solution, Value (US$ '000), 2018-2026
4.2.1. Key Highlights
4.2.1.1. Information Display System
4.2.1.2. Announcement System
4.2.1.3. Infotainment System
4.2.1.4. Passenger Information Mobile Applications
4.2.1.5. Emergency Communication Systems
4.2.2. BPS Analysis/Market Attractiveness Analysis
4.3. North America Passenger Information System Market Outlook, by Components, Value (US$ '000), 2018-2026
4.3.1. Key Highlights
4.3.2. Hardware
4.3.3. Software
4.3.4. Services
4.3.4.1. Training Support & Maintenance
4.3.4.2. Consulting & Integration
4.4. Services BPS Analysis/Market Attractiveness Analysis
4.5. North America Passenger Information System Market Outlook, by Components, Value (US$ '000), 2018-2026
4.5.1. Key Highlights
4.5.1.1. Airways & Waterways
4.5.1.2. Railway
4.5.1.2.1. Trains
4.5.1.2.2. Trams
4.5.1.3. Roadway
4.5.2. Services BPS Analysis/Market Attractiveness Analysis
4.6. North America Passenger Information System Market Outlook, by Country, Value (US$ '000), 2018-2026
4.6.1. Key Highlights
4.6.1.1. U.S. Passenger Information System Market by Value (US$ '000), 2018-2026
4.6.1.2. Canada Passenger Information System Market by Value (US$ '000), 2018-2026
4.6.2. BPS Analysis/Market Attractiveness Analysis

5. Europe Passenger Information System Market Outlook, 2018-2026
5.1. Europe Passenger Information System Market Outlook, by Location Type, Value (US$ '000), 2018-2026
5.1.1. Key Highlights
5.1.1.1. On-Board
5.1.1.2. In Station
5.1.2. BPS Analysis/Market Attractiveness Analysis
5.2. Europe Passenger Information System Market Outlook, by Solution, Value (US$ '000), 2018-2026
5.2.1. Key Highlights
5.2.1.1. Information Display System
5.2.1.2. Announcement System
5.2.1.3. Infotainment System
5.2.1.4. Passenger Information Mobile Applications
5.2.1.5. Emergency Communication Systems
5.2.2. BPS Analysis/Market Attractiveness Analysis
5.3. Europe Passenger Information System Market Outlook, by Components, Value (US$ '000), 2018-2026
5.3.1. Key Highlights
5.3.2. Hardware
5.3.3. Software
5.3.4. Services
5.3.4.1. Training Support & Maintenance
5.3.4.2. Consulting & Integration
5.4. Services BPS Analysis/Market Attractiveness Analysis
5.5. Europe Passenger Information System Market Outlook, by Components, Value (US$ '000), 2018-2026
5.5.1. Key Highlights
5.5.1.1. Airways & Waterways
5.5.1.2. Railway
5.5.1.2.1. Trains
5.5.1.2.2. Trams
5.5.1.3. Roadway
5.5.2. Services BPS Analysis/Market Attractiveness Analysis
5.6. Europe Passenger Information System Market Outlook, by Country, Value (US$ '000), 2018-2026
5.6.1. Key Highlights
5.6.1.1. Germany Passenger Information System Market by Value (US$ '000), 2018-2026
5.6.1.2. France Passenger Information System Market by Product, Value (US$ '000), 2018-2026
5.6.1.3. U.K. Passenger Information System Market by Value (US$ '000), 2018-2026
5.6.1.4. Italy Passenger Information System Market by Value (US$ '000), 2018-2026
5.6.1.5. Spain Passenger Information System Market by Product, Value (US$ '000), 2018-2026
5.6.1.6. Rest of Europe Passenger Information System Market Value (US$ '000), 2018-2026
5.6.2. BPS Analysis/Market Attractiveness Analysis

6. Asia Pacific Passenger Information System Market Outlook, 2018-2026
6.1. Asia Pacific Passenger Information System Market Outlook, by Location Type, Value (US$ '000), 2018-2026
6.1.1. Key Highlights
6.1.1.1. On-Board
6.1.1.2. In Station
6.1.2. BPS Analysis/Market Attractiveness Analysis
6.2. Asia Pacific Passenger Information System Market Outlook, by Solution, Value (US$ '000), 2018-2026
6.2.1. Key Highlights
6.2.1.1. Information Display System
6.2.1.2. Announcement System
6.2.1.3. Infotainment System
6.2.1.4. Passenger Information Mobile Applications
6.2.1.5. Emergency Communication Systems
6.2.2. BPS Analysis/Market Attractiveness Analysis
6.3. Asia Pacific Passenger Information System Market Outlook, by Components, Value (US$ '000), 2018-2026
6.3.1. Key Highlights
6.3.2. Hardware
6.3.3. Software
6.3.4. Services
6.3.4.1. Training Support & Maintenance
6.3.4.2. Consulting & Integration
6.4. Services BPS Analysis/Market Attractiveness Analysis
6.5. Asia Pacific Passenger Information System Market Outlook, by Components, Value (US$ '000), 2018-2026
6.5.1. Key Highlights
6.5.1.1. Airways & Waterways
6.5.1.2. Railway
6.5.1.2.1. Trains
6.5.1.2.2. Trams
6.5.1.3. Roadway
6.5.2. Services BPS Analysis/Market Attractiveness Analysis
6.6. Asia Pacific Passenger Information System Market Outlook, by Country, Value (US$ '000), 2018-2026
6.6.1. Key Highlights
6.6.1.1. India Passenger Information System Market by Value (US$ '000), 2018-2026
6.6.1.2. China Passenger Information System Market by Value (US$ '000), 2018-2026
6.6.1.3. Japan Passenger Information System Market by Value (US$ '000), 2018-2026
6.6.1.4. Australia & New Zealand Passenger Information System Market Value (US$ '000), 2018-2026
6.6.1.5. Rest of Asia Pacific Market by Value (US$ '000), 2018-2026
6.6.2. BPS Analysis/Market Attractiveness Analysis

7. Latin America Passenger Information System Market Outlook, 2018-2026
7.1. Latin America Passenger Information System Market Outlook, by Location Type, Value (US$ '000), 2018-2026
7.1.1. Key Highlights
7.1.1.1. On-Board
7.1.1.2. In Station
7.1.2. BPS Analysis/Market Attractiveness Analysis
7.2. Latin America Passenger Information System Market Outlook, by Solution, Value (US$ '000), 2018-2026
7.2.1. Key Highlights
7.2.1.1. Information Display System
7.2.1.2. Announcement System
7.2.1.3. Infotainment System
7.2.1.4. Passenger Information Mobile Applications
7.2.1.5. Emergency Communication Systems
7.2.2. BPS Analysis/Market Attractiveness Analysis
7.3. Latin America Passenger Information System Market Outlook, by Components, Value (US$ '000), 2018-2026
7.3.1. Key Highlights
7.3.2. Hardware
7.3.3. Software
7.3.4. Services
7.3.4.1. Training Support & Maintenance
7.3.4.2. Consulting & Integration
7.4. Services BPS Analysis/Market Attractiveness Analysis
7.5. Latin America Passenger Information System Market Outlook, by Components, Value (US$ '000), 2018-2026
7.5.1. Key Highlights
7.5.1.1. Airways & Waterways
7.5.1.2. Railway
7.5.1.2.1. Trains
7.5.1.2.2. Trams
7.5.1.3. Roadway
7.5.2. Services BPS Analysis/Market Attractiveness Analysis
7.6. Latin America Passenger Information System Market Outlook, by Country, Value (US$ '000), 2018-2026
7.6.1. Key Highlights
7.6.1.1. Brazil Passenger Information System Market by Value (US$ '000), 2018-2026
7.6.1.2. Mexico Passenger Information System Market by Value (US$ '000), 2018-2026
7.6.1.3. Rest of Latin America Passenger Information System Market by Value (US$ '000), 2018-2026
7.6.2. BPS Analysis/Market Attractiveness Analysis

8. Middle East & Africa Passenger Information System Market Outlook, 2018-2026
8.1. Middle East & Africa Passenger Information System Market Outlook, by Location Type, Value (US$ '000), 2018-2026
8.1.1. Key Highlights
8.1.1.1. On-Board
8.1.1.2. In Station
8.1.2. BPS Analysis/Market Attractiveness Analysis
8.2. Middle East & Africa Passenger Information System Market Outlook, by Solution, Value (US$ '000), 2018-2026
8.2.1. Key Highlights
8.2.1.1. Information Display System
8.2.1.2. Announcement System
8.2.1.3. Infotainment System
8.2.1.4. Passenger Information Mobile Applications
8.2.1.5. Emergency Communication Systems
8.2.2. BPS Analysis/Market Attractiveness Analysis
8.3. Middle East & Africa Passenger Information System Market Outlook, by Components, Value (US$ '000), 2018-2026
8.3.1. Key Highlights
8.3.2. Hardware
8.3.3. Software
8.3.4. Services
8.3.4.1. Training Support & Maintenance
8.3.4.2. Consulting & Integration
8.4. Services BPS Analysis/Market Attractiveness Analysis
8.5. Middle East & Africa Passenger Information System Market Outlook, by Components, Value (US$ '000), 2018-2026
8.5.1. Key Highlights
8.5.1.1. Airways & Waterways
8.5.1.2. Railway
8.5.1.2.1. Trains
8.5.1.2.2. Trams
8.5.1.3. Roadway
8.5.2. Services BPS Analysis/Market Attractiveness Analysis
8.6. Middle East & Africa Passenger Information System Market Outlook, by Country, Value (US$ '000), 2018-2026
8.6.1. Key Highlights
8.6.1.1. GCC Passenger Information System Market by Value (US$ '000), 2018-2026
8.6.1.2. South Africa Passenger Information System Market by Value (US$ '000), 2018-2026
8.6.1.3. Rest of Middle East & Africa Passenger Information System Market by Value (US$ '000), 2018-2026
8.6.2. BPS Analysis/Market Attractiveness Analysis

9. Competitive Landscape
9.1. Company Market Share Analysis, 2019
9.2. Company Profiles
9.2.1. Advantech
9.2.1.1. Company Overview
9.2.1.2. Key Retailing Partners
9.2.1.3. Business Segment Revenue
9.2.1.4. Ingredient Overview
9.2.1.5. Product Offering & its Presence
9.2.1.6. Certifications & Claims
9.2.2. Alstom
9.2.2.1. Company Overview
9.2.2.2. Key Retailing Partners
9.2.2.3. Business Segment Revenue
9.2.2.4. Ingredient Overview
9.2.2.5. Product Offering & its Presence
9.2.2.6. Certifications & Claims
9.2.3. Wabtech
9.2.3.1. Company Overview
9.2.3.2. Key Retailing Partners
9.2.3.3. Business Segment Revenue
9.2.3.4. Ingredient Overview
9.2.3.5. Product Offering & its Presence
9.2.3.6. Certifications & Claims
9.2.4. Hitachi
9.2.5. Huawei
9.2.6. Thales
9.2.7. Teleste
9.2.8. Televic
9.2.9. Quester Tangent
9.2.10. Passio Technologies

10. Appendix
10.1. Research Methodology
10.2. Report Assumptions
10.3. Acronyms and Abbreviations
BASE YEAR

HISTORICAL DATA

FORECAST PERIOD

UNITS

2020

2018 - 2020

2021 - 2026


Value: US$ Million
REPORT FEATURES

DETAILS

Location Coverage

Components Coverage

Hardware

Software

Services

Training Support & Maintenance

Consulting & Integration Services

By Mode of Transportation

Airways & Waterways

Railway

Roadway

End-Use Coverage

Information Display System

Announcement System

Infotainment System

Passenger Information Mobile Applications

Emergency Communication Systems

Geographical Coverage

North America

Europe

Germany

France

U.K.

Italy

Turkey

Spain

Russia

Rest of Europe

Asia Pacific

China

Japan

South Korea

India

Southeast Asia

Rest of Asia Pacific

Latin America

Brazil

Mexico

Rest of Latin America

Middle East & Africa

Leading Companies

Advantech

Alstom

Wabtec

Hitachi

Huawei

Thales

Teleste

Televic

Quester Tangent

Passio Technologies

Report Highlights

Market Estimates and Forecast, Market Dynamics, Industry Trends, Competition Landscape, Product-, Application-, Region-, Country-wise Trends & Analysis, COVID-19 Impact Analysis, Key Trends