Prebiotic Ingredient Market Outlook
"According to Fairfield Market Research, the global prebiotic ingredient market was valued at US$4.8 Bn in 2019 and will reach the valuation of US$10.2 Bn by 2026 end, registering a CAGR of 11.9 % between the forecast years of 2021 to 2026."
Demand for Healthier Drinks to Drive Global Prebiotic Ingredient Market
Over 1,400 foods and beverages contain prebiotic compounds. Manufacturers in a range of end-use sectors are using prebiotic ingredients to develop low-calorie foods, which is supporting prebiotic ingredient growth. Because of increased demand for healthy foods containing prebiotic ingredients, the market for prebiotic ingredients is predicted to grow, primarily in North America and Europe. Galacto-oligosaccharides (GOS) and fructo-oligosaccharides (FOS) are frequently employed in the food processing sector because they are easy on the digestive system. As a result, the prebiotic ingredient market is expected to develop throughout the forecast period.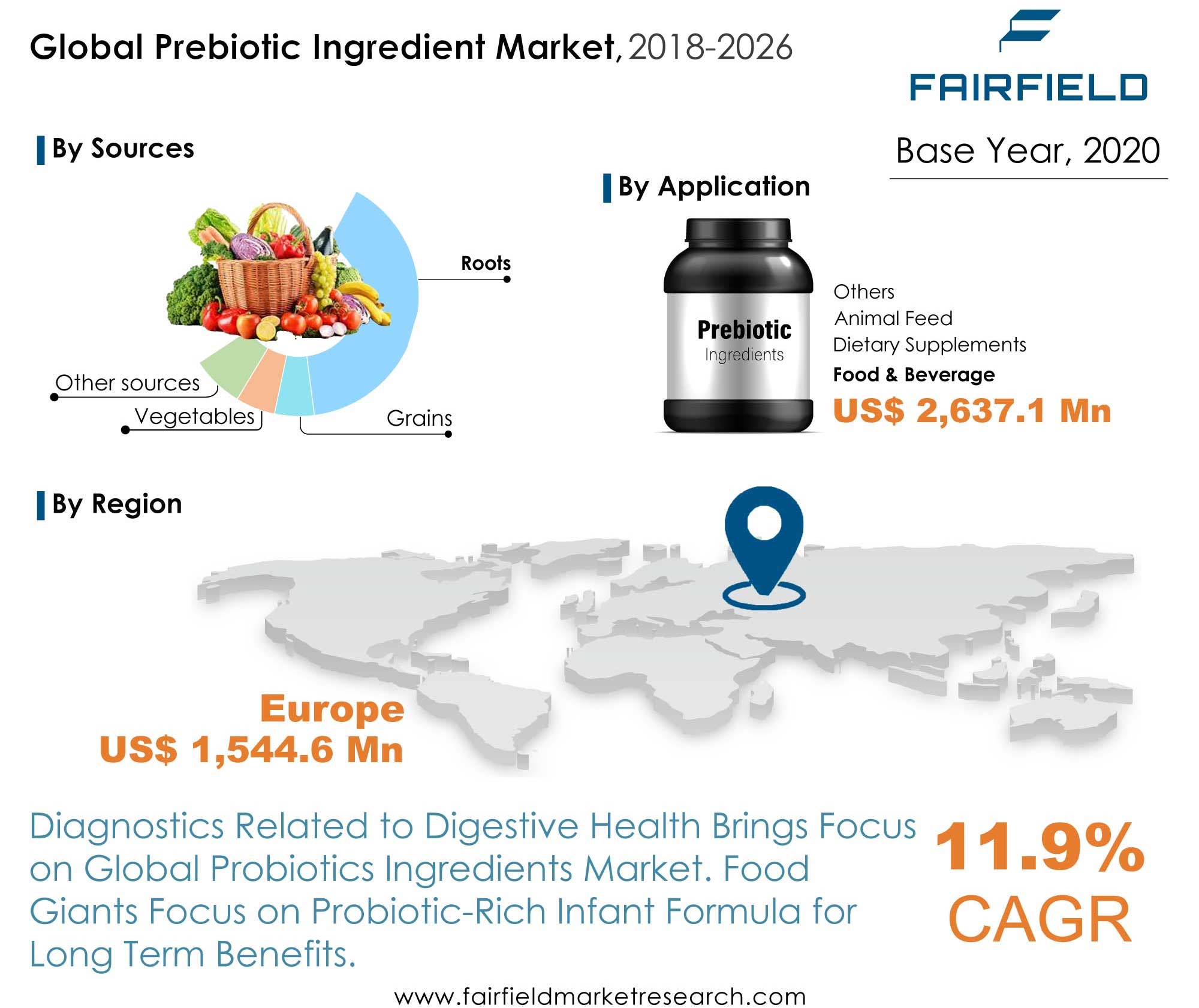 Growing Fondness of Plant-Based Drinks Creates Demand for Prebiotic Ingredients
Consumers prefer plant-based and natural products, thus manufacturers in a variety of industries are seeking to include natural components into their products. Prebiotic substances are primarily found in natural dietary fibre. People are eating more prebiotic fibres as they become more aware of the detrimental effects of antibiotics and other chemicals included in processed foods. As a result, the market for prebiotics is likely to benefit from the increased preference for plant-based products. Compounds of prebiotic fibre that are heat and pH stable. Prebiotics' numerous advantages have increased their demand in the end-use industry, which is expected to drive the prebiotics market forward. As a result, the prebiotic ingredient market is expected to develop throughout the forecast period.
Substantial Investments in R&D to Boost Production of Prebiotic Ingredients
Methods like Fourier Transform Infrared (FTIR), Thin Layer Chromatography (TLC), High-Performance Liquid Chromatography (HPLC), and spectro-photometry are used to extract prebiotics from vegetables and plants, and they all need significant R&D. There is a comparatively significant market visibility for probiotic ingredients due to the substantial R&D expenses involved in the synthesis of prebiotic compounds compared to probiotic components. Prebiotics and probiotics, on the other hand, are equally beneficial to human and animal health.
Substantial investments in R&D activities and investments in laboratories, research equipment, and hiring trained professionals that require high investment for the development of prebiotic ingredients is a barrier to the growth of mid-sized companies. Prebiotic ingredient applications are linked with health benefits that make it challenging for manufacturers to get an adequate return on investments on high initial investments.
Europe to See High Consumption of Prebiotic Ingredients as Lifestyles Undergo a Change
Globally, Europe are expected to lead the global prebiotic ingredient market by the end of 2026. Nonstop product launches and demands for healthy drinks are expected to drive these regional markets. Changing lifestyles and busy schedules, have increased unhealthy habits among consumers in recent years leading to various health-related problems like IBD, obesity, etc. As a result, rising preference for healthy food and heightened health concerns among consumers are anticipated to be the primary drivers for prebiotic ingredient market over the forecast period. Asia-pacific, prebiotic ingredient market is developing strong and will be the fastest growing market anticipating a high CAGR. Increasing population, rising spending capacity on staple food, high demand for fast food and escalating disposable income in consumers are major factors for future growth in the region.
Global Prebiotic Ingredient Market: Competitive Landscape
The global prebiotic ingredient market is highly diversified and competitive in nature owing to the presence of large number of local and international manufacturers, globally. Also, numerous producers of Prebiotic Ingredient have made huge production facilities available in several countries. Some of the leading market players identified are Koninklijke FrieslandCampina N.V., Kerry Group plc, Roquette Frères S.A., Ingredion Incorporated, Yakult Honsha Co. Ltd., Cargill Inc, Cosucra Groupe Warcoing SA, Fonterra Co-operative Group Limited, BENEO GmbH, Sensus America, Inc., Jarrow Formulas, Inc., among others. Product market is witnessing a strong competition, globally. Many market players are acquiring or merging with small and large manufacturers to sustain in this competitive market.
In October 2021, Cargill launches poultry feed with essential oils for healthy flocks and maximized egg production. To fulfil the demand of poultry owners for natural and wholesome feed, Cargill is delivering feed by adding essential oils to its Nutrena Naturewise poultry feeds. The natural essential oils contribute to the promotion of egg weight, size and production, enhanced palatability and a fresh aroma direct from the bag.
In October 2021, OptiBiotix Health PLC launches SnackSmart Fruit & Fibre gummies, which is the first consumer-facing product in the company's online store to contain the functional fiber and mineral blend, WellBiome, which promotes a healthy gut via a blend of non-digestible prebiotics and dietary fiber, glucomannan, and chromium.
In June 2020, Beneo announced expansion of chicory root fibre and rice starch ingredient portfolio with two new organic solutions. The launch of the new additions, comprising an organic waxy rice starch, Remyline O AX DR, and organic chicory root fibre, Orafti Organic, paves the way for Beneo to strengthen market position. Company's new Orafti®Organic, is a organic variant of its popular chicory root fibre. It is regionally grown and harvested by certified organic farmers in Belgium. Inulin and oligofructose remain the only proven plant-based prebiotics available, according to ISAPP (International Scientific Association for Pro- and Prebiotics).
The Global Prebiotic Ingredient Market is Segmented as Below:
By Type Coverage
Oligosaccharide
Inulin
Polydextrose
Disaccharides
Others
By Functionality Coverage
Gut Health
Cardiovascular Health
Bone Health
Immunity
Weight Management
Others
By Application Coverage
Food & Beverage
Dietary Supplements
Animal Feed
Others
By Sources Coverage
Roots
Grains
Vegetables
Other sources
By Geographical Coverage
North America
Europe

Germany
France
UK
Italy
Turkey
Spain
Russia
Rest of Europe

Asia Pacific

China
Japan
South Korea
India
Southeast Asia
Rest of Asia Pacific

Latin America

Brazil
Mexico
Rest of Latin America

Middle East & Africa

GCC
Egypt
Rest of Middle East & Africa
Leading Companies
DuPont
Ingredion
Roquette Group
ADM
Friesland Campina
Tate & Lyle PLC
Yakult
Kerry PLC
Beneo
Samyang Corp
Inside This Report You Will Find:
1. Executive Summary
2. Market Overview
3. Global Prebiotic Ingredients Market Outlook, 2018 - 2026
4. North America Prebiotic Ingredients Market Outlook, 2018 - 2026
5. Europe Prebiotic Ingredients Market Outlook, 2018 - 2026
6. Asia Pacific Prebiotic Ingredients Market Outlook, 2018 - 2026
7. Latin America Prebiotic Ingredients Market Outlook, 2018 - 2026
8. Middle East & Africa Prebiotic Ingredients Market Outlook, 2018 - 2026
9. Competitive Landscape
10. Appendix
Post Sale Support, Research Updates & Offerings:
We value the trust shown by our customers in Fairfield Market Research. We support our clients through our post sale support, research updates and offerings.
The report will be prepared in a PPT format and will be delivered in a PDF format.
Additionally, Market Estimation and Forecast numbers will be shared in Excel Workbook.
If a report being sold was published over a year ago, we will offer a complimentary copy of the updated research report along with Market Estimation and Forecast numbers within 2-3 weeks' time of the sale.
If we update this research study within the next 2 quarters, post purchase of the report, we will offer a Complimentary copy of the updated Market Estimation and Forecast numbers in Excel Workbook.
If there is a geopolitical conflict, pandemic, recession, and the like which can impact global economic scenario and business activity, which might entirely alter the market dynamics or future projections in the industry, we will create a Research Update upon your request at a nominal charge.
1. Executive Summary
1.1. Global Prebiotic Ingredients Market Snapshot
1.2. Future Projections
1.3. Key Market Trends
1.4. Analyst Recommendations

2. Market Overview
2.1. Market Definitions
2.2. Market Taxonomy
2.3. Market Dynamics
2.3.1. Drivers
2.3.2. Restraints
2.4. Value Chain Analysis
2.5. Porter's Five Forces Analysis
2.6. Covid-19 Impact Analysis
2.7. Key Patents

3. Global Prebiotic Ingredients Market Outlook, 2018 - 2026
3.1. Global Prebiotic Ingredients Market Outlook, by Type (US$ '000), 2018 - 2026
3.1.1. Key Highlights
3.1.1.1. Oligosaccharide
3.1.1.2. Inulin
3.1.1.3. Polydextrose
3.1.1.4. Disaccharides
3.1.1.5. Others
3.1.2. BPS Analysis/Market Attractiveness Analysis
3.2. Global Prebiotic Ingredients Market Outlook, by Functionality, Value (US$ '000), 2018 - 2026
3.2.1. Key Highlights
3.2.1.1. Gut Health
3.2.1.2. Cardiovascular Health
3.2.1.3. Bone Health
3.2.1.4. Immunity
3.2.1.5. Weight Management
3.2.1.6. Others
3.2.2. BPS Analysis/Market Attractiveness Analysis
3.3. Global Prebiotic Ingredients Market Outlook, by Application, Value (US$ '000), 2018 - 2026
3.3.1. Key Highlights
3.3.1.1. Food & Beverage
3.3.1.2. Dietary Supplements
3.3.1.3. Animal Feed
3.3.1.4. Others
3.3.2. BPS Analysis/Market Attractiveness Analysis
3.4. Global Prebiotic Ingredients Market Outlook, by Sources, Value (US$ '000), 2018 - 2026
3.4.1. Key Highlights
3.4.1.1. Roots
3.4.1.2. Grains
3.4.1.3. Vegetables
3.4.1.4. Other sources
3.4.2. BPS Analysis/Market Attractiveness Analysis
3.5. Global Prebiotic Ingredients Market Outlook, by Region, Value (US$ '000), 2018 - 2026
3.5.1. Key Highlights
3.5.1.1. North America
3.5.1.2. Europe
3.5.1.3. Asia Pacific
3.5.1.4. Latin America
3.5.1.5. Middle East & Africa
3.5.2. BPS Analysis/Market Attractiveness Analysis

4. North America Prebiotic Ingredients Market Outlook, 2018 - 2026
4.1. North America Prebiotic Ingredients Market Outlook, by Type (US$ '000), 2018 - 2026
4.1.1. Key Highlights
4.1.1.1. Oligosaccharide
4.1.1.2. Inulin
4.1.1.3. Polydextrose
4.1.1.4. Disaccharides
4.1.1.5. Others
4.1.2. BPS Analysis/Market Attractiveness Analysis
4.2. North America Prebiotic Ingredients Market Outlook, by Functionality, Value (US$ '000), 2018 - 2026
4.2.1. Key Highlights
4.2.1.1. Gut Health
4.2.1.2. Cardiovascular Health
4.2.1.3. Bone Health
4.2.1.4. Immunity
4.2.1.5. Weight Management
4.2.1.6. Others
4.2.2. BPS Analysis/Market Attractiveness Analysis
4.3. North America Prebiotic Ingredients Market Outlook, by Application, Value (US$ '000), 2018 - 2026
4.3.1. Key Highlights
4.3.1.1. Food & Beverage
4.3.1.2. Dietary Supplements
4.3.1.3. Animal Feed
4.3.1.4. Others
4.3.2. BPS Analysis/Market Attractiveness Analysis
4.4. North America Prebiotic Ingredients Market Outlook, by Sources, Value (US$ '000), 2018 - 2026
4.4.1. Key Highlights
4.4.1.1. Roots
4.4.1.2. Grains
4.4.1.3. Vegetables
4.4.1.4. Other sources
4.4.2. BPS Analysis/Market Attractiveness Analysis
4.5. North America Prebiotic Ingredients Market Outlook, by Country, Value (US$ '000), 2018 - 2026
4.5.1. Key Highlights
4.5.1.1. U.S. Prebiotic Ingredients Market by Value (US$ '000), 2018 - 2026
4.5.1.2. Canada Prebiotic Ingredients Market by Value (US$ '000), 2018 - 2026
4.5.2. BPS Analysis/Market Attractiveness Analysis

5. Europe Prebiotic Ingredients Market Outlook, 2018 - 2026
5.1. Europe Prebiotic Ingredients Market Outlook, by Type (US$ '000), 2018 - 2026
5.1.1. Key Highlights
5.1.1.1. Oligosaccharide
5.1.1.2. Inulin
5.1.1.3. Polydextrose
5.1.1.4. Disaccharides
5.1.1.5. Others
5.1.2. BPS Analysis/Market Attractiveness Analysis
5.2. Europe Prebiotic Ingredients Market Outlook, by Functionality, Value (US$ '000), 2018 - 2026
5.2.1. Key Highlights
5.2.1.1. Gut Health
5.2.1.2. Cardiovascular Health
5.2.1.3. Bone Health
5.2.1.4. Immunity
5.2.1.5. Weight Management
5.2.1.6. Others
5.2.2. BPS Analysis/Market Attractiveness Analysis
5.3. Europe Prebiotic Ingredients Market Outlook, by Application, Value (US$ '000), 2018 - 2026
5.3.1. Key Highlights
5.3.1.1. Food & Beverage
5.3.1.2. Dietary Supplements
5.3.1.3. Animal Feed
5.3.1.4. Others
5.3.2. BPS Analysis/Market Attractiveness Analysis
5.4. Europe Prebiotic Ingredients Market Outlook, by Sources, Value (US$ '000), 2018 - 2026
5.4.1. Key Highlights
5.4.1.1. Roots
5.4.1.2. Grains
5.4.1.3. Vegetables
5.4.1.4. Other sources
5.4.2. BPS Analysis/Market Attractiveness Analysis
5.5. Europe Prebiotic Ingredients Market Outlook, by Country, Value (US$ '000), 2018 - 2026
5.5.1. Key Highlights
5.5.1.1. Germany Prebiotic Ingredients Market by Value (US$ '000), 2018 - 2026
5.5.1.2. France Prebiotic Ingredients Market by Product, Value (US$ '000), 2018 - 2026
5.5.1.3. U.K. Prebiotic Ingredients Market by Value (US$ '000), 2018 - 2026
5.5.1.4. Italy Prebiotic Ingredients Market by Value (US$ '000), 2018 - 2026
5.5.1.5. Spain Prebiotic Ingredients Market by Product, Value (US$ '000), 2018 - 2026
5.5.1.6. Rest of Europe Prebiotic Ingredients Market Value (US$ '000), 2018 - 2026
5.5.2. BPS Analysis/Market Attractiveness Analysis

6. Asia Pacific Prebiotic Ingredients Market Outlook, 2018 - 2026
6.1. Asia Pacific Prebiotic Ingredients Market Outlook, by Type (US$ '000), 2018 - 2026
6.1.1. Key Highlights
6.1.1.1. Oligosaccharide
6.1.1.2. Inulin
6.1.1.3. Polydextrose
6.1.1.4. Disaccharides
6.1.1.5. Others
6.1.2. BPS Analysis/Market Attractiveness Analysis
6.2. Asia Pacific Prebiotic Ingredients Market Outlook, by Functionality, Value (US$ '000), 2018 - 2026
6.2.1. Key Highlights
6.2.1.1. Gut Health
6.2.1.2. Cardiovascular Health
6.2.1.3. Bone Health
6.2.1.4. Immunity
6.2.1.5. Weight Management
6.2.1.6. Others
6.2.2. BPS Analysis/Market Attractiveness Analysis
6.3. Asia Pacific Prebiotic Ingredients Market Outlook, by Application, Value (US$ '000), 2018 - 2026
6.3.1. Key Highlights
6.3.1.1. Food & Beverage
6.3.1.2. Dietary Supplements
6.3.1.3. Animal Feed
6.3.1.4. Others
6.3.2. BPS Analysis/Market Attractiveness Analysis
6.4. Asia Pacific Prebiotic Ingredients Market Outlook, by Sources, Value (US$ '000), 2018 - 2026
6.4.1. Key Highlights
6.4.1.1. Roots
6.4.1.2. Grains
6.4.1.3. Vegetables
6.4.1.4. Other sources
6.4.2. BPS Analysis/Market Attractiveness Analysis
6.5. Asia Pacific Prebiotic Ingredients Market Outlook, by Country, Value (US$ '000), 2018 - 2026
6.5.1. Key Highlights
6.5.1.1. India Prebiotic Ingredients Market by Value (US$ '000), 2018 - 2026
6.5.1.2. China Prebiotic Ingredients Market by Value (US$ '000), 2018 - 2026
6.5.1.3. Japan Prebiotic Ingredients Market by Value (US$ '000), 2018 - 2026
6.5.1.4. Australia & New Zealand Prebiotic Ingredients Market Value (US$ '000), 2018 - 2026
6.5.1.5. Rest of Asia Pacific Market by Value (US$ '000), 2018 - 2026
6.5.2. BPS Analysis/Market Attractiveness Analysis

7. Latin America Prebiotic Ingredients Market Outlook, 2018 - 2026
7.1. Latin America Prebiotic Ingredients Market Outlook, by Type (US$ '000), 2018 - 2026
7.1.1. Key Highlights
7.1.1.1. Oligosaccharide
7.1.1.2. Inulin
7.1.1.3. Polydextrose
7.1.1.4. Disaccharides
7.1.1.5. Others
7.1.2. BPS Analysis/Market Attractiveness Analysis
7.2. Latin America Prebiotic Ingredients Market Outlook, by Functionality, Value (US$ '000), 2018 - 2026
7.2.1. Key Highlights
7.2.1.1. Gut Health
7.2.1.2. Cardiovascular Health
7.2.1.3. Bone Health
7.2.1.4. Immunity
7.2.1.5. Weight Management
7.2.1.6. Others
7.2.2. BPS Analysis/Market Attractiveness Analysis
7.3. Latin America Prebiotic Ingredients Market Outlook, by Application, Value (US$ '000), 2018 - 2026
7.3.1. Key Highlights
7.3.1.1. Food & Beverage
7.3.1.2. Dietary Supplements
7.3.1.3. Animal Feed
7.3.1.4. Others
7.3.2. BPS Analysis/Market Attractiveness Analysis
7.4. Latin America Prebiotic Ingredients Market Outlook, by Sources, Value (US$ '000), 2018 - 2026
7.4.1. Key Highlights
7.4.1.1. Roots
7.4.1.2. Grains
7.4.1.3. Vegetables
7.4.1.4. Other sources
7.4.2. BPS Analysis/Market Attractiveness Analysis
7.5. Latin America Prebiotic Ingredients Market Outlook, by Country, Value (US$ '000), 2018 - 2026
7.5.1. Key Highlights
7.5.1.1. Brazil Prebiotic Ingredients Market by Value (US$ '000), 2018 - 2026
7.5.1.2. Mexico Prebiotic Ingredients Market by Value (US$ '000), 2018 - 2026
7.5.1.3. Rest of Latin America Prebiotic Ingredients Market by Value (US$ '000), 2018 - 2026
7.5.2. BPS Analysis/Market Attractiveness Analysis

8. Middle East & Africa Prebiotic Ingredients Market Outlook, 2018 - 2026
8.1. Middle East & Africa Prebiotic Ingredients Market Outlook, by Type (US$ '000), 2018 - 2026
8.1.1. Key Highlights
8.1.1.1. Oligosaccharide
8.1.1.2. Inulin
8.1.1.3. Polydextrose
8.1.1.4. Disaccharides
8.1.1.5. Others
8.1.2. BPS Analysis/Market Attractiveness Analysis
8.2. Middle East & Africa Prebiotic Ingredients Market Outlook, by Functionality, Value (US$ '000), 2018 - 2026
8.2.1. Key Highlights
8.2.1.1. Gut Health
8.2.1.2. Cardiovascular Health
8.2.1.3. Bone Health
8.2.1.4. Immunity
8.2.1.5. Weight Management
8.2.1.6. Others
8.2.2. BPS Analysis/Market Attractiveness Analysis
8.3. Middle East & Africa Prebiotic Ingredients Market Outlook, by Application, Value (US$ '000), 2018 - 2026
8.3.1. Key Highlights
8.3.1.1. Food & Beverage
8.3.1.2. Dietary Supplements
8.3.1.3. Animal Feed
8.3.1.4. Others
8.3.2. BPS Analysis/Market Attractiveness Analysis
8.4. Middle East & Africa Prebiotic Ingredients Market Outlook, by Sources, Value (US$ '000), 2018 - 2026
8.4.1. Key Highlights
8.4.1.1. Roots
8.4.1.2. Grains
8.4.1.3. Vegetables
8.4.1.4. Other sources
8.4.2. BPS Analysis/Market Attractiveness Analysis
8.5. Middle East & Africa Prebiotic Ingredients Market Outlook, by Country, Value (US$ '000), 2018 - 2026
8.5.1. Key Highlights
8.5.1.1. GCC Prebiotic Ingredients Market by Value (US$ '000), 2018 - 2026
8.5.1.2. South Africa Prebiotic Ingredients Market by Value (US$ '000), 2018 - 2026
8.5.1.3. Rest of Middle East & Africa Prebiotic Ingredients Market by Value (US$ '000), 2018 - 2026
8.5.2. BPS Analysis/Market Attractiveness Analysis

9. Competitive Landscape
9.1. Company Market Share Analysis, 2019
9.2. Company Profiles
9.2.1. DuPont
9.2.1.1. Company Overview
9.2.1.2. Key Retailing Partners
9.2.1.3. Business Segment Revenue
9.2.1.4. Ingredient Overview
9.2.1.5. Product Offering & its Presence
9.2.1.6. Certifications & Claims
9.2.2. Ingredion
9.2.3. Roquette Group
9.2.4. ADM
9.2.5. Friesland Campina
9.2.6. Tate & Lyle PLC
9.2.7. Yakult
9.2.8. Kerry PLC
9.2.9. Beneo
9.2.10. Samyang Corp

10. Appendix
10.1. Research Methodology
10.2. Report Assumptions
10.3. Acronyms and Abbreviations
BASE YEAR

HISTORICAL DATA

FORECAST PERIOD

UNITS

2020

2018 - 2020

2021 - 2026


Value: US$ Million
REPORT FEATURES

DETAILS

Type Coverage

Oligosaccharide

Inulin

Polydextrose

Disaccharides

Others

Functionality Coverage

Gut Health

Cardiovascular Health

Bone Health

Immunity

Weight Management

Others

Application Coverage

Food & Beverage

Dietary Supplements

Animal Feed

Others

Sources Coverage

Roots

Grains

Vegetables

Other sources

Geographical Coverage

North America

Europe

Germany

France

U.K.

Italy

Turkey

Spain

Russia

Rest of Europe

Asia Pacific

China

Japan

South Korea

India

Southeast Asia

Rest of Asia Pacific

Latin America

Brazil

Mexico

Rest of Latin America

Middle East & Africa

Leading Companies

DuPont

Ingredion

Roquette Group

ADM

Friesland Campina

Tate & Lyle PLC

Yakult

Kerry PLC

Beneo

Samyang Corp

Report Highlights

Market Estimates and Forecast, Market Dynamics, Industry Trends, Competition Landscape, Product-, Application-, Region-, Country-wise Trends & Analysis, COVID-19 Impact Analysis, Key Trends