Sports Analytics Market Outlook
Global sports analytics market was valued at nearly US$1.4 Bn in 2019 and is expected to be worth around US$15.8 Bn by 2029 end. Between the years of forecast, i.e., 2022 and 2029, the market is anticipated to register a stupendous CAGR of 25.9%.
Challenges Answered by Analytics Remains Highly Sought-after Application in Sports Analytics Market
Sports management teams have cracked the formula that analytics can not only improve the on-field performances but also help them off the field by giving their business a strong boost. The most sought-after application of analytics from the business point of view in sports is the challenges answered by analytics. This is expected to drive the expansion of sports analytics market over the course of next few years. In the world of football, the current Bayern Munich Manager "Pep Guardiola" is said to be a man obsessed with analytics, especially competitor analysis. "I look at the footage of our opponents and then try to work out how to demolish them," Guardiola was quoted. A close look at his methods shows that competitor analysis is done in three stages, viz., tactical analysis, performance analysis, and key weakness factorization.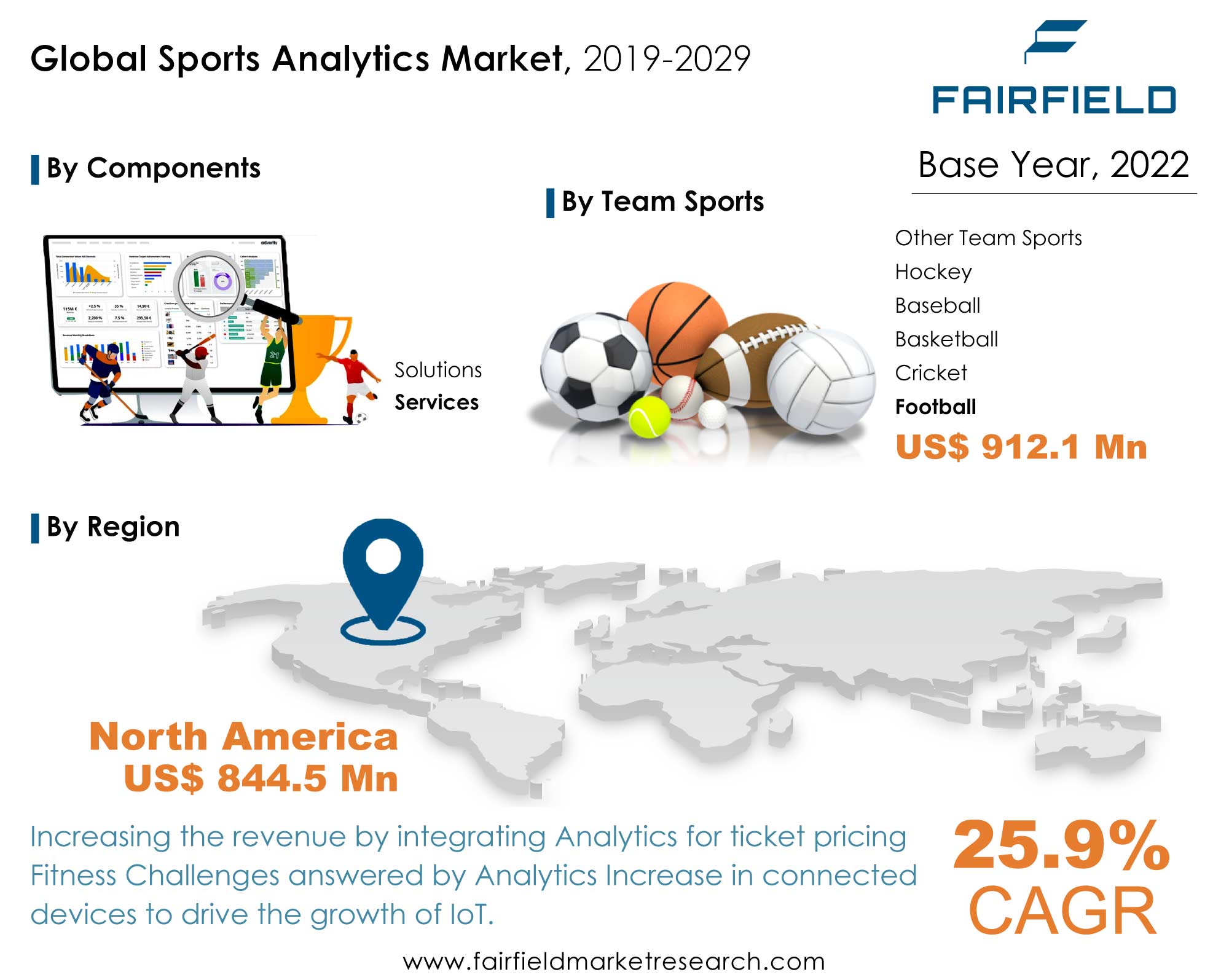 Multiple applications are present in sports analytics market to churn the factors and give quick turnaround time. The rigorous routine wears out the sportsperson and maintaining their fitness levels becomes a big challenge. This challenge has been answered by analytics. Nutrition, fitness, and training are the primary factors contributing to a player's performance. Now add technology to that. Vast amount of data is generated every time a ball is kicked or putted, or when a Formula 1 race car flashes in front of a thrilled crowd. All this falls in the category of unstructured data which in turn requires efficient data management solutions. This data, when churned using powerful Big Data tools, delivers useful statistics and insights - right from individual performance to a team's ability to function and hopefully win.
A Spectrum of Advantages Significantly Contributes Toward Sports Analytics Market Growth
Today's scenario has every action of a player monitored, both on and off the field, including their sleeping pattern, exercises, and the food timings along with their nutritional value. Analytics can effectively guide the coaches regarding how much the player is fit or injury prone due to stress and other contributing factors. The obtained information be provided on the best practices, and conditions for their rehab. Analytics can also clearly measure the past performance of players under similar conditions and whether the player would gel well in the current system. It has the ability to fish out data on the best combination of the team from the available options and the chances of success. On the field, the movements are tracked and monitored to calculate the distance covered by the players, the key contributions by the player, the positive and negatives on the day, and energy utilization by the player. Although technology can never take place of talent, training, fitness, teamwork, and all things that make sporting a joy to play and watch, it can certainly put some solid science and give the teams and players the winning edge. This is what would push the growth prospects of sports analytics market.
North America Continues to Surge Ahead in Global Sports Analytics Market
Lack of awareness regarding advantages of sports analytics solutions remains a longstanding challenge facing sports analytics market. The sports sector has always lagged far behind in adopting new technology, but things have evolved over time. To outperform rivals and produce better outcomes, sports authorities are implementing cutting-edge technical solutions. Sports, whether team or individual, have become intensely competitive, with players and coaches spending a lot of money to access facilities and infrastructure. Sports analytics is still a neglected field, but it will become more significant in the next years.
Enterprises in the areas lag in the use of analytics and other technologies because of poor technology penetration and strict governmental constraints, despite increased interest in such technologies to boost performance in North America, and Europe. Sports organizations across these regions still rely on traditional analysis methods and hire retired sportspersons or athletes as coaches to train their teams and physiotherapists to analyze the health of their players. All these factors hinder the growth of the sports analytics market. North America is expected to hold the largest revenue share in the sports analytics market. The key factors favouring the growth of North America's sports analytics market include increasing technological advancements in the region. The growing number of sports analytics players across the developed regions is expected to further drive the growth of sports analytics market.
Global Sports Analytics Market - Competitive Landscape
The key vendors in global sports analytics market have implemented various types of organic and inorganic growth strategies, such as new product launches, product upgradations, partnerships and agreements, business expansions, and mergers and acquisitions to strengthen their offerings in the market. Some of the major vendors in the global market include IBM, SAS Institute, Salesforce, EXL, GlobalStep, Catapult, HCL, ChyronHego, Stats Perform, TruMedia Network, DataArt, Orreco, Quant4Sport, Zebra Technologies, and Exasol.
Recent Notable Developments
In February 2022, Exasol launched a DBaaS on AWS which lets users collect data from different sources, including event data streaming or APIs


In May 2021, Stats Perform launched PressBox, an all-in-one online platform solution that delivers results at a faster speed than ever before. It is a platform for boosting revenue by increasing subscriptions with major fan engagement


In February 2020, Stats Perform launched OPTA Graphics, a platform which is the most intuitive multimedia graphics tool, which is fully customizable and helps organizations to develop their own custom template for the updates of the match
The Global Sports Analytics Market is Segmented as Below:
By Components Coverage
By Deployment Coverage
By Team Sports Coverage
Cricket
Football
Basketball
Baseball
Hockey
Other Team Sports
By Application Coverage
Performance Analysis
Player and Team Valuation
Player Fitness and Safety
Fan Engagement
Broadcast Management
Other Applications
By Geographical Coverage
North America
Europe

Germany
France
UK
Italy
Turkey
Spain
Russia
Rest of Europe

Asia Pacific

China
Japan
South Korea
India
Southeast Asia
Rest of Asia Pacific

Latin America

Brazil
Mexico
Rest of Latin America

Middle East & Africa

GCC
Egypt
Rest of Middle East & Africa
Leading Companies
IBM
Zebra Technologies
Catapult
EXL
SAS Institute
HCL
Salesforce
Sportradar
Whoop
Trumedia Networks
Inside This Report You Will Find:
1. Executive Summary
2. Market Overview
3. Global Sports Analytics Market Outlook, 2019 - 2027
4. North America Sports Analytics Market Outlook, 2019 - 2027
5. Europe Sports Analytics Market Outlook, 2019 - 2027
6. Asia Pacific Sports Analytics Market Outlook, 2019 - 2027
7. Middle East & Africa Sports Analytics Market Outlook, 2019 - 2027
8. Competitive Landscape
9. Appendix

Post Sale Support, Research Updates & Offerings:
We value the trust shown by our customers in Fairfield Market Research. We support our clients through our post sale support, research updates and offerings.
The report will be prepared in a PPT format and will be delivered in a PDF format.
Additionally, Market Estimation and Forecast numbers will be shared in Excel Workbook.
If a report being sold was published over a year ago, we will offer a complimentary copy of the updated research report along with Market Estimation and Forecast numbers within 2-3 weeks' time of the sale.
If we update this research study within the next 2 quarters, post purchase of the report, we will offer a Complimentary copy of the updated Market Estimation and Forecast numbers in Excel Workbook.
If there is a geopolitical conflict, pandemic, recession, and the like which can impact global economic scenario and business activity, which might entirely alter the market dynamics or future projections in the industry, we will create a Research Update upon your request at a nominal charge.
1. Executive Summary
1.1. Global Sports Analytics Market Snapshot
1.2. Future Projections
1.3. Key Market Trends
1.4. Analyst Recommendations

2. Market Overview
2.1. Market Definitions
2.2. Market Taxonomy
2.3. Market Dynamics
2.3.1. Drivers
2.3.2. Restraints
2.4. Value Chain Analysis
2.5. Porter's Five Forces Analysis
2.6. COVID-19 Impact Analysis
2.7. Key Patents

3. Global Sports Analytics Market Outlook, 2019 - 2027
3.1. Global Sports Analytics Market Outlook, by Components (US$ '000), 2019 - 2027
3.1.1. Key Highlights
3.1.1.1. Solutions
3.1.1.2. Services
3.1.2. BPS Analysis/Market Attractiveness Analysis
3.2. Global Sports Analytics Market Outlook, by Application, Value (US$ '000), 2019 - 2027
3.2.1. Key Highlights
3.2.1.1. Performance Analysis
3.2.1.2. Player and Team Valuation
3.2.1.3. Player Fitness and Safety
3.2.1.4. Fan Engagement
3.2.1.5. Broadcast Management
3.2.1.6. Other Applications
3.2.2. BPS Analysis/Market Attractiveness Analysis
3.3. Global Sports Analytics Market Outlook, by Deployment, Value (US$ '000), 2019 - 2027
3.3.1. Key Highlights
3.3.1.1. Cloud
3.3.1.2. On-premises
3.3.2. BPS Analysis/Market Attractiveness Analysis
3.4. Global Sports Analytics Market Outlook, by Team Sports, Value (US$ '000), 2019 - 2027
3.4.1. Key Highlights
3.4.1.1. Cricket
3.4.1.2. Football
3.4.1.3. Basketball
3.4.1.4. Baseball
3.4.1.5. Hockey
3.4.1.6. Other Team Sports
3.4.2. BPS Analysis/Market Attractiveness Analysis
3.5. Global Sports Analytics Market Outlook, by Region, Value (US$ '000), 2019 - 2027
3.5.1. Key Highlights
3.5.1.1. North America
3.5.1.2. Europe
3.5.1.3. Asia Pacific
3.5.1.4. Latin America
3.5.1.5. Middle East & Africa
3.5.2. BPS Analysis/Market Attractiveness Analysis

4. North America Sports Analytics Market Outlook, 2019 - 2027
4.1. North America Sports Analytics Market Outlook, by Components (US$ '000), 2019 - 2027
4.1.1. Key Highlights
4.1.1.1. Solutions
4.1.1.2. Services
4.1.2. BPS Analysis/Market Attractiveness Analysis
4.2. North America Sports Analytics Market Outlook, by Application, Value (US$ '000), 2019 - 2027
4.2.1. Key Highlights
4.2.1.1. Performance Analysis
4.2.1.2. Player and Team Valuation
4.2.1.3. Player Fitness and Safety
4.2.1.4. Fan Engagement
4.2.1.5. Broadcast Management
4.2.1.6. Other Applications
4.2.2. BPS Analysis/Market Attractiveness Analysis
4.3. North America Sports Analytics Market Outlook, by Deployment, Value (US$ '000), 2019 - 2027
4.3.1. Key Highlights
4.3.1.1. Cloud
4.3.1.2. On-premises
4.3.2. BPS Analysis/Market Attractiveness Analysis
4.4. North America Sports Analytics Market Outlook, by Team Sports, Value (US$ '000), 2019 - 2027
4.4.1. Key Highlights
4.4.1.1. Cricket
4.4.1.2. Football
4.4.1.3. Basketball
4.4.1.4. Baseball
4.4.1.5. Hockey
4.4.1.6. Other Team Sports
4.4.1.7. BPS Analysis/Market Attractiveness Analysis
4.5. North America Sports Analytics Market Outlook, by Country, Value (US$ '000), 2019 - 2027
4.5.1. Key Highlights
4.5.1.1. U.S. Sports Analytics Market by Value (US$ '000), 2019 - 2027
4.5.1.2. Canada Sports Analytics Market by Value (US$ '000), 2019 - 2027
4.5.2. BPS Analysis/Market Attractiveness Analysis

5. Europe Sports Analytics Market Outlook, 2019 - 2027
5.1. Europe Sports Analytics Market Outlook, by Components (US$ '000), 2019 - 2027
5.1.1. Key Highlights
5.1.1.1. Solutions
5.1.1.2. Services
5.1.2. BPS Analysis/Market Attractiveness Analysis
5.2. Europe Sports Analytics Market Outlook, by Application, Value (US$ '000), 2019 - 2027
5.2.1. Key Highlights
5.2.1.1. Performance Analysis
5.2.1.2. Player and Team Valuation
5.2.1.3. Player Fitness and Safety
5.2.1.4. Fan Engagement
5.2.1.5. Broadcast Management
5.2.1.6. Other Applications
5.2.2. BPS Analysis/Market Attractiveness Analysis
5.3. Europe Sports Analytics Market Outlook, by Deployment, Value (US$ '000), 2019 - 2027
5.3.1. Key Highlights
5.3.1.1. Cloud
5.3.1.2. On-premises
5.3.2. BPS Analysis/Market Attractiveness Analysis
5.4. Europe Sports Analytics Market Outlook, by Team Sports, Value (US$ '000), 2019 - 2027
5.4.1. Key Highlights
5.4.1.1. Cricket
5.4.1.2. Football
5.4.1.3. Basketball
5.4.1.4. Baseball
5.4.1.5. Hockey
5.4.1.6. Other Team Sports
5.4.2. BPS Analysis/Market Attractiveness Analysis
5.5. Europe Sports Analytics Market Outlook, by Country, Value (US$ '000), 2019 - 2027
5.5.1. Key Highlights
5.5.1.1. Germany Sports Analytics Market by Value (US$ '000), 2019 - 2027
5.5.1.2. France Sports Analytics Market by Product, Value (US$ '000), 2019 - 2027
5.5.1.3. U.K. Sports Analytics Market by Value (US$ '000), 2019 - 2027
5.5.1.4. Italy Sports Analytics Market by Value (US$ '000), 2019 - 2027
5.5.1.5. Spain Sports Analytics Market by Product, Value (US$ '000), 2019 - 2027
5.5.1.6. Rest of Europe Sports Analytics Market Value (US$ '000), 2019 - 2027
5.5.2. BPS Analysis/Market Attractiveness Analysis

6. Asia Pacific Sports Analytics Market Outlook, 2019 - 2027
6.1. Asia Pacific Sports Analytics Market Outlook, by Components (US$ '000), 2019 - 2027
6.1.1. Key Highlights
6.1.1.1. Solutions
6.1.1.2. Services
6.1.2. BPS Analysis/Market Attractiveness Analysis
6.2. Asia Pacific Sports Analytics Market Outlook, by Application, Value (US$ '000), 2019 - 2027
6.2.1. Key Highlights
6.2.1.1. Performance Analysis
6.2.1.2. Player and Team Valuation
6.2.1.3. Player Fitness and Safety
6.2.1.4. Fan Engagement
6.2.1.5. Broadcast Management
6.2.1.6. Other Applications
6.2.2. BPS Analysis/Market Attractiveness Analysis
6.3. Asia Pacific Sports Analytics Market Outlook, by Deployment, Value (US$ '000), 2019 - 2027
6.3.1. Key Highlights
6.3.1.1. Cloud
6.3.1.2. On-premises
6.3.2. BPS Analysis/Market Attractiveness Analysis
6.4. Asia Pacific Sports Analytics Market Outlook, by Team Sports, Value (US$ '000), 2019 - 2027
6.4.1. Key Highlights
6.4.1.1. Cricket
6.4.1.2. Football
6.4.1.3. Basketball
6.4.1.4. Baseball
6.4.1.5. Hockey
6.4.1.6. Other Team Sports
6.4.2. BPS Analysis/Market Attractiveness Analysis
6.5. Asia Pacific Sports Analytics Market Outlook, by Country, Value (US$ '000), 2019 - 2027
6.5.1. Key Highlights
6.5.1.1. India Sports Analytics Market by Value (US$ '000), 2019 - 2027
6.5.1.2. China Sports Analytics Market by Value (US$ '000), 2019 - 2027
6.5.1.3. Japan Sports Analytics Market by Value (US$ '000), 2019 - 2027
6.5.1.4. Australia & New Zealand Sports Analytics Market Value (US$ '000), 2019 - 2027
6.5.1.5. Rest of Asia Pacific Market by Value (US$ '000), 2019 - 2027
6.5.2. BPS Analysis/Market Attractiveness Analysis
6.6. Latin America Sports Analytics Market Outlook, by Components (US$ '000), 2019 - 2027
6.7. Latin America Sports Analytics Market Outlook, by Components (US$ '000), 2019 - 2027
6.7.1. Key Highlights
6.7.1.1. Solutions
6.7.1.2. Services
6.7.2. BPS Analysis/Market Attractiveness Analysis
6.8. Latin America Sports Analytics Market Outlook, by Application, Value (US$ '000), 2019 - 2027
6.8.1. Key Highlights
6.8.1.1. Performance Analysis
6.8.1.2. Player and Team Valuation
6.8.1.3. Player Fitness and Safety
6.8.1.4. Fan Engagement
6.8.1.5. Broadcast Management
6.8.1.6. Other Applications
6.8.2. BPS Analysis/Market Attractiveness Analysis
6.9. Latin America Sports Analytics Market Outlook, by Deployment, Value (US$ '000), 2019 - 2027
6.9.1. Key Highlights
6.9.1.1. Cloud
6.9.1.2. On-premises
6.9.2. BPS Analysis/Market Attractiveness Analysis
6.10. Latin America Sports Analytics Market Outlook, by Team Sports, Value (US$ '000), 2019 - 2027
6.10.1. Key Highlights
6.10.1.1. Cricket
6.10.1.2. Football
6.10.1.3. Basketball
6.10.1.4. Baseball
6.10.1.5. Hockey
6.10.1.6. Other Team Sports
6.10.2. BPS Analysis/Market Attractiveness Analysis
6.11. Latin America Sports Analytics Market Outlook, by Country, Value (US$ '000), 2019 - 2027
6.11.1. Key Highlights
6.11.1.1. Brazil Sports Analytics Market by Value (US$ '000), 2019 - 2027
6.11.1.2. Mexico Sports Analytics Market by Value (US$ '000), 2019 - 2027
6.11.1.3. Rest of Latin America Sports Analytics Market by Value (US$ '000), 2019 - 2027
6.11.2. BPS Analysis/Market Attractiveness Analysis

7. Middle East & Africa Sports Analytics Market Outlook, 2019 - 2027
7.1. Middle East & Africa Sports Analytics Market Outlook, by Components (US$ '000), 2019 - 2027
7.1.1. Key Highlights
7.1.1.1. Solutions
7.1.1.2. Services
7.1.2. BPS Analysis/Market Attractiveness Analysis
7.2. Middle East & Africa Sports Analytics Market Outlook, by Application, Value (US$ '000), 2019 - 2027
7.2.1. Key Highlights
7.2.1.1. Performance Analysis
7.2.1.2. Player and Team Valuation
7.2.1.3. Player Fitness and Safety
7.2.1.4. Fan Engagement
7.2.1.5. Broadcast Management
7.2.1.6. Other Applications
7.2.2. BPS Analysis/Market Attractiveness Analysis
7.3. Middle East & Africa Sports Analytics Market Outlook, by Deployment, Value (US$ '000), 2019 - 2027
7.3.1. Key Highlights
7.3.1.1. Cloud
7.3.1.2. On-premises
7.3.2. BPS Analysis/Market Attractiveness Analysis
7.4. Middle East & Africa Sports Analytics Market Outlook, by Team Sports, Value (US$ '000), 2019 - 2027
7.4.1. Key Highlights
7.4.1.1. Cricket
7.4.1.2. Football
7.4.1.3. Basketball
7.4.1.4. Baseball
7.4.1.5. Hockey
7.4.1.6. Other Team Sports
7.4.2. BPS Analysis/Market Attractiveness Analysis
7.5. Middle East & Africa Sports Analytics Market Outlook, by Country, Value (US$ '000), 2019 - 2027
7.5.1. Key Highlights
7.5.1.1. GCC Sports Analytics Market by Value (US$ '000), 2019 - 2027
7.5.1.2. South Africa Sports Analytics Market by Value (US$ '000), 2019 - 2027
7.5.1.3. Rest of Middle East & Africa Sports Analytics Market by Value (US$ '000), 2019 - 2027
7.5.2. BPS Analysis/Market Attractiveness Analysis

8. Competitive Landscape
8.1. Company Market Share Analysis, 2019
8.2. Company Profiles
8.2.1. IBM
8.2.1.1. Company Overview
8.2.1.2. Key Retailing Partners
8.2.1.3. Business Segment Revenue
8.2.1.4. Ingredient Overview
8.2.1.5. Product Offering & its Presence
8.2.1.6. Certifications & Claims
8.2.2. Zebra Technologies
8.2.3. Catapult
8.2.4. EXL
8.2.5. SAS Institute
8.2.6. HCL
8.2.7. Salesforce
8.2.8. Sportradar
8.2.9. Whoop
8.2.10. Trumedia Networks

9. Appendix
9.1. Research Methodology
9.2. Report Assumptions
9.3. Acronyms and Abbreviations
BASE YEAR

HISTORICAL DATA

FORECAST PERIOD

UNITS

2022

2019 - 2020

2021 - 2027

Value: US$ Million
REPORT FEATURES

DETAILS

Components Coverage

Deployment Coverage

Team Sports Coverage

Cricket

Football

Basketball

Baseball

Hockey

Other Team Sports

Application Coverage

Performance Analysis

Player and Team Valuation

Player Fitness and Safety

Fan Engagement

Broadcast Management

Other Applications

Geographical Coverage

North America

Europe

Germany

France

U.K.

Italy

Turkey

Spain

Russia

Rest of Europe

Asia Pacific

China

Japan

South Korea

India

Southeast Asia

Rest of Asia Pacific

Latin America

Brazil

Mexico

Rest of Latin America

Middle East & Africa

Leading Companies

IBM

Zebra Technologies

Catapult

EXL

SAS Institute

HCL

Salesforce

Sportradar

Whoop

Trumedia Networks

Report Highlights

Market Estimates and Forecast, Market Dynamics, Industry Trends, Competition Landscape, Product-, Application-, Region-, Country-wise Trends & Analysis, COVID-19 Impact Analysis, Key Trends