Stretchable and Conformal Electronics Market Forecast
Global stretchable and conformal electronics market to rise high at a staggering CAGR of 50% during 2023 - 2030
Market valuation to reach approximately US$700 Mn toward 2030-end
Market Analysis in Brief
Stretchable electronics is a broad phrase that covers a wide range of technologies. It describes a wide variety of newly developed electronic materials, parts, and gadgets with some degree of mechanical stretchability or strain tolerance. Interconnects, sensors, actuators, functional films, batteries, logic, and displays are a few of these; the study goes into great detail on each. The term technology as a whole, therefore, refers to all available options across the entire technological readiness spectrum. While certain stretchable electronic components are available in various industries, others are still in the proof-of-concept phase.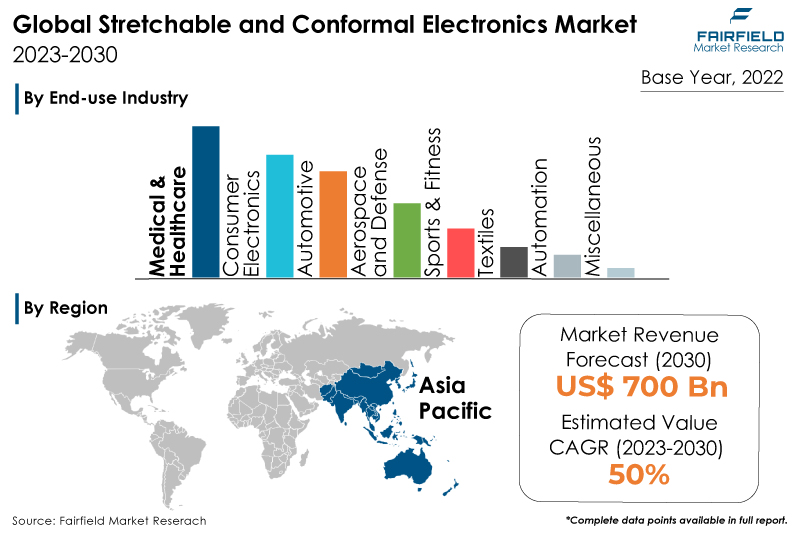 For instance, experts have written about conductive inks, in-mold electronics, electronic textiles, flexible and elastic printed circuit boards, wearable technology, stretchable sensors, stretchable transparent conductive films, and structural electronics. Additionally, the primary drivers for this market are continuous technical development and increased use of stretchy and conformal electronics goods as wearable devices in the consumer electronics and smart textile industries.
Due to the growing global usage of smart wearable medical devices, consumer electronics is predicted to remain the largest end-use sector within the stretchable and conformal electronics market. Advancements are also aiding the development of this market in sensor technology, miniaturisation, functionality, performance, and intelligence. This change does not advance technological performance along well-established industry lines incrementally or sustainably. Instead, it aims to provide new features, programs, and users.
Thus, this technological frontier at this time only has hazy metrics of value, and scant understanding of user wants. In fact, many critics have long contended that this entire class of developing materials and gadgets represents a typical instance of technology push, a problem seeking a solution. This opinion may have been accurate initially, but today, we consider this development an imperative step towards structural electronics, the logical conclusion of new electronics.
Key Report Findings
The market for stretchable and conformal electronics will demonstrate more than 5x expansion in revenue between 2023 and 2030.
Biodegradable implants, stretchable electronics in artificial skin, and additive manufacturing as a new manufacturing method are examples of emerging trends that immediately impact the dynamics of the sector.
Demand from healthcare industry remains higher in the stretchable and conformal electronics market.
Strechable sensors held the highest share amongst the components in the stretchable and conformal electronics market revenue share 2022.
Asia Pacific will continue to lead its way, whereas the North American stretchable and conformal electronics market will experience the strongest growth till 2030.
Growth Drivers
Advancing Electronics Technology
A significant paradigm change is currently taking place in the electronic sector. New form factors are emerging, from electronics with little flexibility to ultra-elastic and conformable ones. This transformation has been in the works for more than ten years, but it hasn't started influencing the market until recently. This is not a little change along established industrial lines. It aims to develop new users, applications, and functions instead. Therefore, this technological frontier currently only has hazy numbers of merit, and scant understanding of client wants.
For a very long time, many detractors have claimed that this entire class of novel materials and gadgets represents a typical example of a technology push or a problem-seeking solution. This point of view may have been valid in the beginning. Still, as time has passed, we now consider this development as a crucial step towards the eventual conclusion of new electronics – structural electronics.
This disruptive megatrend will change traditional electronics from components-in-a-box to fully transparent electronics that are physically integrated where necessary. The electronics industry will undergo a root-and-branch transformation, changing materials, components, and the entire value chain. This is a significant long-term theme. Flexible and stretchable electronics are giving this megatrend form. And it makes it possible.
Increased Competition from Non-stretchable Electrical Items
Increased competition from non-stretchable electronics goods, combined with the complexity of the value chain, is expected to stifle growth in the global stretchable electronics market in the coming years. Market growth is also projected to be hampered by process integration, manufacturability, and stability.
Furthermore, a lack of knowledge is projected to impede market expansion. However, the advent of new capabilities and applications and integration into different goods may open up new opportunities for the worldwide stretchable electronics market.
Increasing demand for flexible electronics, as well as a diverse range of substrates and increasing investment, may positively impact the growth of the stretchy conformal electronics market in the next years. Rising demand for lightweight items and ecologically friendly technology is expected to boost the market further.
The growing demand for high-performance devices and low-cost production is expected to fuel significant growth in the stretchable electronics industry. Furthermore, the desire for differentiation and decreased power usage may drive stretchy electronics demand. Growing end user interest and the demand for functional integrated devices will likely fuel market expansion.
Over the forecast period, Asia Pacific is expected to account for a sizable market share. North America, on the other hand, is predicted to grow rapidly due to the region's massive embrace of modern technologies.
Growth Challenges
Potential Performance Concerns
The performance of the devices may be less than that of more traditional rigid electronics, which is a restriction of flexible and stretchable electronics. Electronics that are stretchy and flexible electronics might not be able to compete with stiff electronics regarding device performance.
The gadget performance would be drastically reduced if we switched from the inflexible silicon wafer as the substrate to polymers. Therefore, we must identify new markets and applications, such as cutting-edge medical devices based on flexible electronics.
The device should be user-friendly in medical applications. Individual tissues and organs have a curvilinear shape and are highly soft. Because deformability is a crucial characteristic of flexible and stretchable electronics, the device should likewise be able to bend to fit these biological systems.
Overview of Key Segments
Healthcare Segment Leads Adoption
The healthcare category will dominate in terms of generating demand for stretchable and conformal electronics market over the forecast period. Applications involving physiological monitoring in healthcare necessitate the highest level of reliability from electronic devices since they can literally mean the difference between life and death.
Reliability is an important element of all electronic devices, not just those used in healthcare, especially when high-volume production and devices are subjected to mechanical deformations such as stretching, bending, or torsion.
Reliability is very important in flexible and stretchable electronics, where reliability design and testing must be done in novel methods compared to the industrial standard stiff FR4 or flexible PI substrates with the soldering procedure.
Because of stretchy substrates and conductive adhesives, different failure mechanisms occur, necessitating the development of novel testing methods and models for estimating device lifetime.
These technologies are based on detecting several biological signals produced by humans via saliva, urine, breathing, and epidemic skin sweat. Wearable healthcare systems offer high instantaneity, flexibility, and interoperability with large-area processing technology.
Wearable system configurations with unique sensing materials and device structures have proven to be highly sensitive in simulating human somatosensory systems and to be able to track biophysical and biochemical signals such as body temperature, body movements, blood pressure, metabolites, functional proteins, and oligonucleotides easily and noninvasively in recent years.
Furthermore, these wearable healthcare systems can enhance health status and contribute significantly to medical technology advancement by gathering human health information into a system.
Demand for Stretchable and Conformal Circuits Higher
The stretchable and conformal circuits category will dominate the stretchable and conformal electronics market. Recent developments in mechanics and materials enable the development of integrated circuits having the electrical properties of traditional, rigid wafer-based technologies but the capacity to be stretched, compressed, twisted, bent, and deformed into arbitrary shapes.
Inorganic and organic electronic materials in microstructured and nanostructured forms, intimately interwoven with elastomeric substrates, are appealing, with plausible approaches to sophisticated embodiments.
It is required to incorporate conductors with the PDMS substrate without interfering with its high mechanical flexibility to produce a stretchy circuit. One basic method is to use various thin film deposition processes to deposit a thin coating of solid metal, such as gold, on the PDMS substrate.
Growth Opportunities Across Regions
Asia Pacific Leads the Pack
The stretchable and conformal electronics market will continue to dominate Asia Pacific due to several factors that fueled its expansion. Businesses in the market compete primarily on the quality of the products they offer. The main rivals in this market concentrate on expanding their production facilities, R&D expenditures, infrastructure development, and utilising integration possibilities across the entire chain.
Stretchable and conformal electronics companies may accommodate increasing demand, assure competitive effectiveness, develop novel products and technologies, lower production costs, and expand their client base by using these tactics. This paper profiles several stretchy and conformal electronics firms.
The market for flexible electronics is expanding steadily. Mechanical flexibility, high scalability, low weight, and, large-area production compatibility are among the reasons for the expanding use of flexible electronics. Because of these advantages, flexible electronics are finding greater applications and utilisation in various industries.
North America is a Hub of Opportunities
The stretchable and conformal electronics market across North America will display a significant CAGR over the forecast period. For the electrochemical detection of biomarkers using different sensing approaches like potentiometric ion selective electrodes and amperometric enzymatic sensors, researchers in North America are at the forefront of the development of novel wearable platforms that can comfortably adhere to the human body and efficiently sample fluids such as sweat, interstitial fluids, tear, and saliva.
North America's electronics industry is advancing rapidly. Research on wearable bioelectronic sensors has increased due to the semiconductor industry's rapid evolution. This type of sensor uses an electrical signal generated by an analyte's interaction with a recognition element immobilised on the sensing surface, with the electrical signal intensity being inversely proportional to the analyte concentration. The field of wearable chemical sensing has mostly benefited.
Stretchable and Conformal Electronics Market: Competitive Landscape
Some leading players at the forefront in the stretchable and conformal electronics market space include DuPont, Medidata Solutions Inc., Powerfilm, Inc., Philips, StretchSense, and Cambrios Technology.
Recent Notable Developments
In March 2022, As part of its Project Call 6.0, NextFlex, America's Flexible Hybrid Electronics (FHE) Manufacturing Institute, today announced the allocation of US$17 Mn in funding (including US$8.7 Mn in cost-share contributions from participants) for 18 new projects. This funding will help to advance further FHE development and adoption across the US advanced manufacturing sector.
Global Stretchable and Conformal Electronics Market is Segmented as Below:
By End-use Industry
Medical & Healthcare
Consumer Electronics
Automotive
Aerospace and Defense
Sports & Fitness
Textiles
Automation
Miscellaneous
By Component
Stretchable Sensors
Interconnects
Stretchable Transistors
Inks & Films
Displays
Actuators
Miscellaneous
By Geographic Coverage
North America
Europe

Germany
U.K.
France
Italy
Russia
Rest of Europe

Asia Pacific

China
Japan
South Korea
India
Southeast Asia
Rest of Asia Pacific

Latin America

Brazil
Mexico
Rest of Latin America

Middle East & Africa

GCC
South Africa
Rest of the Middle East & Africa
1. Executive Summary
1.1. Global Stretchable and Conformal Electronics Market Snapshot
1.2. Future Projections
1.3. Key Market Trends
1.4. Regional Snapshot, by Value, 2022
1.5. Analyst Recommendations

2. Market Overview
2.1. Market Definitions and Segmentations
2.2. Market Dynamics
2.2.1. Drivers
2.2.2. Restraints
2.2.3. Market Opportunities
2.3. Value Chain Analysis
2.4. Porter's Five Forces Analysis
2.5. COVID-19 Impact Analysis
2.5.1. Supply
2.5.2. Demand
2.6. Impact of Ukraine-Russia Conflict
2.7. Economic Overview
2.7.1. World Economic Projections
2.8. PESTLE Analysis

3. Global Stretchable and Conformal Electronics Market Outlook, 2018 - 2030
3.1. Global Stretchable and Conformal Electronics Market Outlook, by End-use Industry, Value (US$ Mn), 2018 - 2030
3.1.1. Key Highlights
3.1.1.1. Medical & Healthcare
3.1.1.2. Consumer Electronics
3.1.1.3. Automotive
3.1.1.4. Aerospace and Defense
3.1.1.5. Sports & Fitness
3.1.1.6. Textiles
3.1.1.7. Automation
3.1.1.8. Misc.
3.2. Global Stretchable and Conformal Electronics Market Outlook, by Component, Value (US$ Mn), 2018 - 2030
3.2.1. Key Highlights
3.2.1.1. Stretchable Sensors
3.2.1.2. Interconnects
3.2.1.3. Stretchable Transistors
3.2.1.4. Inks & Films
3.2.1.5. Displays
3.2.1.6. Actuators
3.2.1.7. Misc.
3.3. Global Stretchable and Conformal Electronics Market Outlook, by Region, Value (US$ Mn), 2018 - 2030
3.3.1. Key Highlights
3.3.1.1. North America
3.3.1.2. Europe
3.3.1.3. Asia Pacific
3.3.1.4. Latin America
3.3.1.5. Middle East & Africa

4. North America Stretchable and Conformal Electronics Market Outlook, 2018 - 2030
4.1. North America Stretchable and Conformal Electronics Market Outlook, by End-use Industry, Value (US$ Mn), 2018 - 2030
4.1.1. Key Highlights
4.1.1.1. Medical & Healthcare
4.1.1.2. Consumer Electronics
4.1.1.3. Automotive
4.1.1.4. Aerospace and Defense
4.1.1.5. Sports & Fitness
4.1.1.6. Textiles
4.1.1.7. Automation
4.1.1.8. Misc.
4.2. North America Stretchable and Conformal Electronics Market Outlook, by Component, Value (US$ Mn), 2018 - 2030
4.2.1. Key Highlights
4.2.1.1. Stretchable Sensors
4.2.1.2. Interconnects
4.2.1.3. Stretchable Transistors
4.2.1.4. Inks & Films
4.2.1.5. Displays
4.2.1.6. Actuators
4.2.1.7. Misc.
4.2.2. Market Attractiveness Analysis
4.3. North America Stretchable and Conformal Electronics Market Outlook, by Country, Value (US$ Mn), 2018 - 2030
4.3.1. Key Highlights
4.3.1.1. U.S. Stretchable and Conformal Electronics Market by End-use Industry, Value (US$ Mn), 2018 - 2030
4.3.1.2. U.S. Stretchable and Conformal Electronics Market Component, Value (US$ Mn), 2018 - 2030
4.3.1.3. Canada Stretchable and Conformal Electronics Market by End-use Industry, Value (US$ Mn), 2018 - 2030
4.3.1.4. Canada Stretchable and Conformal Electronics Market Component, Value (US$ Mn), 2018 - 2030
4.3.2. BPS Analysis/Market Attractiveness Analysis

5. Europe Stretchable and Conformal Electronics Market Outlook, 2018 - 2030
5.1. Europe Stretchable and Conformal Electronics Market Outlook, by End-use Industry, Value (US$ Mn), 2018 - 2030
5.1.1. Key Highlights
5.1.1.1. Medical & Healthcare
5.1.1.2. Consumer Electronics
5.1.1.3. Automotive
5.1.1.4. Aerospace and Defense
5.1.1.5. Sports & Fitness
5.1.1.6. Textiles
5.1.1.7. Automation
5.1.1.8. Misc.
5.2. Europe Stretchable and Conformal Electronics Market Outlook, by Component, Value (US$ Mn), 2018 - 2030
5.2.1. Key Highlights
5.2.1.1. Stretchable Sensors
5.2.1.2. Interconnects
5.2.1.3. Stretchable Transistors
5.2.1.4. Inks & Films
5.2.1.5. Displays
5.2.1.6. Actuators
5.2.1.7. Misc.
5.2.2. BPS Analysis/Market Attractiveness Analysis
5.3. Europe Stretchable and Conformal Electronics Market Outlook, by Country, Value (US$ Mn), 2018 - 2030
5.3.1. Key Highlights
5.3.1.1. Germany Stretchable and Conformal Electronics Market by End-use Industry, Value (US$ Mn), 2018 - 2030
5.3.1.2. Germany Stretchable and Conformal Electronics Market Component, Value (US$ Mn), 2018 - 2030
5.3.1.3. U.K. Stretchable and Conformal Electronics Market by End-use Industry, Value (US$ Mn), 2018 - 2030
5.3.1.4. U.K. Stretchable and Conformal Electronics Market Component, Value (US$ Mn), 2018 - 2030
5.3.1.5. France Stretchable and Conformal Electronics Market by End-use Industry, Value (US$ Mn), 2018 - 2030
5.3.1.6. France Stretchable and Conformal Electronics Market Component, Value (US$ Mn), 2018 - 2030
5.3.1.7. Italy Stretchable and Conformal Electronics Market by End-use Industry, Value (US$ Mn), 2018 - 2030
5.3.1.8. Italy Stretchable and Conformal Electronics Market Component, Value (US$ Mn), 2018 - 2030
5.3.1.9. Russia Stretchable and Conformal Electronics Market by End-use Industry, Value (US$ Mn), 2018 - 2030
5.3.1.10. Russia Stretchable and Conformal Electronics Market Component, Value (US$ Mn), 2018 - 2030
5.3.1.11. Rest of Europe Stretchable and Conformal Electronics Market by End-use Industry, Value (US$ Mn), 2018 - 2030
5.3.1.12. Rest of Europe Stretchable and Conformal Electronics Market Component, Value (US$ Mn), 2018 - 2030
5.3.2. BPS Analysis/Market Attractiveness Analysis

6. Asia Pacific Stretchable and Conformal Electronics Market Outlook, 2018 - 2030
6.1. Asia Pacific Stretchable and Conformal Electronics Market Outlook, by End-use Industry, Value (US$ Mn), 2018 - 2030
6.1.1. Key Highlights
6.1.1.1. Medical & Healthcare
6.1.1.2. Consumer Electronics
6.1.1.3. Automotive
6.1.1.4. Aerospace and Defense
6.1.1.5. Sports & Fitness
6.1.1.6. Textiles
6.1.1.7. Automation
6.1.1.8. Misc.
6.2. Asia Pacific Stretchable and Conformal Electronics Market Outlook, by Component, Value (US$ Mn), 2018 - 2030
6.2.1. Key Highlights
6.2.1.1. Stretchable Sensors
6.2.1.2. Interconnects
6.2.1.3. Stretchable Transistors
6.2.1.4. Inks & Films
6.2.1.5. Displays
6.2.1.6. Actuators
6.2.1.7. Misc.
6.2.2. BPS Analysis/Market Attractiveness Analysis
6.3. Asia Pacific Stretchable and Conformal Electronics Market Outlook, by Country, Value (US$ Mn), 2018 - 2030
6.3.1. Key Highlights
6.3.1.1. China Stretchable and Conformal Electronics Market by End-use Industry, Value (US$ Mn), 2018 - 2030
6.3.1.2. China Stretchable and Conformal Electronics Market Component, Value (US$ Mn), 2018 - 2030
6.3.1.3. Japan Stretchable and Conformal Electronics Market by End-use Industry, Value (US$ Mn), 2018 - 2030
6.3.1.4. Japan Stretchable and Conformal Electronics Market by Component, Value (US$ Mn), 2018 - 2030
6.3.1.5. South Korea Stretchable and Conformal Electronics Market by End-use Industry, Value (US$ Mn), 2018 - 2030
6.3.1.6. South Korea Stretchable and Conformal Electronics Market by Component, Value (US$ Mn), 2018 - 2030
6.3.1.7. India Stretchable and Conformal Electronics Market by End-use Industry, Value (US$ Mn), 2018 - 2030
6.3.1.8. India Stretchable and Conformal Electronics Market by Component, Value (US$ Mn), 2018 - 2030
6.3.1.9. Southeast Asia Stretchable and Conformal Electronics Market by End-use Industry, Value (US$ Mn), 2018 - 2030
6.3.1.10. Southeast Asia Stretchable and Conformal Electronics Market by Component, Value (US$ Mn), 2018 - 2030
6.3.1.11. Rest of Asia Pacific Stretchable and Conformal Electronics Market by End-use Industry, Value (US$ Mn), 2018 - 2030
6.3.1.12. Rest of Asia Pacific Stretchable and Conformal Electronics Market by Component, Value (US$ Mn), 2018 - 2030
6.3.2. BPS Analysis/Market Attractiveness Analysis

7. Latin America Stretchable and Conformal Electronics Market Outlook, 2018 - 2030
7.1. Latin America Stretchable and Conformal Electronics Market Outlook, by End-use Industry, Value (US$ Mn), 2018 - 2030
7.1.1. Key Highlights
7.1.1.1. Medical & Healthcare
7.1.1.2. Consumer Electronics
7.1.1.3. Automotive
7.1.1.4. Aerospace and Defense
7.1.1.5. Sports & Fitness
7.1.1.6. Textiles
7.1.1.7. Automation
7.1.1.8. Misc.
7.2. Latin America Stretchable and Conformal Electronics Market Outlook, by Component, Value (US$ Mn), 2018 - 2030
7.2.1. Key Highlights
7.2.1.1. Stretchable Sensors
7.2.1.2. Interconnects
7.2.1.3. Stretchable Transistors
7.2.1.4. Inks & Films
7.2.1.5. Displays
7.2.1.6. Actuators
7.2.1.7. Misc.
7.2.2. BPS Analysis/Market Attractiveness Analysis
7.3. Latin America Stretchable and Conformal Electronics Market Outlook, by Country, Value (US$ Mn), 2018 - 2030
7.3.1. Key Highlights
7.3.1.1. Brazil Stretchable and Conformal Electronics Market by End-use Industry, Value (US$ Mn), 2018 - 2030
7.3.1.2. Brazil Stretchable and Conformal Electronics Market by Component, Value (US$ Mn), 2018 - 2030
7.3.1.3. Mexico Stretchable and Conformal Electronics Market by End-use Industry, Value (US$ Mn), 2018 - 2030
7.3.1.4. Mexico Stretchable and Conformal Electronics Market by Component, Value (US$ Mn), 2018 - 2030
7.3.1.5. Rest of Latin America Stretchable and Conformal Electronics Market by End-use Industry, Value (US$ Mn), 2018 - 2030
7.3.1.6. Rest of Latin America Stretchable and Conformal Electronics Market by Component, Value (US$ Mn), 2018 - 2030
7.3.2. BPS Analysis/Market Attractiveness Analysis

8. Middle East & Africa Stretchable and Conformal Electronics Market Outlook, 2018 - 2030
8.1. Middle East & Africa Stretchable and Conformal Electronics Market Outlook, by End-use Industry, Value (US$ Mn), 2018 - 2030
8.1.1. Key Highlights
8.1.1.1. Medical & Healthcare
8.1.1.2. Consumer Electronics
8.1.1.3. Automotive
8.1.1.4. Aerospace and Defense
8.1.1.5. Sports & Fitness
8.1.1.6. Textiles
8.1.1.7. Automation
8.1.1.8. Misc.
8.2. Middle East & Africa Stretchable and Conformal Electronics Market Outlook, by Component, Value (US$ Mn), 2018 - 2030
8.2.1. Key Highlights
8.2.1.1. Stretchable Sensors
8.2.1.2. Interconnects
8.2.1.3. Stretchable Transistors
8.2.1.4. Inks & Films
8.2.1.5. Displays
8.2.1.6. Actuators
8.2.1.7. Misc.
8.2.2. BPS Analysis/Market Attractiveness Analysis
8.3. Middle East & Africa Stretchable and Conformal Electronics Market Outlook, by Country, Value (US$ Mn), 2018 - 2030
8.3.1. Key Highlights
8.3.1.1. GCC Stretchable and Conformal Electronics Market by End-use Industry, Value (US$ Mn), 2018 - 2030
8.3.1.2. GCC Stretchable and Conformal Electronics Market by Component, Value (US$ Mn), 2018 - 2030
8.3.1.3. South Africa Stretchable and Conformal Electronics Market by End-use Industry, Value (US$ Mn), 2018 - 2030
8.3.1.4. South Africa Stretchable and Conformal Electronics Market by Component, Value (US$ Mn), 2018 - 2030
8.3.1.5. Rest of Middle East & Africa Stretchable and Conformal Electronics Market by End-use Industry, Value (US$ Mn), 2018 - 2030
8.3.1.6. Rest of Middle East & Africa Stretchable and Conformal Electronics Market by Component, Value (US$ Mn), 2018 - 2030
8.3.2. BPS Analysis/Market Attractiveness Analysis

9. Competitive Landscape
9.1. Company Market Share Analysis, 2022
9.2. Competitive Dashboard
9.3. Company Profiles
9.3.1. DuPont
9.3.1.1. Company Overview
9.3.1.2. Product Portfolio
9.3.1.3. Financial Overview
9.3.1.4. Business Strategies and Development
9.3.2. Medidata Solutions Inc.
9.3.2.1. Company Overview
9.3.2.2. Product Portfolio
9.3.2.3. Financial Overview
9.3.2.4. Business Strategies and Development
9.3.3. Powerfilm, Inc.
9.3.3.1. Company Overview
9.3.3.2. Product Portfolio
9.3.3.3. Financial Overview
9.3.3.4. Business Strategies and Development
9.3.4. Philips
9.3.4.1. Company Overview
9.3.4.2. Product Portfolio
9.3.4.3. Financial Overview
9.3.4.4. Business Strategies and Development
9.3.5. StretchSense
9.3.5.1. Company Overview
9.3.5.2. Product Portfolio
9.3.5.3. Financial Overview
9.3.5.4. Business Strategies and Development
9.3.6. Cambrios Technology
9.3.6.1. Company Overview
9.3.6.2. Product Portfolio
9.3.6.3. Financial Overview
9.3.6.4. Business Strategies and Development

10. Appendix
10.1. Research Methodology
10.2. Report Assumptions
10.3. Acronyms and Abbreviations