Sustainable Electronics Manufacturing Market Forecast
Global sustainable electronics manufacturing market revenue to witness a stellar CAGR 25% between 2023 and 2030
Market value to hit the US$150 Bn mark by the end of 2030
Market Analysis in Brief
An upsurge in electronics production is coming, aiming to meet rising sustainability demands and reduce the effects of fluctuating energy costs. A significant amount of innovation is needed to lessen the electronics industry's environmental impact, representing 4% of the world's greenhouse gas emissions. This field has a lot of activity, with several potentially breakthrough technologies emerging. There are numerous chances to increase productivity, cut waste, and lower costs while manufacturing sustainable electronics. Sustainable manufacturing can be enabled through Artificial Intelligence, and the Internet of Things. Using sensor technology to identify leaks and inappropriate material utilisation, along with intelligent digital manufacturing techniques to automate operations, can assist businesses in reducing waste and out-of-control expenditures. A plant expansion for Sanmina Corporation in Thailand was announced in March 2020.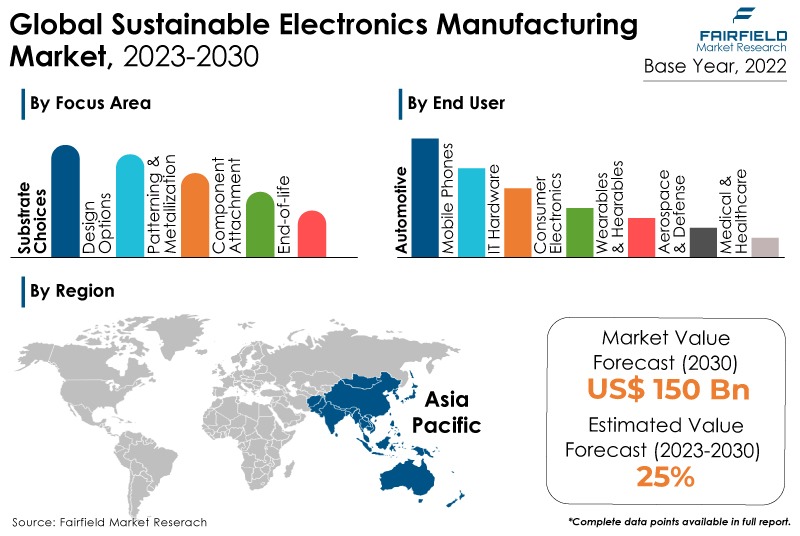 The factory will probably use cutting-edge custom packaging and assembly skills to make top-notch optical, high-speed, and radio frequency (RF) microelectronic components and products. The networking, 5G, data centre, automotive/LIDAR, aerospace, and defense technology markets are all experiencing rapid growth, which is further aided by this expansion. Additionally, increased demand for electronic products and integrated circuits are the major drivers for sustainable electronics production.
Key Report Findings
The market for sustainable electronics manufacturing will demonstrate noteworthy expansion in revenue over the period of forecast, i.e., between 2023 and 2030.
Increased demand for electronic products and integrated circuits are the major drivers for sustainable electronics production.
Substrate choice held the highest share in the focus area segment in 2022.
The automotive industry category is expected to record the fastest growth in demand generation during 2023 and 2030.
Asia Pacific will continue to lead the global sustainable electronics manufacturing industry, whereas North America is set to experience the strongest growth until 2030.
Growth Drivers
Growing Environmental Concerns
The environmental effects of electronic waste have increasingly come to light over the past few decades, which has increased consumer demand for sustainable and green electronic devices. The electronics sector has a significant negative impact on the environment since many electronic products include hazardous materials, including lead, cadmium, and mercury. When electronic products are not disposed of appropriately, hazardous elements may find their way into landfills and contaminate the soil and groundwater. Burning electrical waste can release greenhouse gases that fuel climate change.
In addition, due to their growing awareness of how their purchases affect the environment, consumers are increasingly looking for sustainable and eco-friendly products. The production of green electronics has grown in popularity. As a result, creating a market where businesses may stand out by offering more environmentally friendly products.
In order to meet this need, many electronics manufacturers are adopting eco-friendly strategies, such as incorporating recycled materials in their goods, reducing the amount of energy used during production, and developing simpler products to recycle or repair. Even now, some companies work with environmental groups to create greener business practices and technological advancements.
Governments from all over the world are enacting rules to decrease the influence of the electronics sector on the environment. For instance, the EU RoHS directive forbids using certain hazardous substances in electronic equipment.
Electronics manufacturers are required by the EU WEEE directive to handle product recycling and product collecting. As a result, growing environmental concerns drive demand for more environmentally friendly and sustainable products and pressure electronics manufacturers to adopt more environmentally friendly practices, which drives up the green electronics manufacturing industry.
Growing Promotion of Sustainable Electronics Production
Government regulations and green investment programmes are advancing sustainability in the semiconductor and electronics industries. The public's deliberate decision to solely patronise and even exclusively work for businesses that prioritise sustainable practices is becoming increasingly important to conventional manufacturers' continued existence.
Environmental activism is frequently seen as a barrier clogged with legal red tape and onerous disclosures. However, businesses that support environmental causes benefit in the long run; as a result, the unfavourable view is swapped for one of opportunity. Adopting material recycling and recovery schemes or deploying low-emission manufacturing processes might be an economically wise decision, offering the chance to lower costs related to energy use, waste treatment, and unnecessary steps.
Prioritising environmental protection keeps the sector ahead of the curve as regulations tighten while putting individual businesses in a good position to gain from authorised ESG investments.
Low temperatures and quick processing techniques become increasingly alluring when energy prices increase globally. By printing material only where it is needed, some of these techniques use additive approaches that significantly reduce waste. As a result, producers avoid the expenses and emissions related to extra materials and the etching processes necessary in traditional subtractive production. For instance, switching to additive methods of PCB manufacture can reduce water use by up to 95%, resulting in hundreds of millions of liters of water saved yearly for the industry.
Growth Challenges
Expensive Initial Implementation
While green manufacturing has various benefits, such as reduced environmental impact, increased productivity, and improved brand recognition, the initial price of implementing these practices can be a significant barrier for many organisations. Implementing sustainable practices can be costly for various reasons, including the initial expenditure. Many green technologies and practices demand major investments in new machinery, buildings, and infrastructure.
To reduce energy use, switch to renewable energy sources, or use recycled materials, businesses may need to spend money on new equipment or reorganise their current facilities. A lack of sustainable materials can be more expensive and more difficult to find than conventional ones.
Bioplastics, for instance, utilised in creating sustainable materials for electronics, are still in the early stages of development and could not be easily accessible at a reasonable price. To ensure staff are comfortable with new tools and procedures, businesses might also need to invest in employee education and training. This can be expensive and time-consuming, and working with outside consultants or hiring more staff members could be necessary.
Due to these challenges, some businesses could be reluctant to use sustainable practices or may delay their adoption. This impedes the transition to a more sustainable economy and restricts the market expansion for green electronics manufacturing. However, costs will probably decrease as more environmentally friendly technologies are adopted and competition rises, making green manufacturing more available to a wider range of companies.
Overview of Key Segments
Substrate Choice Remains the Area of Focus
Substrate choice will dominate the sustainable electronics manufacturing market over the forecast period. Currently, rigid FR is the mostly used substrate in the electronics manufacturing. However, flexible substrates are on the rise as manufacturers are focusing on green and sustainable electronics manufacturing.
The consumption of material sources required for electronics industry is expected to double in between 2015 and 2050. By 2030, flexible substrates market is estimated to reach US$1 Bn with rise in demand for plastics as well as paper substrates. There has been a huge investment in the development of substrates based on cellulose, paper, bioplastic, and bio-composites.
Automotive Industry Contributes the Largest Share
The automotive industry category will dominate the sustainable electronics manufacturing market over the forecast period. Due to the rising electrification of cars, the market share for the automotive application category rose to over 15%.
Businesses' initiatives to provide complete solutions and help automakers with service realisation are fueling the growth of the electronics manufacturing services (EMS) industry. Automakers will be urged to employ EMS as the popularity of electric vehicles increases due to increased government efforts to minimise CO2 emissions.
Additionally, a lot of governments want to enact legislation and programmes to encourage the usage of electric vehicles. The automotive EMS manufacturing capability includes PCB assembly services, box build assembly, and module assembly to provide high-volume manufacturing capabilities to OEMs.
Growth Opportunities Across Regions
Asia Pacific Spearheads
The sustainable electronics manufacturing market will continue to dominate Asia Pacific due to several factors that fueled its expansion. Several of the top electronic manufacturers in the world are based in the Asia Pacific region, and the region's economies are growing quickly. As a result, the manufacturing of green electronics has a lot of potential in this region.
The region is also experiencing a rising demand for sustainable industrial practices and eco-friendly products. Due to policies and programmes supported by the governments of Japan, China, and South Korea, the Asia Pacific area is home to the world's most advanced green electronics manufacturing industries. As a result of its emphasis on reducing carbon emissions and advancing sustainability, China is the largest market in the region for producing green electronics.
The region makes extensive use of consumer electronics products. Some of the factors anticipated to propel regional during the anticipated time frame, market expansion will involve rising consumer awareness of green manufacturing products, rapid industrialisation, concerns over the negative effects of hazardous substances like lead and cadmium, and strict government regulations.
North America Develops a Lucrative Market
The market for sustainable electronics manufacturing across North America will display a significant CAGR over the forecast period. The area's urbanisation and steady population increase are the main drivers of consumer electronics consumption in middle- and upper-class families.
Low-income individuals' acceptance of consumer electronics is growing thanks to the accessibility of affordable goods from a range of local producers, such as smart home appliances, telephones, and televisions. Demand in this industry is rising due to young people's familiarity with current technology.
North America's strong financial standing can support a significant R&D budget. The regional structural electronics market is expected to grow due to increased structural electronics adoption and the quick adoption of structural electronics in conductors, solar devices, and sensors for luxury cars and spacecraft.
Sustainable Electronics Manufacturing Market: Competitive Landscape
Some of the leading players at the forefront in the sustainable electronics manufacturing market space include Samsung, Apple Inc., Intel, Nokia, Alpha, DP Patterning, Elephantech Inc., TSMC, VTT, and Sony Electronics.
Recent Notable Developments
In 2022, Samsung announced new environmental strategy, a comprehensive effort to join global efforts to tackle climate change as well as sustainable electronics manfautring. The company plans to use more renewable energy, as well as investment in new technology research to develop energy-efficient products and develop carbon capture technology.
Global Sustainable Electronics Manufacturing Market is Segmented as Below:
By Focus Area
Design Options
Substrate Choices
Patterning & Metallization
Component Attachment
End-of-life
By End User
Mobile Phones
IT Hardware
Automotive
Consumer Electronics
Wearbles & Hearables
Aerospace & Defense
Medical & Healthcare
Miscellaneous
By Geographic Coverage
North America
Europe

Germany
U.K.
France
Italy
Russia
Rest of Europe

Asia Pacific

China
Japan
South Korea
India
Southeast Asia
Rest of Asia Pacific

Latin America

Brazil
Mexico
Rest of Latin America

Middle East & Africa

GCC
South Africa
Rest of Middle East & Africa
1. Executive Summary
1.1. Global Sustainable Electronics Manufacturing Market Snapshot
1.2. Future Projections
1.3. Key Market Trends
1.4. Regional Snapshot, by Value, 2022
1.5. Analyst Recommendations
2. Market Overview
2.1. Market Definitions and Segmentations
2.2. Market Dynamics
2.2.1. Drivers
2.2.2. Restraints
2.2.3. Market Opportunities
2.3. Value Chain Analysis
2.4. Porter's Five Forces Analysis
2.5. Covid-19 Impact Analysis
2.5.1. Supply
2.5.2. Demand
2.6. Impact of Ukraine-Russia Conflict
2.7. Economic Overview
2.7.1. World Economic Projections
2.8. PESTLE Analysis
3. Global Sustainable Electronics Manufacturing Market Outlook, 2018 - 2030
3.1. Global Sustainable Electronics Manufacturing Market Outlook, by Focus Area, Value (US$ Bn), 2018 - 2030
3.1.1. Key Highlights
3.1.1.1. Design Options
3.1.1.2. Substrate Choices
3.1.1.3. Patterning & Metallization
3.1.1.4. Component Attachment
3.1.1.5. End-of-life
3.2. Global Sustainable Electronics Manufacturing Market Outlook, by End-user, Value (US$ Bn), 2018 - 2030
3.2.1. Key Highlights
3.2.1.1. Mobile Phones
3.2.1.2. IT Hardware
3.2.1.3. Automotive
3.2.1.4. Consumer Electronics
3.2.1.5. Wearables & Hearables
3.2.1.6. Aerospace & Defense
3.2.1.7. Medical & Healthcare
3.2.1.8. Misc.
3.3. Global Sustainable Electronics Manufacturing Market Outlook, by Region, Value (US$ Bn), 2018 - 2030
3.3.1. Key Highlights
3.3.1.1. North America
3.3.1.2. Europe
3.3.1.3. Asia Pacific
3.3.1.4. Latin America
3.3.1.5. Middle East & Africa
4. North America Sustainable Electronics Manufacturing Market Outlook, 2018 - 2030
4.1. North America Sustainable Electronics Manufacturing Market Outlook, by Focus Area, Value (US$ Bn), 2018 - 2030
4.1.1. Key Highlights
4.1.1.1. Design Options
4.1.1.2. Substrate Choices
4.1.1.3. Patterning & Metallization
4.1.1.4. Component Attachment
4.1.1.5. End-of-life
4.2. North America Sustainable Electronics Manufacturing Market Outlook, by End-user, Value (US$ Bn), 2018 - 2030
4.2.1. Key Highlights
4.2.1.1. Mobile Phones
4.2.1.2. IT Hardware
4.2.1.3. Automotive
4.2.1.4. Consumer Electronics
4.2.1.5. Wearables & Hearables
4.2.1.6. Aerospace & Defense
4.2.1.7. Medical & Healthcare
4.2.1.8. Misc.
4.2.2. Market Attractiveness Analysis
4.3. North America Sustainable Electronics Manufacturing Market Outlook, by Country, Value (US$ Bn), 2018 - 2030
4.3.1. Key Highlights
4.3.1.1. U.S. Sustainable Electronics Manufacturing Market by Focus Area, Value (US$ Bn), 2018 - 2030
4.3.1.2. U.S. Sustainable Electronics Manufacturing Market Application, Value (US$ Bn), 2018 - 2030
4.3.1.3. Canada Sustainable Electronics Manufacturing Market by Focus Area, Value (US$ Bn), 2018 - 2030
4.3.1.4. Canada Sustainable Electronics Manufacturing Market Application, Value (US$ Bn), 2018 - 2030
4.3.2. BPS Analysis/Market Attractiveness Analysis
5. Europe Sustainable Electronics Manufacturing Market Outlook, 2018 - 2030
5.1. Europe Sustainable Electronics Manufacturing Market Outlook, by Focus Area, Value (US$ Bn), 2018 - 2030
5.1.1. Key Highlights
5.1.1.1. Design Options
5.1.1.2. Substrate Choices
5.1.1.3. Patterning & Metallization
5.1.1.4. Component Attachment
5.1.1.5. End-of-life
5.2. Europe Sustainable Electronics Manufacturing Market Outlook, by End-user, Value (US$ Bn), 2018 - 2030
5.2.1. Key Highlights
5.2.1.1. Mobile Phones
5.2.1.2. IT Hardware
5.2.1.3. Automotive
5.2.1.4. Consumer Electronics
5.2.1.5. Wearables & Hearables
5.2.1.6. Aerospace & Defense
5.2.1.7. Medical & Healthcare
5.2.1.8. Misc.
5.2.2. BPS Analysis/Market Attractiveness Analysis
5.3. Europe Sustainable Electronics Manufacturing Market Outlook, by Country, Value (US$ Bn), 2018 - 2030
5.3.1. Key Highlights
5.3.1.1. Germany Sustainable Electronics Manufacturing Market by Focus Area, Value (US$ Bn), 2018 - 2030
5.3.1.2. Germany Sustainable Electronics Manufacturing Market Application, Value (US$ Bn), 2018 - 2030
5.3.1.3. U.K. Sustainable Electronics Manufacturing Market by Focus Area, Value (US$ Bn), 2018 - 2030
5.3.1.4. U.K. Sustainable Electronics Manufacturing Market Application, Value (US$ Bn), 2018 - 2030
5.3.1.5. France Sustainable Electronics Manufacturing Market by Focus Area, Value (US$ Bn), 2018 - 2030
5.3.1.6. France Sustainable Electronics Manufacturing Market Application, Value (US$ Bn), 2018 - 2030
5.3.1.7. Italy Sustainable Electronics Manufacturing Market by Focus Area, Value (US$ Bn), 2018 - 2030
5.3.1.8. Italy Sustainable Electronics Manufacturing Market Application, Value (US$ Bn), 2018 - 2030
5.3.1.9. Russia Sustainable Electronics Manufacturing Market by Focus Area, Value (US$ Bn), 2018 - 2030
5.3.1.10. Russia Sustainable Electronics Manufacturing Market Application, Value (US$ Bn), 2018 - 2030
5.3.1.11. Rest of Europe Sustainable Electronics Manufacturing Market by Focus Area, Value (US$ Bn), 2018 - 2030
5.3.1.12. Rest of Europe Sustainable Electronics Manufacturing Market Application, Value (US$ Bn), 2018 - 2030
5.3.2. BPS Analysis/Market Attractiveness Analysis
6. Asia Pacific Sustainable Electronics Manufacturing Market Outlook, 2018 - 2030
6.1. Asia Pacific Sustainable Electronics Manufacturing Market Outlook, by Focus Area, Value (US$ Bn), 2018 - 2030
6.1.1. Key Highlights
6.1.1.1. Design Options
6.1.1.2. Substrate Choices
6.1.1.3. Patterning & Metallization
6.1.1.4. Component Attachment
6.1.1.5. End-of-life
6.2. Asia Pacific Sustainable Electronics Manufacturing Market Outlook, by End-user, Value (US$ Bn), 2018 - 2030
6.2.1. Key Highlights
6.2.1.1. Mobile Phones
6.2.1.2. IT Hardware
6.2.1.3. Automotive
6.2.1.4. Consumer Electronics
6.2.1.5. Wearables & Hearables
6.2.1.6. Aerospace & Defense
6.2.1.7. Medical & Healthcare
6.2.1.8. Misc.
6.2.2. BPS Analysis/Market Attractiveness Analysis
6.3. Asia Pacific Sustainable Electronics Manufacturing Market Outlook, by Country, Value (US$ Bn), 2018 - 2030
6.3.1. Key Highlights
6.3.1.1. China Sustainable Electronics Manufacturing Market by Focus Area, Value (US$ Bn), 2018 - 2030
6.3.1.2. China Sustainable Electronics Manufacturing Market Application, Value (US$ Bn), 2018 - 2030
6.3.1.3. Japan Sustainable Electronics Manufacturing Market by Focus Area, Value (US$ Bn), 2018 - 2030
6.3.1.4. Japan Sustainable Electronics Manufacturing Market by End-user, Value (US$ Bn), 2018 - 2030
6.3.1.5. South Korea Sustainable Electronics Manufacturing Market by Focus Area, Value (US$ Bn), 2018 - 2030
6.3.1.6. South Korea Sustainable Electronics Manufacturing Market by End-user, Value (US$ Bn), 2018 - 2030
6.3.1.7. India Sustainable Electronics Manufacturing Market by Focus Area, Value (US$ Bn), 2018 - 2030
6.3.1.8. India Sustainable Electronics Manufacturing Market by End-user, Value (US$ Bn), 2018 - 2030
6.3.1.9. Southeast Asia Sustainable Electronics Manufacturing Market by Focus Area, Value (US$ Bn), 2018 - 2030
6.3.1.10. Southeast Asia Sustainable Electronics Manufacturing Market by End-user, Value (US$ Bn), 2018 - 2030
6.3.1.11. Rest of Asia Pacific Sustainable Electronics Manufacturing Market by Focus Area, Value (US$ Bn), 2018 - 2030
6.3.1.12. Rest of Asia Pacific Sustainable Electronics Manufacturing Market by End-user, Value (US$ Bn), 2018 - 2030
6.3.2. BPS Analysis/Market Attractiveness Analysis
7. Latin America Sustainable Electronics Manufacturing Market Outlook, 2018 - 2030
7.1. Latin America Sustainable Electronics Manufacturing Market Outlook, by Focus Area, Value (US$ Bn), 2018 - 2030
7.1.1. Key Highlights
7.1.1.1. Design Options
7.1.1.2. Substrate Choices
7.1.1.3. Patterning & Metallization
7.1.1.4. Component Attachment
7.1.1.5. End-of-life
7.2. Latin America Sustainable Electronics Manufacturing Market Outlook, by End-user, Value (US$ Bn), 2018 - 2030
7.2.2. BPS Analysis/Market Attractiveness Analysis
7.2.1.1. Mobile Phones
7.2.1.2. IT Hardware
7.2.1.3. Automotive
7.2.1.4. Consumer Electronics
7.2.1.5. Wearables & Hearables
7.2.1.6. Aerospace & Defense
7.2.1.7. Medical & Healthcare
7.2.1.8. Misc.
7.3. Latin America Sustainable Electronics Manufacturing Market Outlook, by Country, Value (US$ Bn), 2018 - 2030
7.3.1. Key Highlights
7.3.1.1. Brazil Sustainable Electronics Manufacturing Market by Focus Area, Value (US$ Bn), 2018 - 2030
7.3.1.2. Brazil Sustainable Electronics Manufacturing Market by End-user, Value (US$ Bn), 2018 - 2030
7.3.1.3. Mexico Sustainable Electronics Manufacturing Market by Focus Area, Value (US$ Bn), 2018 - 2030
7.3.1.4. Mexico Sustainable Electronics Manufacturing Market by End-user, Value (US$ Bn), 2018 - 2030
7.3.1.5. Rest of Latin America Sustainable Electronics Manufacturing Market by Focus Area, Value (US$ Bn), 2018 - 2030
7.3.1.6. Rest of Latin America Sustainable Electronics Manufacturing Market by End-user, Value (US$ Bn), 2018 - 2030
7.3.2. BPS Analysis/Market Attractiveness Analysis
8. Middle East & Africa Sustainable Electronics Manufacturing Market Outlook, 2018 - 2030
8.1. Middle East & Africa Sustainable Electronics Manufacturing Market Outlook, by Focus Area, Value (US$ Bn), 2018 - 2030
8.1.1. Key Highlights
8.1.1.1. Design Options
8.1.1.2. Substrate Choices
8.1.1.3. Patterning & Metallization
8.1.1.4. Component Attachment
8.1.1.5. End-of-life
8.2. Middle East & Africa Sustainable Electronics Manufacturing Market Outlook, by End-user, Value (US$ Bn), 2018 - 2030
8.2.1. Key Highlights
8.2.1.1. Mobile Phones
8.2.1.2. IT Hardware
8.2.1.3. Automotive
8.2.1.4. Consumer Electronics
8.2.1.5. Wearables & Hearables
8.2.1.6. Aerospace & Defense
8.2.1.7. Medical & Healthcare
8.2.1.8. Misc.
8.2.2. BPS Analysis/Market Attractiveness Analysis
8.3. Middle East & Africa Sustainable Electronics Manufacturing Market Outlook, by Country, Value (US$ Bn), 2018 - 2030
8.3.1. Key Highlights
8.3.1.1. GCC Sustainable Electronics Manufacturing Market by Focus Area, Value (US$ Bn), 2018 - 2030
8.3.1.2. GCC Sustainable Electronics Manufacturing Market by End-user, Value (US$ Bn), 2018 - 2030
8.3.1.3. South Africa Sustainable Electronics Manufacturing Market by Focus Area, Value (US$ Bn), 2018 - 2030
8.3.1.4. South Africa Sustainable Electronics Manufacturing Market by End-user, Value (US$ Bn), 2018 - 2030
8.3.1.5. Rest of Middle East & Africa Sustainable Electronics Manufacturing Market by Focus Area, Value (US$ Bn), 2018 - 2030
8.3.1.6. Rest of Middle East & Africa Sustainable Electronics Manufacturing Market by End-user, Value (US$ Bn), 2018 - 2030
8.3.2. BPS Analysis/Market Attractiveness Analysis
9. Competitive Landscape
9.1. Company Market Share Analysis, 2022
9.2. Competitive Dashboard
9.3. Company Profiles
9.3.1. Samsung
9.3.1.1. Company Overview
9.3.1.2. Product Portfolio
9.3.1.3. Financial Overview
9.3.1.4. Business Strategies and Development
9.3.2. Foxconn
9.3.2.1. Company Overview
9.3.2.2. Product Portfolio
9.3.2.3. Financial Overview
9.3.2.4. Business Strategies and Development
9.3.3. Celestica Inc.
9.3.3.1. Company Overview
9.3.3.2. Product Portfolio
9.3.3.3. Financial Overview
9.3.3.4. Business Strategies and Development
9.3.4. Apple Inc.
9.3.4.1. Company Overview
9.3.4.2. Product Portfolio
9.3.4.3. Financial Overview
9.3.4.4. Business Strategies and Development
9.3.5. Intel
9.3.5.1. Company Overview
9.3.5.2. Product Portfolio
9.3.5.3. Financial Overview
9.3.5.4. Business Strategies and Development
9.3.6. Nokia
9.3.6.1. Company Overview
9.3.6.2. Product Portfolio
9.3.6.3. Financial Overview
9.3.6.4. Business Strategies and Development
9.3.7. Alpha
9.3.7.1. Company Overview
9.3.7.2. Product Portfolio
9.3.7.3. Financial Overview
9.3.7.4. Business Strategies and Development
9.3.8. DP Patterning
9.3.8.1. Company Overview
9.3.8.2. Product Portfolio
9.3.8.3. Financial Overview
9.3.8.4. Business Strategies and Development
9.3.9. Elephantech Inc.
9.3.9.1. Company Overview
9.3.9.2. Product Portfolio
9.3.9.3. Financial Overview
9.3.9.4. Business Strategies and Development
9.3.10. TSMC
9.3.10.1. Company Overview
9.3.10.2. Product Portfolio
9.3.10.3. Financial Overview
9.3.10.4. Business Strategies and Development
9.3.11. VTT
9.3.11.1. Company Overview
9.3.11.2. Product Portfolio
9.3.11.3. Financial Overview
9.3.11.4. Business Strategies and Development
9.3.12. CondAlign AS
9.3.12.1. Company Overview
9.3.12.2. Product Portfolio
9.3.12.3. Financial Overview
9.3.12.4. Business Strategies and Development
9.3.13. AMD
9.3.13.1. Company Overview
9.3.13.2. Product Portfolio
9.3.13.3. Financial Overview
9.3.13.4. Business Strategies and Development
9.3.14. Sony Electronics
9.3.14.1. Company Overview
9.3.14.2. Product Portfolio
9.3.14.3. Financial Overview
9.3.14.4. Business Strategies and Development
10. Appendix
10.1. Research Methodology
10.2. Report Assumptions
10.3. Acronyms and Abbreviations
BASE YEAR

HISTORICAL DATA

FORECAST PERIOD

UNITS

2022

2018 - 2022

2023 - 2030

Value: US$ Million
REPORT FEATURES

DETAILS

Focus Area Coverage

Design Options
Substrate Choices
Patterning & Metallization
Component Attachment
End-of-life

End User Coverage

Mobile Phones
IT Hardware
Automotive
Consumer Electronics
Wearables & Hearables
Aerospace & Defense
Medical & Healthcare
Miscellaneous

Geographical Coverage

Europe

Germany
UK
France
Italy
Spain
Rest of EU

Asia Pacific

China
Japan
India
South Korea
Rest of APAC

Latin America

Brazil
Mexico
Rest of Latin America

Middles East & Africa

GCC Countries
South Africa
Rest of Middle East & Africa

Leading Companies

Samsung
Apple Inc.
Intel
Nokia
Alpha
DP Patterning
Elephantech Inc.
TSMC
VTT
CondAlign AS
AMD
Sony Electronics
Foxconn
Celestica Inc.

Report Highlights

Key Market Indicators, Macro-micro economic impact analysis,

Technological Roadmap, Key Trends, Driver, Restraints, and Future

Opportunities & Revenue Pockets, Porter's 5 Forces Analysis, Historical

Trend (2019-2021), Market Estimates and Forecast, Market Dynamics,

Industry Trends, Competition Landscape, Category, Region, Country-

wise Trends & Analysis, COVID-19 Impact Analysis (Demand and

Supply Chain)