Demand for Preeclampsia Laboratory Testing to Witness Healthy Revenue Growth by 2026
The U.S. preeclampsia laboratory testing market registered revenue worth US$2,339.7 Mn in 2020 and is set to exhibit robust revenue growth between 2021 and 2026. The market is poised to benefit from the rising burden of preeclampsia, coupled with investigational product launches that have been observed over the recent past. Fairfield Market Research indicates that the valuation of the U.S. preeclampsia laboratory testing market will rise at healthy 5.1% CAGR during the period of assessment, reaching market value of US$3,040.5 Mn and volume of 4,629,000 indicating potential number of women undergoing diagnostic tests by the end of 2026.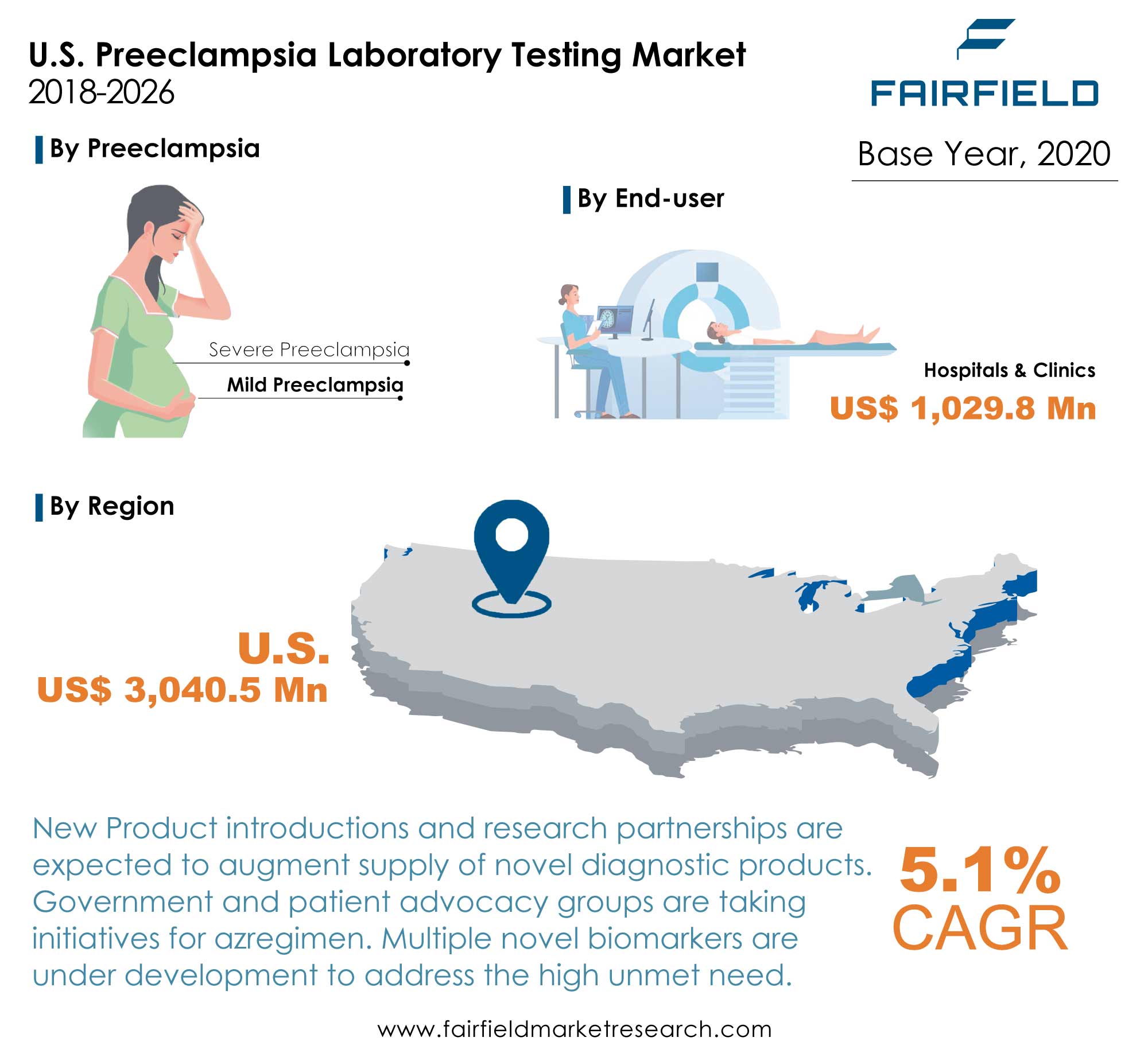 Growing Health and Economic Burden Improves Scope for U.S. Preeclampsia Laboratory Testing Market
Preeclampsia is known to be a second leading cause of maternal mortality impacting fetal and infant health as well. It is also associated with the elevated risk of cardiovascular and metabolic diseases in both the mother and the child later in life. According to the Centres for Disease Control and Prevention, preeclampsia occurs in about 1 in 25 pregnancies in the U.S. Moreover, it's also the cause of 15% of the premature births in the country. While the exact reason remains unknown, currently there neither seems to be a reliable test for predicting preeclampsia nor complete cure for the disease. The maternal and neonatal deaths, however, can be prevented with improved early diagnosis rate the early and gradually rising awareness about the same among general population.
The number of preeclampsia laboratory tests is on the rise. The U.S. is facing a severe challenge of growing health and economic burden. Preeclampsia Foundation states that short-term medical cost amounts to US$2.18 Bn to the U.S. healthcare system. The cost after the first 12 months of delivery is US$1.03 Bn, for maternal healthcare and US$1.15 Bn for infants born to mothers with preeclampsia. Mild and severe preeclampsia incidences are expected to contribute more or less equally to the market growth by the end forecast period. Severe preeclampsia type would register highest market growth by 2027 owing to an increase in the total rate of severe preeclampsia among delivery hospitalizations.
New Product Introductions and Research Collaborations and Fundings Augment Supply of Novel Diagnostic Products
New product launches and research collaborations are taking place in the preeclampsia diagnostics landscape at fast pace. Government & academic institutions are collaborating for better diagnostics and cure of preeclampsia. In early 2019, DiabetOmics, a U.S. based medical diagnostic company has launched a rapid point-of-care test 'Lumella' to estimate elevation of a protein biomarker in pregnant women with high risk of developing. Progenity, a women's health diagnostic firm recently announced the launch of preeclampsia rule-out test, called PreecludiaTM, and is expected to be commercialised soon.
According to a data published by the National Institutes of Health (NIH) in September 2018, several NIH institutes are investing into research on preeclampsia, with leading funders being the National Heart, Lung, and Blood Institute and the Eunice Kennedy Shriver National Institute of Child Health and Human Development (NICHD). Some other institutes currently funding for preeclampsia research comprise National Institute of General Medical Sciences, National Institute on Aging, National Institute on Minority Health and Health Disparities, National Institute of Allergy and Infectious diseases, and National Institute on Drug Abuse.
Blood Tests Witness Highest CAGR in U.S. Preeclampsia Laboratory Testing Market
Urine tests though lead the test type segment in terms of market value as well as volume, blood tests are anticipated to register a stronger growth rate due to need for early diagnosis and comparatively high accuracy against conventional urine tests.
Novel biomarkers are also hitting the market big time as is observed over the recent past. The collaboration of Thermo Fisher Scientific, Inc. with NX Prenatal is aiming to develop novel assays and non-invasive early detection systems enabling better evaluation of maternal and fetal biomarkers during pregnancy that correlate with adverse outcomes, such as preterm birth. Cell free RNA's hold great promise in non-invasive diagnostics, though there is still a need for more detailed studies to map the signatures of these RNAs in disease pathogenesis and create disease-specific reference databases.
Diagnostic Centres to See Phenomenal Growth in U.S. Preeclampsia Laboratory Testing Market
Hospitals and clinics remain the largest revenue contributor in the U.S. for preeclampsia laboratory testing, followed by diagnostic centres. Use of novel biomarkers under study will lead to improved diagnostic assessment of preeclampsia with greater precision and accuracy. This development is expected to boost the diagnostic centres segment with highest growth rate by 2027. Also, strong presence and initiatives of several government and patient advocacy groups formed for the development of better diagnostics regimen, will further augment the market segment.
Decline in Fertility Rate and Delayed parenthood Act As Restraint for U.S. Preeclampsia Laboratory Testing Market
More number of women voluntarily opting out from parenthood, rise in infertility amongst women coupled with low birth rate will lead to overall decrease in preeclampsia incidences. This would lower the uptake of preeclampsia diagnostic tests and pose a challenge to the market growth. Numerous research studies are under evaluation showcasing effect of lifestyle and therapeutic interventions on reducing the risk of preeclampsia. This would further have a negative impact on the preeclampsia testing market.
U.S. Preeclampsia Laboratory Testing Market: Competitive Landscape
A few industry giants in the U.S. preeclampsia laboratory testing market are PerkinElmer Inc., F. Hoffmann-La Roche Ltd., and ThermoFischer Scientific Inc. The report also profiles and provide insights for other prominent industry players, comprising Siemens Healthineers AG, GestVision, Inc. Metabolomic Diagnostics Ltd., DiabetOmics Inc., DRG INSTRUMENTS GMBH, amongst others.
The U.S. Preeclampsia Laboratory Testing Market is Segmented as Below:
By Test Type
By Preeclampsia Type
Mild Preeclampsia
Severe Preeclampsia
By End User
Hospitals and Clinics
Diagnostic Centres
Others
Leading Companies
DiabetOmics
DRG Instruments GmbH
F. Hoffmann-La Roche Ltd.
GestVision, Inc.
Lifeassay Diagnostics (Pty) Ltd.
Metabolomic Diagnostics
Perkin Elmer, Inc.
Progenity, Inc.
Quidel Corporation
Siemens Healthineers
Thermo Fisher Scientific, Inc.
Inside This Report You Will Find:
1. Executive Summary
2. Market Overview
3. U.S. Preeclampsia Laboratory Testing Market Outlook, 2018 - 2026
4. Company Profiles
5. Appendix
Post Sale Support, Research Updates & Offerings:
We value the trust shown by our customers in Fairfield Market Research. We support our clients through our post sale support, research updates and offerings.
The report will be prepared in a PPT format and will be delivered in a PDF format.
Additionally, Market Estimation and Forecast numbers will be shared in Excel Workbook.
If a report being sold was published over a year ago, we will offer a complimentary copy of the updated research report along with Market Estimation and Forecast numbers within 2-3 weeks' time of the sale.
If we update this research study within the next 2 quarters, post purchase of the report, we will offer a Complimentary copy of the updated Market Estimation and Forecast numbers in Excel Workbook.
If there is a geopolitical conflict, pandemic, recession, and the like which can impact global economic scenario and business activity, which might entirely alter the market dynamics or future projections in the industry, we will create a Research Update upon your request at a nominal charge.
1. Executive Summary
1.1. U.S. Preeclampsia Laboratory Testing Market Outlook, 2018 - 2026 (US$ Million) and Volume (,000)
1.2. U.S. Preeclampsia Laboratory Testing Market Snapshot
1.3. U.S. Preeclampsia Laboratory Testing Market Incremental Opportunity, 2018 - 2026 (US$ Million) and Volume (,000)
1.4. Key Industry Trends

2. Market Overview
2.1. Market Definitions and Segmentations
2.2. Market Dynamics
2.2.1. Market Drivers
2.2.2. Market Opportunities
2.2.3. Market Threats
2.3. Market Landscape
2.4. Preeclampsia Diagnostics Overview
2.5. MicroRNAs: Promising Biomarker in Preeclampsia
2.6. Medical Management of Preeclampsia: An Overview
2.7. Women's Attitudes, Beliefs and Values About Tests, And Management for Hypertensive Disorders Of Pregnancy

3. U.S. Preeclampsia Laboratory Testing Market Outlook, 2018 - 2026
3.1. U.S. Preeclampsia Laboratory Testing Market Outlook, By Test Type, 2018 - 2026
3.1.1. Key Highlights
3.1.2. U.S. Preeclampsia Laboratory Testing Market Outlook, by Test Type, Value (US$ Million) and Volume (,000), 2018 - 2026
3.1.2.1. Urine Tests
3.1.2.2. Blood Tests
3.1.3. U.S. Preeclampsia Laboratory Testing Market Share and BPS Analysis, by Test Type, Value and Volume, 2021 and 2026
3.1.4. U.S. Preeclampsia Laboratory Testing Market Attractiveness Analysis, by Test Type, Value and Volume, 2021-2026
3.2. U.S. Preeclampsia Laboratory Testing Market Outlook, By Preeclampsia Type, 2018 - 2026
3.2.1. Key Highlights
3.2.2. U.S. Preeclampsia Laboratory Testing Market Outlook, by Preeclampsia Type, Value (US$ Million) and Volume (,000), 2018 - 2026
3.2.2.1. Mild Preeclampsia
3.2.2.2. Severe Preeclampsia
3.2.3. U.S. Preeclampsia Laboratory Testing Market Share and BPS Analysis, by Preeclampsia Type, Value and Volume, 2022 and 2027
3.2.4. U.S. Preeclampsia Laboratory Testing Market Attractiveness Analysis, by Preeclampsia Type, Value and Volume, 2022 - 2027
3.3. U.S. Preeclampsia Laboratory Testing Market Outlook, By End User, 2018 - 2026
3.3.1. Key Highlights
3.3.2. U.S. Preeclampsia Laboratory Testing Market Outlook, by Preeclampsia Type, Value (US$ Million) and Volume (,000), 2018 - 2026
3.3.2.1. Hospitals & Clinics
3.3.2.2. Diagnostic Centres
3.3.2.3. Others
3.3.3. U.S. Preeclampsia Laboratory Testing Market Share and BPS Analysis, by End User, Value and Volume, 2021 and 2026
3.3.4. U.S. Preeclampsia Laboratory Testing Market Attractiveness Analysis, by End User, Value and Volume, 2021 - 2026

4. Company Profiles
4.1. Perkin Elmer, Inc.
4.1.1. Company Overview
4.1.2. Financial Performance
4.1.3. Product Portfolio
4.1.4. Recent Developments
Above details will include, but not be limited to below list of companies based on availability
4.2. DiabetOmics, Inc.
4.3. DRG Instruments GMBH
4.4. GestVision, Inc.
4.5. F. Hoffmann-La Roche Ltd.
4.6. Lifeassay Diagnostics (Pty) Ltd.
4.7. Metabolomic Diagnostics Ltd.
4.8. Progenity Inc.
4.9. Quidel Corporation
4.10. Siemens Healthineers AG
4.11. ThermoFisher Scientific Inc.
Other Leading Players

5. Appendix
5.1. Research Methodology
5.2. Report Specific Research Approach
BASE YEAR

HISTORICAL DATA

FORECAST PERIOD

UNITS

2020

2018 - 2019

2021 - 2026

Value: US$ Million

Volume: in Thousands
REPORT FEATURES

DETAILS

Test Type

Preeclampsia Type

Mild Preeclampsia
Severe Preeclampsia

End User

Hospitals and Clinics
Diagnostic Centres
Others

Leading Companies

DiabetOmics
DRG Instruments GmbH
F. Hoffmann-La Roche Ltd.
GestVision, Inc.
Lifeassay Diagnostics (Pty) Ltd.
Metabolomic Diagnostics
Perkin Elmer, Inc.
Progenity, Inc.
Quidel Corporation
Siemens Healthineers
Thermo Fisher Scientific, Inc.

Report Highlights

Key Market Indicators, Market Estimates and Forecast (Value and Volume), Market Dynamics, KOL insights, Company Profiles, U.S. Country Insights