This study intends to analyse diverse aspects of the global used vehicle market. The insights offered in this report are expected to aid in market growth examination over the forecast timeline.
Market Analysis in Brief
The used vehicle market has steadily gained prominence since the 2008 recession and continues to grow at a rapid pace. There are wise-ranging factors that can be attributed to this industry's ongoing success. Elements such as better financing, favourable policies, greater industry player involvement, urbanization, higher disposable incomes, etc. North America is expected to remain a dominant force in this landscape; however, the Asia Pacific is projected to index a significantly high CAGR over the forecast period. As the global automotive sector gravitates towards the use of more environmentally friendly vehicles, this is expected to create options for those would are not able to afford vehicles such as these and instead opt for comparatively economical options such as used or pre-owned vehicles.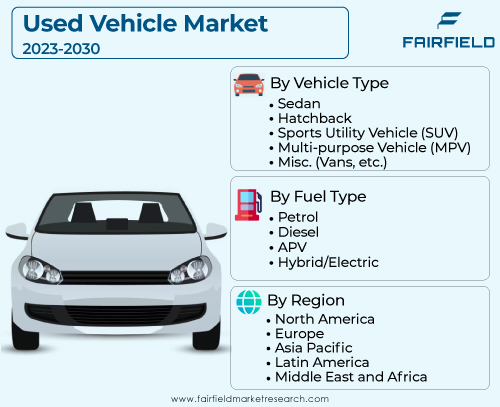 Key Report Findings
The global used vehicle market was roughly valued at over US$1.5 Tn in 2021
The average age of a used vehicle in the US is 11.8 years
In 2020, 40.4 million used vehicles were sold in the US compared to 14.5 million new vehicles
The top-selling used car brand in the US is Toyota, followed by Honda, and Ford
Asia Pacific to account for a significant market share over the forecast period
Average used car mileage sold in the US is 68,000 miles
Growth Drivers
Affordability, and Greater Need for Private Conveyance
The International Organization of Motor Vehicle Manufacturers (OICA) states that the automotive industry contributes about 4% to the global GDP, which is estimated to grow at a CAGR of 20.78% by 2028. This statistical data highlights the increase in global car ownership. Of the total size of the car ownership market, a sizeable share is accounted for through used car ownership, and this is poised for further expansion by 2030. However, the launch of new entry-level cars is boosting demand which can directly affect used vehicle sales.
While the average ownership time of new cars has come down significantly compared to what it was earlier in the past decade, it still is a fact that the used car segment presents a wealth of options for first timers who are aspiring car buyers, that still find it safe to buy second-hand cars till they are daily driving proficient.
Franchise Dealers Aim to Offer Better Financial Schemes
Competitive pricing has been a significant advantage for companies operating in the used vehicle market. This market receives a strong tailwind from key industry participants as they consider amplifying their investments by setting up new dealership networks for used vehicles. Online sales of pre-owned or used cars remains a critical growth factor for the global used vehicle market. Research reveals that the options for financing new cars are relatively high in number but the same is quite expensive for used vehicles, which makes it difficult to find adequate financing options. This can potentially hinder market growth prospects.
Amidst other factors such as increasing consumer spending on lifestyle choices, and a flourishing import-export scenario, the growth of the used vehicle market is expected to significantly benefit from a variety of certified used vehicle programs. Franchise dealer prevalence due to the higher availability of better financial schemes has created favourable grounds for used car sales. Several online used car selling platforms such as Vroom, and Fair have partnered with OEMs to ensure reliability of their certified used vehicle programs, which is expected to prove advantageous for this market.
Compact Passenger Cars Segment to Lead, SUVs to Follow
Compact size or entry-level cars is expected to account for the largest volume share in the used vehicle market. This is in line with growing consumer preferences for economic and compact passenger cars. From the supply-side perspective, high production rates and more significant inventories have also been a preference for most franchise owners, which can lead to better supply chain management of these cars.
On the other hand, SUVs have been on a profitable growth trajectory, with both spacious and compact attributes when compared to premium vehicles. The distribution network and residual value for SUVs are relatively high; significant factors accounting for a rise in their demand.
Key Market Players Indulge in Used Car Dealerships
Automotive industry operators more than often keep new vehicles at the core of their business. It was only recently when even the biggest automakers started realising the potential and market worth of used vehicles. Global auto giants are now actively involved in used vehicle dealerships looking at the incessant competition and shifting consumer behaviour concerning the purchasing of cars.
Several new entrants are adding to the existing fragmented nature of used vehicle market competition. While most of these participants tend to be unorganised local companies, it is more likely that they would enter strategic partnerships in the future. New product segments are being launched by such newly formed partners as well as established players in this industry. Even premium car companies continue to channel efforts to leverage market potential of their own used cars. Luxury car brands such as Mercedes and Audi have their used car dealerships in place that garner a sizeable revenue to these respective companies.
Used passenger cars have especially been enjoying a greater share in the global market, which has eventually led to several brands' networks specifically launched for used cars, such as Toyota's U Trust, and Maruti Suzuki's True Value. Furthermore, mainstream companies are investing in strategic expansion efforts through collaboration activities.
Growth Challenges
Adoption of Ride Sharing Trend
Ride sharing, though an economical mode of transportation for consumers, is quickly becoming a concern for used car dealers and financers. If ride sharing eventually dominates the private transportation market, there will only be a few owners during a car's average lifespan, which will end up creating lower transaction volumes for the used vehicle market. However, the onset of COVID-19 has resulted in a 180-degree change in attitudes. The growing prominence of social distancing amid this pandemic situation is forcing people to incline more towards private conveyance rather than travelling in public transport vehicles. Used vehicles are thus gaining traction especially in developing economies as they are available in market at affordable costs. The temporary negative impact of financial disparities toward new vehicle sales will work in favour of the used vehicle market.
Growth Opportunities Across Regions
Used Car Market to Gain Traction in Asia Pacific
North America is expected to account for a significant share of the global used vehicle market over the forecast period. This can be attributed to the extensive presence of used vehicle dealers in the region, favourable economic growth, the availability of financing, as well as the popularity of SUVs and trucks. Moreover, the price of used cars here is relatively cheap compared to new vehicles. On the other hand, the Asia Pacific is expected to index significant growth over the forecast period. This can be chalked up to factors such as higher disposable incomes, booming population figures, urbanization, increasing popularity of cars, and better financing options, among others.
Key Market Players – Used Vehicle Landscape
Some key companies in the global used vehicle market include True Car, Droom Technology Pvt Ltd., CarMax Inc., Penske Automotive Groups, Lithia Motors, Pendragon PLC, and Emil Frey Classics AG, to name a few. To gain a competitive edge, various established industry players are now more focused on new product launches, partnerships, collaborations, acquisitions, and alliances.
Recent Notable Developments
In 2020, Volkswagen announced a collaboration of Das WeltAuto with other reputed used car platforms


In December 2019, Group1 Automotive Inc. Announced their acquisition of two Lexus dealerships to expand their presence in New Mexico


In December 2019, HELLMAN & FRIEDMAN LLC entered a contract to buy AutoScout24. Through this acquisition, the company aims to provide value-added marketing solutions as it continues to digitize its business models
Regional Classification of the Global Used Vehicle Market is Listed Below:
North America
Europe
Germany
France
Spain
U.K.
Italy
Russia
Rest of Europe
Asia Pacific
China
Japan
India
Southeast Asia
Rest of Asia Pacific
Latin America
Brazil
Mexico
Rest of Latin America
Middle East and Africa
GCC
South Africa
Rest of Middle East & Africa
*Regions and countries are subject to change based on data availability.
Key Elements Included In The Study: Global Used Vehicle Market
Used Vehicle Market by Product/Technology/Grade, Application/End-user, and Region
Executive Summary (Opportunity Analysis and Key Trends)
Historical Market Size and Estimates, Value and Volume, 2019 - 2022
Volume Consumption at Regional and Country Level, 2023 - 2030
Market Dynamics and Economic Overview
Market Size in Value and Volume, Growth Rates, and Forecast Figures, 2023 - 2030
Competitive Intelligence with Financials, Key Developments, and Portfolio of Leading Companies
Regional and Product/Grade/Application/End-user Price Trends Analysis
Value Chain and Five Force's Analysis
Regional/Sub-region/Country Market Size and Trend Analysis
Company Market Share Analysis and Key Player Profiles
Post Sale Support, Research Updates & Offerings
We value the trust shown by our customers in Fairfield Market Research. We support our clients through our post sale support, research updates and offerings.
The report will be prepared in a PPT format and will be delivered in a PDF format.
Additionally, Market Estimation and Forecast numbers will be shared in Excel Workbook.
If a report being sold was published over a year ago, we will offer a complimentary copy of the updated research report along with Market Estimation and Forecast numbers within 2-3 weeks' time of the sale.
If we update this research study within the next 2 quarters, post purchase of the report, we will offer a Complimentary copy of the updated Market Estimation and Forecast numbers in Excel Workbook.
If there is a geopolitical conflict, pandemic, recession, and the like which can impact global economic scenario and business activity, which might entirely alter the market dynamics or future projections in the industry, we will create a Research Update upon your request at a nominal charge.
1. Executive Summary
1.1. Global Used Vehicles Market Snapshot
1.2. Key Market Trends
1.3. Future Projections
1.4. Analyst Recommendations

2. Market Overview
2.1. Market Definitions and Segmentations
2.2. Market Dynamics
2.2.1. Drivers
2.2.1.1. Driver 1
2.2.1.2. Driver 2
2.2.2. Restraints
2.2.2.1. Restraint 1
2.2.2.2. Restraint 2
2.2.3. Market Opportunities Matrix
2.3. Value Chain Analysis
2.4. Porter's Five Forces Analysis
2.5. Covid-19 Impact Analysis
2.5.1. Supply
2.5.2. Demand
2.6. Economic Analysis
2.7. Government Regulations
2.8. PESTEL Analysis

3. Production Output and Trade Statistics, 2019 - 2022
3.1. Supply-Demand Analysis
3.2. Import-Export Analysis
3.3. Major Exporting Countries, by Destination

4. Price Trends Analysis and Future Projects
4.1. Key Highlights
4.2. Average Price, By Vehicle Type
4.3. Average Price, By Region

5. Global Used Vehicles Market Outlook, 2019 - 2030
5.1. Global Used Vehicles Market Outlook, by Vehicle Type, Volume (Million Units) and Value (US$ Mn), 2019 - 2030
5.1.1. Key Highlights
5.1.1.1. Hatchbacks
5.1.1.2. Sedan
5.1.1.3. Sports Utility Vehicle (SUV)
5.1.1.4. Multi-purpose Vehicle (MPV)
5.1.1.5. Misc. (Vans, Trucks, etc.)
5.1.2. BPS Analysis/Market Attractiveness Analysis
5.2. Global Used Vehicles Market Outlook, by Fuel Type, Volume (Million Units) and Value (US$ Mn), 2019 - 2030
5.2.1. Key Highlights
5.2.1.1. Petrol
5.2.1.2. Diesel
5.2.1.3. Alternatively Powered Vehicles (APV)
5.2.1.4. Hybrid/Electric
5.2.2. BPS Analysis/Market Attractiveness Analysis
5.3. Global Used Vehicles Market Outlook, by Distribution Channels, Volume (Million Units) and Value (US$ Mn), 2019 - 2030
5.3.1. Key Highlights
5.3.1.1. Franchised Dealers
5.3.1.2. Independents
5.3.1.3. Private Sales (C2C)
5.3.1.4. Certified Preowned (CPO)
5.3.2. BPS Analysis/Market Attractiveness Analysis
5.4. Global Used Vehicles Market Outlook, by Region, Volume (Million Units) and Value (US$ Mn), 2019 - 2030
5.4.1. Key Highlights
5.4.1.1. North America
5.4.1.2. Europe
5.4.1.3. Asia Pacific
5.4.1.4. Latin America
5.4.1.5. Middle East & Africa
5.4.2. BPS Analysis/Market Attractiveness Analysis

6. North America Used Vehicles Market Outlook, 2019 - 2030
6.1. North America Used Vehicles Market Outlook, by Vehicle Type, Volume (Million Units) and Value (US$ Mn), 2019 - 2030
6.1.1. Key Highlights
6.1.1.1. Hatchbacks
6.1.1.2. Sedan
6.1.1.3. Sports Utility Vehicle (SUV)
6.1.1.4. Multi-purpose Vehicle (MPV)
6.1.1.5. Misc. (Vans, Trucks, etc.)
6.1.2. BPS Analysis/Market Attractiveness Analysis
6.2. North America Used Vehicles Market Outlook, by Fuel Type, Volume (Million Units) and Value (US$ Mn), 2019 - 2030
6.2.1. Key Highlights
6.2.1.1. Petrol
6.2.1.2. Diesel
6.2.1.3. Alternatively Powered Vehicles (APV)
6.2.1.4. Hybrid/Electric
6.2.2. BPS Analysis/Market Attractiveness Analysis
6.3. North America Used Vehicles Market Outlook, by Distribution Channels, Volume (Million Units) and Value (US$ Mn), 2019 - 2030
6.3.1. Key Highlights
6.3.1.1. Franchised Dealers
6.3.1.2. Independents
6.3.1.3. Private Sales (C2C)
6.3.1.4. Certified Preowned (CPO)
6.3.2. BPS Analysis/Market Attractiveness Analysis
6.4. North America Used Vehicles Market Outlook, by Country, Volume (Million Units) and Value (US$ Mn), 2019 - 2030
6.4.1. Key Highlights
6.4.1.1. U.S.
6.4.1.2. Canada
6.4.2. BPS Analysis/Market Attractiveness Analysis

7. Europe Used Vehicles Market Outlook, 2019 - 2030
7.1. Europe Used Vehicles Market Outlook, by Vehicle Type, Volume (Million Units) and Value (US$ Mn), 2019 - 2030
7.1.1. Key Highlights
7.1.1.1. Hatchbacks
7.1.1.2. Sedan
7.1.1.3. Sports Utility Vehicle (SUV)
7.1.1.4. Multi-purpose Vehicle (MPV)
7.1.1.5. Misc. (Vans, Trucks, etc.)
7.1.2. BPS Analysis/Market Attractiveness Analysis
7.2. Europe Used Vehicles Market Outlook, by Fuel Type, Volume (Million Units) and Value (US$ Mn), 2019 - 2030
7.2.1. Key Highlights
7.2.1.1. Petrol
7.2.1.2. Diesel
7.2.1.3. Alternatively Powered Vehicles (APV)
7.2.1.4. Hybrid/Electric
7.2.2. BPS Analysis/Market Attractiveness Analysis
7.3. Europe Used Vehicles Market Outlook, by Distribution Channels, Volume (Million Units) and Value (US$ Mn), 2019 - 2030
7.3.1. Key Highlights
7.3.1.1. Franchised Dealers
7.3.1.2. Independents
7.3.1.3. Private Sales (C2C)
7.3.1.4. Certified Preowned (CPO)
7.3.2. BPS Analysis/Market Attractiveness Analysis
7.4. Europe Used Vehicles Market Outlook, by Country, Volume (Million Units) and Value (US$ Mn), 2019 - 2030
7.4.1. Key Highlights
7.4.1.1. Germany
7.4.1.2. France
7.4.1.3. U.K.
7.4.1.4. Italy
7.4.1.5. Spain
7.4.1.6. Turkey
7.4.1.7. Russia
7.4.1.8. Rest of Europe
7.4.2. BPS Analysis/Market Attractiveness Analysis

8. Asia Pacific Used Vehicles Market Outlook, 2019 - 2030
8.1. Asia Pacific Used Vehicles Market Outlook, by Vehicle Type, Volume (Million Units) and Value (US$ Mn), 2019 - 2030
8.1.1. Key Highlights
8.1.1.1. Hatchbacks
8.1.1.2. Sedan
8.1.1.3. Sports Utility Vehicle (SUV)
8.1.1.4. Multi-purpose Vehicle (MPV)
8.1.1.5. Misc. (Vans, Trucks, etc.)
8.1.2. BPS Analysis/Market Attractiveness Analysis
8.2. Asia Pacific Used Vehicles Market Outlook, by Fuel Type, Volume (Million Units) and Value (US$ Mn), 2019 - 2030
8.2.1. Key Highlights
8.2.1.1. Petrol
8.2.1.2. Diesel
8.2.1.3. Alternatively Powered Vehicles (APV)
8.2.1.4. Hybrid/Electric
8.2.2. BPS Analysis/Market Attractiveness Analysis
8.3. Asia Pacific Used Vehicles Market Outlook, by Distribution Channels, Volume (Million Units) and Value (US$ Mn), 2019 - 2030
8.3.1. Key Highlights
8.3.1.1. Franchised Dealers
8.3.1.2. Independents
8.3.1.3. Private Sales (C2C)
8.3.1.4. Certified Preowned (CPO)
8.3.2. BPS Analysis/Market Attractiveness Analysis
8.4. Asia Pacific Used Vehicles Market Outlook, by Country, Volume (Million Units) and Value (US$ Mn), 2019 - 2030
8.4.1. Key Highlights
8.4.1.1. China
8.4.1.2. Japan
8.4.1.3. South Korea
8.4.1.4. India
8.4.1.5. Southeast Asia
8.4.1.6. Australia and New Zealand
8.4.1.7. Rest of Asia Pacific
8.4.2. BPS Analysis/Market Attractiveness Analysis
9. Latin America Used Vehicles Market Outlook, 2019 - 2030
9.1. Latin America Used Vehicles Market Outlook, by Vehicle Type, Volume (Million Units) and Value (US$ Mn), 2019 - 2030
9.1.1. Key Highlights
9.1.1.1. Hatchbacks
9.1.1.2. Sedan
9.1.1.3. Sports Utility Vehicle (SUV)
9.1.1.4. Multi-purpose Vehicle (MPV)
9.1.1.5. Misc. (Vans, Trucks, etc.)
9.1.2. BPS Analysis/Market Attractiveness Analysis
9.2. Latin America Used Vehicles Market Outlook, by Fuel Type, Volume (Million Units) and Value (US$ Mn), 2019 - 2030
9.2.1. Key Highlights
9.2.1.1. Petrol
9.2.1.2. Diesel
9.2.1.3. Alternatively Powered Vehicles (APV)
9.2.1.4. Hybrid/Electric
9.2.2. BPS Analysis/Market Attractiveness Analysis
9.3. Latin America Used Vehicles Market Outlook, by Distribution Channels, Volume (Million Units) and Value (US$ Mn), 2019 - 2030
9.3.1. Key Highlights
9.3.1.1. Franchised Dealers
9.3.1.2. Independents
9.3.1.3. Private Sales (C2C)
9.3.1.4. Certified Preowned (CPO)
9.3.2. BPS Analysis/Market Attractiveness Analysis
9.4. Latin America Used Vehicles Market Outlook, by Country, Volume (Million Units) and Value (US$ Mn), 2019 - 2030
9.4.1. Key Highlights
9.4.1.1. Brazil
9.4.1.2. Mexico
9.4.1.3. Rest of Latin America
9.4.2. BPS Analysis/Market Attractiveness Analysis

10. Middle East & Africa Used Vehicles Market Outlook, 2019 - 2030
10.1. Latin America Used Vehicles Market Outlook, by Vehicle Type, Volume (Million Units) and Value (US$ Mn), 2019 - 2030
10.1.1. Key Highlights
10.1.1.1. Hatchbacks
10.1.1.2. Sedan
10.1.1.3. Sports Utility Vehicle (SUV)
10.1.1.4. Multi-purpose Vehicle (MPV)
10.1.1.5. Misc. (Vans, Trucks, etc.)
10.1.2. BPS Analysis/Market Attractiveness Analysis
10.2. Latin America Used Vehicles Market Outlook, by Fuel Type, Volume (Million Units) and Value (US$ Mn), 2019 - 2030
10.2.1. Key Highlights
10.2.1.1. Petrol
10.2.1.2. Diesel
10.2.1.3. Alternatively Powered Vehicles (APV)
10.2.1.4. Hybrid/Electric
10.2.2. BPS Analysis/Market Attractiveness Analysis
10.3. Latin America Used Vehicles Market Outlook, by Distribution Channels, Volume (Million Units) and Value (US$ Mn), 2019 - 2030
10.3.1. Key Highlights
10.3.1.1. Franchised Dealers
10.3.1.2. Independents
10.3.1.3. Private Sales (C2C)
10.3.1.4. Certified Preowned (CPO)
10.3.2. BPS Analysis/Market Attractiveness Analysis
10.4. Middle East & Africa Used Vehicles Market Outlook, by Country, Volume (Million Units) and Value (US$ Mn), 2019 - 2030
10.4.1. Key Highlights
10.4.1.1. GCC
10.4.1.2. South Africa
10.4.1.3. Nigeria
10.4.1.4. Rest of Middle East & Africa
10.4.2. BPS Analysis/Market Attractiveness Analysis

11. Competitive Landscape
11.1. Company Market Share Analysis, 2019
11.2. New Developments
11.3. Market Structure
11.4. Company Profiles
11.4.1. Arnold Clark Automobiles
11.4.1.1. Company Overview
11.4.1.2. Product Portfolio
11.4.1.3. Financial Overview
11.4.1.4. Business Strategies and Development
11.4.2. Asbury Automotive Group
11.4.3. AutoNation
11.4.4. CarMax
11.4.5. Carvana
11.4.6. Emil Frey AG
11.4.7. Penske Automotive Group Inc.
11.4.8. Pendragon PLC
11.4.9. Group 1 Automotive Inc.
11.4.10. Sonic Automotive Inc.
11.4.11. Mahindra First Choice Wheels
11.4.12. True Value
11.4.13. Inchcape Plc
11.4.14. Youxinpai (Shanghai) Information Technology Co., Ltd.
11.4.15. Guazi

12. Appendix
12.1. Research Methodology
12.2. Report Assumptions
12.3. Acronyms and Abbreviations