Video Conferencing Market Outlook
Video Conferencing Arrives One-Stop Solution as Pandemic Chokes Business Operations
As the World Health Organization declared a pandemic in the Q1 of 2020, it brought business operations to an unprecedented halt across the globe. Corporates were forced to think out of the box to take up alternative means to continue working, prompting an unheard number of downloads of video conferencing applications. Video conferencing apps such as Zoom transformed nature of workplace, eliminating physical boundaries and enabling users to turn any place into a working space. Zoom became synonymous with work-from-home culture, registering downloads in millions.
In the recent study conducted by Fairfield Market Research, the global video conferencing market was valued at US$6.9 Bn in 2018 and it is expected to reach US$21.1 Bn by 2026, registering a whopping CAGR of 16.6% between 2021 and 2026.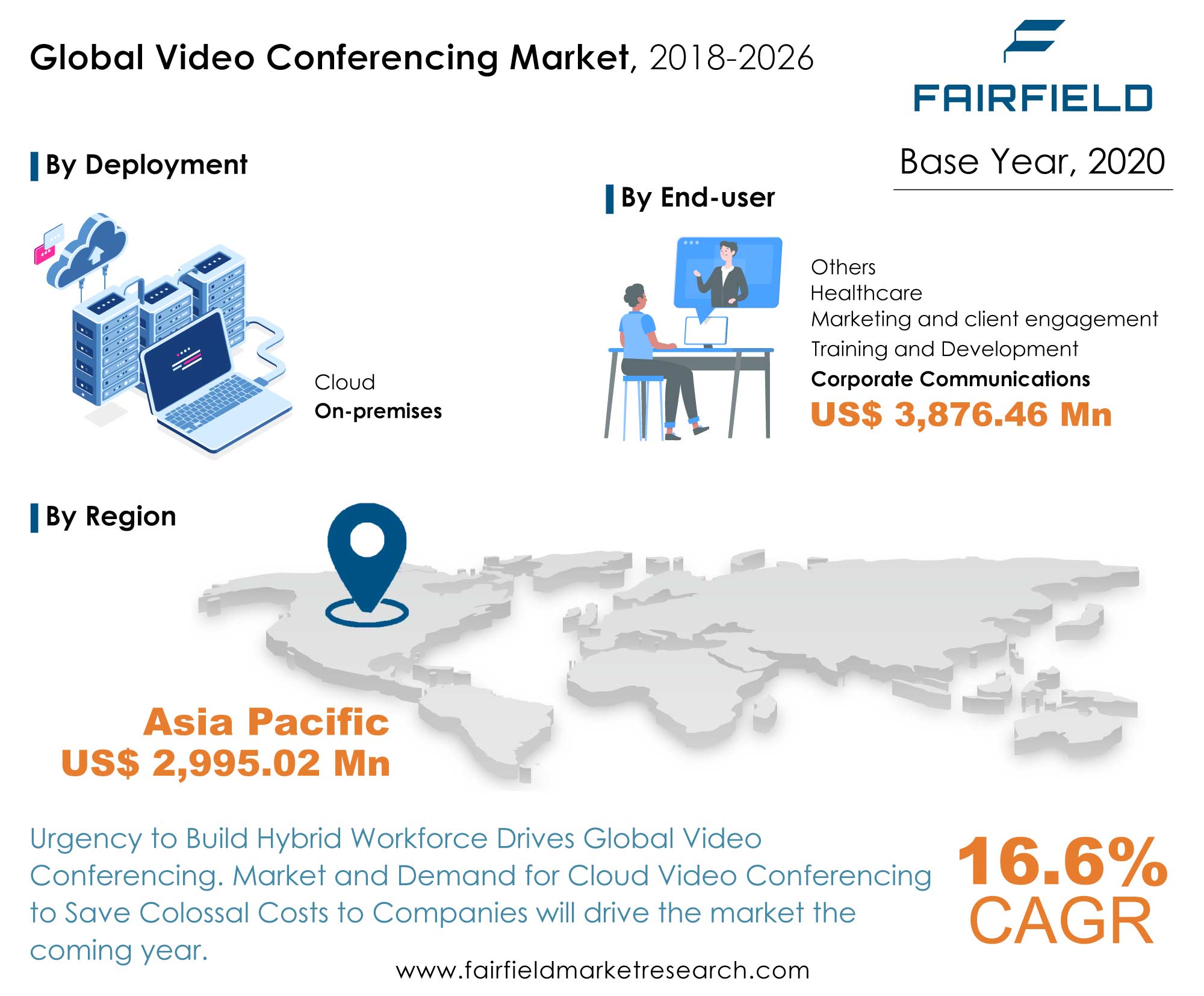 In corporate sector video conferencing has become indispensable as travels continue to be banned by countries to prevent surge in COVID-19 waves. It has thus become integral to training and communication.
Video Conferencing to Remain a Critical Tool to a Transitioning Workforce Amidst COVID-19 Pandemic
COVID-19 ushered in a shift toward remote working for the global workforce, opening the door for video conferencing solutions and technology. Following the pandemic, applications like Microsoft Teams, an in-built application of Office 365 that is already in use by most businesses for end-to-end productivity with email and storage capabilities, saw tremendous growth. Zoom meeting solutions also grew in popularity overnight due to its convenience and ease of use. Furthermore, firms like Huawei, Cisco, and Poly are releasing hardware that is compatible with superior video conferencing solutions, which is expected to aid the global workforce to smoothly transition to a remote working setup, significantly reducing the need for sprawling offices.
5G Infrastructure Builds Consumer Confidence to Adopt Video Conferencing
5G networks offer 1 Gbps and 10ms better internet experience, which is essential to the foundation of cloud and AI-based video applications. Various data-intensive applications, personal and business-to-business (B2B), operating with augmented reality (AR), virtual reality (VR), and video apps are gaining traction. Global video conferencing market is poised to receive a significant boost with upcoming 5G infrastructure. This will bring a remarkable improvement in downloads, streaming, connections, and ease of communications. The ultra-fast wireless capabilities will mean big business for the global video conferencing market as it promises to eliminate frozen frames and slow downloads.
Privacy and Security Issues to Hurt Market Video Conferencing Market Growth
Enterprises may be concerned about the security and privacy of video content shared across several platforms. Furthermore, corporations are concerned about copyright and Digital Rights Management (DRM) because of the risk of misuse, data leakage, and data breaches. In 2019, the healthcare, finance, manufacturing, information, and public sectors experienced the most data breaches. To overcome these limitations, businesses must rethink their approaches to video conferencing before implementing these solutions. Video conferencing solutions may have a slow adoption rate if policies and processes for proper video content management are not in place. Vendors must also provide interoperable and simple-to-use enterprise-grade video communication solutions with built-in security measures. Resolving privacy and security issues could provide the global video conferencing market newer opportunities.
APAC Accounts for Largest Market Share in Global Video Conferencing Market
APAC held the largest market share in 2020. The region is transforming dynamically with respect to the adoption of new technologies across various sectors. The infrastructural growth in APAC, especially in Japan, South Korea, Australia, Singapore, China, and India, and the increasing deployment of 4G and 5G networks present huge opportunities for the implementation of the video conferencing.
During the COVID-19 pandemic, the video conferencing industry in APAC expanded at a rapid pace. In order to successfully operate linked devices in hospitals, medical facilities, and other healthcare organizations, the use of technologies such as cloud computing, AI, and IoT is rising in the region. Organizations in this region are embracing a remote working method for their staff in order to preserve business continuity. As a result, video conferencing solutions are in high demand across the region's businesses. Fairfield Market Research states that Asia Pacific video conferencing market will register a whopping CAGR of 18.3% between the forecast period of 2021 and 2026.
Companies Focus on Interoperability Integration to Make a Mark
The global video conferencing market is diversified with multinational companies such as Microsoft, Cisco, Google, Enghouse systems, Zoom, Adobe, Avaya, Pexip and many others. Currently, these companies face tough competition from regional players who have a strong influence. Market leaders are leading the way in interoperability integration, which is expected to the upcoming trend.
In 2021, Zoom announced Smart Gallery view for Zoom Rooms customers. The new feature takes a single camera view and uses AI to transform it into multiple video streams for each participant in a conference room, enhancing the face-to-face meeting experience. The aim of Smart Gallery is to focus more closely on groups of participants in a Zoom Room and display these people more clearly to remote attendees, ensuring equity and inclusion for remote meeting attendees.
The Global Video Conferencing Market is Segmented as Below:
By Deployment Coverage
By Components Coverage
Solution
Software
Hardware
Services
By End-Use Coverage
Corporate Communication
Training & Development
Marketing & Client Engagement
Healthcare
Others
By Geographical Coverage
North America
Europe

Germany
France
UK
Italy
Turkey
Spain
Russia
Rest of Europe

Asia Pacific

China
Japan
South Korea
India
Southeast Asia
Rest of Asia Pacific

Latin America

Brazil
Mexico
Rest of Latin America

Middle East & Africa

GCC
Egypt
Rest of Middle East & Africa
Leading Companies
Microsoft
ZOOM
CISCO
Google
Adobe
Avaya
Pexip
Enghouse Systems
Kaltura
Inside This Report You Will Find:
1. Executive Summary
2. Market Overview
3. Global Video Conferencing Market Outlook, 2018 - 2026
4. North America Video Conferencing Market Outlook, 2018 - 2026
5. Europe Video Conferencing Market Outlook, 2018 - 2026
6. Asia Pacific Video Conferencing Market Outlook, 2018 - 2026
7. Latin America Video Conferencing Market Outlook, 2018 - 2026
8. Middle East & Africa Video Conferencing Market Outlook, 2018 - 2026
9. Competitive Landscape
10. Appendix
Post Sale Support, Research Updates & Offerings:
We value the trust shown by our customers in Fairfield Market Research. We support our clients through our post sale support, research updates and offerings.
The report will be prepared in a PPT format and will be delivered in a PDF format.
Additionally, Market Estimation and Forecast numbers will be shared in Excel Workbook.
If a report being sold was published over a year ago, we will offer a complimentary copy of the updated research report along with Market Estimation and Forecast numbers within 2-3 weeks' time of the sale.
If we update this research study within the next 2 quarters, post purchase of the report, we will offer a Complimentary copy of the updated Market Estimation and Forecast numbers in Excel Workbook.
If there is a geopolitical conflict, pandemic, recession, and the like which can impact global economic scenario and business activity, which might entirely alter the market dynamics or future projections in the industry, we will create a Research Update upon your request at a nominal charge.
1. Executive Summary
1.1. Global Video Conferencing Market Snapshot
1.2. Future Projections
1.3. Key Market Trends
1.4. Analyst Recommendations


2. Market Overview
2.1. Market Definitions
2.2. Market Taxonomy
2.3. Market Dynamics
2.3.1. Drivers
2.3.2. Restraints
2.4. Value Chain Analysis
2.5. Porter's Five Forces Analysis
2.6. Covid-19 Impact Analysis
2.7. Key Patents


3. Global Video Conferencing Market Outlook, 2018 - 2026
3.1. Global Video Conferencing Market Outlook, by Deployment Type, Value (US$ '000), 2018 - 2026
3.1.1. Key Highlights
3.1.1.1. On-Premises
3.1.1.2. Cloud
3.1.2. BPS Analysis/Market Attractiveness Analysis
3.2. Global Video Conferencing Market Outlook, by End-User, Value (US$ '000), 2018 - 2026
3.2.1. Key Highlights
3.2.1.1. Corporate Communication
3.2.1.2. Training & Development
3.2.1.3. Marketing & Client Engagement
3.2.1.4. Healthcare
3.2.1.5. Others
3.2.2. BPS Analysis/Market Attractiveness Analysis
3.3. Global Video Conferencing Market Outlook, by Components, Value (US$ '000), 2018 - 2026
3.3.1. Key Highlights
3.3.1.1. Solution
3.3.1.1.1. Software
3.3.1.1.2. Hardware
3.3.1.2. Services
3.3.2. BPS Analysis/Market Attractiveness Analysis
3.4. Global Video Conferencing Market Outlook, by Region, Value (US$ '000), 2018 - 2026
3.4.1. Key Highlights
3.4.1.1. North America
3.4.1.2. Europe
3.4.1.3. Asia Pacific
3.4.1.4. Latin America
3.4.1.5. Middle East & Africa
3.4.2. BPS Analysis/Market Attractiveness Analysis

4. North America Video Conferencing Market Outlook, 2018 - 2026
4.1. North America Video Conferencing Market Outlook, by Deployment Type, Value (US$ '000), 2018 - 2026
4.1.1. Key Highlights
4.1.1.1. On-Premises
4.1.1.2. Cloud
4.1.2. BPS Analysis/Market Attractiveness Analysis
4.2. North America Video Conferencing Market Outlook, by End-User, Value (US$ '000), 2018 - 2026
4.2.1. Key Highlights
4.2.1.1. Corporate Communication
4.2.1.2. Training & Development
4.2.1.3. Marketing & Client Engagement
4.2.1.4. Healthcare
4.2.1.5. Others
4.2.2. BPS Analysis/Market Attractiveness Analysis
4.3. North America Video Conferencing Market Outlook, by Components, Value (US$ '000), 2018 - 2026
4.3.1. Key Highlights
4.3.1.1. Solution
4.3.1.1.1. Software
4.3.1.1.2. Hardware
4.3.1.2. Services
4.3.2. BPS Analysis/Market Attractiveness Analysis
4.4. North America Video Conferencing Market Outlook, by Country, Value (US$ '000), 2018 - 2026
4.4.1. Key Highlights
4.4.1.1. U.S. Video Conferencing Market by Value (US$ '000), 2018 - 2026
4.4.1.2. Canada Video Conferencing Market by Value (US$ '000), 2018 - 2026
4.4.2. BPS Analysis/Market Attractiveness Analysis


5. Europe Video Conferencing Market Outlook, 2018 - 2026
5.1. Europe Video Conferencing Market Outlook, by Deployment Type, Value (US$ '000), 2018 - 2026
5.1.1. Key Highlights
5.1.1.1. On-Premises
5.1.1.2. Cloud
5.1.2. BPS Analysis/Market Attractiveness Analysis
5.2. Europe Video Conferencing Market Outlook, by End-User, Value (US$ '000), 2018 - 2026
5.2.1. Key Highlights
5.2.1.1. Corporate Communication
5.2.1.2. Training & Development
5.2.1.3. Marketing & Client Engagement
5.2.1.4. Healthcare
5.2.1.5. Others
5.2.2. BPS Analysis/Market Attractiveness Analysis
5.3. Europe Video Conferencing Market Outlook, by Components, Value (US$ '000), 2018 - 2026
5.3.1. Key Highlights
5.3.1.1. Solution
5.3.1.1.1. Software
5.3.1.1.2. Hardware
5.3.1.2. Services
5.3.2. BPS Analysis/Market Attractiveness Analysis
5.4. Europe Video Conferencing Market Outlook, by Country, Value (US$ '000), 2018 - 2026
5.4.1. Key Highlights
5.4.1.1. Germany Video Conferencing Market by Value (US$ '000), 2018 - 2026
5.4.1.2. France Video Conferencing Market by Product, Value (US$ '000), 2018 - 2026
5.4.1.3. U.K. Video Conferencing Market by Value (US$ '000), 2018 - 2026
5.4.1.4. Italy Video Conferencing Market by Value (US$ '000), 2018 - 2026
5.4.1.5. Spain Video Conferencing Market by Product, Value (US$ '000), 2018 - 2026
5.4.1.6. Rest of Europe Video Conferencing Market Value (US$ '000), 2018 - 2026
5.4.2. BPS Analysis/Market Attractiveness Analysis

6. Asia Pacific Video Conferencing Market Outlook, 2018 - 2026
6.1. Asia Pacific Video Conferencing Market Outlook, by Deployment Type, Value (US$ '000), 2018 - 2026
6.1.1. Key Highlights
6.1.1.1. On-Premises
6.1.1.2. Cloud
6.1.2. BPS Analysis/Market Attractiveness Analysis
6.2. Asia Pacific Video Conferencing Market Outlook, by End-User, Value (US$ '000), 2018 - 2026
6.2.1. Key Highlights
6.2.1.1. Corporate Communication
6.2.1.2. Training & Development
6.2.1.3. Marketing & Client Engagement
6.2.1.4. Healthcare
6.2.1.5. Others
6.2.2. BPS Analysis/Market Attractiveness Analysis
6.3. Asia Pacific Video Conferencing Market Outlook, by Components, Value (US$ '000), 2018 - 2026
6.3.1. Key Highlights
6.3.1.1. Solution
6.3.1.1.1. Software
6.3.1.1.2. Hardware
6.3.1.2. Services
6.3.2. BPS Analysis/Market Attractiveness Analysis
6.4. Asia Pacific Video Conferencing Market Outlook, by Country, Value (US$ '000), 2018 - 2026
6.4.1. Key Highlights
6.4.1.1. India Video Conferencing Market by Value (US$ '000), 2018 - 2026
6.4.1.2. China Video Conferencing Market by Value (US$ '000), 2018 - 2026
6.4.1.3. Japan Video Conferencing Market by Value (US$ '000), 2018 - 2026
6.4.1.4. Australia & New Zealand Video Conferencing Market Value (US$ '000), 2018 - 2026
6.4.1.5. Rest of Asia Pacific Market by Value (US$ '000), 2018 - 2026
6.4.2. BPS Analysis/Market Attractiveness Analysis

7. Latin America Video Conferencing Market Outlook, 2018 - 2026
7.1. Latin America Video Conferencing Market Outlook, by Deployment Type, Value (US$ '000), 2018 - 2026
7.1.1. Key Highlights
7.1.1.1. On-Premises
7.1.1.2. Cloud
7.1.2. BPS Analysis/Market Attractiveness Analysis
7.2. Latin America Video Conferencing Market Outlook, by End-User, Value (US$ '000), 2018 - 2026
7.2.1. Key Highlights
7.2.1.1. Corporate Communication
7.2.1.2. Training & Development
7.2.1.3. Marketing & Client Engagement
7.2.1.4. Healthcare
7.2.1.5. Others
7.2.2. BPS Analysis/Market Attractiveness Analysis
7.3. Latin America Video Conferencing Market Outlook, by Components, Value (US$ '000), 2018 - 2026
7.3.1. Key Highlights
7.3.1.1. Solution
7.3.1.1.1. Software
7.3.1.1.2. Hardware
7.3.1.2. Services
7.3.2. BPS Analysis/Market Attractiveness Analysis
7.4. Latin America Video Conferencing Market Outlook, by Country, Value (US$ '000), 2018 - 2026
7.4.1. Key Highlights
7.4.1.1. Brazil Video Conferencing Market by Value (US$ '000), 2018 - 2026
7.4.1.2. Mexico Video Conferencing Market by Value (US$ '000), 2018 - 2026
7.4.1.3. Rest of Latin America Video Conferencing Market by Value (US$ '000), 2018 - 2026
7.4.2. BPS Analysis/Market Attractiveness Analysis

8. Middle East & Africa Video Conferencing Market Outlook, 2018 - 2026
8.1. MEA Video Conferencing Market Outlook, by Deployment Type, Value (US$ '000), 2018 - 2026
8.1.1. Key Highlights
8.1.1.1. On-Premises
8.1.1.2. Cloud
8.1.2. BPS Analysis/Market Attractiveness Analysis
8.2. MEA Video Conferencing Market Outlook, by End-User, Value (US$ '000), 2018 - 2026
8.2.1. Key Highlights
8.2.1.1. Corporate Communication
8.2.1.2. Training & Development
8.2.1.3. Marketing & Client Engagement
8.2.1.4. Healthcare
8.2.1.5. Others
8.2.2. BPS Analysis/Market Attractiveness Analysis
8.3. MEA Video Conferencing Market Outlook, by Components, Value (US$ '000), 2018 - 2026
8.3.1. Key Highlights
8.3.1.1. Solution
8.3.1.1.1. Software
8.3.1.1.2. Hardware
8.3.1.2. Services
8.3.2. BPS Analysis/Market Attractiveness Analysis
8.4. Middle East & Africa Video Conferencing Market Outlook, by Country, Value (US$ '000), 2018 - 2026
8.4.1. Key Highlights
8.4.1.1. GCC Video Conferencing Market by Value (US$ '000), 2018 - 2026
8.4.1.2. South Africa Video Conferencing Market by Value (US$ '000), 2018 - 2026
8.4.1.3. Rest of Middle East & Africa Video Conferencing Market by Value (US$ '000), 2018 - 2026
8.4.2. BPS Analysis/Market Attractiveness Analysis

9. Competitive Landscape
9.1. Company Market Share Analysis, 2019
9.2. Company Profiles
9.2.1. Microsoft Corporation
9.2.1.1. Company Overview
9.2.1.2. Key Retailing Partners
9.2.1.3. Business Segment Revenue
9.2.1.4. Ingredient Overview
9.2.1.5. Product Offering & its Presence
9.2.1.6. Certifications & Claims
9.2.2. Zoom Video Communications
9.2.2.1. Company Overview
9.2.2.2. Key Retailing Partners
9.2.2.3. Business Segment Revenue
9.2.2.4. Ingredient Overview
9.2.2.5. Product Offering & its Presence
9.2.2.6. Certifications & Claims
9.2.3. CISCO
9.2.3.1. Company Overview
9.2.3.2. Key Retailing Partners
9.2.3.3. Business Segment Revenue
9.2.3.4. Ingredient Overview
9.2.3.5. Product Offering & its Presence
9.2.3.6. Certifications & Claims
9.2.4. ADOBE
9.2.4.1. Company Overview
9.2.4.2. Key Retailing Partners
9.2.4.3. Business Segment Revenue
9.2.4.4. Ingredient Overview
9.2.4.5. Product Offering & its Presence
9.2.4.6. Certifications & Claims
9.2.5. Google LLC
9.2.5.1. Company Overview
9.2.5.2. Key Retailing Partners
9.2.5.3. Business Segment Revenue
9.2.5.4. Ingredient Overview
9.2.5.5. Product Offering & its Presence
9.2.5.6. Certifications & Claims
9.2.6. Avaya
9.2.6.1. Company Overview
9.2.6.2. Key Retailing Partners
9.2.6.3. Business Segment Revenue
9.2.6.4. Ingredient Overview
9.2.6.5. Product Offering & its Presence
9.2.6.6. Certifications & Claims
9.2.7. Enghouse Systems
9.2.7.1. Company Overview
9.2.7.2. Key Retailing Partners
9.2.7.3. Business Segment Revenue
9.2.7.4. Ingredient Overview
9.2.7.5. Product Offering & its Presence
9.2.7.6. Certifications & Claims
9.2.8. Pexip
9.2.8.1. Company Overview
9.2.8.2. Key Retailing Partners
9.2.8.3. Business Segment Revenue
9.2.8.4. Ingredient Overview
9.2.8.5. Product Offering & its Presence
9.2.8.6. Certifications & Claims
9.2.9. QUMU
9.2.9.1. Company Overview
9.2.9.2. Key Retailing Partners
9.2.9.3. Business Segment Revenue
9.2.9.4. Ingredient Overview
9.2.9.5. Product Offering & its Presence
9.2.9.6. Certifications & Claims
9.2.10. Kaltura
9.2.10.1. Company Overview
9.2.10.2. Key Retailing Partners
9.2.10.3. Business Segment Revenue
9.2.10.4. Ingredient Overview
9.2.10.5. Product Offering & its Presence
9.2.10.6. Certifications & Claims

10. Appendix
10.1. Research Methodology
10.2. Report Assumptions
10.3. Acronyms and Abbreviations
BASE YEAR

HISTORICAL DATA

FORECAST PERIOD

UNITS

2020

2018 - 2020

2021 - 2026


Value: US$ Million
REPORT FEATURES

DETAILS

Deployment Coverage

Components Coverage

End-Use Coverage

Geographical Coverage

North America

Europe

Germany

France

U.K.

Italy

Turkey

Spain

Russia

Rest of Europe

Asia Pacific

China

Japan

South Korea

India

Southeast Asia

Rest of Asia Pacific

Latin America

Brazil

Mexico

Rest of Latin America

Middle East & Africa

Leading Companies

Microsoft

ZOOM

CISCO

Google

Adobe

Avaya

Pexip

Enghouse Systems

Kaltura

Report Highlights

Market Estimates and Forecast, Market Dynamics, Industry Trends, Competition Landscape, Product-, Application-, Region-, Country-wise Trends & Analysis, COVID-19 Impact Analysis, Key Trends