Growing Fondness for Sailing Vacations to Boost Global Yacht Charter Market Growth
The global yacht charter market is expected to rise due to an upswing in leisure activities, as tourism becomes the new form of consumerism. Appealing to such a wide range of people - young and old alike, rich and the ones of budgets, the yacht charter market is expected to witness an exponential rise. Inclusive of catering, detailed itinerary, and equipped with entertainment, chartering a yacht has become a new form of vacationing. As the market lures in varied age groups, the global yacht charter market is pegged to rise at a CAGR of 22.85% over the forecast period of 2021 to 2027.
The popularity of yacht charter hinges on the growing number of people opting for outdoor vacations that equal the experience of a five-star hotel. Chartering a yacht provides the ability to visit multiple locations in one trip, eliminating the inconveniences of road or air travel. It also has the added benefit of allowing guests to dine in the surroundings of a secluded bay or alcove, which is the unique selling point of this service that also bolsters the growth of yacht charter market.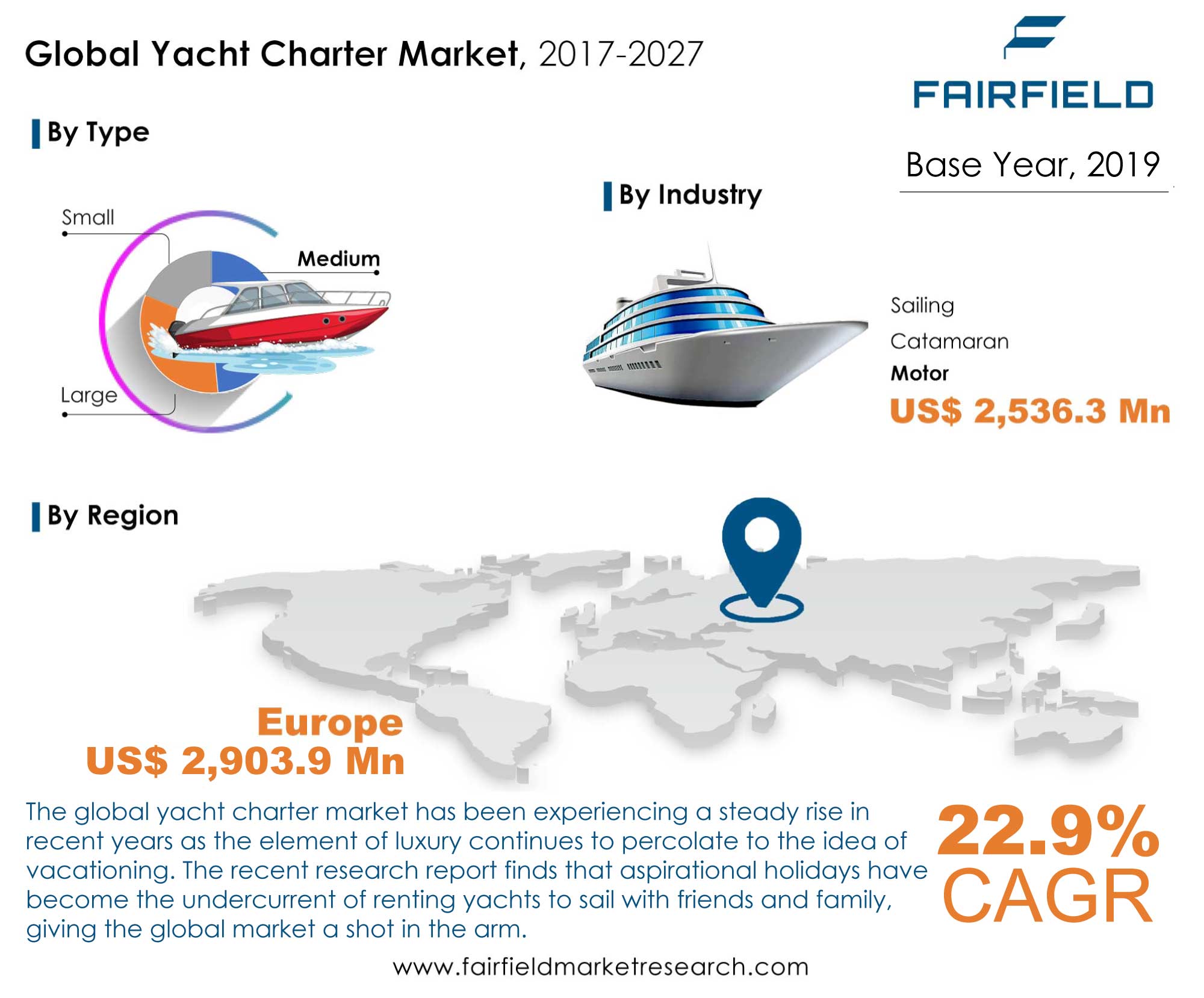 Commodification of Luxury to Drive Global Yacht Charter Market Ahead
Growing aspirations to live it out with luxury have led to accelerated demand for yacht charters. This is also a result of with social media influences. The service providers in the global yacht charter market are increasingly investing in creating high-end experiences for events such as birthdays or weekend getaways. This has drawn several younger people to yachts charters, driving the yacht charter market with their want for celebrating or gaining experiences. Government initiatives to encourage tourism is also another factor that will stimulate the demand for yacht charters. For instance, the Indonesian Government refurbished its marine tourism policy by excluding the Clearance and Approval for Indonesian Territory (CAIT). This change is projected to increase yacht visits, which were at 6,000 yachts in 2019 alone, creating a profit of US$600 Mn.
The global yacht charter market is likely to be affected by the high cost associated with rentals. Additionally, the costs to maintain yachts are expected to act as a restraint as well, which percolates rentals charged. The mounting costs of service and maintenance of a yacht with expensive routine refitting's and redesign, engine, and propulsion are often unavoidable and cost up to 10% of the yacht's value each year.
Motor Yachts Will Lead Global Yacht Charter Market with Improved Functionality
According to the type of yacht charter, the motor yacht is expected to lead the global yacht charter market during the forecast period because unlike a sailing yacht it powers through sea elements to cover larger distances in lesser time. Its shallow draft design permits the yacht to navigate through shallow and narrow passages. This allows it to explore most of the coastlines hence, which is boosting its demand amongst end users. Motor yachts have bigger deck space, giving users ample area to utilize time while travelling. Luxury motor yachts offer modern conveniences and better communication options that are also propelling the adoption of motor yachts over sailing yachts.
Supportive European Commission Policy Will Keep Europe in Leading Position in Global Yacht Charter Market
Europe dominated the global yacht charter market with a market share of nearly 48% in 2020 and shall continue to retain its position during the forecast period as this region is witnessing a growing number of tourists. Countries such as Italy, and Turkey are expected to drive Europe's dominance. This region also has a dominance of key players along with flight booking services and online yacht charter collaborations. Increased number of licenses issued for watercraft due to the presence of a wealthy population will lead to the growth of yacht charter market in the region. For instance, in 2017, the European Commission report on nautical tourism stated that around 6 million boats exist in European waters, out of which 60,000 charter boats generate around € 6 billion each year. However, over the years Asia Pacific is likely to show a significant growth rate of nearly 24% due to the rising high net worth of individuals and increasing water activities, especially in Southeast Asian countries.
Key Players in Yacht Charter Market Embrace Change of Strategies to Stay Ahead
The global yacht market players are adopting numerous strategies for growth such as collaborations and partnerships, joint ventures, and mergers & acquisitions. For instance, in June 2018, the Sailogy S.A. purchased the German company Master Yachting and became the global leader worth 50 billion. Similarly, Princess Yachts in July 2018 announced the launch of 6 models. This launch was encouraged by a £100 million investment programme that began in 2015. Companies like Marine Max Group and Click&Boat have acquired other companies with an intent to square off competition and expand their business reach.
Some of the key players operating in the global yacht charter market are Fraser Yacht, Charter Yachts Australia, Boatbound Inc., CharterWorld LLP, Mertello Fairline Yacht, Thai Charters, Dream Yacht Charter, Incrediblue Ltd., Burgess, Boat International Media Ltd., Yachtico, Inc., Inter Yacht Charter, Nicholson Yachts, Simpson Marine, Northrop & Johnson, Sailing Thailand Island Cruises Co., Ltd., Yachting Company, Super Yacht Logistics, LLC., Yacht Charter Fleet, West Coast Marine Yacht Service Pvt Ltd., and Zizooboats GmbH.
The Global Yacht Charter Market is Segmented as Below:
By Yacht Type Coverage
By Yacht Sub-Type Coverage
By Yacht Size Coverage
By Yacht Usage Coverage
By Geographical Coverage
North America
Europe

Croatia
UK
France
Spain
Greece
Rest of Europe

Asia Pacific

China
Thailand
Malaysia
India
ANZ
Rest of Asia Pacific

Latin America

Brazil
Mexico
Argentina
Rest of Latin America

Middle East & Africa

Qatar
UAE
Oman
South Africa
Rest of Middle East & Africa
Leading Companies
Boatsetter
Burgess
Charter Yachts Australia
CharterWorld LLP
Dream Yachts Charter
Fraser Yachts (Marine Max Group Subsidiary)
Nautal
Zizooboats GmbH
Yachtico, Inc.
Simpson Yachts Charter
Inside This Report You Will Find:
1. Executive Summary
2. Yacht Charter Market Outlook
3. Global Yacht Charter Market Outlook, 2017 - 2026
4. North America Yacht Charter Market Outlook, 2017 - 2026
5. Europe Yacht Charter Market Outlook, 2017 - 2026
6. Asia Pacific Yacht Charter Market Outlook, 2017 - 2026
7. Latin America Yacht Charter Market Outlook, 2017 - 2026
8. Middle East & Africa Yacht Charter Market Outlook, 2017 - 2026
9. Competitive Landscape
10. Appendix
Post Sale Support, Research Updates & Offerings:
We value the trust shown by our customers in Fairfield Market Research. We support our clients through our post sale support, research updates and offerings.
The report will be prepared in a PPT format and will be delivered in a PDF format.
Additionally, Market Estimation and Forecast numbers will be shared in Excel Workbook.
If a report being sold was published over a year ago, we will offer a complimentary copy of the updated research report along with Market Estimation and Forecast numbers within 2-3 weeks' time of the sale.
If we update this research study within the next 2 quarters, post purchase of the report, we will offer a Complimentary copy of the updated Market Estimation and Forecast numbers in Excel Workbook.
If there is a geopolitical conflict, pandemic, recession, and the like which can impact global economic scenario and business activity, which might entirely alter the market dynamics or future projections in the industry, we will create a Research Update upon your request at a nominal charge.
1. Executive Summary
1.1. Global Yacht Charter Market : Snapshot
1.2. Future Projections, 2018 - 2027, (US$ Mn)
1.3. Key Segment Analysis and Competitive Insights
1.4. Premium Insights
2. Yacht Charter Market Outlook
2.1. Market Definitions and Segmentation
2.2. Market Dynamics
2.2.1. Driver
2.2.2. Restraint
2.2.3. Industry Challenges & Opportunities
2.3. Market Forces Analysis
2.3.1. Value Chain Analysis
2.3.2. Porters Five Forces Analysis
2.3.3. SWOT Analysis
2.4. Impact Analysis
2.4.1. Pre and Post Covid-19 Analysis
2.4.2. Economic Indicators (GDP Per Capita, BREXIT Analysis, etc.)
2.4.3. Electrification
2.4.4. Parent Industry Trends
3. Global Yacht Charter Market Outlook, 2017 - 2026
3.1. Global Yacht Charter Market Value Forecast, By Yacht Type, 2018 - 2028, (US$ Mn)
3.1.1. Key Highlights
3.1.1.1. Market Growth & Projections (Y-o-Y)
3.1.1.2. Market Share Analysis, By Yacht Type, 2019 & 2027
3.1.2. Sailing
3.1.3. Motor
3.1.4. Catamaran
3.1.5. Market Attractiveness Analysis, By Yacht Type
3.2. Global Yacht Charter Market Value Forecast, By Yacht Sub - Type, 2018 - 2028, (US$ Mn)
3.2.1. Key Highlights
3.2.1.1. Market Growth & Projections (Y-o-Y)
3.2.1.2. Market Share Analysis, By Yacht Sub - Type, 2019 & 2027
3.2.2. Classic
3.2.3. Open
3.2.4. Large
3.2.5. Market Attractiveness Analysis, By Yacht Sub - Type
3.3. Global Yacht Charter Market Value Forecast, By Yacht Size, 2018 - 2028, (US$ Mn)
3.3.1. Key Highlights
3.3.1.1. Market Growth & Projections (Y-o-Y)
3.3.1.2. Market Share Analysis, By Yacht Size, 2019 & 2027
3.3.2. Small
3.3.3. Medium
3.3.4. Large
3.3.5. Market Attractiveness Analysis, By Yacht Size
3.4. Global Yacht Charter Market Value Forecast, By Usage, 2018 - 2028, (US$ Mn)
3.4.1. Key Highlights
3.4.1.1. Market Growth & Projections (Y-o-Y)
3.4.1.2. Market Share Analysis, By Usage, 2019 & 2027
3.4.2. Corporate
3.4.3. Retail
3.4.4. Others
3.4.5. Market Attractiveness Analysis, by Usage
3.5. Global Yacht Charter Market Outlook, by Region, (US$ Mn), 2017 - 2026
3.5.1. Key Highlights
3.5.1.1. Market Growth & Projections (Y-o-Y)
3.5.1.2. Market Share Analysis, By Region, 2019 & 2027
3.5.1.3. North America
3.5.1.4. Europe
3.5.1.5. Asia Pacific
3.5.1.6. Latin America
3.5.1.7. Middle East & Africa
3.5.2. Global Market Attractiveness Analysis, by Region
4. North America Yacht Charter Market Outlook, 2017 - 2026
4.1. North America Market Snapshot
4.1.1. Yacht Charter Market Value Forecast, By Yacht Type, 2018 - 2027, (US$ Mn)
4.1.1.1. Sailing
4.1.1.2. Motor
4.1.1.3. Catamaran
4.1.2. Yacht Charter Market Value Forecast, By Yacht Sub - Type, 2018 - 2027, (US$ Mn)
4.1.2.1. Classic
4.1.2.2. Open
4.1.2.3. Large
4.1.3. Yacht Charter Market Value Forecast, By Usage, 2018 - 2027, (US$ Mn)
4.1.3.1. Corporate
4.1.3.2. Retail
4.1.3.3. Others
4.1.4. Yacht Charter Market Value Forecast, By Yacht Size, 2018 - 2027, (US$ Mn)
4.1.4.1. Small
4.1.4.2. Medium
4.1.4.3. Large
4.2. United States
4.2.1. Yacht Charter Market Value Forecast, By Yacht Type, 2017 - 2026, (US$ Mn)
4.2.2. Yacht Charter Market Value Forecast, By Yacht Sub - Type, 2017 - 2026, (US$ Mn)
4.2.3. Yacht Charter Market Value Forecast, By Usage, 2018 - 2027, (US$ Mn)
4.2.4. Yacht Charter Market Value Forecast, By Yacht Size, 2018 - 2027, (US$ Mn)
4.3. Canada
4.3.1. Yacht Charter Market Value Forecast, By Yacht Type, 2017 - 2026, (US$ Mn)
4.3.2. Yacht Charter Market Value Forecast, By Yacht Sub - Type, 2017 - 2026, (US$ Mn)
4.3.3. Yacht Charter Market Value Forecast, By Usage, 2018 - 2027, (US$ Mn)
4.3.4. Yacht Charter Market Value Forecast, By Yacht Size, 2018 - 2027, (US$ Mn)
5. Europe Yacht Charter Market Outlook, 2017 - 2026
5.1. European Market Snapshot
5.1.1. Yacht Charter Market Value Forecast, By Yacht Type, 2018 - 2027, (US$ Mn)
5.1.1.1. Sailing
5.1.1.2. Motor
5.1.1.3. Catamaran
5.1.2. Yacht Charter Market Value Forecast, By Yacht Sub - Type, 2018 - 2027, (US$ Mn)
5.1.2.1. Classic
5.1.2.2. Open
5.1.2.3. Large
5.1.3. Yacht Charter Market Value Forecast, By Usage, 2018 - 2027, (US$ Mn)
5.1.3.1. Corporate
5.1.3.2. Retail
5.1.3.3. Others
5.1.4. Yacht Charter Market Value Forecast, By Yacht Size, 2018 - 2027, (US$ Mn)
5.1.4.1. Small
5.1.4.2. Medium
5.1.4.3. Large
5.2. Croatia
5.2.1. Yacht Charter Market Value Forecast, By Yacht Type, 2017 - 2026, (US$ Mn)
5.2.2. Yacht Charter Market Value Forecast, By Yacht Sub - Type, 2017 - 2026, (US$ Mn)
5.2.3. Yacht Charter Market Value Forecast, By Usage, 2017 - 2026, (US$ Mn)
5.2.4. Yacht Charter Market Value Forecast, By Yacht Size, 2018 - 2027, (US$ Mn)
5.3. France
5.3.1. Yacht Charter Market Value Forecast, By Yacht Type, 2018 - 2027, (US$ Mn)
5.3.2. Yacht Charter Market Value Forecast, By Yacht Sub - Type, 2018 - 2027, (US$ Mn)
5.3.3. Yacht Charter Market Value Forecast, By Usage, 2018 - 2027, (US$ Mn)
5.3.4. Yacht Charter Market Value Forecast, By Yacht Size, 2018 - 2027, (US$ Mn)
5.4. United Kingdom
5.4.1. Yacht Charter Market Value Forecast, By Yacht Type, 2018 - 2027, (US$ Mn)
5.4.2. Yacht Charter Market Value Forecast, By Yacht Sub - Type, 2018 - 2027, (US$ Mn)
5.4.3. Yacht Charter Market Value Forecast, By Usage, 2018 - 2027, (US$ Mn)
5.4.4. Yacht Charter Market Value Forecast, By Yacht Size, 2018 - 2027, (US$ Mn)
5.5. Greece
5.5.1. Yacht Charter Market Value Forecast, By Yacht Type, 2018 - 2027, (US$ Mn)
5.5.2. Yacht Charter Market Value Forecast, By Yacht Sub - Type, 2018 - 2027, (US$ Mn)
5.5.3. Yacht Charter Market Value Forecast, By Usage, 2018 - 2027, (US$ Mn)
5.5.4. Yacht Charter Market Value Forecast, By Yacht Size, 2018 - 2027, (US$ Mn)
5.6. Spain
5.6.1. Yacht Charter Market Value Forecast, By Yacht Type, 2018 - 2027, (US$ Mn)
5.6.2. Yacht Charter Market Value Forecast, By Yacht Sub - Type, 2018 - 2027, (US$ Mn)
5.6.3. Yacht Charter Market Value Forecast, By Usage, 2018 - 2027, (US$ Mn)
5.6.4. Yacht Charter Market Value Forecast, By Yacht Size, 2018 - 2027, (US$ Mn)
5.7. Rest of Europe
5.7.1. Yacht Charter Market Value Forecast, By Yacht Type, 2018 - 2027, (US$ Mn)
5.7.2. Yacht Charter Market Value Forecast, By Yacht Sub - Type, 2018 - 2027, (US$ Mn)
5.7.3. Yacht Charter Market Value Forecast, By Usage, 2018 - 2027, (US$ Mn)
5.7.4. Yacht Charter Market Value Forecast, By Yacht Size, 2018 - 2027, (US$ Mn)
6. Asia Pacific Yacht Charter Market Outlook, 2017 - 2026
6.1. Asia Pacific Market Snapshot
6.1.1. Yacht Charter Market Value Forecast, By Yacht Type, 2018 - 2027, (US$ Mn)
6.1.1.1. Sailing
6.1.1.2. Motor
6.1.1.3. Catamaran
6.1.2. Yacht Charter Market Value Forecast, By Yacht Sub - Type, 2018 - 2027, (US$ Mn)
6.1.2.1. Classic
6.1.2.2. Open
6.1.2.3. Large
6.1.3. Yacht Charter Market Value Forecast, By Usage, 2018 - 2027, (US$ Mn)
6.1.3.1. Corporate
6.1.3.2. Retail
6.1.3.3. Others
6.1.4. Yacht Charter Market Value Forecast, By Yacht Size, 2018 - 2027, (US$ Mn)
6.1.4.1. Small
6.1.4.2. Medium
6.1.4.3. Large
6.2. China
6.2.1. Yacht Charter Market Value Forecast, By Yacht Type, 2018 - 2027, (US$ Mn)
6.2.2. Yacht Charter Market Value Forecast, By Yacht Sub - Type, 2018 - 2027, (US$ Mn)
6.2.3. Yacht Charter Market Value Forecast, By Usage, 2018 - 2027, (US$ Mn)
6.2.4. Yacht Charter Market Value Forecast, By Yacht Size, 2018 - 2027, (US$ Mn)
6.3. India
6.3.1. Yacht Charter Market Value Forecast, By Yacht Type, 2018 - 2027, (US$ Mn)
6.3.2. Yacht Charter Market Value Forecast, By Yacht Sub - Type, 2018 - 2027, (US$ Mn)
6.3.3. Yacht Charter Market Value Forecast, By Usage, 2018 - 2027, (US$ Mn)
6.3.4. Yacht Charter Market Value Forecast, By Yacht Size, 2018 - 2027, (US$ Mn)
6.4. Thailand
6.4.1. Yacht Charter Market Value Forecast, By Yacht Type, 2018 - 2027, (US$ Mn)
6.4.2. Yacht Charter Market Value Forecast, By Yacht Sub - Type, 2018 - 2027, (US$ Mn)
6.4.3. Yacht Charter Market Value Forecast, By Usage, 2018 - 2027, (US$ Mn)
6.4.4. Yacht Charter Market Value Forecast, By Yacht Size, 2018 - 2027, (US$ Mn)
6.5. Malaysia
6.5.1. Yacht Charter Market Value Forecast, By Yacht Type, 2018 - 2027, (US$ Mn)
6.5.2. Yacht Charter Market Value Forecast, By Yacht Sub - Type, 2018 - 2027, (US$ Mn)
6.5.3. Yacht Charter Market Value Forecast, By Usage, 2018 - 2027, (US$ Mn)
6.5.4. Yacht Charter Market Value Forecast, By Yacht Size, 2018 - 2027, (US$ Mn)
6.6. ANZ
6.6.1. Yacht Charter Market Value Forecast, By Yacht Type, 2018 - 2027, (US$ Mn)
6.6.2. Yacht Charter Market Value Forecast, By Yacht Sub - Type, 2018 - 2027, (US$ Mn)
6.6.3. Yacht Charter Market Value Forecast, By Usage, 2018 - 2027, (US$ Mn)
6.6.4. Yacht Charter Market Value Forecast, By Yacht Size, 2018 - 2027, (US$ Mn)
6.7. Rest of Asia Pacific
6.7.1. Yacht Charter Market Value Forecast, By Yacht Type, 2018 - 2027, (US$ Mn)
6.7.2. Yacht Charter Market Value Forecast, By Yacht Sub - Type, 2018 - 2027, (US$ Mn)
6.7.3. Yacht Charter Market Value Forecast, By Usage, 2018 - 2027, (US$ Mn)
6.7.4. Yacht Charter Market Value Forecast, By Yacht Size, 2018 - 2027, (US$ Mn)
7. Latin America Yacht Charter Market Outlook, 2017 - 2026
7.1. Latin America Market Snapshot
7.1.1. Yacht Charter Market Value Forecast, By Yacht Type, 2018 - 2027, (US$ Mn)
7.1.1.1. Sailing
7.1.1.2. Motor
7.1.1.3. Catamaran
7.1.2. Yacht Charter Market Value Forecast, By Yacht Sub - Type, 2018 - 2027, (US$ Mn)
7.1.2.1. Classic
7.1.2.2. Open
7.1.2.3. Large
7.1.3. Yacht Charter Market Value Forecast, By Usage, 2018 - 2027, (US$ Mn)
7.1.3.1. Corporate
7.1.3.2. Retail
7.1.3.3. Others
7.1.4. Yacht Charter Market Value Forecast, By Yacht Size, 2018 - 2027, (US$ Mn)
7.1.4.1. Small
7.1.4.2. Medium
7.1.4.3. Large
7.2. Brazil
7.2.1. Yacht Charter Market Value Forecast, By Yacht Type, 2018 - 2027, (US$ Mn)
7.2.2. Yacht Charter Market Value Forecast, By Yacht Sub - Type, 2018 - 2027, (US$ Mn)
7.2.3. Yacht Charter Market Value Forecast, By Usage, 2018 - 2027, (US$ Mn)
7.2.4. Yacht Charter Market Value Forecast, By Yacht Size, 2018 - 2027, (US$ Mn)
7.3. Mexico
7.3.1. Yacht Charter Market Value Forecast, By Yacht Type, 2018 - 2027, (US$ Mn)
7.3.2. Yacht Charter Market Value Forecast, By Yacht Sub - Type, 2018 - 2027, (US$ Mn)
7.3.3. Yacht Charter Market Value Forecast, By Usage, 2018 - 2027, (US$ Mn)
7.3.4. Yacht Charter Market Value Forecast, By Yacht Size, 2018 - 2027, (US$ Mn)
7.4. Argentina
7.4.1. Yacht Charter Market Value Forecast, By Yacht Type, 2018 - 2027, (US$ Mn)
7.4.2. Yacht Charter Market Value Forecast, By Yacht Sub - Type, 2018 - 2027, (US$ Mn)
7.4.3. Yacht Charter Market Value Forecast, By Usage, 2018 - 2027, (US$ Mn)
7.4.4. Yacht Charter Market Value Forecast, By Yacht Size, 2018 - 2027, (US$ Mn)
7.5. Rest of Latin America
7.5.1. Yacht Charter Market Value Forecast, By Yacht Type, 2018 - 2027, (US$ Mn)
7.5.2. Yacht Charter Market Value Forecast, By Yacht Sub - Type, 2018 - 2027, (US$ Mn)
7.5.3. Yacht Charter Market Value Forecast, By Usage, 2018 - 2027, (US$ Mn)
7.5.4. Yacht Charter Market Value Forecast, By Yacht Size, 2018 - 2027, (US$ Mn)
8. Middle East & Africa Yacht Charter Market Outlook, 2017 - 2026
8.1. Middle East & Africa Market Snapshot
8.1.1. Yacht Charter Market Value Forecast, By Yacht Type, 2018 - 2027, (US$ Mn)
8.1.1.1. Sailing
8.1.1.2. Motor
8.1.1.3. Catamaran
8.1.2. Yacht Charter Market Value Forecast, By Yacht Sub - Type, 2018 - 2027, (US$ Mn)
8.1.2.1. Classic
8.1.2.2. Open
8.1.2.3. Large
8.1.3. Yacht Charter Market Value Forecast, By Usage, 2018 - 2027, (US$ Mn)
8.1.3.1. Corporate
8.1.3.2. Retail
8.1.3.3. Others
8.1.4. Yacht Charter Market Value Forecast, By Yacht Size, 2018 - 2027, (US$ Mn)
8.1.4.1. Small
8.1.4.2. Medium
8.1.4.3. Large
8.2. Qatar
8.2.1. Yacht Charter Market Value Forecast, By Yacht Type, 2017 - 2026, (US$ Mn)
8.2.2. Yacht Charter Market Value Forecast, By Yacht Sub - Type, 2017 - 2026, (US$ Mn)
8.2.3. Yacht Charter Market Value Forecast, By Usage, 2018 - 2027, (US$ Mn)
8.2.4. Yacht Charter Market Value Forecast, By Yacht Size, 2018 - 2027, (US$ Mn)
8.3. UAE
8.3.1. Yacht Charter Market Value Forecast, By Yacht Type, 2017 - 2026, (US$ Mn)
8.3.2. Yacht Charter Market Value Forecast, By Yacht Sub - Type, 2017 - 2026, (US$ Mn)
8.3.3. Yacht Charter Market Value Forecast, By Usage, 2018 - 2027, (US$ Mn)
8.3.4. Yacht Charter Market Value Forecast, By Yacht Size, 2018 - 2027, (US$ Mn)
8.4. Oman
8.4.1. Yacht Charter Market Value Forecast, By Yacht Type, 2017 - 2026, (US$ Mn)
8.4.2. Yacht Charter Market Value Forecast, By Yacht Sub - Type, 2017 - 2026, (US$ Mn)
8.4.3. Yacht Charter Market Value Forecast, By Usage, 2018 - 2027, (US$ Mn)
8.4.4. Yacht Charter Market Value Forecast, By Yacht Size, 2018 - 2027, (US$ Mn)
8.5. South Africa
8.5.1. Yacht Charter Market Value Forecast, By Yacht Type, 2017 - 2026, (US$ Mn)
8.5.2. Yacht Charter Market Value Forecast, By Yacht Sub - Type, 2017 - 2026, (US$ Mn)
8.5.3. Yacht Charter Market Value Forecast, By Usage, 2018 - 2027, (US$ Mn)
8.5.4. Yacht Charter Market Value Forecast, By Yacht Size, 2018 - 2027, (US$ Mn)
8.6. Rest of Middle East & Africa
8.6.1. Yacht Charter Market Value Forecast, By Yacht Type, 2017 - 2026, (US$ Mn)
8.6.2. Yacht Charter Market Value Forecast, By Yacht Sub - Type, 2017 - 2026, (US$ Mn)
8.6.3. Yacht Charter Market Value Forecast, By Usage, 2018 - 2027, (US$ Mn)
8.6.4. Yacht Charter Market Value Forecast, By Yacht Size, 2018 - 2027, (US$ Mn)
9. Competitive Landscape
9.1. Company Market Share Analysis, 2019
9.2. Company Profiles
9.2.1. Boatsetter
9.2.1.1. Company Overview
9.2.1.2. Financial Performance
9.2.1.3. Manufacturing Footprint
9.2.1.4. Strategic Overview
9.2.1.5. Key Developments
(*Note: Above details would be available for below list of companies on the basis of availability)
9.2.2. Burgess
9.2.3. Charter Yachts Australia
9.2.4. CharterWorld LLP
9.2.5. Dream Yacht Charter
9.2.6. Fraser Yachts (Marine Max Group Subsidiary)
9.2.7. Nautal (Click&Boat Subsidiary)
9.2.8. Zizooboats GmbH
9.2.9. Yachtico, Inc.
9.2.10. Simpson Yacht Charter
(Any other leading players)
10. Appendix
10.1. Acronyms and Abbreviations
10.2. Research Scope & Assumptions
10.3. Research Methodology and Information Sources