Increasing Health Consciousness Among Consumers to Fuel Growth of Algae Protein Market
Algae – a smarter protein source for a healthy lifestyle, food for life. Consumers all over the world are becoming more health-conscious, which is driving the global algae protein market. The global population is increasingly focused on obtaining additional nutritional values from various food sources. Consumers expect all the major nutrients, such as protein, vitamins, and minerals to be present in their preferred food. Algae protein is a rare protein source containing all the essential amino acids required for a healthy lifestyle. Protein powders or shakes made with plant-based protein sourced from algae meet our body's demands for protein, and better nutritional balance. Organic blue-green algae, including spirulina, chlorella, and aphanizomenon flos aquae (AFA) are considered superfoods because of their high concentrations of complete protein, vitamins, amino acids, omega-3, and other essential fatty acids. AFA naturally contains the highest level of biologically active chlorophyll than other known foods. Chlorella, and spirulina are composed of 70 percent protein and contain over 65 vitamins, minerals, and enzymes.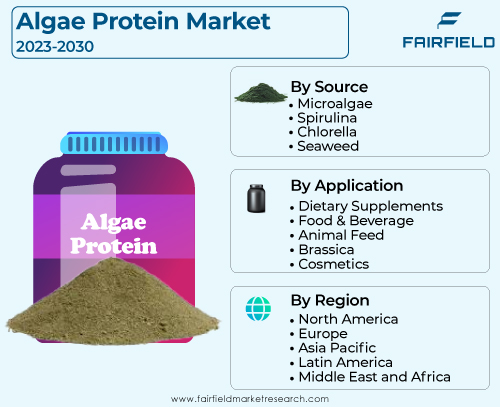 Algae proteins come in various forms, including powder, liquid, capsules, and pastes. Algae protein is used to promote weight loss, relieve fatigue and anxiety, and treat diabetes, attention deficit-hyperactivity disorder (ADHD), and premenstrual heart disease, among other things. The product's enrichment of nutrient content in food, positive effect on the immune system, and other health-related benefits are driving demand globally. Consumption of plant-based protein has increased over the last decade due to an increasing vegan population and animal cruelty concerns, giving a good growth opportunity for the algae protein market. Plant-based proteins have gained traction in developed economies such as the United States and Europe, where consumers are increasingly inclined toward vegan, and plant-based foods.
In addition, approximately 10% of the European population is vegetarian or vegan, which is expected to rise steadily in the coming years. Globally, consumers are willing to change their eating habits and gravitate toward plant-based foods. According to Google Trends, interest in 'veganism' increased seven times between 2014 and 2020. Similarly, approximately 10 million people in the US are vegan. Consumers are avoiding meat consumption due to ethical and environmental concerns. As the vegan population grows, demand for alternative proteins such as algae is expected to rise, propelling the algae protein market forward.
Rising Demand for Healthy Food and Beverages Application Segment to Lead the Algae Protein Market
Food and Beverages are expected to be the fastest-growing segment of the algae protein market over the forecast period. Functional drinks containing algae protein, including chlorella ingredients that provide health benefits and a refreshing taste, are gaining popularity worldwide. To meet demand, the segment is primarily driven by emerging food fortification technologies and the discovery of nutrient benefits. Increasing demand for alternative protein sources has led to a rise in the number of investments in the algae protein marketplace. The use of spirulina as a functional food is increasing, owing to its GRAS status by the European Food Safety Authority (EFSA), the Food and Drug Administration (FDA), and other prominent food regulatory bodies. Many algae species provide an excellent protein yield per unit of land, making algae a pivotal solution to the protein problem. Spirulina algae have protein levels of 60-71 grams per 100 grams, making them suitable for various functional food and beverage applications.
Increased Consumption of Dietary Supplements to Drive Growth of North American Algae Protein Market
North America is the largest user of algae proteins and is expected to grow at the fastest rate throughout the forecast period. Dietary supplements and food products are the most critical application segments in the North American market, owing to rising fitness awareness among consumers in the United States, Canada, and Mexico. Busy lifestyles, poor eating habits, and rising health concerns have increased the demand for nutritional supplements to provide adequate nutrients to the body. Growing demand for nutraceuticals, which contain nutritious ingredients, and increased focus on preventive healthcare, are expected to drive product demand in North America.
Growing dietary supplement consumption, stringent regulations restricting the use of synthetic food colouring, and the presence of major Spirulina manufacturers in the United States should propel the algae protein market growth. The company of various food chains and fast-food restaurants, as well as changing consumer dietary habits, are expected to impact overall market growth positively. Though consumption of algae-derived products and additives has generally remained far outside the mainstream in the United States, constantly changing market dynamics and consumer behaviour have created a trend for vegan, and plant-based protein ingredients and products, bolstering market growth for algae protein products. For instance, according to the findings of the National Cancer Institute in the United States of America, a daily intake of 6.0 mg-carotene may be effective in lowering the risk of cancer. A daily serving of 4.0 g spirulina provides 6 mg of carotene.
The market in Asia Pacific is expected to expand significantly owing to increase exports and domestic demand for plant-based ingredients. China is one of the region's foremost producers of plant-based ingredients due to the country's easy access to raw materials. In addition, expansion in the pharmaceutical, cosmetics, animal feed, and F&B industries is expected to drive demand for plant proteins from developing economies such as China, India, Malaysia, Indonesia, and South Korea in the coming years.
Global Algae Protein Market: Competitive Landscape
Companies in the market are launching new products alongside initiation collaborations, alliances, and partnership agreements. For instance, in March 2022, Corbion collaborated with Nestle SA to take a step toward a plant-based product portfolio. The two will collaborate to create microalgae-based ingredients that add more value to sustainability. On the other hand, in June 2021, Nutrex Hawaii announced a collaboration with Netrush, an online retailer that helps impact-driven brands grow on Amazon and other e-commerce platforms. Netrush offers catalog and inventory management, marketing and creative services, and supply chain and logistics services to Nutrex Hawaii.
Few of the players in the algae protein market include Tianjin Norland Biotech Co. Ltd, Cyanotech Corporation, Taiwan Chlorella Manufacturing Company Ltd, C.B.N. Bio-engineering Co. Ltd, NB Laboratories, Far East Microalgae Industries Co. Ltd, Sun Chlorella Corporation, Fuqing King Dnarmsa Spirulina Co. Ltd, Algenol Biotech, and Gong Bih Enterprise Co. Ltd.
Regional Classification of the Global Algae Protein Market is Listed Below:
North America
Europe
Germany
France
Spain
U.K.
Italy
Russia
Rest of Europe
Asia Pacific
China
Japan
India
Southeast Asia
Rest of Asia Pacific
Latin America
Brazil
Mexico
Rest of Latin America
Middle East and Africa
GCC
South Africa
Rest of Middle East & Africa
*Regions and countries are subject to change based on data availability.
Key Elements Included In The Study: Global Algae Protein Market
Algae Protein Market by Product/Technology/Grade, Application/End-user, and Region
Executive Summary (Opportunity Analysis and Key Trends)
Historical Market Size and Estimates, Value, 2019 - 2022
Market Value at Regional and Country Level, 2023 - 2030
Market Dynamics and Economic Overview
Market Size in Value, Growth Rates, and Forecast Figures, 2023 - 2030
Competitive Intelligence with Financials, Key Developments, and Portfolio of Leading Companies
Regional and Product/Grade/Application/End-user Price Trends Analysis
Value Chain and Five Force's Analysis
Regional/Sub-region/Country Market Size and Trend Analysis
Company Market Share Analysis and Key Player Profiles
Post Sale Support, Research Updates & Offerings
We value the trust shown by our customers in Fairfield Market Research. We support our clients through our post sale support, research updates and offerings.
The report will be prepared in a PPT format and will be delivered in a PDF format.
Additionally, Market Estimation and Forecast numbers will be shared in Excel Workbook.
If a report being sold was published over a year ago, we will offer a complimentary copy of the updated research report along with Market Estimation and Forecast numbers within 2-3 weeks' time of the sale.
If we update this research study within the next 2 quarters, post purchase of the report, we will offer a Complimentary copy of the updated Market Estimation and Forecast numbers in Excel Workbook.
If there is a geopolitical conflict, pandemic, recession, and the like which can impact global economic scenario and business activity, which might entirely alter the market dynamics or future projections in the industry, we will create a Research Update upon your request at a nominal charge.
1. Executive Summary
1.1. Global Algae Protein Market Snapshot
1.2. Key Market Trends
1.3. Future Projections
1.4. Analyst Recommendations

2. Market Overview
2.1. Market Definitions and Segmentations
2.2. Market Dynamics
2.2.1. Drivers
2.2.1.1. Driver A
2.2.1.2. Driver B
2.2.1.3. Driver C
2.2.2. Restraints
2.2.2.1. Restraint 1
2.2.2.2. Restraint 2
2.2.3. Market Opportunities Matrix
2.3. Value Chain Analysis
2.4. Porter's Five Forces Analysis
2.5. Covid-19 Impact Analysis
2.5.1. Pre-covid and Post-covid Scenario
2.5.2. Supply Impact
2.5.3. Demand Impact
2.6. Technology Landscape
2.7. Key Regulations
2.7.1. FDA Regulations
2.7.2. Import/Export Regulations
2.8. Economic Analysis
2.9. PESTLE

3. Production Output and Trade Statistics, 2019 - 2022
3.1. Regional Production Statistics
3.1.1. North America
3.1.2. Europe
3.1.3. Asia Pacific
3.1.4. Latin America
3.1.5. Middle East & Africa
3.2. Trade Statistics

4. Price Trends Analysis and Future Projects, 2019 - 2030
4.1. Key Highlights
4.2. Prominent Factors Affecting Prices
4.3. By Application
4.4. By Region

5. Global Algae Protein Market Outlook, 2019 - 2030
5.1. Global Algae Protein Market Outlook, by Source, Volume (Kilo Tons) and Value (US$ Mn), 2019 - 2030
5.1.1. Key Highlights
5.1.1.1. Microalgae
5.1.1.1.1. Spirulina
5.1.1.1.2. Chlorella
5.1.1.2. Seaweed
5.2. Global Algae Protein Market Outlook, by Application, Volume (Kilo Tons) and Value (US$ Mn), 2019 - 2030
5.2.1. Key Highlights
5.2.1.1. Dietary Supplements
5.2.1.2. Food & Beverage
5.2.1.3. Animal Feed
5.2.1.4. Cosmetics
5.2.1.5. Misc.
5.3. Global Algae Protein Market Outlook, by Region, Volume (Kilo Tons) and Value (US$ Mn), 2019 - 2030
5.3.1. Key Highlights
5.3.1.1. North America
5.3.1.2. Europe
5.3.1.3. Asia Pacific
5.3.1.4. Latin America
5.3.1.5. Middle East & Africa
5.3.2. BPS Analysis/Market Attractiveness Analysis

6. North America Algae Protein Market Outlook, 2019 - 2030
6.1. North America Algae Protein Market Outlook, by Source, Volume (Kilo Tons) and Value (US$ Mn), 2019 - 2030
6.1.1. Key Highlights
6.1.1.1. Microalgae
6.1.1.1.1. Spirulina
6.1.1.1.2. Chlorella
6.1.1.2. Seaweed
6.2. North America Algae Protein Market Outlook, by Application, Volume (Kilo Tons) and Value (US$ Mn), 2019 - 2030
6.2.1. Key Highlights
6.2.1.1. Dietary Supplements
6.2.1.2. Food & Beverage
6.2.1.3. Animal Feed
6.2.1.4. Cosmetics
6.2.1.5. Misc.
6.3. North America Algae Protein Market Outlook, by Country, Volume (Kilo Tons) and Value (US$ Mn), 2019 - 2030
6.3.1. Key Highlights
6.3.1.1. U.S.
6.3.1.2. Canada
6.3.2. BPS Analysis/Market Attractiveness Analysis

7. Europe Algae Protein Market Outlook, 2019 - 2030
7.1. Europe Algae Protein Market Outlook, by Source, Volume (Kilo Tons) and Value (US$ Mn), 2019 - 2030
7.1.1. Key Highlights
7.1.1.1. Microalgae
7.1.1.1.1. Spirulina
7.1.1.1.2. Chlorella
7.1.1.2. Seaweed
7.2. Europe Algae Protein Market Outlook, by Application, Volume (Kilo Tons) and Value (US$ Mn), 2019 - 2030
7.2.1. Key Highlights
7.2.1.1. Dietary Supplements
7.2.1.2. Food & Beverage
7.2.1.3. Animal Feed
7.2.1.4. Cosmetics
7.2.1.5. Misc.
7.3. Europe Algae Protein Market Outlook, by Country, Volume (Kilo Tons) and Value (US$ Mn), 2019 - 2030
7.3.1. Key Highlights
7.3.1.1. Germany
7.3.1.2. France
7.3.1.3. U.K.
7.3.1.4. Italy
7.3.1.5. Spain
7.3.1.6. Russia
7.3.1.7. Rest of Europe
7.3.2. BPS Analysis/Market Attractiveness Analysis
8. Asia Pacific Algae Protein Market Outlook, 2019 - 2030
8.1. Asia Pacific Algae Protein Market Outlook, by Source, Volume (Kilo Tons) and Value (US$ Mn), 2019 - 2030
8.1.1. Key Highlights
8.1.1.1. Microalgae
8.1.1.1.1. Spirulina
8.1.1.1.2. Chlorella
8.1.1.2. Seaweed
8.2. Asia Pacific Algae Protein Market Outlook, by Application, Volume (Kilo Tons) and Value (US$ Mn), 2019 - 2030
8.2.1. Key Highlights
8.2.1.1. Dietary Supplements
8.2.1.2. Food & Beverage
8.2.1.3. Animal Feed
8.2.1.4. Cosmetics
8.2.1.5. Misc.
8.3. Asia Pacific Algae Protein Market Outlook, by Country, Volume (Kilo Tons) and Value (US$ Mn), 2019 - 2030
8.3.1. Key Highlights
8.3.1.1. China
8.3.1.2. Japan
8.3.1.3. South Korea
8.3.1.4. India
8.3.1.5. Southeast Asia
8.3.1.6. Rest of Asia Pacific
8.3.2. BPS Analysis/Market Attractiveness Analysis

9. Latin America Algae Protein Market Outlook, 2019 - 2030
9.1. Latin America Algae Protein Market Outlook, by Source, Volume (Kilo Tons) and Value (US$ Mn), 2019 - 2030
9.1.1. Key Highlights
9.1.1.1. Microalgae
9.1.1.1.1. Spirulina
9.1.1.1.2. Chlorella
9.1.1.2. Seaweed
9.2. Latin America Algae Protein Market Outlook, by Application, Volume (Kilo Tons) and Value (US$ Mn), 2019 - 2030
9.2.1. Key Highlights
9.2.1.1. Dietary Supplements
9.2.1.2. Food & Beverage
9.2.1.3. Animal Feed
9.2.1.4. Cosmetics
9.2.1.5. Misc.
9.3. Latin America Algae Protein Market Outlook, by Country, Volume (Kilo Tons) and Value (US$ Mn), 2019 - 2030
9.3.1. Key Highlights
9.3.1.1. Brazil
9.3.1.2. Mexico
9.3.1.3. Rest of Latin America
9.3.2. BPS Analysis/Market Attractiveness Analysis

10. Middle East & Africa Algae Protein Market Outlook, 2019 - 2030
10.1. Middle East & Africa Algae Protein Market Outlook, by Source, Volume (Kilo Tons) and Value (US$ Mn), 2019 - 2030
10.1.1. Key Highlights
10.1.1.1. Microalgae
10.1.1.1.1. Spirulina
10.1.1.1.2. Chlorella
10.1.1.2. Seaweed
10.2. Middle East & Africa Algae Protein Market Outlook, by Application, Volume (Kilo Tons) and Value (US$ Mn), 2019 - 2030
10.2.1. Key Highlights
10.2.1.1. Dietary Supplements
10.2.1.2. Food & Beverage
10.2.1.3. Animal Feed
10.2.1.4. Cosmetics
10.2.1.5. Misc.
10.3. Middle East & Africa Algae Protein Market Outlook, by Country, Volume (Kilo Tons) and Value (US$ Mn), 2019 - 2030
10.3.1. Key Highlights
10.3.1.1. GCC
10.3.1.2. South Africa
10.3.1.3. Rest of Middle East & Africa
10.3.2. BPS Analysis/Market Attractiveness Analysis

11. Competitive Landscape
11.1. Company Market Share Analysis, 2021
11.2. Competitive Dashboard
11.3. Company Profiles
11.3.1. AlgaEnergy
11.3.1.1. Company Overview
11.3.1.2. Product Portfolio
11.3.1.3. Financial Overview
11.3.1.4. Business Strategies and Development
(*Note: Above details would be available for below list of companies based on availability)
11.3.2. Heliae Development LLC
11.3.3. ENERGYbits Inc.
11.3.4. E.I.D. - Parry (India) Limited.
11.3.5. Earthrise Nutritionals, LLC (DIC Corporation)
11.3.6. Far East Bio-Tec Co., Ltd. (FEBICO)
11.3.7. Roquette Klötze GmbH & Co. KG
11.3.8. Corbion N.V.
11.3.9. Allmicroalgae
11.3.10. Duplaco BV
11.3.11. AlgoSource SA
11.3.12. Cyanotech Corporation

12. Appendix
12.1. Research Methodology
12.2. Report Assumptions
12.3. Acronyms and Abbreviations