"According to Fairfield Market Research, the global aluminum market was valued at US$ 245.7 Bn in 2021 and is projected to reach US$ 498.5 Bn by the end of 2030, exhibiting a healthy CAGR of 5.8% between 2022 and 2030. The market is poised for 2x expansion by 2030."
Aluminum: One of the most Ubiquitous Commodity Metals of Modern Society
Aluminum is one of the most widely consumed metals after steel and is deemed a 'strategic resource' with a significant impact on the national economy, transport, energy, and defence needs. The metal has gained traction as an alternative to a range of metals, and other materials such as zinc, copper, and steel across industries. It has distinctive qualities such as light weight, excellent strength-to-weight ratio, corrosion resistance, higher reflectivity, and excellent heat and electricity conductivity. It also offers design freedom and flexibility, thus allowing formation of virtually infinite new shapes. An extensive application base is thus expected to drive the growth of global aluminum market.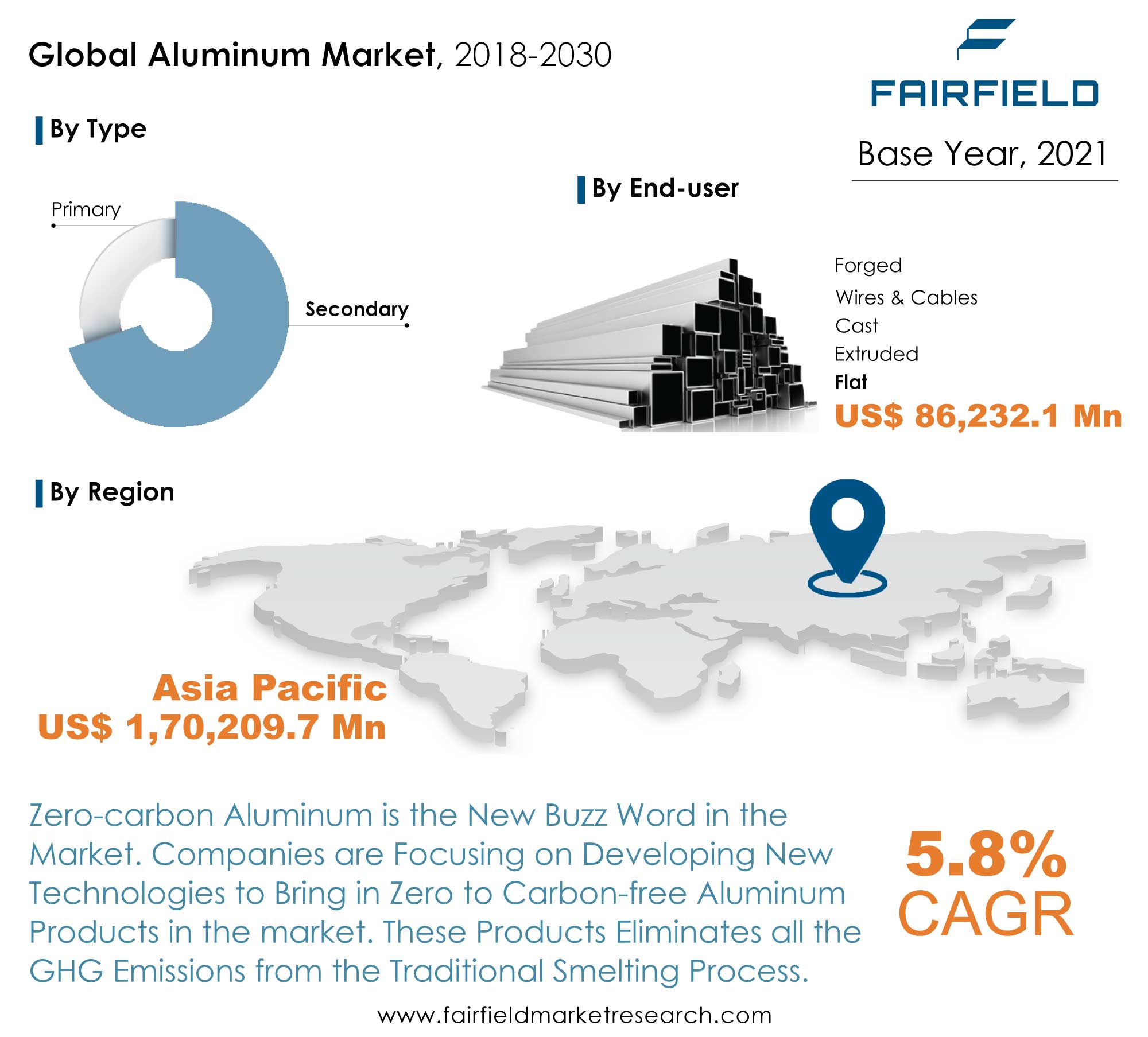 Around 3/4th of aluminum ever produced is still in use today, as the material is indefinitely recyclable and durable. In 2021, in volume terms, secondary aluminum held 29% share in global aluminum market. Secondary aluminum offers various advantages over primary aluminum such as lower production costs, lower energy consumption, and greater sustainability. Secondary aluminum can be deployed in a wide range of applications from construction materials, transportation, transmission lines, packaging foils & cans, kitchen utensils & containers, and paints.
Increasing Demand for Rolled, Extruded, and Casted Products to Drive Aluminum Market
Aluminum semis are generally made available in extruded, rolled, cast, forged, and wire & cable forms. In 2021, rolled and extruded products accounted for more than 60% of the total aluminum market. Aluminum flat-rolled products play an integral role in the aerospace, automotive, electrical, consumer goods, and packaging industries. Rolled products are a material of choice to answer major challenges in the automotive industry, especially regarding light weighting, CO2 emissions, and fuel efficiency. These products are used in automotive body structure, interior & exterior panels, and as heat exchanger material.
In the past few years, there has been growing demand for extruded aluminum products. Extruded products offer a wide range of design options. There has been a growing demand for extruded products in construction, electrical, automotive, transport, and consumer goods due to the excellent strength, durability, and flexibility it offers. In volume terms, extruded aluminum is projected to be the fastest-growing product in the global aluminum market. It is likely to grow with a CAGR of 4.7% between 2022 and 2028, largely on the strong growth in the construction, automotive, and transportation sector.
Mushrooming Sales of Electric Vehicles to Propel the Aluminum Market Growth
A typical passenger car emits around 4.6 metric tons of CO2 annually. Electric vehicles are anticipated to boost aluminum demand for extruded and rolled products exponentially over the next couple of decades. It is forecasted, that the production for electric vehicles is likely to reach more than 30 million units by end of 2030 worldwide. Apart from the body structures, aluminum can be deployed in new energy vehicle infrastructure components such as EV charging stations. The use of aluminum in electric vehicles enhances performance, safety, durability, and renders environmental benefits. Aluminum is cost-competitive and easily available as compared to its alternatives such as carbon composites, and titanium.
In value terms, construction accounted for more than 25% of the global aluminum market in 2021. In the past few years, aluminum has gained popularity in superstructures as well as civil engineering projects. Aluminum extruded and rolled products are also used in interior as well as exterior applications. From domed roofs through window & door frames, HVAC systems, furniture, and decorative ornaments. There is a shift toward green construction and aluminum perfectly encourages the green building revolution.
Packaging is another fastest-growing end user in the global aluminum market. Over the last few years, the packaging industry has shifted towards identifying sustainable alternative solutions to packaging materials such as plastics, and glass. Aluminum is touted as a key solution, stamping its authority for the circular and sustainable economy. It has higher recycling rates worldwide as compared to plastics. Aluminum packaging products offer a barrier to light, moisture, and oxygen, and are antibacterial, making it preferred material in food, personal care, and pharmaceutical packaging. In the light of the change in consumer preferences and growing pressure for sustainable packaging solutions, companies are shifting toward aluminum foils, and cans.
Construction, Automotive, and Packaging Industries to Boost the Aluminum Demand in Asia Pacific
In 2021, Asia Pacific accounted for more than 65% of the global aluminum market in value terms. The market has become polarised with a strong divergence between the economic recovery in China versus other nations. China is the world's largest producer and consumer of primary aluminum. The country accounted for more than half of the global primary aluminum production in 2021. Growing demand from the automotive, and aerospace industries for lightweight materials coupled with well-regulated carbon emissions standards in the industry is anticipated to boost the demand for aluminum in China.
India is anticipated to record exceptional market growth. The aluminum market in India is expected to exhibit 2.2x volume growth by 2030 flourishing with a CAGR of 8.7% in between 2022 and 2030. Strong demand from the construction industry is well supported by a significant infrastructure deficit in India coupled with strong government support for the residential construction sector. This is anticipated to lift the overall demand for aluminum in the country. Furthermore, the government support for the usage of lightweight and energy-efficient materials in the transportation sector is also a boon for the market in India.
In Europe, aluminum is considered as a huge potential prospect to achieve the EU's climate-neutral and circular economy goal. There is a huge demand for recycled aluminum from a wide range of industries including automotive, aerospace, electronics, and packaging, thus making Europe's aluminum industry cost-competitive and energy-efficient. New legislation that could reshape the aluminum market in Europe is Carbon Border Adjustment Mechanism (CBAM). Marginal aluminum importers with a carbon footprint above the European Commission threshold will be charged a carbon tax as per the emission level of that product. Furthermore, current Russia-Ukraine crisis has also adversely affected the energy prices in the region. The prices of aluminum in the region have skyrocketed and are at a decade high.
Inorganic Growth and Strategic Investments Characterize Overall Competition
Manufacturers are prioritizing new product launches targeting a low carbon footprint to reduce GHG emissions and circular products. Companies such as Rusal, Norsk Hydro, and Alcoa have introduced low-carbon or zero-carbon aluminum products as well as state-of-art technologies to strengthen their position in market. Recyclability, and sustainability are at the forefront of gaining a competitive advantage. Companies such as Aluminum Corporation of China Limited (CHALCO), China Hongqiao Group Ltd., Rusal, Norsk Hydro ASA, Alcoa Corporation, and Rio Tinto Plc have integrated aluminum businesses. Furthermore, more companies are venturing into the secondary aluminum market, targeting new sectors and capacity expansions.
In 2020, Novelis - a subsidiary of Indian giant Hindalco Industries - announced its acquisition of Aleris Corporation, a supplier of rolled aluminum products. Through this acquisition, Novelis has strengthened its competitive position by integrating its recycling, casting, finishing, and rolling capabilities allowing Novelis to cater to high-end demand in the aluminum market.
The Global Aluminum Market is Segmented as Below:
By Source Coverage
By Product Coverage
Flat
Extruded
Forged
Cast
Wires & Cables (Pastes, Pigments, etc.)
By End-user Coverage
Automotive

Conventional Vehicles
Electric Vehicles

Transportation
Packaging
Construction
Consumer Durables
Machinery & Equipment
Electrical
Misc.(Sport Goods, Defence, etc.)
By Geographical Coverage
North America
Europe

Germany
France
UK
Italy
Spain
Turkey
Russia
Rest of Europe

Asia Pacific

China
Japan
South Korea
India
Southeast Asia
Rest of Asia Pacific

Latin America

Brazil
Mexico
Argentina
Rest of Latin America

Middle East & Africa

GCC
South Africa
Egypt
Nigeria
Rest of Middle East & Africa
Leading Companies
Aluminum Corporation of China Limited (Chalco)
China Hongqiao Group Co. Ltd.
United Company Rusal IPJSC
Shandong Xinfa Aluminium Group
Rio Tinto Group
Emirates Global Aluminium
Alcoa Corporation
State Power Investment Corporation Limited (SPIC)
Norsk Hydro ASA
Hindalco Industries Limited
Vedanta Limited
South32 Limited
Inside This Report You Will Find:
1. Executive Summary
2. Market Overview
3. Production Output and Trade Statistics
4. Price Trends Analysis and Future Projects, 2018 - 2030
5. Global Aluminum Market Outlook, 2018 - 2030
6. North America Aluminum Market Outlook, 2018 - 2030
7. Europe Aluminum Market Outlook, 2018 - 2030
8. Asia Pacific Aluminum Market Outlook, 2018 - 2030
9. Latin America Aluminum Market Outlook, 2018 - 2030
10. Middle East & Africa Aluminum Market Outlook, 2018 - 2030
11. Competitive Landscape
12. Appendix

Post Sale Support, Research Updates & Offerings:
We value the trust shown by our customers in Fairfield Market Research. We support our clients through our post sale support, research updates and offerings.
The report will be prepared in a PPT format and will be delivered in a PDF format.
Additionally, Market Estimation and Forecast numbers will be shared in Excel Workbook.
If a report being sold was published over a year ago, we will offer a complimentary copy of the updated research report along with Market Estimation and Forecast numbers within 2-3 weeks' time of the sale.
If we update this research study within the next 2 quarters, post purchase of the report, we will offer a Complimentary copy of the updated Market Estimation and Forecast numbers in Excel Workbook.
If there is a geopolitical conflict, pandemic, recession, and the like which can impact global economic scenario and business activity, which might entirely alter the market dynamics or future projections in the industry, we will create a Research Update upon your request at a nominal charge.
1. Executive Summary
1.1. Global Aluminum Market Snapshot
1.2. Future Projections
1.3. Key Market Trends
1.4. Regional Snapshot, by Volume, 2021
1.5. Analyst Recommendations

2. Market Overview
2.1. Market Definitions and Segmentations
2.2. Market Dynamics
2.2.1. Drivers
2.2.2. Restraints
2.2.3. Market Opportunities
2.3. Value Chain Analysis
2.4. Porter's Five Forces Analysis
2.5. Covid-19 Impact Analysis
2.5.1. Supply
2.5.2. Demand
2.6. Role of Aluminum in Low Carbon Future
2.7. Government Policies to Encourage Aluminum Sustainability
2.8. Impact of Ukraine-Russia Conflict
2.9. Economic Overview
2.9.1. World Economic Projections
2.9.2. Electric Car Registrations and Market Share, 2015-2021
2.9.3. Per Capita Aluminum Consumption, by Major Countries, 2020
2.10. PESTLE Analysis

3. Production Output and Trade Statistics
3.1. Global Bauxite Reserves, by Country, 2021
3.2. Global Bauxite Production, by Region, 2021
3.3. Global Alumina Production, by Region, 2021
3.4. Global Primary Aluminum Production, 2018 - 2021
3.5. Aluminum Import Statistics, 2018-2021
3.6. Aluminum Export Statistics, 2018-2021

4. Price Trends Analysis and Future Projects, 2018 - 2030
4.1. Global Average Price Analysis, by Source, US$ per Kg
4.2. Prominent Factors Affecting Aluminum Prices
4.3. Global Average Price Analysis, by Region, US$ per Kg

5. Global Aluminum Market Outlook, 2018 - 2030
5.1. Global Aluminum Market Outlook, by Source, Volume (Kilo Tons) and Value (US$ Mn), 2018 - 2030
5.1.1. Key Highlights
5.1.1.1. Primary Aluminum
5.1.1.2. Secondary Aluminum
5.2. Global Aluminum Market Outlook, by Product, Volume (Kilo Tons) and Value (US$ Mn), 2018 - 2030
5.2.1. Key Highlights
5.2.1.1. Flat
5.2.1.2. Extruded
5.2.1.3. Forged
5.2.1.4. Cast
5.2.1.5. Wires & Cables
5.2.1.6. Misc. (Pastes, Pigments, etc.)
5.3. Global Aluminum Market Outlook, by End-users, Volume (Kilo Tons) and Value (US$ Mn), 2018 - 2030
5.3.1. Key Highlights
5.3.1.1. Automotive
5.3.1.1.1. Conventional Vehicles
5.3.1.1.2. Electric Vehicles
5.3.1.2. Transportation
5.3.1.2.1. Aerospace
5.3.1.2.2. Rail
5.3.1.2.3. Marine
5.3.1.3. Packaging
5.3.1.4. Construction
5.3.1.5. Consumer Durables
5.3.1.6. Machinery & Equipment
5.3.1.7. Electrical
5.3.1.8. Misc. (Sport Goods, Defense, etc.)
5.4. Global Aluminum Market Outlook, by Region, Volume (Kilo Tons) and Value (US$ Mn), 2018 - 2030
5.4.1. Key Highlights
5.4.1.1. North America
5.4.1.2. Europe
5.4.1.3. Asia Pacific
5.4.1.4. Latin America
5.4.1.5. Middle East & Africa

6. North America Aluminum Market Outlook, 2018 - 2030
6.1. North America Aluminum Market Outlook, by Source, Volume (Kilo Tons) and Value (US$ Mn), 2018 - 2030
6.1.1. Key Highlights
6.1.1.1. Primary Aluminum
6.1.1.2. Secondary Aluminum
6.2. North America Aluminum Market Outlook, by Product, Volume (Kilo Tons) and Value (US$ Mn), 2018 - 2030
6.2.1. Key Highlights
6.2.1.1. Flat
6.2.1.2. Extruded
6.2.1.3. Forged
6.2.1.4. Cast
6.2.1.5. Wires & Cables
6.2.1.6. Misc. (Pastes, Pigments, etc.)
6.3. North America Aluminum Market Outlook, by End-users, Volume (Kilo Tons) and Value (US$ Mn), 2018 - 2030
6.3.1. Key Highlights
6.3.1.1. Automotive
6.3.1.1.1. Conventional Vehicles
6.3.1.1.2. Electric Vehicles
6.3.1.2. Transportation
6.3.1.2.1. Aerospace
6.3.1.2.2. Rail
6.3.1.2.3. Marine
6.3.1.3. Packaging
6.3.1.4. Construction
6.3.1.5. Consumer Durables
6.3.1.6. Machinery & Equipment
6.3.1.7. Electrical
6.3.1.8. Misc. (Sport Goods, Defense, etc.)
6.3.2. Market Attractiveness Analysis
6.4. North America Aluminum Market Outlook, by Country, Volume (Kilo Tons) and Value (US$ Mn), 2018 - 2030
6.4.1. Key Highlights
6.4.1.1. U.S. Aluminum Market by Product, Volume (Kilo Tons) and Value (US$ Mn), 2018 - 2030
6.4.1.2. U.S. Aluminum Market by Application, Volume (Kilo Tons) and Value (US$ Mn), 2018 - 2030
6.4.1.3. Canada Aluminum Market by Product, Volume (Kilo Tons) and Value (US$ Mn), 2018 - 2030
6.4.1.4. Canada Aluminum Market by Application, Volume (Kilo Tons) and Value (US$ Mn), 2018 - 2030
6.4.2. BPS Analysis/Market Attractiveness Analysis

7. Europe Aluminum Market Outlook, 2018 - 2030
7.1. Europe Aluminum Market Outlook, by Source, Volume (Kilo Tons) and Value (US$ Mn), 2018 - 2030
7.1.1. Key Highlights
7.1.1.1. Primary Aluminum
7.1.1.2. Secondary Aluminum
7.2. Europe Aluminum Market Outlook, by Product, Volume (Kilo Tons) and Value (US$ Mn), 2018 - 2030
7.2.1. Key Highlights
7.2.1.1. Flat
7.2.1.2. Extruded
7.2.1.3. Forged
7.2.1.4. Cast
7.2.1.5. Wires & Cables
7.2.1.6. Misc. (Pastes, Pigments, etc.)
7.3. Europe Aluminum Market Outlook, by End-users, Volume (Kilo Tons) and Value (US$ Mn), 2018 - 2030
7.3.1. Key Highlights
7.3.1.1. Automotive
7.3.1.1.1. Conventional Vehicles
7.3.1.1.2. Electric Vehicles
7.3.1.2. Transportation
7.3.1.2.1. Aerospace
7.3.1.2.2. Rail
7.3.1.2.3. Marine
7.3.1.3. Packaging
7.3.1.4. Construction
7.3.1.5. Consumer Durables
7.3.1.6. Machinery & Equipment
7.3.1.7. Electrical
7.3.1.8. Misc. (Sport Goods, Defense, etc.)
7.3.2. BPS Analysis/Market Attractiveness Analysis
7.4. Europe Aluminum Market Outlook, by Country, Volume (Kilo Tons) and Value (US$ Mn), 2018 - 2030
7.4.1. Key Highlights
7.4.1.1. Germany Aluminum Market by Product, Volume (Kilo Tons) and Value (US$ Mn), 2018 - 2030
7.4.1.2. Germany Aluminum Market by Application, Volume (Kilo Tons) and Value (US$ Mn), 2018 - 2030
7.4.1.3. U.K. Aluminum Market by Product, Volume (Kilo Tons) and Value (US$ Mn), 2018 - 2030
7.4.1.4. U.K. Aluminum Market by Application, Volume (Kilo Tons) and Value (US$ Mn), 2018 - 2030
7.4.1.5. France Aluminum Market by Product, Volume (Kilo Tons) and Value (US$ Mn), 2018 - 2030
7.4.1.6. France Aluminum Market by Application, Volume (Kilo Tons) and Value (US$ Mn), 2018 - 2030
7.4.1.7. Italy Aluminum Market by Product, Volume (Kilo Tons) and Value (US$ Mn), 2018 - 2030
7.4.1.8. Italy Aluminum Market by Application, Volume (Kilo Tons) and Value (US$ Mn), 2018 - 2030
7.4.1.9. Turkey Aluminum Market by Product, Volume (Kilo Tons) and Value (US$ Mn), 2018 - 2030
7.4.1.10. Turkey Aluminum Market by Application, Volume (Kilo Tons) and Value (US$ Mn), 2018 - 2030
7.4.1.11. Russia Aluminum Market by Product, Volume (Kilo Tons) and Value (US$ Mn), 2018 - 2030
7.4.1.12. Russia Aluminum Market by Application, Volume (Kilo Tons) and Value (US$ Mn), 2018 - 2030
7.4.1.13. Rest of Europe Aluminum Market by Product, Volume (Kilo Tons) and Value (US$ Mn), 2018 - 2030
7.4.1.14. Rest of Europe Aluminum Market by Application, Volume (Kilo Tons) and Value (US$ Mn), 2018 - 2030
7.4.2. BPS Analysis/Market Attractiveness Analysis

8. Asia Pacific Aluminum Market Outlook, 2018 - 2030
8.1. Asia Pacific Aluminum Market Outlook, by Source, Volume (Kilo Tons) and Value (US$ Mn), 2018 - 2030
8.1.1. Key Highlights
8.1.1.1. Primary Aluminum
8.1.1.2. Secondary Aluminum
8.2. Asia Pacific Aluminum Market Outlook, by Product, Volume (Kilo Tons) and Value (US$ Mn), 2018 - 2030
8.2.1. Key Highlights
8.2.1.1. Flat
8.2.1.2. Extruded
8.2.1.3. Forged
8.2.1.4. Cast
8.2.1.5. Wires & Cables
8.2.1.6. Misc. (Pastes, Pigments, etc.)
8.3. Asia Pacific Aluminum Market Outlook, by End-users, Volume (Kilo Tons) and Value (US$ Mn), 2018 - 2030
8.3.1. Key Highlights
8.3.1.1. Automotive
8.3.1.1.1. Conventional Vehicles
8.3.1.1.2. Electric Vehicles
8.3.1.2. Transportation
8.3.1.2.1. Aerospace
8.3.1.2.2. Rail
8.3.1.2.3. Marine
8.3.1.3. Packaging
8.3.1.4. Construction
8.3.1.5. Consumer Durables
8.3.1.6. Machinery & Equipment
8.3.1.7. Electrical
8.3.1.8. Misc. (Sport Goods, Defense, etc.)
8.3.2. BPS Analysis/Market Attractiveness Analysis
8.4. Asia Pacific Aluminum Market Outlook, by Country, Volume (Kilo Tons) and Value (US$ Mn), 2018 - 2030
8.4.1. Key Highlights
8.4.1.1. China Aluminum Market by Product, Volume (Kilo Tons) and Value (US$ Mn), 2018 - 2030
8.4.1.2. China Aluminum Market by Application, Volume (Kilo Tons) and Value (US$ Mn), 2018 - 2030
8.4.1.3. Japan Aluminum Market by Product, Volume (Kilo Tons) and Value (US$ Mn), 2018 - 2030
8.4.1.4. Japan Aluminum Market by Application, Volume (Kilo Tons) and Value (US$ Mn), 2018 - 2030
8.4.1.5. South Korea Aluminum Market by Product, Volume (Kilo Tons) and Value (US$ Mn), 2018 - 2030
8.4.1.6. South Korea Aluminum Market by Application, Volume (Kilo Tons) and Value (US$ Mn), 2018 - 2030
8.4.1.7. India Aluminum Market by Product, Volume (Kilo Tons) and Value (US$ Mn), 2018 - 2030
8.4.1.8. India Aluminum Market by Application, Volume (Kilo Tons) and Value (US$ Mn), 2018 - 2030
8.4.1.9. Southeast Asia Aluminum Market by Product, Volume (Kilo Tons) and Value (US$ Mn), 2018 - 2030
8.4.1.10. Southeast Asia Aluminum Market by Application, Volume (Kilo Tons) and Value (US$ Mn), 2018 - 2030
8.4.1.11. Rest of Asia Pacific Aluminum Market by Product, Volume (Kilo Tons) and Value (US$ Mn), 2018 - 2030
8.4.1.12. Rest of Asia Pacific Aluminum Market by Application, Volume (Kilo Tons) and Value (US$ Mn), 2018 - 2030
8.4.2. BPS Analysis/Market Attractiveness Analysis

9. Latin America Aluminum Market Outlook, 2018 - 2030
9.1. Latin America Aluminum Market Outlook, by Source, Volume (Kilo Tons) and Value (US$ Mn), 2018 - 2030
9.1.1. Key Highlights
9.1.1.1. Primary Aluminum
9.1.1.2. Secondary Aluminum
9.2. Latin America Aluminum Market Outlook, by Product, Volume (Kilo Tons) and Value (US$ Mn), 2018 - 2030
9.2.1. Key Highlights
9.2.1.1. Flat
9.2.1.2. Extruded
9.2.1.3. Forged
9.2.1.4. Cast
9.2.1.5. Wires & Cables
9.2.1.6. Misc. (Pastes, Pigments, etc.)
9.3. Latin America Aluminum Market Outlook, by End-users, Volume (Kilo Tons) and Value (US$ Mn), 2018 - 2030
9.3.1. Key Highlights
9.3.1.1. Automotive
9.3.1.1.1. Conventional Vehicles
9.3.1.1.2. Electric Vehicles
9.3.1.2. Transportation
9.3.1.2.1. Aerospace
9.3.1.2.2. Rail
9.3.1.2.3. Marine
9.3.1.3. Packaging
9.3.1.4. Construction
9.3.1.5. Consumer Durables
9.3.1.6. Machinery & Equipment
9.3.1.7. Electrical
9.3.1.8. Misc. (Sport Goods, Defense, etc.)
9.3.2. BPS Analysis/Market Attractiveness Analysis
9.4. Latin America Aluminum Market Outlook, by Country, Volume (Kilo Tons) and Value (US$ Mn), 2018 - 2030
9.4.1. Key Highlights
9.4.1.1. Brazil Aluminum Market by Product, Volume (Kilo Tons) and Value (US$ Mn), 2018 - 2030
9.4.1.2. Brazil Aluminum Market by Application, Volume (Kilo Tons) and Value (US$ Mn), 2018 - 2030
9.4.1.3. Mexico Aluminum Market by Product, Volume (Kilo Tons) and Value (US$ Mn), 2018 - 2030
9.4.1.4. Mexico Aluminum Market by Application, Volume (Kilo Tons) and Value (US$ Mn), 2018 - 2030
9.4.1.5. Argentina Aluminum Market by Product, Volume (Kilo Tons) and Value (US$ Mn), 2018 - 2030
9.4.1.6. Argentina Aluminum Market by Application, Volume (Kilo Tons) and Value (US$ Mn), 2018 - 2030
9.4.1.7. Rest of Latin America Aluminum Market by Product, Volume (Kilo Tons) and Value (US$ Mn), 2018 - 2030
9.4.1.8. Rest of Latin America Aluminum Market by Application, Volume (Kilo Tons) and Value (US$ Mn), 2018 - 2030
9.4.2. BPS Analysis/Market Attractiveness Analysis

10. Middle East & Africa Aluminum Market Outlook, 2018 - 2030
10.1. Middle East & Africa Aluminum Market Outlook, by Source, Volume (Kilo Tons) and Value (US$ Mn), 2018 - 2030
10.1.1. Key Highlights
10.1.1.1. Primary Aluminum
10.1.1.2. Secondary Aluminum
10.2. Middle East & Africa Aluminum Market Outlook, by Product, Volume (Kilo Tons) and Value (US$ Mn), 2018 - 2030
10.2.1. Key Highlights
10.2.1.1. Flat
10.2.1.2. Extruded
10.2.1.3. Forged
10.2.1.4. Cast
10.2.1.5. Wires & Cables
10.2.1.6. Misc. (Pastes, Pigments, etc.)
10.3. Middle East & Africa Aluminum Market Outlook, by End-users, Volume (Kilo Tons) and Value (US$ Mn), 2018 - 2030
10.3.1. Key Highlights
10.3.1.1. Automotive
10.3.1.1.1. Conventional Vehicles
10.3.1.1.2. Electric Vehicles
10.3.1.2. Transportation
10.3.1.2.1. Aerospace
10.3.1.2.2. Rail
10.3.1.2.3. Marine
10.3.1.3. Packaging
10.3.1.4. Construction
10.3.1.5. Consumer Durables
10.3.1.6. Machinery & Equipment
10.3.1.7. Electrical
10.3.1.8. Misc. (Sport Goods, Defense, etc.)
10.3.2. BPS Analysis/Market Attractiveness Analysis
10.4. Middle East & Africa Aluminum Market Outlook, by Country, Volume (Kilo Tons) and Value (US$ Mn), 2018 - 2030
10.4.1. Key Highlights
10.4.1.1. GCC Aluminum Market by Product, Volume (Kilo Tons) and Value (US$ Mn), 2018 - 2030
10.4.1.2. GCC Aluminum Market by Application, Volume (Kilo Tons) and Value (US$ Mn), 2018 - 2030
10.4.1.3. South Africa Aluminum Market by Product, Volume (Kilo Tons) and Value (US$ Mn), 2018 - 2030
10.4.1.4. South Africa Aluminum Market by Application, Volume (Kilo Tons) and Value (US$ Mn), 2018 - 2030
10.4.1.5. Egypt Aluminum Market by Product, Volume (Kilo Tons) and Value (US$ Mn), 2018 - 2030
10.4.1.6. Egypt Aluminum Market by Application, Volume (Kilo Tons) and Value (US$ Mn), 2018 - 2030
10.4.1.7. Nigeria Aluminum Market by Product, Volume (Kilo Tons) and Value (US$ Mn), 2018 - 2030
10.4.1.8. Nigeria Aluminum Market by Application, Volume (Kilo Tons) and Value (US$ Mn), 2018 - 2030
10.4.1.9. Rest of Middle East & Africa Aluminum Market by Product, Volume (Kilo Tons) and Value (US$ Mn), 2018 - 2030
10.4.1.10. Rest of Middle East & Africa Aluminum Market by Application, Volume (Kilo Tons) and Value (US$ Mn), 2018 - 2030
10.4.2. BPS Analysis/Market Attractiveness Analysis

11. Competitive Landscape
11.1. Product vs Application Heatmap
11.2. Manufacturer vs Application Heatmap
11.3. Company Market Share Analysis, 2021
11.4. Competitive Dashboard
11.5. Company Profiles
11.5.1. Aluminum Corporation of China Limited (Chalco)
11.5.1.1. Company Overview
11.5.1.2. Product Portfolio
11.5.1.3. Financial Overview
11.5.1.4. Business Strategies and Development
11.5.2. China Hongqiao Group Co. Ltd.
11.5.2.1. Company Overview
11.5.2.2. Product Portfolio
11.5.2.3. Financial Overview
11.5.2.4. Business Strategies and Development
11.5.3. United Company Rusal IPJSC
11.5.3.1. Company Overview
11.5.3.2. Product Portfolio
11.5.3.3. Financial Overview
11.5.3.4. Business Strategies and Development
11.5.4. Shandong Xinfa Aluminum Group
11.5.4.1. Company Overview
11.5.4.2. Product Portfolio
11.5.4.3. Financial Overview
11.5.4.4. Business Strategies and Development
11.5.5. Rio Tinto Group
11.5.5.1. Company Overview
11.5.5.2. Product Portfolio
11.5.5.3. Financial Overview
11.5.5.4. Business Strategies and Development
11.5.6. Emirates Global Aluminum
11.5.6.1. Company Overview
11.5.6.2. Product Portfolio
11.5.6.3. Financial Overview
11.5.6.4. Business Strategies and Development
11.5.7. Alcoa Corporation
11.5.7.1. Company Overview
11.5.7.2. Product Portfolio
11.5.7.3. Financial Overview
11.5.7.4. Business Strategies and Development
11.5.8. State Power Investment Corporation Limited (SPIC)
11.5.8.1. Company Overview
11.5.8.2. Product Portfolio
11.5.8.3. Business Strategies and Development
11.5.9. Norsk Hydro ASA
11.5.9.1. Company Overview
11.5.9.2. Product Portfolio
11.5.9.3. Financial Overview
11.5.9.4. Business Strategies and Development
11.5.10. Hindalco Industries Limited
11.5.10.1. Company Overview
11.5.10.2. Product Portfolio
11.5.10.3. Financial Overview
11.5.10.4. Business Strategies and Development
11.5.11. Vedanta Limited
11.5.11.1. Company Overview
11.5.11.2. Product Portfolio
11.5.11.3. Financial Overview
11.5.11.4. Business Strategies and Development
11.5.12. South32 Limited
11.5.12.1. Company Overview
11.5.12.2. Product Portfolio
11.5.12.3. Financial Overview
11.5.12.4. Business Strategies and Development

12. Appendix
12.1. Research Methodology
12.2. Report Assumptions
12.3. Acronyms and Abbreviations
BASE YEAR

HISTORICAL DATA

FORECAST PERIOD

UNITS

2021

2018 - 2021

2022 - 2030

Value: US$ Mn

Volume: Kilo Tons
REPORT FEATURES

DETAILS

Source Coverage

Product Coverage

End-user Coverage

Geographical Coverage

North America

Europe

Germany

France

U.K.

Italy

Spain

Turkey

Russia

Rest of Europe

Asia Pacific

China

Japan

South Korea

India

Southeast Asia

Rest of Asia Pacific

Latin America

Brazil

Mexico

Argentina

Rest of Latin America

Middle East & Africa

Leading Companies

Aluminum Corporation of China Limited (Chalco)

China Hongqiao Group Co. Ltd.

United Company Rusal IPJSC

Shandong Xinfa Aluminium Group

Rio Tinto Group

Emirates Global Aluminium

Alcoa Corporation

State Power Investment Corporation Limited (SPIC)

Norsk Hydro ASA

Hindalco Industries Limited

Vedanta Limited

South32 Limited

Report Highlights

Market Estimates and Forecast, Market Dynamics, Industry Trends, Production Output, Trade Statistics, Competition Landscape, Source - Product-, End-user-, Region-, Country-wise Trends & Analysis, COVID-19 Impact Analysis (Demand and Supply), Key Market Trends