Stringent Emission Regulations and Vehicle Electrification to Drive the Automotive Plastics Market
The average car consists of more than 30,000 parts, including the smallest of screws, nuts, and bolts. These parts are produced with a variety of raw materials and manufacturing processes. Today, more than 30% of these components are made up of plastics. Plastics have revolutionized the automotive industry in terms of performance, build, safety, and functionality. The automotive plastics market is the third-largest outlet for plastics after packaging and construction. The automotive industry is expected to grow by 5% and sales are likely to cross the mark of 100 million units in the next 5 years.


In the past few years, owing to the stringent emission regulations and focus on safety standards in the automotive industry, the role of plastic in the production and design of cars has increased. These legislative needs together with buyers demanding fuel-efficient cars have led carmakers to put emphasis on lightweight materials. An estimated 10% car weight reduction will reduce fuel usage by around 7%-8%. Rising car sales, increasing demand for lightweight materials, and a boom in vehicle electrification are poised to offer ample growth opportunities in the automotive plastics market over the coming decade.
Polypropylene and Polyurethane to Lead Due to Their Versatility, Polycarbonate to be the Fastest Growing
According to Fairfield Market Research, the global automotive plastics market is estimated to be worth US$ 68.6 Bn by the end of 2026 from US$ 48.7 Bn in 2018. During the forecast years of 2022 and 2026, the market is expected to register a CAGR of 7.7%.
In total, the automotive industry deploys more than 39 types of plastic materials including commodity and engineered plastics. Polypropylene (PP), polyurethane (PU), polyamide (PA), and polyvinyl chloride (PVC) accounted for more than 65% of the automotive plastics market in 2020, with PP being the clear leader with a share of 33% in terms of volume. These materials are used in a range of applications including interior, exterior, under the hood, and lighting. These materials aid automakers to make vehicles lighter and fuel efficient, thus lowering GHG emissions. There has been a rise in adoption levels for new energy vehicles (NEVs) such as battery electric vehicles and electrification of vehicle fleets including light, medium and heavy-duty vehicles. These factors will offer abundant growth prospects for polypropylene, polycarbonate, polyurethane, and polyamides.
With the technological changes in autonomous vehicles and the e-mobility landscape, polycarbonate will be the top gainer in EVs. There will surge in huge demand for polycarbonate from electrification and lighting components. Polycarbonate meets the demand for electric vehicle battery thermal management and integration of LiDAR sensors in the structure. In volume terms, polycarbonate is expected to exhibit the fastest growth in the automotive plastics market with a CAGR of 8.6% between 2022 and 2026.
Interior Parts to Remain the Largest Application Segment; Under the Hood to Display Fastest Growth
Plastics are used in numerous applications in vehicles for instance interior trims, upholstery, under the hood components, exterior parts, fuel system, dashboard, bumper, instrumental panels, and lighting. In 2020, interior applications remained the largest market and accounted for more than 40% of the total automotive plastics market in volume terms. Interior trims, instrument cluster, lighting, seat leather upholstery, door panels and consoles deploy a wide range of plastics such as PP, PU, PVC, PA, and ABS. These plastics allow interior design flexibility, cost-competitive manufacturing, and reduced noise, vibration, and harshness (NVH). Furthermore, these plastic materials also meet the requirements of safety, ergonomics, and aesthetic appearance of vehicles.
Under the hood applications is projected to exhibit fastest growth in automotive plastics market. With under the hood conditions turning out to be more challenging, carmakers are increasingly relying on high-temp plastics such as polyamides, polycarbonates, and ABS. There is a shift towards turbocharged engines as they are more eco-friendly and more efficient. With stringent emissions standards, major OEMs are turning their focus towards turbochargers to provide cleaner transportation. The growth in turbocharger engines growth augurs well with the rise in demand for high-temp plastics. The demand for plastics in also expected to rise from exterior components due to their properties to create complex shapes, bringing high aesthetic value and smooth finishing to the vehicles.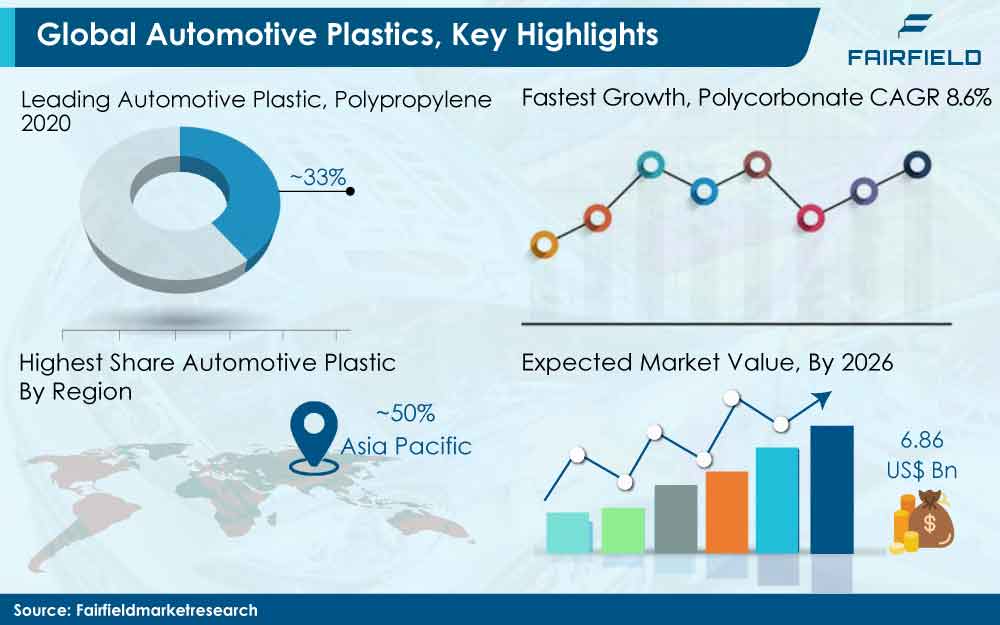 Asia Pacific Continues to Hold Highest Share in the Automotive Plastics Market
Asia Pacific by far continues to be the largest automobile producing region. In 2020, Asia Pacific held around 50% of the automotive plastics market. Major manufacturing hubs include China, Japan, South Korea, India, and Southeast Asia. Although, the plastic consumption per vehicle is low in the region as compared to Europe and North America, with automotive production shifting towards premium vehicles, the amount of plastic consumption is projected to rise.
OEMs in these countries are focusing on fuel-efficient and lightweight vehicles due to change in consumer preferences and stringent emissions standards. Plastics have become an excellent alternative to the traditional materials such as steel and cast iron, thus the demand for automotive plastics is anticipated to grow in the region over the coming years.
The demand for automotive plastics in Europe and North America is expected to grow owing to the large adoption of turbocharged engines and vehicle electrification. Governments in these regions have stringent norms of CO2 emissions, thus accelerating subsidies on EVs and bans on diesel vehicles. Despite, COVID- 19 pandemic EVs sales growth in Europe has been exponential. This is likely to drive the demand for lightweight materials including plastics.
Companies Developing Innovative and Sustainable Products to Reduce Environmental Impact
Companies operating in the automotive plastics market have strong global as well as domestic presence. The competition is intense with maximum focus on new product innovation, sustainable products, and developing high-temp plastic blends to reduce environmental impact. Growing demand for high-temp resistant plastics, especially in high-growth application such as under the hood has promoted noteworthy innovations in the sector. Furthermore, companies are also incorporating recycled plastics products in their portfolio.
In 2021, Borealis announced the availability of Borcycle™, its polyolefin-based solution composed of both virgin and post-consumer recyclate (PCR) for the North American automotive market. These products can be deployed in the interior, exterior as well as under the hood applications.
In 2019, SABIC launched XENOY™ HTX resin, a new polyester-based resin technology enabling the production of impact and heat resistant and high-performance structural parts and under the hood components.
The Global Automotive Plastics Market is Segmented as Below:
By Product Coverage
Polypropylene (PP)
Polyurethane (PU)
Polyamide (PA)
Polyvinylchloride (PVC)
High Density Polyethylene (HDPE)
Acrylonitrile Butadiene Styrene (ABS)
Polycarbonate (PC)
(Including PBT, PMMA, PET, LDPE, etc.)
By Application Coverage
Interior
Exterior
Electronics and Light
Under the Hood
(Chassis, Powertrain Components, etc.)
By Geographical Coverage
North America
Europe

Germany
France
UK
Spain
Turkey
Russia
Rest of Europe

Asia Pacific

China
Japan
South Korea
India
Southeast Asia
Rest of Asia Pacific

Latin America

Brazil
Mexico
Rest of Latin America

Middle East & Africa

GCC
Iran
Rest of Middle East & Africa
Leading Companies
LyondellBasell Industries N.V.
BASF SE
SABIC
Covestro AG
Borealis AG
LG Chem
LANXESS AG
Celanese Corporation
INEOS
Asahi Kasei Corporation
Koninklijke DSM N.V.
Inside This Report You Will Find:
1. Executive Summary
2. Market Overview
3. Production Output and Trade Statistics
4. Price Trends Analysis and Future Projects, 2018 - 2026
5. Global Automotive Plastics Market Outlook, 2018 - 2026
6. North America Automotive Plastics Market Outlook, 2018 - 2026
7. Europe Automotive Plastics Market Outlook, 2018 - 2026
8. Asia Pacific Automotive Plastics Market Outlook, 2018 - 2026
9. Latin America Automotive Plastics Market Outlook, 2018 - 2026
10. Middle East & Africa Automotive Plastics Market Outlook, 2018 - 2026
11. Competitive Landscape
12. Appendix


Post Sale Support, Research Updates & Offerings:
We value the trust shown by our customers in Fairfield Market Research. We support our clients through our post sale support, research updates and offerings.
The report will be prepared in a PPT format and will be delivered in a PDF format.
Additionally, Market Estimation and Forecast numbers will be shared in Excel Workbook.
If a report being sold was published over a year ago, we will offer a complimentary copy of the updated research report along with Market Estimation and Forecast numbers within 2-3 weeks' time of the sale.
If we update this research study within the next 2 quarters, post purchase of the report, we will offer a Complimentary copy of the updated Market Estimation and Forecast numbers in Excel Workbook.
If there is a geopolitical conflict, pandemic, recession, and the like which can impact global economic scenario and business activity, which might entirely alter the market dynamics or future projections in the industry, we will create a Research Update upon your request at a nominal charge.
1. Executive Summary
1.1. Global Automotive Plastics Market Snapshot
1.2. Future Projections
1.3. Key Market Trends
1.4. Analyst Recommendations

2. Market Overview
2.1. Market Definitions and Segmentations
2.2. Market Dynamics
2.2.1. Drivers
2.2.2. Restraints
2.2.3. Market Opportunities
2.3. Value Chain Analysis
2.4. Porter's Five Forces Analysis
2.5. Covid-19 Impact Analysis
2.5.1. Supply
2.5.2. Demand
2.6. Economic Overview

3. Production Output and Trade Statistics

4. Price Trends Analysis and Future Projects, 2018 - 2026
4.1. Global Average Price Analysis, by Product, US$ per Kg
4.2. Global Average Price Analysis, by Region, US$ per Kg

5. Global Automotive Plastics Market Outlook, 2018 - 2026
5.1. Global Automotive Plastics Market Outlook, by Product, Volume (Kilo Tons) and Value (US$ Mn), 2018 - 2026
5.1.1. Key Highlights
5.1.1.1. Polypropylene (PP)
5.1.1.2. Polyurethane (PU)
5.1.1.3. Polyamide (PA)
5.1.1.4. Polyvinylchloride (PVC)
5.1.1.5. High Density Polyethylene (HDPE)
5.1.1.6. Acrylonitrile Butadiene Styrene (ABS)
5.1.1.7. Polycarbonate (PC)
5.1.1.8. Misc. (Including PBT, PMMA, PET, LDPE, etc.)
5.2. Global Automotive Plastics Market Outlook, by Application, Volume (Kilo Tons) and Value (US$ Mn), 2018 - 2026
5.2.1. Key Highlights
5.2.1.1. Interior
5.2.1.2. Exterior
5.2.1.3. Electronics and Light
5.2.1.4. Under the Hood
5.2.1.5. Misc. (Chassis, etc.)
5.3. Global Automotive Plastics Market Outlook, by Region, Volume (Kilo Tons) and Value (US$ Mn), 2018 - 2026
5.3.1. Key Highlights
5.3.1.1. North America
5.3.1.2. Europe
5.3.1.3. Asia Pacific
5.3.1.4. Latin America
5.3.1.5. Middle East & Africa

6. North America Automotive Plastics Market Outlook, 2018 - 2026
6.1. North America Automotive Plastics Market Outlook, by Product, Volume (Kilo Tons) and Value (US$ Mn), 2018 - 2026
6.1.1. Key Highlights
6.1.1.1. Polypropylene (PP)
6.1.1.2. Polyurethane (PU)
6.1.1.3. Polyamide (PA)
6.1.1.4. Polyvinylchloride (PVC)
6.1.1.5. High Density Polyethylene (HDPE)
6.1.1.6. Acrylonitrile Butadiene Styrene (ABS)
6.1.1.7. Polycarbonate (PC)
6.1.1.8. Misc. (Including PBT, PMMA, PET, LDPE, etc.)
6.1.2. BPS Analysis/Market Attractiveness Analysis
6.2. North America Automotive Plastics Market Outlook, by Application, Volume (Kilo Tons) and Value (US$ Mn), 2018 - 2026
6.2.1. Key Highlights
6.2.1.1. Interior
6.2.1.2. Exterior
6.2.1.3. Electronics and Light
6.2.1.4. Under the Hood
6.2.1.5. Misc. (Chassis, etc.)
6.2.2. BPS Analysis/Market Attractiveness Analysis
6.3. North America Automotive Plastics Market Outlook, by Country, Volume (Kilo Tons) and Value (US$ Mn), 2018 - 2026
6.3.1. Key Highlights
6.3.1.1. U.S. Automotive Plastics Market by Product, Volume (Kilo Tons) and Value (US$ Mn), 2018 - 2026
6.3.1.2. U.S. Automotive Plastics Market by Application, Volume (Kilo Tons) and Value (US$ Mn), 2018 - 2026
6.3.1.3. Canada Automotive Plastics Market by Product, Volume (Kilo Tons) and Value (US$ Mn), 2018 - 2026
6.3.1.4. Canada Automotive Plastics Market by Application, Volume (Kilo Tons) and Value (US$ Mn), 2018 - 2026
6.3.2. BPS Analysis/Market Attractiveness Analysis

7. Europe Automotive Plastics Market Outlook, 2018 - 2026
7.1. Europe Automotive Plastics Market Outlook, by Product, Volume (Kilo Tons) and Value (US$ Mn), 2018 - 2026
7.1.1. Key Highlights
7.1.1.1. Polypropylene (PP)
7.1.1.2. Polyurethane (PU)
7.1.1.3. Polyamide (PA)
7.1.1.4. Polyvinylchloride (PVC)
7.1.1.5. High Density Polyethylene (HDPE)
7.1.1.6. Acrylonitrile Butadiene Styrene (ABS)
7.1.1.7. Polycarbonate (PC)
7.1.1.8. Misc. (Including PBT, PMMA, PET, LDPE, etc.)
7.1.2. BPS Analysis/Market Attractiveness Analysis
7.2. Europe Automotive Plastics Market Outlook, by Application, Volume (Kilo Tons) and Value (US$ Mn), 2018 - 2026
7.2.1. Key Highlights
7.2.1.1. Interior
7.2.1.2. Exterior
7.2.1.3. Electronics and Light
7.2.1.4. Under the Hood
7.2.1.5. Misc. (Chassis, etc.)
7.2.2. BPS Analysis/Market Attractiveness Analysis
7.3. Europe Automotive Plastics Market Outlook, by Country, Volume (Kilo Tons) and Value (US$ Mn), 2018 - 2026
7.3.1. Key Highlights
7.3.1.1. Germany Automotive Plastics Market by Product, Volume (Kilo Tons) and Value (US$ Mn), 2018 - 2026
7.3.1.2. Germany Automotive Plastics Market by Application, Volume (Kilo Tons) and Value (US$ Mn), 2018 - 2026
7.3.1.3. U.K. Automotive Plastics Market by Product, Volume (Kilo Tons) and Value (US$ Mn), 2018 - 2026
7.3.1.4. U.K. Automotive Plastics Market by Application, Volume (Kilo Tons) and Value (US$ Mn), 2018 - 2026
7.3.1.5. France Automotive Plastics Market by Product, Volume (Kilo Tons) and Value (US$ Mn), 2018 - 2026
7.3.1.6. France Automotive Plastics Market by Application, Volume (Kilo Tons) and Value (US$ Mn), 2018 - 2026
7.3.1.7. Spain Automotive Plastics Market by Product, Volume (Kilo Tons) and Value (US$ Mn), 2018 - 2026
7.3.1.8. Spain Automotive Plastics Market by Application, Volume (Kilo Tons) and Value (US$ Mn), 2018 - 2026
7.3.1.9. Turkey Automotive Plastics Market by Product, Volume (Kilo Tons) and Value (US$ Mn), 2018 - 2026
7.3.1.10. Turkey Automotive Plastics Market by Application, Volume (Kilo Tons) and Value (US$ Mn), 2018 - 2026
7.3.1.11. Russia Automotive Plastics Market by Product, Volume (Kilo Tons) and Value (US$ Mn), 2018 - 2026
7.3.1.12. Russia Automotive Plastics Market by Application, Volume (Kilo Tons) and Value (US$ Mn), 2018 - 2026
7.3.1.13. Rest of Europe Automotive Plastics Market by Product, Volume (Kilo Tons) and Value (US$ Mn), 2018 - 2026
7.3.1.14. Rest of Europe Automotive Plastics Market by Application, Volume (Kilo Tons) and Value (US$ Mn), 2018 - 2026
7.3.2. BPS Analysis/Market Attractiveness Analysis

8. Asia Pacific Automotive Plastics Market Outlook, 2018 - 2026
8.1. Asia Pacific Automotive Plastics Market Outlook, by Product, Volume (Kilo Tons) and Value (US$ Mn), 2018 - 2026
8.1.1. Key Highlights
8.1.1.1. Polypropylene (PP)
8.1.1.2. Polyurethane (PU)
8.1.1.3. Polyamide (PA)
8.1.1.4. Polyvinylchloride (PVC)
8.1.1.5. High Density Polyethylene (HDPE)
8.1.1.6. Acrylonitrile Butadiene Styrene (ABS)
8.1.1.7. Polycarbonate (PC)
8.1.1.8. Misc. (Including PBT, PMMA, PET, LDPE, etc.)
8.1.2. BPS Analysis/Market Attractiveness Analysis
8.2. Asia Pacific Automotive Plastics Market Outlook, by Application, Volume (Kilo Tons) and Value (US$ Mn), 2018 - 2026
8.2.1. Key Highlights
8.2.1.1. Interior
8.2.1.2. Exterior
8.2.1.3. Electronics and Light
8.2.1.4. Under the Hood
8.2.1.5. Misc. (Chassis, etc.)
8.2.2. BPS Analysis/Market Attractiveness Analysis
8.3. Asia Pacific Automotive Plastics Market Outlook, by Country, Volume (Kilo Tons) and Value (US$ Mn), 2018 - 2026
8.3.1. Key Highlights
8.3.1.1. China Automotive Plastics Market by Product, Volume (Kilo Tons) and Value (US$ Mn), 2018 - 2026
8.3.1.2. China Automotive Plastics Market by Application, Volume (Kilo Tons) and Value (US$ Mn), 2018 - 2026
8.3.1.3. Japan Automotive Plastics Market by Product, Volume (Kilo Tons) and Value (US$ Mn), 2018 - 2026
8.3.1.4. Japan Automotive Plastics Market by Application, Volume (Kilo Tons) and Value (US$ Mn), 2018 - 2026
8.3.1.5. South Korea Automotive Plastics Market by Product, Volume (Kilo Tons) and Value (US$ Mn), 2018 - 2026
8.3.1.6. South Korea Automotive Plastics Market by Application, Volume (Kilo Tons) and Value (US$ Mn), 2018 - 2026
8.3.1.7. India Automotive Plastics Market by Product, Volume (Kilo Tons) and Value (US$ Mn), 2018 - 2026
8.3.1.8. India Automotive Plastics Market by Application, Volume (Kilo Tons) and Value (US$ Mn), 2018 - 2026
8.3.1.9. Southeast Asia Automotive Plastics Market by Product, Volume (Kilo Tons) and Value (US$ Mn), 2018 - 2026
8.3.1.10. Southeast Asia Automotive Plastics Market by Application, Volume (Kilo Tons) and Value (US$ Mn), 2018 - 2026
8.3.1.11. Rest of Asia Pacific Automotive Plastics Market by Product, Volume (Kilo Tons) and Value (US$ Mn), 2018 - 2026
8.3.1.12. Rest of Asia Pacific Automotive Plastics Market by Application, Volume (Kilo Tons) and Value (US$ Mn), 2018 - 2026
8.3.2. BPS Analysis/Market Attractiveness Analysis

9. Latin America Automotive Plastics Market Outlook, 2018 - 2026
9.1. Latin America Automotive Plastics Market Outlook, by Product, Volume (Kilo Tons) and Value (US$ Mn), 2018 - 2026
9.1.1. Key Highlights
9.1.1.1. Polypropylene (PP)
9.1.1.2. Polyurethane (PU)
9.1.1.3. Polyamide (PA)
9.1.1.4. Polyvinylchloride (PVC)
9.1.1.5. High Density Polyethylene (HDPE)
9.1.1.6. Acrylonitrile Butadiene Styrene (ABS)
9.1.1.7. Polycarbonate (PC)
9.1.1.8. Misc. (Including PBT, PMMA, PET, LDPE, etc.)
9.1.2. BPS Analysis/Market Attractiveness Analysis
9.2. Latin America Automotive Plastics Market Outlook, by Application, Volume (Kilo Tons) and Value (US$ Mn), 2018 - 2026
9.2.1. Key Highlights
9.2.1.1. Interior
9.2.1.2. Exterior
9.2.1.3. Electronics and Light
9.2.1.4. Under the Hood
9.2.1.5. Misc. (Chassis, etc.)
9.2.2. BPS Analysis/Market Attractiveness Analysis
9.3. Latin America Automotive Plastics Market Outlook, by Country, Volume (Kilo Tons) and Value (US$ Mn), 2018 - 2026
9.3.1. Key Highlights
9.3.1.1. Brazil Automotive Plastics Market by Product, Volume (Kilo Tons) and Value (US$ Mn), 2018 - 2026
9.3.1.2. Brazil Automotive Plastics Market by Application, Volume (Kilo Tons) and Value (US$ Mn), 2018 - 2026
9.3.1.3. Mexico Automotive Plastics Market by Product, Volume (Kilo Tons) and Value (US$ Mn), 2018 - 2026
9.3.1.4. Mexico Automotive Plastics Market by Application, Volume (Kilo Tons) and Value (US$ Mn), 2018 - 2026
9.3.1.5. Rest of Latin America Automotive Plastics Market by Product, Volume (Kilo Tons) and Value (US$ Mn), 2018 - 2026
9.3.1.6. Rest of Latin America Automotive Plastics Market by Application, Volume (Kilo Tons) and Value (US$ Mn), 2018 - 2026
9.3.2. BPS Analysis/Market Attractiveness Analysis

10. Middle East & Africa Automotive Plastics Market Outlook, 2018 - 2026
10.1. Middle East & Africa Automotive Plastics Market Outlook, by Product, Volume (Kilo Tons) and Value (US$ Mn), 2018 - 2026
10.1.1. Key Highlights
10.1.1.1. Polypropylene (PP)
10.1.1.2. Polyurethane (PU)
10.1.1.3. Polyamide (PA)
10.1.1.4. Polyvinylchloride (PVC)
10.1.1.5. High Density Polyethylene (HDPE)
10.1.1.6. Acrylonitrile Butadiene Styrene (ABS)
10.1.1.7. Polycarbonate (PC)
10.1.1.8. Misc. (Including PBT, PMMA, PET, LDPE, etc.)
10.1.2. BPS Analysis/Market Attractiveness Analysis
10.2. Middle East & Africa Automotive Plastics Market Outlook, by Application, Volume (Kilo Tons) and Value (US$ Mn), 2018 - 2026
10.2.1. Key Highlights
10.2.1.1. Interior
10.2.1.2. Exterior
10.2.1.3. Electronics and Light
10.2.1.4. Under the Hood
10.2.1.5. Misc. (Chassis, etc.)
10.2.2. BPS Analysis/Market Attractiveness Analysis
10.3. Middle East & Africa Automotive Plastics Market Outlook, by Country, Volume (Kilo Tons) and Value (US$ Mn), 2018 - 2026
10.3.1. Key Highlights
10.3.1.1. GCC Automotive Plastics Market by Product, Volume (Kilo Tons) and Value (US$ Mn), 2018 - 2026
10.3.1.2. GCC Automotive Plastics Market by Application, Volume (Kilo Tons) and Value (US$ Mn), 2018 - 2026
10.3.1.3. Iran Automotive Plastics Market by Product, Volume (Kilo Tons) and Value (US$ Mn), 2018 - 2026
10.3.1.4. Iran Automotive Plastics Market by Application, Volume (Kilo Tons) and Value (US$ Mn), 2018 - 2026
10.3.1.5. Rest of Middle East & Africa Automotive Plastics Market by Product, Volume (Kilo Tons) and Value (US$ Mn), 2018 - 2026
10.3.1.6. Rest of Middle East & Africa Automotive Plastics Market by Application, Volume (Kilo Tons) and Value (US$ Mn), 2018 - 2026
10.3.2. BPS Analysis/Market Attractiveness Analysis

11. Competitive Landscape
11.1. Product vs Application Heatmap
11.2. Automotive Plastics Market Structure
11.3. Company Market Share Analysis, 2020
11.4. Company Profiles
11.4.1. LyondellBasell Industries N.V.
11.4.1.1. Company Overview
11.4.1.2. Product Portfolio
11.4.1.3. Financial Overview
11.4.1.4. Business Strategies and Development
11.4.2. BASF SE
11.4.2.1. Company Overview
11.4.2.2. Product Portfolio
11.4.2.3. Financial Overview
11.4.2.4. Business Strategies and Development
11.4.3. SABIC
11.4.3.1. Company Overview
11.4.3.2. Product Portfolio
11.4.3.3. Financial Overview
11.4.3.4. Business Strategies and Development
11.4.4. Covestro AG
11.4.4.1. Company Overview
11.4.4.2. Product Portfolio
11.4.4.3. Financial Overview
11.4.4.4. Business Strategies and Development
11.4.5. Borealis AG
11.4.5.1. Company Overview
11.4.5.2. Product Portfolio
11.4.5.3. Production Capacities
11.4.5.4. Business Strategies and Development
11.4.6. LG Chem
11.4.6.1. Company Overview
11.4.6.2. Product Portfolio
11.4.6.3. Financial Overview
11.4.6.4. Business Strategies and Development
11.4.7. LANXESS AG
11.4.7.1. Company Overview
11.4.7.2. Product Portfolio
11.4.7.3. Production Capacities
11.4.7.4. Business Strategies and Development
11.4.8. Celanese Corporation
11.4.8.1. Company Overview
11.4.8.2. Product Portfolio
11.4.8.3. Production Capacities
11.4.8.4. Business Strategies and Development
11.4.9. INEOS
11.4.9.1. Company Overview
11.4.9.2. Product Portfolio
11.4.9.3. Production Capacities
11.4.9.4. Business Strategies and Development
11.4.10. Asahi Kasei Corporation
11.4.10.1. Company Overview
11.4.10.2. Product Portfolio
11.4.10.3. Production Capacities
11.4.10.4. Business Strategies and Development
11.4.11. Koninklijke DSM N.V.
11.4.11.1. Company Overview
11.4.11.2. Product Portfolio
11.4.11.3. Production Capacities
11.4.11.4. Business Strategies and Development


12. Appendix
12.1. Research Methodology
12.2. Report Assumptions
12.3. Acronyms and Abbreviations
BASE YEAR

HISTORICAL DATA

FORECAST PERIOD

UNITS

2020

2018 - 2020

2022 - 2026

Value: US$ Million

Volume: Kilo Tons
REPORT FEATURES

DETAILS

Product Coverage

Polypropylene (PP)

Polyurethane (PU)

Polyamide (PA)

Polyvinylchloride (PVC)

High Density Polyethylene (HDPE)

Acrylonitrile Butadiene Styrene (ABS)

Polycarbonate (PC)

Misc. (Including PBT, PMMA, PET, LDPE, etc.)

Application Coverage

Geographical Coverage

North America

Europe

Germany

France

U.K.

Spain

Turkey

Russia

Rest of Europe

Asia Pacific

China

Japan

South Korea

India

Southeast Asia

Rest of Asia Pacific

Latin America

Brazil

Mexico

Rest of Latin America

Middle East & Africa

Leading Companies

Report Highlights

Market Estimates and Forecast, Market Dynamics, Industry Trends, Competition Landscape, Product-, Application-, Region-, Country-wise Trends & Analysis, COVID-19 Impact Analysis (Demand and Supply Chain), Key Trends