Recycled Plastics Market Outlook
Recycled Plastics Market: A Solution to Tackle Waste Issues to Achieve Circular Economy for Plastics
Each year, more than 300 million tons of plastic is consumed worldwide with more than 50% of it meant for a single-use purpose. The ever-increasing ubiquity of plastics has not been without consequences. Majority of this single-use plastic (SUPs) ends up either in landfills, incinerators, or oceans. It is estimated that around 10-12 million tons of plastic is thrown into oceans every year, destroying as many as 1 million sea creatures. Ineffective management of plastics and the take-make-waste model has put an immense burden on ecosystems resulting in releasing harmful chemicals into the environment, thus polluting soil, underground water, and air. This repeatedly highlights the critical need to prioritize investments in global recycled plastics market.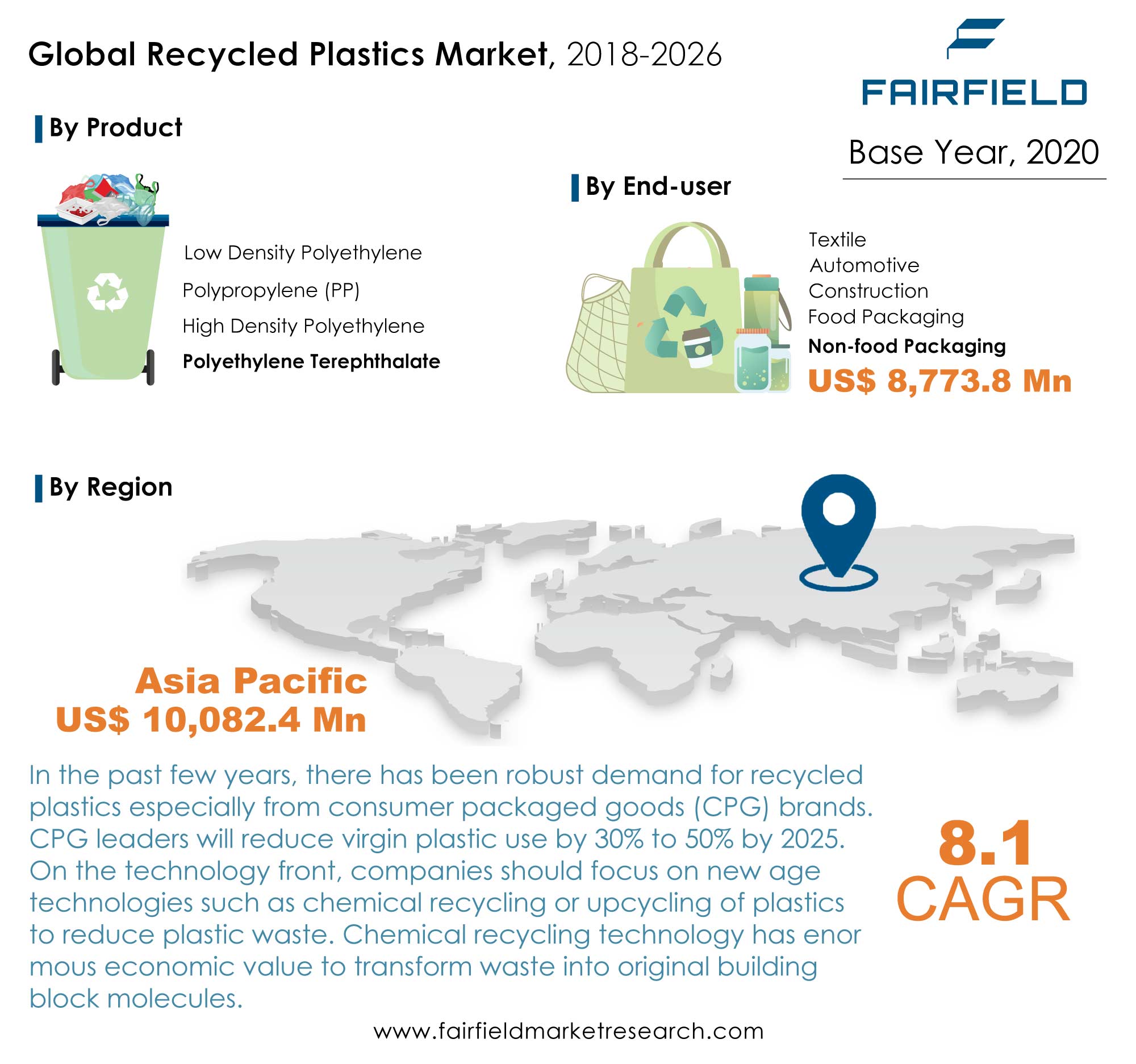 In recent times, the recycled plastics market has been on the rise with burgeoning demand from a variety range of end-users. Their cost-competitiveness against virgin counterparts in the past has finally helped to unlock its huge market potential worldwide. This commoditization of plastic waste streams seems to be an effective way to deal with plastic waste pollution and ultimately become a part of the system required to create a circular economy for plastics. With the help of plastic recycling, scrap or waste plastic can be recovered and reprocessed as a material for functional and useful products.
Polyethylene Terephthalate (PET), and High-density Polyethylene (HDPE) to Lead Recycled Plastics Market
The global recycled plastics market was valued at US$19.5 Bn in 2019 and is forecasted to reach US$30.2 Bn in 2026, registering a robust growth of 8.1% between 2022 and 2026. Consumer awareness is pushing brand companies and governments to restrict usage of single-use plastics in packaging applications. This has forced consumer packaged goods (CPGs) owners to incorporate a high level of recycled PET content in packaging. Recycled PET is largely sourced from post-consumer waste, the majority belonging to packaging items such as bottles and trays. Demand for recycled PET is anticipated to grow with a CAGR of 7.4% between 2022 and 2026 owing to the huge demand for sustainable packaging materials. The recycled plastics market has seen upsurge in demand from PET bottles and thermoformed containers, trays, and sheets. PET and HDPE together accounted for more than 3/4th of the total recycled plastics market in 2019.
Major consumer brands such as Coca-Cola, PepsiCo, Unilever, and Nestlé have pledged the integration of recycled plastics into their product packaging to achieve sustainable packaging goals. Sharp growth in demand from the packaging industry to prioritize environmental sustainability commitments and ensure long-term cost savings is expected to drive the market for recycled high-density polyethylene (HDPE) and polyethylene (PP). PP and PE waste for the recycled plastics market is largely sourced from post-industrial waste streams with a certain percentage from post-consumer waste as well. The production of engineered plastics recyclate such as ABS, nylon, and polystyrene is likely to grow with better collection & sorting systems along with advancements in recycling technologies.
Non-food Packaging to Remain the Largest Consumer Segment in Recycled Plastics Market
Annually, an estimated 170 million tons of plastic waste is generated by the packaging industry alone. The industry is accountable for creating an extraordinary amount of plastic waste. Non-food packaging accounted for more than 39% of the total recycled plastics market in 2019. Non-food packaging applications such as containers for pharmaceuticals, cleaning chemicals, automotive fluids, and personal care products. is anticipated to drive the demand for recycled plastics over the coming years. On the other hand, food packaging is forecast to be the fastest-growing application segment in the recycled plastics market. Many companies in this segment are focused on limiting the usage of virgin plastics in their product packaging. These companies are investing in creating circular economies for plastics, thus promoting food-grade recycled plastics. In value terms, the recycled plastics market in food packaging is forecasted to grow by 8.9% between 2022 and 2026.
In recent years, the construction sector too has been changing its perception towards the consumption of recycled plastics, paving the way to a more conscious decision. Recycled plastics can be incorporated into construction materials such as polymeric timbers. They can also be used for a wide range of applications such as flooring tiles, indoor insulation, carpeting, roofing tiles, fences, and bricks. These materials can be used in residential as well as commercial construction owing to their durability, lighter weight, and high strength in case mix-compound recycled plastics. This will largely bode well for the growth of recycled plastics market.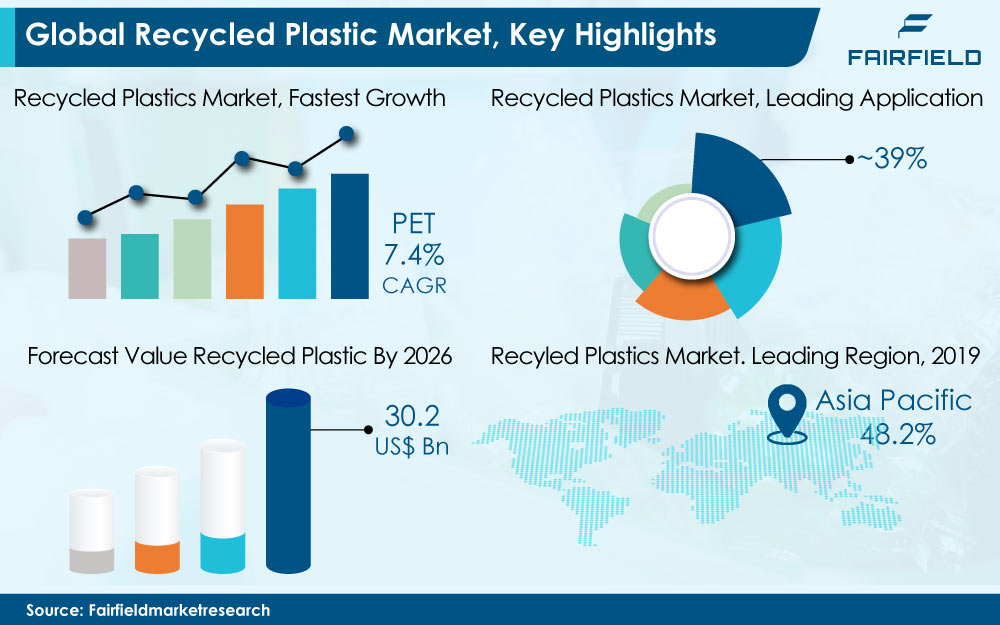 Supportive Government Policies, and Soaring Need of Resource Sustainability to Drive Recycled Plastics Market in Europe
In 2021, the EU introduced a new 'plastics tax', with each country contributing ~US$950/ton on nonrecycled plastic packaging waste. This scheme is expected to generate between US$7.2 Bn and US$9.7 Bn annually till 2027. This new tax policy is expected to boost the growth of recycled plastics market in the region. In the past few years, the EU has proposed various plans aiming towards a circular economy and a green deal. These policies are expected to improve the margins for recycled plastics companies in the region, significantly improving the recycling rates.
In 2019, Asia Pacific accounted for more than half of the recycled plastic demand. The region is also one of the largest consumers of virgin plastic. Governments in countries such as India, Southeast Asia, and China are emphasizing more on the consumption of recycled plastics intending to boost the domestic recycled plastics market. These governments are also aiming to improve the recycling rates and collection systems by offering economic incentives.
In the past, the U.S. used to ship much of its plastic waste to China for recycling. However, China's ban on plastic waste import through its 'National Sword' policy in 2018 has created major recycling opportunities for the entire region in the past couple of years. The U.S. will invest in collection and recycling capabilities to secure the supply of recycled plastics in the coming years. Industry association, sustainability targets of brand owners, and consumers awareness towards sustainable packaging solutions are driving factors behind the growth of recycled plastics market in the region.
Key Companies in Recycled Plastics Market Emphasize New Capacities
The recycled plastics market is highly fragmented with small and medium enterprises dominating the regional and domestic scenario. COVID-19 pandemic has badly impacted the profit margins of companies operating in the recycled plastics market, with packaging companies opting for virgin plastics as prices of crude oil hitting an all-time low in the H2 of 2020. However, there has been ample encouragement in the recycled plastics market with various companies setting goals for a circular economy and adding new production capacities to meet their sustainability targets. A Few of the major players operating in the recycled plastics market include Indorama Ventures Public Company Limited, Borealis AG, ALPLA Group, LyondellBasell Industries N.V., and KW Plastics.
Prominent companies in global recycled plastics market are also focusing on establishing vertically integrated systems to ensure a consistent flow of feedstock. JEPLAN, a Japan-based depolymerization technology company, developed the BRING™ system, enabling the company to collect large quantities of discarded clothing, including polyester waste. This waste can be fed into their molecular recycling technology process. This helped the company to have better control over feedstock flow during turbulent times.
The Global Recycled Plastics Market is Segmented as Below:
Product Coverage
PET
HDPE
PP
LDPE
Misc. (PVC, PS, PUR, etc.)
Application Coverage
Food Packaging
Non-food Packaging
Construction
Automotive
Textile
Misc. (Electronics, Agriculture, etc.)
Geographical Coverage
North America
Europe

Germany
France
UK
Italy
Spain
Russia
Rest of Europe

Asia Pacific

China
Japan
South Korea
India
Southeast Asia
Rest of Asia Pacific

Latin America

Brazil
Mexico
Rest of Latin America

Middle East & Africa

GCC
South Africa
Rest of Middle East & Africa
Leading Companies
Indorama Ventures Public Company Limited
Covestro AG
Borealis AG
LyondellBasell Industries N.V.
Phoenix Technologies International, LLC
UltrePET, LLC.
Extrupet Group (Pty) Ltd
KW Plastics
Envision Plastics
ALPLA Group
Inside This Report You Will Find:
1. Executive Summary
2. Market Overview
3. Production Output and Trade Statistics
4. Price Trends Analysis and Future Projects, 2018 - 2026
5. Global Recycled Plastics Market Outlook, 2018 - 2026
6. North America Recycled Plastics Market Outlook, 2018 - 2026
7. Europe Recycled Plastics Market Outlook, 2018 - 2026
8. Asia Pacific Recycled Plastics Market Outlook, 2018 - 2026
9. Latin America Recycled Plastics Market Outlook, 2018 - 2026
10. Middle East & Africa Recycled Plastics Market Outlook, 2018 - 2026
11. Competitive Landscape
12. Appendix
Post Sale Support, Research Updates & Offerings:
We value the trust shown by our customers in Fairfield Market Research. We support our clients through our post sale support, research updates and offerings.
The report will be prepared in a PPT format and will be delivered in a PDF format.
Additionally, Market Estimation and Forecast numbers will be shared in Excel Workbook.
If a report being sold was published over a year ago, we will offer a complimentary copy of the updated research report along with Market Estimation and Forecast numbers within 2-3 weeks' time of the sale.
If we update this research study within the next 2 quarters, post purchase of the report, we will offer a Complimentary copy of the updated Market Estimation and Forecast numbers in Excel Workbook.
If there is a geopolitical conflict, pandemic, recession, and the like which can impact global economic scenario and business activity, which might entirely alter the market dynamics or future projections in the industry, we will create a Research Update upon your request at a nominal charge.
1. Executive Summary
1.1. Global Recycled Plastics Market Snapshot
1.2. Future Projections
1.3. Key Market Trends
1.4. Analyst Recommendations

2. Market Overview
2.1. Market Definitions and Segmentations
2.2. Market Dynamics
2.2.1. Drivers
2.2.2. Restraints
2.2.3. Market Opportunities
2.3. Value Chain Analysis
2.4. Porter's Five Forces Analysis
2.5. Covid-19 Impact Analysis
2.5.1. Supply
2.5.2. Demand
2.6. Economic Overview

3. Production Output and Trade Statistics

4. Price Trends Analysis and Future Projects, 2018-2026
4.1. Price Trends Analysis and Future Projects, 2018-2026
4.2. Global Average Price Analysis, by Product vs Application, US$ per Kg

5. Global Recycled Plastics Market Outlook, 2018-2026
5.1. Global Recycled Plastics Market Outlook, by Product, Volume (Kilo Tons) and Value (US$ Mn), 2018-2026
5.1.1. Key Highlights
5.1.1.1. PET
5.1.1.2. HDPE
5.1.1.3. PP
5.1.1.4. LDPE
5.1.1.5. Misc. (PVC, PS, etc.)
5.2. Global Recycled Plastics Market Outlook, by Application, Volume (Kilo Tons) and Value (US$ Mn), 2018-2026
5.2.1. Key Highlights
5.2.1.1. Food Packaging
5.2.1.2. Non-food Packaging
5.2.1.3. Construction
5.2.1.4. Automotive
5.2.1.5. Textile
5.2.1.6. Misc. (Electronics, Agriculture, etc.)
5.3. Global Recycled Plastics Market Outlook, by Region, Volume (Kilo Tons) and Value (US$ Mn), 2018-2026
5.3.1. Key Highlights
5.3.1.1. North America
5.3.1.2. Europe
5.3.1.3. Asia Pacific
5.3.1.4. Latin America
5.3.1.5. Middle East & Africa

6. North America Recycled Plastics Market Outlook, 2018-2026
6.1. North America Recycled Plastics Market Outlook, by Product, Volume (Kilo Tons) and Value (US$ Mn), 2018-2026
6.1.1. Key Highlights
6.1.1.1. PET
6.1.1.2. HDPE
6.1.1.3. PP
6.1.1.4. LDPE
6.1.1.5. Misc. (PVC, PS, etc.)
6.1.2. BPS Analysis/Market Attractiveness Analysis
6.2. North America Recycled Plastics Market Outlook, by Application, Volume (Kilo Tons) and Value (US$ Mn), 2018-2026
6.2.1. Key Highlights
6.2.1.1. Food Packaging
6.2.1.2. Non-food Packaging
6.2.1.3. Construction
6.2.1.4. Automotive
6.2.1.5. Textile
6.2.1.6. Misc. (Electronics, Agriculture, etc.)
6.2.2. BPS Analysis/Market Attractiveness Analysis
6.3. North America Recycled Plastics Market Outlook, by Country, Volume (Kilo Tons) and Value (US$ Mn), 2018-2026
6.3.1. Key Highlights
6.3.1.1. U.S. Recycled Plastics Market by Product, Volume (Kilo Tons) and Value (US$ Mn), 2018-2026
6.3.1.2. U.S. Recycled Plastics Market by Application, Volume (Kilo Tons) and Value (US$ Mn), 2018-2026
6.3.1.3. Canada Recycled Plastics Market by Product, Volume (Kilo Tons) and Value (US$ Mn), 2018-2026
6.3.1.4. Canada Recycled Plastics Market by Application, Volume (Kilo Tons) and Value (US$ Mn), 2018-2026
6.3.2. BPS Analysis/Market Attractiveness Analysis

7. Europe Recycled Plastics Market Outlook, 2018-2026
7.1. Europe Recycled Plastics Market Outlook, by Product, Volume (Kilo Tons) and Value (US$ Mn), 2018-2026
7.1.1. Key Highlights
7.1.1.1. PET
7.1.1.2. HDPE
7.1.1.3. PP
7.1.1.4. LDPE
7.1.1.5. Misc. (PVC, PS, etc.)
7.1.2. BPS Analysis/Market Attractiveness Analysis
7.2. Europe Recycled Plastics Market Outlook, by Application, Volume (Kilo Tons) and Value (US$ Mn), 2018-2026
7.2.1. Key Highlights
7.2.1.1. Food Packaging
7.2.1.2. Non-food Packaging
7.2.1.3. Construction
7.2.1.4. Automotive
7.2.1.5. Textile
7.2.1.6. Misc. (Electronics, Agriculture, etc.)
7.2.2. BPS Analysis/Market Attractiveness Analysis
7.3. Europe Recycled Plastics Market Outlook, by Country, Volume (Kilo Tons) and Value (US$ Mn), 2018-2026
7.3.1. Key Highlights
7.3.1.1. Germany Recycled Plastics Market by Product, Volume (Kilo Tons) and Value (US$ Mn), 2018-2026
7.3.1.2. Germany Recycled Plastics Market by Application, Volume (Kilo Tons) and Value (US$ Mn), 2018-2026
7.3.1.3. U.K. Recycled Plastics Market by Product, Volume (Kilo Tons) and Value (US$ Mn), 2018-2026
7.3.1.4. U.K. Recycled Plastics Market by Application, Volume (Kilo Tons) and Value (US$ Mn), 2018-2026
7.3.1.5. France Recycled Plastics Market by Product, Volume (Kilo Tons) and Value (US$ Mn), 2018-2026
7.3.1.6. France Recycled Plastics Market by Application, Volume (Kilo Tons) and Value (US$ Mn), 2018-2026
7.3.1.7. Italy Recycled Plastics Market by Product, Volume (Kilo Tons) and Value (US$ Mn), 2018-2026
7.3.1.8. Italy Recycled Plastics Market by Application, Volume (Kilo Tons) and Value (US$ Mn), 2018-2026
7.3.1.9. Spain Recycled Plastics Market by Product, Volume (Kilo Tons) and Value (US$ Mn), 2018-2026
7.3.1.10. Spain Recycled Plastics Market by Application, Volume (Kilo Tons) and Value (US$ Mn), 2018-2026
7.3.1.11. Russia Recycled Plastics Market by Product, Volume (Kilo Tons) and Value (US$ Mn), 2018-2026
7.3.1.12. Russia Recycled Plastics Market by Application, Volume (Kilo Tons) and Value (US$ Mn), 2018-2026
7.3.1.13. Rest of Europe Recycled Plastics Market by Product, Volume (Kilo Tons) and Value (US$ Mn), 2018-2026
7.3.1.14. Rest of Europe Recycled Plastics Market by Application, Volume (Kilo Tons) and Value (US$ Mn), 2018-2026
7.3.2. BPS Analysis/Market Attractiveness Analysis

8. Asia Pacific Recycled Plastics Market Outlook, 2018-2026
8.1. Asia Pacific Recycled Plastics Market Outlook, by Product, Volume (Kilo Tons) and Value (US$ Mn), 2018-2026
8.1.1. Key Highlights
8.1.1.1. PET
8.1.1.2. HDPE
8.1.1.3. PP
8.1.1.4. LDPE
8.1.1.5. Misc. (PVC, PS, etc.)
8.1.2. BPS Analysis/Market Attractiveness Analysis
8.2. Asia Pacific Recycled Plastics Market Outlook, by Application, Volume (Kilo Tons) and Value (US$ Mn), 2018-2026
8.2.1. Key Highlights
8.2.1.1. Food Packaging
8.2.1.2. Non-food Packaging
8.2.1.3. Construction
8.2.1.4. Automotive
8.2.1.5. Textile
8.2.1.6. Misc. (Electronics, Agriculture, etc.)
8.2.2. BPS Analysis/Market Attractiveness Analysis
8.3. Asia Pacific Recycled Plastics Market Outlook, by Country, Volume (Kilo Tons) and Value (US$ Mn), 2018-2026
8.3.1. Key Highlights
8.3.1.1. China Recycled Plastics Market by Product, Volume (Kilo Tons) and Value (US$ Mn), 2018-2026
8.3.1.2. China Recycled Plastics Market by Application, Volume (Kilo Tons) and Value (US$ Mn), 2018-2026
8.3.1.3. Japan Recycled Plastics Market by Product, Volume (Kilo Tons) and Value (US$ Mn), 2018-2026
8.3.1.4. Japan Recycled Plastics Market by Application, Volume (Kilo Tons) and Value (US$ Mn), 2018-2026
8.3.1.5. South Korea Recycled Plastics Market by Product, Volume (Kilo Tons) and Value (US$ Mn), 2018-2026
8.3.1.6. South Korea Recycled Plastics Market by Application, Volume (Kilo Tons) and Value (US$ Mn), 2018-2026
8.3.1.7. India Recycled Plastics Market by Product, Volume (Kilo Tons) and Value (US$ Mn), 2018-2026
8.3.1.8. India Recycled Plastics Market by Application, Volume (Kilo Tons) and Value (US$ Mn), 2018-2026
8.3.1.9. Southeast Asia Recycled Plastics Market by Product, Volume (Kilo Tons) and Value (US$ Mn), 2018-2026
8.3.1.10. Southeast Asia Recycled Plastics Market by Application, Volume (Kilo Tons) and Value (US$ Mn), 2018-2026
8.3.1.11. Rest of Asia Pacific Recycled Plastics Market by Product, Volume (Kilo Tons) and Value (US$ Mn), 2018-2026
8.3.1.12. Rest of Asia Pacific Recycled Plastics Market by Application, Volume (Kilo Tons) and Value (US$ Mn), 2018-2026
8.3.2. BPS Analysis/Market Attractiveness Analysis

9. Latin America Recycled Plastics Market Outlook, 2018-2026
9.1. Latin America Recycled Plastics Market Outlook, by Product, Volume (Kilo Tons) and Value (US$ Mn), 2018-2026
9.1.1. Key Highlights
9.1.1.1. PET
9.1.1.2. HDPE
9.1.1.3. PP
9.1.1.4. LDPE
9.1.1.5. Misc. (PVC, PS, etc.)
9.1.2. BPS Analysis/Market Attractiveness Analysis
9.2. Latin America Recycled Plastics Market Outlook, by Application, Volume (Kilo Tons) and Value (US$ Mn), 2018-2026
9.2.1. Key Highlights
9.2.1.1. Food Packaging
9.2.1.2. Non-food Packaging
9.2.1.3. Construction
9.2.1.4. Automotive
9.2.1.5. Textile
9.2.1.6. Misc. (Electronics, Agriculture, etc.)
9.2.2. BPS Analysis/Market Attractiveness Analysis
9.3. Latin America Recycled Plastics Market Outlook, by Country, Volume (Kilo Tons) and Value (US$ Mn), 2018-2026
9.3.1. Key Highlights
9.3.1.1. Brazil Recycled Plastics Market by Product, Volume (Kilo Tons) and Value (US$ Mn), 2018-2026
9.3.1.2. Brazil Recycled Plastics Market by Application, Volume (Kilo Tons) and Value (US$ Mn), 2018-2026
9.3.1.3. Mexico Recycled Plastics Market by Product, Volume (Kilo Tons) and Value (US$ Mn), 2018-2026
9.3.1.4. Mexico Recycled Plastics Market by Application, Volume (Kilo Tons) and Value (US$ Mn), 2018-2026
9.3.1.5. Rest of Latin America Recycled Plastics Market by Product, Volume (Kilo Tons) and Value (US$ Mn), 2018-2026
9.3.1.6. Rest of Latin America Recycled Plastics Market by Application, Volume (Kilo Tons) and Value (US$ Mn), 2018-2026
9.3.2. BPS Analysis/Market Attractiveness Analysis

10. Middle East & Africa Recycled Plastics Market Outlook, 2018-2026
10.1. Middle East & Africa Recycled Plastics Market Outlook, by Product, Volume (Kilo Tons) and Value (US$ Mn), 2018-2026
10.1.1. Key Highlights
10.1.1.1. PET
10.1.1.2. HDPE
10.1.1.3. PP
10.1.1.4. LDPE
10.1.1.5. Misc. (PVC, PS, etc.)
10.1.2. BPS Analysis/Market Attractiveness Analysis
10.2. Middle East & Africa Recycled Plastics Market Outlook, by Application, Volume (Kilo Tons) and Value (US$ Mn), 2018-2026
10.2.1. Key Highlights
10.2.1.1. Food Packaging
10.2.1.2. Non-food Packaging
10.2.1.3. Construction
10.2.1.4. Automotive
10.2.1.5. Textile
10.2.1.6. Misc. (Electronics, Agriculture, etc.)
10.2.2. BPS Analysis/Market Attractiveness Analysis
10.3. Middle East & Africa Recycled Plastics Market Outlook, by Country, Volume (Kilo Tons) and Value (US$ Mn), 2018-2026
10.3.1. Key Highlights
10.3.1.1. GCC Recycled Plastics Market by Product, Volume (Kilo Tons) and Value (US$ Mn), 2018-2026
10.3.1.2. GCC Recycled Plastics Market by Application, Volume (Kilo Tons) and Value (US$ Mn), 2018-2026
10.3.1.3. South Africa Recycled Plastics Market by Product, Volume (Kilo Tons) and Value (US$ Mn), 2018-2026
10.3.1.4. South Africa Recycled Plastics Market by Application, Volume (Kilo Tons) and Value (US$ Mn), 2018-2026
10.3.1.5. Rest of Middle East & Africa Recycled Plastics Market by Product, Volume (Kilo Tons) and Value (US$ Mn), 2018-2026
10.3.1.6. Rest of Middle East & Africa Recycled Plastics Market by Application, Volume (Kilo Tons) and Value (US$ Mn), 2018-2026
10.3.2. BPS Analysis/Market Attractiveness Analysis

11. Competitive Landscape
11.1. Product vs Application Heatmap
11.2. Recycled Plastics Market Structure
11.3. Company Market Share Analysis, 2019
11.4. Technological Developments
11.5. Company Profiles
11.5.1. Indorama Ventures Public Company Limited
11.5.1.1. Company Overview
11.5.1.2. Product Portfolio
11.5.1.3. Financial Overview
11.5.1.4. Business Strategies and Development
11.5.2. Covestro AG
11.5.2.1. Company Overview
11.5.2.2. Product Portfolio
11.5.2.3. Financial Overview
11.5.2.4. Business Strategies and Development
11.5.3. Borealis AG
11.5.3.1. Company Overview
11.5.3.2. Product Portfolio
11.5.3.3. Financial Overview
11.5.3.4. Business Strategies and Development
11.5.4. LyondellBasell Industries N.V.
11.5.4.1. Company Overview
11.5.4.2. Product Portfolio
11.5.4.3. Financial Overview
11.5.4.4. Business Strategies and Development
11.5.5. Phoenix Technologies International, LLC
11.5.5.1. Company Overview
11.5.5.2. Product Portfolio
11.5.5.3. Production Capacities
11.5.5.4. Business Strategies and Development
11.5.6. UltrePET, LLC
11.5.6.1. Company Overview
11.5.6.2. Product Portfolio
11.5.6.3. Financial Overview
11.5.6.4. Business Strategies and Development
11.5.7. Extrupet Group (Pty) Ltd
11.5.7.1. Company Overview
11.5.7.2. Product Portfolio
11.5.7.3. Production Capacities
11.5.7.4. Business Strategies and Development
11.5.8. KW Plastics
11.5.8.1. Company Overview
11.5.8.2. Product Portfolio
11.5.8.3. Production Capacities
11.5.8.4. Business Strategies and Development
11.5.9. Envision Plastics
11.5.9.1. Company Overview
11.5.9.2. Product Portfolio
11.5.9.3. Production Capacities
11.5.9.4. Business Strategies and Development
11.5.10. ALPLA Group
11.5.10.1. Company Overview
11.5.10.2. Product Portfolio
11.5.10.3. Production Capacities
11.5.10.4. Business Strategies and Development

12. Appendix
12.1. Research Methodology
12.2. Report Assumptions
12.3. Acronyms and Abbreviations