The global biosensors for point-of-care diagnostics market will grow at a significant rate of 8.5% CAGR between 2023 and 2030, reaching a market value of roughly US$22.12 Bn by the end of 2030.
Market Analysis in Brief
The global demand, manufacturing, and sales of biosensor products specially created for use in point-of-care (POC) settings is collectively referred to as the biosensors for point-of-care diagnostics market. Various biosensors, including glucose sensors for managing diabetes, pregnancy test strips, infectious illness detection tools, cardiac indicators, and other specialised biosensors that facilitate quick and precise diagnosis are widely available on the market. The growing need for early disease detection, the rising prevalence of chronic diseases, growing inclination toward personalised medication, and the aim to increase healthcare accessibility and cost-effectiveness are some of the key growth indicators for biosensors in POC diagnostics.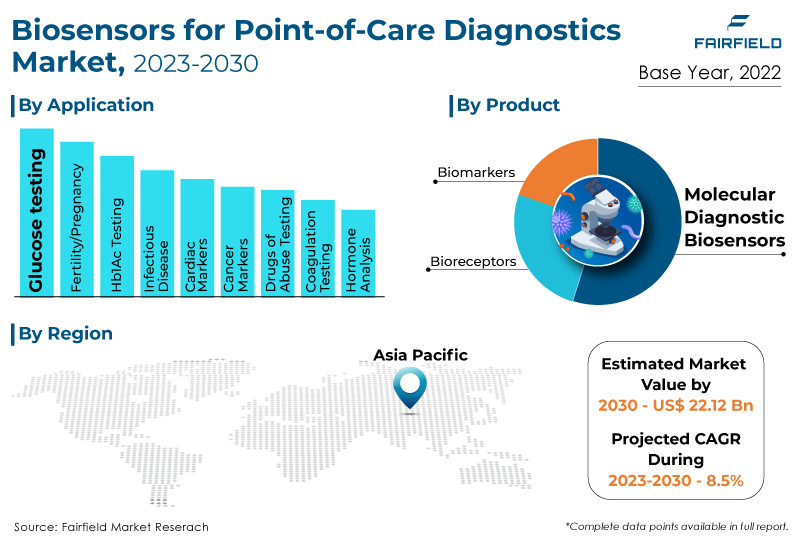 Key Report Findings
The global biosensors for point-of-care diagnostics market will expand at a significant rate of 8.5% CAGR between 2023 and 2030.
The demand for biosensors for point-of-care diagnostics is rising due to the growing prevalence of chronic diseases.
Demand for molecular diagnostic biosensors remains higher in the biosensors for point-of-care diagnostics market.
The glucose testing category held the highest biosensors for point-of-care diagnostics market revenue share in 2022.
Asia Pacific will continue to lead its way, whereas North America biosensors for point-of-care diagnostics market will experience the strongest growth till 2030.
Growth Drivers
Growing Prevalence of Chronic Diseases
The market for biosensors for point-of-care diagnostics is significantly driven by the rising prevalence of chronic diseases. Diabetes, cardiovascular conditions like hypertension, respiratory conditions like asthma, and specific cancer stages are a few examples of chronic diseases. To control their progression and treatment, chronic diseases need continuous monitoring and supervision. Biosensors is becoming an effective technique to track different biomarkers linked to chronic illnesses, to deliver quick and real-time findings. The need for ongoing monitoring drives the use of biosensors in POC diagnostics.
Rise in chronic diseases has sparked a move towards personalised medicines tailored as per patient characteristics. Healthcare professionals can choose a personalised course of treatment and modify medicines as necessary due to the real-time data on biomarkers provided by biosensors. Companies engaged in researching and producing biosensors for POC diagnostics have a sizable market opportunity due to the rising prevalence of chronic diseases worldwide. As a result, there have been more investments made in the area of research and innovation.
Increased Healthcare Access and Affordability
The usage of biosensors for POC diagnostics is mostly influenced by improved access to healthcare services and affordable diagnostic options. POC diagnostics, with biosensors, can be used in remote or resource-constrained locations with limited access to centralised laboratories or medical facilities. These tools enable medical personnel to conduct tests on patients on-site, expanding access to healthcare and providing crucial diagnostic services to underprivileged communities.
The benefit of POC diagnostics using biosensors is that there is no need for several visits or protracted test results waiting periods. This ease not only increases patient happiness but also makes sure that healthcare professionals make decisions on time. The lower cost of biosensors enables patients to make health investments and start using self-monitoring techniques. Biosensor-based home healthcare enables patients to regularly monitor their health conditions, enabling the early identification of possible problems and better disease management.
Market Challenges
Competing Diagnostic Technologies
The growth of the market for biosensors for point-of-care diagnostics may be restrained by rival diagnostic technologies. There are other point-of-care diagnostics options apart from biosensors, and these alternatives are known to compete with existing diagnostic technologies. Numerous conventional point-of-care diagnostic techniques are well-established in healthcare systems and have been in use for a long time. It may be difficult for biosensors to replace certain techniques, such as lateral flow assays, immunoassays, and molecular diagnostics, because they may be embedded strongly in clinical procedures.
Some competing technologies might be less expensive or might not need a lot of infrastructure changes to be implemented. If healthcare facilities already have functional systems employing alternative diagnostic techniques in place, they could be reluctant to invest in biosensors. The ability to identify numerous analytes or pathogens in a single test is a feature that certain competing technologies offer, which might be useful in some diagnostic situations. The deployment of biosensors in some applications may be hampered by their relatively constrained test menu.
Market Opportunities
Under-resourced, Underserved Areas Hold Untapped Opportunity
Biosensor development and manufacturing can be costly, especially when using cutting-edge technology and premium materials. Because of their higher prices, they may not be as affordable as they may be, especially in environments with few resources where affordable diagnostic options are essential. POC diagnostics can offer vital medical services to remote or under-resourced locations with little access to lab infrastructure. Biosensors have an opportunity to increase diagnostic capabilities for underserved populations, particularly those built for mobility and ease of use.
Overview of Key Segments
Molecular Diagnostic Biosensors Dominant Product Segment
The molecular diagnostic biosensors segment will dominate the global biosensors for point-of-care diagnostics market over the forecast period. These biosensors identify and measure particularly nucleic acids, proteins, or other substances at the molecular level and provide precise results in less time.
The quick identification of infectious disorders brought on by viruses, bacteria, and other pathogens is made possible by the widespread use of molecular diagnostic biosensors. These biosensors can recognize specific genetic material (DNA or RNA) that is particular to the infections, enabling early diagnosis and prompt implementation of effective treatments. Examples are COVID-19, influenza, HIV, hepatitis, and tuberculosis biosensors.
Specific biomarkers connected to cancer types can be found using molecular diagnostic biosensors. These biosensors help in the early detection of cancer, evaluate the effectiveness of treatment, and determine the course of the disease by identifying proteins or genetic alterations linked to the disease.
Demand for Glucose Testing Continues to Heighten
The Glucose Testing segment is expected to be the fastest-growing segment of the biosensors for the point-of-care diagnostics market. Diabetes is a chronic disorder marked by high blood sugar levels. Biosensors for point-of-care diagnostics have revolutionised glucose testing and are essential to managing the condition. In glucose testing, glucose biosensors are frequently used to track blood sugar levels. This data is essential for managing diabetes. Blood glucose meters and continuous glucose monitoring (CGM) systems are two examples of diabetes monitoring devices that incorporate glucose biosensors. These tools make it comfortable and frequent for diabetic patients to assess their blood glucose levels, giving them the desired information for making prudent choices about their food, medications, and physical activity.
The development of non-invasive glucose biosensors that can test blood sugar levels without requiring a fingerstick is still under investigation. These systems may use methods like transdermal sensing, optical sensors, or saliva-based testing to deliver glucose readings without extracting blood. Personalised diabetes management is made possible by glucose biosensors, which give patients and healthcare professionals access to real-time information on glucose changes. This information aids people in altering their lifestyles, adjusting medication dosages, and lowering their risk of hypoglycemia or hyperglycemia.
Growth Opportunities Across Regions
Asia Pacific Represents the Largest Regional Market
During the forecast period, Asia Pacific is expected to dominate the biosensors for the point-of-care diagnostics market. The adoption of cutting-edge medical technologies, such as biosensors, has been aggressively promoted in many Asia Pacific nations. Government initiatives, financing, and encouraging legislation have significantly aided the development of the biosensors industry for point-of-care diagnostics.
Wearable biosensors for point-of-care diagnostics have become increasingly popular in the Asia Pacific region. These wearable devices like smartwatches and fitness bands, incorporate biosensor technology to continuously monitor vital signs and other health factors, giving consumers insightful data about their health.
In China, using biosensors for home-based point-of-care diagnostics has become more common. The industry is showcasing expansion because of factors including the accessibility and convenience of doing tests at home as well as the capability of remotely sharing data with medical specialists.
North American Market Set for Fastest Growth
The market for biosensors for point-of-care diagnostics across North America will display a significant CAGR during the forecast period. Telemedicine and virtual care have grown extensively in North America, creating opportunities for biosensors to be integrated into telemedicine platforms. Transparent data exchange between telemedicine providers and biosensors can improve virtual consultations and facilitate quick decision-making.
Rapid and precise point-of-care testing is becoming increasingly necessary in non-traditional healthcare settings like pharmacies, schools, workplaces, and community clinics in North America. By delivering immediate diagnosis in certain circumstances, biosensors can provide useful solutions.
In the United States, mobile health platforms are increasingly integrating biosensors. Due to the seamless data transfer and analysis made possible by this integration, both patients and healthcare professionals are now better equipped to keep track of their health problems and effectively treat chronic diseases.
Biosensors for Point-of-Care Diagnostics Market: Competitive Landscape
Some of the leading players at the forefront in the biosensors for point-of-care diagnostics include Danaher Corporation, Bio-Rad Laboratories Inc., Zimmer & Peacock AS, Medtronic plc, Koninklijke Philips N.V., Abbott Laboratories, Biosensors International Group, Ltd., DuPont, Johnson & Johnson, LifeScan, Inc., QTL Biodetection LLC, Nova Biomedical, Roche, and Siemens Healthineers AG.
Recent Notable Developments
In November 2022, The Ministry of Food and Drug Safety (MFDS) granted Boditech Med Inc. authorisation to utilize the Boditech Quick COVID-19 Ag Saliva test domestically. Quick COVID-19 Ag Saliva is an enhanced COVID-19 Ag at-home test that uses saliva to collect data in 15 minutes and detects all COVID-19 viral types, including the Omicron form.
In October 2022, SARS-CoV-2 Rapid Antibody Test 2.0 for point-of-care settings was released, according to F. Hoffmann-La Roche Ltd. The test has a sensitivity of 95.83%.
In September 2022, Sansure Biotech, an IVD solution supplier, and QuantuMDx Group Ltd., a U.K.-based medical technology business, announced a partnership. The partnership aims to hasten the Q-POC platform's and related assays' commercialisation in China.
In January 2021, Roche and Sysmex signed a Global Business Partnership Agreement (GBP) to provide hematology diagnostic solutions. In line with the new agreement, clinical decision-making and customer experience will be enhanced with the use of IT technologies. The successful, long-standing relationship keeps developing and introducing new hematology diagnostic techniques to labs worldwide.
The Global Biosensors for Point-of-Care Diagnostics Market is Segmented as Below:
By Product
Biomarkers
Bioreceptors
Molecular Diagnostic Biosensors
By Transducer
Thermal
Piezoelectric
Electrochemical
Optical
By Application
Fertility/Pregnancy
Glucose Testing
Hb1Ac Testing
Infectious Disease
Cardiac Markers
Cancer Markers
Drugs of Abuse Testing
Coagulation Testing
Hormone Analysis
Others
By End User
Clinics
Hospitals
Home Care Service Providers
Assisted Living Healthcare Centres
Research Laboratory
By Geographic Coverage
North America
Europe

United Kingdom
Germany
France
Italy
Russia
Rest of Europe

Asia Pacific

Japan
China
South Korea
India
Southeast Asia
Rest of Asia Pacific

Latin America

Brazil
Mexico
Rest of Latin America

Middle East and Africa

GCC
South Africa
Rest of Middle East and Africa
Leading Companies
Bio-Rad Laboratories Inc.
Zimmer & Peacock AS
Medtronic plc
Koninklijke Philips N.V.
Universal Biosensors, Inc.
Biosensors International Group, Ltd.
Johnson & Johnson
Masimo Corporation
QTL Biodetection LLC
Nova Biomedical
Innovative Sensor Technology IST AG
Hoffmann-La Roche Ltd.
1. Executive Summary
1.1. Global Biosensors for Point-of-Care Diagnostics Market Snapshot
1.2. Future Projections
1.3. Key Market Trends
1.4. Regional Snapshot, by Value, 2022
1.5. Analyst Recommendations

2. Market Overview
2.1. Market Definitions and Segmentations
2.2. Market Dynamics
2.2.1. Drivers
2.2.2. Restraints
2.2.3. Market Opportunities
2.3. Value Chain Analysis
2.4. Porter's Five Forces Analysis
2.5. Covid-19 Impact Analysis
2.5.1. Supply
2.5.2. Demand
2.6. Impact of Ukraine-Russia Conflict
2.7. Economic Overview
2.7.1. World Economic Projections
2.8. PESTLE Analysis

3. Global Biosensors for Point-of-Care Diagnostics Market Outlook, 2018 - 2030
3.1. Global Biosensors for Point-of-Care Diagnostics Market Outlook, by Product, Value (US$ Bn), 2018 - 2030
3.1.1. Key Highlights
3.1.1.1. Biomarkers
3.1.1.2. Bioreceptors
3.1.1.3. Molecular Diagnostic Biosensors
3.2. Global Biosensors for Point-of-Care Diagnostics Market Outlook, by Transducer, Value (US$ Bn), 2018 - 2030
3.2.1. Key Highlights
3.2.1.1. Thermal
3.2.1.2. Piezoelectric
3.2.1.3. Electrochemical
3.2.1.4. Optical
3.2.1.5. Other
3.3. Global Biosensors for Point-of-Care Diagnostics Market Outlook, by Application, Value (US$ Bn), 2018 - 2030
3.3.1. Key Highlights
3.3.1.1. Fertility and Pregnancy
3.3.1.2. Glucose Testing
3.3.1.3. Hb1Ac Testing
3.3.1.4. Infectious Disease
3.3.1.5. Cardiac Markers
3.3.1.6. Cancer Markers
3.3.1.7. Drug-of-Abuse Testing
3.3.1.8. Coagulation Testing
3.3.1.9. Hormone Analysis
3.3.1.10. Others
3.4. Global Biosensors for Point-of-Care Diagnostics Market Outlook, by End User, Value (US$ Bn), 2018 - 2030
3.4.1. Key Highlights
3.4.1.1. Clinics
3.4.1.2. Hospitals
3.4.1.3. Home Care Service Providers
3.4.1.4. Assisted Living Healthcare Centers
3.4.1.5. Research Laboratory
3.5. Global Biosensors for Point-of-Care Diagnostics Market Outlook, by Region, Value (US$ Bn), 2018 - 2030
3.5.1. Key Highlights
3.5.1.1. North America
3.5.1.2. Europe
3.5.1.3. Asia Pacific
3.5.1.4. Latin America
3.5.1.5. Middle East & Africa
4. North America Biosensors for Point-of-Care Diagnostics Market Outlook, 2018 - 2030
4.1. North America Biosensors for Point-of-Care Diagnostics Market Outlook, by Product, Value (US$ Bn), 2018 - 2030
4.1.1. Key Highlights
4.1.1.1. Biomarkers
4.1.1.2. Bioreceptors
4.1.1.3. Molecular Diagnostic Biosensors
4.2. North America Biosensors for Point-of-Care Diagnostics Market Outlook, by Transducer, Value (US$ Bn), 2018 - 2030
4.2.1. Key Highlights
4.2.1.1. Thermal
4.2.1.2. Piezoelectric
4.2.1.3. Electrochemical
4.2.1.4. Optical
4.2.1.5. Other
4.3. North America Biosensors for Point-of-Care Diagnostics Market Outlook, by Application, Value (US$ Bn), 2018 - 2030
4.3.1. Key Highlights
4.3.1.1. Fertility and Pregnancy
4.3.1.2. Glucose Testing
4.3.1.3. Hb1Ac Testing
4.3.1.4. Infectious Disease
4.3.1.5. Cardiac Markers
4.3.1.6. Cancer Markers
4.3.1.7. Drug-of-Abuse Testing
4.3.1.8. Coagulation Testing
4.3.1.9. Hormone Analysis
4.3.1.10. Others
4.4. North America Biosensors for Point-of-Care Diagnostics Market Outlook, by End User, Value (US$ Bn), 2018 - 2030
4.4.1. Key Highlights
4.4.1.1. Clinics
4.4.1.2. Hospitals
4.4.1.3. Home Care Service Providers
4.4.1.4. Assisted Living Healthcare Centers
4.4.1.5. Research Laboratory
4.4.2. Market Attractiveness Analysis
4.5. North America Biosensors for Point-of-Care Diagnostics Market Outlook, by Country, Value (US$ Bn), 2018 - 2030
4.5.1. Key Highlights
4.5.1.1. U.S. Biosensors for Point-of-Care Diagnostics Market by Product, Value (US$ Bn), 2018 - 2030
4.5.1.2. U.S. Biosensors for Point-of-Care Diagnostics Market Transducer, Value (US$ Bn), 2018 - 2030
4.5.1.3. U.S. Biosensors for Point-of-Care Diagnostics Market Application, Value (US$ Bn), 2018 - 2030
4.5.1.4. U.S. Biosensors for Point-of-Care Diagnostics Market End User, Value (US$ Bn), 2018 - 2030
4.5.1.5. Canada Biosensors for Point-of-Care Diagnostics Market by Product, Value (US$ Bn), 2018 - 2030
4.5.1.6. Canada Biosensors for Point-of-Care Diagnostics Market Transducer, Value (US$ Bn), 2018 - 2030
4.5.1.7. Canada Biosensors for Point-of-Care Diagnostics Market Application, Value (US$ Bn), 2018 - 2030
4.5.1.8. Canada Biosensors for Point-of-Care Diagnostics Market End User, Value (US$ Bn), 2018 - 2030
4.5.2. BPS Analysis/Market Attractiveness Analysis

5. Europe Biosensors for Point-of-Care Diagnostics Market Outlook, 2018 - 2030
5.1. Europe Biosensors for Point-of-Care Diagnostics Market Outlook, by Product, Value (US$ Bn), 2018 - 2030
5.1.1. Key Highlights
5.1.1.1. Biomarkers
5.1.1.2. Bioreceptors
5.1.1.3. Molecular Diagnostic Biosensors
5.2. Europe Biosensors for Point-of-Care Diagnostics Market Outlook, by Transducer, Value (US$ Bn), 2018 - 2030
5.2.1. Key Highlights
5.2.1.1. Thermal
5.2.1.2. Piezoelectric
5.2.1.3. Electrochemical
5.2.1.4. Optical
5.2.1.5. Other
5.3. Europe Biosensors for Point-of-Care Diagnostics Market Outlook, by Application, Value (US$ Bn), 2018 - 2030
5.3.1. Key Highlights
5.3.1.1. Fertility and Pregnancy
5.3.1.2. Glucose Testing
5.3.1.3. Hb1Ac Testing
5.3.1.4. Infectious Disease
5.3.1.5. Cardiac Markers
5.3.1.6. Cancer Markers
5.3.1.7. Drug-of-Abuse Testing
5.3.1.8. Coagulation Testing
5.3.1.9. Hormone Analysis
5.3.1.10. Others
5.4. Europe Biosensors for Point-of-Care Diagnostics Market Outlook, by End User, Value (US$ Bn), 2018 - 2030
5.4.1. Key Highlights
5.4.1.1. Clinics
5.4.1.2. Hospitals
5.4.1.3. Home Care Service Providers
5.4.1.4. Assisted Living Healthcare Centers
5.4.1.5. Research Laboratory
5.4.2. BPS Analysis/Market Attractiveness Analysis
5.5. Europe Biosensors for Point-of-Care Diagnostics Market Outlook, by Country, Value (US$ Bn), 2018 - 2030
5.5.1. Key Highlights
5.5.1.1. Germany Biosensors for Point-of-Care Diagnostics Market by Product, Value (US$ Bn), 2018 - 2030
5.5.1.2. Germany Biosensors for Point-of-Care Diagnostics Market Transducer, Value (US$ Bn), 2018 - 2030
5.5.1.3. Germany Biosensors for Point-of-Care Diagnostics Market Application, Value (US$ Bn), 2018 - 2030
5.5.1.4. Germany Biosensors for Point-of-Care Diagnostics Market End User, Value (US$ Bn), 2018 - 2030
5.5.1.5. U.K. Biosensors for Point-of-Care Diagnostics Market by Product, Value (US$ Bn), 2018 - 2030
5.5.1.6. U.K. Biosensors for Point-of-Care Diagnostics Market Transducer, Value (US$ Bn), 2018 - 2030
5.5.1.7. U.K. Biosensors for Point-of-Care Diagnostics Market Application, Value (US$ Bn), 2018 - 2030
5.5.1.8. U.K. Biosensors for Point-of-Care Diagnostics Market End User, Value (US$ Bn), 2018 - 2030
5.5.1.9. France Biosensors for Point-of-Care Diagnostics Market by Product, Value (US$ Bn), 2018 - 2030
5.5.1.10. France Biosensors for Point-of-Care Diagnostics Market Transducer, Value (US$ Bn), 2018 - 2030
5.5.1.11. France Biosensors for Point-of-Care Diagnostics Market Application, Value (US$ Bn), 2018 - 2030
5.5.1.12. France Biosensors for Point-of-Care Diagnostics Market End User, Value (US$ Bn), 2018 - 2030
5.5.1.13. Italy Biosensors for Point-of-Care Diagnostics Market by Product, Value (US$ Bn), 2018 - 2030
5.5.1.14. Italy Biosensors for Point-of-Care Diagnostics Market Transducer, Value (US$ Bn), 2018 - 2030
5.5.1.15. Italy Biosensors for Point-of-Care Diagnostics Market Application, Value (US$ Bn), 2018 - 2030
5.5.1.16. Italy Biosensors for Point-of-Care Diagnostics Market End User, Value (US$ Bn), 2018 - 2030
5.5.1.17. Russia Biosensors for Point-of-Care Diagnostics Market by Product, Value (US$ Bn), 2018 - 2030
5.5.1.18. Russia Biosensors for Point-of-Care Diagnostics Market Transducer, Value (US$ Bn), 2018 - 2030
5.5.1.19. Russia Biosensors for Point-of-Care Diagnostics Market Application, Value (US$ Bn), 2018 - 2030
5.5.1.20. Russia Biosensors for Point-of-Care Diagnostics Market End User, Value (US$ Bn), 2018 - 2030
5.5.1.21. Rest of Europe Biosensors for Point-of-Care Diagnostics Market by Product, Value (US$ Bn), 2018 - 2030
5.5.1.22. Rest of Europe Biosensors for Point-of-Care Diagnostics Market Transducer, Value (US$ Bn), 2018 - 2030
5.5.1.23. Rest of Europe Biosensors for Point-of-Care Diagnostics Market Application, Value (US$ Bn), 2018 - 2030
5.5.1.24. Rest of Europe Biosensors for Point-of-Care Diagnostics Market End User, Value (US$ Bn), 2018 - 2030
5.5.2. BPS Analysis/Market Attractiveness Analysis

6. Asia Pacific Biosensors for Point-of-Care Diagnostics Market Outlook, 2018 - 2030
6.1. Asia Pacific Biosensors for Point-of-Care Diagnostics Market Outlook, by Product, Value (US$ Bn), 2018 - 2030
6.1.1. Key Highlights
6.1.1.1. Biomarkers
6.1.1.2. Bioreceptors
6.1.1.3. Molecular Diagnostic Biosensors
6.2. Asia Pacific Biosensors for Point-of-Care Diagnostics Market Outlook, by Transducer, Value (US$ Bn), 2018 - 2030
6.2.1. Key Highlights
6.2.1.1. Thermal
6.2.1.2. Piezoelectric
6.2.1.3. Electrochemical
6.2.1.4. Optical
6.2.1.5. Other
6.3. Asia Pacific Biosensors for Point-of-Care Diagnostics Market Outlook, by Application, Value (US$ Bn), 2018 - 2030
6.3.1. Key Highlights
6.3.1.1. Fertility and Pregnancy
6.3.1.2. Glucose Testing
6.3.1.3. Hb1Ac Testing
6.3.1.4. Infectious Disease
6.3.1.5. Cardiac Markers
6.3.1.6. Cancer Markers
6.3.1.7. Drug-of-Abuse Testing
6.3.1.8. Coagulation Testing
6.3.1.9. Hormone Analysis
6.3.1.10. Others
6.4. Asia Pacific Biosensors for Point-of-Care Diagnostics Market Outlook, by End User, Value (US$ Bn), 2018 - 2030
6.4.1. Key Highlights
6.4.1.1. Clinics
6.4.1.2. Hospitals
6.4.1.3. Home Care Service Providers
6.4.1.4. Assisted Living Healthcare Centers
6.4.1.5. Research Laboratory
6.4.2. BPS Analysis/Market Attractiveness Analysis
6.5. Asia Pacific Biosensors for Point-of-Care Diagnostics Market Outlook, by Country, Value (US$ Bn), 2018 - 2030
6.5.1. Key Highlights
6.5.1.1. China Biosensors for Point-of-Care Diagnostics Market by Product, Value (US$ Bn), 2018 - 2030
6.5.1.2. China Biosensors for Point-of-Care Diagnostics Market Transducer, Value (US$ Bn), 2018 - 2030
6.5.1.3. China Biosensors for Point-of-Care Diagnostics Market Application, Value (US$ Bn), 2018 - 2030
6.5.1.4. China Biosensors for Point-of-Care Diagnostics Market End User, Value (US$ Bn), 2018 - 2030
6.5.1.5. Japan Biosensors for Point-of-Care Diagnostics Market by Product, Value (US$ Bn), 2018 - 2030
6.5.1.6. Japan Biosensors for Point-of-Care Diagnostics Market Transducer, Value (US$ Bn), 2018 - 2030
6.5.1.7. Japan Biosensors for Point-of-Care Diagnostics Market Application, Value (US$ Bn), 2018 - 2030
6.5.1.8. Japan Biosensors for Point-of-Care Diagnostics Market End User, Value (US$ Bn), 2018 - 2030
6.5.1.9. South Korea Biosensors for Point-of-Care Diagnostics Market by Product, Value (US$ Bn), 2018 - 2030
6.5.1.10. South Korea Biosensors for Point-of-Care Diagnostics Market Transducer, Value (US$ Bn), 2018 - 2030
6.5.1.11. South Korea Biosensors for Point-of-Care Diagnostics Market Application, Value (US$ Bn), 2018 - 2030
6.5.1.12. South Korea Biosensors for Point-of-Care Diagnostics Market End User, Value (US$ Bn), 2018 - 2030
6.5.1.13. India Biosensors for Point-of-Care Diagnostics Market by Product, Value (US$ Bn), 2018 - 2030
6.5.1.14. India Biosensors for Point-of-Care Diagnostics Market Transducer, Value (US$ Bn), 2018 - 2030
6.5.1.15. India Biosensors for Point-of-Care Diagnostics Market Application, Value (US$ Bn), 2018 - 2030
6.5.1.16. India Biosensors for Point-of-Care Diagnostics Market End User, Value (US$ Bn), 2018 - 2030
6.5.1.17. Southeast Asia Biosensors for Point-of-Care Diagnostics Market by Product, Value (US$ Bn), 2018 - 2030
6.5.1.18. Southeast Asia Biosensors for Point-of-Care Diagnostics Market Transducer, Value (US$ Bn), 2018 - 2030
6.5.1.19. Southeast Asia Biosensors for Point-of-Care Diagnostics Market Application, Value (US$ Bn), 2018 - 2030
6.5.1.20. Southeast Asia Biosensors for Point-of-Care Diagnostics Market End User, Value (US$ Bn), 2018 - 2030
6.5.1.21. Rest of Asia Pacific Biosensors for Point-of-Care Diagnostics Market by Product, Value (US$ Bn), 2018 - 2030
6.5.1.22. Rest of Asia Pacific Biosensors for Point-of-Care Diagnostics Market Transducer, Value (US$ Bn), 2018 - 2030
6.5.1.23. Rest of Asia Pacific Biosensors for Point-of-Care Diagnostics Market Application, Value (US$ Bn), 2018 - 2030
6.5.1.24. Rest of Asia Pacific Biosensors for Point-of-Care Diagnostics Market End User, Value (US$ Bn), 2018 - 2030
6.5.2. BPS Analysis/Market Attractiveness Analysis

7. Latin America Biosensors for Point-of-Care Diagnostics Market Outlook, 2018 - 2030
7.1. Latin America Biosensors for Point-of-Care Diagnostics Market Outlook, by Product, Value (US$ Bn), 2018 - 2030
7.1.1. Key Highlights
7.1.1.1. Biomarkers
7.1.1.2. Bioreceptors
7.1.1.3. Molecular Diagnostic Biosensors
7.2. Latin America Biosensors for Point-of-Care Diagnostics Market Outlook, by Transducer, Value (US$ Bn), 2018 - 2030
7.2.1. Key Highlights
7.2.1.1. Thermal
7.2.1.2. Piezoelectric
7.2.1.3. Electrochemical
7.2.1.4. Optical
7.2.1.5. Other
7.3. Latin America Biosensors for Point-of-Care Diagnostics Market Outlook, by Application, Value (US$ Bn), 2018 - 2030
7.3.1. Key Highlights
7.3.1.1. Fertility and Pregnancy
7.3.1.2. Glucose Testing
7.3.1.3. Hb1Ac Testing
7.3.1.4. Infectious Disease
7.3.1.5. Cardiac Markers
7.3.1.6. Cancer Markers
7.3.1.7. Drug-of-Abuse Testing
7.3.1.8. Coagulation Testing
7.3.1.9. Hormone Analysis
7.3.1.10. Others
7.4. Latin America Biosensors for Point-of-Care Diagnostics Market Outlook, by End User, Value (US$ Bn), 2018 - 2030
7.4.1. Key Highlights
7.4.1.1. Clinics
7.4.1.2. Hospitals
7.4.1.3. Home Care Service Providers
7.4.1.4. Assisted Living Healthcare Centers
7.4.1.5. Research Laboratory
7.4.2. BPS Analysis/Market Attractiveness Analysis
7.5. Latin America Biosensors for Point-of-Care Diagnostics Market Outlook, by Country, Value (US$ Bn), 2018 - 2030
7.5.1. Key Highlights
7.5.1.1. Brazil Biosensors for Point-of-Care Diagnostics Market by Product, Value (US$ Bn), 2018 - 2030
7.5.1.2. Brazil Biosensors for Point-of-Care Diagnostics Market Transducer, Value (US$ Bn), 2018 - 2030
7.5.1.3. Brazil Biosensors for Point-of-Care Diagnostics Market Application, Value (US$ Bn), 2018 - 2030
7.5.1.4. Brazil Biosensors for Point-of-Care Diagnostics Market End User, Value (US$ Bn), 2018 - 2030
7.5.1.5. Mexico Biosensors for Point-of-Care Diagnostics Market by Product, Value (US$ Bn), 2018 - 2030
7.5.1.6. Mexico Biosensors for Point-of-Care Diagnostics Market Transducer, Value (US$ Bn), 2018 - 2030
7.5.1.7. Mexico Biosensors for Point-of-Care Diagnostics Market Application, Value (US$ Bn), 2018 - 2030
7.5.1.8. Mexico Biosensors for Point-of-Care Diagnostics Market End User, Value (US$ Bn), 2018 - 2030
7.5.1.9. Rest of Latin America Biosensors for Point-of-Care Diagnostics Market by Product, Value (US$ Bn), 2018 - 2030
7.5.1.10. Rest of Latin America Biosensors for Point-of-Care Diagnostics Market Transducer, Value (US$ Bn), 2018 - 2030
7.5.1.11. Rest of Latin America Biosensors for Point-of-Care Diagnostics Market Application, Value (US$ Bn), 2018 - 2030
7.5.1.12. Rest of Latin America Biosensors for Point-of-Care Diagnostics Market End User, Value (US$ Bn), 2018 - 2030
7.5.2. BPS Analysis/Market Attractiveness Analysis

8. Middle East & Africa Biosensors for Point-of-Care Diagnostics Market Outlook, 2018 - 2030
8.1. Middle East & Africa Biosensors for Point-of-Care Diagnostics Market Outlook, by Product, Value (US$ Bn), 2018 - 2030
8.1.1. Key Highlights
8.1.1.1. Biomarkers
8.1.1.2. Bioreceptors
8.1.1.3. Molecular Diagnostic Biosensors
8.2. Middle East & Africa Biosensors for Point-of-Care Diagnostics Market Outlook, by Transducer, Value (US$ Bn), 2018 - 2030
8.2.1. Key Highlights
8.2.1.1. Thermal
8.2.1.2. Piezoelectric
8.2.1.3. Electrochemical
8.2.1.4. Optical
8.2.1.5. Other
8.3. Middle East & Africa Biosensors for Point-of-Care Diagnostics Market Outlook, by Application, Value (US$ Bn), 2018 - 2030
8.3.1. Key Highlights
8.3.1.1. Fertility and Pregnancy
8.3.1.2. Glucose Testing
8.3.1.3. Hb1Ac Testing
8.3.1.4. Infectious Disease
8.3.1.5. Cardiac Markers
8.3.1.6. Cancer Markers
8.3.1.7. Drug-of-Abuse Testing
8.3.1.8. Coagulation Testing
8.3.1.9. Hormone Analysis
8.3.1.10. Others
8.4. Middle East & Africa Biosensors for Point-of-Care Diagnostics Market Outlook, by End User, Value (US$ Bn), 2018 - 2030
8.4.1. Key Highlights
8.4.1.1. Clinics
8.4.1.2. Hospitals
8.4.1.3. Home Care Service Providers
8.4.1.4. Assisted Living Healthcare Centers
8.4.1.5. Research Laboratory
8.4.2. BPS Analysis/Market Attractiveness Analysis
8.5. Middle East & Africa Biosensors for Point-of-Care Diagnostics Market Outlook, by Country, Value (US$ Bn), 2018 - 2030
8.5.1. Key Highlights
8.5.1.1. GCC Biosensors for Point-of-Care Diagnostics Market by Product, Value (US$ Bn), 2018 - 2030
8.5.1.2. GCC Biosensors for Point-of-Care Diagnostics Market Transducer, Value (US$ Bn), 2018 - 2030
8.5.1.3. GCC Biosensors for Point-of-Care Diagnostics Market Application, Value (US$ Bn), 2018 - 2030
8.5.1.4. GCC Biosensors for Point-of-Care Diagnostics Market End User, Value (US$ Bn), 2018 - 2030
8.5.1.5. South Africa Biosensors for Point-of-Care Diagnostics Market by Product, Value (US$ Bn), 2018 - 2030
8.5.1.6. South Africa Biosensors for Point-of-Care Diagnostics Market Transducer, Value (US$ Bn), 2018 - 2030
8.5.1.7. South Africa Biosensors for Point-of-Care Diagnostics Market Application, Value (US$ Bn), 2018 - 2030
8.5.1.8. South Africa Biosensors for Point-of-Care Diagnostics Market End User, Value (US$ Bn), 2018 - 2030
8.5.1.9. Rest of Middle East & Africa Biosensors for Point-of-Care Diagnostics Market by Product, Value (US$ Bn), 2018 - 2030
8.5.1.10. Rest of Middle East & Africa Biosensors for Point-of-Care Diagnostics Market Transducer, Value (US$ Bn), 2018 - 2030
8.5.1.11. Rest of Middle East & Africa Biosensors for Point-of-Care Diagnostics Market Application, Value (US$ Bn), 2018 - 2030
8.5.1.12. Rest of Middle East & Africa Biosensors for Point-of-Care Diagnostics Market End User, Value (US$ Bn), 2018 - 2030
8.5.2. BPS Analysis/Market Attractiveness Analysis

9. Competitive Landscape
9.1. Product vs Application Heatmap
9.2. Company Market Share Analysis, 2022
9.3. Competitive Dashboard
9.4. Company Profiles
9.4.1. Danaher Corporation
9.4.1.1. Company Overview
9.4.1.2. Product Portfolio
9.4.1.3. Financial Overview
9.4.1.4. Business Strategies and Development
9.4.2. Bio-Rad Laboratories Inc.
9.4.2.1. Company Overview
9.4.2.2. Product Portfolio
9.4.2.3. Financial Overview
9.4.2.4. Business Strategies and Development
9.4.3. Zimmer & Peacock AS
9.4.3.1. Company Overview
9.4.3.2. Product Portfolio
9.4.3.3. Financial Overview
9.4.3.4. Business Strategies and Development
9.4.4. Medtronic plc
9.4.4.1. Company Overview
9.4.4.2. Product Portfolio
9.4.4.3. Financial Overview
9.4.4.4. Business Strategies and Development
9.4.5. Koninklijke Philips N.V.
9.4.5.1. Company Overview
9.4.5.2. Product Portfolio
9.4.5.3. Financial Overview
9.4.5.4. Business Strategies and Development
9.4.6. Abbott Laboratories
9.4.6.1. Company Overview
9.4.6.2. Product Portfolio
9.4.6.3. Financial Overview
9.4.6.4. Business Strategies and Development
9.4.7. Universal Biosensors, Inc.
9.4.7.1. Company Overview
9.4.7.2. Product Portfolio
9.4.7.3. Financial Overview
9.4.7.4. Business Strategies and Development
9.4.8. Biosensors International Group, Ltd.
9.4.8.1. Company Overview
9.4.8.2. Product Portfolio
9.4.8.3. Business Strategies and Development
9.4.9. Johnson & Johnson
9.4.9.1. Company Overview
9.4.9.2. Product Portfolio
9.4.9.3. Financial Overview
9.4.9.4. Business Strategies and Development
9.4.10. Masimo Corporation
9.4.10.1. Company Overview
9.4.10.2. Product Portfolio
9.4.10.3. Financial Overview
9.4.10.4. Business Strategies and Development
9.4.11. QTL Biodetection LLC
9.4.11.1. Company Overview
9.4.11.2. Product Portfolio
9.4.11.3. Financial Overview
9.4.11.4. Business Strategies and Development
9.4.12. Nova Biomedical
9.4.12.1. Company Overview
9.4.12.2. Product Portfolio
9.4.12.3. Financial Overview
9.4.12.4. Business Strategies and Development
9.4.13. Innovative Sensor Technology IST AG
9.4.13.1. Company Overview
9.4.13.2. Product Portfolio
9.4.13.3. Financial Overview
9.4.13.4. Business Strategies and Development
9.4.14. Siemens Healthineers AG
9.4.14.1. Company Overview
9.4.14.2. Product Portfolio
9.4.14.3. Financial Overview
9.4.14.4. Business Strategies and Development
9.4.15. F. Hoffmann-La Roche Ltd.
9.4.15.1. Company Overview
9.4.15.2. Product Portfolio
9.4.15.3. Financial Overview
9.4.15.4. Business Strategies and Development

10. Appendix
10.1. Research Methodology
10.2. Report Assumptions
10.3. Acronyms and Abbreviations
BASE YEAR

HISTORICAL DATA

FORECAST PERIOD

UNITS

2022

2018 - 2022

2023 - 2030

Value: US$ Million Volume: Million Tons
REPORT FEATURES

DETAILS

Product Coverage

Application Coverage

Fertility/Pregnancy

Glucose Testing

Hb1Ac Testing

Infectious Disease

Cardiac Markers

Cancer Markers

Drugs of Abuse Testing

Coagulation Testing

Hormone Analysis

Others

Transducer Coverage

Thermal

Piezoelectric

Electrochemical

Optical

End User Coverage

Clinics

Hospitals

Home Care Service Providers

Assisted Living Healthcare Centres

Research Laboratory

Geographical Coverage

Europe

United Kingdom

Germany

France

Italy

Russia

Rest of Europe

Asia Pacific

Japan

China

South Korea

India

Southeast Asia

Rest of Asia Pacific

Latin America

Brazil

Mexico

Rest of Latin America

Middle East and Africa

Leading Companies

Danaher Corporation

Bio-Rad Laboratories Inc.

Zimmer & Peacock AS

Medtronic plc

Koninklijke Philips N.V.

Abbott Laboratories

Universal Biosensors, Inc.

Biosensors International Group, Ltd.

Johnson & Johnson

Masimo Corporation

QTL Biodetection LLC

Nova Biomedical

Innovative Sensor Technology IST AG

Siemens Healthineers AG

F. Hoffmann-La Roche Ltd.

Report Highlights

Key Market Indicators, Macro-micro economic impact analysis, Technological Roadmap, Key Trends, Driver, Restraints, and Future Opportunities & Revenue Pockets, Porter's 5 Forces Analysis, Historical Trend (2019-2021), Price Trend Analysis, Market Estimates and Forecast, Market Dynamics, Industry Trends, Competition Landscape, Category, Region, Country-wise Trends & Analysis, COVID-19 Impact Analysis (Demand and Supply Chain)