Global Bourbon Spirits Market Growth Forecast
The approximately US$8.2 Bn market for bourbon spirits (2022) to rise high up to US$12 Bn by 2030
Report forecasts a CAGR of 5.6% for market valuation between 2023 and 2030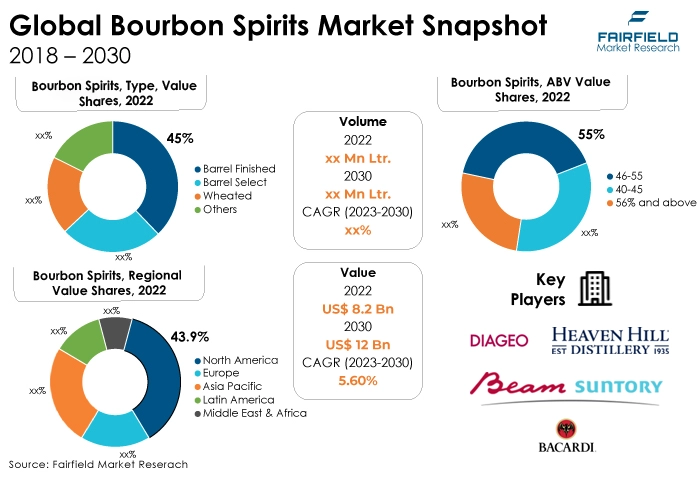 Quick Report Digest
The key trend anticipated to drive the bourbon spirits market growth is premiumisation of the bourbon category. Furthermore, larger distilleries have invested a huge sum to expand production and craft can produce bourbon types with reduced alcohol concentration or fewer calories in response to consumers who are concerned about their health. People who want a lighter drinking experience can use these products.
Another major market trend expected to drive the bourbon spirits market growth is the rapidly expanding ageing and unique barrel finishes. Limited edition Bourbons with extra ageing, specific barrel finishes, or distinctive cask types are frequently released by distilleries. Demand rises as a result of the excitement and anticipation generated by these limited releases among collectors and enthusiasts.
As customers experiment with a variety of beverage options, bourbon faces stiff competition from other whiskey like gin, tequila, and craft beer despite its popularity.
In 2022, the barrel finished category dominated the industry. Bourbon gains fruity and wine-like qualities by finishing in port casks. Red berries, plums, and a velvety mouthfeel might all be flavours that are brought on by the port wine cask's influence.
In 2022, the 46-55% abv category dominated the industry. Bourbons in this range can be used in a variety of cocktails as well as for straight sips. They stand out in cocktails and provide blended beverages depth and personality because of their concentrated flavours and greater proof.
The off-trade category is expected to experience the fastest growth within the forecast time frame. Costco and Sam's Club warehouse clubs often offer bulk purchases of bourbon and other whiskey at affordable costs.
North America is expected to dominate the bourbon spirits market during the forecast period. Classic Bourbon-based cocktails like the old fashioned and mint julep are part of the lively cocktail culture in North America, especially in the United States. The appeal of these drinks fuels the demand for Bourbon.
Asia Pacific is expected to be the fastest-growing bourbon spirits market region. The development of Bourbon has been aided by the rise of cocktail establishments and the practice of mixology. Mixologists in the Asia Pacific area frequently use bourbon to create unique and imaginative drinks.
A Look Back and a Look Forward - Comparative Analysis
Increasing appreciation for bourbon's distinctive flavour profiles, workmanship, and versatility in cocktails has led to a rise in its appeal in recent years. The market has grown, and output has increased as a result of the increased demand.
A wide variety of flavour profiles are available in bourbon, ranging from sweet and mellow to robust and peppery. This variety meets a variety of consumer preferences and draws a significant amount of Bourbon enthusiasts.
The market witnessed staggered growth during the historical period 2018 - 2022. The global cocktail industry has adopted Bourbon. Bourbon is a significant component in traditional cocktails like the Old Fashioned, Manhattan, and Whisky Sour, which have grown in popularity all over the world.
As a result, there is now more demand for and consumption of bourbon. International food and drink festivals and gatherings frequently involve bourbon. These venues give Bourbon exposure to a broad audience and raise its profile around the world.
The comprehensive cocktail menus that are frequently found in bars and restaurants prominently highlight beverages made with bourbon. These menus promote Bourbon's adaptability and invite customers to try various cocktails, which increases demand for Bourbon in the coming years.
Additionally, Signature Bourbon cocktails are made in collaboration with numerous establishments and distilleries. Through these partnerships, consumers are introduced to new flavour profiles, and Bourbon companies receive beneficial publicity.
Furthermore, Mixologists frequently interact with customers, describing the components and methods used in creating drinks. Through this engagement, consumers learn more about bourbon and gain a better understanding of its flavour character during the next five years.
Key Growth Determinants
Growing Whiskey Appreciation
A varied consumer base, including both seasoned fans and newbies to the world of whiskey, has been drawn to whisky due to its growing popularity outside of conventional markets. Sales have increased, and the market has grown as a result of this greater appeal.
Whisky lovers now have comprehensive access to knowledge about various whisky varieties, production processes, and tasting notes because of the growth of online resources. By improving customer understanding of Bourbon, this education increases demand for high-quality goods.
Whisky lovers frequently experiment with different flavour profiles and geographical differences. The peculiar flavour features of bourbon, which include notes of caramel, vanilla, and wood, make it a tempting option for consumers looking for a distinctive flavour.
Expanding Cocktail Culture
Bourbon is a flexible spirit that can be utilised in a variety of cocktails, from traditional mixtures like the Old Fashioned and Mint Julep to contemporary, cutting-edge ideas. Due to its versatility, Bourbon is a go-to liquor choice for bars and home cocktail enthusiasts.
Classic Bourbon-based drinks like the Manhattan, and Whisky Sour are becoming more and more well-liked. The demand for Bourbon is increased by the fact that many customers seek out these classic beverages at bars and eateries.
The popularity of mixology and artisan cocktail bars has improved Bourbon's standing. Unique and excellent Bourbon-based drinks made by talented bartenders draw customers who value a well-made beverage.
Increasing Demand for Craft Distilleries
Craft distilleries frequently create distinctive and limited-edition Bourbon types that appeal to customers seeking out handmade goods and unique flavours. This increases the variety of options available to Bourbon fans.
Craft distilleries are renowned for their creativity and willingness to try new grains, ageing processes, and flavour combinations. This experimental mindset has produced novel Bourbon products that appeal to consumers looking for something fresh and intriguing.
Craft distilleries frequently have strong relationships with the towns and areas around them. Customers wishing to support regional companies and get a sense of place when drinking Bourbon may be drawn by this local connection.
Major Growth Barriers
Tariffs and Trade Disputes
Tariffs imposed on the import or export of Bourbon can dramatically raise the price of the bourbon. Due to this, Bourbon loses some of its competitiveness in global markets, and consumer prices may rise, thus decreasing demand.
Most of Bourbon's sales are in foreign countries despite being a uniquely American product. Trade tensions and tariffs may result in a drop in exports, which will have an impact on Bourbon distilleries' ability to expand.
Market access might need to be improved by tariffs and trade conflicts. Bourbon export limits to important markets may hamper distilleries' ability to reach a global clientele.
The manufacture of bourbon depends on particular ingredients, including corn, rye and barley. Production delays and higher costs for distilleries might result from shortages or variations in the supply of certain grains.
Bourbon's transit from distilleries to distributors and retailers can be slowed down by supply chain interruptions, including traffic jams, labour shortages, or delays at ports, which can affect product availability.
Bourbon must spend a particular amount of time, frequently many years, maturing in wood barrels. Any interruptions in the supply of good oak barrels have the potential to impede production and reduce the amount of aged Bourbon available.
Key Trends and Opportunities to Look at
Premium and Super Premium Bourbons
Prices for premium and super-premium Bourbons are often higher, which increases distilleries' profit margins. This encourages manufacturers to concentrate on these markets in order to increase their revenue and profitability.
The better things in life, such as premium whiskey, are something that many customers desire to experience and appreciate. This consumer sentiment is attracted by the perception of exclusivity and elegance that premium and super-premium Bourbons provide.
Flavoured Bourbons and Innovations
Beyond traditional Bourbon lovers, flavoured Bourbon has a broader public appeal. Consumers who may have yet to choose Bourbon as their preferred spirit may be won over by the addition of flavours like honey, fruit, and spices. Distilleries may develop distinctive and enduring flavour profiles because of advancements in flavouring and ageing procedures.
Collectors and connoisseurs interested in unique and unforgettable taste experiences may be drawn to this. The market for ready-to-drink (RTD) cocktails is expanding, and the flavoured Bourbon trend fits in well with it. Pre-mixed drinks with flavoured Bourbons can appeal to modern consumers' preferences for mobility and convenience.
Small-Batch Bourbons
The unique and frequently intricate flavour profiles of small-batch bourbons are well known. A unique taste experience that appeals to connoisseurs and enthusiasts is made possible by the limited manufacturing, which enables more careful attention to detail.
Small-batch distilleries place a strong emphasis on artisanal craftsmanship, appealing to customers looking for handcrafted and regionally sourced whiskey. Small-batch Bourbons can stand out in the market due to their focus on traditional techniques and meticulous attention to detail.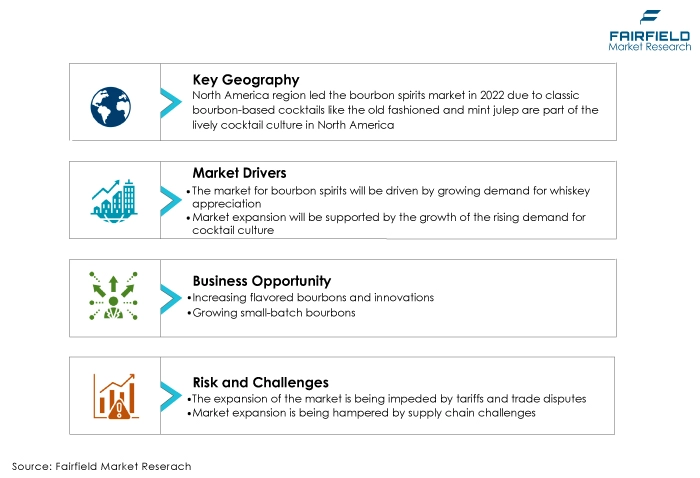 How Does the Regulatory Scenario Shape this Industry?
Over the last three years, In the US, there has been a legal framework that governs the manufacture and marketing of bourbon spirits. The Federal Alcohol Administration (FAA) Act and the related rules established by the Alcohol and Tobacco Tax and Trade Bureau (TTB), a division of the US Department of the Treasury, are the main pieces of legislation that control the production of Bourbon. These rules outline the prerequisites needed to legally produce, label, and market bourbon.
The Alcohol and Tobacco Tax and Trade Bureau is the government agency in charge of policing and monitoring the manufacture, distribution, labeling, and marketing of alcoholic drinks, including Bourbon. TTB is essential to implementing laws that guarantee the high quality and reliability of Bourbon goods. To advertise their products, distilleries must comply with TTB production and labeling regulations.
The role of TTB is to create particular rules for labeling bourbon, requiring the use of phrases like bourbon, straight bourbon, and Kentucky bourbon. It also specifies standards for origin and age declarations on labels. By ensuring accurate labeling, consumers are able to choose items with confidence and preserve the originality and high quality of Bourbon. Additionally, they influence how customers view Bourbon brands.
Segmentation Outlook
Barrel Finished Category Leads
The barrel finished segment dominated the market in 2022. Barrel-finished Bourbon is used to describe Bourbon that has undergone additional ageing in a different kind of barrel, such as wine barrels or barrels that have previously held other whiskey. This ageing procedure gives the bourbon different aromas and qualities, resulting in a distinctive flavour profile.
As customers look for novel and adventurous tasting sensations, bourbons have grown in prominence in recent years. Furthermore, the barrel select category is projected to experience the fastest market growth. Bourbons from individual barrels are picked for their high quality and distinctive qualities to make up barrel choose bourbons.
Master distillers or blenders frequently hand-pick these barrels for their unique flavour profiles. Due to their rarity and exceptional quality, barrel-select Bourbons are highly prized by collectors and enthusiasts.
Preference for 46-55% abv Segment Prominent
The 46-55% abv segment dominated the market in 2022. Bourbon spirits with a 46-55% abv, also referred to as high-proof or barrel-proof, are marketed to bourbon enthusiasts desiring stronger flavours and more powerful sensations.
Limited-edition releases, single barrel offers, and cask strength expressions have become increasingly popular in this market, appealing to lovers who value the intricacy and richness of higher-proof bourbons.
The 40-45% category is anticipated to grow substantially throughout the projected period. The ABV range of 40-45% for bourbon spirits is regarded as typical strength. Due to their approachable flavour and adaptability in cocktails, they make up a significant portion of the bourbon industry and appeal to a diverse variety of consumers.
Focusing on taste profiles, experimenting with finishes, and luring new bourbon fans are all current trends in this market.
On-trade Channel Contributes the Largest Share
The on-trade segment dominated the market in 2022. In the market for bourbon spirits, on-trade refers to the channel of distribution where bourbon is sipped at on-site venues, including bars, restaurants, and hotels.
Due to COVID-19 restrictions, the on-trade industry has faced difficulties. Still, it is anticipated that things will improve as soon as businesses resume operations, providing potential for upscale Bourbon experiences and cocktail innovations.
The segment of off-trade is anticipated to increase at the fastest rate throughout the projected period. Off-trade refers to the distribution channel in the bourbon spirits industry when bourbon is bought for home consumption through retail establishments such as supermarkets, liquor stores, and internet marketplaces.
Due to rising customer demand for at-home drinking, convenience, and the availability of a wide range of Bourbon options from various brands and expressions, the off-trade category has experienced tremendous expansion.
Regional Frontrunners
North America Remains the Largest Consumer of Bourbon spirits
During the projected period, North America is anticipated to lead the bourbon spirits market. The premiumisation of Bourbon spirits and the growth of craft distilleries are being focused on in North America. Small-batch, high-quality Bourbons with distinctive flavours are in high demand.
Additionally, there is a growing interest in Bourbon tourism, with distillery tours and whisky trails emerging as top destinations. In the North American market, well-known brands include Buffalo Trace (Sazerac Company), Maker's Mark (Beam Suntory), Jack Daniel's (Brown-Forman), and Jim Beam (Beam Suntory). These seasoned competitors are well-known for their superb Bourbon offers, rich legacy, and powerful presence.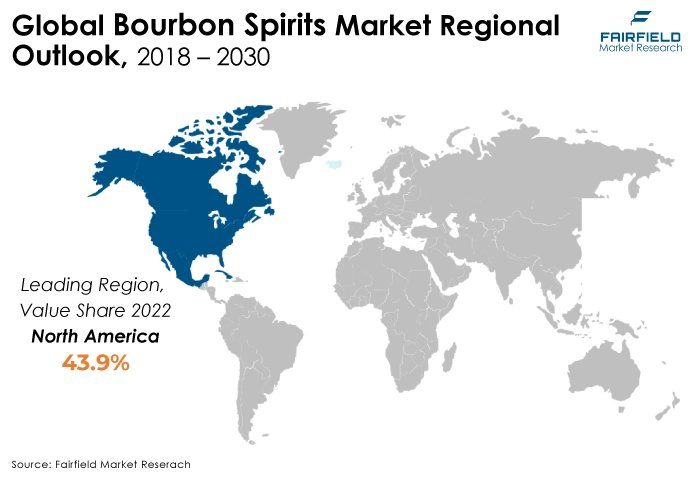 Asia Pacific Gains from an Expanding Cocktail Culture
The region with the fastest-growing bourbon spirits market is predicted to be Asia Pacific. The growing international demand for Bourbon drives the bourbon spirits market. Countries like Japan, China, and Australia are witnessing a rise in consumers developing a taste for Bourbon, appreciating its unique flavour profile and cultural significance.
There is also an increasing interest in cocktail culture and mixology, with Bourbon being utilised in creative and fusion cocktails. Jim Beam (Beam Suntory), Jack Daniel's (Brown-Forman), and Four Roses (Kirin Holdings Company). These brands have successfully expanded their presence by leverageing their strong brand reputation and offering high-quality bourbon products.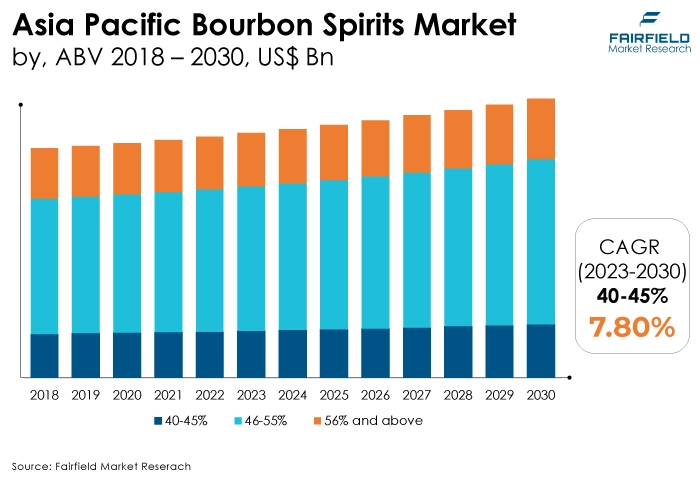 Fairfield's Competitive Landscape Analysis
The global market for bourbon spirits is consolidated, with fewer well-known brands present. In a drive to expand globally, the big companies are releasing new items and modernizing their distribution networks. Moreover, Fairfield Market Research is expecting the market to witness more consolidation over the coming years.
Who are the Leaders in Global Bourbon spirits Space?
Significant Company Developments
New Product Launches
February 2022: Bacardi Limited in India launched their Good Man Premium Brandy. It was developed with consideration for domestic clients' preferences. Mostly, grape brandies from France and India are combined to make it. The brandy and Indian-made foreign liquor (IMFL) products that Bacardi India released are regarded as premium blended brandies.
June 2022: Bond Centennial Straight Wheat Whisky was just launched in a new bottle by Laws Whisky House. This new whisky meets a number of requirements, including being 2 years old and containing 51% wheat. The business will broaden the range of products it offers to customers with this new whisky.
January 2021: The blended whisky Oaksmith was launched in India by Beam Suntory, Inc., a division of Suntory Holdings Limited. The corporation will expand its commercial footprint in the nation with the debut of this product.
Distribution Agreements
May 2020: Conecuh Brands, LLC., Republic National Distributing Company (RNDC), and Young's Market Company, which distribute alcoholic drinks, expanded their collaboration in order to obtain distribution rights for the company's products throughout Florida and South Carolina. The company will increase its beverage sales and market reach in Florida and South Carolina due to this partnership.
December 2020: By boosting sales, distribution, and supply within domestic military markets and the US region, Brown-Forman Corp. and Pabst Brewing Company developed an exclusive long-term partnership to grow a number of RTD spirit and cocktail brands.
An Expert's Eye
Demand and Future Growth
As per Fairfield's Analysis, the promotion of American whisky, notably Bourbon, to foreign audiences is done via organisations like the American Whisky Trail, and Bourbon festivals. Events like these promote Bourbon products and spark interest in them.
Furthermore, The global cocktail culture has led to the inclusion of Bourbon in a wide range of cocktails, making it a versatile and sought-after ingredient in bars and restaurants around the world. However, the bourbon spirits market is expected to face considerable challenges because of tariffs and trade disputes.
Supply Side of the Market
According to our analysis, North America dominates as a supplier of bourbon spirits, accounting for more than 70% of the global market. The US, and Canada are amongst the key producers of bourbon spirits. The US is home to significant bourbon distilleries like Jim Beam, Maker's Mark, and Woodford Reserve.
Europe is the second-largest producer of bourbon spirits, accounting for around 20% of the global market. The top three European nations that export bourbon spirits are Germany, France, and the UK.
In the UK, drinking bourbon has a historical tradition that dates back to the colonial era. There are significant bourbon distilleries across the country, including Glenlivet, and Glenfiddich. The United States is the largest consumer of bourbon spirits in the world, accounting for nearly 70% of total consumption.
Canada is North America's second-largest user of bourbon spirits, behind Mexico. Over 30% of the Asia Pacific region's bourbon spirits are consumed in Japan, which is also the top consumer. South Korea is the leading user of bourbon spirits in the Asia Pacific region, followed by China.
Global Bourbon spirits Market is Segmented as Below:
By Type:
Wheated
Barrel Finished
Barrel Select
Miscellaneous
By ABV:
40-45% abv
46-55% abv
56% abv and above
By Distribution Channel:
By Geographic Coverage:
North America
Europe

Germany
U.K.
France
Italy
Russia
Rest of Europe

Asia Pacific

China
Japan
South Korea
India
Southeast Asia
Rest of Asia Pacific

Latin America

Brazil
Mexico
Rest of Latin America

Middle East & Africa

GCC
South Africa
Rest of Middle East & Africa
1. Executive Summary
1.1. Global Bourbon Spirits Market Snapshot
1.2. Future Projections
1.3. Key Market Trends
1.4. Regional Snapshot, by Value, 2022
1.5. Analyst Recommendations

2. Market Overview
2.1. Market Definitions and Segmentations
2.2. Market Dynamics
2.2.1. Drivers
2.2.2. Restraints
2.2.3. Market Opportunities
2.3. Value Chain Analysis
2.4. Porter's Five Forces Analysis
2.5. Covid-19 Impact Analysis
2.5.1. Supply
2.5.2. Demand
2.6. Impact of Ukraine-Russia Conflict
2.7. Economic Overview
2.7.1. World Economic Projections
2.8. PESTLE Analysis

3. Global Bourbon Spirits Market Outlook, 2018 - 2030
3.1. Global Bourbon Spirits Market Outlook, by Type, Volume (Mn Ltr.) and Value (US$ Bn), 2018 - 2030
3.1.1. Key Highlights
3.1.1.1. Wheated
3.1.1.2. Barrel Finished
3.1.1.3. Barrel Select
3.1.1.4. Others
3.2. Global Bourbon Spirits Market Outlook, by ABV, Volume (Mn Ltr.) and Value (US$ Bn), 2018 - 2030
3.2.1. Key Highlights
3.2.1.1. 40-45%
3.2.1.2. 46-55%
3.2.1.3. 56% and above
3.3. Global Bourbon Spirits Market Outlook, by Distribution Channel, Volume (Mn Ltr.) and Value (US$ Bn), 2018 - 2030
3.3.1. Key Highlights
3.3.1.1. On-trade
3.3.1.2. Off-trade
3.4. Global Bourbon Spirits Market Outlook, by Region, Volume (Mn Ltr.) and Value (US$ Bn), 2018 - 2030
3.4.1. Key Highlights
3.4.1.1. North America
3.4.1.2. Europe
3.4.1.3. Asia Pacific
3.4.1.4. Latin America
3.4.1.5. Middle East & Africa

4. North America Bourbon Spirits Market Outlook, 2018 - 2030
4.1. North America Bourbon Spirits Market Outlook, by Type, Volume (Mn Ltr.) and Value (US$ Bn), 2018 - 2030
4.1.1. Key Highlights
4.1.1.1. Wheated
4.1.1.2. Barrel Finished
4.1.1.3. Barrel Select
4.1.1.4. Others
4.2. North America Bourbon Spirits Market Outlook, by ABV, Volume (Mn Ltr.) and Value (US$ Bn), 2018 - 2030
4.2.1. Key Highlights
4.2.1.1. 40-45%
4.2.1.2. 46-55%
4.2.1.3. 56% and above
4.3. North America Bourbon Spirits Market Outlook, by Distribution Channel, Volume (Mn Ltr.) and Value (US$ Bn), 2018 - 2030
4.3.1. Key Highlights
4.3.1.1. On-trade
4.3.1.2. Off-trade
4.3.2. BPS Analysis/Market Attractiveness Analysis
4.4. North America Bourbon Spirits Market Outlook, by Country, Volume (Mn Ltr.) and Value (US$ Bn), 2018 - 2030
4.4.1. Key Highlights
4.4.1.1. U.S. Bourbon Spirits Market by Type, Volume (Mn Ltr.) and Value (US$ Bn), 2018 - 2030
4.4.1.2. U.S. Bourbon Spirits Market ABV, Volume (Mn Ltr.) and Value (US$ Bn), 2018 - 2030
4.4.1.3. U.S. Bourbon Spirits Market Distribution Channel, Volume (Mn Ltr.) and Value (US$ Bn), 2018 - 2030
4.4.1.4. Canada Bourbon Spirits Market by Type, Volume (Mn Ltr.) and Value (US$ Bn), 2018 - 2030
4.4.1.5. Canada Bourbon Spirits Market ABV, Volume (Mn Ltr.) and Value (US$ Bn), 2018 - 2030
4.4.1.6. Canada Bourbon Spirits Market Distribution Channel, Volume (Mn Ltr.) and Value (US$ Bn), 2018 - 2030
4.4.2. BPS Analysis/Market Attractiveness Analysis

5. Europe Bourbon Spirits Market Outlook, 2018 - 2030
5.1. Europe Bourbon Spirits Market Outlook, by Type, Volume (Mn Ltr.) and Value (US$ Bn), 2018 - 2030
5.1.1. Key Highlights
5.1.1.1. Wheated
5.1.1.2. Barrel Finished
5.1.1.3. Barrel Select
5.1.1.4. Others
5.2. Europe Bourbon Spirits Market Outlook, by ABV, Volume (Mn Ltr.) and Value (US$ Bn), 2018 - 2030
5.2.1. Key Highlights
5.2.1.1. 40-45%
5.2.1.2. 46-55%
5.2.1.3. 56% and above
5.3. Europe Bourbon Spirits Market Outlook, by Distribution Channel, Volume (Mn Ltr.) and Value (US$ Bn), 2018 - 2030
5.3.1. Key Highlights
5.3.1.1. On-trade
5.3.1.2. Off-trade
5.3.2. BPS Analysis/Market Attractiveness Analysis
5.4. Europe Bourbon Spirits Market Outlook, by Country, Volume (Mn Ltr.) and Value (US$ Bn), 2018 - 2030
5.4.1. Key Highlights
5.4.1.1. Germany Bourbon Spirits Market by Type, Volume (Mn Ltr.) and Value (US$ Bn), 2018 - 2030
5.4.1.2. Germany Bourbon Spirits Market ABV, Volume (Mn Ltr.) and Value (US$ Bn), 2018 - 2030
5.4.1.3. Germany Bourbon Spirits Market Distribution Channel, Volume (Mn Ltr.) and Value (US$ Bn), 2018 - 2030
5.4.1.4. U.K. Bourbon Spirits Market by Type, Volume (Mn Ltr.) and Value (US$ Bn), 2018 - 2030
5.4.1.5. U.K. Bourbon Spirits Market ABV, Volume (Mn Ltr.) and Value (US$ Bn), 2018 - 2030
5.4.1.6. U.K. Bourbon Spirits Market Distribution Channel, Volume (Mn Ltr.) and Value (US$ Bn), 2018 - 2030
5.4.1.7. France Bourbon Spirits Market by Type, Volume (Mn Ltr.) and Value (US$ Bn), 2018 - 2030
5.4.1.8. France Bourbon Spirits Market ABV, Volume (Mn Ltr.) and Value (US$ Bn), 2018 - 2030
5.4.1.9. France Bourbon Spirits Market Distribution Channel, Volume (Mn Ltr.) and Value (US$ Bn), 2018 - 2030
5.4.1.10. Italy Bourbon Spirits Market by Type, Volume (Mn Ltr.) and Value (US$ Bn), 2018 - 2030
5.4.1.11. Italy Bourbon Spirits Market ABV, Volume (Mn Ltr.) and Value (US$ Bn), 2018 - 2030
5.4.1.12. Italy Bourbon Spirits Market Distribution Channel, Volume (Mn Ltr.) and Value (US$ Bn), 2018 - 2030
5.4.1.13. Russia Bourbon Spirits Market by Type, Volume (Mn Ltr.) and Value (US$ Bn), 2018 - 2030
5.4.1.14. Russia Bourbon Spirits Market ABV, Volume (Mn Ltr.) and Value (US$ Bn), 2018 - 2030
5.4.1.15. Russia Bourbon Spirits Market Distribution Channel, Volume (Mn Ltr.) and Value (US$ Bn), 2018 - 2030
5.4.1.16. Rest of Europe Bourbon Spirits Market by Type, Volume (Mn Ltr.) and Value (US$ Bn), 2018 - 2030
5.4.1.17. Rest of Europe Bourbon Spirits Market ABV, Volume (Mn Ltr.) and Value (US$ Bn), 2018 - 2030
5.4.1.18. Rest of Europe Bourbon Spirits Market Distribution Channel, Volume (Mn Ltr.) and Value (US$ Bn), 2018 - 2030
5.4.2. BPS Analysis/Market Attractiveness Analysis

6. Asia Pacific Bourbon Spirits Market Outlook, 2018 - 2030
6.1. Asia Pacific Bourbon Spirits Market Outlook, by Type, Volume (Mn Ltr.) and Value (US$ Bn), 2018 - 2030
6.1.1. Key Highlights
6.1.1.1. Wheated
6.1.1.2. Barrel Finished
6.1.1.3. Barrel Select
6.1.1.4. Others
6.2. Asia Pacific Bourbon Spirits Market Outlook, by ABV, Volume (Mn Ltr.) and Value (US$ Bn), 2018 - 2030
6.2.1. Key Highlights
6.2.1.1. 40-45%
6.2.1.2. 46-55%
6.2.1.3. 56% and above
6.3. Asia Pacific Bourbon Spirits Market Outlook, by Distribution Channel, Volume (Mn Ltr.) and Value (US$ Bn), 2018 - 2030
6.3.1. Key Highlights
6.3.1.1. On-trade
6.3.1.2. Off-trade
6.3.2. BPS Analysis/Market Attractiveness Analysis
6.4. Asia Pacific Bourbon Spirits Market Outlook, by Country, Volume (Mn Ltr.) and Value (US$ Bn), 2018 - 2030
6.4.1. Key Highlights
6.4.1.1. China Bourbon Spirits Market by Type, Volume (Mn Ltr.) and Value (US$ Bn), 2018 - 2030
6.4.1.2. China Bourbon Spirits Market ABV, Volume (Mn Ltr.) and Value (US$ Bn), 2018 - 2030
6.4.1.3. China Bourbon Spirits Market Distribution Channel, Volume (Mn Ltr.) and Value (US$ Bn), 2018 - 2030
6.4.1.4. Japan Bourbon Spirits Market by Type, Volume (Mn Ltr.) and Value (US$ Bn), 2018 - 2030
6.4.1.5. Japan Bourbon Spirits Market ABV, Volume (Mn Ltr.) and Value (US$ Bn), 2018 - 2030
6.4.1.6. Japan Bourbon Spirits Market Distribution Channel, Volume (Mn Ltr.) and Value (US$ Bn), 2018 - 2030
6.4.1.7. South Korea Bourbon Spirits Market by Type, Volume (Mn Ltr.) and Value (US$ Bn), 2018 - 2030
6.4.1.8. South Korea Bourbon Spirits Market ABV, Volume (Mn Ltr.) and Value (US$ Bn), 2018 - 2030
6.4.1.9. South Korea Bourbon Spirits Market Distribution Channel, Volume (Mn Ltr.) and Value (US$ Bn), 2018 - 2030
6.4.1.10. India Bourbon Spirits Market by Type, Volume (Mn Ltr.) and Value (US$ Bn), 2018 - 2030
6.4.1.11. India Bourbon Spirits Market ABV, Volume (Mn Ltr.) and Value (US$ Bn), 2018 - 2030
6.4.1.12. India Bourbon Spirits Market Distribution Channel, Volume (Mn Ltr.) and Value (US$ Bn), 2018 - 2030
6.4.1.13. Southeast Asia Bourbon Spirits Market by Type, Volume (Mn Ltr.) and Value (US$ Bn), 2018 - 2030
6.4.1.14. Southeast Asia Bourbon Spirits Market ABV, Volume (Mn Ltr.) and Value (US$ Bn), 2018 - 2030
6.4.1.15. Southeast Asia Bourbon Spirits Market Distribution Channel, Volume (Mn Ltr.) and Value (US$ Bn), 2018 - 2030
6.4.1.16. Rest of Asia Pacific Bourbon Spirits Market by Type, Volume (Mn Ltr.) and Value (US$ Bn), 2018 - 2030
6.4.1.17. Rest of Asia Pacific Bourbon Spirits Market ABV, Volume (Mn Ltr.) and Value (US$ Bn), 2018 - 2030
6.4.1.18. Rest of Asia Pacific Bourbon Spirits Market Distribution Channel, Volume (Mn Ltr.) and Value (US$ Bn), 2018 - 2030
6.4.2. BPS Analysis/Market Attractiveness Analysis

7. Latin America Bourbon Spirits Market Outlook, 2018 - 2030
7.1. Latin America Bourbon Spirits Market Outlook, by Type, Volume (Mn Ltr.) and Value (US$ Bn), 2018 - 2030
7.1.1. Key Highlights
7.1.1.1. Wheated
7.1.1.2. Barrel Finished
7.1.1.3. Barrel Select
7.1.1.4. Others
7.2. Latin America Bourbon Spirits Market Outlook, by ABV, Volume (Mn Ltr.) and Value (US$ Bn), 2018 - 2030
7.2.1. Key Highlights
7.2.1.1. 40-45%
7.2.1.2. 46-55%
7.2.1.3. 56% and above
7.3. Latin America Bourbon Spirits Market Outlook, by Distribution Channel, Volume (Mn Ltr.) and Value (US$ Bn), 2018 - 2030
7.3.1. Key Highlights
7.3.1.1. On-trade
7.3.1.2. Off-trade
7.3.2. BPS Analysis/Market Attractiveness Analysis
7.4. Latin America Bourbon Spirits Market Outlook, by Country, Volume (Mn Ltr.) and Value (US$ Bn), 2018 - 2030
7.4.1. Key Highlights
7.4.1.1. Brazil Bourbon Spirits Market by Type, Volume (Mn Ltr.) and Value (US$ Bn), 2018 - 2030
7.4.1.2. Brazil Bourbon Spirits Market ABV, Volume (Mn Ltr.) and Value (US$ Bn), 2018 - 2030
7.4.1.3. Brazil Bourbon Spirits Market Distribution Channel, Volume (Mn Ltr.) and Value (US$ Bn), 2018 - 2030
7.4.1.4. Mexico Bourbon Spirits Market by Type, Volume (Mn Ltr.) and Value (US$ Bn), 2018 - 2030
7.4.1.5. Mexico Bourbon Spirits Market ABV, Volume (Mn Ltr.) and Value (US$ Bn), 2018 - 2030
7.4.1.6. Mexico Bourbon Spirits Market Distribution Channel, Volume (Mn Ltr.) and Value (US$ Bn), 2018 - 2030
7.4.1.7. Rest of Latin America Bourbon Spirits Market by Type, Volume (Mn Ltr.) and Value (US$ Bn), 2018 - 2030
7.4.1.8. Rest of Latin America Bourbon Spirits Market ABV, Volume (Mn Ltr.) and Value (US$ Bn), 2018 - 2030
7.4.1.9. Rest of Latin America Bourbon Spirits Market Distribution Channel, Volume (Mn Ltr.) and Value (US$ Bn), 2018 - 2030
7.4.2. BPS Analysis/Market Attractiveness Analysis

8. Middle East & Africa Bourbon Spirits Market Outlook, 2018 - 2030
8.1. Middle East & Africa Bourbon Spirits Market Outlook, by Type, Volume (Mn Ltr.) and Value (US$ Bn), 2018 - 2030
8.1.1. Key Highlights
8.1.1.1. Wheated
8.1.1.2. Barrel Finished
8.1.1.3. Barrel Select
8.1.1.4. Others
8.2. Middle East & Africa Bourbon Spirits Market Outlook, by ABV, Volume (Mn Ltr.) and Value (US$ Bn), 2018 - 2030
8.2.1. Key Highlights
8.2.1.1. 40-45%
8.2.1.2. 46-55%
8.2.1.3. 56% and above
8.3. Middle East & Africa Bourbon Spirits Market Outlook, by Distribution Channel, Volume (Mn Ltr.) and Value (US$ Bn), 2018 - 2030
8.3.1. Key Highlights
8.3.1.1. On-trade
8.3.1.2. Off-trade
8.3.2. BPS Analysis/Market Attractiveness Analysis
8.4. Middle East & Africa Bourbon Spirits Market Outlook, by Country, Volume (Mn Ltr.) and Value (US$ Bn), 2018 - 2030
8.4.1. Key Highlights
8.4.1.1. GCC Bourbon Spirits Market by Type, Volume (Mn Ltr.) and Value (US$ Bn), 2018 - 2030
8.4.1.2. GCC Bourbon Spirits Market ABV, Volume (Mn Ltr.) and Value (US$ Bn), 2018 - 2030
8.4.1.3. GCC Bourbon Spirits Market Distribution Channel, Volume (Mn Ltr.) and Value (US$ Bn), 2018 - 2030
8.4.1.4. South Africa Bourbon Spirits Market by Type, Volume (Mn Ltr.) and Value (US$ Bn), 2018 - 2030
8.4.1.5. South Africa Bourbon Spirits Market ABV, Volume (Mn Ltr.) and Value (US$ Bn), 2018 - 2030
8.4.1.6. South Africa Bourbon Spirits Market Distribution Channel, Volume (Mn Ltr.) and Value (US$ Bn), 2018 - 2030
8.4.1.7. Rest of Middle East & Africa Bourbon Spirits Market by Type, Volume (Mn Ltr.) and Value (US$ Bn), 2018 - 2030
8.4.1.8. Rest of Middle East & Africa Bourbon Spirits Market ABV, Volume (Mn Ltr.) and Value (US$ Bn), 2018 - 2030
8.4.1.9. Rest of Middle East & Africa Bourbon Spirits Market Distribution Channel, Volume (Mn Ltr.) and Value (US$ Bn), 2018 - 2030
8.4.2. BPS Analysis/Market Attractiveness Analysis

9. Competitive Landscape
9.1. Distribution Channel vs Distribution Channel Heatmap
9.2. Manufacturer vs Distribution Channel Heatmap
9.3. Company Market Share Analysis, 2022
9.4. Competitive Dashboard
9.5. Company Profiles
9.5.1. Brown-Forman Corporation
9.5.1.1. Company Overview
9.5.1.2. Product Portfolio
9.5.1.3. Financial Overview
9.5.1.4. Business Strategies and Development
9.5.2. Beam Suntory Inc.
9.5.2.1. Company Overview
9.5.2.2. Product Portfolio
9.5.2.3. Financial Overview
9.5.2.4. Business Strategies and Development
9.5.3. Bacardi Limited
9.5.3.1. Company Overview
9.5.3.2. Product Portfolio
9.5.3.3. Financial Overview
9.5.3.4. Business Strategies and Development
9.5.4. Campari Group
9.5.4.1. Company Overview
9.5.4.2. Product Portfolio
9.5.4.3. Financial Overview
9.5.4.4. Business Strategies and Development
9.5.5. Sazerac Company
9.5.5.1. Company Overview
9.5.5.2. Product Portfolio
9.5.5.3. Financial Overview
9.5.5.4. Business Strategies and Development
9.5.6. Kirin Holdings Company
9.5.6.1. Company Overview
9.5.6.2. Product Portfolio
9.5.6.3. Financial Overview
9.5.6.4. Business Strategies and Development
9.5.7. Heaven Hill Brands
9.5.7.1. Company Overview
9.5.7.2. Product Portfolio
9.5.7.3. Financial Overview
9.5.7.4. Business Strategies and Development
9.5.8. Diageo
9.5.8.1. Company Overview
9.5.8.2. Product Portfolio
9.5.8.3. Financial Overview
9.5.8.4. Business Strategies and Development
9.5.9. Michter's Distillery
9.5.9.1. Company Overview
9.5.9.2. Product Portfolio
9.5.9.3. Financial Overview
9.5.9.4. Business Strategies and Development
9.5.10. Old Forester
9.5.10.1. Company Overview
9.5.10.2. Product Portfolio
9.5.10.3. Financial Overview
9.5.10.4. Business Strategies and Development
9.5.11. Willett Distillery
9.5.11.1. Company Overview
9.5.11.2. Product Portfolio
9.5.11.3. Financial Overview
9.5.11.4. Business Strategies and Development
9.5.12. High West Distillery
9.5.12.1. Company Overview
9.5.12.2. Product Portfolio
9.5.12.3. Financial Overview
9.5.12.4. Business Strategies and Development
9.5.13. Blanton's
9.5.13.1. Company Overview
9.5.13.2. Product Portfolio
9.5.13.3. Financial Overview
9.5.13.4. Business Strategies and Development
9.5.14. Pernod Ricard
9.5.14.1. Company Overview
9.5.14.2. Product Portfolio
9.5.14.3. Financial Overview
9.5.14.4. Business Strategies and Development
9.5.15. Constellation Brands, Inc.
9.5.15.1. Company Overview
9.5.15.2. Product Portfolio
9.5.15.3. Financial Overview
9.5.15.4. Business Strategies and Development

10. Appendix
10.1. Research Methodology
10.2. Report Assumptions
10.3. Acronyms and Abbreviations