The global clear aligners market will rise at a strong pace of 19.8% during the forecast period of 2023 - 2029 to reach US$23.8 Bn by 2029.
Clear Aligners Market All Set for a Strong Growth Trajectory as Aligners Become an Attractive Treatment Area in Dentistry
The global clear aligners market reached remarkable revenue of around US$5.4 Bn in 2021 and is forecast to demonstrate a significant growth rate between 2023 and 2029. Clear aligners continue to emerge as a preferred alternative treatment over traditional metal braces. Clear aligners offer more flexibility, less discomfort, and pain throughout the treatment and are more aesthetic. The various macro and microeconomic factors, viz., growth in disposable income, expansion and acceptance of aesthetic procedures, and procedural availability are contributing to the robust growth of the market across the globe.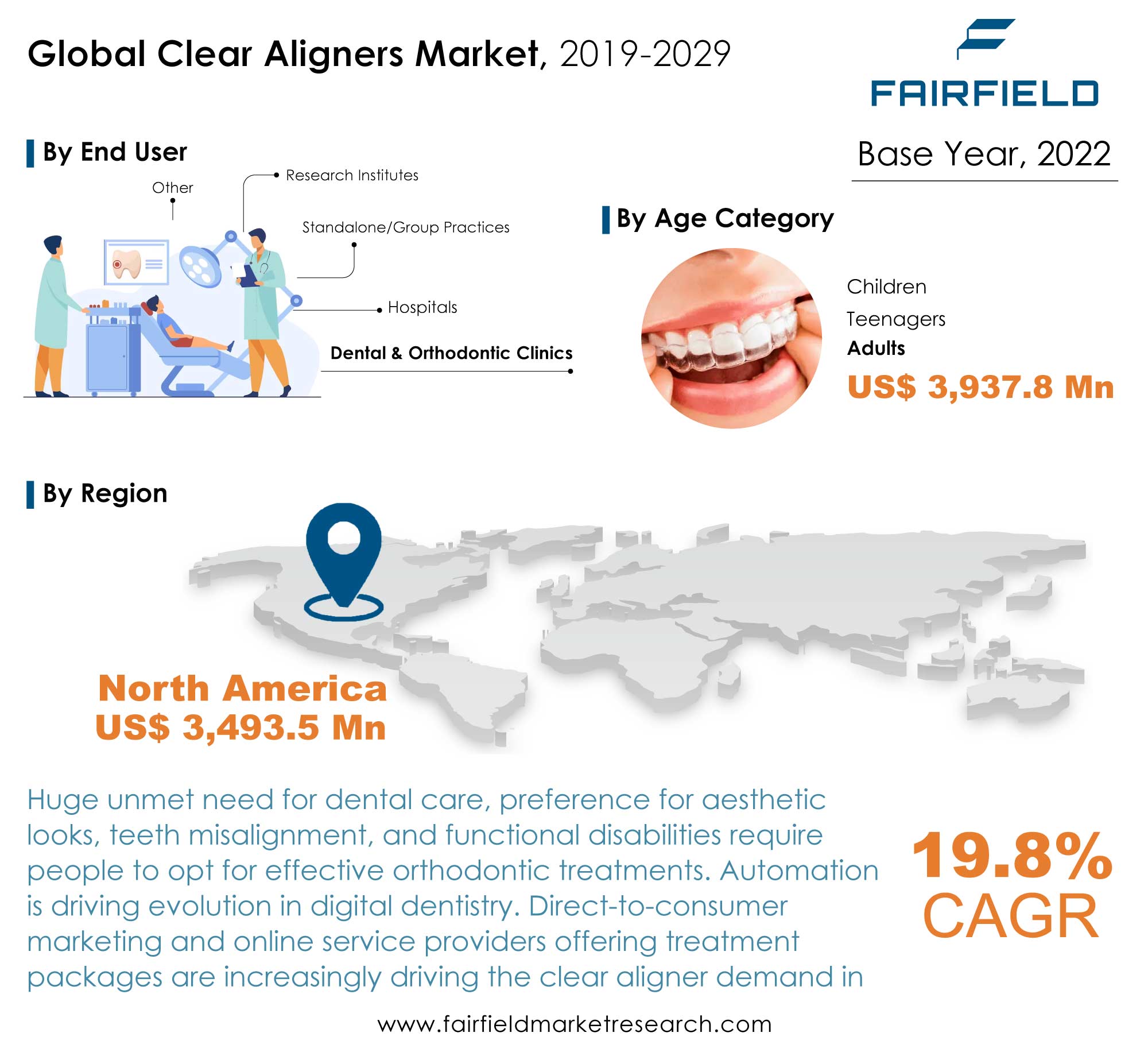 The World Health Organization (WHO) considers malocclusion as one of the most important oral health problems, after caries and periodontal disease. Its prevalence is highly variable and is estimated to be between 39% and 93% in children, and adolescents. Demand for clear aligners treatment to correct misaligned teeth is poised for exponential growth, which boosts the growth of clear aligners market worldwide. Straumann Group, one of the key players in the market mentions clear aligners as a valid treatment option in around 60% of the estimated orthodontic cases each year.
Huge Unmet Need for Efficient Dental Care Will Pose an Attractive Growth Potential for Clear Aligners Market
Preference for aesthetic looks, teeth misalignment, and functional disabilities require people to opt for effective orthodontic treatments. Clear aligners are being perceived as the fastest growth area in orthodontics today. Increasing attention to aesthetics, deepening penetration within teens, digitizing workflow, increase in the number of trained orthodontists and general practitioners, and rapid product improvement are the key growth levers for the global clear aligners market. Approximately 20% of the US population realize deviation from the ideal bite and around 66% of the US adults have incisor irregularities. Despite the high need for treatment, only four million people in the US were estimated to wear orthodontic braces by 2020 and a mere 1–1.5 million clear aligner cases were started in the same year. Although the COVID-19 pandemic was a clear impediment to market growth in 2020, the statistics clearly indicate the significant potential of clear aligners to develop a strong market.
Innovative Products on Fastrack FDA Approvals Will Boost Progress of Clear Aligners Market
Product innovation is recently witnessing a strong uptrend in clear aligners market space. The US Food and Drug Administration (FDA) approvals for clear aligners are on the fast track post-2018. Since 2018, more than 40 new clear aligner producers have been granted approval by the FDA to print clear aligners which is more than double those cleared in all years leading up to 2018, (21 approvals) combined. A few notable launches in 2018 included Dentsply Sirona's SureSmile aligner with options including pay-per aligner and in-office DIY aligner, Henry Schein's SLX clear aligners, and 3M Oral's Clarity clear aligners.
Disruptive Technologies, and Digital Transformation to Drive Clear Aligners Market Growth
Enhanced digital orthodontic and restorative workflows, and technologies are expected to offer new avenues for new dentists to practice their treatment skills. Automation is driving evolution in digital dentistry. Artificial Intelligence (AI)-assisted assessment, and notifications are facilitating dental practitioners, and doctors to prioritize, and track treatment progress, and patient compliance, especially in cases of children, and teenagers. Rapid advances in biomaterials, computer-aided design, and manufacturing (CAD/CAM) are playing important role in endorsing clear aligners treatment as a preferred treatment option, in turn driving the expansion of clear aligners market. Align Technology, Inc. continues investment in digital restorative workflows and a range of digitally enabled solutions viz., chairside visualization, in-office milling options, prosthetic CAD capabilities, and laboratory workflows for restorative dentistry. Augmented and virtual reality (AR/VR) technologies, 3D printing, dynamic smart navigation systems may provide best-in-class digitalization platforms in digital solutions to further improve processes and access, and thus patient outcomes and practice efficiencies.
Developing Countries Pledge Notable Expansion While the US Retains Dominance in Global Clear Aligners Market
Currently, North America dominates the global clear aligners market, surging ahead with a CAGR of 22.0% between the forecast period 2023-2029. North America houses around 10,500 orthodontists, and a significant number of the target audience. However, the increasingly saturating orthodontist channel and overwhelming competition to capture the narrowed chunk of the pie will remain a challenge to market growth in the US. The market in Asia Pacific exhibits robust market growth on the back of strong performance by developing economies such as China, and India. China is emerging as a superfast regional contender after the US. Moreover, projections reveal that the supply will heighten with establishment of numerous Asia-based aligner companies in the next few years.
Key Players in Global Clear Aligners Market
3M Company, Institut Straumann AG, Dentsply Sirona, and Henry Schein, Inc. are some of the other prominent leaders in the marketplace. A few other players actively participating in the global clear aligners market landscape include Danaher Corporation, Alignerco, 32 Watts (Renderwise Solutions Pvt Ltd), Ormco Corporation, TP Orthodontics, Inc., Nevident, and K-Line Europe GmbH.
Align Technology, Inc. Riding Strong on the Back of Invisalign Legacy
Align Technology, Inc. is a clear market leader capturing a significant chunk of the global clear aligners market value. The top position is mainly owing to the dominance of Invisalign for more than two decades. As of 2020, Invisalign has earned US$2.3 Bn in revenue and catered to more than 6 million patients and still counting. Significant growth potential remains in the early stages of transforming malocclusion treatment and building the leading digital dentistry platform. By identifying current market trends among customers, health consumers, product technologies, and within the socio-political landscape the market players are developing newer strategies from being product-centric to customer-centric, with more emphasis on services and solutions. Direct-to-consumer marketing and online service providers offering treatment packages are increasingly driving the clear aligner demand in the market. Moreover, vertical integration, the introduction of in-house treatment planning, and production facility is further expected to reduce turnaround and early initiation of treatment post patients' first visit to the clinic.
The Global Clear Aligners Market is Segmented as Below:
By Age Stage
Children
Teenagers
Adults
By Material Type
Polyvinyl Chloride
Polyurethane Plastic
Polyethylene Terephthalate Glycol
Other
By End Users
Hospitals
Dental & Orthodontic Clinics
Standalone & Group Practices
Research Institutes
Other
By Geographic Coverage
North America
Europe

United Kingdom
Germany
France
Italy
Spain
Rest of Europe

Asia Pacific

Japan
China
India
Australia
Rest of Asia Pacific

Rest of the World

Latin America
Middle East & Africa
Leading Companies
Align Technology, Inc.
Dentsply Sirona
Henry Schein, Inc.
Institut Straumann AG
The 3M Company
32 Watts (Renderwise Solutions Pvt Ltd.)
Alignerco
K Line Europe GmbH
Others
Inside This Report You Will Find:
1. Executive Summary
2. Market Overview
3. Global Clear Aligners Market Outlook, 2019 - 2029
4. North America Clear Aligners Market Outlook, 2019 - 2029
5. Europe Clear Aligners Market Outlook, 2019 - 2029
6. Asia Pacific Clear Aligners Market Outlook, 2019 - 2029
7. Rest of the World Clear Aligners Market Outlook, 2019 - 2029
8. Competitive Landscape
9. Appendix
Post Sale Support, Research Updates & Offerings:
We value the trust shown by our customers in Fairfield Market Research. We support our clients through our post sale support, research updates and offerings.
The report will be prepared in a PPT format and will be delivered in a PDF format.
Additionally, Market Estimation and Forecast numbers will be shared in Excel Workbook.
If a report being sold was published over a year ago, we will offer a complimentary copy of the updated research report along with Market Estimation and Forecast numbers within 2-3 weeks' time of the sale.
If we update this research study within the next 2 quarters, post purchase of the report, we will offer a Complimentary copy of the updated Market Estimation and Forecast numbers in Excel Workbook.
If there is a geopolitical conflict, pandemic, recession, and the like which can impact global economic scenario and business activity, which might entirely alter the market dynamics or future projections in the industry, we will create a Research Update upon your request at a nominal charge.
1. Executive Summary
1.1. Global Clear Aligners Market Outlook, 2019 - 2029 (US$ Billion)
1.2. Global Clear Aligners Market Incremental Opportunity, 2023 - 2029 (US$ Billion)
1.3. Key Industry Trends

2. Market Overview
2.1. Market Segmentation
2.2. Market Dynamics
2.2.1. Market Drivers
2.2.2. Market Threats
2.2.3. Market Opportunities
2.3. Regulatory Framework
2.4. Covid 19 Impact Analysis

3. Global Clear Aligners Market Outlook, 2019 - 2029
3.1. Global Clear Aligners Market Outlook, By Patient Age, 2019 - 2029
3.1.1. Key Highlights
3.1.2. Global Clear Aligners Market Outlook, by Patient Age, Value (US$ Billion), 2019 - 2029
3.1.2.1. Children
3.1.2.2. Teenagers
3.1.2.3. Adults
3.1.3. Global Clear Aligners Market Share and BPS Analysis, by Patient Age, Value, 2022 and 2029
3.1.4. Global Clear Aligners Market Attractiveness Analysis, by Patient Age, Value, 2023 - 2029
3.2. Global Clear Aligners Market Outlook, By Material Type, 2019 - 2029
3.2.1. Key Highlights
3.2.2. Global Clear Aligners Market Outlook, by Material Type, Value (US$ Billion), 2019 - 2029
3.2.2.1. Polyvinyl chloride
3.2.2.2. Polyurethane plastic
3.2.2.3. Polyethylene Terephthalate Glycol
3.2.2.4. Other
3.2.3. Global Clear Aligners Market Share and BPS Analysis, by Material Type, Value, 2022 and 2029
3.2.4. Global Clear Aligners Market Attractiveness Analysis, by Material Type, Value, 2023 - 2029
3.3. Global Clear Aligners Market Outlook, By End User, 2019 - 2029
3.3.1. Key Highlights
3.3.2. Global Clear Aligners Market Outlook, By End User, Value (US$ Billion), 2019– 2029
3.3.2.1. Hospitals
3.3.2.2. Dental & Orthodontic Clinics
3.3.2.3. Standalone & Group Practices
3.3.2.4. Research Institutes
3.3.3. Global Clear Aligners Market Share and BPS Analysis, By End User, Value, 2022 and 2029
3.3.4. Global Clear Aligners Market Attractiveness Analysis, By End User, Value, 2023 - 2029
3.4. Global Clear Aligners Market Outlook, By Region, 2019 - 2029
3.4.1. Key Highlights
3.4.2. Global Clear Aligners Market Outlook, by Region, Value (US$ Billion), 2019 - 2029
3.4.2.1. North America
3.4.2.2. Europe
3.4.2.3. Asia Pacific
3.4.2.4. Rest of the World
3.4.3. Global Clear Aligners Market Share and BPS Analysis, by Region, Value, 2022 and 2029
3.4.4. Global Clear Aligners Market Attractiveness Analysis, by Region, Value, 2023 - 2029

4. North America Clear Aligners Market Outlook, 2019 - 2029
4.1. North America Clear Aligners Market Outlook, By Patient Age, 2019 - 2029
4.1.1. Key Highlights
4.1.2. North America Clear Aligners Market Outlook, by Patient Age, Value (US$ Billion), 2019– 2029
4.1.2.1. Children
4.1.2.2. Teenagers
4.1.2.3. Adults
4.1.3. North America Clear Aligners Market Share and BPS Analysis, by Patient Age, Value, 2022 and 2029
4.1.4. North America Clear Aligners Market Attractiveness Analysis, by Patient Age, Value, 2023 - 2029
4.2. North America Clear Aligners Market Outlook, By Material Type, 2019 - 2029
4.2.1. Key Highlights
4.2.2. North America Clear Aligners Market Outlook, by Material Type, Value (US$ Billion), 2019 - 2029
4.2.2.1. Polyvinyl chloride
4.2.2.2. Polyurethane plastic
4.2.2.3. Polyethylene Terephthalate Glycol
4.2.2.4. Other
4.2.3. North America Clear Aligners Market Share and BPS Analysis, by Material Type, Value, 2022 and 2029
4.2.4. North America Clear Aligners Market Attractiveness Analysis, by Material Type, Value, 2023 - 2029
4.3. North America Clear Aligners Market Outlook, By End User, 2019 - 2029
4.3.1. Key Highlights
4.3.2. North America Clear Aligners Market Outlook, By End User, Value (US$ Billion), 2019 - 2029
4.3.2.1. Hospitals
4.3.2.2. Dental & Orthodontic Clinics
4.3.2.3. Standalone & Group Practices
4.3.2.4. Research Institutes
4.3.2.5. Other
4.3.3. North America Clear Aligners Market Share and BPS Analysis, By End User, Value, 2022 and 2029
4.3.4. North America Clear Aligners Market Attractiveness Analysis, By End User, Value, 2023 - 2029
4.4. North America Clear Aligners Market Outlook, By Country, 2019 - 2029
4.4.1. Key Highlights
4.4.2. North America Clear Aligners Market Outlook, by Country, Value (US$ Billion), 2019 - 2029
4.4.2.1. United States
4.4.2.2. Canada
4.4.3. North America Clear Aligners Market Share and BPS Analysis, by Country, Value, 2022 and 2029
4.4.4. North America Clear Aligners Market Attractiveness Analysis, by Country, Value, 2023 - 2029

5. Europe Clear Aligners Market Outlook, 2019 - 2029
5.1. Europe Clear Aligners Market Outlook, By Patient Age, 2019 - 2029
5.1.1. Key Highlights
5.1.2. Europe Clear Aligners Market Outlook, by Patient Age, Value (US$ Billion), 2019 - 2029
5.1.2.1. Children
5.1.2.2. Teenagers
5.1.2.3. Adults
5.1.3. Europe Clear Aligners Market Share and BPS Analysis, by Patient Age, Value, 2022 and 2029
5.1.4. Europe Clear Aligners Market Attractiveness Analysis, by Patient Age, Value, 2023 - 2029
5.2. Europe Clear Aligners Market Outlook, By Material Type, 2019 - 2029
5.2.1. Key Highlights
5.2.2. Europe Clear Aligners Market Outlook, by Material Type, Value (US$ Billion), 2019 - 2029
5.2.2.1. Polyvinyl chloride
5.2.2.2. Polyurethane plastic
5.2.2.3. Polyethylene Terephthalate Glycol
5.2.2.4. Other
5.2.3. Europe Clear Aligners Market Share and BPS Analysis, by Material Type, Value, 2022 and 2029
5.2.4. Europe Clear Aligners Market Attractiveness Analysis, by Material Type, Value, 2023 - 2029
5.3. Europe Clear Aligners Market Outlook, By End User, 2019 - 2029
5.3.1. Key Highlights
5.3.2. Europe Clear Aligners Market Outlook, By End User, Value (US$ Billion), 2019 - 2029
5.3.2.1. Hospitals
5.3.2.2. Dental & Orthodontic Clinics
5.3.2.3. Standalone & Group Practices
5.3.2.4. Research Institutes
5.3.2.5. Other
5.3.3. Europe Clear Aligners Market Share and BPS Analysis, By End User, Value, 2022 and 2029
5.3.4. Europe Clear Aligners Market Attractiveness Analysis, By End User, Value, 2023 - 2029
5.4. Europe Clear Aligners Market Outlook, By Country, 2019 - 2029
5.4.1. Key Highlights
5.4.2. Europe Clear Aligners Market Outlook, by Country, Value (US$ Billion), 2019 - 2029
5.4.2.1. Germany
5.4.2.2. France
5.4.2.3. United Kingdom
5.4.2.4. Italy
5.4.2.5. Spain
5.4.2.6. Rest of Europe
5.4.3. Europe Clear Aligners Market Share and BPS Analysis, by Country, Value, 2022 and 2029
5.4.4. Europe Clear Aligners Market Attractiveness Analysis, by Country, Value, 2023 - 2029

6. Asia Pacific Clear Aligners Market Outlook, 2019 - 2029
6.1. Asia Pacific Clear Aligners Market Outlook, By Patient Age, 2019 - 2029
6.1.1. Key Highlights
6.1.2. Asia Pacific Clear Aligners Market Outlook, by Patient Age, Value (US$ Billion), 2019 - 2029
6.1.2.1. Children
6.1.2.2. Teenagers
6.1.2.3. Adults
6.1.3. Asia Pacific Clear Aligners Market Share and BPS Analysis, by Patient Age, Value, 2022 and 2029
6.1.4. Asia Pacific Clear Aligners Market Attractiveness Analysis, by Patient Age, Value, 2023 - 2029
6.2. Asia Pacific Clear Aligners Market Outlook, By Material Type, 2019 - 2029
6.2.1. Key Highlights
6.2.2. Asia Pacific Clear Aligners Market Outlook, by Material Type, Value (US$ Billion), 2019 - 2029
6.2.2.1. Polyvinyl chloride
6.2.2.2. Polyurethane plastic
6.2.2.3. Polyethylene Terephthalate Glycol
6.2.2.4. Other
6.2.3. Asia Pacific Clear Aligners Market Share and BPS Analysis, by Material Type, Value, 2022 and 2029
6.2.4. Asia Pacific Clear Aligners Market Attractiveness Analysis, by Material Type, Value, 2023 - 2029
6.3. Asia Pacific Clear Aligners Market Outlook, By End User, 2019 - 2029
6.3.1. Key Highlights
6.3.2. Asia Pacific Clear Aligners Market Outlook, By End User, Value (US$ Billion), 2019 - 2029
6.3.2.1. Hospitals
6.3.2.2. Dental & Orthodontic Clinics
6.3.2.3. Standalone & Group Practices
6.3.2.4. Research Institutes
6.3.2.5. Other
6.3.3. Asia Pacific Clear Aligners Market Share and BPS Analysis, By End User, Value, 2022 and 2029
6.3.4. Asia Pacific Clear Aligners Market Attractiveness Analysis, By End User, Value, 2023 - 2029
6.4. Asia Pacific Clear Aligners Market Outlook, By Country, 2019 - 2029
6.4.1. Key Highlights
6.4.2. Asia Pacific Clear Aligners Market Outlook, by Country, Value (US$ Billion), 2019 - 2029
6.4.2.1. Japan
6.4.2.2. China
6.4.2.3. India
6.4.2.4. Australia & New Zealand
6.4.2.5. Rest of Asia Pacific
6.4.3. Asia Pacific Clear Aligners Market Share and BPS Analysis, by Country, Value, 2022 and 2029
6.4.4. Asia Pacific Clear Aligners Market Attractiveness Analysis, by Country, Value, 2023 - 2029

7. Rest of the World Clear Aligners Market Outlook, 2019 - 2029
7.1. Rest of the World Clear Aligners Market Outlook, By Patient Age, 2019 - 2029
7.1.1. Key Highlights
7.1.2. Rest of the World Clear Aligners Market Outlook, by Patient Age, Value (US$ Billion), 2019 - 2029
7.1.2.1. Children
7.1.2.2. Teenagers
7.1.2.3. Adults
7.1.3. Rest of the World Clear Aligners Market Share and BPS Analysis, by Patient Age, Value, 2022 and 2029
7.1.4. Rest of the World Clear Aligners Market Attractiveness Analysis, by Patient Age, Value, 2023 - 2029
7.2. Rest of the World Clear Aligners Market Outlook, By Material Type, 2019 - 2029
7.2.1. Key Highlights
7.2.2. Rest of the World Clear Aligners Market Outlook, by Material Type, Value (US$ Billion), 2019 - 2029
7.2.2.1. Polyvinyl chloride
7.2.2.2. Polyurethane plastic
7.2.2.3. Polyethylene Terephthalate Glycol
7.2.2.4. Other
7.2.3. Rest of the World Clear Aligners Market Share and BPS Analysis, by Material Type, Value, 2022 and 2029
7.2.4. Rest of the World Clear Aligners Market Attractiveness Analysis, by Material Type, Value, 2023 - 2029
7.3. Rest of the World Clear Aligners Market Outlook, By End User, 2019 - 2029
7.3.1. Key Highlights
7.3.2. Rest of the World Clear Aligners Market Outlook, By End User, Value (US$ Billion), 2019 - 2029
7.3.2.1. Hospitals
7.3.2.2. Dental & Orthodontic Clinics
7.3.2.3. Standalone & Group Practices
7.3.2.4. Research Institutes
7.3.2.5. Other
7.3.3. Rest of the World Clear Aligners Market Share and BPS Analysis, By End User, Value, 2022 and 2029
7.3.4. Rest of the World Clear Aligners Market Attractiveness Analysis, By End User, Value, 2023 - 2029
7.4. Rest of the World Clear Aligners Market Outlook, By Sub-Region, 2019 - 2029
7.4.1. Key Highlights
7.4.2. Rest of the World Clear Aligners Market Outlook, by Sub-Region, Value (US$ Billion), 2019 - 2029
7.4.2.1. Latin America
7.4.2.2. Middle East & Arica
7.4.3. Rest of the World Clear Aligners Market Share and BPS Analysis, by Sub-Region, Value, 2022 and 2029
7.4.4. Rest of the World Clear Aligners Market Attractiveness Analysis, by Sub-Region, Value, 2023 - 2029

8. Competitive Landscape
8.1. Market Share Analysis, 2021
8.2. Company Profiles
8.2.1. Align Technologies, Inc.
8.2.1.1. Company overview
8.2.1.2. Financial performance
8.2.1.3. Product Portfolio
8.2.1.4. Recent Developments
Above details will include, but not limited to below list of companies based on availability
8.2.2. Henry Schein, Inc.
8.2.3. Institut Straumann AG
8.2.4. The 3M Company
8.2.5. Dentsply Sirona
8.2.6. Alignerco
8.2.7. 32 Watts
8.2.8. K-Line Europe GmbH
Other Leading Players

9. Appendix
9.1. Research Methodology
9.2. Report Specific Research Approach