Cloud Data Security Market Outlook
Global cloud data security market was valued at over US$2.5 Bn in 2019 and is expected to be worth US$13.2 Bn by 2029 end. Between the years of 2022 and 2029, the market is anticipated to register a CAGR of 15.9% during the forecast period.
Market Analysis in Brief
The rise of cloud also accompanies with mounting risks of cyber threats, data breaches, and information loss. With organizational data reaching new highs, reliance of companies on cloud computing technology and cloud services will continue to soar high. This is naturally followed by proliferating demand for a set of cloud data security practices targeting private, public, as well as hybrid cloud environments that eyes protection and security of organizational data, services, virtualized IT, cloud infrastructure, and applications. Amidst COVID-19 pandemic, as organizations from across the globe shifted to remote working culture, the exploding cloud employment created a vulnerable hotspot. Cloud data security market emerged critically lucrative overnight as more employees started working remotely, from unfamiliar, relatively less secure environments.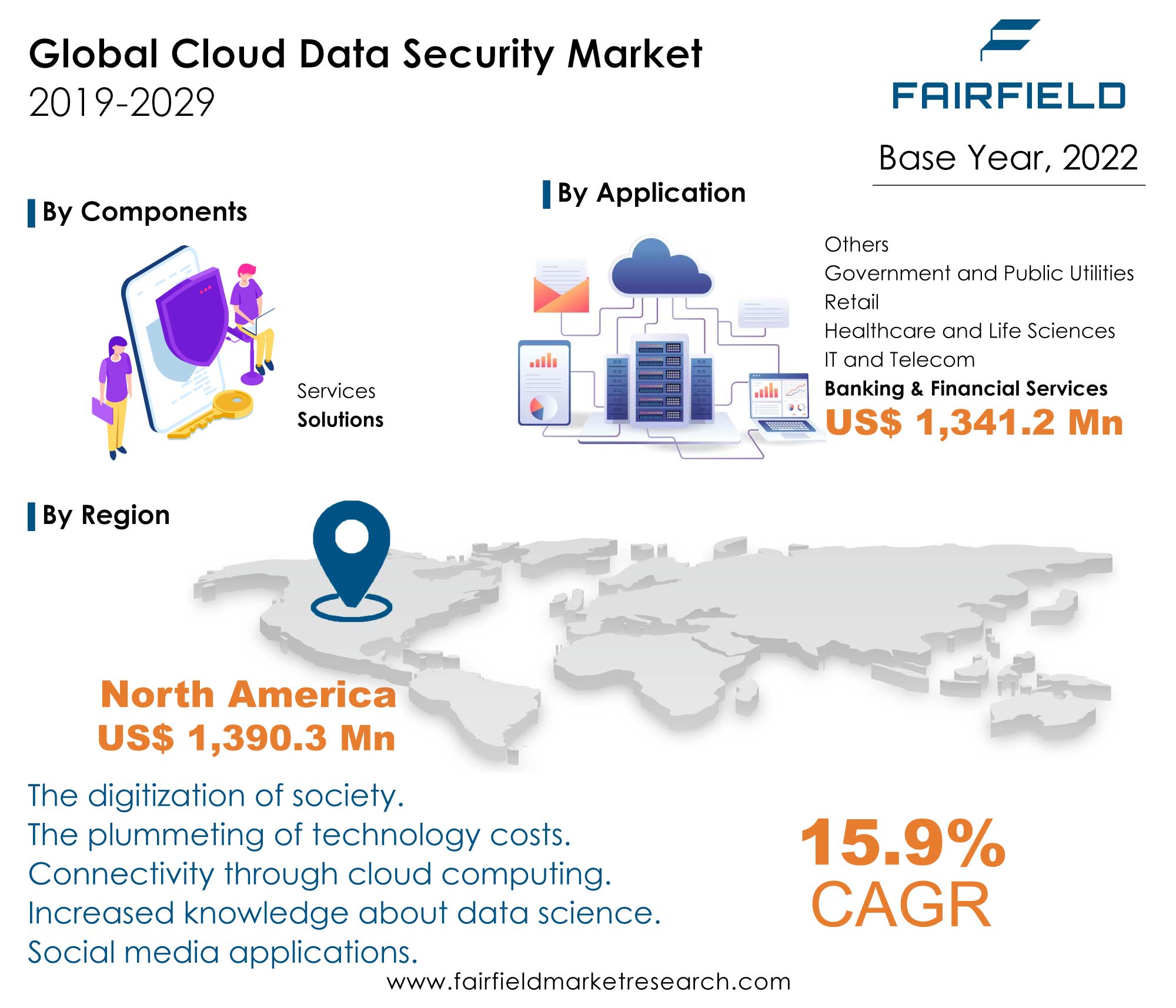 Key Report Findings
During the 10-year period from 2019 to 2029, the worldwide cloud data security market size will see more than 5x revenue expansion
Adoption of cloud data security solutions and services to see over 15% growth between 2022 and 2029
COVID-19 pandemic has been crucial in market build-up
Role of governments to be instrumental in shaping demand generation in future
The US remains at the forefront of adoption in global cloud data security industry
Growth Drivers
Increased Adoption of Cloud-based Technologies
By 2020, nearly 83% of company workload, according to a Forbes estimate, will be kept in the cloud. To counteract the constantly evolving cyberattack script, major cloud providers like Amazon, and Google heavily invest in improving their cloud security implementations. Due to the COVID-19 pandemic, demand for cloud-based services has increased significantly. Due of widespread work-from-home scripts, the pandemic situation caused businesses to borrow cloud services to a significant extent, highlighting a massive opportunity facing cloud data security market. During the outbreak, Microsoft's cloud service platform saw a 775 percent spike in demand. Moreover, managed services are becoming more popular among SMEs as they require the internal resources to handle cloud services effectively. This is likely to complement the expansion of cloud data security industry.
OTAVA estimates that by 2021, 87 businesses will have adopted cold-blooded cloud strategies due to the advantages of mixing the public cloud with the privacy of an on-premises cloud environment. Enterprises embrace cloud surrender, with 93 of them employing a multi-cloud strategy and 87 using a cold-blooded cloud strategy, according to Flexera's 2020 State of the Cloud Study. Cloud security immolations are heavily demanded by major cybersecurity merchandisers like Google, Microsoft, and Amazon that steer the accelerated growth of cloud data security market. SMEs are hurrying to adopt cloud computing in their procedures and operations due to implied benefits such ease of access, rapid implementation, little demand on the IT structure, and low installation costs.
Government Efforts Toward Smart Infrastructure Projects
Governments worldwide are making investments in cloud-based computing delivery models. Via public-private partnerships (PPP), they collaborate with businesses in the private sector to advance smart megacity enterprises, and smart transportation systems. Technology built on the cloud provides reliable, affordable, and scalable results. Critical structure diligence has advocated using cloud solutions to hold private and sensitive data, including dispatches, technology, energy, and financial services. This is expected to drive revenue toward cloud data security market.
Governments in Middle Eastern nations support a variety of initiatives, such as Dubai Internet City (DIC), and the Kingdom of Saudi Arabia (KSA) Vision 2030, with the goal of transforming their metropolises so that they are digitally connected and place a focus on the development of smart structures, smart transportation services, and smart metropolises. The Japanese government signed a US$273 Mn agreement with Amazon in 2020 to host its document operation tools and human resource systems there. These businesses are a major factor in the digital disruption caused by cloud technologies. Because of this, it is projected that government organizations will lead the expansion of cloud data security market.
Growth Challenges
Lack of Cooperation and Mistrust Between Businesses and Cloud Security Service Providers
Both large and small organizations are hesitant to shift their operations to the cloud because they do not have complete faith in cloud service providers (CSPs). Since the infrastructure of a cloud service provider houses the most sensitive organizational data, it is highly vulnerable to frequent and sophisticated cyberattacks, which may deter businesses from entrusting these service providers with their confidential information. A transparent information security strategy used by cloud security service providers could help businesses win over customers. Similar instances of scepticism in cloud computing as a data repository are stifling the demand for cloud security, in turn impacting the cloud data security market expansion.
Growth Opportunities Across Regions
North America Remains Major Revenue Contributor
During the forecast period of 2021-2029, North America is anticipated to emerge as a leading geographical growth contributor in global cloud data security industry. The market growth may be further accelerated by the region's growing adoption of cloud data security across a range of organizations. There are many businesses in a cut-throat race to attract more customers in the fragmented cloud data security sector. The participants engage in strategic alliances. Their presence in many places is increased thanks to the collaborations. The cloud data security business is seeing tremendous growth in the startup ecosystem. In terms of revenue and expanding the customer base, many new players are beginning to change the game. Research and development activities are crucial for the overall growth of the cloud data security market. The players are expanding their investments in research and development activities for providing enhancements to their analysis. These aspects eventually help in adding value to the growth trajectory of the market. Some well-entrenched players across the market are CISCO, Amazon Web Services, Dell, and Oracle.
Cloud Data Security Market: Competitive Landscape
The cloud data security market vendors have implemented various types of organic and inorganic growth strategies, such as new product launches, product upgradations, partnerships and agreements, business expansions, and mergers and acquisitions to strengthen their offerings in the market. The major vendors in the global cloud data security industry include IBM, Cisco Systems, Microsoft Corporation, Sailpoint Technologies, Oracle, DELL, HITACHI, CA Technologies, Okta, Micro Focus, and Centrify Corp.
Recent Notable Developments
In December 2021, AWS launched new service-AWS Cloud WAN provides a central dashboard that enterprises can use to connect their on- demesne branch services, data centers, and Amazon Virtual Private Shadows (Amazon VPCs) across the AWS global network in just a many clicks


December 2021-Verizon and Google Cloud are working together to bring the power of the cloud closer to mobile and connected bias at the edge of Verizon's network. With Verizon 5G Edge and Google Distributed Cloud Edge, Verizon plans to bring Google's computing and storehouse services to the edge of the original network enabling the bandwidth and low quiescence demanded to support real-time enterprise operations like independent mobile robots and intelligent logistics, and plant robotization
The Global Cloud Data Security Market is Segmented as Below:
By Components Coverage
By Org Size Coverage
Small and Medium Enterprises
Large Enterprises
By Verticals Coverage
Banking & Financial Services
Government and Public Utilities
Healthcare and Life Sciences
IT and Telecom
Retail
Others
By Offerings Coverage
By Geographical Coverage
North America
Europe

Germany
France
U.K.
Italy
Turkey
Spain
Russia
Rest of Europe

Asia Pacific

China
Japan
South Korea
India
Southeast Asia
Rest of Asia Pacific

Latin America

Brazil
Mexico
Rest of Latin America

Middle East & Africa

GCC
Egypt
Rest of Middle East & Africa
Leading Companies
Cisco Systems
Microsoft Corporation
Sailpoint Technologies
Oracle
DELL
IBM
HITACHI
CA Technologies
Okta
Micro Focus
Centrify Corp
Inside This Report You Will Find:
1. Executive Summary
2. Market Overview
3. Global Cloud Data Security Market Outlook, 2019 - 2029
4. North America Cloud Data Security Market Outlook, 2019 - 2029
5. Europe Cloud Data Security Market Outlook, 2019 - 2029
6. Asia Pacific Cloud Data Security Market Outlook, 2019 - 2029
7. Latin America Cloud Data Security Market Outlook, 2019 - 2029
8. Middle East & Africa Cloud Data Security Market Outlook, 2019 - 2029
9. Competitive Landscape
10. Appendix

Post Sale Support, Research Updates & Offerings:
We value the trust shown by our customers in Fairfield Market Research. We support our clients through our post sale support, research updates and offerings.
The report will be prepared in a PPT format and will be delivered in a PDF format.
Additionally, Market Estimation and Forecast numbers will be shared in Excel Workbook.
If a report being sold was published over a year ago, we will offer a complimentary copy of the updated research report along with Market Estimation and Forecast numbers within 2-3 weeks' time of the sale.
If we update this research study within the next 2 quarters, post purchase of the report, we will offer a Complimentary copy of the updated Market Estimation and Forecast numbers in Excel Workbook.
If there is a geopolitical conflict, pandemic, recession, and the like which can impact global economic scenario and business activity, which might entirely alter the market dynamics or future projections in the industry, we will create a Research Update upon your request at a nominal charge.
1. Executive Summary
1.1. Global Cloud Data Security Market Snapshot
1.2. Future Projections
1.3. Key Market Trends
1.4. Analyst Recommendations

2. Market Overview
2.1. Market Definitions
2.2. Market Taxonomy
2.3. Market Dynamics
2.3.1. Drivers
2.3.2. Restraints
2.4. Value Chain Analysis
2.5. Porter's Five Forces Analysis
2.6. COVID-19 Impact Analysis
2.7. Key Patents

3. Global Cloud Data Security Market Outlook, 2019 - 2029
3.1. Global Cloud Data Security Market Outlook, by Components (US$ '000), 2019 - 2029
3.1.1. Key Highlights
3.1.1.1. Solutions
3.1.1.2. Services
3.1.2. BPS Analysis/Market Attractiveness Analysis
3.2. Global Cloud Data Security Market Outlook, by Verticals, Value (US$ '000), 2019 - 2029
3.2.1. Key Highlights
3.2.1.1. Banking & Financial Services
3.2.1.2. Government and Public Utilities
3.2.1.3. Healthcare and Life Sciences
3.2.1.4. IT and Telecom
3.2.1.5. Retail
3.2.1.6. Others
3.2.2. BPS Analysis/Market Attractiveness Analysis
3.3. Global Cloud Data Security Market Outlook, by Offerings, Value (US$ '000), 2019 - 2029
3.3.1. Key Highlights
3.3.1.1. Fully managed
3.3.1.2. Co-Managed
3.3.2. BPS Analysis/Market Attractiveness Analysis
3.4. Global Cloud Data Security Market Outlook, by Org Size, Value (US$ '000), 2019 - 2029
3.4.1. Key Highlights
3.4.1.1. Small and Medium-Sized Enterprises
3.4.1.2. Large Enterprises
3.4.2. BPS Analysis/Market Attractiveness Analysis
3.5. Global Cloud Data Security Market Outlook, by Region, Value (US$ '000), 2019 - 2029
3.5.1. Key Highlights
3.5.1.1. North America
3.5.1.2. Europe
3.5.1.3. Asia Pacific
3.5.1.4. Latin America
3.5.1.5. Middle East & Africa
3.5.2. BPS Analysis/Market Attractiveness Analysis

4. North America Cloud Data Security Market Outlook, 2019 - 2029
4.1. North America Cloud Data Security Market Outlook, by Components (US$ '000), 2019 - 2029
4.1.1. Key Highlights
4.1.1.1. Solutions
4.1.1.2. Services
4.1.2. BPS Analysis/Market Attractiveness Analysis
4.2. North America Cloud Data Security Market Outlook, by Verticals, Value (US$ '000), 2019 - 2029
4.2.1. Key Highlights
4.2.1.1. Banking & Financial Services
4.2.1.2. Government and Public Utilities
4.2.1.3. Healthcare and Life Sciences
4.2.1.4. IT and Telecom
4.2.1.5. Retail
4.2.1.6. Others
4.2.2. BPS Analysis/Market Attractiveness Analysis
4.3. North America Cloud Data Security Market Outlook, by Offerings, Value (US$ '000), 2019 - 2029
4.3.1. Key Highlights
4.3.1.1. Fully managed
4.3.1.2. Co-Managed
4.3.2. BPS Analysis/Market Attractiveness Analysis
4.4. North America Cloud Data Security Market Outlook, by Org Size, Value (US$ '000), 2019 - 2029
4.4.1. Key Highlights
4.4.1.1. Small and Medium-Sized Enterprises
4.4.1.2. Large Enterprises
4.4.1.3. BPS Analysis/Market Attractiveness Analysis
4.5. North America Cloud Data Security Market Outlook, by Country, Value (US$ '000), 2019 - 2029
4.5.1. Key Highlights
4.5.1.1. U.S. Cloud Data Security Market by Value (US$ '000), 2019 - 2029
4.5.1.2. Canada Cloud Data Security Market by Value (US$ '000), 2019 - 2029
4.5.2. BPS Analysis/Market Attractiveness Analysis

5. Europe Cloud Data Security Market Outlook, 2019 - 2029
5.1. Europe Cloud Data Security Market Outlook, by Components (US$ '000), 2019 - 2029
5.1.1. Key Highlights
5.1.1.1. Solutions
5.1.1.2. Services
5.1.2. BPS Analysis/Market Attractiveness Analysis
5.2. Europe Cloud Data Security Market Outlook, by Verticals, Value (US$ '000), 2019 - 2029
5.2.1. Key Highlights
5.2.1.1. Banking & Financial Services
5.2.1.2. Government and Public Utilities
5.2.1.3. Healthcare and Life Sciences
5.2.1.4. IT and Telecom
5.2.1.5. Retail
5.2.1.6. Others
5.2.2. BPS Analysis/Market Attractiveness Analysis
5.3. Europe Cloud Data Security Market Outlook, by Offerings, Value (US$ '000), 2019 - 2029
5.3.1. Key Highlights
5.3.1.1. Fully managed
5.3.1.2. Co-Managed
5.3.2. BPS Analysis/Market Attractiveness Analysis
5.4. Europe Cloud Data Security Market Outlook, by Org Size, Value (US$ '000), 2019 - 2029
5.4.1. Key Highlights
5.4.1.1. Small and Medium-Sized Enterprises
5.4.1.2. Large Enterprises
5.4.2. BPS Analysis/Market Attractiveness Analysis
5.5. Europe Cloud Data Security Market Outlook, by Country, Value (US$ '000), 2019 - 2029
5.5.1. Key Highlights
5.5.1.1. Germany Cloud Data Security Market by Value (US$ '000), 2019 - 2029
5.5.1.2. France Cloud Data Security Market by Product, Value (US$ '000), 2019 - 2029
5.5.1.3. U.K. Cloud Data Security Market by Value (US$ '000), 2019 - 2029
5.5.1.4. Italy Cloud Data Security Market by Value (US$ '000), 2019 - 2029
5.5.1.5. Spain Cloud Data Security Market by Product, Value (US$ '000), 2019 - 2029
5.5.1.6. Rest of Europe Cloud Data Security Market Value (US$ '000), 2019 - 2029
5.5.2. BPS Analysis/Market Attractiveness Analysis

6. Asia Pacific Cloud Data Security Market Outlook, 2019 - 2029
6.1. Asia Pacific Cloud Data Security Market Outlook, by Components (US$ '000), 2019 - 2029
6.1.1. Key Highlights
6.1.1.1. Solutions
6.1.1.2. Services
6.1.2. BPS Analysis/Market Attractiveness Analysis
6.2. Asia Pacific Cloud Data Security Market Outlook, by Verticals, Value (US$ '000), 2019 - 2029
6.2.1. Key Highlights
6.2.1.1. Banking & Financial Services
6.2.1.2. Government and Public Utilities
6.2.1.3. Healthcare and Life Sciences
6.2.1.4. IT and Telecom
6.2.1.5. Retail
6.2.1.6. Others
6.2.2. BPS Analysis/Market Attractiveness Analysis
6.3. Asia Pacific Cloud Data Security Market Outlook, by Offerings, Value (US$ '000), 2019 - 2029
6.3.1. Key Highlights
6.3.1.1. Fully Managed
6.3.1.2. Co-Managed
6.3.2. BPS Analysis/Market Attractiveness Analysis
6.4. Asia Pacific Cloud Data Security Market Outlook, by Org Size, Value (US$ '000), 2019 - 2029
6.4.1. Key Highlights
6.4.1.1. Small and Medium-Sized Enterprises
6.4.1.2. Large Enterprises
6.4.2. BPS Analysis/Market Attractiveness Analysis
6.5. Asia Pacific Cloud Data Security Market Outlook, by Country, Value (US$ '000), 2019 - 2029
6.5.1. Key Highlights
6.5.1.1. India Cloud Data Security Market by Value (US$ '000), 2019 - 2029
6.5.1.2. China Cloud Data Security Market by Value (US$ '000), 2019 - 2029
6.5.1.3. Japan Cloud Data Security Market by Value (US$ '000), 2019 - 2029
6.5.1.4. Australia & New Zealand Cloud Data Security Market Value (US$ '000), 2019 - 2029
6.5.1.5. Rest of Asia Pacific Market by Value (US$ '000), 2019 - 2029
6.5.2. BPS Analysis/Market Attractiveness Analysis

7. Latin America Cloud Data Security Market Outlook, 2019 - 2029
7.1. Latin America Cloud Data Security Market Outlook, by Components (US$ '000), 2019 - 2029
7.1.1. Key Highlights
7.1.1.1. Solutions
7.1.1.2. Services
7.1.2. BPS Analysis/Market Attractiveness Analysis
7.2. Latin America Cloud Data Security Market Outlook, by Verticals, Value (US$ '000), 2019 - 2029
7.2.1. Key Highlights
7.2.1.1. Banking & Financial Services
7.2.1.2. Government and Public Utilities
7.2.1.3. Healthcare and Life Sciences
7.2.1.4. IT and Telecom
7.2.1.5. Retail
7.2.1.6. Others
7.2.2. BPS Analysis/Market Attractiveness Analysis
7.3. Latin America Cloud Data Security Market Outlook, by Offerings, Value (US$ '000), 2019 - 2029
7.3.1. Key Highlights
7.3.1.1. Fully Managed
7.3.1.2. Co-Managed
7.3.2. BPS Analysis/Market Attractiveness Analysis
7.4. Latin America Cloud Data Security Market Outlook, by Org Size, Value (US$ '000), 2019 - 2029
7.4.1. Key Highlights
7.4.1.1. Small and Medium-Sized Enterprises
7.4.1.2. Large Enterprises
7.4.2. BPS Analysis/Market Attractiveness Analysis
7.5. Latin America Cloud Data Security Market Outlook, by Country, Value (US$ '000), 2019 - 2029
7.5.1. Key Highlights
7.5.1.1. Brazil Cloud Data Security Market by Value (US$ '000), 2019 - 2029
7.5.1.2. Mexico Cloud Data Security Market by Value (US$ '000), 2019 - 2029
7.5.1.3. Rest of Latin America Cloud Data Security Market by Value (US$ '000), 2019 - 2029
7.5.2. BPS Analysis/Market Attractiveness Analysis

8. Middle East & Africa Cloud Data Security Market Outlook, 2019 - 2029
8.1. Middle East & Africa Cloud Data Security Market Outlook, by Components (US$ '000), 2019 - 2029
8.1.1. Key Highlights
8.1.1.1. Solutions
8.1.1.2. Services
8.1.2. BPS Analysis/Market Attractiveness Analysis
8.2. Middle East & Africa Cloud Data Security Market Outlook, by Verticals, Value (US$ '000), 2019 - 2029
8.2.1. Key Highlights
8.2.1.1. Banking & Financial Services
8.2.1.2. Government and Public Utilities
8.2.1.3. Healthcare and Life Sciences
8.2.1.4. IT and Telecom
8.2.1.5. Retail
8.2.1.6. Others
8.2.2. BPS Analysis/Market Attractiveness Analysis
8.3. Middle East & Africa Cloud Data Security Market Outlook, by Offerings, Value (US$ '000), 2019 - 2029
8.3.1. Key Highlights
8.3.1.1. Fully managed
8.3.1.2. Co-Managed
8.3.2. BPS Analysis/Market Attractiveness Analysis
8.4. Middle East & Africa Cloud Data Security Market Outlook, by Org Size, Value (US$ '000), 2019 - 2029
8.4.1. Key Highlights
8.4.1.1. Small and Medium-Sized Enterprises
8.4.1.2. Large Enterprises
8.4.2. BPS Analysis/Market Attractiveness Analysis
8.5. Middle East & Africa Cloud Data Security Market Outlook, by Country, Value (US$ '000), 2019 - 2029
8.5.1. Key Highlights
8.5.1.1. GCC Cloud Data Security Market by Value (US$ '000), 2019 - 2029
8.5.1.2. South Africa Cloud Data Security Market by Value (US$ '000), 2019 - 2029
8.5.1.3. Rest of Middle East & Africa Cloud Data Security Market by Value (US$ '000), 2019 - 2029
8.5.2. BPS Analysis/Market Attractiveness Analysis

9. Competitive Landscape
9.1. Company Market Share Analysis, 2019
9.2. Company Profiles
9.2.1. IBM
9.2.1.1. Company Overview
9.2.1.2. Key Retailing Partners
9.2.1.3. Business Segment Revenue
9.2.1.4. Ingredient Overview
9.2.1.5. Product Offering & its Presence
9.2.1.6. Certifications & Claims
9.2.2. Cisco Systems
9.2.3. Microsoft Corporation
9.2.4. Sailpoint Technologies
9.2.5. Oracle
9.2.6. DELL
9.2.7. HITACHI
9.2.8. CA Technologies
9.2.9. Okta
9.2.10. Micro Focus
9.2.11. Centrify Corp

10. Appendix
10.1. Research Methodology
10.2. Report Assumptions
10.3. Acronyms and Abbreviations
BASE YEAR

HISTORICAL DATA

FORECAST PERIOD

UNITS

2021

2019 - 2021

2022 - 2029


Value: US$ Million
REPORT FEATURES

DETAILS

Components Coverage

Org Size Coverage

Verticals Coverage

Banking & Financial Services

Government and Public Utilities

Healthcare and Life Sciences

IT and Telecom

Retail

Others

Offerings Coverage

Geographical Coverage

North America

Europe

Germany

France

U.K.

Italy

Turkey

Spain

Russia

Rest of Europe

Asia Pacific

China

Japan

South Korea

India

Southeast Asia

Rest of Asia Pacific

Latin America

Brazil

Mexico

Rest of Latin America

Middle East & Africa

Leading Companies

Cisco Systems

Microsoft Corporation

Sailpoint Technologies

Oracle

DELL

IBM

HITACHI

CA Technologies

Okta

Micro Focus

Centrify Corp

Report Highlights

Market Estimates and Forecast, Market Dynamics, Industry Trends, Competition Landscape, Product-, Application-, Region-, Country-wise Trends & Analysis, COVID-19 Impact Analysis, Key Trends