Cocoa Butter Market Outlook
Cocoa Butter Market Growth Underpinned by Demand from Cosmetic Industry
The wide applications of cocoa in the production of chocolates and myriad confectionery items have continued to give the market a nonstop momentum. Its delectable taste lending ability remains unmatched, making it an irreplaceable ingredient for the food and beverages industry. The exceptional medicinal properties of cocoa have also given the global cocoa butter market an impetus in recent years. Its antioxidant-rich nature has earned the product a special place amongst nutritionists and lifestyle coaches.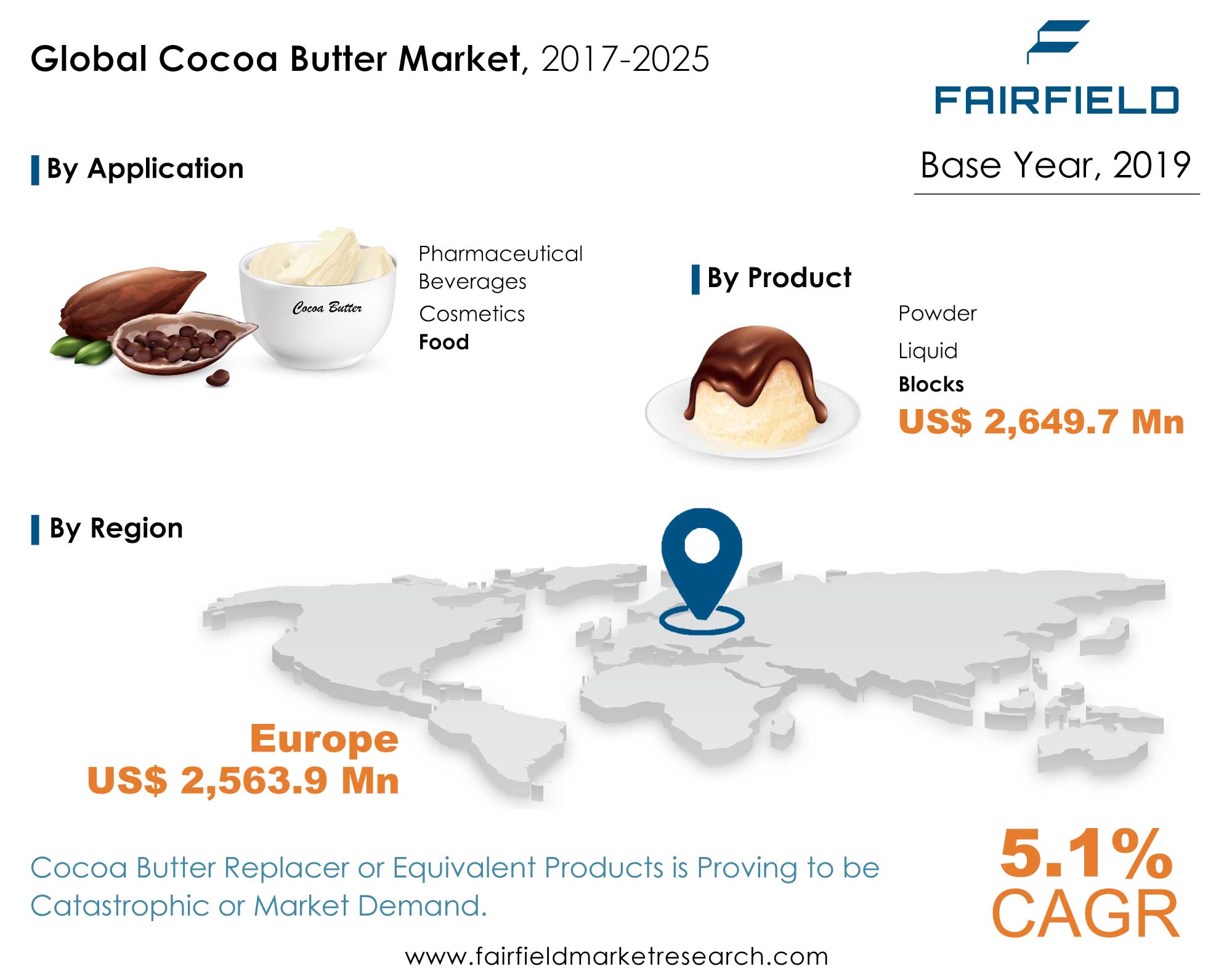 Polyphenols, widely found in plant foods, are the main antioxidants present in cocoa. Cocoa butter, which is extracted from cocoa beans, is rich in expanded unsaturated fats such as stearic acid, palmitic acid, and lauric acid. Generally, five different qualities of butter are extracted from various raw materials. Typically, 100 g of beans produce 40 g of cocoa butter, 40 g of cocoa powder, and 20 g of waste material. According to the Federation of Cocoa Commerce Market, cocoa butter is made available in forms such as press cocoa butter, expeller cocoa butter, and refined cocoa butter.
Keen Interest of Cosmetic Companies in Cocoa Butter Generates Newer Opportunities
Cocoa butter is used as a key ingredient in the food and beverages industry. In recent years, its usage has been exceptionally high in bakeries and confectioneries. However, cocoa butter is now gaining traction in other industries, specifically the cosmetics industry.
It is now being used as one of the texturizing agents in the production of skincare products. Products such as lip sparkles, body butter, and lotions are extensively using cocoa butter for the outcome it brings. Cosmetics manufacturers are continuously launching and promoting new skincare products comprising cocoa butter. For example, in 2018, beauty brand American Dream introduced new additions to its Cocoa Butter range called Lavender and Lemon. This trend is expected to boost the market demand in the near future.
Worries About High-fat Content in Cocoa Butter to Act as a Restraint
However, the cocoa butter market may see a slower growth during the forecast period. Various processed food manufacturers are likely to focus on low fat, low sugar, and low carbs products. In addition, the regulatory bodies are also contributing to this trend and limiting the use of trans fats in food products.
For example, the Saudi Food & Drug Authority (SFDA) implemented a ban on the use of trans-fat in food products in 2020. According to this new regulation, the maximum limit of "trans fats" in vegetable oils and margarine shall be 2% and 5% in other food products out of the total fat content. Thus, increased ingredient manufacturer intervention in a bid to offer clean labels may hinder the cocoa butter market growth.
In late 2019, Bunge Loaders Croklaan launched a clean label cocoa butter replacer coined as Couva 806 NH for the confectionery industry, which is another case in point. The product claims to contain a low trans-fat level (<1%) and is non-hydrogenated, non-tempering, and low saturated fat. With this product, the company also announced to expand its footprints in Asia Pacific region.
Asia Pacific Paves Way with Skyrocketing Consumption of Bakery Products
Globally West Africa, South East Asia, and South America are the largest producers of cocoa. Few of the largest producing countries primary includes Ivory Coast, Ghana, India, and Indonesia. The production is highly concentrated in West Africa, which accounts for nearly 70% of the global production. In terms of cocoa butter consumption, Europe is one of the largest consumers.
However, Asia Pacific region is expected to register the highest CAGR over the forecast period. Increasing demand for confectionery and bakery products is paving the market for cocoa butter in the region. Also, key processors are opening and expanding their production facilities in the region, resulting in a price drop of cocoa butter. This is projected to encourage confectioners to develop new products. Thus, all these factors are collectively expected to boost the cocoa butter demand in Asia Pacific region in the coming years.
Product Innovation to Ensure Success
Some of the major players consider in the market are Cargill Inc., Natra S.A., Barry Callebaut AG, Bolmay Cocoa, SunOpta, Inc., Shirin Asal Food Industrial Group PJSC, Olam International Ltd, ECOM Agroindustrial Corporation, JB Foods Ltd, and United Cocoa Processor, Inc among others. Manufacturers operating in the global cocoa butter market are expanding their product portfolios by offering advanced property options to consumers.
For instance, in 2019 AAK launched cocoa butter under the brand name COBAO Pure. The company claims that the product delays migration and heat-related bloom, improves bloom-retarding effects and extends shelf life between 50% to 400%.
The Global Cocoa Butter Market is Segmented as Below:
By Form Coverage
By Product Type Coverage
Fully Deodorized
Natural
Semi Deodorized
By Nature Coverage
By Application Coverage
Food
Bakery
Confectionery
Frozen Dessert
Pet Food
Beverages
Pharmaceutical
Cosmetics
By Geographical Coverage
North America
Europe

Germany
France
UK
Spain
Italy
Netherland
Switzerland
Belgium
Russia
Poland
Rest of Europe

Asia Pacific

India
China
Japan
Australia
Singapore
Indonesia
New Zealand
Rest of Asia Pacific

Latin America

Brazil
Mexico
Argentina
Rest of Latin America

Middle East & Africa

UAE
Saudi Arabia
South Africa
Israel
Rest of Middle East & Africa
Leading Companies
Olam International Ltd
Barry Callebaut
Cargill Incorporated
Archer-Daniels-Midland Company
SunOpta Inc
NATRA
Guan Chong Berhad Group
JBCOCOA Sdn. Bhd
Moner Cocoa, S.A.
United Cocoa Processor, Inc
Inside This Report You Will Find:
1. Executive Summary
2. Market Overview
3. Global Cocoa and Cocoa Butter Production & Trade Statistics
4. Global Cocoa Butter Market Outlook, 2017 - 2025
5. North America Cocoa Butter Market Outlook, 2017 - 2025
6. Europe Cocoa Butter Market Outlook, 2017 - 2025
7. Asia Pacific Cocoa Butter Market Outlook, 2017 - 2025
8. Latin America Cocoa Butter Market Outlook, 2017 - 2025
9. Middle East & Africa Cocoa Butter Market Outlook, 2017 - 2025
10. Competitive Landscape
11. Appendix
Post Sale Support, Research Updates & Offerings:
We value the trust shown by our customers in Fairfield Market Research. We support our clients through our post sale support, research updates and offerings.
The report will be prepared in a PPT format and will be delivered in a PDF format.
Additionally, Market Estimation and Forecast numbers will be shared in Excel Workbook.
If a report being sold was published over a year ago, we will offer a complimentary copy of the updated research report along with Market Estimation and Forecast numbers within 2-3 weeks' time of the sale.
If we update this research study within the next 2 quarters, post purchase of the report, we will offer a Complimentary copy of the updated Market Estimation and Forecast numbers in Excel Workbook.
If there is a geopolitical conflict, pandemic, recession, and the like which can impact global economic scenario and business activity, which might entirely alter the market dynamics or future projections in the industry, we will create a Research Update upon your request at a nominal charge.
1. Executive Summary
1.1. Global Cocoa Butter Market Snapshot
1.2. Key Market Trends
1.3. Analyst Recommendations


2. Market Overview
2.1. Market Definitions
2.2. Market Taxonomy
2.3. Market Dynamics
2.3.1. Drivers
2.3.2. Restraints
2.4. Value Chain Analysis
2.5. Porter's Five Forces Analysis
2.6. Covid-19 Impact Analysis


3. Global Cocoa and Cocoa Butter Production & Trade Statistics
3.1. Global Cocoa Production Overview
3.2. Global Cocoa Bean Volume Processor Analysis
3.3. Global Cocoa Consumption Overview
3.4. Global Cocoa Bean Export Overview
3.5. Global Cocoa Bean Export Overview
3.6. Global Cocoa Bean Pricing Analysis
3.7. Cocoa Butter Production Process Overview
3.8. Cocoa Butter, Fat & Oil Export Overview
3.9. Cocoa Butter, Fat & Oil Import Overview
3.10. Cocoa Butter Pricing Analysis


4. Global Cocoa Butter Market Outlook, 2017 - 2025
4.1. Global Cocoa Butter Market Outlook, by Region, Volume (Tons) and Value (US$ Mn), 2017 - 2025
4.1.1. Key Highlights
4.1.1.1. North America
4.1.1.2. Europe
4.1.1.3. Asia Pacific
4.1.1.4. Latin America
4.1.1.5. Middle East & Africa
4.1.2. BPS Analysis - 2020 - 2025
4.2. Global Cocoa Butter Market Outlook, by Form, Volume (Tons) and Value (US$ Mn), 2017 - 2025
4.2.1. Key Highlights
4.2.1.1. Blocks
4.2.1.2. Liquid
4.2.1.3. Powder
4.2.2. BPS Analysis - 2020-2025
4.3. Global Cocoa Butter Market Outlook, by Product Type, Volume (Tons) and Value (US$ Mn), 2017 - 2025
4.3.1. Key Highlights
4.3.1.1. Fully Deodorized
4.3.1.2. Natural
4.3.1.3. Semi Deodorized
4.3.2. BPS Analysis - 2020 - 2025
4.4. Global Cocoa Butter Market Outlook, by Nature, Volume (Tons) and Value (US$ Mn), 2017 - 2025
4.4.1. Key Highlights
4.4.1.1. Organic
4.4.1.2. Conventional
4.4.2. BPS Analysis - 2020 - 2025
4.5. Global Cocoa Butter Market Outlook, by Application, Volume (Tons) and Value (US$ Mn), 2017 - 2025
4.5.1. Key Highlights
4.5.1.1. Food
4.5.1.1.1. Bakery
4.5.1.1.2. Confectionery
4.5.1.1.3. Frozen Dessert
4.5.1.1.4. Pet Food
4.5.1.2. Beverages
4.5.1.3. Pharmaceutical
4.5.1.4. Cosmetics
4.5.2. BPS Analysis - 2020 - 2025


5. North America Cocoa Butter Market Outlook, 2017 - 2025
5.1. North America Cocoa Butter Market Outlook, by Country, Volume (Tons) and Value (US$ Mn), 2017 - 2025
5.1.1. Key Highlights
5.1.1.1. U.S. Cocoa Butter Market by Volume (Tons) and Value (US$ Mn), 2017 - 2025
5.1.1.2. Canada Cocoa Butter Market by Volume (Tons) and Value (US$ Mn), 2017 - 2025
5.1.2. BPS Analysis - 2020 - 2025
5.2. North America Cocoa Butter Market Outlook, by Form, Volume (Tons) and Value (US$ Mn), 2017 - 2025
5.2.1. Key Highlights
5.2.1.1. Blocks
5.2.1.2. Liquid
5.2.1.3. Powder
5.2.2. BPS Analysis - 2020 - 2025
5.3. North America Cocoa Butter Market Outlook, by Product Type, Volume (Tons) and Value (US$ Mn), 2017 - 2025
5.3.1. Key Highlights
5.3.1.1. Fully Deodorized
5.3.1.2. Natural
5.3.1.3. Semi Deodorized
5.3.2. BPS Analysis - 2020 - 2025
5.4. North America Cocoa Butter Market Outlook, by Nature, Volume (Tons) and Value (US$ Mn), 2017 - 2025
5.4.1. Key Highlights
5.4.1.1. Organic
5.4.1.2. Conventional
5.4.2. BPS Analysis - 2020 - 2025
5.5. North America Cocoa Butter Market Outlook, by Application, Volume (Tons) and Value (US$ Mn), 2017 - 2025
5.5.1. Key Highlights
5.5.1.1. Food
5.5.1.1.1. Bakery
5.5.1.1.2. Confectionery
5.5.1.1.3. Frozen Dessert
5.5.1.1.4. Pet Food
5.5.1.2. Beverages
5.5.1.3. Pharmaceutical
5.5.1.4. Cosmetics
5.5.2. BPS Analysis - 2020 - 2025


6. Europe Cocoa Butter Market Outlook, 2017 - 2025
6.1. Europe Cocoa Butter Market Outlook, by Country, Volume (Tons) and Value (US$ Mn), 2017 - 2025
6.1.1. Key Highlights
6.1.1.1. Germany Cocoa Butter Market by Volume (Tons) and Value (US$ Mn), 2017 - 2025
6.1.1.2. France Cocoa Butter Market by Product, Volume (Tons) and Value (US$ Mn), 2017 - 2025
6.1.1.3. U.K. Cocoa Butter Market by Volume (Tons) and Value (US$ Mn), 2017 - 2025
6.1.1.4. Italy Cocoa Butter Market by Volume (Tons) and Value (US$ Mn), 2017 - 2025
6.1.1.5. Spain Cocoa Butter Market by Product, Volume (Tons) and Value (US$ Mn), 2017 - 2025
6.1.1.6. Netherland Cocoa Butter Market by Volume (Tons) and Value (US$ Mn), 2017 - 2025
6.1.1.7. Switzerland Cocoa Butter Market by Volume (Tons) and Value (US$ Mn), 2017 - 2025
6.1.1.8. Belgium Cocoa Butter Market by Volume (Tons) and Value (US$ Mn), 2017 - 2025
6.1.1.9. Russia Cocoa Butter Market by Volume (Tons) and Value (US$ Mn), 2017 - 2025
6.1.1.10. Poland Cocoa Butter Market by Volume (Tons) and Value (US$ Mn), 2017 - 2025
6.1.1.11. Rest of Europe Cocoa Butter Market Volume (Tons) and Value (US$ Mn), 2017 - 2025
6.1.2. BPS Analysis - 2020 - 2025
6.2. Europe Cocoa Butter Market Outlook, by Form, Volume (Tons) and Value (US$ Mn), 2017 - 2025
6.2.1. Key Highlights
6.2.1.1. Blocks
6.2.1.2. Liquid
6.2.1.3. Powder
6.2.2. BPS Analysis - 2020 - 2025
6.3. Europe Cocoa Butter Market Outlook, by Product Type, Volume (Tons) and Value (US$ Mn), 2017 - 2025
6.3.1. Key Highlights
6.3.1.1. Fully Deodorized
6.3.1.2. Natural
6.3.1.3. Semi Deodorized
6.3.2. BPS Analysis - 2020 - 2025
6.4. Europe Cocoa Butter Market Outlook, by Nature, Volume (Tons) and Value (US$ Mn), 2017 - 2025
6.4.1. Key Highlights
6.4.1.1. Organic
6.4.1.2. Conventional
6.4.2. BPS Analysis - 2020 - 2025
6.5. Europe Cocoa Butter Market Outlook, by Application, Volume (Tons) and Value (US$ Mn), 2017 - 2025
6.5.1. Key Highlights
6.5.1.1. Food
6.5.1.1.1. Bakery
6.5.1.1.2. Confectionery
6.5.1.1.3. Frozen Dessert
6.5.1.1.4. Pet Food
6.5.1.2. Beverages
6.5.1.3. Pharmaceutical
6.5.1.4. Cosmetics
6.5.2. BPS Analysis - 2020 - 2025


7. Asia Pacific Cocoa Butter Market Outlook, 2017 - 2025
7.1. Asia Pacific Cocoa Butter Market Outlook, by Country, Volume (Tons) and Value (US$ Mn), 2017 - 2025
7.1.1. Key Highlights
7.1.1.1. China Cocoa Butter Market by Volume (Tons) and Value (US$ Mn), 2017 - 2025
7.1.1.2. Japan Cocoa Butter Market by Volume (Tons) and Value (US$ Mn), 2017 - 2025
7.1.1.3. India Cocoa Butter Market by Volume (Tons) and Value (US$ Mn), 2017 - 2025
7.1.1.4. Australia Cocoa Butter Market by Volume (Tons) and Value (US$ Mn), 2017 - 2025
7.1.1.5. Singapore Cocoa Butter Market Volume (Tons) and Value (US$ Mn), 2017 - 2025
7.1.1.6. Indonesia Cocoa Butter Market Volume (Tons) and Value (US$ Mn), 2017 - 2025
7.1.1.7. New Zealand Cocoa Butter Market Volume (Tons) and Value (US$ Mn), 2017 - 2025
7.1.1.8. Rest of Asia Pacific Market by Volume (Tons) and Value (US$ Mn), 2017 - 2025
7.1.2. BPS Analysis - 2020 - 2025
7.2. Asia Pacific Cocoa Butter Market Outlook, by Form Volume (Tons) and Value (US$ Mn), 2017 - 2025
7.2.1. Key Highlights
7.2.1.1. Blocks
7.2.1.2. Liquid
7.2.1.3. Powder
7.2.2. BPS Analysis
7.3. Asia Pacific Cocoa Butter Market Outlook, by Product Type Volume (Tons) and Value (US$ Mn), 2017 - 2025
7.3.1. Key Highlights
7.3.1.1. Fully Deodorized
7.3.1.2. Natural
7.3.1.3. Semi Deodorized
7.3.2. BPS Analysis
7.4. Asia Pacific Cocoa Butter Market Outlook, by Nature Volume (Tons) and Value (US$ Mn), 2017 - 2025
7.4.1. Key Highlights
7.4.1.1. Organic
7.4.1.2. Conventional
7.4.2. BPS Analysis
7.5. Asia Pacific Cocoa Butter Market Outlook, by Application, Volume (Tons) and Value (US$ Mn), 2017 - 2025
7.5.1. Key Highlights
7.5.1.1. Food
7.5.1.1.1. Bakery
7.5.1.1.2. Confectionery
7.5.1.1.3. Frozen Dessert
7.5.1.1.4. Pet Food
7.5.1.2. Beverages
7.5.1.3. Pharmaceutical
7.5.1.4. Cosmetics
7.5.2. BPS Analysis - 2020 - 2025


8. Latin America Cocoa Butter Market Outlook, 2017 - 2025
8.1. Latin America Cocoa Butter Market Outlook, by Country, Volume (Tons) and Value (US$ Mn), 2017 - 2025
8.1.1. Key Highlights
8.1.1.1. Brazil Cocoa Butter Market by Volume (Tons) and Value (US$ Mn), 2017 - 2025
8.1.1.2. Mexico Cocoa Butter Market by Volume (Tons) and Value (US$ Mn), 2017 - 2025
8.1.1.3. Argentina Cocoa Butter Market by Volume (Tons) and Value (US$ Mn), 2017 - 2025
8.1.1.4. Rest of Latin America Cocoa Butter Market by Volume (Tons) and Value (US$ Mn), 2017 - 2025
8.1.2. BPS Analysis - 2020 - 2025
8.2. Latin America Cocoa Butter Market Outlook, by Form, Volume (Tons) and Value (US$ Mn), 2017 - 2025
8.2.1. Key Highlights
8.2.1.1. Blocks
8.2.1.2. Liquid
8.2.1.3. Powder
8.2.2. BPS Analysis - 2020 - 2025
8.3. Latin America Cocoa Butter Market Outlook, by Product Type, Volume (Tons) and Value (US$ Mn), 2017 - 2025
8.3.1. Key Highlights
8.3.1.1. Fully Deodorized
8.3.1.2. Natural
8.3.1.3. Semi Deodorized
8.3.2. BPS Analysis - 2020 - 2025
8.4. Latin America Cocoa Butter Market Outlook, by Nature, Volume (Tons) and Value (US$ Mn), 2017 - 2025
8.4.1. Key Highlights
8.4.1.1. Organic
8.4.1.2. Conventional
8.4.2. BPS Analysis - 2020 - 2025
8.5. Latin America Cocoa Butter Market Outlook, by Application, Volume (Tons) and Value (US$ Mn), 2017 - 2025
8.5.1. Key Highlights
8.5.1.1. Food
8.5.1.1.1. Bakery
8.5.1.1.2. Confectionery
8.5.1.1.3. Frozen Dessert
8.5.1.1.4. Pet Food
8.5.1.2. Beverages
8.5.1.3. Pharmaceutical
8.5.1.4. Cosmetics
8.5.2. BPS Analysis - 2020 - 2025


9. Middle East & Africa Cocoa Butter Market Outlook, 2017 - 2025
9.1. Middle East & Africa Cocoa Butter Market Outlook, by Country, Volume (Tons) and Value (US$ Mn), 2017 - 2025
9.1.1. Key Highlights
9.1.1.1. UAE Cocoa Butter Market by Volume (Tons) and Value (US$ Mn), 2017 - 2025
9.1.1.2. Saudi Arabia Cocoa Butter Market by Volume (Tons) and Value (US$ Mn), 2017 - 2025
9.1.1.3. South Africa Cocoa Butter Market by Volume (Tons) and Value (US$ Mn), 2017 - 2025
9.1.1.4. Israel Cocoa Butter Market by Volume (Tons) and Value (US$ Mn), 2017 - 2025
9.1.1.5. Rest of Middle East & Africa Cocoa Butter Market by Volume (Tons) and Value (US$ Mn), 2017 - 2025
9.1.2. BPS Analysis - 2020 - 2025
9.2. Middle East & Africa Cocoa Butter Market Outlook, by Form, Volume (Tons) and Value (US$ Mn), 2017 - 2025
9.2.1. Key Highlights
9.2.1.1. Blocks
9.2.1.2. Liquid
9.2.1.3. Powder
9.2.2. BPS Analysis - 2020 - 2025
9.3. Middle East & Africa Cocoa Butter Market Outlook, by Product Type, Volume (Tons) and Value (US$ Mn), 2017 - 2025
9.3.1. Key Highlights
9.3.1.1. Fully Deodorized
9.3.1.2. Natural
9.3.1.3. Semi Deodorized
9.3.2. BPS Analysis - 2020 - 2025
9.4. Middle East & Africa Cocoa Butter Market Outlook, by Nature, Volume (Tons) and Value (US$ Mn), 2017 - 2025
9.4.1. Key Highlights
9.4.1.1. Organic
9.4.1.2. Conventional
9.4.2. BPS Analysis - 2020 - 2025
9.5. Middle East & Africa Cocoa Butter Market Outlook, by Application, Volume (Tons) and Value (US$ Mn), 2017 - 2025
9.5.1. Key Highlights
9.5.1.1. Food
9.5.1.1.1. Bakery
9.5.1.1.2. Confectionery
9.5.1.1.3. Frozen Dessert
9.5.1.1.4. Pet Food
9.5.1.2. Beverages
9.5.1.3. Pharmaceutical
9.5.1.4. Cosmetics
9.5.2. BPS Analysis - 2020 - 2025


10. Competitive Landscape
10.1. Company Market Share Analysis, 2020
10.2. Company Profiles
10.2.1. Olam International Ltd
10.2.1.1. Company Overview
10.2.1.2. Business Segment Revenue
10.2.1.3. Regional Presence
10.2.1.4. Product Offering & Presence
10.2.1.4.1. By Application
10.2.1.4.2. By Form
10.2.1.5. Product Description
10.2.2. Barry Callebaut
10.2.2.1. Company Overview
10.2.2.2. Business Segment Revenue
10.2.2.3. Regional Presence
10.2.2.4. Product Offering & Presence
10.2.2.4.1. By Application
10.2.2.4.2. By Form
10.2.2.5. Product Description
10.2.3. Cargill Inc
10.2.3.1. Company Overview
10.2.3.2. Regional Presence
10.2.3.3. Product Offering & Presence
10.2.3.3.1. By Application
10.2.3.3.2. By Form
10.2.3.4. Product Description
10.2.4. Archer-Daniels-Midland Company
10.2.4.1. Company Overview
10.2.4.2. Business Segment Revenue
10.2.4.3. Regional Presence
10.2.4.4. Product Offering & Presence
10.2.4.4.1. By Application
10.2.4.4.2. By Form
10.2.4.5. Product Description
10.2.5. SunOpta Inc
10.2.5.1. Company Overview
10.2.5.2. Business Segment Revenue
10.2.5.3. Regional Presence
10.2.5.4. Product Offering & Presence
10.2.5.4.1. By Application
10.2.5.4.2. By Form
10.2.5.5. Product Description
10.2.6. Natra
10.2.6.1. Company Overview
10.2.6.2. Regional Presence
10.2.6.3. Product Offering & Presence
10.2.6.3.1. By Application
10.2.6.3.2. By Form
10.2.6.4. Product Description
10.2.7. Guan Chong Berhad Group
10.2.7.1. Company Overview
10.2.7.2. Regional Presence
10.2.7.3. Product Offering & Presence
10.2.7.3.1. By Application
10.2.7.3.2. By Form
10.2.7.4. Product Description
10.2.8. JBCOCOA Sdn. Bhd
10.2.8.1. Company Overview
10.2.8.2. Regional Presence
10.2.8.3. Product Offering & Presence
10.2.8.3.1. By Application
10.2.8.3.2. By Form
10.2.8.4. Product Description
10.2.9. Moner Cocoa, S.A.
10.2.9.1. Company Overview
10.2.9.2. Regional Presence
10.2.9.3. Product Offering & Presence
10.2.9.3.1. By Application
10.2.9.3.2. By Form
10.2.9.4. Product Description
10.2.10. United Cocoa Processor, Inc
10.2.10.1. Company Overview
10.2.10.2. Regional Presence
10.2.10.3. Product Offering & Presence
10.2.10.3.1. By Application
10.2.10.3.2. By Form
10.2.10.4. Product Description


11. Appendix
11.1. Research Methodology
11.2. Report Assumptions
11.3. Acronyms and Abbreviations