Global coconut oil market was valued at US$5.3 Bn in 2021 and is likely to reach the valuation of US$8.2 Bn by 2029, registering an estimated CAGR of 5.7% between the forecast years of 2022 to 2029.
Rising Use in Cooking Augments Global Coconut Oil Market Growth
Coconut oil is an edible oil that has been extracted from the meat or kernel of mature coconuts. It has a wide range of applications in food, cosmetics, and industrial products. Coconut oil is rich in saturated fats, which makes it resistant to oxidation, and spoilage. This gives it a prolonged shelf-life and makes it ideal for use in tropical climates. The global coconut oil market is expected to witness significant growth over the forecast period. The growing demand for natural and organic products is a major factor driving the growth of global coconut oil market. The health benefits associated with the use of coconut oil is pushing its use in cooking, which is driving the expansion of coconut oil market. High smoke point, and antioxidant properties of coconut oil are surging its use in cooking activities like frying, baking, and sautéing, thereby accelerating the progress of coconut oil market.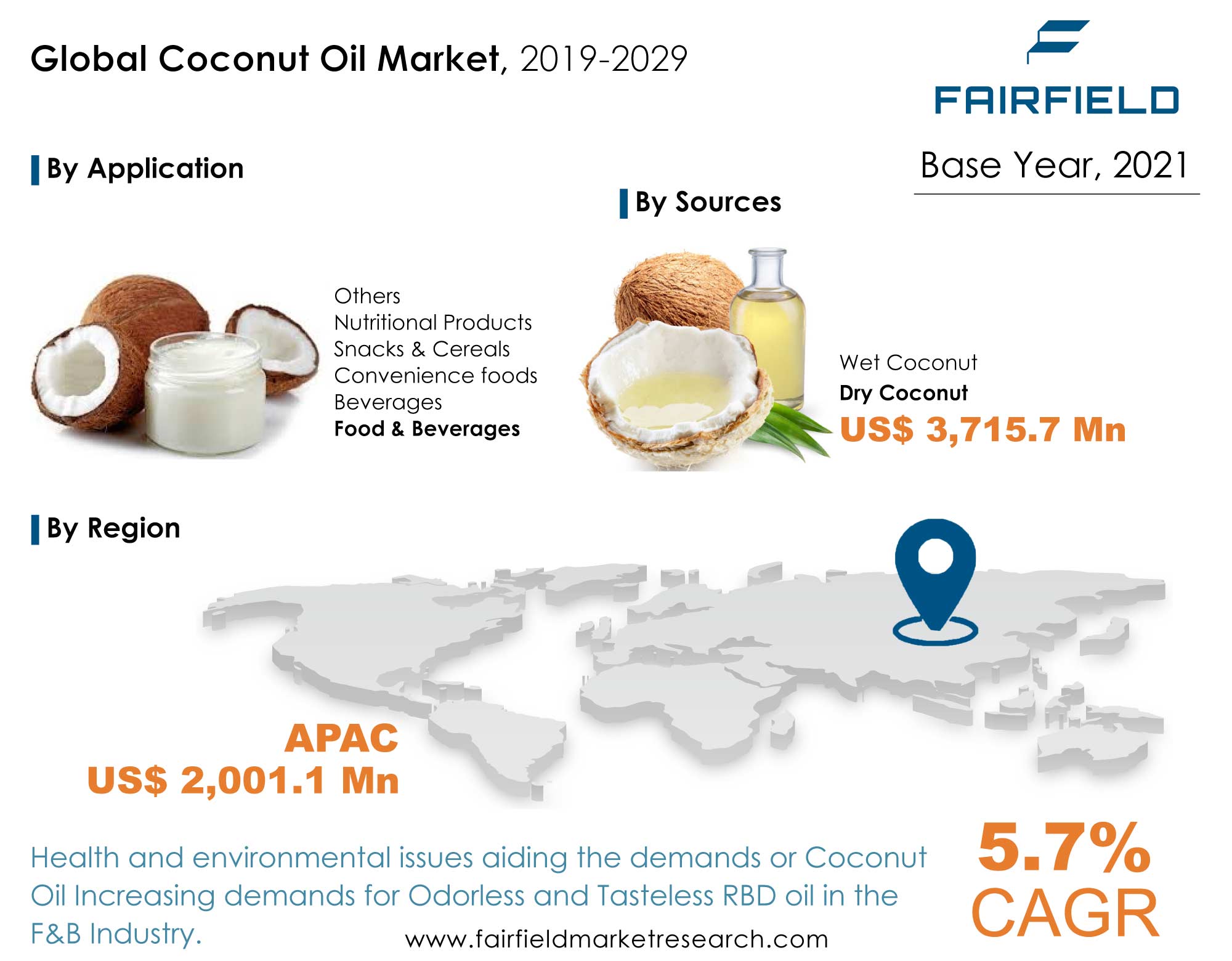 As coconut oil is enriched with diverse flavours, it is extensively utilized during preparations of traditional cuisines in the country. Moreover, rapidly expanding vegan population worldwide is leading to a surge in the incorporation of coconut oil as a substitute for butter, which is significantly contributing toward the proliferation of coconut oil market. With the rising demand for healthy bakery and confectionery products, coconut oil is extensively used to boost the nutritional profile in the bakery industry, thus creating a steady stream of revenue generation opportunities for coconut oil market. In addition, the high content of saturated fatty acids and the resistance to oxidative rancidity make coconut oil ideal for use in infant formulas, which is providing impetus to the growth of coconut oil market.
Robust Growth of Cosmetics and Personal Care Industry to Present Revenue Generation Opportunities to Coconut Oil Market
Global coconut oil market is driven by the robust growth of the cosmetics and personal care industry. As coconut oil contains essential minerals and oils, it is widely incorporated as a moisturising agent in cosmetics and skincare products, thereby fuelling the growth of coconut oil market. Furthermore, the growing trend of do-it-yourself skincare, popularized during the COVID-19 pandemic, is fostering adoption of coconut oil across personal care industry, which is bolstering the growth of coconut oil market.
Western Regions Witness Newer Avenues Emerging for Virgin Oil, Asia Pacific Represents Leading Coconut Oil Market Growth
Increasing production of virgin coconut oil owing to its versatile uses is directly influencing the performance of coconut oil market. As the prevalence of various health-related issues in India is significantly surging, virgin coconut oil is being increasingly preferred in cooking owing to the high content of minerals, and vitamin E, which is in turn driving the growth of coconut oil market. With rising demand for virgin coconut oil in North American, and European regions, the export scenario is flourishing. Moreover, rising availability of diverse and cost-effective virgin coconut oil in India is surging its demand, which is expected to provide further impetus to the industry growth in the forecast period.
Globally, Asia Pacific is expected to maintain lead in global coconut oil market by the end of 2029. Presence of a large traditional consumer base, consistent product launches, and promising prospects of nutraceuticals are expected to drive coconut oil market in the region. Changing lifestyles and busy schedules, have increased unhealthy habits among consumers in recent years leading to various health-related problems. As a result, rising preference for healthy food and heightening health concerns among consumers are anticipated to be the primary drivers for coconut oil market over the forecast period. Asia Pacific's coconut oil market is developing strong and will be the fastest growing market anticipating a high CAGR. India remains a significant pocket in Asia's coconut oil market as several parts of the country have been traditional consumers of coconut oil varieties for a wealth of applications.
Global Coconut Oil Market: Competitive Landscape
The global coconut oil market is highly diversified and competitive in nature owing to the presence of large number of local and international manufacturers, globally. Moreover, several producers of coconut oil have made huge production facilities available in several countries. Some of the leading market players identified are Cargill, ADM, BUNGE, HAIN CELESTIAL, ADANI GROUP, Nutiva Inc., Barlean's Organic Oils LLC, Greenville Agro Corp, Adams group, and Connoils LLC. The coconut oil market is witnessing a strong competition, globally. Many market players are acquiring or merging with small and large manufacturers to sustain in this competitive market.
In August 2021, Nutiva, a US-based company that manufactures organic plant-based foods, acquired Coconut Secret for an undisclosed amount. The acquisition will expand Nutiva's presence in areas with high population trends and manufacture more coconut-related products. Consumers can get delicious, clean, sustainable pantry essentials from Nutiva and Coconut Secret, which are now required ingredients in most recipes. Coconut Secret is a US-based company producing and selling coconut oil and snacks.
The Global Coconut Oil Market is Segmented as Below:
By Form Coverage
By Type Coverage
By Form Coverage
By Application Coverage
Food & Beverages
Snacks & Cereals
Nutritional Products
Beverages
Convenience foods
Others
By Geographical Coverage
North America
Europe

Germany
France
UK
Italy
Turkey
Spain
Russia
Rest of Europe

Asia Pacific

China
Japan
South Korea
India
Southeast Asia
Rest of Asia Pacific

Latin America

Brazil
Mexico
Rest of Latin America

Middle East & Africa

GCC
Egypt
Rest of Middle East & Africa
Leading Companies
Cargill
ADM
BUNGE
HAIN CELESTIAL
ADANI GROUP
Nutiva Inc.
Barlean's Organic Oils LLC
Greenville Agro Corp
Adams group
Connoils LLC
Inside This Report You Will Find:
1. Executive Summary
2. Market Overview
3. Global Coconut Oil Market Outlook, 2019 - 2029
4. North America Coconut Oil Market Outlook, 2019 - 2029
5. Europe Coconut Oil Market Outlook, 2019 - 2029
6. Asia Pacific Coconut Oil Market Outlook, 2019 - 2029
7. Latin America Coconut Oil Market Outlook, 2019 - 2029
8. Middle East & Africa Coconut Oil Market Outlook, 2019 - 2029
9. Competitive Landscape
10. Appendix
Post Sale Support, Research Updates & Offerings:
We value the trust shown by our customers in Fairfield Market Research. We support our clients through our post sale support, research updates and offerings.
The report will be prepared in a PPT format and will be delivered in a PDF format.
Additionally, Market Estimation and Forecast numbers will be shared in Excel Workbook.
If a report being sold was published over a year ago, we will offer a complimentary copy of the updated research report along with Market Estimation and Forecast numbers within 2-3 weeks' time of the sale.
If we update this research study within the next 2 quarters, post purchase of the report, we will offer a Complimentary copy of the updated Market Estimation and Forecast numbers in Excel Workbook.
If there is a geopolitical conflict, pandemic, recession, and the like which can impact global economic scenario and business activity, which might entirely alter the market dynamics or future projections in the industry, we will create a Research Update upon your request at a nominal charge.
1. Executive Summary
1.1. Global Coconut Oil Market Snapshot
1.2. Future Projections
1.3. Key Market Trends
1.4. Analyst Recommendations

2. Market Overview
2.1. Market Definitions
2.2. Market Taxonomy
2.3. Market Dynamics
2.3.1. Drivers
2.3.2. Restraints
2.4. Value Chain Analysis
2.5. Porter's Five Forces Analysis
2.6. Covid-19 Impact Analysis
2.7. Key Patents

3. Global Coconut Oil Market Outlook, 2019 - 2029
3.1. Global Coconut Oil Market Outlook, by Form, Value (US$ '000), 2019 - 2029
3.1.1. Key Highlights
3.1.1.1. Organic
3.1.1.2. Conventional
3.1.2. BPS Analysis/Market Attractiveness Analysis
3.2. Global Coconut Oil Market Outlook, by Type, Value (US$ '000), 2019 - 2029
3.2.1. Key Highlights
3.2.1.1. RBD
3.2.1.2. Virgin
3.2.1.3. Crude
3.2.2. BPS Analysis/Market Attractiveness Analysis
3.3. Global Coconut Oil Market Outlook, by Application, Value (US$ '000), 2019 - 2029
3.3.1. Key Highlights
3.3.1.1. Food & Beverages
3.3.1.2. Snacks & Cereals
3.3.1.3. Nutritional Products
3.3.1.4. Beverages
3.3.1.5. Convenience foods
3.3.1.6. Others
3.3.2. BPS Analysis/Market Attractiveness Analysis
3.4. Global Coconut Oil Market Outlook, by Source, Value (US$ '000), 2019 - 2029
3.4.1. Key Highlights
3.4.1.1. Dry Coconut
3.4.1.2. Wet Coconut
3.4.2. BPS Analysis/Market Attractiveness Analysis
3.5. Global Coconut Oil Market Outlook, by Region, Value (US$ '000), 2019 - 2029
3.5.1. Key Highlights
3.5.1.1. North America
3.5.1.2. Europe
3.5.1.3. Asia Pacific
3.5.1.4. Latin America
3.5.1.5. Middle East & Africa
3.5.2. BPS Analysis/Market Attractiveness Analysis

4. North America Coconut Oil Market Outlook, 2019 - 2029
4.1. North America Coconut Oil Market Outlook, by Form, Value (US$ '000), 2019 - 2029
4.1.1. Key Highlights
4.1.1.1. Organic
4.1.1.2. Conventional
4.1.2. BPS Analysis/Market Attractiveness Analysis
4.2. North America Coconut Oil Market Outlook, by Type, Value (US$ '000), 2019 - 2029
4.2.1. Key Highlights
4.2.1.1. RBD
4.2.1.2. Virgin
4.2.1.3. Crude
4.2.2. BPS Analysis/Market Attractiveness Analysis
4.3. North America Coconut Oil Market Outlook, by Application, Value (US$ '000), 2019 - 2029
4.3.1. Key Highlights
4.3.1.1. Food & Beverages
4.3.1.2. Snacks & Cereals
4.3.1.3. Nutritional Products
4.3.1.4. Beverages
4.3.1.5. Convenience foods
4.3.1.6. Others
4.3.2. BPS Analysis/Market Attractiveness Analysis
4.4. North America Coconut Oil Market Outlook, by Source, Value (US$ '000), 2019 - 2029
4.4.1. Key Highlights
4.4.1.1. Dry Coconut
4.4.1.2. Wet Coconut
4.4.2. BPS Analysis/Market Attractiveness Analysis
4.5. North America Coconut Oil Market Outlook, by Country, Value (US$ '000), 2019 - 2029
4.5.1. Key Highlights
4.5.1.1. U.S. Coconut Oil Market by Value (US$ '000), 2019 - 2029
4.5.1.2. Canada Coconut Oil Market by Value (US$ '000), 2019 - 2029
4.5.2. BPS Analysis/Market Attractiveness Analysis

5. Europe Coconut Oil Market Outlook, 2019 - 2029
5.1. Europe Coconut Oil Market Outlook, by Form, Value (US$ '000), 2019 - 2029
5.1.1. Key Highlights
5.1.1.1. Organic
5.1.1.2. Conventional
5.1.2. BPS Analysis/Market Attractiveness Analysis
5.2. Europe Coconut Oil Market Outlook, by Type, Value (US$ '000), 2019 - 2029
5.2.1. Key Highlights
5.2.1.1. RBD
5.2.1.2. Virgin
5.2.1.3. Crude
5.2.2. BPS Analysis/Market Attractiveness Analysis
5.3. Europe Coconut Oil Market Outlook, by Application, Value (US$ '000), 2019 - 2029
5.3.1. Key Highlights
5.3.1.1. Food & Beverages
5.3.1.2. Snacks & Cereals
5.3.1.3. Nutritional Products
5.3.1.4. Beverages
5.3.1.5. Convenience foods
5.3.1.6. Others
5.3.2. BPS Analysis/Market Attractiveness Analysis
5.4. Europe Coconut Oil Market Outlook, by Source, Value (US$ '000), 2019 - 2029
5.4.1. Key Highlights
5.4.1.1. Dry Coconut
5.4.1.2. Wet Coconut
5.4.2. BPS Analysis/Market Attractiveness Analysis
5.5. Europe Coconut Oil Market Outlook, by Country, Value (US$ '000), 2019 - 2029
5.5.1. Key Highlights
5.5.1.1. Germany Coconut Oil Market by Value (US$ '000), 2019 - 2029
5.5.1.2. France Coconut Oil Market by Product, Value (US$ '000), 2019 - 2029
5.5.1.3. U.K. Coconut Oil Market by Value (US$ '000), 2019 - 2029
5.5.1.4. Italy Coconut Oil Market by Value (US$ '000), 2019 - 2029
5.5.1.5. Spain Coconut Oil Market by Product, Value (US$ '000), 2019 - 2029
5.5.1.6. Rest of Europe Coconut Oil Market Value (US$ '000), 2019 - 2029
5.5.2. BPS Analysis/Market Attractiveness Analysis

6. Asia Pacific Coconut Oil Market Outlook, 2019 - 2029
6.1. Asia Pacific Coconut Oil Market Outlook, by Form, Value (US$ '000), 2019 - 2029
6.1.1. Key Highlights
6.1.1.1. Organic
6.1.1.2. Conventional
6.1.2. BPS Analysis/Market Attractiveness Analysis
6.2. Asia Pacific Coconut Oil Market Outlook, by Type, Value (US$ '000), 2019 - 2029
6.2.1. Key Highlights
6.2.1.1. RBD
6.2.1.2. Virgin
6.2.1.3. Crude
6.2.2. BPS Analysis/Market Attractiveness Analysis
6.3. Asia Pacific Coconut Oil Market Outlook, by Application, Value (US$ '000), 2019 - 2029
6.3.1. Key Highlights
6.3.1.1. Food & Beverages
6.3.1.2. Snacks & Cereals
6.3.1.3. Nutritional Products
6.3.1.4. Beverages
6.3.1.5. Convenience foods
6.3.1.6. Others
6.3.2. BPS Analysis/Market Attractiveness Analysis
6.4. Asia Pacific Coconut Oil Market Outlook, by Source, Value (US$ '000), 2019 - 2029
6.4.1. Key Highlights
6.4.1.1. Dry Coconut
6.4.1.2. Wet Coconut
6.4.2. BPS Analysis/Market Attractiveness Analysis
6.5. Asia Pacific Coconut Oil Market Outlook, by Country, Value (US$ '000), 2019 - 2029
6.5.1. Key Highlights
6.5.1.1. India Coconut Oil Market by Value (US$ '000), 2019 - 2029
6.5.1.2. China Coconut Oil Market by Value (US$ '000), 2019 - 2029
6.5.1.3. Japan Coconut Oil Market by Value (US$ '000), 2019 - 2029
6.5.1.4. Australia & New Zealand Coconut Oil Market Value (US$ '000), 2019 - 2029
6.5.1.5. Rest of Asia Pacific Market by Value (US$ '000), 2019 - 2029
6.5.2. BPS Analysis/Market Attractiveness Analysis

7. Latin America Coconut Oil Market Outlook, 2019 - 2029
7.1. Latin America Coconut Oil Market Outlook, by Form, Value (US$ '000), 2019 - 2029
7.1.1. Key Highlights
7.1.1.1. Organic
7.1.1.2. Conventional
7.1.2. BPS Analysis/Market Attractiveness Analysis
7.2. Latin America Coconut Oil Market Outlook, by Type, Value (US$ '000), 2019 - 2029
7.2.1. Key Highlights
7.2.1.1. RBD
7.2.1.2. Virgin
7.2.1.3. Crude
7.2.2. BPS Analysis/Market Attractiveness Analysis
7.3. Latin America Coconut Oil Market Outlook, by Application, Value (US$ '000), 2019 - 2029
7.3.1. Key Highlights
7.3.1.1. Food & Beverages
7.3.1.2. Snacks & Cereals
7.3.1.3. Nutritional Products
7.3.1.4. Beverages
7.3.1.5. Convenience foods
7.3.1.6. Others
7.3.2. BPS Analysis/Market Attractiveness Analysis
7.4. Latin America Coconut Oil Market Outlook, by Source, Value (US$ '000), 2019 - 2029
7.4.1. Key Highlights
7.4.1.1. Dry Coconut
7.4.1.2. Wet Coconut
7.4.2. BPS Analysis/Market Attractiveness Analysis
7.5. Latin America Coconut Oil Market Outlook, by Country, Value (US$ '000), 2019 - 2029
7.5.1. Key Highlights
7.5.1.1. Brazil Coconut Oil Market by Value (US$ '000), 2019 - 2029
7.5.1.2. Mexico Coconut Oil Market by Value (US$ '000), 2019 - 2029
7.5.1.3. Rest of Latin America Coconut Oil Market by Value (US$ '000), 2019 - 2029
7.5.2. BPS Analysis/Market Attractiveness Analysis

8. Middle East & Africa Coconut Oil Market Outlook, 2019 - 2029
8.1. Middle East & Africa Coconut Oil Market Outlook, by Form, Value (US$ '000), 2019 - 2029
8.1.1. Key Highlights
8.1.1.1. Organic
8.1.1.2. Conventional
8.1.2. BPS Analysis/Market Attractiveness Analysis
8.2. Middle East & Africa Coconut Oil Market Outlook, by Type, Value (US$ '000), 2019 - 2029
8.2.1. Key Highlights
8.2.1.1. RBD
8.2.1.2. Virgin
8.2.1.3. Crude
8.2.2. BPS Analysis/Market Attractiveness Analysis
8.3. Middle East & Africa Coconut Oil Market Outlook, by Application, Value (US$ '000), 2019 - 2029
8.3.1. Key Highlights
8.3.1.1. Food & Beverages
8.3.1.2. Snacks & Cereals
8.3.1.3. Nutritional Products
8.3.1.4. Beverages
8.3.1.5. Convenience foods
8.3.1.6. Others
8.3.2. BPS Analysis/Market Attractiveness Analysis
8.4. Middle East & Africa Coconut Oil Market Outlook, by Source, Value (US$ '000), 2019 - 2029
8.4.1. Key Highlights
8.4.1.1. Dry Coconut
8.4.1.2. Wet Coconut
8.4.2. BPS Analysis/Market Attractiveness Analysis
8.5. Middle East & Africa Coconut Oil Market Outlook, by Country, Value (US$ '000), 2019 - 2029
8.5.1. Key Highlights
8.5.1.1. GCC Coconut Oil Market by Value (US$ '000), 2019 - 2029
8.5.1.2. South Africa Coconut Oil Market by Value (US$ '000), 2019 - 2029
8.5.1.3. Rest of Middle East & Africa Coconut Oil Market by Value (US$ '000), 2019 - 2029
8.5.2. BPS Analysis/Market Attractiveness Analysis
9. Competitive Landscape
9.1. Company Market Share Analysis, 2021
9.2. Company Profiles
9.2.1. Cargill
9.2.1.1. Company Overview
9.2.1.2. Key Retailing Partners
9.2.1.3. Business Segment Revenue
9.2.1.4. Ingredient Overview
9.2.1.5. Product Offering & its Presence
9.2.1.6. Certifications & Claims
9.2.2. ADM
9.2.3. BUNGE
9.2.4. HAIN CELESTIAL
9.2.5. ADANI GROUP
9.2.6. Nutiva Inc.
9.2.7. Barlean's Organic Oils LLC
9.2.8. Greenville Agro Corp
9.2.9. Adams group
9.2.10. Connoils LLC

10. Appendix
10.1. Research Methodology
10.2. Report Assumptions
10.3. Acronyms and Abbreviations
BASE YEAR

HISTORICAL DATA

FORECAST PERIOD

UNITS

2021

2019 - 2021

2022 - 2029

Value: US$ Million
REPORT FEATURES

DETAILS

Form Coverage

Type Coverage

Form Coverage

Application Coverage

Food & Beverages

Snacks & Cereals

Nutritional Products

Beverages

Convenience foods

Others

Geographical Coverage

North America

Europe

Germany

France

U.K.

Italy

Turkey

Spain

Russia

Rest of Europe

Asia Pacific

China

Japan

South Korea

India

Southeast Asia

Rest of Asia Pacific

Latin America

Brazil

Mexico

Rest of Latin America

Middle East & Africa

Leading Companies

Report Highlights

Market Estimates and Forecast, Market Dynamics, Industry Trends, Competition Landscape, Product-, Application-, Region-, Country-wise Trends & Analysis, COVID-19 Impact Analysis, Key Trends