Global Cooking Oil Market Forecast
Global market for cooking oil likely to jump from US$201.5 Bn in 2022 to US$302.2 Bn in 2030
Cooking oil market size likely to see a promising rise at a CAGR of 5.2% during 2023 - 2030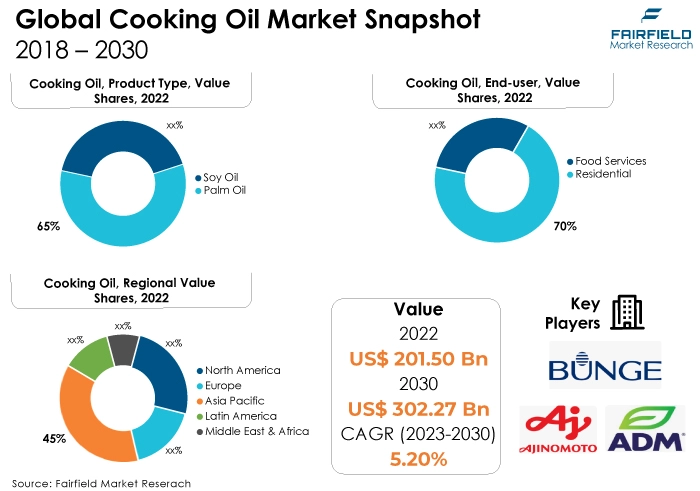 Quick Report Digest
The key trend anticipated to fuel the cooking oil market growth is the growing health consciousness. The increasing awareness about healthy dietary choices fuels the demand for healthier cooking oils.
The rise in culinary tourism and the expanding foodservice sector provide significant market opportunities.
In 2022, growing vegan and vegetarian communities drive the preference for plant-based cooking oils, creating a specialised market niche.
Palm oil's versatility in culinary and industrial applications establishes it as the dominant product type in the market.
In 2022, soy oil's health advantages, such as low saturated fat content, drive its rapid growth in the market.
Residential consumers prefer palm oil for everyday cooking due to its accessibility and affordability.
Asia Pacific's rich culinary traditions fuel the extensive use of cooking oils, making it the dominant market. Increasing disposable income in countries like China, and India boosts consumer purchasing power, driving market growth.
Growing health awareness leads to the adoption of healthier cooking oils, fostering market growth in North America. The rising trend of home-cooked meals, influenced by the COVID-19 pandemic, contributes to the region's fastest growth rate.
A Look Back and a Look Forward - Comparative Analysis
The market for cooking oil has grown in popularity as a result of factors such as a surge in demand owing to increased health awareness and diverse culinary practices worldwide. Health-conscious consumers are driving the market towards healthier options, leading to a rise in demand for oils rich in omega-3 fatty acids and low in saturated fats.
Additionally, the growing foodservice industry, coupled with the adoption of eco-friendly and sustainable cooking oils, further amplifies market growth. The market witnessed staggered growth during the historical period 2018 - 2022. The cooking oil market witnessed substantial growth attributed to evolving consumer preferences.
During this period, there was a notable shift towards plant-based cooking oils like soy oil and palm oil due to their perceived health benefits. Economic growth in emerging markets led to increased disposable income, allowing consumers to explore premium and organic cooking oil options.
The cooking oil market is poised for further growth. Anticipated advancements in sustainable packaging, coupled with a continued emphasis on health-conscious choices, are expected to drive the market. With a rising focus on eco-friendly practices, the market will witness a surge in demand for oils derived from organic and sustainable sources.
Moreover, the integration of technology, such as precision agriculture and IoT-based monitoring in the production process, is set to enhance overall productivity and quality. As consumers demand transparency and ethical practices from manufacturers, the market will see a significant transformation, fostering a future where health, sustainability, and innovation converge in the cooking oil industry.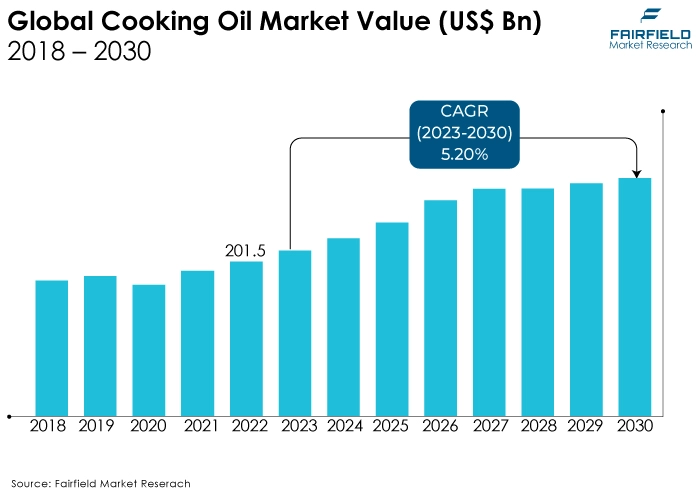 Key Growth Determinants
Growing Health Consciousness Among Consumers
The increasing awareness about healthy lifestyles and the adverse effects of a high-saturated-fat diet is a significant driver in the cooking oil market. Consumers are becoming more health-conscious, opting for oils that are low in saturated fats and rich in essential nutrients.
Cooking oils with high levels of omega-3 fatty acids, such as flaxseed oil, and those containing heart-healthy monounsaturated fats, like olive oil, are witnessing heightened demand. Manufacturers are responding to this trend by producing oils that cater to specific dietary needs, promoting heart health and overall well-being.
Foodservice Industry's Unprecedented Growth
The retail and e-commerce industries have used packaging equipment to outperform the competition. High consumer expectations and the spike in demand for quick delivery have given e-retailers the push to innovate to fulfill orders on time and stay competitive in the market. This creates a significant possibility for packing equipment to experience quick acceptance in the e-commerce sector.
For instance, Kiva Systems' packaging automation solutions may pick items off the shelf and deliver them to workers. As a result, to handle high-volume and high-value orders, e-commerce and retailing enterprises are currently investing in integrating robotics.
Expanding Culinary Explorations
The booming foodservice industry, including restaurants, cafés, and fast-food chains, significantly drives the cooking oil market. Commercial establishments require large quantities of cooking oils to cater to the demands of their customers. With the rise of food delivery services and the growing trend of eating out, the demand for cooking oils in the foodservice sector is escalating.
Moreover, chefs and culinary professionals are increasingly choosing premium and speciality oils to enhance the taste and nutritional value of their dishes. This shift towards higher-quality oils, both in commercial kitchens and households, fuels market growth.
Major Growth Barriers
Fluctuating Raw Material Prices
The cooking oil market faces challenges due to the volatility in raw material prices, particularly in the case of oils sourced from specific crops. Fluctuations in agricultural yields and weather patterns directly impact production costs, affecting the overall market stability.
The price variations pose challenges for manufacturers in maintaining consistent pricing for their products, potentially impacting profit margins and consumer affordability.
Regulatory Constraints, and Perceived Health Concerns
Stringent regulations and health concerns regarding trans fats and high levels of saturated fats pose significant restraints on the cooking oil market. Regulatory bodies often impose limitations on the use of certain oils with high cholesterol content, influencing consumer choices.
Additionally, rising awareness about the health implications of consuming certain types of oils limits market opportunities. Manufacturers must navigate complex regulations and invest in research and development to offer healthier alternatives, which can be costly and time-consuming, impacting market growth.
Key Trends and Opportunities to Look at
Rise of Sustainable and Organic Oils
There's a growing trend towards sustainable and organic cooking oils due to environmental concerns and health awareness. Popularity is surging globally, with consumers demanding transparent sourcing and eco-friendly practices. Key players are investing in organic certifications and eco-labeling, leveraging the trend for market expansion and brand loyalty.
Technological Innovations in Oil Extraction
Technological advancements in oil extraction processes are enhancing efficiency and product quality. Regions like North America, and Europe are embracing innovative extraction techniques, leading to higher yields and purer oils. Major companies are investing in research, developing cutting-edge extraction methods, ensuring superior products, and gaining a competitive edge.
Soaring Prospects of Plant-Based and Speciality Oils
Plant-based and speciality oils, such as avocado, and walnut oil, are gaining popularity due to their unique flavours, and health benefits. These oils are becoming culinary staples in regions like Asia, and North America.
Companies are introducing diverse oil variants, capitalising on culinary trends. Brands are focusing on marketing these speciality oils, anticipating increased consumer demand for gourmet cooking experiences.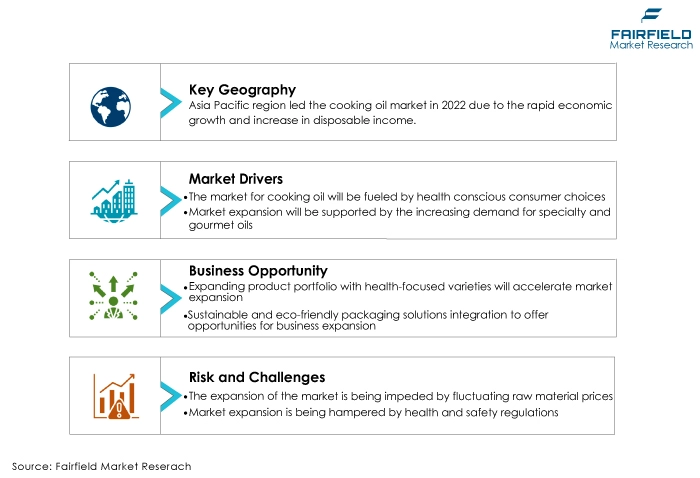 How Does the Regulatory Scenario Shape this Industry?
The cooking oil market is significantly influenced by a complex web of regulatory frameworks and standards set by various governmental and international bodies. For instance, the US FDA is responsible for enforcing laws in the US regarding cooking oil labelling, safety, and health claims. Within the European Union, food safety and additive regulations are set by the European Food Safety Authority (EFSA).
Regulations unique to a certain region further influence the market. For instance, environmental concerns have led to increased examination of palm oil production in Southeast Asia, prompting the creation of programmes such as the Roundtable on Sustainable Palm Oil (RSPO) accreditation. These regulations influence market dynamics by promoting sustainable practices and shaping consumer preferences.
As the demand for healthier and ethically sourced oils rises, regulatory efforts continue to drive innovation and market expansion, ensuring consumers have access to safe, high-quality cooking oils. Additionally, certifications such as USDA Organic and EU Organic have gained prominence, encouraging the production and consumption of organic cooking oils, aligning with health and environmental concerns.
Fairfield's Ranking Board
Top Segments
Palm Oil Sales Dominant
Palm oil stands out as the dominant market category in the cooking oil market. In 2022, commanding a significant share globally, with approximately 65% of the market. This dominance can be attributed to its versatile applications, affordability, and high yield per acre. The robust demand from the food industry and the increasing use of biofuels and cosmetics contribute to its market leadership.
Furthermore, soy oil emerges as the fastest-growing market category, experiencing a rapid growth rate of around 8% annually. Its popularity among customers who are health-conscious stems from its low saturated fat content and high unsaturated fat content, which are factors driving its growth. Moreover, the growing demand for plant-based protein sources, of which soy is a significant contributor, further propels its market growth.
Residential Sector Registers the Maximum Adoption
In 2022, the residential segment serves as the dominant market category in the cooking oil market, constituting approximately 70% of the total market share. This dominance stems from the widespread use of cooking oils in households globally. Cooking oils are essential ingredients in various cuisines and everyday cooking practices, making them indispensable for residential consumers.
The foodservices segment emerges as the fastest-growing category, experiencing a notable growth rate of around 10% annually. This growth is primarily attributed to the booming restaurant, catering, and food delivery industries worldwide. With the rise of online food platforms and the growing trend of dining out, the demand for cooking oils in commercial kitchens has surged signi ficantly.
Regional Frontrunners
Asia Pacific Extends a Dominating Revenue Contribution
Asia Pacific continues to be the largest revenue-contributing region in the global cooking oil market, accounting for approximately 45% of the total market share. Numerous factors contribute to its supremacy. First of all, there are a lot of people living in the area, and cooking oil is a common element in many Asian dishes.
The market is driven by the growing levels of consumption in nations like Malaysia, Indonesia, China, and India. Furthermore, dietary preferences for healthier oils have changed as a result of rising disposable income in emerging nations, which has helped to expand the industry.
Moreover, the expanding food industry, rapid urbanisation, and the growth of the hospitality sector contribute to the sustained demand for cooking oils in the Asia Pacific region.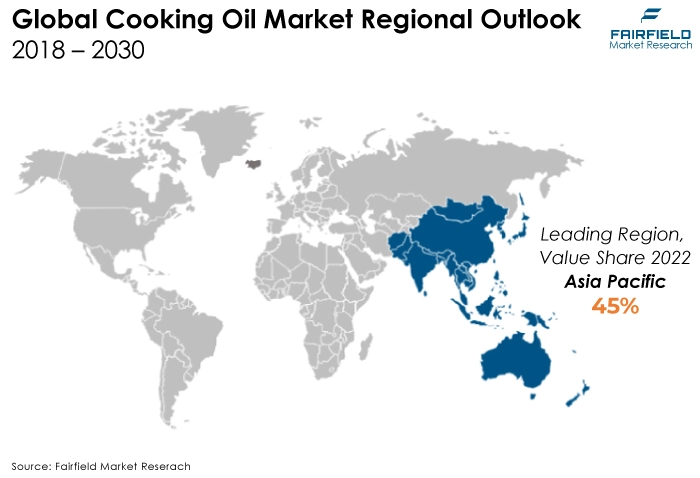 North America's Gains Come from Healthier Oil Varieties
North America is poised to witness significant growth in cooking oil sales during the forecast period, with an anticipated increase of approximately 12%. Several factors contribute to this growth. The region's increasing focus on healthier lifestyles, and dietary choices has led to rising demand for speciality oils such as olive oil, avocado oil, and coconut oil, which are perceived as healthier alternatives.
The growing trend of home cooking, coupled with the popularity of diverse cuisines, has boosted the demand for various cooking oils for different culinary applications. Moreover, the expanding foodservice industry, including restaurants and fast-food chains, contributes to the high demand for cooking oils in commercial kitchens.
In addition, the emphasis on sustainable and organic cooking oils aligns with the region's eco-conscious consumer base, further fueling sales.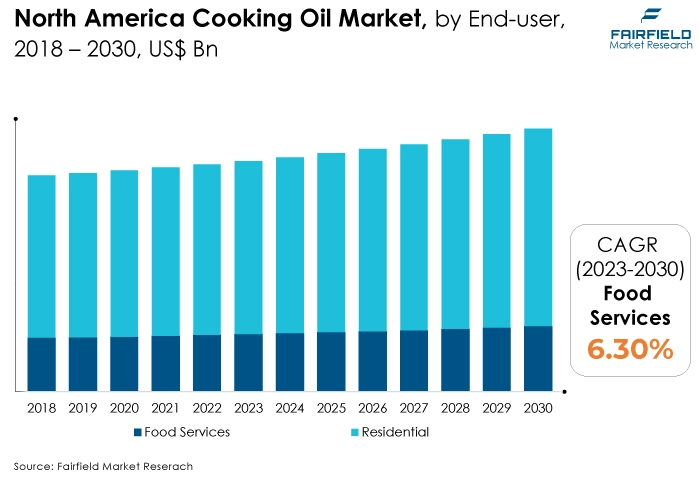 Fairfield's Competitive Landscape Analysis
In the competitive landscape, innovative product offerings and strategic marketing will be key drivers. Companies investing in research and development to create unique, health-focused blends and eco-friendly packaging solutions will gain a competitive edge.
With e-commerce platforms expanding globally, digital marketing and online presence will become vital in reaching a wider consumer base. Furthermore, collaborations with local farmers and communities for sustainable sourcing and fair trade practices will not only foster goodwill but also ensure a stable supply of raw materials.
Who are the Leaders in the Global Cooking Oil Space?
Significant Company Developments
New Product Launches
March 2022:Desmet, a well-known supplier of processing equipment and solutions for the edible oil and biofuel industries, was bought by Alfa Laval. A part of the Desmet Ballestra Group was Desmet. Alfa Laval's position in the sector of renewable energy was reinforced by the acquisition, which also assisted the business in growing its selection of cooking oils.
November 2021: An edible oil refinery in Nellore, Andhra Pradesh, was purchased by Cargill. Cargill's investment in acquiring and modernising the facility will greatly increase its capacity for producing edible oil, increase its presence in southern India, and enhance its current supply chain to satisfy rising customer demand.
November 2021:Bunge stated its intentions to invest more than EUR 300 million (USD 343 million) for the expansion project in order to establish the new facility in the HoogTij industrial sector of the Port of Amsterdam. The move, according to the business, was essential to maximising Bunge's asset footprint in Europe and was anticipated to increase operational flexibility and efficiency.
Distribution Agreements
August 2021:The Indian government has unveiled a new national palm oil production strategy to boost agricultural income. With an expenditure of nearly USD 1,470.6 million, the National Edible Oil Mission Oil Palm (NMEOOP) strategy seeks to attain self-sufficiency in cooking oil. The strategy aims to boost palm oil production, lessen reliance on imports, and assist farmers in making money from sizable markets.
June 2021 :In order to address the rising demand for sustainable and traceable edible palm oil, argill Inc. recently announced intentions to invest USD 200 million in the construction of a new palm oil refinery in Lampung, Indonesia. Due to their ideal weather, expanding economies, and burgeoning populations, Southeast Asian nations are being targeted by the company for corporate expansion.
An Expert's Eye
Demand and Future Growth
Consumers' shifting focus toward healthier lifestyles, and conscious eating habits will be a pivotal force driving the cooking oil market in the long term. The trend toward organic, cold-pressed, and speciality oils reflects this change, with consumers increasingly valuing quality and nutritional benefits.
Challenges, however, lie in navigating the delicate balance between affordability and quality. With the demand for healthier options rising, the challenge for industry participants will be to innovate cost-effective production methods without compromising on the nutritional value and quality of oils.
Supply Side of the Market
According to our analysis, the industry faces the challenge of ensuring a stable and sustainable supply chain amidst environmental concerns and fluctuating raw material prices. Sustainable sourcing practices, transparency in the supply chain, and eco-friendly production methods will be essential.
Additionally, advancements in technology, such as precision agriculture and efficient oil extraction techniques, will enhance the supply chain's efficiency, ensuring a consistent flow of high-quality cooking oils to meet growing demands.
Furthermore, collaboration with local farmers and communities can help promote responsible farming practices and reduce the environmental impact of raw material extraction. Implementing renewable energy sources and reducing waste in production processes can also contribute to a more sustainable supply chain, minimising the company's carbon footprint.
The Global Cooking Oil Market is Segmented as Below:
By Product Type:
By End User:
Residential Sector
Foodservice Sector
By Geographic Coverage:
North America
Europe

Germany
U.K.
France
Italy
Turkey
Russia
Rest of Europe

Asia Pacific

China
Japan
South Korea
India
Southeast Asia
Rest of Asia Pacific

Latin America

Brazil
Mexico
Argentina
Rest of Latin America

Middle East & Africa

GCC
South Africa
Egypt
Nigeria
Rest of the Middle East & Africa
1. Executive Summary
1.1. Global Cooking Oil Market Snapshot
1.2. Future Projections
1.3. Key Market Trends
1.4. Regional Snapshot, by Value, 2022
1.5. Analyst Recommendations
2. Market Overview
2.1. Market Definitions and Segmentations
2.2. Market Dynamics
2.2.1. Drivers
2.2.2. Restraints
2.2.3. Market Opportunities
2.3. Value Chain Analysis
2.4. Porter's Five Forces Analysis
2.5. COVID-19 Impact Analysis
2.5.1. Supply
2.5.2. Demand
2.6. Impact of Ukraine-Russia Conflict
2.7. Economic Overview
2.7.1. World Economic Projections
2.8. PESTLE Analysis
3. Global Cooking Oil Market Outlook, 2018 - 2030
3.1. Global Cooking Oil Market Outlook, by Product Type , Value (US$ Bn), 2018 - 2030
3.1.1. Key Highlights
3.1.1.1. Palm Oil
3.1.1.2. Soy Oil
3.2. Global Cooking Oil Market Outlook, by End User , Value (US$ Bn), 2018 - 2030
3.2.1. Key Highlights
3.2.1.1. Residential
3.2.1.2. Foodservice
3.3. Global Cooking Oil Market Outlook, by Region, Value (US$ Bn), 2018 - 2030
3.3.1. Key Highlights
3.3.1.1. North America
3.3.1.2. Europe
3.3.1.3. Asia Pacific
3.3.1.4. Latin America
3.3.1.5. Middle East & Africa
4. North America Cooking Oil Market Outlook, 2018 - 2030
4.1. North America Cooking Oil Market Outlook, by Product Type , Value (US$ Bn), 2018 - 2030
4.1.1. Key Highlights
4.1.1.1. Palm Oil
4.1.1.2. Soy Oil
4.2. North America Cooking Oil Market Outlook, by End User , Value (US$ Bn), 2018 - 2030
4.2.1. Key Highlights
4.2.1.1. Residential
4.2.1.2. Foodservice
4.2.2. BPS Analysis/Market Attractiveness Analysis
4.3. North America Cooking Oil Market Outlook, by Country, Value (US$ Bn), 2018 - 2030
4.3.1. Key Highlights
4.3.1.1. U.S. Cooking Oil Market by Product Type , Value (US$ Bn), 2018 - 2030
4.3.1.2. U.S. Cooking Oil Market End User , Value (US$ Bn), 2018 - 2030
4.3.1.3. Canada Cooking Oil Market by Product Type , Value (US$ Bn), 2018 - 2030
4.3.1.4. Canada Cooking Oil Market End User , Value (US$ Bn), 2018 - 2030
4.3.2. BPS Analysis/Market Attractiveness Analysis
5. Europe Cooking Oil Market Outlook, 2018 - 2030
5.1. Europe Cooking Oil Market Outlook, by Product Type , Value (US$ Bn), 2018 - 2030
5.1.1. Key Highlights
5.1.1.1. Palm Oil
5.1.1.2. Soy Oil
5.2. Europe Cooking Oil Market Outlook, by End User , Value (US$ Bn), 2018 - 2030
5.2.1. Key Highlights
5.2.1.1. Residential
5.2.1.2. Foodservice
5.2.2. BPS Analysis/Market Attractiveness Analysis
5.3. Europe Cooking Oil Market Outlook, by Country, Value (US$ Bn), 2018 - 2030
5.3.1. Key Highlights
5.3.1.1. Germany Cooking Oil Market by Product Type , Value (US$ Bn), 2018 - 2030
5.3.1.2. Germany Cooking Oil Market End User , Value (US$ Bn), 2018 - 2030
5.3.1.3. U.K. Cooking Oil Market by Product Type , Value (US$ Bn), 2018 - 2030
5.3.1.4. U.K. Cooking Oil Market End User , Value (US$ Bn), 2018 - 2030
5.3.1.5. France Cooking Oil Market by Product Type , Value (US$ Bn), 2018 - 2030
5.3.1.6. France Cooking Oil Market End User , Value (US$ Bn), 2018 - 2030
5.3.1.7. Italy Cooking Oil Market by Product Type , Value (US$ Bn), 2018 - 2030
5.3.1.8. Italy Cooking Oil Market End User , Value (US$ Bn), 2018 - 2030
5.3.1.9. Turkey Cooking Oil Market by Product Type , Value (US$ Bn), 2018 - 2030
5.3.1.10. Turkey Cooking Oil Market End User , Value (US$ Bn), 2018 - 2030
5.3.1.11. Russia Cooking Oil Market by Product Type , Value (US$ Bn), 2018 - 2030
5.3.1.12. Russia Cooking Oil Market End User , Value (US$ Bn), 2018 - 2030
5.3.1.13. Russia Cooking Oil Market Capacity, Value (US$ Bn), 2018 - 2030
5.3.1.14. Russia Cooking Oil Market End Use, Value (US$ Bn), 2018 - 2030
5.3.1.15. Rest of Europe Cooking Oil Market by Product Type , Value (US$ Bn), 2018 - 2030
5.3.1.16. Rest of Europe Cooking Oil Market End User , Value (US$ Bn), 2018 - 2030
5.3.2. BPS Analysis/Market Attractiveness Analysis
6. Asia Pacific Cooking Oil Market Outlook, 2018 - 2030
6.1. Asia Pacific Cooking Oil Market Outlook, by Product Type , Value (US$ Bn), 2018 - 2030
6.1.1. Key Highlights
6.1.1.1. Palm Oil
6.1.1.2. Soy Oil
6.2. Asia Pacific Cooking Oil Market Outlook, by End User , Value (US$ Bn), 2018 - 2030
6.2.1. Key Highlights
6.2.1.1. Residential
6.2.1.2. Foodservice
6.2.2. BPS Analysis/Market Attractiveness Analysis
6.3. Asia Pacific Cooking Oil Market Outlook, by Country, Value (US$ Bn), 2018 - 2030
6.3.1. Key Highlights
6.3.1.1. China Cooking Oil Market by Product Type , Value (US$ Bn), 2018 - 2030
6.3.1.2. China Cooking Oil Market End User , Value (US$ Bn), 2018 - 2030
6.3.1.3. Japan Cooking Oil Market by Product Type , Value (US$ Bn), 2018 - 2030
6.3.1.4. Japan Cooking Oil Market End User , Value (US$ Bn), 2018 - 2030
6.3.1.5. South Korea Cooking Oil Market by Product Type , Value (US$ Bn), 2018 - 2030
6.3.1.6. South Korea Cooking Oil Market End User , Value (US$ Bn), 2018 - 2030
6.3.1.7. India Cooking Oil Market by Product Type , Value (US$ Bn), 2018 - 2030
6.3.1.8. India Cooking Oil Market End User , Value (US$ Bn), 2018 - 2030
6.3.1.9. Southeast Asia Cooking Oil Market by Product Type , Value (US$ Bn), 2018 - 2030
6.3.1.10. Southeast Asia Cooking Oil Market End User , Value (US$ Bn), 2018 - 2030
6.3.1.11. Rest of Asia Pacific Cooking Oil Market by Product Type , Value (US$ Bn), 2018 - 2030
6.3.1.12. Rest of Asia Pacific Cooking Oil Market End User , Value (US$ Bn), 2018 - 2030
6.3.2. BPS Analysis/Market Attractiveness Analysis
7. Latin America Cooking Oil Market Outlook, 2018 - 2030
7.1. Latin America Cooking Oil Market Outlook, by Product Type , Value (US$ Bn), 2018 - 2030
7.1.1. Key Highlights
7.1.1.1. Palm Oil
7.1.1.2. Soy Oil
7.1.1.3. Wrap Around
7.2. Latin America Cooking Oil Market Outlook, by End User , Value (US$ Bn), 2018 - 2030
7.2.1. Key Highlights
7.2.1.1. Residential
7.2.1.2. Foodservice
7.2.2. BPS Analysis/Market Attractiveness Analysis
7.3. Latin America Cooking Oil Market Outlook, by Country, Value (US$ Bn), 2018 - 2030
7.3.1. Key Highlights
7.3.1.1. Brazil Cooking Oil Market by Product Type , Value (US$ Bn), 2018 - 2030
7.3.1.2. Brazil Cooking Oil Market End User , Value (US$ Bn), 2018 - 2030
7.3.1.3. Mexico Cooking Oil Market by Product Type , Value (US$ Bn), 2018 - 2030
7.3.1.4. Mexico Cooking Oil Market End User , Value (US$ Bn), 2018 - 2030
7.3.1.5. Argentina Cooking Oil Market by Product Type , Value (US$ Bn), 2018 - 2030
7.3.1.6. Argentina Cooking Oil Market End User , Value (US$ Bn), 2018 - 2030
7.3.1.7. Rest of Latin America Cooking Oil Market by Product Type , Value (US$ Bn), 2018 - 2030
7.3.1.8. Rest of Latin America Cooking Oil Market End User , Value (US$ Bn), 2018 - 2030
7.3.2. BPS Analysis/Market Attractiveness Analysis
8. Middle East & Africa Cooking Oil Market Outlook, 2018 - 2030
8.1. Middle East & Africa Cooking Oil Market Outlook, by Product Type , Value (US$ Bn), 2018 - 2030
8.1.1. Key Highlights
8.1.1.1. Palm Oil
8.1.1.2. Soy Oil
8.2. Middle East & Africa Cooking Oil Market Outlook, by End User , Value (US$ Bn), 2018 - 2030
8.2.1. Key Highlights
8.2.1.1. Residential
8.2.1.2. Foodservice
8.2.2. BPS Analysis/Market Attractiveness Analysis
8.3. Middle East & Africa Cooking Oil Market Outlook, by Country, Value (US$ Bn), 2018 - 2030
8.3.1. Key Highlights
8.3.1.1. GCC Cooking Oil Market by Product Type , Value (US$ Bn), 2018 - 2030
8.3.1.2. GCC Cooking Oil Market End User , Value (US$ Bn), 2018 - 2030
8.3.1.3. South Africa Cooking Oil Market by Product Type , Value (US$ Bn), 2018 - 2030
8.3.1.4. South Africa Cooking Oil Market End User , Value (US$ Bn), 2018 - 2030
8.3.1.5. Egypt Cooking Oil Market by Product Type , Value (US$ Bn), 2018 - 2030
8.3.1.6. Egypt Cooking Oil Market End User , Value (US$ Bn), 2018 - 2030
8.3.1.7. Nigeria Cooking Oil Market by Product Type , Value (US$ Bn), 2018 - 2030
8.3.1.8. Nigeria Cooking Oil Market End User , Value (US$ Bn), 2018 - 2030
8.3.1.9. Rest of Middle East & Africa Cooking Oil Market by Product Type , Value (US$ Bn), 2018 - 2030
8.3.1.10. Rest of Middle East & Africa Cooking Oil Market End User , Value (US$ Bn), 2018 - 2030
8.3.2. BPS Analysis/Market Attractiveness Analysis
9. Competitive Landscape
9.1. Capacity vs ApplicationHeatmap
9.2. Manufacturer vsApplicationHeatmap
9.3. Company Market Share Analysis, 2022
9.4. Competitive Dashboard
9.5. Company Profiles
9.5.1. Ajinomoto Co. Inc.
9.5.1.1. Company Overview
9.5.1.2. Product Portfolio
9.5.1.3. Financial Overview
9.5.1.4. Business Strategies and Development
9.5.2. Archer-Daniels-Midland Company
9.5.2.1. Company Overview
9.5.2.2. Product Portfolio
9.5.2.3. Financial Overview
9.5.2.4. Business Strategies and Development
9.5.3. Associated British Foods Plc.
9.5.3.1. Company Overview
9.5.3.2. Product Portfolio
9.5.3.3. Financial Overview
9.5.3.4. Business Strategies and Development
9.5.4. Bunge Ltd.
9.5.4.1. Company Overview
9.5.4.2. Product Portfolio
9.5.4.3. Financial Overview
9.5.4.4. Business Strategies and Development
9.5.5. Cargill Incorporated
9.5.5.1. Company Overview
9.5.5.2. Product Portfolio
9.5.5.3. Financial Overview
9.5.5.4. Business Strategies and Development
9.5.6. CHS Inc.
9.5.6.1. Company Overview
9.5.6.2. Product Portfolio
9.5.6.3. Financial Overview
9.5.6.4. Business Strategies and Development
9.5.7. Conagra Brands Inc.
9.5.7.1. Company Overview
9.5.7.2. Product Portfolio
9.5.7.3. Financial Overview
9.5.7.4. Business Strategies and Development
9.5.8. Fuji Oil Holdings Inc.
9.5.8.1. Company Overview
9.5.8.2. Product Portfolio
9.5.8.3. Business Strategies and Development
9.5.9. Ghananuts Company Limited
9.5.9.1. Company Overview
9.5.9.2. Product Portfolio
9.5.9.3. Financial Overview
9.5.9.4. Business Strategies and Development
9.5.10. Wilmar International Ltd.
9.5.10.1. Company Overview
9.5.10.2. Product Portfolio
9.5.10.3. Financial Overview
9.5.10.4. Business Strategies and Development
9.5.11. IFFCO Group
9.5.11.1. Company Overview
9.5.11.2. Product Portfolio
9.5.11.3. Financial Overview
9.5.11.4. Business Strategies and Development
9.5.12. Olam International Limited
9.5.12.1. Company Overview
9.5.12.2. Product Portfolio
9.5.12.3. Financial Overview
9.5.12.4. Business Strategies and Development
9.5.13. Ottogi Co. Ltd.
9.5.13.1. Company Overview
9.5.13.2. Product Portfolio
9.5.13.3. Financial Overview
9.5.13.4. Business Strategies and Development
9.5.14. Indo Agri
9.5.14.1. Company Overview
9.5.14.2. Product Portfolio
9.5.14.3. Financial Overview
9.5.14.4. Business Strategies and Development
9.5.15. J-Oils
9.5.15.1. Company Overview
9.5.15.2. Product Portfolio
9.5.15.3. Financial Overview
9.5.15.4. Business Strategies and Development
10. Appendix
10.1. Research Methodology
10.2. Report Assumptions
10.3. Acronyms and Abbreviations