Grass-Fed Beef Market Outlook
The grass-fed beef market is projected to observe stable growth at a CAGR of 4.4% between 2021 and 2025, possibly reaching nearly US$13.3 Bn by the end of forecast year.
Market Analysis in Brief
Worldwide demand for grass-fed beef soars as the awareness about consumption of clean meat grows amongst the health-conscious consumer clusters. Access to accurate information about livestock being raised on antibiotics for Marbling effect has raised alarms about its exact impact on the environment, as well as the human health. In the light of this scenario, the global grass-fed beef market is expected to witness lucrative opportunities in the coming years. Rearing livestock with an excessive use of antibiotics has been identified as the pre-cursor for myriad health issues observed in both the humans, and cattle. Rampant use of growth hormones and antibiotics over the years has not only impacted cattle health by making them resistant to bacteria but also eventually led to serious illnesses in humans. There have been some radical changes in consumption patterns recently, titling toward eating cleaner meat products.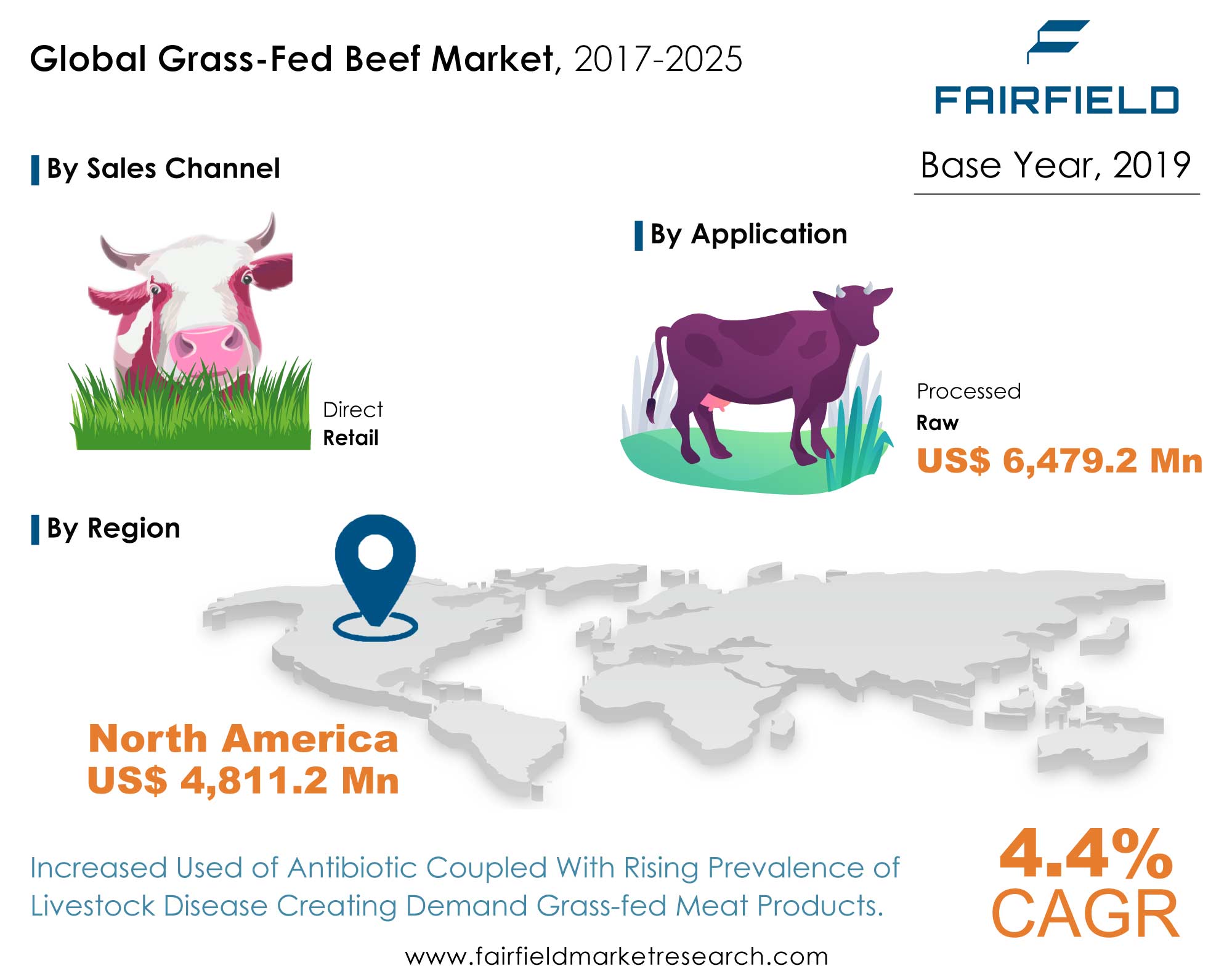 Key Report Findings
Rapidly growing health awareness among consumers will foster demand in global grass-fed beef market
By 2025 end, grass-fed beef industry will be worth around US$13.3 Bn
Between 2021 and 2025, revenue growth of the market is likely to be around 4.4%
Grass-fed beef market largely benefits from bigger shelf spaces across retail
Consistently improving, and sophisticating restaurant menus will drive demand for clean label products like grass-fed beef
Growth Drivers
Increased Use of Antibiotics, and Rising Prevalence of Livestock Diseases
Global grass-fed beef market is expected to show sustainable growth during the forecast period. The market is expected to reach US$13,369.4 Mn, registering a CAGR 4.4% by 2025. General awareness towards personal health, environmental concerns as well as animal welfare are the primary drivers for the growth of the global grass-fed beef market.
In recent years, consumer preference has been actively diverting to the consumption of healthy meat products as the use of antibiotics, supplements and hormones have soared in the production of conventional beef. Awareness to consume better meat products is largely being influenced by promotion of grass-fed beef on TV channels, internet, popular events and documentaries showing repercussions of antibiotics on animals. Additionally, government interventions in creating and promoting new regulatory frameworks to support growth opportunities for better dietary habits have also proven to be in the market's favor.
Growth Challenges
Time-consuming Nature of Cattle Rearing
The grass-fed beef industry has several small players. Processing and distribution remain key challenges for industry players. Most of the of grass-fed cattle are sold by small-scale producers through direct marketing and remaining are procured by large scale manufacturers under contract farming, which requires extra time and resources.
Furthermore, the production of grass-fed beef is a time taking process as cattle are raised on grasses for their entire life. The fully grown beef takes nearly 20 to 26 months. Thus, time and unorganized supply chain are the major constraints for the grass-fed beef market.
COVID- 19 Impact
Many countries are highly dependent on imported grass-fed beef. The US, being one of the largest beef consuming country, accounts for 75-80% imports of its total grass-fed beef sales by value. This statistic was massively disrupted by the outbreak of COVID-19, which brought the supply and sales in grass-fed beef market to a screeching halt.
COVID-19 also created a need for a stringent regulatory framework. Many food regulatory bodies are developing and drafting new laws related to grass-fed beef. For instance, an Irish food board, Board Bia, introduced new standards for supply and distribution of grass-fed beef that allows tracking percentage of grass consumed by the cattle during its life span.
Overview of Key Segments
Conventional Grass-fed Beef Favored
As compared to the organic segment, conventional of grass-fed beef products accounted for a lion's value share of 78.2% in 2020. This mammoth share is attributable to the COVID-19's effect on the global supply chain. Manufacturers have had to rely on the domestic market for the procurement of raw materials, which led to high demand for conventional beef. The raging pandemic that led to low import and export facilities reshuffled trade norms, giving conventional beef segment a major boost in the global grass-fed beef market. The conventional grass-fed beef segment is expected to create an incremental dollar opportunity of US$1,851.9 Mn during the forecast period.
Growth opportunities Across Regions
North America, and Latin America Remain Top Consumers
North America and Latin America collectively held a share of 71.6% in the global grass-fed beef market in 2020. Increased preference for quality meat products and environmental concerns have led to these regions to rethink their meat demands.
Research indicates that Asia Pacific is expected to attain significant growth in the global grass-fed beef market with countries such as China, Australia and Japan contributing noticeably in terms of value share. Australia is poised to be one of the largest grass-fed beef producers by the end of the forecast period, predicts Fairfield Market Research. Meanwhile, Uruguay, Brazil, Argentina and the U.S will continue to be major grass-fed beef producing countries across the globe.
Key Market Players
Some of the major players studied in the report include Conagra Brands, Inc, Pre Brands LLC, Hormel Foods Corporation, JBS SA, Perdue Farms, Inc, Teys Australia Pty Ltd, Meyer Natural Food, Australian Agricultural Company Limited, Verde Farms and The Asian New Zealand Meat Company (ANZCO). The grass-fed beef market players are collaborating with farmers for a steady supply of grass-fed cattle. Players are also looking at ways to increase production capacity to meet soaring demands.
The Global Grass-Fed Beef Market is Segmented as Below:
By Product Type Coverage
Raw
Processed

Roasted & Precooked
Cured Meat
Canned
By Nature Coverage
By Sales Channel Coverage
Direct
Retail

Hypermarket/Supermarket
Departmental Stores
Speciality Stores
Independent Small Grocery Stores
Online Channel
By Geographical Coverage
North America
Europe

Germany
France
UK
Spain
Italy
Russia
Turkey
Ireland
Rest of Europe

Asia Pacific

India
China
Japan
Korea
Australia
ASEAN
Rest of Asia Pacific

Latin America

Brazil
Mexico
Argentina
Rest of Latin America

Middle East & Africa

UAE
South Africa
Saudi Arabia
Rest of Middle East & Africa
Leading Companies
Conagra Brands, Inc
Pre Brands LLC
Hormel Foods Corporation
JBS SA
Perdue Farms, Inc
Teys Australia Pty Ltd
Meyer Natural Food
Australian Agricultural Company Limited
Verde Farms
The Asian New Zealand Meat Company (ANZCO)
Inside This Report You Will Find:
1. Executive Summary
2. Market Overview
3. Parent Market Overview
4. Global Grass-Fed Beef Market Outlook, 2017 - 2025
5. North America Grass-Fed Beef Market Outlook, 2017 - 2025
6. Europe Grass-Fed Beef Market Outlook, 2017 - 2025
7. Asia Pacific Grass-Fed Beef Market Outlook, 2017 - 2025
8. Latin America Grass-Fed Beef Market Outlook, 2017 - 2025
9. Middle East & Africa Grass-Fed Beef Market Outlook, 2017 - 2025
10. Competitive Landscape
11. Appendix
Post Sale Support, Research Updates & Offerings:
We value the trust shown by our customers in Fairfield Market Research. We support our clients through our post sale support, research updates and offerings.
The report will be prepared in a PPT format and will be delivered in a PDF format.
Additionally, Market Estimation and Forecast numbers will be shared in Excel Workbook.
If a report being sold was published over a year ago, we will offer a complimentary copy of the updated research report along with Market Estimation and Forecast numbers within 2-3 weeks' time of the sale.
If we update this research study within the next 2 quarters, post purchase of the report, we will offer a Complimentary copy of the updated Market Estimation and Forecast numbers in Excel Workbook.
If there is a geopolitical conflict, pandemic, recession, and the like which can impact global economic scenario and business activity, which might entirely alter the market dynamics or future projections in the industry, we will create a Research Update upon your request at a nominal charge.
1. Executive Summary
1.1. Global Grass-Fed Beef Market Snapshot
1.2. Future Projections
1.3. Key Market Trends
1.4. Analyst Recommendations


2. Market Overview
2.1. Market Definitions
2.2. Market Taxonomy
2.3. Market Dynamics
2.3.1. Drivers
2.3.2. Restraints
2.4. Value Chain Analysis
2.5. Pricing Analysis
2.6. Porter's Five Forces Analysis
2.7. Covid-19 Impact Analysis
2.7.1. Supply side
2.7.2. Demand Side
2.8. Macro-Economic Factors
2.9. Key Developments
2.10. Key Regulations
2.11. Key Certificates

3. Parent Market Overview
3.1. Parent Market Outlook
3.2. Supply Chain - COVID-19 Impact

4. Global Grass-Fed Beef Market Outlook, 2017 - 2025
4.1. Global Grass-Fed Beef Market Outlook, by Product Type, Volume (Tons) and Value (US$ Mn), 2017 - 2025
4.1.1. Key Highlights
4.1.1.1. Raw
4.1.1.1.1. Cuts
4.1.1.1.2. Ground/Minced
4.1.1.2. Processed
4.1.1.2.1. Roasted & Precooked
4.1.1.2.2. Cured Meat
4.1.1.2.3. Canned
4.1.2. BPS Analysis -2020-2025
4.2. Global Grass-Fed Beef Market Outlook, by Nature, Volume (Tons) and Value (US$ Mn), 2017 - 2025
4.2.1. Key Highlights
4.2.1.1. Organic
4.2.1.2. Conventional
4.2.2. BPS Analysis -2020-2025
4.3. Global Grass-Fed Beef Market Outlook, by Sales Channel, Volume (Tons) and Value (US$ Mn), 2017 - 2025
4.3.1. Key Highlights
4.3.1.1. Direct
4.3.1.2. Retail
4.3.1.2.1. Hypermarket/Supermarket
4.3.1.2.2. Departmental Stores
4.3.1.2.3. Specialty Stores
4.3.1.2.4. Independent Small Grocery Stores
4.3.1.2.5. Online Channel
4.3.2. BPS Analysis -2020-2025
4.4. Global Grass-Fed Beef Market Outlook, by Region, Volume (Tons) and Value (US$ Mn), 2017 - 2025
4.4.1. Key Highlights
4.4.1.1. North America
4.4.1.2. Europe
4.4.1.3. Asia Pacific
4.4.1.4. Latin America
4.4.1.5. Middle East & Africa
4.4.2. BPS Analysis -2020-2025

5. North America Grass-Fed Beef Market Outlook, 2017 - 2025
5.1. North America Grass-Fed Beef Market Outlook, by Country, Volume (Tons) and Value (US$ Mn), 2017 - 2025
5.1.1. Key Highlights
5.1.1.1. U.S. Grass-Fed Beef Market by Volume (Tons) and Value (US$ Mn), 2017 - 2025
5.1.1.2. Canada Grass-Fed Beef Market by Volume (Tons) and Value (US$ Mn), 2017 - 2025
5.1.2. BPS Analysis -2020-2025
5.2. North America Grass-Fed Beef Market Outlook, by Product Type, Volume (Tons) and Value (US$ Mn), 2017 - 2025
5.2.1. Key Highlights
5.2.1.1. Raw
5.2.1.1.1. Cuts
5.2.1.1.2. Ground/Minced
5.2.1.2. Processed
5.2.1.2.1. Roasted & Precooked
5.2.1.2.2. Cured Meat
5.2.1.2.3. Canned
5.2.2. BPS Analysis -2020-2025
5.3. North America Grass-Fed Beef Market Outlook, by Nature, Volume (Tons) and Value (US$ Mn), 2017 - 2025
5.3.1. Key Highlights
5.3.1.1. Organic
5.3.1.2. Conventional
5.3.2. BPS Analysis -2020-2025
5.4. North America Grass-Fed Beef Market Outlook, by Sales Channel, Volume (Tons) and Value (US$ Mn), 2017 - 2025
5.4.1. Key Highlights
5.4.1.1. Direct
5.4.1.2. Retail
5.4.1.2.1. Hypermarket/Supermarket
5.4.1.2.2. Departmental Stores
5.4.1.2.3. Specialty Stores
5.4.1.2.4. Independent Small Grocery Stores
5.4.1.2.5. Online Channel
5.4.2. BPS Analysis -2020-2025

6. Europe Grass-Fed Beef Market Outlook, 2017 - 2025
6.1. Europe Grass-Fed Beef Market Outlook, by Country, Volume (Tons) and Value (US$ Mn), 2017 - 2025
6.1.1. Key Highlights
6.1.1.1. Germany Grass-Fed Beef Market by Volume (Tons) and Value (US$ Mn), 2017 - 2025
6.1.1.2. France Grass-Fed Beef Market by Product, Volume (Tons) and Value (US$ Mn), 2017 - 2025
6.1.1.3. U.K. Grass-Fed Beef Market by Volume (Tons) and Value (US$ Mn), 2017 - 2025
6.1.1.4. Italy Grass-Fed Beef Market by Volume (Tons) and Value (US$ Mn), 2017 - 2025
6.1.1.5. Spain Grass-Fed Beef Market by Product, Volume (Tons) and Value (US$ Mn), 2017 - 2025
6.1.1.6. Russia Grass-Fed Beef Market by Volume (Tons) and Value (US$ Mn), 2017 - 2025
6.1.1.7. Turkey Grass-Fed Beef Market by Volume (Tons) and Value (US$ Mn), 2017 - 2025
6.1.1.8. Ireland Grass-Fed Beef Market Volume (Tons) and Value (US$ Mn), 2017 - 2025
6.1.1.9. Rest of Europe Grass-Fed Beef Market Volume (Tons) and Value (US$ Mn), 2017 - 2025
6.1.2. BPS Analysis -2020-2025
6.2. Europe Grass-Fed Beef Market Outlook, by Product Type, Volume (Tons) and Value (US$ Mn), 2017 - 2025
6.2.1. Key Highlights
6.2.1.1. Raw
6.2.1.1.1. Cuts
6.2.1.1.2. Ground/Minced
6.2.1.2. Processed
6.2.1.2.1. Roasted & Precooked
6.2.1.2.2. Cured Meat
6.2.1.2.3. Canned
6.2.2. BPS Analysis -2020-2025
6.3. Europe Grass-Fed Beef Market Outlook, by Nature, Volume (Tons) and Value (US$ Mn), 2017 - 2025
6.3.1. Key Highlights
6.3.1.1. Organic
6.3.1.2. Conventional
6.3.2. BPS Analysis -2020-2025
6.4. Europe Grass-Fed Beef Market Outlook, by Sales Channel, Volume (Tons) and Value (US$ Mn), 2017 - 2025
6.4.1. Key Highlights
6.4.1.1. Direct
6.4.1.2. Retail
6.4.1.2.1. Hypermarket/Supermarket
6.4.1.2.2. Departmental Stores
6.4.1.2.3. Specialty Stores
6.4.1.2.4. Independent Small Grocery Stores
6.4.1.2.5. Online Channel
6.4.2. BPS Analysis -2020-2025

7. Asia Pacific Grass-Fed Beef Market Outlook, 2017 - 2025
7.1. Asia Pacific Grass-Fed Beef Market Outlook, by Country, Volume (Tons) and Value (US$ Mn), 2017 - 2025
7.1.1. Key Highlights
7.1.1.1. India Grass-Fed Beef Market by Volume (Tons) and Value (US$ Mn), 2017 - 2025
7.1.1.2. China Grass-Fed Beef Market by Volume (Tons) and Value (US$ Mn), 2017 - 2025
7.1.1.3. Japan Grass-Fed Beef Market by Volume (Tons) and Value (US$ Mn), 2017 - 2025
7.1.1.4. Korea Grass-Fed Beef Market by Volume (Tons) and Value (US$ Mn), 2017 - 2025
7.1.1.5. Australia Grass-Fed Beef Market Volume (Tons) and Value (US$ Mn), 2017 - 2025
7.1.1.6. ASEAN Market by Volume (Tons) and Value (US$ Mn), 2017 - 2025
7.1.1.7. Rest of Asia Pacific Market by Volume (Tons) and Value (US$ Mn), 2017 - 2025
7.1.2. BPS Analysis -2020-2025
7.2. Asia Pacific Grass-Fed Beef Market Outlook, by Product Type, Volume (Tons) and Value (US$ Mn), 2017 - 2025
7.2.1. Key Highlights
7.2.1.1. Raw
7.2.1.1.1. Cuts
7.2.1.1.2. Ground/Minced
7.2.1.2. Processed
7.2.1.2.1. Roasted & Precooked
7.2.1.2.2. Cured Meat
7.2.1.2.3. Canned
7.2.2. BPS Analysis -2020-2025
7.3. Asia Pacific Grass-Fed Beef Market Outlook, by Nature Volume (Tons) and Value (US$ Mn), 2017 - 2025
7.3.1. Key Highlights
7.3.1.1. Organic
7.3.1.2. Conventional
7.3.2. BPS Analysis
7.4. Asia Pacific Grass-Fed Beef Market Outlook, by Sales Channel, Volume (Tons) and Value (US$ Mn), 2017 - 2025
7.4.1. Key Highlights
7.4.1.1. Direct
7.4.1.2. Retail
7.4.1.2.1. Hypermarket/Supermarket
7.4.1.2.2. Departmental Stores
7.4.1.2.3. Specialty Stores
7.4.1.2.4. Independent Small Grocery Stores
7.4.1.2.5. Online Channel
7.4.2. BPS Analysis -2020-2025

8. Latin America Grass-Fed Beef Market Outlook, 2017 - 2025
8.1. Latin America Grass-Fed Beef Market Outlook, by Country, Volume (Tons) and Value (US$ Mn), 2017 - 2025
8.1.1. Key Highlights
8.1.1.1. Brazil Grass-Fed Beef Market by Volume (Tons) and Value (US$ Mn), 2017 - 2025
8.1.1.2. Mexico Grass-Fed Beef Market by Volume (Tons) and Value (US$ Mn), 2017 - 2025
8.1.1.3. Argentina Grass-Fed Beef Market by Volume (Tons) and Value (US$ Mn), 2017 - 2025
8.1.1.4. Rest of Latin America Grass-Fed Beef Market by Volume (Tons) and Value (US$ Mn), 2017 - 2025
8.1.2. BPS Analysis -2020-2025
8.2. Latin America Grass-Fed Beef Market Outlook, by Product Type, Volume (Tons) and Value (US$ Mn), 2017 - 2025
8.2.1. Key Highlights
8.2.1.1. Raw
8.2.1.1.1. Cuts
8.2.1.1.2. Ground/Minced
8.2.1.2. Processed
8.2.1.2.1. Roasted & Precooked
8.2.1.2.2. Cured Meat
8.2.1.2.3. Canned
8.2.2. BPS Analysis -2020-2025
8.3. Latin America Grass-Fed Beef Market Outlook, by Nature, Volume (Tons) and Value (US$ Mn), 2017 - 2025
8.3.1. Key Highlights
8.3.1.1. Organic
8.3.1.2. Conventional
8.3.2. BPS Analysis -2020-2025
8.4. Latin America Grass-Fed Beef Market Outlook, by Sales Channel, Volume (Tons) and Value (US$ Mn), 2017 - 2025
8.4.1. Key Highlights
8.4.1.1. Direct
8.4.1.2. Retail
8.4.1.2.1. Hypermarket/Supermarket
8.4.1.2.2. Departmental Stores
8.4.1.2.3. Specialty Stores
8.4.1.2.4. Independent Small Grocery Stores
8.4.1.2.5. Online Channel
8.4.2. BPS Analysis -2020-2025

9. Middle East & Africa Grass-Fed Beef Market Outlook, 2017 - 2025
9.1. Middle East & Africa Grass-Fed Beef Market Outlook, by Country, Volume (Tons) and Value (US$ Mn), 2017 - 2025
9.1.1. Key Highlights
9.1.1.1. UAE Grass-Fed Beef Market by Volume (Tons) and Value (US$ Mn), 2017 - 2025
9.1.1.2. South Africa Grass-Fed Beef Market by Volume (Tons) and Value (US$ Mn), 2017 - 2025
9.1.1.3. Saudi Arabia Grass-Fed Beef Market by Volume (Tons) and Value (US$ Mn), 2017 - 2025
9.1.1.4. Rest of Middle East & Africa Grass-Fed Beef Market by Volume (Tons) and Value (US$ Mn), 2017 - 2025
9.1.2. BPS Analysis -2020-2025
9.2. Middle East & Africa Grass-Fed Beef Market Outlook, by Product Type, Volume (Tons) and Value (US$ Mn), 2017 - 2025
9.2.1. Key Highlights
9.2.1.1. Raw
9.2.1.1.1. Cuts
9.2.1.1.2. Ground/Minced
9.2.1.2. Processed
9.2.1.2.1. Roasted & Precooked
9.2.1.2.2. Cured Meat
9.2.1.2.3. Canned
9.2.2. BPS Analysis -2020-2025
9.3. Middle East & Africa Grass-Fed Beef Market Outlook, by Nature, Volume (Tons) and Value (US$ Mn), 2017 - 2025
9.3.1. Key Highlights
9.3.1.1. Organic
9.3.1.2. Conventional
9.3.2. BPS Analysis -2020-2025
9.4. Middle East & Africa Grass-Fed Beef Market Outlook, by Sales Channel, Volume (Tons) and Value (US$ Mn), 2017 - 2025
9.4.1. Key Highlights
9.4.1.1. Direct
9.4.1.2. Retail
9.4.1.2.1. Hypermarket/Supermarket
9.4.1.2.2. Departmental Stores
9.4.1.2.3. Specialty Stores
9.4.1.2.4. Independent Small Grocery Stores
9.4.1.2.5. Online Channel
9.4.2. BPS Analysis -2020-2025

10. Competitive Landscape
10.1. Company Market Share Analysis, 2019
10.2. Company Profiles
10.2.1. Conagra Brands, Inc
10.2.1.1. Company Overview
10.2.1.2. Regional Presence & Revenue
10.2.1.3. Business Segment Revenue
10.2.1.4. Product Portfolio
10.2.2. Pre Brands LLC
10.2.2.1. Company Overview
10.2.2.2. Regional Presence & Revenue
10.2.2.3. Business Segment Revenue
10.2.2.4. Product Portfolio
10.2.3. Hormel Foods Corporation
10.2.3.1. Company Overview
10.2.3.2. Regional Presence & Revenue
10.2.3.3. Business Segment Revenue
10.2.3.4. Product Portfolio
10.2.4. JBS SA
10.2.4.1. Company Overview
10.2.4.2. Regional Presence & Revenue
10.2.4.3. Business Segment Revenue
10.2.4.4. Product Portfolio
10.2.5. Perdue Farms, Inc
10.2.5.1. Company Overview
10.2.5.2. Regional Presence & Revenue
10.2.5.3. Business Segment Revenue
10.2.5.4. Product Portfolio
10.2.6. Teys Australia Pty Ltd
10.2.6.1. Company Overview
10.2.6.2. Regional Presence & Revenue
10.2.6.3. Business Segment Revenue
10.2.6.4. Product Portfolio
10.2.7. Meyer Natural Food
10.2.7.1. Company Overview
10.2.7.2. Regional Presence & Revenue
10.2.7.3. Business Segment Revenue
10.2.7.4. Product Portfolio
10.2.8. Australian Agricultural Company Limited
10.2.8.1. Company Overview
10.2.8.2. Regional Presence & Revenue
10.2.8.3. Business Segment Revenue
10.2.8.4. Product Portfolio
10.2.9. Verde Farms
10.2.9.1. Company Overview
10.2.9.2. Regional Presence & Revenue
10.2.9.3. Business Segment Revenue
10.2.9.4. Product Portfolio
10.2.10. The Asian New Zealand Meat Company (ANZCO)
10.2.10.1. Company Overview
10.2.10.1.1. Regional Presence & Revenue
10.2.10.2. Business Segment Revenue
10.2.10.3. Product Portfolio

11. Appendix
11.1. Research Methodology
11.2. Report Assumptions
11.3. Acronyms and Abbreviations