Global Green Tea Market Forecast
Green tea market valuation poised to take a leap from US$15.9 Bn (2022), to US$24.7 Bn by 2030-end
Market size slated for a robust CAGR of 9% between 2023 and 2030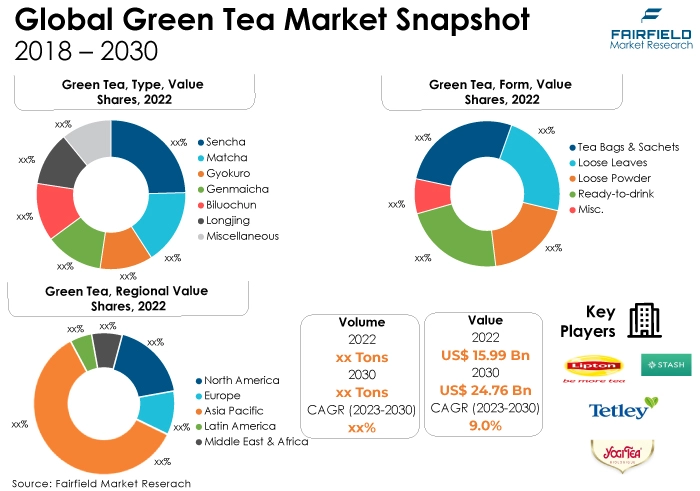 Quick Report Digest
Growing consumer knowledge of the possible health benefits of ingesting green tea and the desire to support environmentally friendly and sustainable agricultural techniques have contributed to the growth of the green tea market.
Green tea's rich content of antioxidants, particularly epigallocatechin gallate (EGCG), has gained recognition for its potential to combat free radicals and reduce oxidative stress. This has contributed to its appeal in the market.
The market for green tea is primarily constrained by its susceptibility to oxidation and quality degradation compared to black tea. Maintaining freshness can be a challenge, particularly in unsuitable storage conditions.
In 2022, Sencha has the greatest market share due to its expanding consumer popularity and its numerous health benefits. Due to its greater flavonoid and antioxidant content, Sencha is becoming more popular.
The tea bags & sachets market has expanded rapidly worldwide as convenience and portable food and beverages become increasingly popular. Due to its simple preparation, green tea in teabags has the biggest market share.
The supermarket/hypermarket category is exhibiting the most growth due to the wide range of products these outlets carry. Owing to advancements in storage methods, these businesses may now offer comfort to patrons, facilitating an easy shopping experience.
The Asia Pacific region claims the title of the largest green tea market globally, primarily owing to its elevated production and consumption of a wide range of green tea varieties. This region's market revenue growth is driven by the rising popularity of functional and flavoured green tea for enhancing health and skin.
North America will have the quickest growth rate in the green tea market during the forecast period driven by the rising popularity of natural and green products and the rising acceptance of healthy lifestyles. Furthermore, the rise in obese patients is a key factor boosting North America's green tea market.
A Look Back and a Look Forward - Comparative Analysis
The green tea market displayed several notable trends and characteristics. Sencha and Matcha were dominant in the market, with Sencha being the most consumed type in Japan, while Matcha gained popularity worldwide, particularly in health and wellness circles. Flavoured green teas, such as jasmine, mint, and fruit-infused varieties, witnessed increased demand as consumers sought unique taste experiences.
Additionally, the market saw a growing emphasis on health and wellness, with green tea being perceived as a beneficial beverage due to its high antioxidant content and potential health benefits, including weight management and improved metabolism.
Over the years leading up to 2021, green tea transitioned from being a niche product to a mainstream beverage with global reach. Matcha became a popular superfood and ingredient, while premium and specialty green teas like gyokuro, Dragon Well, and rare artisanal varieties began to emerge. The market also witnessed the evolution of flavoured green teas, with innovative flavour combinations catering to diverse consumer preferences.
Health claims associated with green tea's potential benefits spurred extensive research and marketing efforts, contributing to the market's growth. The green tea market is expected to continue growing, underpinned by the enduring global interest in health and wellness. Innovation in flavour profiles is likely to expand, with green tea being blended with fruits, herbs, and botanicals to cater to evolving consumer tastes.
Functional and specialty green teas, incorporating additional health-promoting ingredients, are anticipated to become more prevalent. Sustainability and eco-friendliness are expected to be paramount, with producers emphasizing environmentally responsible practices in response to the growing demand for ethical and eco-conscious products.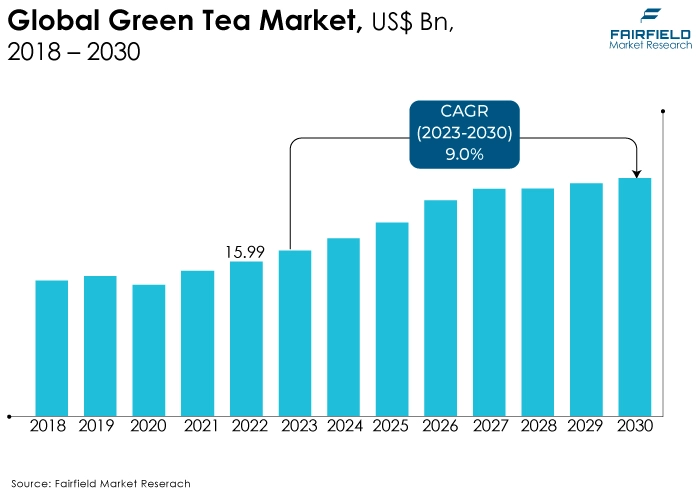 Key Growth Factors
Greater Inclination for Health Benefits Through Green Tea
The growing awareness of antioxidants, particularly in the context of health and wellness, has propelled the green tea market. Green tea, known for its high levels of antioxidants, has become a preferred choice for health-conscious consumers seeking to harness the potential health benefits of these compounds.
Antioxidants in green tea, like catechins, have been associated with various health advantages, including heart wellness, weight management, and anti-aging effects.
The popularity of green tea has been further amplified by scientific research, media coverage, marketing efforts, and its accessibility in retail and online markets. As consumers increasingly prioritize their well-being, green tea's antioxidant content continues to drive market growth.
Low Caffeine Content that Makes it an Attractive Choice
The green tea market has experienced substantial growth due to its relatively low caffeine content compared to coffee and even black tea. As consumers become more conscious of their caffeine intake, green tea's milder caffeine levels offer an attractive alternative. It provides a gentle, sustained energy boost without the jittery effects associated with higher-caffeine beverages.
The lower caffeine content appeals to a broader audience, including individuals who are sensitive to caffeine, seeking a more relaxing tea experience, or simply looking for a healthier daily beverage choice. The demand for green tea as a versatile and caffeine-friendly option continues to contribute to the market's expansion.
Major Restraints
Lower Shelf-life of Green Tea
A significant market restraint in the green tea industry is its lower shelf life compared to other tea varieties. Green tea is more susceptible to oxidation and quality degradation due to its minimal processing, leaving it exposed to environmental factors that can alter its flavour and nutritional profile over time.
Maintaining freshness is a critical challenge, especially in unsuitable storage conditions or when green tea products are not sealed airtight. This limitation poses difficulties for producers and retailers in ensuring consistent product quality and taste for consumers.
Differences Between Cultural Habits in Various Regions
While green tea holds deep cultural significance in regions like Japan and China, where tea ceremonies and traditions have been passed down for centuries, these customs may not hold the same sway in other parts of the world. In regions with a strong coffee culture or a preference for other beverages, the adoption of green tea can be hindered.
Consumer tastes and habits can be firmly rooted in local customs, making it challenging for green tea to gain widespread acceptance. The unfamiliarity with the preparation methods and the slightly astringent or grassy flavour profile of green tea can further deter potential consumers.
Addressing these cultural disparities by promoting green tea's versatility, health benefits, and ease of preparation is essential to expanding its market reach and appealing to a broader, more diverse audience.
Key Trends and Opportunities to Look at
Emergence of Functional and Specialty Green Teas
The market can capitalize on the development of functional green teas, such as those enriched with additional health-promoting ingredients like probiotics, vitamins, or adaptogens. Specialty green teas, including rare and unique varieties, also present opportunities.
The expansion of green tea has been aided by marketing initiatives and educational campaigns emphasizing its advantages, its production processes, and its potential effects on health and the environment.
Flavour Innovations
Introducing new and exotic flavour profiles in green tea is a strategy that can greatly appeal to a wider consumer base. By infusing green tea with innovative combinations of tropical fruits, herbs, and botanicals, tea producers can offer an array of enticing options that cater to evolving consumer preferences.
The flavour innovations can create a more enjoyable and diverse tea-drinking experience, attracting those who might find the traditional grassy or vegetal notes of green tea less appealing.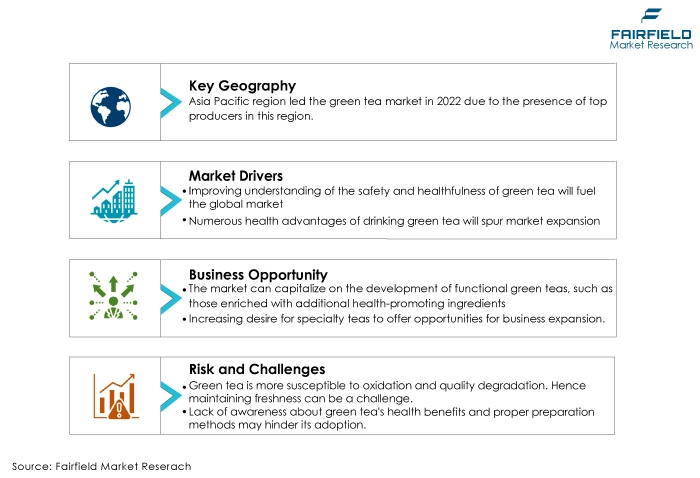 How Does the Regulatory Scenario Shape this Industry?
The regulatory scenario plays a significant role in shaping the green tea industry. Regulations related to food safety, labelling, and quality standards directly impact production, distribution, and marketing. Stringent quality control standards often apply to tea products, ensuring that they meet safety and health requirements. For green tea producers, adhering to these regulations is essential to maintain consumer trust and market credibility.
Moreover, certification is a vital aspect of the green tea industry, assuring consumers of the product's eco-friendly and sustainable attributes. To ensure this certification's integrity and reliability, a global system was established, known as the International Federation of Organic Agriculture Movements (IFOAM). The IFOAM unites more than a hundred countries and numerous member organisations, creating a standardised framework for green certification.
For green tea growers, organisations like INDOCERT, IMO Control, ECOCERT SA, Naturland-India, SGS India Private Limited, Onecert Asia Agri Certification Private Limited, and SKAL International Ltd. offer the means to market, label, and advertise their products as green. India's first green certification body, INDOCERT, upholds National Standards for Green Products, and it ensures compliance through testing facilities approved by the Agricultural and Processed Food Products Export Development Authority (APEDA).
The certification, endorsed by the Government of India as part of the National Program for green production, serves as a credible assurance of green tea's authenticity and adherence to sustainable practices. Understanding and adapting to these regulations and certifications are imperative for businesses seeking success in the green tea market, ensuring both quality and sustainability.
Fairfield's Ranking Board
Top Segments
Sencha Category Retains Dominant
Sencha category has consistently maintained its dominance over other segments by type, and there are several compelling reasons behind this trend. Sencha, known for elements of sharpness, astringency, savouriness, and sweetness, all with a pleasant aroma. It holds a strong presence in the market due to its widespread popularity in Japan and its adaptability to a variety of consumer preferences.
The appeal of Sencha lies in its versatility. It can be enjoyed both hot and cold, making it suitable for different seasons and occasions. The cultivation process, which involves steaming the leaves, preserves the tea's bright green colour and natural antioxidants, such as catechins, which have garnered attention for their potential health benefits.
The familiarity of Sencha, along with its reputed health-enhancing properties, has made it a favoured choice for consumers seeking the perfect balance between tradition and well-being. Its continued dominance in the green tea market is a testament to Sencha's enduring appeal and adaptability to evolving consumer tastes and health-conscious preferences.
Tea Bags Bestseller
In 2022, due to its extraordinary advantages and simplicity, green tea bags have experienced a substantial rise in popularity over the past several years. Because they are portable and simple to dispose of, the tea bags and their handy attached thread are seen to be convenient. Using tea bags to prepare green tea simplifies and expedites the tea-brewing process because no additional tools, such as a tea infuser or strainer, are needed.
Furthermore, the loose leaves category is expected to expand significantly. This is explained by the fact that leaf varieties have a first-mover advantage. In addition, these items give customers the option to choose between strong and moderate green tea flavours, giving them more control over the taste of their beverage.
Contribution of Supermarkets/Hypermarkets the Highest
In 2022, supermarkets/hypermarkets held most of the market share. Finding a certain product that suits one's tastes might be challenging given the wide range of goods on the market. As a result, it can be said that shopping for these goods is best done in supermarkets/hypermarkets that provide a wide range of options, which promotes the expansion of the channel.
During the forecasted years, online retail is anticipated to increase fastest. Leading and small green tea brewers have a chance to connect with consumers through online channels. Online shopping is a good option for some manufacturers because the order triggers a speedy item creation.
Regional Outlook
Asia Pacific Remains the Top Contributor
During that forecast period, Asia Pacific is anticipated to hold the largest market share for green tea. The world's top green tea producers, including China, Pakistan, India, and Sri Lanka, are thought to be responsible for the growth. Many nations, like China, and India, have concentrated on growing tea on large tracts of land since the area's climate, humidity, and soil texture are suitable for the crop.
China, and Japan consume the most functional drinks, including matcha tea, specialty teas, and green tea, all of which are excellent sources of nutrients. Further predictions indicate that these variables will accelerate market expansion in the area. Additionally, numerous firms are expected to strengthen and invest in their market presence across Asia Pacific soon due to the good chances in the region.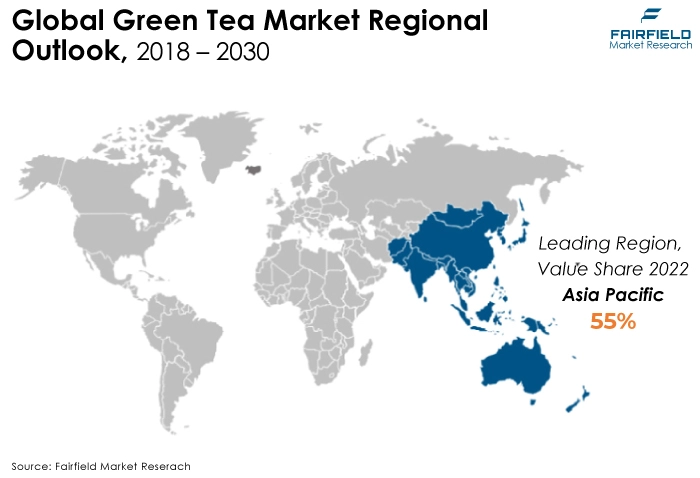 North American Consumer Says Yes to Health Benefits of Green Tea
With the fastest-growing market share for green tea, North America has a huge potential for the tea business. The region's expanding knowledge of the health advantages of green tea is primarily responsible for the market's expansion. Consumers are now more likely to have lifestyle-related health concerns like obesity, diabetes, and cardiovascular illnesses thanks to the fast-paced modern way of life.
Furthermore, the demand for green tea to lower the risk of certain illnesses has grown. The demand for green tea among millennials in the area has surged as functional beverages become increasingly popular. Moreover, with customers looking for products that align with health trends and ethical considerations, the United States, and Canada are important markets for green tea.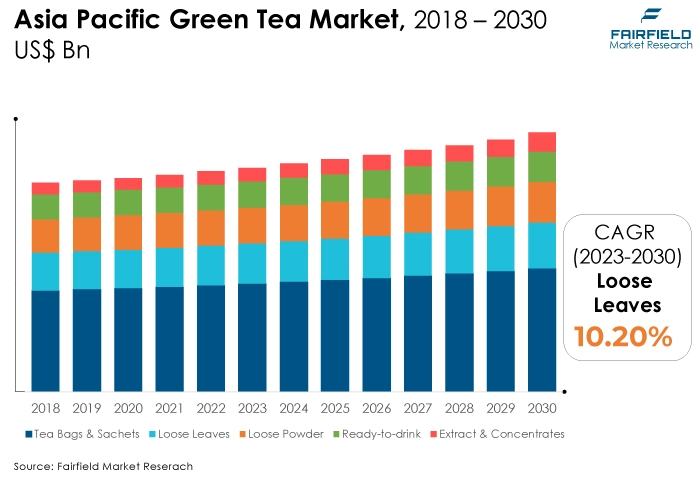 Fairfield's Competitive Landscape Analysis
Although there are many companies in the green tea market, there is fierce competition among them because tea already has a sizable portion of the global market as per the Fairfield's analysis. A brand might become the market leader with the help of marketing strategies and fundamental processing enhancements.
Furthermore, the foundation for innovation for the participants is the addition of a green tag along with several flavours. Additionally, to increase their market share and global presence, green tea producers are implementing various methods, including new product innovations, mergers and acquisitions, and plant capacity enhancement.
Who are the Leaders in the Global Green Tea Space?
Significant Company Developments
New Product Launches
November 2022: FMCG company Tata Consumer Products has strengthened its wellness portfolio with the launch of a new tulsi-flavoured green tea under Tetly brand. This launch is in line with the company's strategy to grow its share in the green tea market.
December 2020: Care Tea Basket is a brand-new green tea from Ban Labs. It is free of artificial flavours and preservatives. It was first introduced in India and comes in 5 packs with unique flavours.
Distribution Agreement
January 2022: WeWork, one of the top global providers of flexible space, and Numi green tea, known for its selection of green & fair-trade certified teas, partnered to become each other's exclusive tea partners. Through this collaboration, Numi will make its tea products available to WeWork members in more than 275 locations and more than 1,000 food banks across the US, and Canada.
An Expert's Eye
Demand and Future Growth
As per Fairfield's Analysis, the market demand for green tea remains strong, driven by a global surge in health and wellness awareness. As consumers increasingly seek natural and beneficial beverages, green tea's reputation for its antioxidant content and potential health benefits has fuelled its growth.
The trend is expected to continue, with green tea expanding its reach to new regions and being incorporated into various food and beverage products. The market's promising outlook is further bolstered by ongoing research, innovative flavour profiles, and sustainability initiatives, ensuring a dynamic and prosperous future for the green tea market.
Supply Side of the Market
The supply side of the green tea market is marked by a global network of tea producers, primarily concentrated in regions like China, Japan, and India. These producers cultivate and process green tea using traditional methods, ensuring that the tea retains its characteristic flavours and health benefits.
The supply chain is diverse, ranging from small-scale, artisanal tea gardens to large commercial plantations. Sustainability and eco-friendly practices are increasingly prevalent, reflecting a commitment to responsible agriculture. Additionally, innovations in packaging and processing techniques aim to preserve green tea's freshness.
As demand for green tea continues to rise, the supply side responds by expanding cultivation areas and enhancing quality control to meet the growing consumer expectations for high-quality, sustainably produced green tea products.
Global Green Tea Market is Segmented as Below:
By Type
Sencha
Matcha
Gyokuro
Genmaicha
Biluochun
Longjing
Miscellaneous
By Taste
By Form
Tea Bags & Sachets
Loose Leaves
Loose Powder
Ready-to-drink
By Distribution Channel
Supermarkets/Hypermarkets
Convenience Stores
Specialty Stores
Online Retail
By Geographic Coverage:
North America
Europe

Germany
U.K.
France
Italy
Turkey
Russia
Rest of Europe

Asia Pacific

China
Japan
South Korea
India
Southeast Asia
Rest of Asia Pacific

Latin America

Brazil
Mexico
Argentina
Rest of Latin America

Middle East & Africa

GCC
South Africa
Egypt
Nigeria
Rest of Middle East & Africa
1. Executive Summary
1.1. Global Green Tea Market Snapshot
1.2. Future Projections
1.3. Key Market Trends
1.4. Regional Snapshot, by Value and Volume, 2022
1.5. Analyst Recommendations

2. Market Overview
2.1. Market Definitions and Segmentations
2.2. Market Dynamics
2.2.1. Drivers
2.2.2. Restraints
2.2.3. Market Opportunities
2.3. Value Chain Analysis
2.4. Porter's Five Forces Analysis
2.5. Covid-19 Impact Analysis
2.5.1. Supply
2.5.2. Demand
2.6. Impact of Ukraine-Russia Conflict
2.7. Economic Overview
2.7.1. World Economic Projections
2.8. PESTLE Analysis

3. Global Green Tea Market Outlook, 2018 - 2030
3.1. Global Green Tea Market Outlook, by Type, Value (US$ Bn) and Volume (Million Tons), 2018 - 2030
3.1.1. Key Highlights
3.1.1.1. Sencha
3.1.1.2. Matcha
3.1.1.3. Gyokuro
3.1.1.4. Genmaicha
3.1.1.5. Biluochun
3.1.1.6. Longjing
3.1.1.7. Miscellaneous
3.2. Global Green Tea Market Outlook, by Taste, Value (US$ Bn) and Volume (Million Tons), 2018 - 2030
3.2.1. Key Highlights
3.2.1.1. Flavoured
3.2.1.2. Unflavoured
3.3. Global Green Tea Market Outlook, by Form, Value (US$ Bn) and Volume (Million Tons), 2018 - 2030
3.3.1. Key Highlights
3.3.1.1. Tea Bags & Sachets
3.3.1.2. Loose Leaves
3.3.1.3. Loose Powder
3.3.1.4. Ready-to-drink
3.4. Global Green Tea Market Outlook, by Distribution Channel, Value (US$ Bn) and Volume (Million Tons), 2018 - 2030
3.4.1. Key Highlights
3.4.1.1. Supermarkets/Hypermarkets
3.4.1.2. Convenience Stores
3.4.1.3. Specialty Stores
3.4.1.4. Online Retail
3.5. Global Green Tea Market Outlook, by Region, Value (US$ Bn) and Volume (Million Tons), 2018 - 2030
3.5.1. Key Highlights
3.5.1.1. North America
3.5.1.2. Europe
3.5.1.3. Asia Pacific
3.5.1.4. Latin America
3.5.1.5. Middle East & Africa


4. North America Green Tea Market Outlook, 2018 - 2030
4.1. North America Green Tea Market Outlook, by Type, Value (US$ Bn) and Volume (Million Tons), 2018 - 2030
4.1.1. Key Highlights
4.1.1.1. Sencha
4.1.1.2. Matcha
4.1.1.3. Gyokuro
4.1.1.4. Genmaicha
4.1.1.5. Biluochun
4.1.1.6. Longjing
4.1.1.7. Miscellaneous
4.2. North America Green Tea Market Outlook, by Taste, Value (US$ Bn) and Volume (Million Tons), 2018 - 2030
4.2.1. Key Highlights
4.2.1.1. Flavored
4.2.1.2. Unflavored
4.3. North America Green Tea Market Outlook, by Form, Value (US$ Bn) and Volume (Million Tons), 2018 - 2030
4.3.1. Key Highlights
4.3.1.1. Tea Bags & Sachets
4.3.1.2. Loose Leaves
4.3.1.3. Loose Powder
4.3.1.4. Ready-to-drink
4.4. North America Green Tea Market Outlook, by Distribution Channel, Value (US$ Bn) and Volume (Million Tons), 2018 - 2030
4.4.1. Key Highlights
4.4.1.1. Supermarkets/Hypermarkets
4.4.1.2. Convenience Stores
4.4.1.3. Specialty Stores
4.4.1.4. Online Retail
4.4.2. Market Attractiveness Analysis
4.5. North America Green Tea Market Outlook, by Country, Value (US$ Bn) and Volume (Million Tons), 2018 - 2030
4.5.1. Key Highlights
4.5.1.1. U.S. Green Tea Market by Type, Value (US$ Bn) and Volume (Million Tons), 2018 - 2030
4.5.1.2. U.S. Green Tea Market by Taste, Value (US$ Bn) and Volume (Million Tons), 2018 - 2030
4.5.1.3. U.S. Green Tea Market, by Form, Value (US$ Bn) and Volume (Million Tons), 2018 - 2030
4.5.1.4. U.S. Green Tea Market, by Distribution Channel, Value (US$ Bn) and Volume (Million Tons), 2018 - 2030
4.5.1.5. Canada Green Tea Market by Type, Value (US$ Bn) and Volume (Million Tons), 2018 - 2030
4.5.1.6. Canada Green Tea Market by Taste, Value (US$ Bn) and Volume (Million Tons), 2018 - 2030
4.5.1.7. Canada Green Tea Market, by Form, Value (US$ Bn) and Volume (Million Tons), 2018 - 2030
4.5.1.8. Canada Green Tea Market, by Distribution Channel, Value (US$ Bn) and Volume (Million Tons), 2018 - 2030
4.5.2. BPS Analysis/Market Attractiveness Analysis


5. Europe Green Tea Market Outlook, 2018 - 2030
5.1. Europe Green Tea Market Outlook, by Type, Value (US$ Bn) and Volume (Million Tons), 2018 - 2030
5.1.1. Key Highlights
5.1.1.1. Sencha
5.1.1.2. Matcha
5.1.1.3. Gyokuro
5.1.1.4. Genmaicha
5.1.1.5. Biluochun
5.1.1.6. Longjing
5.1.1.7. Miscellaneous
5.2. Europe Green Tea Market Outlook, by Taste, Value (US$ Bn) and Volume (Million Tons), 2018 - 2030
5.2.1. Key Highlights
5.2.1.1. Flavored
5.2.1.2. Unflavored
5.3. Europe Green Tea Market Outlook, by Form, Value (US$ Bn) and Volume (Million Tons), 2018 - 2030
5.3.1. Key Highlights
5.3.1.1. Tea Bags & Sachets
5.3.1.2. Loose Leaves
5.3.1.3. Loose Powder
5.3.1.4. Ready-to-drink
5.4. Europe Green Tea Market Outlook, by Distribution Channel, Value (US$ Bn) and Volume (Million Tons), 2018 - 2030
5.4.1. Key Highlights
5.4.1.1. Supermarkets/Hypermarkets
5.4.1.2. Convenience Stores
5.4.1.3. Specialty Stores
5.4.1.4. Online Retail
5.4.2. BPS Analysis/Market Attractiveness Analysis
5.5. Europe Green Tea Market Outlook, by Country, Value (US$ Bn) and Volume (Million Tons), 2018 - 2030
5.5.1. Key Highlights
5.5.1.1. Germany Green Tea Market by Type, Value (US$ Bn) and Volume (Million Tons), 2018 - 2030
5.5.1.2. Germany Green Tea Market by Taste, Value (US$ Bn) and Volume (Million Tons), 2018 - 2030
5.5.1.3. Germany Green Tea Market, by Form, Value (US$ Bn) and Volume (Million Tons), 2018 - 2030
5.5.1.4. Germany Green Tea Market, by Distribution Channel, Value (US$ Bn) and Volume (Million Tons), 2018 - 2030
5.5.1.5. U.K. Green Tea Market by Type, Value (US$ Bn) and Volume (Million Tons), 2018 - 2030
5.5.1.6. U.K. Green Tea Market by Taste, Value (US$ Bn) and Volume (Million Tons), 2018 - 2030
5.5.1.7. U.K. Green Tea Market, by Form, Value (US$ Bn) and Volume (Million Tons), 2018 - 2030
5.5.1.8. U.K. Green Tea Market, by Distribution Channel, Value (US$ Bn) and Volume (Million Tons), 2018 - 2030
5.5.1.9. France Green Tea Market by Type, Value (US$ Bn) and Volume (Million Tons), 2018 - 2030
5.5.1.10. France Green Tea Market by Taste, Value (US$ Bn) and Volume (Million Tons), 2018 - 2030
5.5.1.11. France Green Tea Market, by Form, Value (US$ Bn) and Volume (Million Tons), 2018 - 2030
5.5.1.12. France Green Tea Market, by Distribution Channel, Value (US$ Bn) and Volume (Million Tons), 2018 - 2030
5.5.1.13. Italy Green Tea Market by Type, Value (US$ Bn) and Volume (Million Tons), 2018 - 2030
5.5.1.14. Italy Green Tea Market by Taste, Value (US$ Bn) and Volume (Million Tons), 2018 - 2030
5.5.1.15. Italy Green Tea Market, by Form, Value (US$ Bn) and Volume (Million Tons), 2018 - 2030
5.5.1.16. Italy Green Tea Market, by Distribution Channel, Value (US$ Bn) and Volume (Million Tons), 2018 - 2030
5.5.1.17. Turkey Green Tea Market by Type, Value (US$ Bn) and Volume (Million Tons), 2018 - 2030
5.5.1.18. Turkey Green Tea Market by Taste, Value (US$ Bn) and Volume (Million Tons), 2018 - 2030
5.5.1.19. Turkey Green Tea Market, by Form, Value (US$ Bn) and Volume (Million Tons), 2018 - 2030
5.5.1.20. Turkey Green Tea Market, by Distribution Channel, Value (US$ Bn) and Volume (Million Tons), 2018 - 2030
5.5.1.21. Russia Green Tea Market by Type, Value (US$ Bn) and Volume (Million Tons), 2018 - 2030
5.5.1.22. Russia Green Tea Market by Taste, Value (US$ Bn) and Volume (Million Tons), 2018 - 2030
5.5.1.23. Russia Green Tea Market, by Form, Value (US$ Bn) and Volume (Million Tons), 2018 - 2030
5.5.1.24. Russia Green Tea Market, by Distribution Channel, Value (US$ Bn) and Volume (Million Tons), 2018 - 2030
5.5.1.25. Rest of Europe Green Tea Market by Type, Value (US$ Bn) and Volume (Million Tons), 2018 - 2030
5.5.1.26. Rest of Europe Green Tea Market by Taste, Value (US$ Bn) and Volume (Million Tons), 2018 - 2030
5.5.1.27. Rest of Europe Green Tea Market, by Form, Value (US$ Bn) and Volume (Million Tons), 2018 - 2030
5.5.1.28. Rest of Europe Green Tea Market, by Distribution Channel, Value (US$ Bn) and Volume (Million Tons), 2018 - 2030
5.5.2. BPS Analysis/Market Attractiveness Analysis

6. Asia Pacific Green Tea Market Outlook, 2018 - 2030
6.1. Asia Pacific Green Tea Market Outlook, by Type, Value (US$ Bn) and Volume (Million Tons), 2018 - 2030
6.1.1. Key Highlights
6.1.1.1. Sencha
6.1.1.2. Matcha
6.1.1.3. Gyokuro
6.1.1.4. Genmaicha
6.1.1.5. Biluochun
6.1.1.6. Longjing
6.1.1.7. Miscellaneous
6.2. Asia Pacific Green Tea Market Outlook, by Taste, Value (US$ Bn) and Volume (Million Tons), 2018 - 2030
6.2.1. Key Highlights
6.2.1.1. Flavored
6.2.1.2. Unflavored
6.3. Asia Pacific Green Tea Market Outlook, by Form, Value (US$ Bn) and Volume (Million Tons), 2018 - 2030
6.3.1. Key Highlights
6.3.1.1. Tea Bags & Sachets
6.3.1.2. Loose Leaves
6.3.1.3. Loose Powder
6.3.1.4. Ready-to-drink
6.4. Asia Pacific Green Tea Market Outlook, by Distribution Channel, Value (US$ Bn) and Volume (Million Tons), 2018 - 2030
6.4.1. Key Highlights
6.4.1.1. Supermarkets/Hypermarkets
6.4.1.2. Convenience Stores
6.4.1.3. Specialty Stores
6.4.1.4. Online Retail
6.4.2. BPS Analysis/Market Attractiveness Analysis
6.5. Asia Pacific Green Tea Market Outlook, by Country, Value (US$ Bn) and Volume (Million Tons), 2018 - 2030
6.5.1. Key Highlights
6.5.1.1. China Green Tea Market by Type, Value (US$ Bn) and Volume (Million Tons), 2018 - 2030
6.5.1.2. China Green Tea Market by Taste, Value (US$ Bn) and Volume (Million Tons), 2018 - 2030
6.5.1.3. China Green Tea Market, by Form, Value (US$ Bn) and Volume (Million Tons), 2018 - 2030
6.5.1.4. China Green Tea Market, by Distribution Channel, Value (US$ Bn) and Volume (Million Tons), 2018 - 2030
6.5.1.5. Japan Green Tea Market by Type, Value (US$ Bn) and Volume (Million Tons), 2018 - 2030
6.5.1.6. Japan Green Tea Market by Taste, Value (US$ Bn) and Volume (Million Tons), 2018 - 2030
6.5.1.7. Japan Green Tea Market by Form, Value (US$ Bn) and Volume (Million Tons), 2018 - 2030
6.5.1.8. Japan Green Tea Market by Distribution Channel, Value (US$ Bn) and Volume (Million Tons), 2018 - 2030
6.5.1.9. South Korea Green Tea Market by Type, Value (US$ Bn) and Volume (Million Tons), 2018 - 2030
6.5.1.10. South Korea Green Tea Market by Taste, Value (US$ Bn) and Volume (Million Tons), 2018 - 2030
6.5.1.11. South Korea Green Tea Market by Form, Value (US$ Bn) and Volume (Million Tons), 2018 - 2030
6.5.1.12. South Korea Green Tea Market by Distribution Channel, Value (US$ Bn) and Volume (Million Tons), 2018 - 2030
6.5.1.13. India Green Tea Market by Type, Value (US$ Bn) and Volume (Million Tons), 2018 - 2030
6.5.1.14. India Green Tea Market by Taste, Value (US$ Bn) and Volume (Million Tons), 2018 - 2030
6.5.1.15. India Green Tea Market by Form, Value (US$ Bn) and Volume (Million Tons), 2018 - 2030
6.5.1.16. India Green Tea Market by Distribution Channel, Value (US$ Bn) and Volume (Million Tons), 2018 - 2030
6.5.1.17. Southeast Asia Green Tea Market by Type, Value (US$ Bn) and Volume (Million Tons), 2018 - 2030
6.5.1.18. Southeast Asia Green Tea Market by Taste, Value (US$ Bn) and Volume (Million Tons), 2018 - 2030
6.5.1.19. Southeast Asia Green Tea Market by Form, Value (US$ Bn) and Volume (Million Tons), 2018 - 2030
6.5.1.20. Southeast Asia Green Tea Market by Distribution Channel, Value (US$ Bn) and Volume (Million Tons), 2018 - 2030
6.5.1.21. Rest of Asia Pacific Green Tea Market by Type, Value (US$ Bn) and Volume (Million Tons), 2018 - 2030
6.5.1.22. Rest of Asia Pacific Green Tea Market by Taste, Value (US$ Bn) and Volume (Million Tons), 2018 - 2030
6.5.1.23. Rest of Asia Pacific Green Tea Market by Form, Value (US$ Bn) and Volume (Million Tons), 2018 - 2030
6.5.1.24. Rest of Asia Pacific Green Tea Market by Distribution Channel, Value (US$ Bn) and Volume (Million Tons), 2018 - 2030
6.5.2. BPS Analysis/Market Attractiveness Analysis

7. Latin America Green Tea Market Outlook, 2018 - 2030
7.1. Latin America Green Tea Market Outlook, by Type, Value (US$ Bn) and Volume (Million Tons), 2018 - 2030
7.1.1. Key Highlights
7.1.1.1. Sencha
7.1.1.2. Matcha
7.1.1.3. Gyokuro
7.1.1.4. Genmaicha
7.1.1.5. Biluochun
7.1.1.6. Longjing
7.1.1.7. Miscellaneous
7.2. Latin America Green Tea Market Outlook, by Taste, Value (US$ Bn) and Volume (Million Tons), 2018 - 2030
7.2.1. Key Highlights
7.2.1.1. Flavored
7.2.1.2. Unflavored
7.3. Latin America Green Tea Market Outlook, by Form, Value (US$ Bn) and Volume (Million Tons), 2018 - 2030
7.3.1. Key Highlights
7.3.1.1. Tea Bags & Sachets
7.3.1.2. Loose Leaves
7.3.1.3. Loose Powder
7.3.1.4. Ready-to-drink
7.4. Latin America Green Tea Market Outlook, by Distribution Channel, Value (US$ Bn) and Volume (Million Tons), 2018 - 2030
7.4.1. Key Highlights
7.4.1.1. Supermarkets/Hypermarkets
7.4.1.2. Convenience Stores
7.4.1.3. Specialty Stores
7.4.1.4. Online Retail
7.4.2. BPS Analysis/Market Attractiveness Analysis
7.5. Latin America Green Tea Market Outlook, by Country, Value (US$ Bn) and Volume (Million Tons), 2018 - 2030
7.5.1. Key Highlights
7.5.1.1. Brazil Green Tea Market by Type, Value (US$ Bn) and Volume (Million Tons), 2018 - 2030
7.5.1.2. Brazil Green Tea Market by Taste, Value (US$ Bn) and Volume (Million Tons), 2018 - 2030
7.5.1.3. Brazil Green Tea Market by Form, Value (US$ Bn) and Volume (Million Tons), 2018 - 2030
7.5.1.4. Brazil Green Tea Market by Distribution Channel, Value (US$ Bn) and Volume (Million Tons), 2018 - 2030
7.5.1.5. Mexico Green Tea Market by Type, Value (US$ Bn) and Volume (Million Tons), 2018 - 2030
7.5.1.6. Mexico Green Tea Market by Taste, Value (US$ Bn) and Volume (Million Tons), 2018 - 2030
7.5.1.7. Mexico Green Tea Market by Form, Value (US$ Bn) and Volume (Million Tons), 2018 - 2030
7.5.1.8. Mexico Green Tea Market by Distribution Channel, Value (US$ Bn) and Volume (Million Tons), 2018 - 2030
7.5.1.9. Argentina Green Tea Market by Type, Value (US$ Bn) and Volume (Million Tons), 2018 - 2030
7.5.1.10. Argentina Green Tea Market by Taste, Value (US$ Bn) and Volume (Million Tons), 2018 - 2030
7.5.1.11. Argentina Green Tea Market by Form, Value (US$ Bn) and Volume (Million Tons), 2018 - 2030
7.5.1.12. Argentina Green Tea Market by Distribution Channel, Value (US$ Bn) and Volume (Million Tons), 2018 - 2030
7.5.1.13. Rest of Latin America Green Tea Market by Type, Value (US$ Bn) and Volume (Million Tons), 2018 - 2030
7.5.1.14. Rest of Latin America Green Tea Market by Taste, Value (US$ Bn) and Volume (Million Tons), 2018 - 2030
7.5.1.15. Rest of Latin America Green Tea Market by Form, Value (US$ Bn) and Volume (Million Tons), 2018 - 2030
7.5.1.16. Rest of Latin America Green Tea Market by Distribution Channel, Value (US$ Bn) and Volume (Million Tons), 2018 - 2030
7.5.2. BPS Analysis/Market Attractiveness Analysis


8. Middle East & Africa Green Tea Market Outlook, 2018 - 2030
8.1. Middle East & Africa Green Tea Market Outlook, by Type, Value (US$ Bn) and Volume (Million Tons), 2018 - 2030
8.1.1. Key Highlights
8.1.1.1. Sencha
8.1.1.2. Matcha
8.1.1.3. Gyokuro
8.1.1.4. Genmaicha
8.1.1.5. Biluochun
8.1.1.6. Longjing
8.1.1.7. Miscellaneous
8.2. Middle East & Africa Green Tea Market Outlook, by Taste, Value (US$ Bn) and Volume (Million Tons), 2018 - 2030
8.2.1. Key Highlights
8.2.1.1. Flavored
8.2.1.2. Unflavored
8.3. Middle East & Africa Green Tea Market Outlook, by Form, Value (US$ Bn) and Volume (Million Tons), 2018 - 2030
8.3.1. Key Highlights
8.3.1.1. Tea Bags & Sachets
8.3.1.2. Loose Leaves
8.3.1.3. Loose Powder
8.3.1.4. Ready-to-drink
8.4. Middle East & Africa Green Tea Market Outlook, by Distribution Channel, Value (US$ Bn) and Volume (Million Tons), 2018 - 2030
8.4.1. Key Highlights
8.4.1.1. Supermarkets/Hypermarkets
8.4.1.2. Convenience Stores
8.4.1.3. Specialty Stores
8.4.1.4. Online Retail
8.4.2. BPS Analysis/Market Attractiveness Analysis
8.5. Middle East & Africa Green Tea Market Outlook, by Country, Value (US$ Bn) and Volume (Million Tons), 2018 - 2030
8.5.1. Key Highlights
8.5.1.1. GCC Green Tea Market by Type, Value (US$ Bn) and Volume (Million Tons), 2018 - 2030
8.5.1.2. GCC Green Tea Market by Taste, Value (US$ Bn) and Volume (Million Tons), 2018 - 2030
8.5.1.3. GCC Green Tea Market by Form, Value (US$ Bn) and Volume (Million Tons), 2018 - 2030
8.5.1.4. GCC Green Tea Market by Distribution Channel, Value (US$ Bn) and Volume (Million Tons), 2018 - 2030
8.5.1.5. South Africa Green Tea Market by Type, Value (US$ Bn) and Volume (Million Tons), 2018 - 2030
8.5.1.6. South Africa Green Tea Market by Taste, Value (US$ Bn) and Volume (Million Tons), 2018 - 2030
8.5.1.7. South Africa Green Tea Market by Form, Value (US$ Bn) and Volume (Million Tons), 2018 - 2030
8.5.1.8. South Africa Green Tea Market by Distribution Channel, Value (US$ Bn) and Volume (Million Tons), 2018 - 2030
8.5.1.9. Egypt Green Tea Market by Type, Value (US$ Bn) and Volume (Million Tons), 2018 - 2030
8.5.1.10. Egypt Green Tea Market by Taste, Value (US$ Bn) and Volume (Million Tons), 2018 - 2030
8.5.1.11. Egypt Green Tea Market by Form, Value (US$ Bn) and Volume (Million Tons), 2018 - 2030
8.5.1.12. Egypt Green Tea Market by Distribution Channel, Value (US$ Bn) and Volume (Million Tons), 2018 - 2030
8.5.1.13. Nigeria Green Tea Market by Type, Value (US$ Bn) and Volume (Million Tons), 2018 - 2030
8.5.1.14. Nigeria Green Tea Market by Taste, Value (US$ Bn) and Volume (Million Tons), 2018 - 2030
8.5.1.15. Nigeria Green Tea Market by Form, Value (US$ Bn) and Volume (Million Tons), 2018 - 2030
8.5.1.16. Nigeria Green Tea Market by Distribution Channel, Value (US$ Bn) and Volume (Million Tons), 2018 - 2030
8.5.1.17. Rest of Middle East & Africa Green Tea Market by Type, Value (US$ Bn) and Volume (Million Tons), 2018 - 2030
8.5.1.18. Rest of Middle East & Africa Green Tea Market by Taste, Value (US$ Bn) and Volume (Million Tons), 2018 - 2030
8.5.1.19. Rest of Middle East & Africa Green Tea Market by Form, Value (US$ Bn) and Volume (Million Tons), 2018 - 2030
8.5.1.20. Rest of Middle East & Africa Green Tea Market by Distribution Channel, Value (US$ Bn) and Volume (Million Tons), 2018 - 2030
8.5.2. BPS Analysis/Market Attractiveness Analysis

9. Competitive Landscape
9.1. Manufacturer vs Form/Type Heatmap
9.2. Company Market Share Analysis, 2022
9.3. Competitive Dashboard
9.4. Company Profiles
9.4.1. Associated British Foods plc
9.4.1.1. Company Overview
9.4.1.2. Product Portfolio
9.4.1.3. Financial Overview
9.4.1.4. Business Strategies and Development
9.4.2. AMORE Pacific Corp
9.4.2.1. Company Overview
9.4.2.2. Product Portfolio
9.4.2.3. Financial Overview
9.4.2.4. Business Strategies and Development
9.4.3. Unilever plc (London, U.K.)
9.4.3.1. Company Overview
9.4.3.2. Product Portfolio
9.4.3.3. Financial Overview
9.4.3.4. Business Strategies and Development
9.4.4. Tata Consumer Products Limited (Mumbai, India)
9.4.4.1. Company Overview
9.4.4.2. Product Portfolio
9.4.4.3. Financial Overview
9.4.4.4. Business Strategies and Development
9.4.5. The Bigelow Tea Company (Connecticut, U.S.)
9.4.5.1. Company Overview
9.4.5.2. Product Portfolio
9.4.5.3. Financial Overview
9.4.5.4. Business Strategies and Development
9.4.6. The Republic of Tea, Inc. (California, U.S.)
9.4.6.1. Company Overview
9.4.6.2. Product Portfolio
9.4.6.3. Financial Overview
9.4.6.4. Business Strategies and Development
9.4.7. The Stash Tea Company (Oregon, U.S.)X
9.4.7.1. Company Overview
9.4.7.2. Product Portfolio
9.4.7.3. Financial Overview
9.4.7.4. Business Strategies and Development
9.4.8. Tazo Tea Company (Washington, U.S.)
9.4.8.1. Company Overview
9.4.8.2. Product Portfolio
9.4.8.3. Financial Overview
9.4.8.4. Business Strategies and Development
9.4.9. Shangri La Tea Company (Nevada, U.S.)
9.4.9.1. Company Overview
9.4.9.2. Product Portfolio
9.4.9.3. Financial Overview
9.4.9.4. Business Strategies and Development
9.4.10. Newman's Own, Inc. (Connecticut, U.S.)
9.4.10.1. Company Overview
9.4.10.2. Product Portfolio
9.4.10.3. Financial Overview
9.4.10.4. Business Strategies and Development
9.4.11. Organic India Pvt. Ltd. (Lucknow, India)
9.4.11.1. Company Overview
9.4.11.2. Product Portfolio
9.4.11.3. Financial Overview
9.4.11.4. Business Strategies and Development
9.4.12. Compass Tea Company (Virginia, U.S.)
9.4.12.1. Company Overview
9.4.12.2. Product Portfolio
9.4.12.3. Financial Overview
9.4.12.4. Business Strategies and Development
9.4.13. Davidson's Organics (India)
9.4.13.1. Company Overview
9.4.13.2. Product Portfolio
9.4.13.3. Financial Overview
9.4.13.4. Business Strategies and Development
9.4.14. Little Red Cup Tea Co. (Brunswick, U.S.)
9.4.14.1. Company Overview
9.4.14.2. Product Portfolio
9.4.14.3. Financial Overview
9.4.14.4. Business Strategies and Development
9.4.15. Numi Inc. (California, U.S.)
9.4.15.1. Company Overview
9.4.15.2. Product Portfolio
9.4.15.3. Financial Overview
9.4.15.4. Business Strategies and Development
9.4.16. Frontier Natural Products (Norway, U.S.)
9.4.16.1. Company Overview
9.4.16.2. Product Portfolio
9.4.16.3. Financial Overview
9.4.16.4. Business Strategies and Development
9.4.17. Kirin Beverage Corp (Tokyo, Japan)
9.4.17.1. Company Overview
9.4.17.2. Product Portfolio
9.4.17.3. Financial Overview
9.4.17.4. Business Strategies and Development
9.4.18. Oishi Group Plc. (Thailand)
9.4.18.1. Company Overview
9.4.18.2. Product Portfolio
9.4.18.3. Financial Overview
9.4.18.4. Business Strategies and Development
9.4.19. Oregon Chai Inc. (Oregon, U.S.)
9.4.19.1. Company Overview
9.4.19.2. Product Portfolio
9.4.19.3. Financial Overview
9.4.19.4. Business Strategies and Development
9.4.20. Yogi Tea (U.S.)
9.4.20.1. Company Overview
9.4.20.2. Product Portfolio
9.4.20.3. Financial Overview
9.4.20.4. Business Strategies and Development
9.4.21. Buddha Teas (U.S.)
9.4.21.1. Company Overview
9.4.21.2. Product Portfolio
9.4.21.3. Financial Overview
9.4.21.4. Business Strategies and Development
9.4.22. ITO EN (Tokyo, Japan)
9.4.22.1. Company Overview
9.4.22.2. Product Portfolio
9.4.22.3. Financial Overview
9.4.22.4. Business Strategies and Development
9.4.23. Twinings (London, U.K.)
9.4.23.1. Company Overview
9.4.23.2. Product Portfolio
9.4.23.3. Financial Overview
9.4.23.4. Business Strategies and Development
9.4.24. Pukka Herbs (U.K)
9.4.24.1. Company Overview
9.4.24.2. Product Portfolio
9.4.24.3. Financial Overview
9.4.24.4. Business Strategies and Development


10. Appendix
10.1. Research Methodology
10.2. Report Assumptions
10.3. Acronyms and Abbreviations
BASE YEAR

HISTORICAL DATA

FORECAST PERIOD

UNITS

2022

2018 - 2022

2023 - 2030

Value: US$ Million
REPORT FEATURES

DETAILS

Type Coverage

Sencha
Matcha
Gyokuro
Genmaicha
Biluochun
Longjing
Miscellaneous

Taste Coverage

Form Coverage

Tea Bags & Sachets
Loose Leaves
Loose Powder
Ready-to-drink

Distribution Channel Coverage

Supermarkets/Hypermarkets
Convenience Stores
Specialty Stores
Online Retail

Geographical Coverage

Europe

Germany
UK
France
Italy
Spain
Rest of EU

Asia Pacific

China
Japan
India
South Korea
Rest of APAC

Latin America

Brazil
Mexico
Rest of Latin America

Middles East & Africa

GCC Countries
South Africa
Rest of Middle East & Africa

Leading Companies

Associated British Foods plc
AMORE Pacific Corp
Unilever plc
Tata Consumer Products Limited
The Bigelow Tea Company
The Republic of Tea, Inc.
The Stash Tea Company
Tazo Tea Company
Shangri La Tea Company
Newman's Own, Inc.
Green India Pvt. Ltd.
Compass Tea Company
Davidson's Green
Little Red Cup Tea Co.
Numi Inc.
Frontier Natural Products
Kirin Beverage Corp
Oishi Group Plc
Oregon Chai Inc.
Yogi Tea
Buddha Teas
ITO EN
Twinings
Pukka Herb

Report Highlights

Key Market Indicators, Macro-micro economic impact analysis, Technological Roadmap, Key Trends, Driver, Restraints, and Future Opportunities & Revenue Pockets, Porter's 5 Forces Analysis, Historical Trend (2019-2021), Market Estimates and Forecast, Market Dynamics, Industry Trends, Competition Landscape, Category, Region, Country-wise Trends & Analysis, COVID-19 Impact Analysis (Demand and Supply Chain)