"According to Fairfield Market Research, the global identity and access management market was valued at US$10,145.0 Mn in 2019 and is expected to be worth US$24,849.0 Mn by 2026. Between the years of 2021 and 2026, the global market is anticipated to register a CAGR of 14.8% during the forecast period."
Commonality of Security Breaches and Prevalence of Identity Frauds Creates Demand
The data being uploaded to the web is becoming increasingly exposed as the globe continues its journey toward digitization. The personal information of each individual consumer is stored on hundreds of servers throughout the world, increasing the risk of identity theft. Identity and access management market has thus been witnessing strong growth. According to industry experts, there was a minor decrease in ID theft instances in 2019, but this trend was reversed in 2020 and 2021, owing to the pandemic's effects. According to the Federal Trade Commission (FTC), identity fraud instances grew by 45 percent in 2020, resulting in significant financial losses, and this trend continued in 2021, resulting in a total loss of USD 56 billion for North America, according to Javelin Strategy.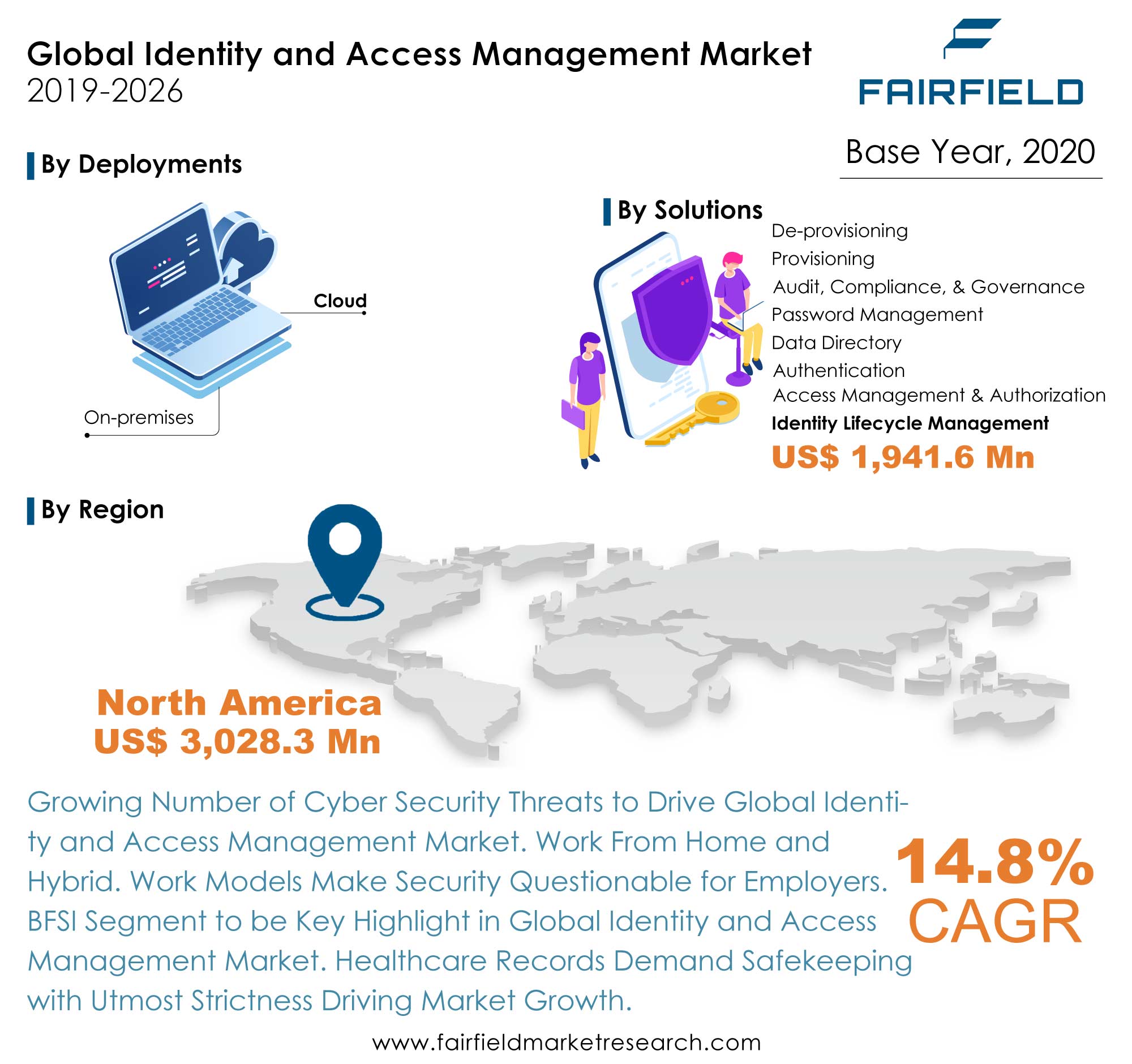 According to the FTC, over one million minors were victims of ID theft in 2020, with losses increasing from USD 1.8 billion in 2019 to USD 3.3 billion in 2020. According to Javelin Strategy's 2020 research on identity fraud, 40% of account takeovers occurred within 24 hours of a criminal gaining access to a victim's account. These figures show that cyberattacks, particularly identity-related frauds, have been on the rise in recent years. The rise in cyberattacks can be linked to technology like machine learning (ML), which allows attackers to build many copies of malicious malware every day. Companies' reputations are being harmed, their assets are being harmed, and financial losses are being incurred as a result of the constant introduction of new cyberattacks. Hence, safeguarding against cyberthreats has become essential for enterprises' business growth, which prompts the growth of identity and access management market.
Identity and Access Management Market Sees Shortage of Capable Cybersecurity Professionals Among Enterprises
Organizations do not spend enough on their security infrastructure due to a lack of awareness of modern cyber threats, resulting in enormous losses. Furthermore, businesses with critical cybersecurity needs have reported a severe shortage of competent personnel, making them even more vulnerable to cyberattacks. The cybersecurity shortfall has intensified as the world approaches 2022, again pointing toward the rising scope of growth for identity and access management market. According to eSecurityPlanet, the demand for competent cybersecurity specialists in the United States alone was at 435,000 in January 2022, up from around 314,000 in 2019. The shift to remote work in response to the COVID-19 epidemic raised workloads for trained IT professionals, which, when combined with the rising prevalence of ransomware attacks, led to burnout among many security professionals. Recruiters and government officials are scrambling to find answers to the skills gap as the demand for experienced cybersecurity workers grows. Additionally, as the number of dispersed cloud-based applications grows, users will be able to access essential business applications from any location, at any time, and on any device. On the other hand, the complexity of managing user identities have increased as a result of these widespread cloud-based apps. Customers are increasingly downloading several programmes to take advantage of the services provided by enterprises; as a result, they are finding it difficult to remember passwords for multiple applications.
North America to Dominate Global Identity and Access Management Market
North America is the most affected region in the world in terms of cybersecurity incidents; North America dominates the global cybersecurity market and is regarded the most advanced region in terms of cyber technology adoption and infrastructure. The identity and access management market in APAC is the fastest growing. Many of the region's emerging economies, such as India, China, Singapore, and Japan, are concerned about cybersecurity. These countries have a considerable number of small and medium-sized businesses (SMEs), which employ more than 70% of the population. The requirement of high investments acts as a barrier for SMEs to adopt major IAM projects on their premises; however, factors such as increasing internet usage, compliance regulation, and adoption of smartphones are the major factors fueling the growth of identity and access management market.
Global Identity and Access Management Market: Competitive Landscape
The key players profiled in the identity and access management market are Microsoft Corporation, Sailpoint Technologies, Inc., Oracle Corporation, Dell Emc, IBM Corporation, Hitachi Id Systems, Inc., CA Technologies, Micro Focus (Netiq Corporation), Centrify Corporation, Okta, Inc.
In May 2020, HCL Technologies extended its partnership with Broadcom. The partnership, which was signed in 2018, now includes Symantec Enterprise Division consulting services, part of Broadcom's enterprise security solutions.
In June 2020, IBM collaborated with Wipro to help Wipro develop hybrid cloud offerings to help businesses migrate, manage, and transform mission-critical workloads and applications, with security across public or private cloud and on-premises IT environments.
In July 2020, Microsoft partnered with Citrix to provide joint services and tools for simplifying and transitioning on-premise Citrix customers to Microsoft Azure.
On August 2020, Sourcepoint collaborated with Oracle Cloud Customer Experience. Using Sourcepoint's platform, Oracle customers can optimize the privacy experience while leveraging compliant consumer data to strengthen customer relationships and deliver more relevant customer experiences.
The Global Identity and Access Management Market is Segmented as Below:
By Deployment Coverage
By Components Coverage
By Verticals Coverage
BFSI
Travel and Hospitality
Healthcare
Retail and eCommerce
IT and ITeS
Education
Others (Energy and Utilities, Telecommunication, Other Citizen Services)
By Solution Coverage
Data Directory
Identity Lifecycle Management
Provisioning
De-provisioning
Authentication
Password Management
Access Management and Authorization
Audit, Compliance, and Governance
By Geographical Coverage
North America
Europe

Germany
France
K.
Italy
Turkey
Spain
Russia
Rest of Europe

Asia Pacific

China
Japan
South Korea
India
Southeast Asia
Rest of Asia Pacific

Latin America

Brazil
Mexico
Rest of Latin America

Middle East & Africa

GCC
Egypt
Rest of Middle East & Africa
Leading Companies
Archer Daniels Midland Company
Microsoft Corporation,
Sailpoint Technologies, Inc.,
Oracle Corporation,
DELL
IBM
HITACHI
CA Technologies
Okta
Centrify Corp
Micro Focus
Inside This Report You Will Find:
1. Executive Summary
2. Market Overview
3. Global Identity and Access Management Market Outlook, 2018 - 2026
4. North America Identity and Access Management Market Outlook, 2018 - 2026
5. Europe Identity and Access Management Market Outlook, 2018 - 2026
6. Asia Pacific Identity and Access Management Market Outlook, 2018 - 2026
7. Latin America Identity and Access Management Market Outlook, 2018 - 2026
8. Middle East & Africa Identity and Access Management Market Outlook, 2018 - 2026
9. Competitive Landscape
10. Appendix

Post Sale Support, Research Updates & Offerings:
We value the trust shown by our customers in Fairfield Market Research. We support our clients through our post sale support, research updates and offerings.
The report will be prepared in a PPT format and will be delivered in a PDF format.
Additionally, Market Estimation and Forecast numbers will be shared in Excel Workbook.
If a report being sold was published over a year ago, we will offer a complimentary copy of the updated research report along with Market Estimation and Forecast numbers within 2-3 weeks' time of the sale.
If we update this research study within the next 2 quarters, post purchase of the report, we will offer a Complimentary copy of the updated Market Estimation and Forecast numbers in Excel Workbook.
If there is a geopolitical conflict, pandemic, recession, and the like which can impact global economic scenario and business activity, which might entirely alter the market dynamics or future projections in the industry, we will create a Research Update upon your request at a nominal charge.
1. Executive Summary
1.1. Global Identity and Access Management Market Snapshot
1.2. Future Projections
1.3. Key Market Trends
1.4. Analyst Recommendations

2. Market Overview
2.1. Market Definitions
2.2. Market Taxonomy
2.3. Market Dynamics
2.3.1. Drivers
2.3.2. Restraints
2.4. Value Chain Analysis
2.5. Porter's Five Forces Analysis
2.6. Covid-19 Impact Analysis
2.7. Key Patents

3. Global Identity and Access Management Market Outlook, 2018-2026
3.1. Global Identity and Access Management Market Outlook, by Components (US$ '000), 2018-2026
3.1.1. Key Highlights
3.1.1.1. Solutions
3.1.1.2. Services
3.1.2. BPS Analysis/Market Attractiveness Analysis
3.2. Global Identity and Access Management Market Outlook, by Deployments, Value (US$ '000), 2018-2026
3.2.1. Key Highlights
3.2.1.1. Cloud
3.2.1.2. On-premises
3.2.2. BPS Analysis/Market Attractiveness Analysis
3.3. Global Identity and Access Management Market Outlook, by Solution, Value (US$ '000), 2018-2026
3.3.1. Key Highlights
3.3.1.1. Data Directory
3.3.1.2. Identity Lifecycle Management
3.3.1.3. Provisioning
3.3.1.4. De-provisioning
3.3.1.5. Authentication
3.3.1.6. Password Management
3.3.1.7. Access Management and Authorization
3.3.1.8. Audit, Compliance, and Governance
3.3.2. BPS Analysis/Market Attractiveness Analysis
3.4. Global Identity and Access Management Market Outlook, by Verticals, Value (US$ '000), 2018-2026
3.4.1. Key Highlights
3.4.1.1. BFSI
3.4.1.2. Travel and Hospitality
3.4.1.3. Healthcare
3.4.1.4. Retail and eCommerce
3.4.1.5. IT and ITeS
3.4.1.6. Education
3.4.1.7. Others (Energy and Utilities, Telecommunication, Other Citizen Services)
3.4.2. BPS Analysis/Market Attractiveness Analysis
3.5. Global Identity and Access Management Market Outlook, by Region, Value (US$ '000), 2018-2026
3.5.1. Key Highlights
3.5.1.1. North America
3.5.1.2. Europe
3.5.1.3. Asia Pacific
3.5.1.4. Latin America
3.5.1.5. Middle East & Africa
3.5.2. BPS Analysis/Market Attractiveness Analysis

4. North America Identity and Access Management Market Outlook, 2018-2026
4.1. North America Identity and Access Management Market Outlook, by Components (US$ '000), 2018-2026
4.1.1. Key Highlights
4.1.1.1. Solutions
4.1.1.2. Services
4.1.2. BPS Analysis/Market Attractiveness Analysis
4.2. North America Identity and Access Management Market Outlook, by Deployments, Value (US$ '000), 2018-2026
4.2.1. Key Highlights
4.2.1.1. Cloud
4.2.1.2. On-premises
4.2.2. BPS Analysis/Market Attractiveness Analysis
4.3. North America Identity and Access Management Market Outlook, by Solution, Value (US$ '000), 2018-2026
4.3.1. Key Highlights
4.3.1.1. Data Directory
4.3.1.2. Identity Lifecycle Management
4.3.1.3. Provisioning
4.3.1.4. De-provisioning
4.3.1.5. Authentication
4.3.1.6. Password Management
4.3.1.7. Access Management and Authorization
4.3.1.8. Audit, Compliance, and Governance
4.3.2. BPS Analysis/Market Attractiveness Analysis
4.4. North America Identity and Access Management Market Outlook, by Verticals, Value (US$ '000), 2018-2026
4.4.1. Key Highlights
4.4.1.1. BFSI
4.4.1.2. Travel and Hospitality
4.4.1.3. Healthcare
4.4.1.4. Retail and eCommerce
4.4.1.5. IT and ITeS
4.4.1.6. Education
4.4.1.7. Others (Energy and Utilities, Telecommunication, Other Citizen Services)
4.4.2. BPS Analysis/Market Attractiveness Analysis
4.5. North America Identity and Access Management Market Outlook, by Country, Value (US$ '000), 2018-2026
4.5.1. Key Highlights
4.5.1.1. U.S. Identity and Access Management Market by Value (US$ '000), 2018-2026
4.5.1.2. Canada Identity and Access Management Market by Value (US$ '000), 2018-2026
4.5.2. BPS Analysis/Market Attractiveness Analysis

5. Europe Identity and Access Management Market Outlook, 2018-2026
5.1. Europe Identity and Access Management Market Outlook, by Components (US$ '000), 2018-2026
5.1.1. Key Highlights
5.1.1.1. Solutions
5.1.1.2. Services
5.1.2. BPS Analysis/Market Attractiveness Analysis
5.2. Europe Identity and Access Management Market Outlook, by Deployments, Value (US$ '000), 2018-2026
5.2.1. Key Highlights
5.2.1.1. Cloud
5.2.1.2. On-premises
5.2.2. BPS Analysis/Market Attractiveness Analysis
5.3. Europe Identity and Access Management Market Outlook, by Solution, Value (US$ '000), 2018-2026
5.3.1. Key Highlights
5.3.1.1. Data Directory
5.3.1.2. Identity Lifecycle Management
5.3.1.3. Provisioning
5.3.1.4. De-provisioning
5.3.1.5. Authentication
5.3.1.6. Password Management
5.3.1.7. Access Management and Authorization
5.3.1.8. Audit, Compliance, and Governance
5.3.2. BPS Analysis/Market Attractiveness Analysis
5.4. Europe Identity and Access Management Market Outlook, by Verticals, Value (US$ '000), 2018-2026
5.4.1. Key Highlights
5.4.1.1. BFSI
5.4.1.2. Travel and Hospitality
5.4.1.3. Healthcare
5.4.1.4. Retail and eCommerce
5.4.1.5. IT and ITeS
5.4.1.6. Education
5.4.1.7. Others (Energy and Utilities, Telecommunication, Other Citizen Services)
5.4.2. BPS Analysis/Market Attractiveness Analysis
5.5. Europe Identity and Access Management Market Outlook, by Country, Value (US$ '000), 2018-2026
5.5.1. Key Highlights
5.5.1.1. Germany Identity and Access Management Market by Value (US$ '000), 2018-2026
5.5.1.2. France Identity and Access Management Market by Product, Value (US$ '000), 2018-2026
5.5.1.3. U.K. Identity and Access Management Market by Value (US$ '000), 2018-2026
5.5.1.4. Italy Identity and Access Management Market by Value (US$ '000), 2018-2026
5.5.1.5. Spain Identity and Access Management Market by Product, Value (US$ '000), 2018-2026
5.5.1.6. Rest of Europe Identity and Access Management Market Value (US$ '000), 2018-2026
5.5.2. BPS Analysis/Market Attractiveness Analysis

6. Asia Pacific Identity and Access Management Market Outlook, 2018-2026
6.1. Asia Pacific Identity and Access Management Market Outlook, by Components (US$ '000), 2018-2026
6.1.1. Key Highlights
6.1.1.1. Solutions
6.1.1.2. Services
6.1.2. BPS Analysis/Market Attractiveness Analysis
6.2. Asia Pacific Identity and Access Management Market Outlook, by Deployments, Value (US$ '000), 2018-2026
6.2.1. Key Highlights
6.2.1.1. Cloud
6.2.1.2. On-premises
6.2.2. BPS Analysis/Market Attractiveness Analysis
6.3. Asia Pacific Identity and Access Management Market Outlook, by Solution, Value (US$ '000), 2018-2026
6.3.1. Key Highlights
6.3.1.1. Data Directory
6.3.1.2. Identity Lifecycle Management
6.3.1.3. Provisioning
6.3.1.4. De-provisioning
6.3.1.5. Authentication
6.3.1.6. Password Management
6.3.1.7. Access Management and Authorization
6.3.1.8. Audit, Compliance, and Governance
6.3.2. BPS Analysis/Market Attractiveness Analysis
6.4. Asia Pacific Identity and Access Management Market Outlook, by Verticals, Value (US$ '000), 2018-2026
6.4.1. Key Highlights
6.4.1.1. BFSI
6.4.1.2. Travel and Hospitality
6.4.1.3. Healthcare
6.4.1.4. Retail and eCommerce
6.4.1.5. IT and ITeS
6.4.1.6. Education
6.4.1.7. Others (Energy and Utilities, Telecommunication, Other Citizen Services)
6.4.2. BPS Analysis/Market Attractiveness Analysis
6.5. Asia Pacific Identity and Access Management Market Outlook, by Country, Value (US$ '000), 2018-2026
6.5.1. Key Highlights
6.5.1.1. India Identity and Access Management Market by Value (US$ '000), 2018-2026
6.5.1.2. China Identity and Access Management Market by Value (US$ '000), 2018-2026
6.5.1.3. Japan Identity and Access Management Market by Value (US$ '000), 2018-2026
6.5.1.4. Australia & New Zealand Identity and Access Management Market Value (US$ '000), 2018-2026
6.5.1.5. Rest of Asia Pacific Market by Value (US$ '000), 2018-2026
6.5.2. BPS Analysis/Market Attractiveness Analysis

7. Latin America Identity and Access Management Market Outlook, 2018-2026
7.1. Global Identity and Access Management Market Outlook, by Components (US$ '000), 2018-2026
7.1.1. Key Highlights
7.1.1.1. Solutions
7.1.1.2. Services
7.1.2. BPS Analysis/Market Attractiveness Analysis
7.2. Latin America Identity and Access Management Market Outlook, by Deployments, Value (US$ '000), 2018-2026
7.2.1. Key Highlights
7.2.1.1. Cloud
7.2.1.2. On-premises
7.2.2. BPS Analysis/Market Attractiveness Analysis
7.3. Latin America Identity and Access Management Market Outlook, by Solution, Value (US$ '000), 2018-2026
7.3.1. Key Highlights
7.3.1.1. Data Directory
7.3.1.2. Identity Lifecycle Management
7.3.1.3. Provisioning
7.3.1.4. De-provisioning
7.3.1.5. Authentication
7.3.1.6. Password Management
7.3.1.7. Access Management and Authorization
7.3.1.8. Audit, Compliance, and Governance
7.3.2. BPS Analysis/Market Attractiveness Analysis
7.4. Latin America Identity and Access Management Market Outlook, by Verticals, Value (US$ '000), 2018-2026
7.4.1. Key Highlights
7.4.1.1. BFSI
7.4.1.2. Travel and Hospitality
7.4.1.3. Healthcare
7.4.1.4. Retail and eCommerce
7.4.1.5. IT and ITeS
7.4.1.6. Education
7.4.1.7. Others (Energy and Utilities, Telecommunication, Other Citizen Services)
7.4.2. BPS Analysis/Market Attractiveness Analysis
7.5. Latin America Identity and Access Management Market Outlook, by Country, Value (US$ '000), 2018-2026
7.5.1. Key Highlights
7.5.1.1. Brazil Identity and Access Management Market by Value (US$ '000), 2018-2026
7.5.1.2. Mexico Identity and Access Management Market by Value (US$ '000), 2018-2026
7.5.1.3. Rest of Latin America Identity and Access Management Market by Value (US$ '000), 2018-2026
7.5.2. BPS Analysis/Market Attractiveness Analysis

8. Middle East & Africa Identity and Access Management Market Outlook, 2018-2026
8.1. Global Identity and Access Management Market Outlook, by Components (US$ '000), 2018-2026
8.1.1. Key Highlights
8.1.1.1. Solutions
8.1.1.2. Services
8.1.2. BPS Analysis/Market Attractiveness Analysis
8.2. Middle East & Africa Identity and Access Management Market Outlook, by Deployments, Value (US$ '000), 2018-2026
8.2.1. Key Highlights
8.2.1.1. Cloud
8.2.1.2. On-premises
8.2.2. BPS Analysis/Market Attractiveness Analysis
8.3. Middle East & Africa Identity and Access Management Market Outlook, by Solution, Value (US$ '000), 2018-2026
8.3.1. Key Highlights
8.3.1.1. Data Directory
8.3.1.2. Identity Lifecycle Management
8.3.1.3. Provisioning
8.3.1.4. De-provisioning
8.3.1.5. Authentication
8.3.1.6. Password Management
8.3.1.7. Access Management and Authorization
8.3.1.8. Audit, Compliance, and Governance
8.3.2. BPS Analysis/Market Attractiveness Analysis
8.4. Middle East & Africa Identity and Access Management Market Outlook, by Verticals, Value (US$ '000), 2018-2026
8.4.1. Key Highlights
8.4.1.1. BFSI
8.4.1.2. Travel and Hospitality
8.4.1.3. Healthcare
8.4.1.4. Retail and eCommerce
8.4.1.5. IT and ITeS
8.4.1.6. Education
8.4.1.7. Others (Energy and Utilities, Telecommunication, Other Citizen Services)
8.4.2. BPS Analysis/Market Attractiveness Analysis
8.5. Middle East & Africa Identity and Access Management Market Outlook, by Country, Value (US$ '000), 2018-2026
8.5.1. Key Highlights
8.5.1.1. GCC Identity and Access Management Market by Value (US$ '000), 2018-2026
8.5.1.2. South Africa Identity and Access Management Market by Value (US$ '000), 2018-2026
8.5.1.3. Rest of Middle East & Africa Identity and Access Management Market by Value (US$ '000), 2018-2026
8.5.2. BPS Analysis/Market Attractiveness Analysis

9. Competitive Landscape
9.1. Company Market Share Analysis, 2019
9.2. Company Profiles
9.2.1. Microsoft Corporation
9.2.1.1. Company Overview
9.2.1.2. Key Retailing Partners
9.2.1.3. Business Segment Revenue
9.2.1.4. Ingredient Overview
9.2.1.5. Product Offering & its Presence
9.2.1.6. Certifications & Claims
9.2.2. Sailpoint Technologies, Inc.,
9.2.3. Oracle Corporation,
9.2.4. DELL
9.2.5. IBM
9.2.6. HITACHI
9.2.7. CA Technologies
9.2.8. Okta
9.2.9. Centrify Corp
9.2.10. Micro Focus

10. Appendix
10.1. Research Methodology
10.2. Report Assumptions
10.3. Acronyms and Abbreviations