Global Lithium Mining Market Thrives on the Back of Superior Properties, and Widening Applications
Lithium mining is the process of extracting lithium from numerous hard rocks and brines. Lithium from brines is known to be cost-effective owing to lower capital costs when compared to extraction of lithium from hard rock deposits. The lithium mining by products are potash, or boron. A recent report by Fairfield Market Research predicts how the rising use of lithium in steel, batteries, lubricants, and aluminium products will create lucrative opportunities for the global lithium mining market during the forecast period. The global lithium mining market stood at US$829.73 Mn in 2019 and is expected to reach US$1,630.30 Mn by 2025, registering a CAGR of 26.3% from 2020 to 2025.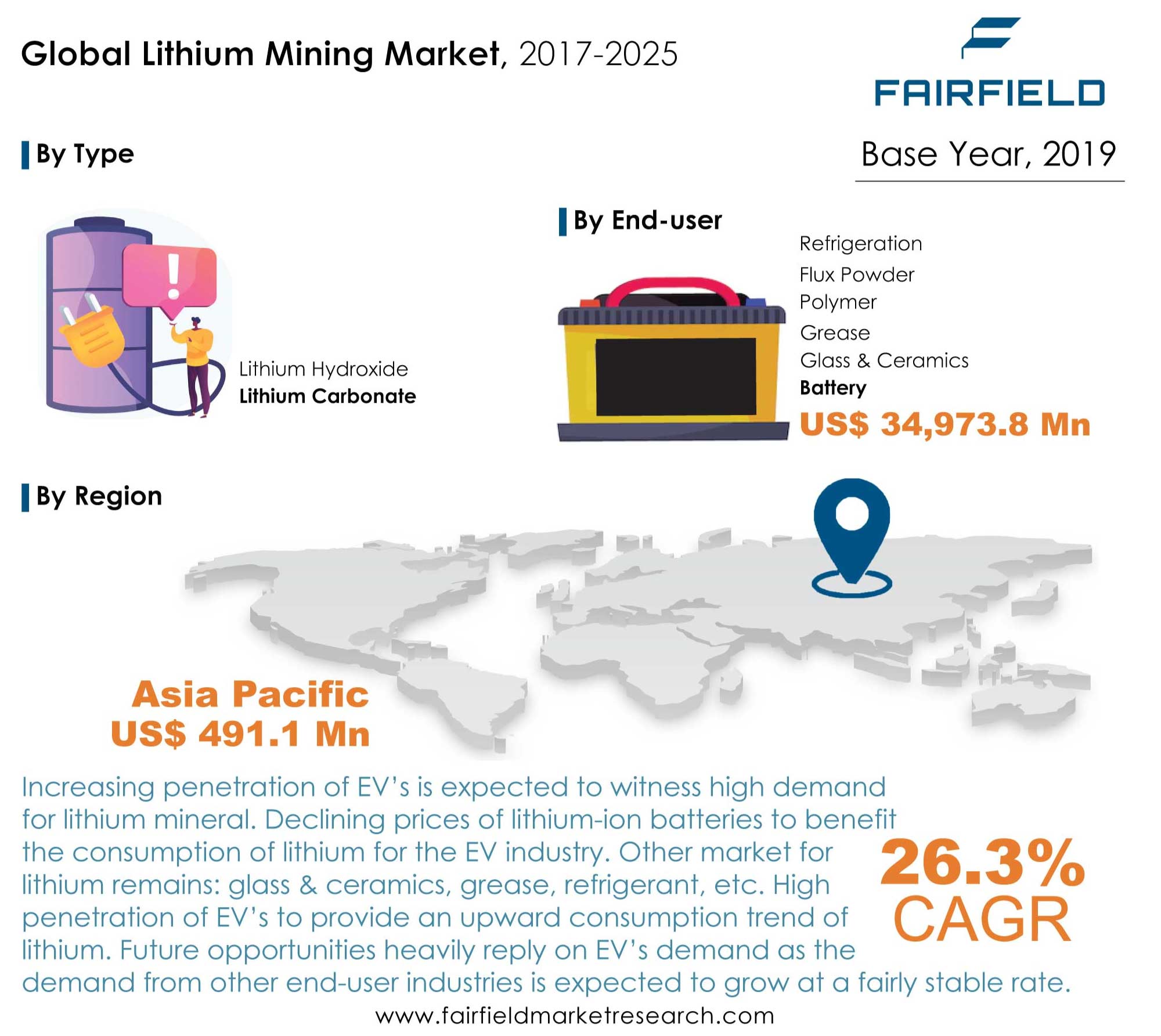 The demand for lithium is attributable to thermal resistance, high standard performance, and unique lightweight properties it delivers. Its properties make it ideal for air regeneration applications such as safety devices, submarines and miners, and space vehicles to remove carbon dioxide. Lithium is used in air regeneration, dehumidification, and cooling applications. Hospitals, shopping malls, and other institutional facilities often set up absorption chillers as air conditioners, which is expected to fuel demand for lithium, in turn driving lithium mining market growth. Lithium chloride is also used as a dehumidifier for absorbing moisture. Thus, the upsurge in automotive demand for lithium-ion batteries coupled with other end-user industries demand for lithium is expected to boost the global lithium mining market in the next few years.
Lithium Mining Market Finds Monumental Scope as EV Battery Production Ramps up
The COVID-19 resulted in slow sales of electric vehicles (EV). However, as the world learns to live with the virus, EV sales are projected to soar, giving lithium mining a boost. Lithium is used in the production of Li-ion batteries, which are also used in plug-in hybrid electric vehicles. Lithium hydroxide and lithium carbonate are the key compounds used for battery cathode production. Though the cost of hydroxide is higher than carbonate, the former will witness higher demand as it crucial to the development of efficient Lithium-ion batteries. Growing EV penetration across developed and developing parts of the world will force miners to keep up with the demand, fuelling growth of the global lithium mining market.
Efforts towards decarbonization are expected to create a higher interest in this metal, which will fuel the progress of lithium mining market. According to Fairfield Market Research report, prices of Lithium-ion battery dropped by 89% between 2010-2020. A sharp decline is expected to result in higher affordability of EVs, which will drive consumers to opt for these vehicles for improving commute by assuming a personal responsibility towards climate change. By 2030, EV sales are expected to double. By 2025, these vehicles will displace conventional passenger vehicles by 10%, creating a monumental chance for lithium mining activities to prove their mettle.
Questionable Sustainability Raises Eyebrows for Lithium Mining Market
Dubbed as 'white gold', lithium mining has its trappings. Lithium is an alkaline metal, found in compounds and in a highly reactive state. This makes its extraction water intensive. For instance, about 500,000 gallons of water is required to produce one tonne of lithium. The issue is exacerbated by the risk of toxic chemicals leaking from evaporation pools that are used for extracting lithium from a muddy sludge that includes manganese, borax, and potassium, resulting in polluted local water supplies. Over the years, this has raised concerns about indigenous communities getting displaced due to water shortages and risking lives due to exposure to poor environment. Thus, the socio-economic issues related to mining lithium have resulted in a heated debate about its sustainability while the world scrambles to find alternatives to fossil fuels. This will remain a vital growth challenge for lithium mining market in the long run.
Australia Leads Lithium Mining Market, Lithium Triangle Shows Excellent Promise
In 2019, the global lithium production stood at 77,000.0 metric tons. Of this, Australia constituted more than 50% share of global lithium production in 2019, as it has highly concentrated lithium deposits. The report suggests that Australia and China constituted more than 60% of the world's lithium production in 2019. However, the Lithium Triangle, Chile, Argentina, and Bolivia hold remarkable potential to add to the global production during the forecast period. Considered to be the dry and arid zones, these countries have a serious water shortage, which is likely to make the extraction process far more complicated than in other parts of the world. Meanwhile, North America is expected to be a consumer of lithium as the demand for lithium-ion batteries for EVs remains high. The demand in this part of the world will also be dictated by the growing sales of electronics. Asia Pacific is also expected to hold a significant share in the global lithium mining market since the adoption of light-weight metal in grease, glass, batteries, air conditioning equipment and others is rising in this region.
Change in National Policies and Mining Process to Revolutionize Lithium Mining Market
The global lithium mining market is heavily influenced by political gambit and national strategies. For instance, Bolivia, home to the largest salt flat in the world is estimated to have 50% of the earth's total lithium. However, the country's decision to keep it a national natural resource and train its own population to have mining jobs is yet to see fruition. Similar case can be seen in Chile. The country got back the reins to its lithium reserves but lost them to Tianqi Lithium, a Chinese mining company, which now holds a 24% share in Sociedad Química y Minera (SQM). SQM is Chile's biggest domestic lithium producer. While EVs are expected to give the global lithium mining market a boost, the tremendous scope for improving mining processes can revolutionize the lithium mining market. For instance, the use of direct lithium extraction could help mining companies in the Lithium Triangle regain a strong footing, while minimizing the environmental costs.
Some of the key players operating in the global lithium mining market are Albemarle Corporation, SQM S.A., Ganfeng Lithium Co., Ltd., Tianqi Lithium, Mineral Resources, Lithium Americas Corp., Livent, and Orocobre Limited Pty Ltd.
The Global Lithium Mining Market is Segmented as Below:
By Source Coverage
By Type Coverage
Lithium Carbonate
Lithium Hydroxide
By End-use Coverage
Battery
Glass & Ceramics
Grease
Polymer
Flux Powder
Refrigeration
Others
By Geographical Coverage
North America
Europe

UK
Germany
France
Poland
Spain
Rest of Europe

Asia Pacific

China
Australia
ASEAN
Rest of Asia Pacific

Latin America

Brazil
Chile
Argentina
Rest of Latin America

Middle East & Africa

Zimbabwe
Rest of Middle East & Africa
Leading Companies
Albemarle Corporation
SQM S.A.
Ganfeng Lithium Co., Ltd.
Tianqi Lithium
Mineral Resources
Lithium Americas Corp.
Livent
Orocobre Limited Pty Ltd
Ramboll Group
Inside This Report You Will Find:

1. Executive Summary
2. Market Overview
3. Price Trends Analysis and Future Projects, 2017 - 2025
4. Global Lithium Mining Market Outlook, 2017 - 2025
5. North America Lithium Mining Market Outlook, 2017 - 2025
6. Europe Lithium Mining Market Outlook, 2017 - 2025
7. Asia Pacific Lithium Mining Market Outlook, 2017 - 2025
8. Latin America Lithium Mining Market Outlook, 2017 - 2025
9. Middle East & Africa Lithium Mining Market Outlook, 2017 - 2025
10. Competitive Landscape
11. Appendix

Post Sale Support, Research Updates & Offerings:
We value the trust shown by our customers in Fairfield Market Research. We support our clients through our post sale support, research updates and offerings.
The report will be prepared in a PPT format and will be delivered in a PDF format.
Additionally, Market Estimation and Forecast numbers will be shared in Excel Workbook.
If a report being sold was published over a year ago, we will offer a complimentary copy of the updated research report along with Market Estimation and Forecast numbers within 2-3 weeks' time of the sale.
If we update this research study within the next 2 quarters, post purchase of the report, we will offer a Complimentary copy of the updated Market Estimation and Forecast numbers in Excel Workbook.
If there is a geopolitical conflict, pandemic, recession, and the like which can impact global economic scenario and business activity, which might entirely alter the market dynamics or future projections in the industry, we will create a Research Update upon your request at a nominal charge.
1. Executive Summary
1.1. Global Lithium Mining Market Snapshot
1.2. Future Projections
1.3. Key Market Trends
1.4. Analyst Recommendations


2. Market Overview
2.1. Market Definitions and Segmentations
2.2. Market Dynamics
2.2.1. Drivers
2.2.2. Restraints
2.2.3. Market Opportunities
2.2.4. Economic Trends
2.3. Value Chain Analysis
2.4. Porter's Five Forces Analysis
2.5. Covid-19 Impact
2.5.1. Supply Chain
2.5.2. End-user Customer Impact Analysis

3. Price Trends Analysis and Future Projects, 2017 - 2025
3.1. Key Highlights
3.2. Global Average Pricing ($ per Tons) Analysis, 2017 - 2025
3.3. Pricing Analysis ($ per Ton), by Region, 2017 - 2025

4. Global Lithium Mining Market Outlook, 2017 - 2025
4.1. Global Lithium Mining Market Outlook, by Source, Volume (Metric Tons) and Value (US$ Mn), 2017 - 2025
4.1.1. Key Highlights
4.1.1.1. Brine
4.1.1.2. Hard Rock
4.1.1.3. Others
4.1.2. BPS Analysis/Market Attractiveness Analysis, by Source
4.2. Global Lithium Mining Market Outlook, by Type, Volume (Metric Tons) and Value (US$ Mn), 2017 - 2025
4.2.1. Key Highlights
4.2.1.1. Lithium Carbonate
4.2.1.2. Lithium Hydroxide
4.2.2. BPS Analysis/Market Attractiveness Analysis, by Type
4.3. Global Lithium Mining Market Outlook, by End-use, Volume (Metric Tons) and Value (US$ Mn), 2017 - 2025
4.3.1. Key Highlights
4.3.1.1. Battery
4.3.1.2. Glass & Ceramics
4.3.1.3. Grease
4.3.1.4. Polymer
4.3.1.5. Flux Powder
4.3.1.6. Refrigeration
4.3.1.7. Others
4.3.2. BPS Analysis/Market Attractiveness Analysis, by End-use
4.4. Global Lithium Mining Market Outlook, by Region, Volume (Metric Tons) and Value (US$ Mn), 2017 - 2025
4.4.1. Key Highlights
4.4.1.1. North America
4.4.1.2. Europe
4.4.1.3. Asia Pacific
4.4.1.4. Latin America
4.4.1.5. Middle East & Africa
4.4.2. BPS Analysis/Market Attractiveness Analysis, by Region

5. North America Lithium Mining Market Outlook, 2017 - 2025
5.1. North America Lithium Mining Market Outlook, by Source, Volume (Metric Tons) and Value (US$ Mn), 2017 - 2025
5.1.1. Key Highlights
5.1.1.1. Brine
5.1.1.2. Hard Rock
5.1.1.3. Others
5.2. North America Lithium Mining Market Outlook, by Type, Volume (Metric Tons) and Value (US$ Mn), 2017 - 2025
5.2.1. Key Highlights
5.2.1.1. Lithium Carbonate
5.2.1.2. Lithium Hydroxide
5.3. North America Lithium Mining Market Outlook, by End-use, Volume (Metric Tons) and Value (US$ Mn), 2017 - 2025
5.3.1. Key Highlights
5.3.1.1. Battery
5.3.1.2. Glass & Ceramics
5.3.1.3. Grease
5.3.1.4. Polymer
5.3.1.5. Flux Powder
5.3.1.6. Refrigeration
5.3.1.7. Others
5.4. North America Lithium Mining Market Outlook, by Country, Volume (Metric Tons) and Value (US$ Mn), 2017 - 2025
5.4.1. Key Highlights
5.4.1.1. U.S. Lithium Mining Market, Volume (Metric Tons) and Value (US$ Mn), 2017 - 2025
5.4.1.2. Canada Lithium Mining Market, Volume (Metric Tons) and Value (US$ Mn), 2017 - 2025

6. Europe Lithium Mining Market Outlook, 2017 - 2025
6.1. Europe Lithium Mining Market Outlook, by Source, Volume (Metric Tons) and Value (US$ Mn), 2017 - 2025
6.1.1. Key Highlights
6.1.1.1. Brine
6.1.1.2. Hard Rock
6.1.1.3. Others
6.2. Europe Lithium Mining Market Outlook, by Type, Volume (Metric Tons) and Value (US$ Mn), 2017 - 2025
6.2.1. Key Highlights
6.2.1.1. Lithium Carbonate
6.2.1.2. Lithium Hydroxide
6.3. Europe Lithium Mining Market Outlook, by End-use, Volume (Metric Tons) and Value (US$ Mn), 2017 - 2025
6.3.1. Key Highlights
6.3.1.1. Battery
6.3.1.2. Glass & Ceramics
6.3.1.3. Grease
6.3.1.4. Polymer
6.3.1.5. Flux Powder
6.3.1.6. Refrigeration
6.3.1.7. Others
6.4. Europe Lithium Mining Market Outlook, by Country, Volume (Metric Tons) and Value (US$ Mn), 2017 - 2025
6.4.1. Key Highlights
6.4.1.1. U.K. Lithium Mining Market, Volume (Metric Tons) and Value (US$ Mn), 2017 - 2025
6.4.1.2. Germany Lithium Mining Market, Volume (Metric Tons) and Value (US$ Mn), 2017 - 2025
6.4.1.3. France Lithium Mining Market, Volume (Metric Tons) and Value (US$ Mn), 2017 - 2025
6.4.1.4. Poland Lithium Mining Market, Volume (Metric Tons) and Value (US$ Mn), 2017 - 2025
6.4.1.5. Spain Lithium Mining Market, Volume (Metric Tons) and Value (US$ Mn), 2017 - 2025
6.4.1.6. Rest of Europe Lithium Mining Market, Volume (Metric Tons) and Value (US$ Mn), 2017 - 2025

7. Asia Pacific Lithium Mining Market Outlook, 2017 - 2025
7.1. Asia Pacific Lithium Mining Market Outlook, by Source, Volume (Metric Tons) and Value (US$ Mn), 2017 - 2025
7.1.1. Key Highlights
7.1.1.1. Brine
7.1.1.2. Hard Rock
7.1.1.3. Others
7.1.2. BPS Analysis/Market Attractiveness Analysis
7.2. Asia Pacific Lithium Mining Market Outlook, by Type, Volume (Metric Tons) and Value (US$ Mn), 2017 - 2025
7.2.1. Key Highlights
7.2.1.1. Lithium Carbonate
7.2.1.2. Lithium Hydroxide
7.3. Asia Pacific Lithium Mining Market Outlook, by End-use, Volume (Metric Tons) and Value (US$ Mn), 2017 - 2025
7.3.1. Key Highlights
7.3.1.1. Battery
7.3.1.2. Glass & Ceramics
7.3.1.3. Grease
7.3.1.4. Polymer
7.3.1.5. Flux Powder
7.3.1.6. Refrigeration
7.3.1.7. Others
7.4. Asia Pacific Lithium Mining Market Outlook, by Country, Volume (Metric Tons) and Value (US$ Mn), 2017 - 2025
7.4.1. Key Highlights
7.4.1.1. China Lithium Mining Market, Volume (Metric Tons) and Value (US$ Mn), 2017 - 2025
7.4.1.2. Australia Lithium Mining Market, Volume (Metric Tons) and Value (US$ Mn), 2017 - 2025
7.4.1.3. ASEAN Lithium Mining Market, Volume (Metric Tons) and Value (US$ Mn), 2017 - 2025
7.4.1.4. Rest of Asia Pacific Lithium Mining Market, Volume (Metric Tons) and Value (US$ Mn), 2017 - 2025

8. Latin America Lithium Mining Market Outlook, 2017 - 2025
8.1. Latin America Lithium Mining Market Outlook, by Source, Volume (Metric Tons) and Value (US$ Mn), 2017 - 2025
8.1.1. Key Highlights
8.1.1.1. Brine
8.1.1.2. Hard Rock
8.1.1.3. Others
8.2. Latin America Lithium Mining Market Outlook, by Type, Volume (Metric Tons) and Value (US$ Mn), 2017 - 2025
8.2.1. Key Highlights
8.2.1.1. Lithium Carbonate
8.2.1.2. Lithium Hydroxide
8.3. Latin America Lithium Mining Market Outlook, by End-use, Volume (Metric Tons) and Value (US$ Mn), 2017 - 2025
8.3.1. Key Highlights
8.3.1.1. Battery
8.3.1.2. Glass & Ceramics
8.3.1.3. Grease
8.3.1.4. Polymer
8.3.1.5. Flux Powder
8.3.1.6. Refrigeration
8.3.1.7. Others
8.4. Latin America Lithium Mining Market Outlook, by Country, Volume (Metric Tons) and Value (US$ Mn), 2017 - 2025
8.4.1. Key Highlights
8.4.1.1. Brazil Lithium Mining Market, Volume (Metric Tons) and Value (US$ Mn), 2017 - 2025
8.4.1.2. Chile Lithium Mining Market, Volume (Metric Tons) and Value (US$ Mn), 2017 - 2025
8.4.1.3. Argentina Lithium Mining Market, Volume (Metric Tons) and Value (US$ Mn), 2017 - 2025
8.4.1.4. Rest of Latin America Lithium Mining Market, Volume (Metric Tons) and Value (US$ Mn), 2017 - 2025

9. Middle East & Africa Lithium Mining Market Outlook, 2017 - 2025
9.1. Middle East & Africa Lithium Mining Market Outlook, by Source, Volume (Metric Tons) and Value (US$ Mn), 2017 - 2025
9.1.1. Key Highlights
9.1.1.1. Brine
9.1.1.2. Hard Rock
9.1.1.3. Others
9.2. Middle East & Africa Lithium Mining Market Outlook, by Type, Volume (Metric Tons) and Value (US$ Mn), 2017 - 2025
9.2.1. Key Highlights
9.2.1.1. Lithium Carbonate
9.2.1.2. Lithium Hydroxide
9.3. Middle East & Africa Lithium Mining Market Outlook, by End-use, Volume (Metric Tons) and Value (US$ Mn), 2017 - 2025
9.3.1. Key Highlights
9.3.1.1. Battery
9.3.1.2. Glass & Ceramics
9.3.1.3. Grease
9.3.1.4. Polymer
9.3.1.5. Flux Powder
9.3.1.6. Refrigeration
9.3.1.7. Others
9.4. Middle East & Africa Lithium Mining Market Outlook, by Country, Volume (Metric Tons) and Value (US$ Mn), 2017 - 2025
9.4.1. Key Highlights
9.4.1.1. Zimbabwe Lithium Mining Market, Volume (Metric Tons) and Value (US$ Mn), 2017 - 2025
9.4.1.2. Rest of Middle East & Africa Lithium Mining Market, Volume (Metric Tons) and Value (US$ Mn), 2017 - 2025

10. Competitive Landscape
10.1. Company Market Share Analysis, 2019
10.2. Strategic Collaborations
10.3. Company Profiles
10.3.1. Albemarle Corporation
10.3.1.1. Company Overview
10.3.1.2. Product Portfolio
10.3.1.3. Financial Overview
10.3.1.4. Business Strategies and Development
10.3.2. SQM S.A.
10.3.2.1. Company Overview
10.3.2.2. Product Portfolio
10.3.2.3. Financial Overview
10.3.2.4. Business Strategies and Development
10.3.3. Ganfeng Lithium Co., Ltd.
10.3.3.1. Company Overview
10.3.3.2. Product Portfolio
10.3.3.3. Financial Overview
10.3.3.4. Business Strategies and Development
10.3.4. Tianqi Lithium
10.3.4.1. Company Overview
10.3.4.2. Product Portfolio
10.3.4.3. Financial Overview
10.3.4.4. Business Strategies and Development
10.3.5. Mineral Resources
10.3.5.1. Company Overview
10.3.5.2. Product Portfolio
10.3.5.3. Financial Overview
10.3.5.4. Business Strategies and Development
10.3.6. Lithium Americas Corp.
10.3.6.1. Company Overview
10.3.6.2. Product Portfolio
10.3.6.3. Financial Overview
10.3.6.4. Business Strategies and Development
10.3.7. Livent
10.3.7.1. Company Overview
10.3.7.2. Product Portfolio
10.3.7.3. Financial Overview
10.3.7.4. Business Strategies and Development
10.3.8. Orocobre Limited Pty Ltd
10.3.8.1. Company Overview
10.3.8.2. Product Portfolio
10.3.8.3. Financial Overview
10.3.8.4. Business Strategies and Development


11. Appendix
11.1. Research Methodology
11.2. Report Assumptions
11.3. Acronyms and Abbreviation