Logistics Robot Market Outlook
According to Fairfield Market Research, the global logistics robot market is expected to be worth US$12,739.1 Mn by 2025 from US$807.2 Mn in 2017, registering a CAGR of 23.7% during the forecast period 2021-2025.
Global Logistics Robot Market Explores Unprecedented Opportunity amid E-commerce Revolution
Logistics robots are used for automating the process of storage and movement of goods in warehouses and storage facilities. These robots can perform repeated movements over sustained periods with ease, ensuing operational efficiency. They assist workers with the inventory picking process and deliver critical improvements in speed, control, accuracy, and productivity whilst complying with worker safety norms. These factors have increased the scope of the global logistics robot market in supply chain and warehouse operations. One of the biggest challenges facing the logistics industry is the availability of labor. The problem is compounded with soaring e-commerce sector. Thus, solutions offered by the global logistics robot market bridge the gap between the two, creating a seamless function.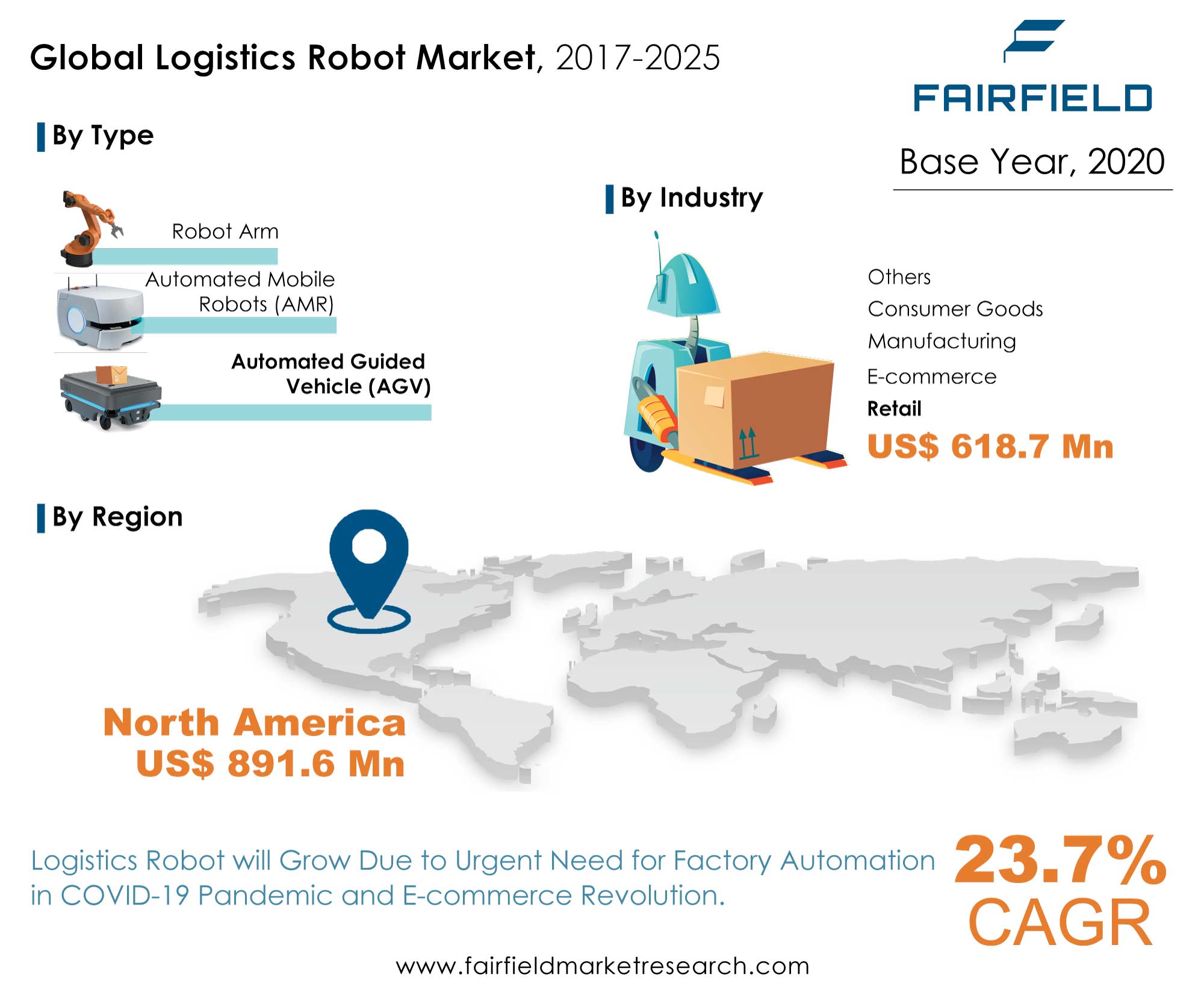 The increase in the number of logistics and warehousing companies across the globe have led to an exponential demand of logistics robots for efficient operation. Companies are also increasing their budgets for adopting advanced robotic systems to improve their supply chain or warehouse operation and efficiency. Such developments are likely to complement the expansion of logistics robot market. For instance, XPO Logistics is focused on adopting effective technology to optimize the operational efficiency of its warehouses. The company is spending more than US$500 Mn annually on technology innovation for warehouse operation. DHL International will also follow suit by investing US$300 Mn in emerging technologies in the U.S., and Canadian distribution centers.
AI to Machine Learning Emerge as Key Technologies in Global Logistics Robot Market
Artificial Intelligence (AI), computer vision, cloud computing, and machine learning are some of the technologies being integrated in development of logistics robots. Report finds that AI is expected to offer demand predictions, modify orders, and re-route products in transit. Furthermore, users can adjust orders according to these predictions and have the in-demand goods delivered to local warehouses as needed. Computer vision technology used in warehousing will allow recognition and organization of items. In the future, this type of technology will help perform quality control and eliminate the need for human supervision. For instance, Israeli automation start-up Musashi AI, a joint venture between SixAI Ltd., and Musashi Seimitsu, has developed autonomous forklifts, visual quality control inspectors, and an AI-based fleet management platform for logistics robots. The company has utilized edge computing, advanced optics, and AI for real-time mapping, swarm navigation, and collision detection and control. Such developments will continue to shape the logistics robot market.
Critical Need for Factory Automation During COVID-19 Pandemic to Propel Global Logistics Robot Market Growth
The COVID-19 pandemic led to rapid decline of brick-and-mortar retail establishments and accelerated e-commerce, creating a massive logistical challenge for warehouse and distribution center operators. Companies such as Locus Robotics, and 6 River Systems, as well as Outrider, become integral provider logistics robots to several warehousing and logistics companies who were looking to improve productivity and reduce reliance on physical labor during the pandemic. The COVID-19 pandemic affected the market severely in the first half of 2020 because of the temporary closure of manufacturing plants and warehouses across the globe. In the second half of 2020, various companies experienced the urgent need to automate their factories.
Global Logistics Robot Market Finds a Significant Opportunity with Government and Venture Capital Funding
Governments across several countries are investing heavily in robotics. The U.S. government has invested more than US$96 Mn through university grants for research and development. In 2012, the U.S. Federal Government approved grants worth US$50 million for more than 30 university groups. In April 2015, the Chinese Government announced plans to develop a $200 million robotics research center in collaboration with Russia. Additionally, many start-up companies have been backed by venture capital investors to develop next-generation robots using the research from university studies.
Rethink Robotics, a provider of logistics robots, is one such start-up which has managed to raise US$113 Mn in capital investment to develop and advance its logistics robot called "Baxter". Similarly, Fetch Robotics raised around US$23 Mn. Big technology giants such as Google and Amazon have also started funding for the development of robotics technology. In 2013, Amazon spent US$775 Mn to buy Kiva, a start-up robotics company with a focus on warehouse logistics. Google LLC has acquired eight start-up robotics companies. These are all indicative of exceptional growth opportunities in the global logistics robot market in the coming five years.
Automated Guided Vehicles (AGV) Maintain a Dominant Share in Global Logistics Robot Market
Global automated guided vehicle (AGV) systems dominates the market, accounted for 42.6% market share in 2020. AGV systems are fully autonomous robots that move and transport items in production, warehouse, and distribution centers without manual intervention or permanent conveying systems. The use of AGV enables just-in-time delivery of raw material, electronic control of assembled parts, and tracking of shipped goods. Furthermore, it helps to store, distribute, and transport material without human intervention, thereby ruling out the possibilities of injuries to workers or damage to products. This leads to reducing labor costs for a long-term perspective in warehouses in many ways. For instance, by replacing a human worker with an AGV, a company pays a one-time expense for the equipment—the initial investment—contrary to various ongoing costs relevant to labor. These economic benefits are expected to bode well for the segment in the global logistics robot market.
E-commerce Sector to Account for the Highest Share in Logistics Robot Market
Deployment of logistics robots is increased by retail companies due to e-commerce revolution. The advancement in internet penetration, which is encouraging online shopping is expected to support the growth of the e-commerce sector. This will directly lead to incredible adoption of logistics robots as companies will want to bring in quality in packaging, storage, distribution, and ensure timely deliveries to gain a competitive edge. E-commerce sector is expected to create US$2,751.5 Mn an incremental opportunity during 2021-2025 globally.
For instance, Liberty Hardware, a consumer goods company based in the U.S has experienced a spike in e-commerce sales from 2019. Along with increased order volume, the company's lead times shrank from 48 hours to 24 hours to same-day shipment. To meet the requirements, the company has deployed 16 logistics robots, "Chucks", developed by 6 River System in January 2021. With this deployment, the company has doubled order pick rate. Also, Liberty Hardware has improved training speed, doubled their pick rates and their employee turnover rate decreased from 25% to 3%. In the light of these trends, e-commerce will hold a lion's share in the global logistics robot market during the forecast period.
Rampant E-commerce Expansion Accelerates Asia Pacific's Logistics Robot Market Growth
Asia Pacific is expected to surge at the fastest pace, growing by 26.2% over the forecast period. The growth is due to the expansion of the e-commerce sector. The rising number of the online customer is enforcing retail companies to adopt automation technologies for faster and efficient operations. The number of online customers across Asia Pacific, especially in India, China is increasing rapidly in last 4-5 years. In addition, the coronavirus outbreak and subsequent lockdown have led to a major shift in the shopping behavior of people. During COVID-19, the preference of consumers for online shopping is changed drastically which leads to increase demand for logistics robots. Shortage of workforce and rise in the labor cost and wages, especially in low populated countries such as Japan and Canada further boost the logistics robot market growth in the coming years.
Global Logistics Robot Market: Competitive Landscape
Global logistics robot market is fragmented as it comprises of many small-medium size and start-up companies. In 2020, Amazon Robotics (formerly Kiva Systems) has accounted for 8.7% market share while 6 River Systems has accounted for 2.5% market share in 2020. Geek+ and GreyOrange have accounted for 3.5% and 2.6% market share in 2020 respectively.
The companies operating in the market are focusing on new product launch for gaining a competitive edge. For instance, in August 2021, Mobile Industrial Robots (MiR), a provider of autonomous mobile robots (AMRs), has launched two robots "MiR600 and MiR1350 robots" for transporting pallets and other heavy items around manufacturing facilities, warehouses, and logistics centers. The robots are designed to safely, and efficiently perform material handling tasks in challenging industrial environments.
On the other hand, the big companies are entering the global logistics robot market through acquisition of smaller player operating in logistics robotic area.
In March 2012, Amazon acquired Kiva System


In September 2019, Shopify acquired 6 River Systems


In October 2019, Teradyne acquired AutoGuide Mobile Robots


In July 2021, Zebra Technologies acquired Fetch Robotics
The Global Logistics Robot Market is Segmented as Below:
By Type Coverage
Automated Guided Vehicle (AGV)
Autonomous Mobile Robots (AMR)
Robot Arms
By Application Coverage
Pick and Place
Sorting
Transportation
Others
By Industry Coverage
E-commerce
Retail
Manufacturing
Consumer Goods
Others
By Geographical Coverage
North America
Europe

Germany
UK
France
Italy
Rest of Europe

Asia Pacific

China
Japan
India
Rest of Asia Pacific

Latin America

Brazil
Rest of Latin America

Middle East & Africa

UAE
Rest of Middle East & Africa
Leading Companies
Amazon Robotics (formerly Kiva Systems)
Locus Robotics
Fetch Robotics
inVia Robotics, Inc.
6 River Systems
IAM Robotics
Geek+
ForwardX Robotics
GreyOrange
Rethink Robotics GmbH
Inside This Report You Will Find:
1. Executive Summary
2. Market Overview
3. Shipment Analysis, 2017 - 2025
4. Price Trend Analysis
5. Global Logistics Robot Market Outlook, 2017 - 2025
6. North America Logistics Robot Market Outlook, 2017 - 2025
7. Europe Logistics Robot Market Outlook, 2017 - 2025
8. Asia Pacific Logistics Robot Market Outlook, 2017 - 2025
9. Latin America Logistics Robot Market Outlook, 2017 - 2025
10. Middle East & Africa Logistics Robot Market Outlook, 2017 - 2025
11. Competitive Landscape
12. Appendix
Post Sale Support, Research Updates & Offerings:
We value the trust shown by our customers in Fairfield Market Research. We support our clients through our post sale support, research updates and offerings.
The report will be prepared in a PPT format and will be delivered in a PDF format.
Additionally, Market Estimation and Forecast numbers will be shared in Excel Workbook.
If a report being sold was published over a year ago, we will offer a complimentary copy of the updated research report along with Market Estimation and Forecast numbers within 2-3 weeks' time of the sale.
If we update this research study within the next 2 quarters, post purchase of the report, we will offer a Complimentary copy of the updated Market Estimation and Forecast numbers in Excel Workbook.
If there is a geopolitical conflict, pandemic, recession, and the like which can impact global economic scenario and business activity, which might entirely alter the market dynamics or future projections in the industry, we will create a Research Update upon your request at a nominal charge.
1. Executive Summary
1.1. Global Logistics Robots Market Snapshot
1.2. Global Logistics Robots Market Fairfield Analysis

2. Market Overview
2.1. Market Dynamics
2.1.1. Driver
2.1.2. Restraint
2.1.3. Opportunity
2.2. COVID-19 Impact
2.3. Eco-System Analysis
2.4. Logistics Robots Vendor Landscape
2.5. Porters Five Forces
2.6. Logistics Robots Timelines
2.7. Logistics Robots End User Analysis
2.8. Market Trends
2.9. Key Investment
2.10. Microeconomic Outlook

3. Shipment Analysis, 2017 - 2025
3.1. Global Logistics Robots Shipment Analysis (Million Units), 2017 - 2025

4. Price Trend Analysis

5. Global Logistics Robots Market Outlook, 2017 - 2025
5.1. Overview
5.2. Global Logistics Robots Revenue (US$ Mn) by Type
5.2.1. Automated Guided Vehicle (AGV)
5.2.2. Autonomous Mobile Robots (AMR)
5.2.3. Robot Arms
5.2.4. Others
5.3. Global Logistics Robots Revenue (US$ Mn) by Application
5.3.1. Pick and Place
5.3.2. Sorting
5.3.3. Transportation
5.3.4. Others
5.4. Global Logistics Robots Revenue (US$ Mn) by Industry
5.4.1. E-commerce
5.4.2. Retail
5.4.3. Manufacturing
5.4.4. Consumer Goods
5.4.5. Others
5.5. Global Logistics Robots Revenue (US$ Mn) by Region
5.5.1. North America
5.5.2. Europe
5.5.3. Asia Pacific
5.5.4. Latin America
5.5.5. Middle East & Africa

6. North America Logistics Robots Market Outlook, 2017 - 2025
6.1. Overview
6.2. North America Logistics Robots Revenue (US$ Mn) by Type
6.2.1. Automated Guided Vehicle (AGV)
6.2.2. Autonomous Mobile Robots (AMR)
6.2.3. Robot Arms
6.2.4. Others
6.3. North America Logistics Robots Revenue (US$ Mn) by Application
6.3.1. Pick and Place
6.3.2. Sorting
6.3.3. Transportation
6.3.4. Others
6.4. North America Logistics Robots Revenue (US$ Mn) by Industry
6.4.1. E-commerce
6.4.2. Retail
6.4.3. Manufacturing
6.4.4. Consumer Goods
6.4.5. Others
6.5. North America Logistics Robots Revenue (US$ Mn) by Country
6.5.1. The U.S.
6.5.2. Canada
6.5.3. Rest of North America

7. Europe Logistics Robots Market Outlook, 2017 - 2025
7.1. Overview
7.2. Europe Logistics Robots Revenue (US$ Mn) by Type
7.2.1. Automated Guided Vehicle (AGV)
7.2.2. Autonomous Mobile Robots (AMR)
7.2.3. Robot Arms
7.2.4. Others
7.3. Europe Logistics Robots Revenue (US$ Mn) by Application
7.3.1. Pick and Place
7.3.2. Sorting
7.3.3. Transportation
7.3.4. Others
7.4. Europe Logistics Robots Revenue (US$ Mn) by Industry
7.4.1. E-commerce
7.4.2. Retail
7.4.3. Manufacturing
7.4.4. Consumer Goods
7.4.5. Others
7.5. Europe Logistics Robots Revenue (US$ Mn) by Country
7.5.1. U.K.
7.5.2. Italy
7.5.3. France
7.5.4. Rest of Europe

8. Asia Pacific Logistics Robots Market Outlook, 2017 - 2025
8.1. Overview
8.2. Asia Pacific Logistics Robots Revenue (US$ Mn) by Type
8.2.1. Automated Guided Vehicle (AGV)
8.2.2. Autonomous Mobile Robots (AMR)
8.2.3. Robot Arms
8.2.4. Others
8.3. Asia Pacific Logistics Robots Revenue (US$ Mn) by Application
8.3.1. Pick and Place
8.3.2. Sorting
8.3.3. Transportation
8.3.4. Others
8.4. Asia Pacific Logistics Robots Revenue (US$ Mn) by Industry
8.4.1. E-commerce
8.4.2. Retail
8.4.3. Manufacturing
8.4.4. Consumer Goods
8.4.5. Others
8.5. Asia Pacific Logistics Robots Revenue (US$ Mn) by Country
8.5.1. China
8.5.2. India
8.5.3. Japan
8.5.4. Rest of Asia Pacific

9. Latin America Logistics Robots Market Outlook, 2017 - 2025
9.1. Overview
9.2. MEA Logistics Robots Revenue (US$ Mn) by Type
9.2.1. Automated Guided Vehicle (AGV)
9.2.2. Autonomous Mobile Robots (AMR)
9.2.3. Robot Arms
9.2.4. Others
9.3. MEA Logistics Robots Revenue (US$ Mn) by Application
9.3.1. Pick and Place
9.3.2. Sorting
9.3.3. Transportation
9.3.4. Others
9.4. MEA Logistics Robots Revenue (US$ Mn) by Industry
9.4.1. E-commerce
9.4.2. Retail
9.4.3. Manufacturing
9.4.4. Consumer Goods
9.4.5. Others
9.5. MEA Logistics Robots Revenue (US$ Mn) by Country
9.5.1. Brazil
9.5.2. Rest of Latin America

10. Middle East & Africa Logistics Robots Market Outlook, 2017 - 2025
10.1. Overview
10.2. MEA Logistics Robots Revenue (US$ Mn) by Type
10.2.1. Automated Guided Vehicle (AGV)
10.2.2. Autonomous Mobile Robots (AMR)
10.2.3. Robot Arms
10.2.4. Others
10.3. MEA Logistics Robots Revenue (US$ Mn) by Application
10.3.1. Pick and Place
10.3.2. Sorting
10.3.3. Transportation
10.3.4. Others
10.4. MEA Logistics Robots Revenue (US$ Mn) by Industry
10.4.1. E-commerce
10.4.2. Retail
10.4.3. Manufacturing
10.4.4. Consumer Goods
10.4.5. Others
10.5. MEA Logistics Robots Revenue (US$ Mn) by Country
10.5.1. UAE
10.5.2. Rest of Middle East & Africa

11. Competitive Landscape
11.1. Logistics Robots Vendor Assessment
11.2. Logistics Robots Vendor Analysis
11.3. Logistics Robots Market Share Analysis 2020
11.4. Company Profile
11.4.1. Amazon
11.4.1.1. Company Overview
11.4.1.2. Business Overview
11.4.1.3. Financial Overview
11.4.1.4. Strategic Overview
11.4.2. Alibaba Group
11.4.2.1. Company Overview
11.4.2.2. Business Overview
11.4.2.3. Financial Overview
11.4.2.4. Strategic Overview
11.4.3. Greek+
11.4.3.1. Company Overview
11.4.3.2. Business Overview
11.4.3.3. Strategic Overview
11.4.3.4. Key Development
11.4.4. Fetch Robotics
11.4.4.1. Company Overview
11.4.4.2. Business Overview
11.4.4.3. Strategic Overview
11.4.4.4. Key Development
11.4.5. Rethink Robotics GmbH
11.4.5.1. Company Overview
11.4.5.2. Business Overview
11.4.5.3. Strategic Overview
11.4.5.4. Key Development
11.4.6. ForwardX Robotics
11.4.6.1. Company Overview
11.4.6.2. Business Overview
11.4.6.3. Strategic Overview
11.4.6.4. Key Development
11.4.7. Clearpath Robotics
11.4.7.1. Company Overview
11.4.7.2. Business Overview
11.4.7.3. Strategic Overview
11.4.7.4. Key Development
11.4.8. Locus Robots
11.4.8.1. Company Overview
11.4.8.2. Business Overview
11.4.8.3. Strategic Overview
11.4.8.4. Key Development
11.4.9. Plus One Robotics
11.4.9.1. Company Overview
11.4.9.2. Business Overview
11.4.9.3. Strategic Overview
11.4.9.4. Key Development
11.4.10. 6 River Systems
11.4.10.1. Company Overview
11.4.10.2. Business Overview
11.4.10.3. Strategic Overview
11.4.10.4. Key Development
11.4.11. GreyOrange
11.4.11.1. Company Overview
11.4.11.2. Business Overview
11.4.11.3. Strategic Overview
11.4.11.4. Key Development

12. Appendix
12.1. Research Methodology
12.2. Glossary
12.3. Acronyms and Abbreviations