Medical Aesthetics Market Outlook
"The global medical aesthetics market registered revenue worth US$14.4 Bn in 2022 and is set to witness robust revenue growth between 2022 and 2027. Fairfield Market Research indicates that the global medical aesthetics market will rise at healthy pace of 13.9% CAGR during the period of assessment (2022-2027), reaching market value of US$31,617.4 Mn."
Medical Aesthetics Market to Grow Significantly as Demand for Reconstruction Surgeries Surges
Aesthetic medicine is a branch of medicine that deals with specialty procedures to modify patient's physical appearance to enhance a person's face and body, or to decrease the risk of associated with diseases, trauma, or severe burns. Aesthetic medicine includes all the products that are used for enhancing the physical appearance of the patient. These services are offered through dermatology clinics, hospitals, home settings, and beauty spas.
Perpetually rising demand for aesthetic procedures from female as well as male population coupled with rising awareness about importance of physical appearance is positively driving the growth of medical aesthetics market.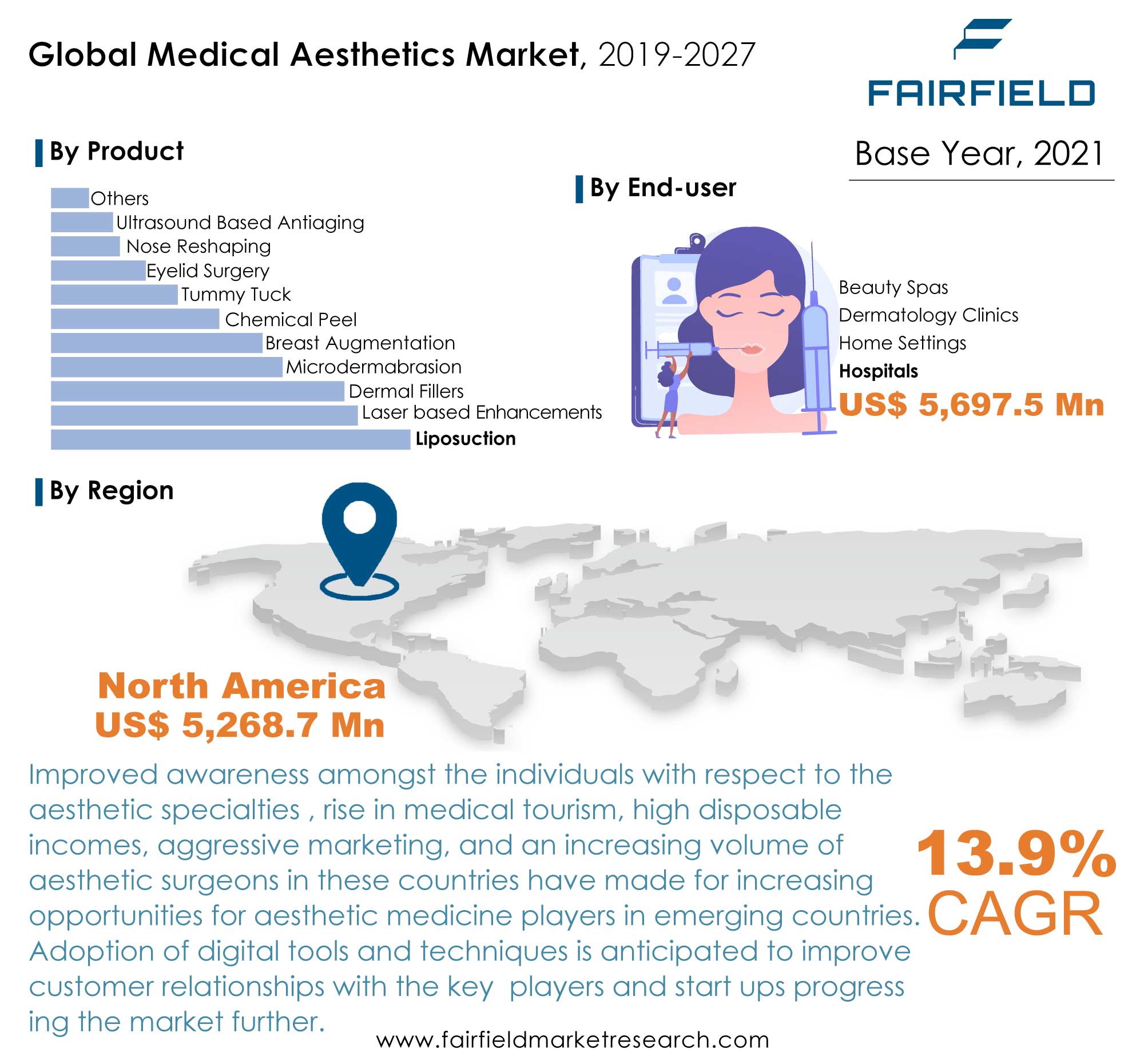 Growing Demand for Aesthetic Medical Procedures to Spur Revenue Generation Across Industry
Increase in the number of consumers demanding the aesthetic procedures is expected to create better business opportunities thus accelerating the progress of medical aesthetics market. Rise in expenditure on aesthetic procedures, growing adoption of minimally invasive and non-invasive aesthetic procedures, upsurge in adoption among geriatric individuals demonstrates growth in medical aesthetics industry.
Improved Awareness About Aesthetic Specialties to create Lucrative Growth Opportunities
Rise in medical tourism, high disposable incomes, aggressive marketing, and an increasing volume of aesthetic surgeons in these countries have made for increasing opportunities for medical aesthetics market players in emerging countries.
Increasingly valuable and yet cost-effective products have begun to attract new untapped demographics. Popularity of aesthetic procedures amongst 25 to 65 years of age in countries like India, and China is expected to make for rapid growth in emerging markets.
Developed Countries Hold most of the Market, While Asia Pacific Promises Phenomenal Growth
Presence of major market players in North America and European countries is contributing to the highest revenue generation in these regions. Also, higher spending capacity, availability of government rebates and high awareness about the available treatment options is driving the growth of medical aesthetics market in North America, and Europe. While Asia Pacific is expected to showcase fastest growth rate owing to booming medical tourism industry, availability of advanced procedures at cheaper price in addition to constantly rising patient population. Asia Pacific is expected to witness highest CAGR of 15.5% during the forecast period 2022-2027.
Teething Problems Within Medical Aesthetics Market to Deter Growth
Medical aesthetic industry is new, still under supervision, and involves normal surgical risks. Certain issues like providing unavailability of proper training to the medical professionals and unlawful acts surrounding the field is making the consumers more sceptical about the procedures to be undertaken and conduct their own research before exposure to various chemicals and toxins that may be life-threatening. Major factors that are anticipated to hold back the market growth comprises the clinical risks and associated complications, Limited research and data to back safety claims on the long run and inclination towards safety more than discount services by informed patients. Consumers are becoming more aware regarding their aesthetic procedures to be performed by well trained and certified medical aesthetic professionals. Moreover, reoperation costs can be high and may not be covered by insurance if are performed beyond a stipulated time. Implants too are not life-time devices and may eventually replacement.
Global Medical Aesthetics Market: Key Players
Market players holding substantial share in the global medical aesthetics market include Candela Medical, Cynosure, Cutera, Inc., Galderma SA, Lumenis Ltd, Merz Pharma GmbH & Co. KGaA, Moller Medical, Sientra, Inc., Solta Medical, and Mentor Worldwide LLC.
The Global Medical Aesthetics Market is Segmented as Below:
By Product Type
Liposuction
Eyelid Surgery
Tummy Tuck
Breast Augmentation
Nose Reshaping
Dermal Fillers
Chemical Peel
Microdermabrasion
Laser based Enhancements
Ultrasound Based Antiaging
Others
By End User Type
Hospitals
Dermatology Clinics
Home Settings
Beauty Spas
By Geographic Coverage
North America
Europe

United Kingdom
Germany
Italy
Spain
Rest of Europe

Asia Pacific

Japan
China
India
South Korea
Rest of Asia Pacific

Rest of the World

Latin America
Middle East and Africa
Leading Companies
Allergan, Inc.
Candela Medical
Cynosure
Cutera, Inc.
Galderma SA
Lumenis Ltd
Merz Pharma GmbH & Co. KGaA
Moller Medical
Sientra, Inc.
Solta Medical
Mentor Worldwide LLC
Others
Inside This Report You Will Find:
1. Executive Summary
2. Market Overview
3. Global Medical Aesthetics Market Outlook, 2019 - 2027
4. Global Medical Aesthetics Market Attractiveness Analysis, by End user Type, Value, 2022 - 2027
5. Global Medical Aesthetics Market Outlook, By Region, 2019 - 2027
6. North America Medical Aesthetics Market Outlook, 2019 - 2027
7. Europe Medical Aesthetics Market Outlook, 2019 - 2027
8. Asia Pacific Medical Aesthetics Market Outlook, 2019 - 2027
9. Rest of the World Medical Aesthetics Market Outlook, 2019 - 2027
10. Competitive Landscape
11. Appendix

Post Sale Support, Research Updates & Offerings:
We value the trust shown by our customers in Fairfield Market Research. We support our clients through our post sale support, research updates and offerings.
The report will be prepared in a PPT format and will be delivered in a PDF format.
Additionally, Market Estimation and Forecast numbers will be shared in Excel Workbook.
If a report being sold was published over a year ago, we will offer a complimentary copy of the updated research report along with Market Estimation and Forecast numbers within 2-3 weeks' time of the sale.
If we update this research study within the next 2 quarters, post purchase of the report, we will offer a Complimentary copy of the updated Market Estimation and Forecast numbers in Excel Workbook.
If there is a geopolitical conflict, pandemic, recession, and the like which can impact global economic scenario and business activity, which might entirely alter the market dynamics or future projections in the industry, we will create a Research Update upon your request at a nominal charge.
1. Executive Summary
1.1. Global Medical Aesthetics Market Outlook, 2019 - 2027 (US$ Million)
1.2. Global Medical Aesthetics Market Incremental Opportunity, 2022- 2027 (US$ Million)
1.3. Key Industry Trends

2. Market Overview
2.1. Market Definitions and Segmentations
2.2. Market Dynamics
2.2.1. Market Drivers
2.2.2. Market Threats
2.2.3. Market Opportunities
2.3. Regulatory Framework
2.4. COVID 19 Impact Analysis

3. Global Medical Aesthetics Market Outlook, 2019 - 2027
3.1. Global Medical Aesthetics Market Outlook, By Product Type, 2019 - 2027
3.1.1. Key Highlights
3.1.2. Global Medical Aesthetics Market Outlook, by Product Type, Value (US$ Million), 2019 - 2027
3.1.2.1. Liposuction
3.1.2.2. Eye surgery
3.1.2.3. Tummy tuck
3.1.2.4. Breast Augmentation
3.1.2.5. Nose reshaping
3.1.2.6. Dermal fillers
3.1.2.7. Chemical peel
3.1.2.8. Microdermabrasion
3.1.2.9. Laser based enhancements
3.1.2.10. Ultrasound based antiaging
3.1.2.11. Others
3.1.3. Global Medical Aesthetics Market Share and BPS Analysis, by Product Type, Value, 2022 and 2027
3.1.4. Global Medical Aesthetics Market Attractiveness Analysis, by Product Type, Value, 2022 - 2027
3.2. Global Medical Aesthetics Market Outlook, By End User Type, 2019 - 2027
3.2.1. Key Highlights
3.2.2. Global Medical Aesthetics Market Outlook, by End user Type, Value (US$ Million), 2019 - 2027
3.2.2.1. Hospitals
3.2.2.2. Dermal clinics
3.2.2.3. Home settings
3.2.2.4. Beauty salons
3.2.3. Global Medical Aesthetics Market Share and BPS Analysis, by End-user Type, Value, 2022 and 2027

4. Global Medical Aesthetics Market Attractiveness Analysis, by End user Type, Value, 2022 - 2027

5. Global Medical Aesthetics Market Outlook, By Region, 2019 - 2027
5.1.1. Key Highlights
5.1.2. Global Medical Aesthetics Market Outlook, by Region, Value (US$ Million), 2019 - 2027
5.1.2.1. North America
5.1.2.2. Europe
5.1.2.3. Asia Pacific
5.1.2.4. Rest of the World
5.1.3. Global Medical Aesthetics Market Share and BPS Analysis, by Region, Value, 2022 and 2027
5.1.4. Global Medical Aesthetics Market Attractiveness Analysis, by Region, Value, 2022 - 2027

6. North America Medical Aesthetics Market Outlook, 2019 - 2027
6.1. North America Medical Aesthetics Market Outlook, By Product Type, 2019 - 2027
6.1.1. Key Highlights
6.1.2. North America Medical Aesthetics Market Outlook, by Country, Value (US$ Million), 2019 - 2027
6.1.2.1. U.S.
6.1.2.2. Canada
6.1.3. North America Medical Aesthetics Market Outlook, by Product Type, Value (US$ Million), 2019 - 2027
6.1.3.1. Liposuction
6.1.3.2. Eye surgery
6.1.3.3. Tummy tuck
6.1.3.4. Breast Augmentation
6.1.3.5. Nose reshaping
6.1.3.6. Dermal fillers
6.1.3.7. Chemical peel
6.1.3.8. Microdermabrasion
6.1.3.9. Laser based enhancements
6.1.3.10. Ultrasound based antiaging
6.1.3.11. Others
6.1.4. North America Medical Aesthetics Market Share and BPS Analysis, by Product Type, Value, 2022 and 2027
6.1.5. North America Medical Aesthetics Market Attractiveness Analysis, by Product Type, Value, 2022 - 2027
6.2. North America Medical Aesthetics Market Outlook, By End User Type, 2019 - 2027
6.2.1. Key Highlights
6.2.2. North America Medical Aesthetics Market Outlook, by End User Type, Value (US$ Million), 2019 - 2027
6.2.2.1. Hospitals
6.2.2.2. Dermal clinics
6.2.2.3. Home settings
6.2.2.4. Beauty salons
6.2.3. North America Medical Aesthetics Market Share and BPS Analysis, by End User Value, 2022 and 2027
6.2.4. North America Medical Aesthetics Market Attractiveness Analysis, by End User Type Value, 2022 - 2027

7. Europe Medical Aesthetics Market Outlook, 2019 - 2027
7.1. Europe Medical Aesthetics Market Outlook, By Product Type, 2019 - 2027
7.1.1. Key Highlights
7.1.2. Europe Medical Aesthetics Market Outlook, by Country, Value (US$ Million), 2019 - 2027
7.1.2.1. U.K.
7.1.2.2. Germany
7.1.2.3. Italy
7.1.2.4. Spain
7.1.2.5. Rest of Europe
7.1.3. Europe Medical Aesthetics Market Outlook, by Product Type, Value (US$ Million), 2019 - 2027
7.1.3.1. Liposuction
7.1.3.2. Eye surgery
7.1.3.3. Tummy tuck
7.1.3.4. Breast Augmentation
7.1.3.5. Nose reshaping
7.1.3.6. Dermal fillers
7.1.3.7. Chemical peel
7.1.3.8. Microdermabrasion
7.1.3.9. Laser based enhancements
7.1.3.10. Ultrasound based antiaging
7.1.3.11. Others
7.1.4. Europe Medical Aesthetics Market Share and BPS Analysis, by Product Type, Value, 2022 and 2027
7.1.5. Europe Medical Aesthetics Market Attractiveness Analysis, by Product Type, Value, 2022 - 2027
7.2. Europe Medical Aesthetics Market Outlook, By End user Type, 2019 - 2027
7.2.1. Key Highlights
7.2.2. Europe Medical Aesthetics Market Outlook, by End user Type, Value (US$ Million), 2019 - 2027
7.2.2.1. Hospitals
7.2.2.2. Dermal clinics
7.2.2.3. Home settings
7.2.2.4. Beauty salons
7.2.3. Europe Medical Aesthetics Market Share and BPS Analysis, by End user Value, 2022 and 2027
7.2.4. Europe Medical Aesthetics Market Attractiveness Analysis, by End user Type Value, 2022 - 2027

8. Asia Pacific Medical Aesthetics Market Outlook, 2019 - 2027
8.1. Asia Pacific Medical Aesthetics Market Outlook, By Product Type, 2019 - 2027
8.1.1. Key Highlights
8.1.2. Asia Pacific Medical Aesthetics Market Outlook, by Country, Value (US$ Million), 2019 - 2027
8.1.2.1. India
8.1.2.2. Japan
8.1.2.3. China
8.1.2.4. South Korea
8.1.2.5. Rest of Asia Pacific
8.1.3. Asia Pacific Medical Aesthetics Market Outlook, by Product Type, Value (US$ Million), 2019 - 2027
8.1.3.1. Liposuction
8.1.3.2. Eye surgery
8.1.3.3. Tummy tuck
8.1.3.4. Breast Augmentation
8.1.3.5. Nose reshaping
8.1.3.6. Dermal fillers
8.1.3.7. Chemical peel
8.1.3.8. Microdermabrasion
8.1.3.9. Laser based enhancements
8.1.3.10. Ultrasound based antiaging
8.1.3.11. Others
8.1.4. Asia Pacific Medical Aesthetics Market Share and BPS Analysis, by Product Type, Value, 2022 and 2027
8.1.5. Asia Pacific Medical Aesthetics Market Attractiveness Analysis, by Product Type, Value, 2022 - 2027
8.2. Asia Pacific Medical Aesthetics Market Outlook, By End user Type, 2019 - 2027
8.2.1. Key Highlights
8.2.2. Asia Pacific Medical Aesthetics Market Outlook, by End user Type, Value (US$ Million), 2019 - 2027
8.2.2.1. Hospitals
8.2.2.2. Dermal clinics
8.2.2.3. Home settings
8.2.2.4. Beauty salons
8.2.3. Asia Pacific Medical Aesthetics Market Share and BPS Analysis, by End user Value, 2022 and 2027
8.2.4. Asia Pacific Medical Aesthetics Market Attractiveness Analysis, by End user Type Value, 2022 - 2027

9. Rest of the World Medical Aesthetics Market Outlook, 2019 - 2027
9.1. Rest of the World Medical Aesthetics Market Outlook, By Product Type, 2019 - 2027
9.1.1. Key Highlights
9.1.2. Rest of the World Medical Aesthetics Market Outlook, by Country, Value (US$ Million), 2019 - 2027
9.1.2.1. Latin America
9.1.2.2. Middle East & Africa
9.1.3. Rest of the World Medical Aesthetics Market Outlook, by Product Type, Value (US$ Million), 2019 - 2027
9.1.3.1. Liposuction
9.1.3.2. Eye surgery
9.1.3.3. Tummy tuck
9.1.3.4. Breast Augmentation
9.1.3.5. Nose reshaping
9.1.3.6. Dermal fillers
9.1.3.7. Chemical peel
9.1.3.8. Microdermabrasion
9.1.3.9. Laser based enhancements
9.1.3.10. Ultrasound based antiaging
9.1.3.11. Others
9.1.4. Rest of the World Medical Aesthetics Market Share and BPS Analysis, by Product Type, Value, 2022 and 2027
9.1.5. Rest of the World Medical Aesthetics Market Attractiveness Analysis, by Product Type, Value, 2022 - 2027
9.2. Rest of the World Medical Aesthetics Market Outlook, By End user Type, 2019 - 2027
9.2.1. Key Highlights
9.2.2. Rest of the World Medical Aesthetics Market Outlook, by End user Type, Value (US$ Million), 2019 - 2027
9.2.2.1. Hospitals
9.2.2.2. Dermal clinics
9.2.2.3. Home settings
9.2.2.4. Beauty salons
9.2.3. Rest of the World Medical Aesthetics Market Share and BPS Analysis, by End user Value, 2022 and 2027
9.2.4. Rest of the World Medical Aesthetics Market Attractiveness Analysis, by End user Type Value, 2022 - 2027

10. Competitive Landscape
10.1. Market Share Analysis, 2021
10.2. Company Profiles
10.2.1. Allergan Inc.
10.2.1.1. Company overview
10.2.1.2. Financial performance
10.2.1.3. Product Portfolio
10.2.1.4. Pipeline Analysis
Above details will include, but not be limited to below list of companies based on availability
10.3.2. Candela Medical
10.3.3. Cynosure
10.3.4. Cutera, Inc.
10.3.5. Galderma SA
10.3.6. Lumenis Ltd
10.3.7. Merz Pharma GmbH & Co. KGaA
10.3.8. Moller Medical
10.3.9. Sientra, Inc.
10.3.10. Solta Medical
10.3.11. Mentor Worldwide LLC

11. Appendix
11.1. Research Methodology
11.2. Report Specific Research Approach