Nutraceuticals Market Outlook
The global nutraceuticals market size is all set to hit the US$1 Tn mark in 2030, registering a strong CAGR of 9.5% between the years of forecast.
Market Analysis in Brief
The global nutraceuticals market has been observing a sustained growth trajectory, receiving a strong impetus by the COVID-19 outbreak. The renowned perceived health benefits of nutraceuticals when it comes to maintaining overall health and boosting immune system predominantly drive the growth of the global nutraceuticals market. With modern informed consumers gaining more knowledge about the convenience, flexibility, and multiple health advantages of consuming specific dietary supplements, the market will be on an uptrend over the years to come. The pandemic underscored the significance of a strong immune system that instantly placed substandard nutrition to the backseat. This has worked to the advantage of the nutraceuticals industry. Consistently growing focus on personalized nutrition further accelerates demand in the nutraceuticals market, finds research. The report also marks a growing role of specialty sports nutrition sector in creating demand and provides a close examination of how the market progression will unfold in the years to come.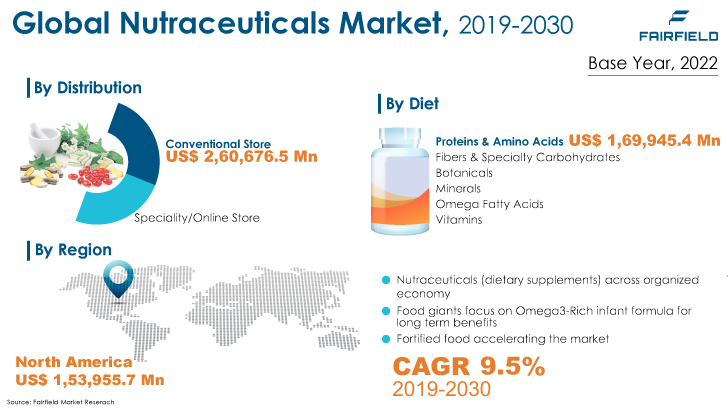 Key Report Findings
The nutraceuticals market size was nearly US$355.8 Bn in the year 2019 and is likely to take a leap beyond US$1 Tn by the end of 2030
Between 2023 and 2030, the nutraceuticals industry revenue will see nearly 9.5% expansion
COVID-19 pandemic turned out to be a major booster to market growth
Dietary supplements top-selling category, sales of functional foods and beverages pick up
North America's nutraceuticals industry dominant through 2030-end
Growth Drivers
Higher Lifestyle Disease Prevalence, and Booming Dietary Supplement Sales
The prevalence of metabolic disorders has been on the rise over the years, which is primarily driving awareness about the potential health benefits of consuming nutraceuticals. There has been an increasing recommendation of dietary supplements to elderly and adolescent population, which further upholds the scope of growth for the nutraceuticals market to a significant extent. The need for fortification of F&B products, and the increasing application profiling will also extend a significant revenue contribution to the nutraceuticals industry, shows the report. Greater inclusion of dietary supplements in infant nutrition products, and new mothers' dietary lifestyle further elevate the growth prospects of the market.
In the backdrop of an alarming rise in the rate of prevalence of a host of chronic lifestyle conditions such as cardiovascular diseases, cancers, arthritis, diabetes, irritable bowel disease (IBD) and other gut-related conditions, and obesity, the demand will remain on an upswing. Sustained popularity of single and multi-vitamin supplements is also poised to contribute its bit toward the expansion of the global nutraceuticals market.
Increased Demand for Functional Products
More and more people are becoming mindful of their health and are searching for more natural, dependable, economical, and readily available options. Functional foods and nutraceuticals are anticipated to do extremely well in the upcoming years. In the wake of the COVID pandemic, individuals are diligently working to improve their health and immunity and are looking into various functional food options and nutritional advantages for promoting good health and preventing sickness.
Additionally, consumers today are conscious of the value of leading healthy lifestyles and eating habits. Our health and general wellness mainly depend on nutraceuticals or functional meals. Our research indicates that the main components of nutraceuticals or functional foods include nutrients, herbs, and dietary supplements. Additionally, these nutraceuticals fight various disease conditions and thus improve quality of life. They are only needed in small amounts to maintain health.
Manufacturers and marketers of nutraceuticals have developed innovative strategies to inform consumers about the product, its advantages, and its use in both medical treatment and preventative healthcare. Players are also launching several independent initiatives, with a renewed emphasis on higher product quality standards, increased transparency, and competitive pricing for innovations.
For instance, the UK-based functional beverages brand's owner, OHMG, introduced water infused with three distinct types of magnesium in January 2022. The OHMG range's magnesium citrate, magnesium threonate, and magnesium glycinate constituents will each have different functional advantages. Still, there are only five flavors offered: Sparkling, Sparkling Peach & Rosemary + Ashwagandha, Sparkling Raspberry & Lemon Balm + L-Theanine, and Sparkling Blackcurrant & Echinacea + Vitamin C.
Growth Challenges
Lack of Clarity Among Consumers About Daily Recommended Intake
While major threats continue to exist in the form of counterfeit supplements that are widely available on the market, confusion regarding the recommended daily intake of nutritional supplements is identified as a more significant challenge facing the nutraceuticals market. Most consumers are hesitant to use nutraceutical products, particularly dietary supplements. Key players are discouraged from investing as a result of customers in rural and semi-urban areas' rising ignorance about dietary supplements and their lack of education in the area. Both in emerging markets and industrialized countries, this market category accounts for a sizeable part of non-dietary supplement customers.
Additionally, consumers are hesitant to incorporate dietary supplements into their regular diets because they perceive them as prescription medications. To ease consumers' concerns about using pills and capsules as nutraceuticals, several supplement manufacturers have focused on developing different formulations of supplements, such as gummies, soft chews, and others. However, these formulations have just begun their journey onto the international market. In contrast, tablets and capsules in the nutraceutical market already have a majority share, which hinders the growth of this market.
Overview of Key Segments
Sales of Dietary Supplements Dominant
The nutraceuticals market has been segmented into product type, distribution channel, and diet. Based on the type of product, demand for dietary supplements continues to climb up as they account for more than 38% share of the overall sales recorded by the market. This can be clearly attributed to the consistent year-over-year shooting sales of protein, vitamin, amino acids, omega 3, and other popular supplements on the market.
Functional F&B Making Rounds
On the other hand, the categories like functional foods, and functional beverages have been consistently flourishing over the recent past as an expanding consumer base develops a positive perception about the potential health benefits of functional food and beverage products. These are especially gaining stronger ground as energy products across the health and fitness-conscious cluster, athletes, and sportsmen who have energy drinks and foods in their routine diet. Both functional food and beverages hold a collective share of over 3/5th of the total sales registered by the nutraceuticals market.
Specialty Stores Yet to Gain the Lead
Based on diet, the protein and amino acid segment of the nutraceuticals market accounts for over a third of the overall market revenue. The report further finds that sales will continue to be the maximum through conventional stores that currently bring in more than 50% of total nutraceutical sales. However, the contribution of specialty stores has consistently been on the rise over the recent past.
Growth Opportunities Across Regions
North America Marches Ahead
North America currently spearheads the global nutraceuticals space and will maintain the top-ranking position throughout the forecast period. The region accounts for more than 30% share of the overall market valuation as of 2022, followed by Europe, closely trailed further by Asia Pacific. The nutraceuticals market in Europe represents nearly 26% of the global market pie, suggests the report findings. Nonstop product launches, and escalating demand for nutraceuticals are expected to drive these regional markets.
Dramatically changing lifestyles around busier schedules have driven unhealthy habits among consumers in recent years, leading to various health-related problems like IBD, and obesity. As a result, rising preference for healthier food products, and heightened health concerns among consumers are anticipated to be the primary drivers for the nutraceuticals markets over the forecast period. Meanwhile, the nutraceuticals market in Asia Pacific developing strong and will be the fastest growing, anticipating a high CAGR, during the assessment period.
Competitive Landscape and Key Players – Nutraceuticals Market
The global nutraceuticals market is highly diversified and competitive in nature owing to the presence of large number of local and international manufacturers, globally. Moreover, numerous producers of nutraceuticals have made huge production facilities available in several countries.
Some of the leading market players identified to be steering the competitive landscape of the global nutraceuticals market include BASF Corporation, Cargill Inc, DSM, Lonza, Corbion, Ingredion Incorporated, Archer-Daniels-Midland Company, Friesland Campina, Kerry PLC, and Olam International Ltd. Product market is witnessing a strong competition globally. Many market players are acquiring or merging with small and large manufacturers to sustain in this competitive market.
Recent Notable Developments
In June 2018, BASF announced that it has signed an agreement with Xerion Limited, a life science company in Australia, to capitalize on the personalized nutrition trend in Asia Pacific. The company aims to leverage Xerion's technology to assess nutraceuticals levels in the domestic population, and stabilize EPA and DHA on a solid matrix
In June 2019, Remedy Organics–a producer of plant-based functional wellness drinks, launched a new range of functional beverages–Golden Mind–which include DHA nutraceuticals ingredients that are derived from sustainably sourced microalgae
April 2021: Nestlé NIDO 3+ announced its new and improved recipe, tailor-made for the nutritional needs of children aged between three to five years. The latest and enhanced Nestlé NIDO 3+ recipe contains optimal levels of Vitamin A, Zinc, and Iron, which are the most prevalent micronutrient deficiencies in this age group in South Africa
February 2022: PepsiCo's Rockstar Energy brand launched a hemp-infused drink in the United States. The energy drink, branded "Rockstar Unplugged," contains hemp seed oil, B vitamins, spearmint, and lemon balm. The beverage includes only 80 mg of caffeine, significantly less than the caffeine content of most Rockstar Energy drinks. The hemp-infused drink contains no sugar or calories and will be available in three flavors: blueberry, passionfruit, and raspberry cucumber
June 2022: Kellogg's Special K released new Protein Snack Bars containing 6 grams of protein and 90 calories. The snack bar is offered in two delectable flavors, sweet Berry Vanilla and rich chocolaty Brownie Sundae, and provides a simple on-the-go protein grab without compromising taste
Global Nutraceuticals Market is Segmented as Below:
Product Type Coverage
Dietary Supplements
Functional Food
Functional Beverages
Distribution Channel Coverage
Conventional Store
Speciality/Online Store
Diet Coverage
Vitamins
Botanicals
Minerals
Proteins & Amino Acids
Fibers & Specialty Carbohydrates
Omega Fatty Acids
Others
Geographical Coverage
North America
Europe

Germany
France
U.K.
Italy
Turkey
Spain
Russia
Rest of Europe

Asia Pacific

China
Japan
South Korea
India
Southeast Asia
Rest of Asia Pacific

Latin America

Brazil
Mexico
Rest of Latin America

Middle East & Africa

GCC
Egypt
Rest of Middle East & Africa
Leading Companies
BASF Corporation
Cargill Inc
DSM
Lonza
Corbion
Ingredion Incorporated
Archer-Daniels-Midland Company
Friesland Campina
Kerry PLC
Olam International Ltd.
Inside This Report You Will Find:
1. Executive Summary
2. Market Overview
3. Global Nutraceuticals Market Outlook, 2019 - 2030
4. North America Nutraceuticals Market Outlook, 2019 - 2030
5. Europe Nutraceuticals Market Outlook, 2019 - 2030
6. Asia Pacific Nutraceuticals Market Outlook, 2019 - 2030
7. Latin America Nutraceuticals Market Outlook, 2019 - 2030
8. Middle East & Africa Nutraceuticals Market Outlook, 2019 - 2030
9. Competitive Landscape
10. Appendix

Post Sale Support, Research Updates & Offerings:
We value the trust shown by our customers in Fairfield Market Research. We support our clients through our post sale support, research updates and offerings.
The report will be prepared in a PPT format and will be delivered in a PDF format.
Additionally, Market Estimation and Forecast numbers will be shared in Excel Workbook.
If a report being sold was published over a year ago, we will offer a complimentary copy of the updated research report along with Market Estimation and Forecast numbers within 2-3 weeks' time of the sale.
If we update this research study within the next 2 quarters, post purchase of the report, we will offer a Complimentary copy of the updated Market Estimation and Forecast numbers in Excel Workbook.
If there is a geopolitical conflict, pandemic, recession, and the like which can impact global economic scenario and business activity, which might entirely alter the market dynamics or future projections in the industry, we will create a Research Update upon your request at a nominal charge.
1. Executive Summary
1.1. Global Nutraceuticals Market Snapshot
1.2. Future Projections
1.3. Key Market Trends
1.4. Analyst Recommendations

2. Market Overview
2.1. Market Definitions
2.2. Market Taxonomy
2.3. Market Dynamics
2.3.1. Drivers
2.3.2. Restraints
2.4. Value Chain Analysis
2.5. Porter's Five Forces Analysis
2.6. COVID-19 Impact Analysis
2.7. Key Patents

3. Global Nutraceuticals Market Outlook, 2019 - 2030
3.1. Global Nutraceuticals Market Outlook, by Type, Value, 2019 - 2030
3.1.1. Key Highlights
3.1.1.1. Dietary Supplements
3.1.1.2. Functional Food
3.1.1.3. Functional Beverages
3.1.2. BPS Analysis/Market Attractiveness Analysis
3.2. Global Nutraceuticals Market Outlook, by Distribution Channel, Value, 2019 - 2030
3.2.1. Key Highlights
3.2.1.1. Conventional Store
3.2.1.2. Specialty/Online Store
3.2.2. BPS Analysis/Market Attractiveness Analysis
3.3. Global Nutraceuticals Market Outlook, by Application, Value, 2019 - 2030
3.3.1. Key Highlights
3.3.1.1. Vitamins
3.3.1.2. Botanicals
3.3.1.3. Minerals
3.3.1.4. Proteins & Amino Acids
3.3.1.5. Fibers & Specialty Carbohydrates
3.3.1.6. Omega Fatty Acids
3.3.1.7. Others
3.3.2. BPS Analysis/Market Attractiveness Analysis
3.4. Global Nutraceuticals Market Outlook, by Region, Value, 2019 - 2030
3.4.1. Key Highlights
3.4.1.1. North America
3.4.1.2. Europe
3.4.1.3. Asia Pacific
3.4.1.4. Latin America
3.4.1.5. Middle East & Africa
3.4.2. BPS Analysis/Market Attractiveness Analysis

4. North America Nutraceuticals Market Outlook, 2019 - 2030
4.1. Global Nutraceuticals Market Outlook, by Type, Value, 2019 - 2030
4.1.1. Key Highlights
4.1.1.1. Dietary Supplements
4.1.1.2. Functional Food
4.1.1.3. Functional Beverages
4.1.2. BPS Analysis/Market Attractiveness Analysis
4.2. Global Nutraceuticals Market Outlook, by Distribution Channel, Value, 2019 - 2030
4.2.1. Key Highlights
4.2.1.1. Conventional Store
4.2.1.2. Specialty/Online Store
4.2.2. BPS Analysis/Market Attractiveness Analysis
4.3. Global Nutraceuticals Market Outlook, by Application, Value, 2019 - 2030
4.3.1. Key Highlights
4.3.1.1. Vitamins
4.3.1.2. Botanicals
4.3.1.3. Minerals
4.3.1.4. Proteins & Amino Acids
4.3.1.5. Fibers & Specialty Carbohydrates
4.3.1.6. Omega Fatty Acids
4.3.1.7. Others
4.3.2. BPS Analysis/Market Attractiveness Analysis
4.4. North America Nutraceuticals Market Outlook, by Country, Value, 2019 - 2030
4.4.1. Key Highlights
4.4.1.1. U.S. Nutraceuticals Market by Value, 2019 - 2030
4.4.1.2. Canada Nutraceuticals Market by Value, 2019 - 2030
4.4.2. BPS Analysis/Market Attractiveness Analysis

5. Europe Nutraceuticals Market Outlook, 2019 - 2030
5.1. Global Nutraceuticals Market Outlook, by Type, Value, 2019 - 2030
5.1.1. Key Highlights
5.1.1.1. Dietary Supplements
5.1.1.2. Functional Food
5.1.1.3. Functional Beverages
5.1.2. BPS Analysis/Market Attractiveness Analysis
5.2. Global Nutraceuticals Market Outlook, by Distribution Channel, Value, 2019 - 2030
5.2.1. Key Highlights
5.2.1.1. Conventional Store
5.2.1.2. Specialty/Online Store
5.2.2. BPS Analysis/Market Attractiveness Analysis
5.3. Global Nutraceuticals Market Outlook, by Application, Value, 2019 - 2030
5.3.1. Key Highlights
5.3.1.1. Vitamins
5.3.1.2. Botanicals
5.3.1.3. Minerals
5.3.1.4. Proteins & Amino Acids
5.3.1.5. Fibers & Specialty Carbohydrates
5.3.1.6. Omega Fatty Acids
5.3.1.7. Others
5.3.2. BPS Analysis/Market Attractiveness Analysis
5.4. Europe Nutraceuticals Market Outlook, by Country, Value, 2019 - 2030
5.4.1. Key Highlights
5.4.1.1. Germany Nutraceuticals Market by Value, 2019 - 2030
5.4.1.2. France Nutraceuticals Market by Product, Value, 2019 - 2030
5.4.1.3. U.K. Nutraceuticals Market by Value, 2019 - 2030
5.4.1.4. Italy Nutraceuticals Market by Value, 2019 - 2030
5.4.1.5. Spain Nutraceuticals Market by Product, Value, 2019 - 2030
5.4.1.6. Rest of Europe Nutraceuticals Market Value, 2019 - 2030
5.4.2. BPS Analysis/Market Attractiveness Analysis

6. Asia Pacific Nutraceuticals Market Outlook, 2019 - 2030
6.1. Global Nutraceuticals Market Outlook, by Type, Value, 2019 - 2030
6.1.1. Key Highlights
6.1.1.1. Dietary Supplements
6.1.1.2. Functional Food
6.1.1.3. Functional Beverages
6.1.2. BPS Analysis/Market Attractiveness Analysis
6.2. Global Nutraceuticals Market Outlook, by Distribution Channel, Value, 2019 - 2030
6.2.1. Key Highlights
6.2.1.1. Conventional Store
6.2.1.2. Specialty/Online Store
6.2.2. BPS Analysis/Market Attractiveness Analysis
6.3. Global Nutraceuticals Market Outlook, by Application, Value, 2019 - 2030
6.3.1. Key Highlights
6.3.1.1. Vitamins
6.3.1.2. Botanicals
6.3.1.3. Minerals
6.3.1.4. Proteins & Amino Acids
6.3.1.5. Fibers & Specialty Carbohydrates
6.3.1.6. Omega Fatty Acids
6.3.1.7. Others
6.3.2. BPS Analysis/Market Attractiveness Analysis
6.4. Asia Pacific Nutraceuticals Market Outlook, by Country, Value, 2019 - 2030
6.4.1. Key Highlights
6.4.1.1. India Nutraceuticals Market by Value, 2019 - 2030
6.4.1.2. China Nutraceuticals Market by Value, 2019 - 2030
6.4.1.3. Japan Nutraceuticals Market by Value, 2019 - 2030
6.4.1.4. Australia & New Zealand Nutraceuticals Market Value, 2019 - 2030
6.4.1.5. Rest of Asia Pacific Market by Value, 2019 - 2030
6.4.2. BPS Analysis/Market Attractiveness Analysis

7. Latin America Nutraceuticals Market Outlook, 2019 - 2030
7.1. Global Nutraceuticals Market Outlook, by Type, Value, 2019 - 2030
7.1.1. Key Highlights
7.1.1.1. Dietary Supplements
7.1.1.2. Functional Food
7.1.1.3. Functional Beverages
7.1.2. BPS Analysis/Market Attractiveness Analysis
7.2. Global Nutraceuticals Market Outlook, by Distribution Channel, Value, 2019 - 2030
7.2.1. Key Highlights
7.2.1.1. Conventional Store
7.2.1.2. Specialty/Online Store
7.2.2. BPS Analysis/Market Attractiveness Analysis
7.3. Global Nutraceuticals Market Outlook, by Application, Value, 2019 - 2030
7.3.1. Key Highlights
7.3.1.1. Vitamins
7.3.1.2. Botanicals
7.3.1.3. Minerals
7.3.1.4. Proteins & Amino Acids
7.3.1.5. Fibers & Specialty Carbohydrates
7.3.1.6. Omega Fatty Acids
7.3.1.7. Others
7.3.2. BPS Analysis/Market Attractiveness Analysis
7.4. Latin America Nutraceuticals Market Outlook, by Country, Value, 2019 - 2030
7.4.1. Key Highlights
7.4.1.1. Brazil Nutraceuticals Market by Value, 2019 - 2030
7.4.1.2. Mexico Nutraceuticals Market by Value, 2019 - 2030
7.4.1.3. Rest of Latin America Nutraceuticals Market by Value, 2019 - 2030
7.4.2. BPS Analysis/Market Attractiveness Analysis

8. Middle East & Africa Nutraceuticals Market Outlook, 2019 - 2030
8.1. Global Nutraceuticals Market Outlook, by Type, Value, 2019 - 2030
8.1.1. Key Highlights
8.1.1.1. Dietary Supplements
8.1.1.2. Functional Food
8.1.1.3. Functional Beverages
8.1.2. BPS Analysis/Market Attractiveness Analysis
8.2. Global Nutraceuticals Market Outlook, by Distribution Channel, Value, 2019 - 2030
8.2.1. Key Highlights
8.2.1.1. Conventional Store
8.2.1.2. Specialty/Online Store
8.2.2. BPS Analysis/Market Attractiveness Analysis
8.3. Global Nutraceuticals Market Outlook, by Application, Value, 2019 - 2030
8.3.1. Key Highlights
8.3.1.1. Vitamins
8.3.1.2. Botanicals
8.3.1.3. Minerals
8.3.1.4. Proteins & Amino Acids
8.3.1.5. Fibers & Specialty Carbohydrates
8.3.1.6. Omega Fatty Acids
8.3.1.7. Others
8.3.2. BPS Analysis/Market Attractiveness Analysis
8.4. Middle East & Africa Nutraceuticals Market Outlook, by Country, Value, 2019 - 2030
8.4.1. Key Highlights
8.4.1.1. GCC Nutraceuticals Market by Value, 2019 - 2030
8.4.1.2. South Africa Nutraceuticals Market by Value, 2019 - 2030
8.4.1.3. Rest of Middle East & Africa Nutraceuticals Market by Value, 2019 - 2030
8.4.2. BPS Analysis/Market Attractiveness Analysis

9. Competitive Landscape
9.1. Company Market Share Analysis, 2021
9.2. Company Profiles
9.2.1. BASF Corporation
9.2.1.1. Company Overview
9.2.1.2. Key Retailing Partners
9.2.1.3. Business Segment Revenue
9.2.1.4. Ingredient Overview
9.2.1.5. Product Offering & its Presence
9.2.1.6. Certifications & Claims
9.2.2. Cargill Inc
9.2.3. DSM
9.2.4. Lonza
9.2.5. Corbion
9.2.6. Ingredion Incorporated
9.2.7. Archer-Daniels-Midland Company
9.2.8. Friesland Campina
9.2.9. Kerry PLC
9.2.10. Olam International Ltd

10. Appendix
10.1. Research Methodology
10.2. Report Assumptions
10.3. Acronyms and Abbreviations