Obesity Intervention Devices Market Forecast
Global obesity intervention devices market valuation to reach nearly US$0.5 Bn by 2030-end
Market revenue slated for a healthy 6% CAGR between 2023 and 2030
Market Analysis in Brief
The market for obesity intervention devices encompasses medical devices and technological solutions designed to assist individuals in managing or treating obesity. These devices are crafted to offer a range of interventions to aid individuals in achieving weight loss, enhancing their general well-being, and decreasing the risks associated with obesity-related complications. The global prevalence of obesity is continuously increasing, presenting a substantial public health concern. Individuals affected by obesity face a heightened susceptibility to a spectrum of coexisting conditions, such as cardiovascular disease (CVD), gastrointestinal disorders, type 2 diabetes (T2D), musculoskeletal issues, respiratory challenges, and psychological concerns. These conditions can significantly impact their daily lives and increase the likelihood of mortality.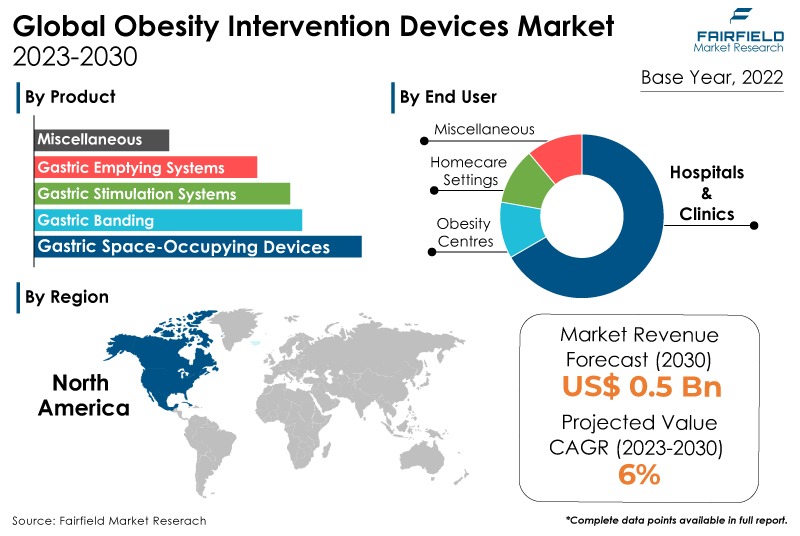 The escalating occurrence of obesity and its associated health ramifications has amplified the demand for efficacious interventions. Obesity intervention devices are pivotal in promoting healthier dietary habits, elevated levels of physical activity, and holistic wellness, all of which are pivotal for sustaining long-term weight management. As the prevalence of obesity continues to surge, there arises an imperative for pioneering solutions to combat this pressing public health issue. This impetus for innovation is instrumental in propelling the expansion of the global market for obesity intervention devices.
Key Report Findings
The rising prevalence of obesity and its accompanying health consequences has increased the demand for effective therapies.
The gastric space occupying devices, especially gastric balloons, continue to witness the maximum demand throughout the period of assessment.
The hospitals and clinics category held the highest revenue share of the obesity intervention devices market in 2022.
North America will continue to lead its way, whereas the Asia Pacific obesity intervention devices market will experience the strongest growth till 2030.
Growth Drivers
Rising Obesity Rates Worldwide
The escalating global prevalence of obesity has generated a pressing need for groundbreaking interventions to aid individuals in managing their weight and enhancing their well-being. According to the World Obesity Atlas 2022, a publication by the World Obesity Federation, the projection indicates that by 2030, one billion individuals worldwide, encompassing 1 in 5 women and 1 in 7 men, will grapple with obesity.
The outlook not only reveals the likelihood of nations failing to attain the 2025 WHO goal of halting obesity escalation at 2010 levels but also underscores the potential for a twofold surge in the number of individuals with obesity worldwide. These factors underscore the imperative of curbing the proliferation of obesity, a circumstance poised to propel the market for obesity intervention devices in the forthcoming years.
The World Health Organization (WHO) predicts that approximately 167 million individuals, including adults and children, will witness deteriorating health due to overweight or obesity by 2025. Specific obesity intervention devices employ techniques such as electrical stimulation to target nerves linked to appetite regulation, often accompanied by behavioural modification strategies.
All these devices offer feedback, reminders, and incentives to motivate users to embrace healthier eating habits, amplify physical activity, and cultivate positive lifestyle changes. Additionally, wearable devices and applications can monitor physical activity levels, encouraging individuals to partake in more active behaviors and expend calories through regular exercise. These dynamics are projected to drive market expansion throughout the forecast period.
Consistently Reducing Healthcare Costs
Obesity is one of the critical risk factors for various chronic ailments, for instance, type 2 diabetes, cardiovascular diseases, some types of cancer, and musculoskeletal disorders. Effective weight management through intervention devices can reduce the incidence of these conditions, leading to lower healthcare costs associated with their diagnosis, treatment, and management.
Obesity-related conditions often lead to hospitalisations and medical interventions. By addressing obesity early and preventing the progression of related diseases, intervention devices can help reduce the need for costly hospital stays and surgeries. Many obesity-related health issues require ongoing medication. Weight loss and improved health resulting from intervention devices can reduce medication use, lowering pharmaceutical costs.
Obesity-related conditions require frequent visits to healthcare providers, specialists, and clinics. Successful weight management through intervention devices can reduce the need for these frequent visits, leading to decreased healthcare utilisation and associated costs. By preventing or managing chronic diseases associated with obesity, intervention devices contribute to long-term health savings. Individuals who maintain a healthier weight are less likely to require extensive medical interventions and hospitalisations.
Some obesity intervention devices offer non-surgical or minimally invasive approaches to weight management. This can result in cost savings by avoiding the expenses associated with surgical procedures and their potential complications. In addition, if widely adopted, effective obesity intervention devices can positively impact public health. This, in turn, can reduce healthcare costs for governments, insurers, and society, thus driving market growth.
Growth Challenges
Potential Complications and Side Effects
Obesity intervention procedures, including surgical and non-surgical approaches, can have various side effects and potential complications. Infection is a potential complication associated with various obesity intervention procedures, both surgical and non-surgical. Infections can occur due to foreign materials, disrupting normal tissue barriers, and surgical incisions.
Gastroesophageal reflux disease (GERD) is where stomach acid and other contents flow back into the esophagus, causing symptoms like heartburn, regurgitation, and discomfort. Some obesity intervention procedures, particularly those that involve altering the stomach's anatomy or reducing its size, can impact the risk of GERD.
Balloon rupture or deflation is a potential complication associated with certain obesity intervention procedures involving gastric balloons or intragastric balloons. These devices are designed to aid weight loss by creating a sense of fullness in the stomach.
However, there's a risk that the balloon could rupture or deflate prematurely, which can lead to various consequences. Such risks associated with obesity intervention procedures are expected to limit the growth of the Obesity intervention devices market during the forecast period.
Overview of Key Segments
Preference for Space-occupying Devices Intact, Gastric Balloons Most Popular
The gastric balloon segment held a significant position in the obesity intervention devices market 2022. Gastric balloons are a non-surgical intervention designed to aid weight loss by creating a sense of fullness in the stomach, leading to reduced food intake. These balloons are typically inserted into the stomach through endoscopic procedures and are temporarily left in place.
Gastric balloons offer a non-surgical option for weight loss, making them appealing to individuals hesitant about undergoing surgical procedures. They can be inserted and removed through minimally invasive endoscopic techniques. Gastric balloons are designed to be temporary, typically remaining in the stomach for several months. This appeals to individuals who are seeking short-term weight loss assistance without a permanent alteration of their anatomy.
Recovery times after gastric balloon placement are relatively short compared to surgical interventions. This can attract individuals who want to minimise downtime and return to regular activities sooner. Clinical studies have shown that gastric balloons can lead to significant weight loss for individuals who stick to the recommended dietary and lifestyle changes during the balloon placement period.
The risks associated with gastric balloons are generally lower than those associated with major surgical procedures. While there are potential risks and side effects, they are typically less severe than those of surgery. As the awareness of obesity and its health risks increases, more individuals seek solutions to manage their weight. The non-surgical nature of gastric balloons addresses the demand for less invasive options, thus driving the segment's growth.
Hospitals and Clinics Register the Maximum Adoption
The hospitals and clinics segment plays a significant role in adopting and utilising obesity intervention devices. Hospitals are one of the key end users for these devices due to their role in providing medical treatments, interventions, and specialised care.
Hospitals have a team of medical professionals, including surgeons, gastroenterologists, and other specialists, who are experienced in performing procedures related to obesity intervention devices. They are equipped with advanced medical facilities, operating rooms, and endoscopic equipment necessary to place and manage obesity intervention devices.
Hospitals can provide thorough patient evaluations to determine the most suitable intervention approach based on the individual's health status, medical history, and needs. Many obesity intervention devices, such as gastric balloons or gastric banding systems, require specialised surgical or endoscopic placement. Hospitals are equipped to perform these procedures safely and effectively.
Hospitals can provide a multidisciplinary approach to obesity management, involving various healthcare professionals, dietitians, psychologists, and physical therapists, alongside medical device interventions. After device placement, hospitals can offer follow-up appointments and monitoring to track patient progress, address any issues, and guide on maintaining weight loss.
Some medical insurance plans and healthcare policies may cover obesity interventions performed in a hospital setting, making it a more accessible option for patients. Hospitals are better equipped to handle complex cases where obesity is accompanied by other medical conditions, requiring a comprehensive and specialised approach. Furthermore, hospitals often engage in clinical research and innovation related to obesity intervention devices, contributing to the advancement of treatment options and better outcomes, thus leading the market segment.
Growth Opportunities Across Regions
North America Preeminent
North America dominates and has historically been a leading region in the obesity intervention devices market. Several factors contribute to this leadership position. North America, particularly the US, has faced a significant obesity epidemic for several decades. The high prevalence of obesity has driven demand for effective interventions, including medical devices.
North America boasts advanced healthcare infrastructure, including modern hospitals, medical centers, and specialised clinics. This infrastructure supports the adoption and utilisation of obesity intervention devices. The region is home to many prominent medical device manufacturers, research institutions, and academic centers that contribute to developing innovative obesity intervention technologies.
North American countries' relatively high economic capacity means that individuals and healthcare systems have more resources to invest in advanced medical interventions, including obesity treatment devices. The region has well-established regulatory frameworks for medical devices, ensuring safety and efficacy. This encourages both the development and adoption of obesity intervention devices.
Moreover, the presence of multiple healthcare companies and providers in North America has led to competition, often driving innovation and introducing new and advanced obesity intervention devices. In the US, advances in medical technology continue to drive innovation in obesity intervention devices. This includes improved materials, sensors, data analytics, and device connectivity for better patient monitoring and personalised treatment.
In addition, many obesity intervention devices incorporate Artificial Intelligence (AI) to offer personalised recommendations for each individual's weight management journey. Moreover, changes in regulatory policies, approvals, and guidelines from agencies like the FDA can impact the introduction and adoption of new obesity intervention devices, thus driving market growth in the region.
Asia Pacific Presents a High-potential Market
Asia Pacific is developing a lucrative market for obesity intervention devices, aligning with several factors and trends observed in recent years. The Asia Pacific region has witnessed noteworthy lifestyle changes, healthcare awareness, and economic growth, contributing to the increasing demand for obesity intervention devices.
Many nations in Asia have seen a rapid increase in obesity rates, primarily due to changing dietary habits, urbanisation, sedentary lifestyles, and economic development. As people become more aware of the health risks associated with obesity, there's a growing interest in weight management and healthier lifestyles. This awareness has led to a demand for effective interventions, including medical devices.
Rapid urbanisation in Asia has led to changes in eating habits and physical activity patterns. Urban populations are more prone to sedentary behaviors and consumption of energy-dense foods. Economic growth has improved living standards for many individuals in the Asia Pacific region.
With increased disposable income, people seek solutions to address health concerns, including obesity. Improvements in healthcare infrastructure and access to medical facilities have made obesity intervention devices more accessible to a larger population.
Obesity Intervention Devices Market: Competitive Landscape
Some leading players at the forefront in the obesity intervention devices market include Medtronic plc, ReShape Lifesciences, Inc., Cousin Surgery, BAROnova, Inc., A.M.I. GmbH, Johnson & Johnson, Spatz FGIA, Inc., Allurion Technologies, Inc., Endalis Laboratoire, GI Dynamics, Inc., Boston Scientific, and Abbvie, Inc.
Recent Notable Developments
In April 2023, Boston Scientific announced the close of its acquisition of Apollo Endosurgery, a medical technology company primarily focused on the design, development, and commercialisation of less invasive medical devices to advance gastrointestinal therapeutic endoscopy and endo bariatrics.
In September 2022, US-based Allurion Technologies launched its weight management solution Allurion swallowable capsule to treat obesity in India. The device has been recently approved by the Central Drugs Standard Control Organisation (CDSCO). The swallowable capsule is paired with the Allurion Virtual Care Suite, a remote patient monitoring solution powered by the IRIS AI platform that includes a mobile app, connected scale, and health tracker.
In January 2022, GI Dynamics Inc., a medical device company developing the EndoBarrier® System for patients diagnosed with type 2 diabetes and obesity, received regulatory approval to begin enrollment in the I-STEP clinical trial in India.
In October 2021, Spatz FGIA Inc., an international pioneer in gastrointestinal weight loss solutions, the U.S. Food and Drug Administration (FDA) approved the Spatz3 Gastric Balloon, marking a significant milestone as the first adjustable gastric balloon system to assist adults contending with obesity in their weight loss journey. This development signifies a notable achievement, with the Spatz3 becoming the fifth balloon to secure FDA approval. Notably, the outcome of the pivotal FDA clinical trial unveiled compelling results, showcasing a noteworthy 15% reduction in weight alongside an impressive success rate of 84%,
The Global Obesity Intervention Devices Market is Segmented as Below:
By Product
Gastric Banding
Gastric Space-Occupying Devices
Gastric Stimulation Systems
Gastric Emptying Systems
Miscellaneous
By End User
Hospitals & Clinics
Obesity Centres
Homecare Settings
Miscellaneous
By Geographic Coverage
North America
Europe

Germany
U.K.
France
Italy
Turkey
Russia
Rest of Europe

Asia Pacific

China
Japan
South Korea
India
Southeast Asia
Rest of Asia Pacific

Latin America

Brazil
Mexico
Argentina
Rest of Latin America

Middle East & Africa

GCC
South Africa
Egypt
Nigeria
Rest of the Middle East & Africa
1. Executive Summary
1.1. Global Obesity Intervention Devices Market Snapshot
1.2. Future Projections
1.3. Key Market Trends
1.4. Regional Snapshot, by Value, 2022
1.5. Analyst Recommendations
2. Market Overview
2.1. Market Definitions and Segmentations
2.2. Market Dynamics
2.2.1. Drivers
2.2.2. Restraints
2.2.3. Market Opportunities
2.3. Value Chain Analysis
2.4. Porter's Five Forces Analysis
2.5. Covid-19 Impact Analysis
2.5.1. Supply
2.5.2. Demand
2.6. Impact of Ukraine-Russia Conflict
2.7. Economic Overview
2.7.1. World Economic Projections
2.8. PESTLE Analysis
3. Global Obesity Intervention Devices Market Outlook, 2018 - 2030
3.1. Global Obesity Intervention Devices Market Outlook, by Product, Value (US$ Bn), 2018 - 2030
3.1.1. Key Highlights
3.1.1.1. Gastric Banding
3.1.1.2. Gastric Space Occupying Devices
3.1.1.3. Gastric Stimulation Systems
3.1.1.4. Gastric Emptying Systems
3.1.1.5. Misc.
3.2. Global Obesity Intervention Devices Market Outlook, by End User, Value (US$ Bn), 2018 - 2030
3.2.1. Key Highlights
3.2.1.1. Hospitals & Clinics
3.2.1.2. Obesity Centers
3.2.1.3. Homecare Settings
3.2.1.4. Misc.
3.3. Global Obesity Intervention Devices Market Outlook, by Region, Value (US$ Bn), 2018 - 2030
3.3.1. Key Highlights
3.3.1.1. North America
3.3.1.2. Europe
3.3.1.3. Asia Pacific
3.3.1.4. Latin America
3.3.1.5. Middle East & Africa
4. North America Obesity Intervention Devices Market Outlook, 2018 - 2030
4.1. North America Obesity Intervention Devices Market Outlook, by Product, Value (US$ Bn), 2018 - 2030
4.1.1. Key Highlights
4.1.1.1. Gastric Banding
4.1.1.2. Gastric Space Occupying Devices
4.1.1.3. Gastric Stimulation Systems
4.1.1.4. Gastric Emptying Systems
4.1.1.5. Misc.
4.2. North America Obesity Intervention Devices Market Outlook, by End User, Value (US$ Bn), 2018 - 2030
4.2.1. Key Highlights
4.2.1.1. Hospitals & Clinics
4.2.1.2. Obesity Centers
4.2.1.3. Homecare Settings
4.2.1.4. Misc.
4.2.2. Market Attractiveness Analysis
4.3. North America Obesity Intervention Devices Market Outlook, by Country, Value (US$ Bn), 2018 - 2030
4.3.1. Key Highlights
4.3.1.1. U.S. Obesity Intervention Devices Market by Product, Value (US$ Bn), 2018 - 2030
4.3.1.2. U.S. Obesity Intervention Devices Market End User, Value (US$ Bn), 2018 - 2030
4.3.1.3. Canada Obesity Intervention Devices Market by Product, Value (US$ Bn), 2018 - 2030
4.3.1.4. Canada Obesity Intervention Devices Market End User, Value (US$ Bn), 2018 - 2030
4.3.2. BPS Analysis/Market Attractiveness Analysis
5. Europe Obesity Intervention Devices Market Outlook, 2018 - 2030
5.1. Europe Obesity Intervention Devices Market Outlook, by Product, Value (US$ Bn), 2018 - 2030
5.1.1. Key Highlights
5.1.1.1. Gastric Banding
5.1.1.2. Gastric Space Occupying Devices
5.1.1.3. Gastric Stimulation Systems
5.1.1.4. Gastric Emptying Systems
5.1.1.5. Misc.
5.2. Europe Obesity Intervention Devices Market Outlook, by End User, Value (US$ Bn), 2018 - 2030
5.2.1. Key Highlights
5.2.1.1. Hospitals & Clinics
5.2.1.2. Obesity Centers
5.2.1.3. Homecare Settings
5.2.1.4. Misc.
5.2.2. BPS Analysis/Market Attractiveness Analysis
5.3. Europe Obesity Intervention Devices Market Outlook, by Country, Value (US$ Bn), 2018 - 2030
5.3.1. Key Highlights
5.3.1.1. Germany Obesity Intervention Devices Market by Product, Value (US$ Bn), 2018 - 2030
5.3.1.2. Germany Obesity Intervention Devices Market End User, Value (US$ Bn), 2018 - 2030
5.3.1.3. U.K. Obesity Intervention Devices Market by Product, Value (US$ Bn), 2018 - 2030
5.3.1.4. U.K. Obesity Intervention Devices Market End User, Value (US$ Bn), 2018 - 2030
5.3.1.5. France Obesity Intervention Devices Market by Product, Value (US$ Bn), 2018 - 2030
5.3.1.6. France Obesity Intervention Devices Market End User, Value (US$ Bn), 2018 - 2030
5.3.1.7. Italy Obesity Intervention Devices Market by Product, Value (US$ Bn), 2018 - 2030
5.3.1.8. Italy Obesity Intervention Devices Market End User, Value (US$ Bn), 2018 - 2030
5.3.1.9. Turkey Obesity Intervention Devices Market by Product, Value (US$ Bn), 2018 - 2030
5.3.1.10. Turkey Obesity Intervention Devices Market End User, Value (US$ Bn), 2018 - 2030
5.3.1.11. Russia Obesity Intervention Devices Market by Product, Value (US$ Bn), 2018 - 2030
5.3.1.12. Russia Obesity Intervention Devices Market End User, Value (US$ Bn), 2018 - 2030
5.3.1.13. Rest of Europe Obesity Intervention Devices Market by Product, Value (US$ Bn), 2018 - 2030
5.3.1.14. Rest of Europe Obesity Intervention Devices Market End User, Value (US$ Bn), 2018 - 2030
5.3.2. BPS Analysis/Market Attractiveness Analysis
6. Asia Pacific Obesity Intervention Devices Market Outlook, 2018 - 2030
6.1. Asia Pacific Obesity Intervention Devices Market Outlook, by Product, Value (US$ Bn), 2018 - 2030
6.1.1. Key Highlights
6.1.1.1. Gastric Banding
6.1.1.2. Gastric Space Occupying Devices
6.1.1.3. Gastric Stimulation Systems
6.1.1.4. Gastric Emptying Systems
6.1.1.5. Misc.
6.2. Asia Pacific Obesity Intervention Devices Market Outlook, by End User, Value (US$ Bn), 2018 - 2030
6.2.1. Key Highlights
6.2.1.1. Hospitals & Clinics
6.2.1.2. Obesity Centers
6.2.1.3. Homecare Settings
6.2.1.4. Misc.
6.2.2. BPS Analysis/Market Attractiveness Analysis
6.3. Asia Pacific Obesity Intervention Devices Market Outlook, by Country, Value (US$ Bn), 2018 - 2030
6.3.1. Key Highlights
6.3.1.1. China Obesity Intervention Devices Market by Product, Value (US$ Bn), 2018 - 2030
6.3.1.2. China Obesity Intervention Devices Market End User, Value (US$ Bn), 2018 - 2030
6.3.1.3. Japan Obesity Intervention Devices Market by Product, Value (US$ Bn), 2018 - 2030
6.3.1.4. Japan Obesity Intervention Devices Market End User, Value (US$ Bn), 2018 - 2030
6.3.1.5. South Korea Obesity Intervention Devices Market by Product, Value (US$ Bn), 2018 - 2030
6.3.1.6. South Korea Obesity Intervention Devices Market End User, Value (US$ Bn), 2018 - 2030
6.3.1.7. India Obesity Intervention Devices Market by Product, Value (US$ Bn), 2018 - 2030
6.3.1.8. India Obesity Intervention Devices Market End User, Value (US$ Bn), 2018 - 2030
6.3.1.9. Southeast Asia Obesity Intervention Devices Market by Product, Value (US$ Bn), 2018 - 2030
6.3.1.10. Southeast Asia Obesity Intervention Devices Market End User, Value (US$ Bn), 2018 - 2030
6.3.1.11. Rest of Asia Pacific Obesity Intervention Devices Market by Product, Value (US$ Bn), 2018 - 2030
6.3.1.12. Rest of Asia Pacific Obesity Intervention Devices Market End User, Value (US$ Bn), 2018 - 2030
6.3.2. BPS Analysis/Market Attractiveness Analysis
7. Latin America Obesity Intervention Devices Market Outlook, 2018 - 2030
7.1. Latin America Obesity Intervention Devices Market Outlook, by Product, Value (US$ Bn), 2018 - 2030
7.1.1. Key Highlights
7.1.1.1. Gastric Banding
7.1.1.2. Gastric Space Occupying Devices
7.1.1.3. Gastric Stimulation Systems
7.1.1.4. Gastric Emptying Systems
7.1.1.5. Misc.
7.2. Latin America Obesity Intervention Devices Market Outlook, by End User, Value (US$ Bn), 2018 - 2030
7.2.1.1. Hospitals & Clinics
7.2.1.2. Obesity Centers
7.2.1.3. Homecare Settings
7.2.1.4. Misc.
7.2.2. BPS Analysis/Market Attractiveness Analysis
7.3. Latin America Obesity Intervention Devices Market Outlook, by Country, Value (US$ Bn), 2018 - 2030
7.3.1. Key Highlights
7.3.1.1. Brazil Obesity Intervention Devices Market by Product, Value (US$ Bn), 2018 - 2030
7.3.1.2. Brazil Obesity Intervention Devices Market End User, Value (US$ Bn), 2018 - 2030
7.3.1.3. Mexico Obesity Intervention Devices Market by Product, Value (US$ Bn), 2018 - 2030
7.3.1.4. Mexico Obesity Intervention Devices Market End User, Value (US$ Bn), 2018 - 2030
7.3.1.5. Argentina Obesity Intervention Devices Market by Product, Value (US$ Bn), 2018 - 2030
7.3.1.6. Argentina Obesity Intervention Devices Market End User, Value (US$ Bn), 2018 - 2030
7.3.1.7. Rest of Latin America Obesity Intervention Devices Market by Product, Value (US$ Bn), 2018 - 2030
7.3.1.8. Rest of Latin America Obesity Intervention Devices Market End User, Value (US$ Bn), 2018 - 2030
7.3.2. BPS Analysis/Market Attractiveness Analysis
8. Middle East & Africa Obesity Intervention Devices Market Outlook, 2018 - 2030
8.1. Middle East & Africa Obesity Intervention Devices Market Outlook, by Product, Value (US$ Bn), 2018 - 2030
8.1.1. Key Highlights
8.1.1.1. Gastric Banding
8.1.1.2. Gastric Space Occupying Devices
8.1.1.3. Gastric Stimulation Systems
8.1.1.4. Gastric Emptying Systems
8.1.1.5. Misc.
8.2. Middle East & Africa Obesity Intervention Devices Market Outlook, by End User, Value (US$ Bn), 2018 - 2030
8.2.1. Key Highlights
8.2.1.1. Hospitals & Clinics
8.2.1.2. Obesity Centers
8.2.1.3. Homecare Settings
8.2.1.4. Misc.
8.2.2. BPS Analysis/Market Attractiveness Analysis
8.3. Middle East & Africa Obesity Intervention Devices Market Outlook, by Country, Value (US$ Bn), 2018 - 2030
8.3.1. Key Highlights
8.3.1.1. GCC Obesity Intervention Devices Market by Product, Value (US$ Bn), 2018 - 2030
8.3.1.2. GCC Obesity Intervention Devices Market End User, Value (US$ Bn), 2018 - 2030
8.3.1.3. South Africa Obesity Intervention Devices Market by Product, Value (US$ Bn), 2018 - 2030
8.3.1.4. South Africa Obesity Intervention Devices Market End User, Value (US$ Bn), 2018 - 2030
8.3.1.5. Egypt Obesity Intervention Devices Market by Product, Value (US$ Bn), 2018 - 2030
8.3.1.6. Egypt Obesity Intervention Devices Market End User, Value (US$ Bn), 2018 - 2030
8.3.1.7. Nigeria Obesity Intervention Devices Market by Product, Value (US$ Bn), 2018 - 2030
8.3.1.8. Nigeria Obesity Intervention Devices Market End User, Value (US$ Bn), 2018 - 2030
8.3.1.9. Rest of Middle East & Africa Obesity Intervention Devices Market by Product, Value (US$ Bn), 2018 - 2030
8.3.1.10. Rest of Middle East & Africa Obesity Intervention Devices Market End User, Value (US$ Bn), 2018 - 2030
8.3.2. BPS Analysis/Market Attractiveness Analysis
9. Competitive Landscape
9.1. Manufacturer vs Product Heatmap
9.2. Company Market Share Analysis, 2022
9.3. Competitive Dashboard
9.4. Company Profiles
9.4.1. ReShape Lifesciences Inc
9.4.1.1. Company Overview
9.4.1.2. Device Portfolio
9.4.1.3. Financial Overview
9.4.1.4. Business Strategies and Development
9.4.2. Cousin Surgery
9.4.2.1. Company Overview
9.4.2.2. Device Portfolio
9.4.2.3. Financial Overview
9.4.2.4. Business Strategies and Development
9.4.3. A.M.I. GmbH
9.4.3.1. Company Overview
9.4.3.2. Device Portfolio
9.4.3.3. Financial Overview
9.4.3.4. Business Strategies and Development
9.4.4. Johnson & Johnson
9.4.4.1. Company Overview
9.4.4.2. Device Portfolio
9.4.4.3. Financial Overview
9.4.4.4. Business Strategies and Development
9.4.5. Spatz FGIA Inc
9.4.5.1. Company Overview
9.4.5.2. Device Portfolio
9.4.5.3. Financial Overview
9.4.5.4. Business Strategies and Development
9.4.6. Allurion Technologies Inc.
9.4.6.1. Company Overview
9.4.6.2. Device Portfolio
9.4.6.3. Financial Overview
9.4.6.4. Business Strategies and Development
9.4.7. Endalis Laboratoire
9.4.7.1. Company Overview
9.4.7.2. Device Portfolio
9.4.7.3. Financial Overview
9.4.7.4. Business Strategies and Development
9.4.8. GI Dynamics, Inc.
9.4.8.1. Company Overview
9.4.8.2. Device Portfolio
9.4.8.3. Business Strategies and Development
9.4.9. Apollo Endosurgery
9.4.9.1. Company Overview
9.4.9.2. Device Portfolio
9.4.9.3. Financial Overview
9.4.9.4. Business Strategies and Development
9.4.10. Abbvie, Inc.
9.4.10.1. Company Overview
9.4.10.2. Device Portfolio
9.4.10.3. Financial Overview
9.4.10.4. Business Strategies and Development
10. Appendix
10.1. Research Methodology
10.2. Report Assumptions
10.3. Acronyms and Abbreviations