COVID-19 Only Marginally Affects Orthopedic Devices Market
High prevalence of orthopedic disease indications and ageing population, increasing obesity and active lifestyle trends in younger demographics are driving the demand for orthopedic procedures in a sustained manner. Fairfield Market Research indicates that the global orthopedics devices market is anticipated to rise at steady pace of 6.3% CAGR during the period of 2021-2025, despite being hard-hit by the COVID-19 pandemic. It is all set to reach US$59,688.8 Mn by 2025 from US$44,034.9 Mn in 2020.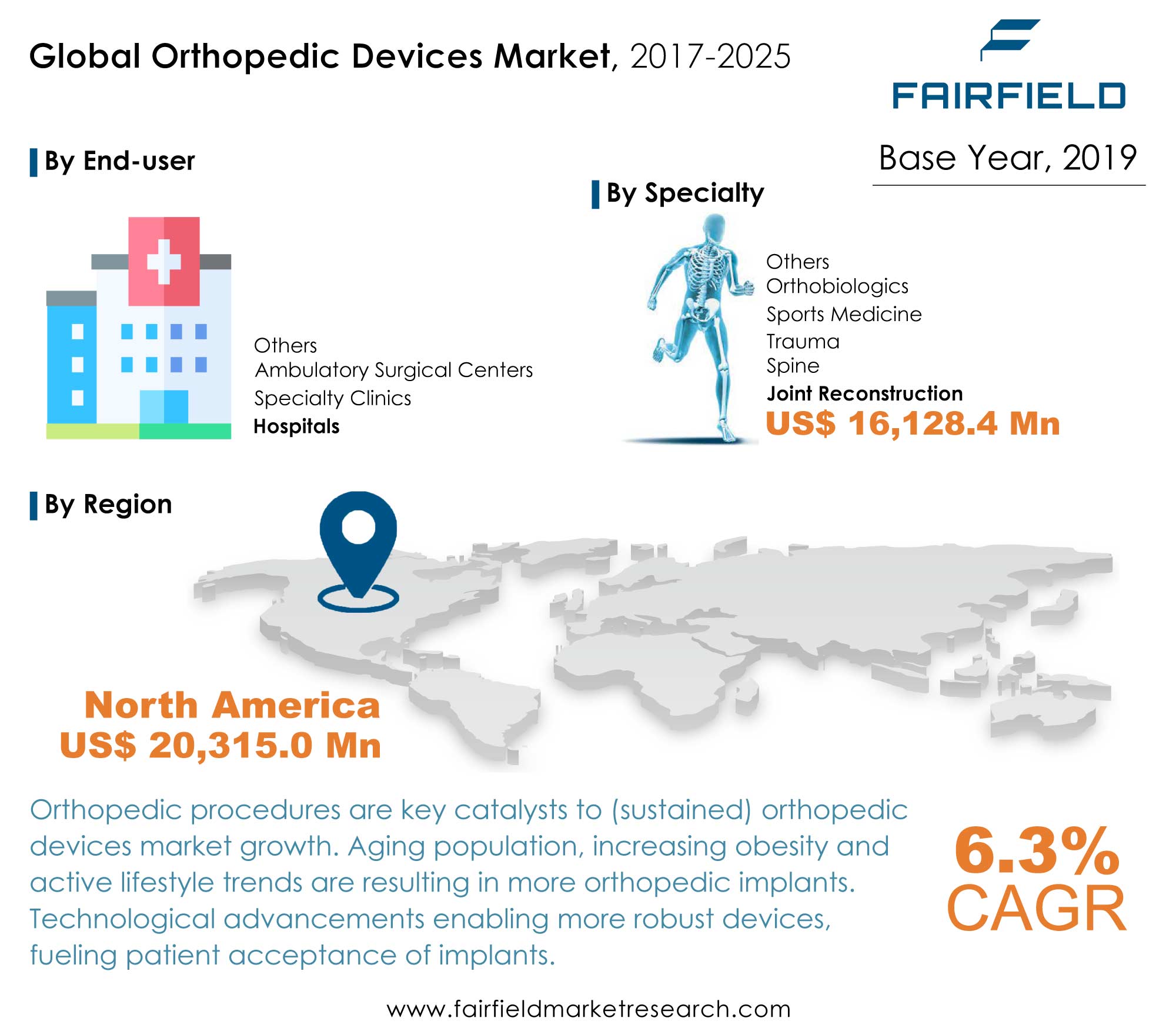 The COVID-19 outbreak has caused a severe decline in elective orthopedic interventions globally. It is estimated that over 6.3 million elective procedures stood cancelled during the 12-week peak COVID-19 period. Industry experts sense slow market recovery and see some sort of restoration to pre-COVID levels by 2022 and thereafter both of which will positively impact the global orthopedic devices market.
Orthopedic Devices Market to Benefit From High Incidence of Musculoskeletal Conditions and Better Diagnostics
Rising musculoskeletal diagnoses and high prevalence of osteoporosis fractures are boosting the number of orthopedic procedures worldwide. According to the World Health Organization estimates, about 20%–33% of people across the globe live with a painful musculoskeletal condition.
The International Osteoporosis Foundation states that there were an estimated 9 million osteoporosis fracture cases in 2000. Out of these, 1.6 million were at the hip, 1.7 million were at the forearm and 1.4 million were clinical vertebral fractures. More than half, about 51%, of these are in Europe and Americas while the remainder were noted in the Western Pacific region and Southeast Asia.
Precision and Risk-reducing Technological Advancements Fuel Patient Acceptance of Implants
Noteworthy technological advancements impacting orthopedic surgical interventions are autonomous surgical robots, 3D printed surgical planning models & instruments and augmented reality assisted surgeries. The orthopedic devices market is witnessing continuous improvements in recent years, which has clearly led to high acceptance of implants.
Zebra Medical Vision was acquired by DePuy Synthese (J&J) to develop and commercialize 3D imaging technology for orthopedic surgery in 2019. In February 2020, Globus Medical announced its first procedure using HEDRON IA implant, a 3D printed integrated ALIF spacer that leverages anchors or screws for vertebral body fixation. This technology offers smaller incisions and less exposure to potential complications during implanting procedure. Thus, technological advances are transforming orthopedic interventions as the promise of precision and risk-free procedures builds patient confidence.
Joint Reconstruction Emerges as Largest Product Category While Sports Medicine and Orthobiologics Promise High Growth
According to the report, joint reconstruction products comprised of hip, knee and extremities held a lion's share in 2020. Hip, knee and extremities replacement procedures have been higher in number than any other orthopedic intervention in the world. Centers for Disease Control and Prevention (CDC) estimates that joint arthroplasty (TJAs) performed in the U.S. are expected to quadruple by 2030. Presently, the number stands that 1 million annually.
Sports medicine is one of the most promising product segments followed by orthobiologics. Both these categories are anticipated to outpace other orthopedic device categories in terms of growth rate by 2025. Growing sports injuries and active lifestyle trends are driving the market growth for sports medicine devices. Women participation in sports have seen significant upsurge in recent years. The International Olympic Committee statistics show that number of women athletes at the Olympic Games is approaching 50% of all participants. Thus, the overall increase in number of athletes across the globe has given the orthopedic devices market a new avenue.
Asia Pacific Grows at Highest Growth Rate with Promising Medical Tourism Industry
North America is the leading region in the global orthopedic devices market in 2020 due to high prevalence of orthopedic disease population and more number of sports injuries. U.S. has 32.5 million – 32.8 million cases of osteoarthritis. As per National Safety Council analysis of the U.S. Consumer Product Safety Commission NEISS data, in 2019, more than 3.3 million sports related injuries were treated in hospital emergency departments.
Asia Pacific is expected to register a highest growth among all regions during the forecast period on account of growing trauma injuries. WHO estimated that injuries were responsible for 87,583 of DALYs (Disability Adjusted Life Years) per 100,000 people in Southeast Asia in 2012; far more than the 38,903 of DALYs per 100,000 people in high-income countries. Medical tourism growth is also causing an upsurge in orthopedic devices utilization in Asia Pacific region. Medical tourism has been enabling orthopedic procedures through affordable developed medical technology. Asian countries such as India provide health care services at a cost 20% lower than in the U.S. while in Thailand, the cost is 30% lesser.
Deep Pocket Players to Dominate Orthopedic Devices Market with Big Ticket Acquisitions
Hefty investments have been made by big tech giants in last few years to grow organically and inorganically in the global orthopedic devices market. Stryker's acquisition of Wright Medical is one giant leap, setting a trend for others to follow. Stryker Corporation has become a market leader with US$4.7 billion Wright Medical acquisition deal.
Top 15 players capture more than 65% of the global orthopedic devices market. Few of the key players in the market are Acumed LLC (Colson Associates, Inc.), Arthrex, Inc., Aesculap, Inc. (B. Braun company), CONMED Corporation, DePuy Synthes (J&J), DJO, LLC (Colfax Corporation), Exactech, Inc., Globus Medical, Medtronic (Spine Division), NuVasive, Inc., Orthofix Medical Inc., Össur, Smith+Nephew, Stryker Corporation, Wright Medical (Stryker), and Zimmer Biomet.
The Global Orthopedic Devices Market is Segmented as Below:

By Product Coverage
Joint Reconstruction
Spine
Trauma
Sports Medicine
Orthobiologics
Others
By End User Coverage
Hospitals
Specialty Clinics
Ambulatory Surgical Centres
Others
By Geographical Coverage
North America
Europe

Germany
France
United Kingdom
Italy
Spain
Scandinavia
Rest of Europe

Asia Pacific

Japan
China
India
Australia & New Zealand
South East Asia
Rest of Asia Pacific

Latin America

Brazil
Mexico
Rest of Latin America

Middle East & Africa

GCC Countries
South Africa
Rest of Middle East & Africa
Leading Companies
Acumed LLC (Colson Associates, Inc.)
Arthrex, Inc.
Braun Aesculap
CONMED Corporation
DePuy Synthese (J&J)
DJO (Colfax Corporation)
Exactech
Globus Medical
Integra LifeSciences
Medtronic (Spine Division)
Nuvasive
Orthofix Medical
Össur
Smith+Nephew
Stryker Corporation
Wright Medical Group N.V. (Stryker)
Zimmer Biomet
Inside This Report You Will Find:
1. Executive Summary
2. Market Overview
3. Global Orthopedic Devices Market Outlook, 2017 - 2025
4. North America Orthopedic Devices Market Outlook, 2017 - 2025
5. Europe Orthopedic Devices Market Outlook, 2017 - 2025
6. Asia Pacific Orthopedic Devices Market Outlook, 2017 - 2025
7. Latin America Orthopedic Devices Market Outlook, 2017 - 2025
8. Middle East & Africa Orthopedic Devices Market Outlook, 2017 - 2025
9. Competitive Landscape
10. Appendix
Post Sale Support, Research Updates & Offerings:
We value the trust shown by our customers in Fairfield Market Research. We support our clients through our post sale support, research updates and offerings.
The report will be prepared in a PPT format and will be delivered in a PDF format.
Additionally, Market Estimation and Forecast numbers will be shared in Excel Workbook.
If a report being sold was published over a year ago, we will offer a complimentary copy of the updated research report along with Market Estimation and Forecast numbers within 2-3 weeks' time of the sale.
If we update this research study within the next 2 quarters, post purchase of the report, we will offer a Complimentary copy of the updated Market Estimation and Forecast numbers in Excel Workbook.
If there is a geopolitical conflict, pandemic, recession, and the like which can impact global economic scenario and business activity, which might entirely alter the market dynamics or future projections in the industry, we will create a Research Update upon your request at a nominal charge.
1. Executive Summary
1.1. Global Orthopedic Devices Market Outlook, 2017 - 2025 (US$ Million)
1.2. Global Orthopedic Devices Incremental Opportunity, 2020 - 2025 (US$ Million)
1.3. Key Industry Developments


2. Market Overview
2.1. Market Definitions and Segmentations
2.2. Market Dynamics
2.2.1. Market Drivers
2.2.2. Market Restraints
2.2.3. Market Opportunities
2.3. Technological Advancements
2.4. Regulatory Scenario
2.5. Orthopedic Diseases Prevalence
2.6. Number of Orthopedic Procedures
2.7. COVID-19 Impact Analysis


3. Global Orthopedic Devices Market Outlook, 2017 - 2025
3.1. Global Orthopedic Devices Market Outlook, By Product, 2017 - 2025
3.1.1. Key Highlights
3.1.2. Global Orthopedic Devices Market Outlook, by Product, Value (US$ Million), 2017 - 2025
3.1.2.1. Joint Reconstruction
3.1.2.1.1. Knee
3.1.2.1.2. Hip
3.1.2.1.3. Extremities
3.1.2.2. Spine
3.1.2.3. Trauma
3.1.2.4. Sports Medicine
3.1.2.5. Orthobiologics
3.1.2.6. Others
3.1.3. Global Orthopedic Devices Market Share and BPS Analysis, by Product, 2020 and 2025
3.1.4. Global Orthopedic Devices Market Attractiveness Analysis, by Product, 2020 - 2025
3.2. Global Orthopedic Devices Market Outlook, By End User, 2017 - 2025
3.2.1. Key Highlights
3.2.2. Global Orthopedic Devices Market Outlook, by End User, Value (US$ Million), 2017 - 2025
3.2.2.1. Hospitals
3.2.2.2. Specialty Clinics
3.2.2.3. Ambulatory Surgical Centres
3.2.2.4. Others
3.2.3. Global Orthopedic Devices Market Share and BPS Analysis, by End User, 2020 and 2025
3.2.4. Global Orthopedic Devices Market Attractiveness Analysis, by End User, 2020 - 2025
3.3. Global Orthopedic Devices Market Outlook, By Region, 2017 - 2025
3.3.1. Key Highlights
3.3.2. Global Orthopedic Devices Market Outlook, by Region, Value (US$ Million), 2017 - 2025
3.3.2.1. North America
3.3.2.2. Europe
3.3.2.3. Asia Pacific
3.3.2.4. Latin America
3.3.2.5. Middle East & Africa
3.3.3. Global Orthopedic Devices Market Share and BPS Analysis, by Region, 2020 and 2025
3.3.4. Global Orthopedic Devices Market Attractiveness Analysis, by Region, 2020 - 2025


4. North America Orthopedic Devices Market Outlook, 2017 - 2025
4.1. North America Orthopedic Devices Market Outlook, By Product, 2017 - 2025
4.1.1. Key Highlights
4.1.2. North America Orthopedic Devices Market Outlook, by Product, Value (US$ Million), 2017 - 2025
4.1.2.1. Joint Reconstruction
4.1.2.1.1. Knee
4.1.2.1.2. Hip
4.1.2.1.3. Extremities
4.1.2.2. Spine
4.1.2.3. Trauma
4.1.2.4. Sports Medicine
4.1.2.5. Orthobiologics
4.1.2.6. Others
4.1.3. North America Orthopedic Devices Market Share and BPS Analysis, by Product, 2020 and 2025
4.1.4. North America Orthopedic Devices Market Attractiveness Analysis, by Product, 2020 - 2025
4.2. North America Orthopedic Devices Market Outlook, By End User, 2017 - 2025
4.2.1 Key Highlights
4.2.2 North America Orthopedic Devices Market Outlook, by End User, Value (US$ Million), 2017 - 2025
4.2.2.1 Hospitals
4.2.2.2 Specialty Clinics
4.2.2.3 Ambulatory Surgical Centres
4.2.2.4 Others
4.2.3 North America Orthopedic Devices Market Share and BPS Analysis, by End User, 2020 and 2025
4.2.4 North America Orthopedic Devices Market Attractiveness Analysis, by End User, 2020 - 2025
4.3. North America Orthopedic Devices Market Outlook, By Country, 2017 - 2025
4.3.1. Key Highlights
4.3.2. North America Orthopedic Devices Market Outlook, by Country, Value (US$ Million), 2017 - 2025
4.3.2.1. United States
4.3.2.2. Canada
4.3.3. North America Orthopedic Devices Market Share and BPS Analysis, by Country, 2020 and 2025
4.3.4. North America Orthopedic Devices Market Attractiveness Analysis, by Country, 2020 - 2025


5. Europe Orthopedic Devices Market Outlook, 2017 - 2025
5.1. Europe Orthopedic Devices Market Outlook, By Product, 2017 - 2025
5.1.1. Key Highlights
5.1.2. Europe Orthopedic Devices Market Outlook, by Product, Value (US$ Million), 2017 - 2025
5.1.2.1. Joint Reconstruction
5.1.2.1.1. Knee
5.1.2.1.2. Hip
5.1.2.1.3. Extremities
5.1.2.2. Spine
5.1.2.3. Trauma
5.1.2.4. Sports Medicine
5.1.2.5. Orthobiologics
5.1.2.6. Others
5.1.3. Europe Orthopedic Devices Market Share and BPS Analysis, by Product, 2020 and 2025
5.1.4. Europe Orthopedic Devices Market Attractiveness Analysis, by Product, 2020 - 2025
5.2. Europe Orthopedic Devices Market Outlook, By End User, 2017 - 2025
5.2.1 Key Highlights
5.2.2 Europe Orthopedic Devices Market Outlook, by End User, Value (US$ Million), 2017 - 2025
5.2.2.1 Hospitals
5.2.2.2 Specialty Clinics
5.2.2.3 Ambulatory Surgical Centres
5.2.2.4 Others
5.2.3 Europe Orthopedic Devices Market Share and BPS Analysis, by End User, 2020 and 2025
5.2.4 Europe Orthopedic Devices Market Attractiveness Analysis, by End User, 2020 - 2025
5.3. Europe Orthopedic Devices Market Outlook, By Country, 2017 - 2025
5.3.1. Key Highlights
5.3.2. Europe Orthopedic Devices Market Outlook, by Country, Value (US$ Million), 2017 - 2025
5.3.2.1. Germany
5.3.2.2. France
5.3.2.3. United Kingdom
5.3.2.4. Italy
5.3.2.5. Spain
5.3.2.6. Scandinavia
5.3.2.7. Rest of Europe
5.3.3. Europe Orthopedic Devices Market Share and BPS Analysis, by Country, 2020 and 2025
5.3.4. Europe Orthopedic Devices Market Attractiveness Analysis, by Country, 2020 - 2025


6. Asia Pacific Orthopedic Devices Market Outlook, 2017 - 2025
6.1. Asia Pacific Orthopedic Devices Market Outlook, By Product, 2017 - 2025
6.1.1. Key Highlights
6.1.2. Asia Pacific Orthopedic Devices Market Outlook, by Product, Value (US$ Million), 2017 - 2025
6.1.2.1. Joint Reconstruction
6.1.2.1.1. Knee
6.1.2.1.2. Hip
6.1.2.1.3. Extremities
6.1.2.2. Spine
6.1.2.3. Trauma
6.1.2.4. Sports Medicine
6.1.2.5. Orthobiologics
6.1.2.6. Others
6.1.3. Asia Pacific Orthopedic Devices Market Share and BPS Analysis, by Product, 2020 and 2025
6.1.4. Asia Pacific Orthopedic Devices Market Attractiveness Analysis, by Product, 2020 - 2025
6.2. Asia Pacific Orthopedic Devices Market Outlook, By End User, 2017 - 2025
6.2.1 Key Highlights
6.2.2 Asia Pacific Orthopedic Devices Market Outlook, by End User, Value (US$ Million), 2017 - 2025
6.2.2.1 Hospitals
6.2.2.2 Specialty Clinics
6.2.2.3 Ambulatory Surgical Centres
6.2.2.4 Others
6.2.3 Asia Pacific Orthopedic Devices Market Share and BPS Analysis, by End User, 2020 and 2025
6.2.4 Asia Pacific Orthopedic Devices Market Attractiveness Analysis, by End User, 2020 - 2025
6.3. Asia Pacific Orthopedic Devices Market Outlook, By Country, 2017 - 2025
6.3.1. Key Highlights
6.3.2. Asia Pacific Orthopedic Devices Market Outlook, by Country, Value (US$ Million), 2017 - 2025
6.3.2.1. Japan
6.3.2.2. China
6.3.2.3. India
6.3.2.4. Australia & New Zealand
6.3.2.5. South East Asia
6.3.2.6. Rest of Asia Pacific
6.3.3. Asia Pacific Orthopedic Devices Market Share and BPS Analysis, by Country, 2020 and 2025
6.3.4. Asia Pacific Orthopedic Devices Market Attractiveness Analysis, by Country, 2020 - 2025


7. Latin America Orthopedic Devices Market Outlook, 2017 - 2025
7.1. Latin America Orthopedic Devices Market Outlook, By Product, 2017 - 2025
7.1.1. Key Highlights
7.1.2. Latin America Orthopedic Devices Market Outlook, by Product, Value (US$ Million), 2017 - 2025
7.1.2.1. Joint Reconstruction
7.1.2.1.1. Knee
7.1.2.1.2. Hip
7.1.2.1.3. Extremities
7.1.2.2. Spine
7.1.2.3. Trauma
7.1.2.4. Sports Medicine
7.1.2.5. Orthobiologics
7.1.2.6. Others
7.1.3. Latin America Orthopedic Devices Market Share and BPS Analysis, by Product, 2020 and 2025
7.1.4. Latin America Orthopedic Devices Market Attractiveness Analysis, by Product, 2020 - 2025
7.2. Latin America Orthopedic Devices Market Outlook, By End User, 2017 - 2025
7.2.1 Key Highlights
7.2.2 Latin America Orthopedic Devices Market Outlook, by End User, Value (US$ Million), 2017 - 2025
7.2.2.1 Hospitals
7.2.2.2 Specialty Clinics
7.2.2.3 Ambulatory Surgical Centres
7.2.2.4 Others
7.2.3 Latin America Orthopedic Devices Market Share and BPS Analysis, by End User, 2020 and 2025
7.2.4 Latin America Orthopedic Devices Market Attractiveness Analysis, by End User, 2020 - 2025
7.3. Latin America Orthopedic Devices Market Outlook, By Country, 2017 - 2025
7.3.1. Key Highlights
7.3.2. Latin America Orthopedic Devices Market Outlook, by Country, Value (US$ Million), 2017 - 2025
7.3.2.1. Brazil
7.3.2.2. Mexico
7.3.2.3. Rest of Latin America
7.3.3. Latin America Orthopedic Devices Market Share and BPS Analysis, by Country, 2020 and 2025
7.3.4. Latin America Orthopedic Devices Market Attractiveness Analysis, by Country, 2020 - 2025


8. Middle East & Africa Orthopedic Devices Market Outlook, 2017 - 2025
8.1. Middle East & Africa Orthopedic Devices Market Outlook, By Product, 2017 - 2025
8.1.1. Key Highlights
8.1.2. Middle East & Africa Orthopedic Devices Market Outlook, by Product, Value (US$ Million), 2017 - 2025
8.1.2.1. Joint Reconstruction
8.1.2.1.1. Knee
8.1.2.1.2. Hip
8.1.2.1.3. Extremities
8.1.2.2. Spine
8.1.2.3. Trauma
8.1.2.4. Sports Medicine
8.1.2.5. Orthobiologics
8.1.2.6. Others
8.1.3. Middle East & Africa Orthopedic Devices Market Share and BPS Analysis, by Product, 2020 and 2025
8.1.4. Middle East & Africa Orthopedic Devices Market Attractiveness Analysis, by Product, 2020 - 2025
8.2. Middle East & Africa Orthopedic Devices Market Outlook, By End User, 2017 - 2025
8.2.1. Key Highlights
8.2.2. Middle East & Africa Orthopedic Devices Market Outlook, by End User, Value (US$ Million), 2017 - 2025
8.2.2.1 Hospitals
8.2.2.2 Specialty Clinics
8.2.2.3 Ambulatory Surgical Centres
8.2.2.4 Others
8.2.3 Middle East & Africa Orthopedic Devices Market Share and BPS Analysis, by End User, 2020 and 2025
8.2.4 Middle East & Africa Orthopedic Devices Market Attractiveness Analysis, by End User, 2020 - 2025
8.3. Middle East & Africa Orthopedic Devices Market Outlook, By Country, 2017 - 2025
8.3.1. Key Highlights
8.3.2. Middle East & Africa Orthopedic Devices Market Outlook, by Country, Value (US$ Million), 2017 - 2025
8.3.2.1. GCC Countries
8.3.2.2. South Africa
8.3.2.3. Rest of Middle East & Africa
8.3.3. Middle East & Africa Orthopedic Devices Market Share and BPS Analysis, by Country, 2020 and 2025
8.3.4. Middle East & Africa Orthopedic Devices Market Attractiveness Analysis, by Country, 2020 - 2025


9. Competitive Landscape
9.1. Top 15 Company Market Share Analysis, 2019
9.2. Strategic Collaborations
9.3. Company Profiles
9.3.1. Acumed LLC (Colson Associates, Inc.)
9.3.1.1. Company overview
9.3.1.2. Financial performance
9.3.1.3. Product Portfolio
9.3.1.4. Recent Developments
Above details will include, but not be limited to below list of companies based on availability
9.3.2. Arthrex, Inc.
9.3.3. B.Braun Aesculap
9.3.4. CONMED Corporation
9.3.5. DePuy Synthese (J&J)
9.3.6. DJO (Colfax Corporation)
9.3.7. Exactech
9.3.8. Globus Medical
9.3.9. Integra LifeSciences
9.3.10. Medtronic (Spine Division)
9.3.11. Nuvasive
9.3.12. Orthofix Medical
9.3.13. Össur
9.3.14. Smith+Nephew
9.3.15. Stryker Corporation
9.3.16. Wright Medical Group N.V. (Stryker)
9.3.17. Zimmer Biomet


10. Appendix
10.1. Research Methodology
10.2. Report Assumptions