Global Pharmaceutical Elixir Market Forecast
Global pharmaceutical elixir market size will jump up from US$7.1 Bn recorded in 2022, to around US$13 Bn by 2030
Market valuation likely to expand at a CAGR of 9% between 2023 and 2030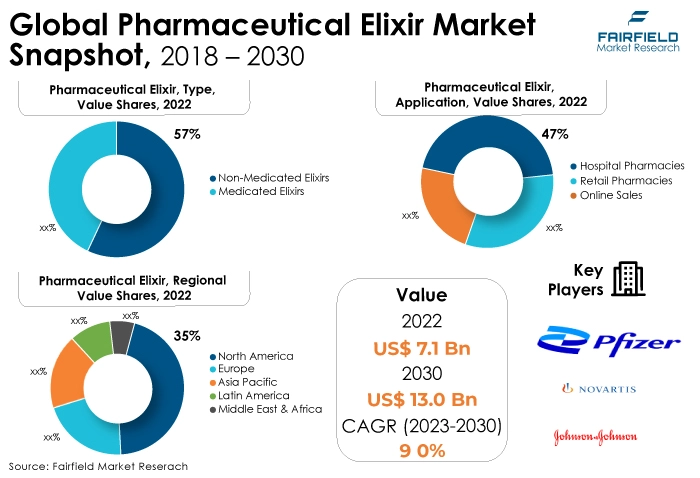 Quick Report Digest
The key trends anticipated to fuel the global pharmaceutical elixir market growth are the increasing prevalence of chronic diseases and the aging population.
Another major market trend expected to fuel the growth is the global pharmaceutical elixir market, a rapidly expanding global healthcare industry. The market is also predicted to profit from the expanding worldwide healthcare industry.
Non-medicated elixirs are gaining popularity within the pharmaceutical sector due to increasing consumer demand for natural and holistic remedies. These elixirs offer a non-pharmacological approach to health and wellness, appealing to individuals seeking alternative solutions and minimal side effects in their quest for well-being.
Hospital pharmacies are expanding their focus on pharmaceutical elixirs to provide customized, patient-specific formulations. This trend arises from the need for precise dosage control and individualized treatments, ensuring optimal medication delivery and therapeutic outcomes in clinical settings.
Hospitals increasingly incorporate pharmaceutical elixirs into their treatment protocols due to their versatility, ease of administration, and patient compliance. Elixirs offer a reliable, liquid dosage form for various medications, improving drug delivery precision and enhancing patient care.
The North American region is experiencing growth in pharmaceutical elixirs due to several factors, including a rising interest in natural and alternative medicine, a strong consumer focus on health and wellness, and a growing market for personalized, easy-to-administer liquid pharmaceutical formulations.
The Asia Pacific region is witnessing the fastest CAGR in pharmaceutical elixirs due to increasing healthcare access, a burgeoning middle-class population, and a shift towards herbal and traditional remedies. These factors are driving demand for elixirs in this rapidly growing market.
A Look Back and a Look Forward - Comparative Analysis
Pharmaceutical elixirs are experiencing significant growth due to several key factors. Firstly, consumers increasingly seek natural and holistic remedies, driving demand for liquid formulations. Secondly, hospitals are adopting elixirs for precise dosing and individualized treatments.
Regions like North America, and Asia are witnessing growth due to changing healthcare dynamics and consumer preferences. This combination of factors has expanded the pharmaceutical elixir market, offering versatile solutions for various healthcare needs.
The market witnessed staggered growth during the historical period 2018 - 2022. This is due to the substantial growth of the major end-use application sectors, such as hospital pharmacies, and retail pharmacies.
Online sales of pharmaceutical elixirs are surging due to the convenience of e-commerce, wider product availability, and increased consumer trust in online pharmacies, offering a hassle-free way to access these products.
The prospects of the pharmaceutical elixir market appear promising. The demand for natural and personalized healthcare solutions will continue driving growth.
Advancements in formulation technology and increased focus on research and development will likely result in innovative elixirs catering to diverse therapeutic needs. Additionally, expanding access to healthcare in emerging markets and e-commerce growth will contribute to sustained market expansion.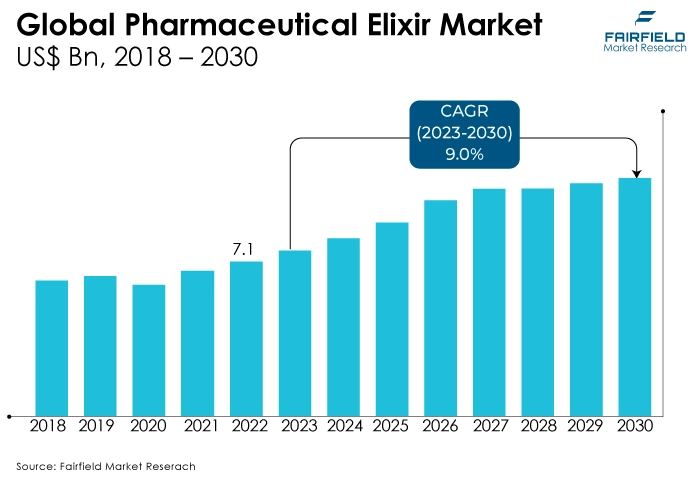 Key Growth Determinants
Ascending Chronic Disease Prevalence
The prevalence of chronic diseases is a major driving force behind the pharmaceutical elixir market. Chronic conditions such as diabetes, cancer, cardiovascular diseases, and respiratory ailments affect a substantial portion of the global population. Managing these long-term health issues often requires continuous medication and therapeutic intervention.
Pharmaceutical elixirs offer an effective and convenient mode of drug administration, ensuring patient compliance and therapeutic success, especially among elderly and pediatric populations. The demand for pharmaceutical elixirs is steadily increasing with the aging population and lifestyle factors contributing to the rise in chronic diseases.
Additionally, ongoing R&D efforts focus on formulating elixirs that provide better disease management and improve patients' quality of life, further propelling market growth.
Growing Ageing Population
The growing aging population is poised to drive the Pharmaceutical Elixir Market significantly. As individuals age, they often require more medications to manage chronic health conditions and age-related ailments.
Pharmaceutical elixirs provide a convenient and easily administered solution, improving patient compliance, especially among older adults.
With a rising elderly demographic worldwide, the demand for elixirs will increase, creating opportunities for pharmaceutical companies to cater to this demographic's healthcare needs and contributing to market growth.
Growing Global Healthcare Expenditure
The increasing global healthcare expenditure is a significant driver for the pharmaceutical elixir market. As countries allocate more resources to healthcare, there is a greater capacity for individuals to access healthcare services and pharmaceuticals, including elixirs.
Rising healthcare spending by governments, insurance providers, and individuals amplifies the affordability and accessibility of pharmaceutical elixirs, leading to higher consumption.
This trend bolsters the market's growth as healthcare expenditure rises globally, particularly in response to the increasing cases of chronic diseases and the need for effective medication solutions.
Major Growth Barriers
The pharmaceutical elixir market faces substantial hurdles as a result of supply chain interruptions. The manufacturing and transportation of vital pharmaceutical components and completed goods may be disrupted by these problems, which are frequently brought on by natural catastrophes, pandemics, or geopolitical problems.
Elixir supply and pricing may be impacted by these disturbances, which may result in shortages, delays, and higher manufacturing costs. It is a huge problem in the industry to maintain a robust and effective supply chain, which is necessary to guarantee a regular and dependable supply of pharmaceutical elixirs.
Stringent Regulatory Environment
Stringent regulations present a significant challenge to the pharmaceutical elixir market. Regulatory bodies like the FDA impose rigorous safety, efficacy, and quality standards.
Compliance necessitates extensive testing, documentation, and adherence to evolving guidelines, increasing development costs and timelines. Variations in regulations across regions further complicate market entry and global expansion.
Navigating this complex regulatory landscape and securing necessary approvals are essential but challenging for companies operating in the pharmaceutical elixir market. Non-compliance can lead to delays, recalls, or market entry barriers, making regulatory adherence critical yet challenging.
Key Trends and Opportunities to Look at
Advanced Formulations
Advanced formulations are a prominent technology trend in the pharmaceutical elixir market. This trend involves the development of innovative elixir formulations that improve drug solubility, bioavailability, and stability. Nanotechnology, liposomal delivery systems, and prodrug formulations are examples of advanced formulations.
Such advancements aim to enhance the therapeutic effectiveness of elixirs, reduce side effects, and offer patients more convenient and targeted treatment options, driving progress in pharmaceutical research and development.
Digital Health Integration
Digital health integration is a significant technology trend in the pharmaceutical elixir market. Elixirs are increasingly integrated with digital health platforms, allowing patients and healthcare providers to monitor medication adherence and treatment outcomes.
Mobile apps, wearable devices, and smart packaging provide real-time data, enhancing patient engagement and treatment efficacy. This trend supports personalized medicine and facilitates data-driven healthcare decision-making, ultimately improving patient care and medication management.
Personalized Medicine
Personalized medicine is a pivotal technology trend in the pharmaceutical elixir market. It involves tailoring elixir formulations to individual patient profiles, including genetic, physiological, and lifestyle factors. This approach enhances treatment efficacy, reduces adverse reactions, and improves patient outcomes.
Pharmacogenomics and precision medicine advancements are driving the adoption of personalized elixirs, transforming the way medications are prescribed and administered, and aligning treatment regimens with patients' unique characteristics.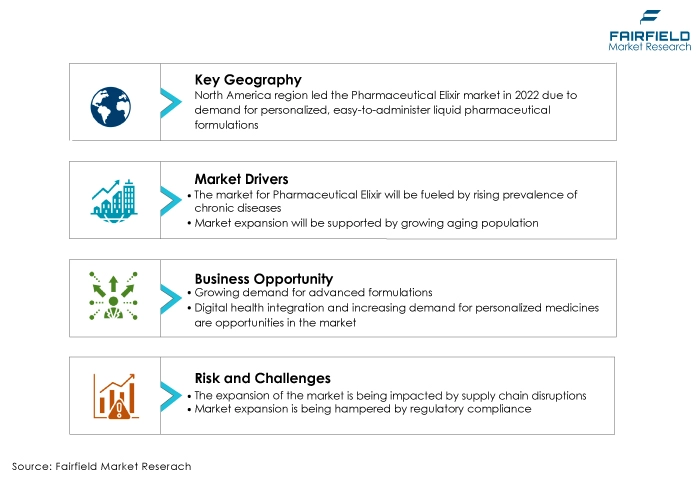 How Does the Regulatory Scenario Shape this Industry?
The regulatory scenario plays a crucial role in shaping the Pharmaceutical Elixir Market, ensuring elixirs' safety, efficacy, and quality. Regulatory authorities such as the US FDA, the European Medicines Agency (EMA) in Europe, and similar agencies worldwide, establish guidelines and approval processes that elixir manufacturers must adhere to.
Elixir manufacturers must obtain regulatory approvals or clearances before marketing their products. This process involves rigorous testing and documentation to demonstrate safety and efficacy. Stringent quality control standards, including good manufacturing practices (GMP), are enforced to maintain consistent product quality.
Regulatory bodies require accurate labeling and packaging to ensure patients receive clear instructions and essential information. Continuous monitoring of adverse events and post-market surveillance is mandated to track elixir safety. Regulatory exclusivity and patent rights affect market competition and product lifecycles.
Pricing regulations and reimbursement policies impact market access and affordability for patients. Regulations govern data protection, especially in digital health integration and patient information. Efforts to harmonize international regulations aim to streamline market entry for manufacturers and ensure consistent standards.
Fairfield's Ranking Board
Top Segments
Non-medicated Elixirs Dominant
Non-medicated elixirs, such as cough syrups or digestive aids, often capture the largest market share in the pharmaceutical elixir market for several reasons. These elixirs cater to a broader consumer base, including individuals seeking over-the-counter remedies for common ailments. They do not require a prescription, making them easily accessible to consumers.
Additionally, non-medicated elixirs are commonly used for preventive and symptomatic relief, driving consistent demand. Their versatility and suitability for various health and wellness needs contribute to their dominance in the market.
Medicated elixirs are experiencing the fastest CAGR in the pharmaceutical elixir market due to their expanding applications and the increasing prevalence of chronic diseases. Medicated elixirs often contain prescription medications addressing specific medical conditions like hypertension, diabetes, or pain management.
As the global burden of chronic diseases rises, the demand for these targeted therapeutic solutions is growing rapidly. Moreover, continuous advancements in pharmaceutical research and development led to the introduction of innovative medicated elixirs, further fueling their high CAGR in the market.
Hospital Pharmacies Surge Ahead
Hospital pharmacies have secured the largest market share in the pharmaceutical elixir market due to several factors. Hospitals are primary healthcare settings where a wide range of elixirs are administered to inpatients and outpatients. These pharmacies are crucial in dispensing prescribed elixirs and ensuring patient compliance.
The high volume of patients, the need for specialized formulations, and the availability of healthcare professionals make hospital pharmacies dominant in distributing pharmaceutical elixirs, contributing to their largest market share.
Online sales of pharmaceutical elixirs are experiencing the fastest growth rate due to the increasing demand of e-commerce and the convenience it offers consumers. Online platforms provide a wide selection of elixirs, making it easy for customers to compare products and prices.
Additionally, the COVID-19 pandemic accelerated the shift towards online purchasing of healthcare products. The discreet purchase of sensitive medications and home delivery options further contribute to the rapid growth of online sales in the pharmaceutical elixir market.
Hospitals at the Forefront of Adoption
Hospitals have secured the largest market share in the pharmaceutical elixir market due to their role as critical healthcare institutions. They serve a broad spectrum of patients, both inpatients and outpatients, who often require elixirs as part of their treatment regimens.
Hospitals maintain well-equipped pharmacies staffed by trained professionals to dispense these medications. The high volume of patients, specialized formulations, and the need for stringent quality control in hospital settings make them dominant in distributing pharmaceutical elixirs, contributing to their largest market share.
Clinics are likely to be experiencing in the pharmaceutical elixir market for several reasons. Clinics often cater to a diverse patient base seeking specialized healthcare services. They increasingly provide integrated care, including prescribing elixirs as part of treatment plans.
The convenience and accessibility of clinics and the growing trend of outpatient care drive the demand for pharmaceutical elixirs in these settings. Additionally, clinics often focus on specific medical specialties, creating opportunities for targeted elixir prescriptions and driving their high CAGR.
Regional Frontrunners
North America's Market Gains from a Large, Elderly Population
For several reasons, North America has captured the largest market share in the pharmaceutical elixir market. Firstly, it boasts a highly developed healthcare infrastructure and pharmaceutical industry, fostering extensive research and development activities.
Moreover, North America's large ageing population and a high prevalence of chronic diseases drive the demand for pharmaceutical elixirs. Thirdly, robust regulatory frameworks, like the FDA in the United States, ensure stringent quality and safety standards.
A strong emphasis on healthcare and pharmaceutical innovation results in the introducing of new elixirs. A high disposable income and healthcare expenditure level further propels the market. These factors collectively contribute to North America's dominance, making it the largest market for pharmaceutical elixirs.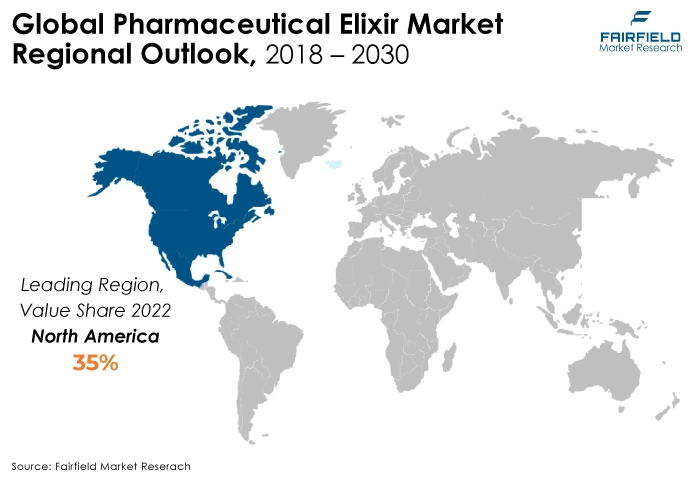 Asia Pacific Set for Remarkable Performance
Due to several key factors, Asia Pacific is the fastest-growing region in the pharmaceutical elixir market. The region's rapidly expanding population and rising income levels drive increased healthcare expenditure and demand for pharmaceutical elixirs.
Additionally, a growing awareness of health and wellness and the increasing prevalence of chronic diseases fuel market growth. Emerging economies in Asia Pacific offer significant growth opportunities, with pharmaceutical companies focusing on these markets.
Moreover, advancements in healthcare infrastructure, digitalization, and access to healthcare services contribute to the region's remarkable growth in the pharmaceutical elixir market.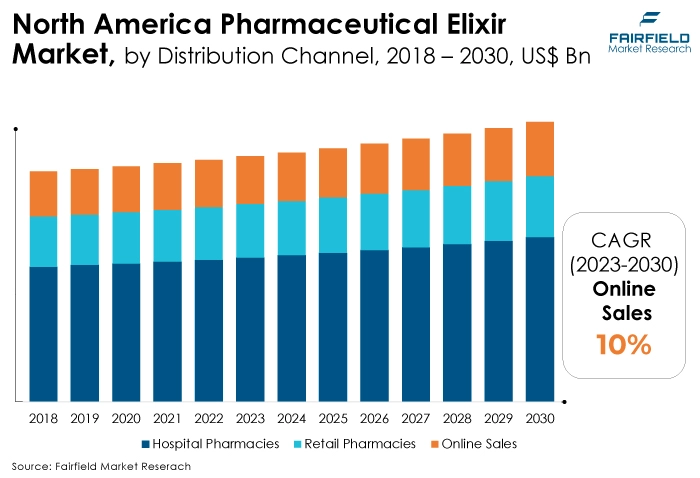 Fairfield's Competitive Landscape Analysis
The global global pharmaceutical elixir market comprises several players present globally. The key players are introducing new products and working on the distribution channels to enhance their worldwide presence. Moreover, Fairfield Market Research expects more consolidation over the coming years.
Who are the Leaders in the Global Pharmaceutical Elixir Market Space?
Significant Company Developments
New Product Launches
August 2023, Co-founder of Awshad announced re-introduction of cannabis medication in India in the form of medicated elixir.
October 2022: Omnicell, Inc., a company specializing in medication management and adherence solutions for healthcare institutions and pharmacies, has introduced Specialty Pharmacy Services. This comprehensive package is tailored to assist healthcare systems in establishing or enhancing their hospital-owned specialty pharmacy, providing a fully managed solution.
March 2022: ProdigyRx, a pharmacy benefits management firm, has initiated its business operations, providing pharmacy benefit management services and clinical solutions to cater to the needs of workers' compensation insurers, third-party administrators, and self-insured or administered employers.
An Expert's Eye
Demand and Future Growth
As per Fairfield's Analysis, growth in healthcare is driving the market. The market for pharmaceutical elixirs is anticipated to expand significantly due to rising chronic illness rates, ageing populations, and rising healthcare costs on a global scale.
Elixirs satisfy the growing demand for simple and efficient medication delivery systems. Additionally, continuing research and development projects seek to optimise elixir formulations to ensure better therapeutic results and patient compliance.
As healthcare continues to evolve, the Pharmaceutical Elixir Market is expected to witness sustained demand and future growth opportunities, particularly in emerging economies with expanding healthcare infrastructure.
Supply and Demand Side of the Market
The leading suppliers in the pharmaceutical elixir market can vary by region and country. In the United States, major pharmaceutical companies like Pfizer, Johnson & Johnson, and Eli Lilly are prominent players, offering a wide range of elixirs for various medical conditions.
In Europe, companies such as Novartis, Roche, and GlaxoSmithKline dominate the market with their pharmaceutical elixir offerings. In Asia, Takeda Pharmaceutical, Sun Pharmaceutical, and Cipla are key suppliers, providing elixirs tailored to regional healthcare needs.
These companies are recognized for their research, development, and production of pharmaceutical elixirs, contributing to the global pharmaceutical elixir market's growth and innovation.
The production of pharmaceutical elixirs typically requires various raw materials, including active pharmaceutical ingredients (APIs), excipients, solvents, sweeteners, and flavoring agents. API suppliers like Lonza, Pfizer, and Novartis provide crucial pharmaceutical ingredients. Excipients, solvents, and other additives are sourced from suppliers like Roquette, BASF, and Ashland.
Additionally, packaging materials such as bottles and labels are needed, with companies like Gerresheimer, and Avery Dennison offering these supplies. These raw material suppliers play a vital role in ensuring the safety, quality, and efficacy of pharmaceutical elixirs produced by pharmaceutical companies worldwide.
Global Global Pharmaceutical Elixir Market is Segmented as Below:
By Type:
Non-medicated Elixirs
Medicated Elixirs
By Distribution Channel:
Hospital Pharmacies
Retail Pharmacies
Online Sales
By End User:
By Geographic Coverage:
North America
Europe

Germany
U.K.
France
Italy
Turkey
Russia
Rest of Europe

Asia Pacific

China
Japan
South Korea
India
Southeast Asia
Rest of Asia Pacific

Latin America

Brazil
Mexico
Argentina
Rest of Latin America

Middle East & Africa

GCC
South Africa
Egypt
Nigeria
Rest of the Middle East & Africa
1. Executive Summary
1.1. Global Pharmaceutical Elixir Market Snapshot
1.2. Future Projections
1.3. Key Market Trends
1.4. Regional Snapshot, by Value, 2022
1.5. Analyst Recommendations
2. Market Overview
2.1. Market Definitions and Segmentations
2.2. Market Dynamics
2.2.1. Drivers
2.2.2. Restraints
2.2.3. Market Opportunities
2.3. Value Chain Analysis
2.4. Porter's Five Forces Analysis
2.5. Covid-19 Impact Analysis
2.5.1. Supply
2.5.2. Demand
2.6. Impact of Ukraine-Russia Conflict
2.7. Economic Overview
2.7.1. World Economic Projections
2.8. PESTLE Analysis
3. Global Pharmaceutical Elixir Market Outlook, 2018 - 2030
3.1. Global Pharmaceutical Elixir Market Outlook, by Type, Value (US$ Bn), 2018 - 2030
3.1.1. Key Highlights
3.1.1.1. Non-Medicated Elixirs
3.1.1.2. Medicated Elixirs
3.2. Global Pharmaceutical Elixir Market Outlook, by Distribution Channel, Value (US$ Bn), 2018 - 2030
3.2.1. Key Highlights
3.2.1.1. Hospital Pharmacies
3.2.1.2. Retail Pharmacies
3.2.1.3. Online Sales
3.3. Global Pharmaceutical Elixir Market Outlook, by End-use, Value (US$ Bn), 2018 - 2030
3.3.1. Key Highlights
3.3.1.1. Hospitals
3.3.1.2. Clinics
3.3.1.3. Others
3.4. Global Pharmaceutical Elixir Market Outlook, by Region, Value (US$ Bn), 2018 - 2030
3.4.1. Key Highlights
3.4.1.1. North America
3.4.1.2. Europe
3.4.1.3. Asia Pacific
3.4.1.4. Latin America
3.4.1.5. Middle East & Africa
4. North America Pharmaceutical Elixir Market Outlook, 2018 - 2030
4.1. North America Pharmaceutical Elixir Market Outlook, by Type, Value (US$ Bn), 2018 - 2030
4.1.1. Key Highlights
4.1.1.1. Non-Medicated Elixirs
4.1.1.2. Medicated Elixirs
4.2. North America Pharmaceutical Elixir Market Outlook, by Distribution Channel, Value (US$ Bn), 2018 - 2030
4.2.1. Key Highlights
4.2.1.1. Hospital Pharmacies
4.2.1.2. Retail Pharmacies
4.2.1.3. Online Sales
4.3. North America Pharmaceutical Elixir Market Outlook, by End-use, Value (US$ Bn), 2018 - 2030
4.3.1. Key Highlights
4.3.1.1. Hospitals
4.3.1.2. Clinics
4.3.1.3. Others
4.3.2. BPS Analysis/Market Attractiveness Analysis
4.4. North America Pharmaceutical Elixir Market Outlook, by Country, Value (US$ Bn), 2018 - 2030
4.4.1. Key Highlights
4.4.1.1. U.S. Pharmaceutical Elixir Market by Type, Value (US$ Bn), 2018 - 2030
4.4.1.2. U.S. Pharmaceutical Elixir Market Distribution Channel, Value (US$ Bn), 2018 - 2030
4.4.1.3. U.S. Pharmaceutical Elixir Market End-use, Value (US$ Bn), 2018 - 2030
4.4.1.4. U.S. Pharmaceutical Elixir Market End Use, Value (US$ Bn), 2018 - 2030
4.4.1.5. Canada Pharmaceutical Elixir Market by Type, Value (US$ Bn), 2018 - 2030
4.4.1.6. Canada Pharmaceutical Elixir Market Distribution Channel, Value (US$ Bn), 2018 - 2030
4.4.1.7. Canada Pharmaceutical Elixir Market End-use, Value (US$ Bn), 2018 - 2030
4.4.1.8. Canada Pharmaceutical Elixir Market End Use, Value (US$ Bn), 2018 - 2030
4.4.2. BPS Analysis/Market Attractiveness Analysis
5. Europe Pharmaceutical Elixir Market Outlook, 2018 - 2030
5.1. Europe Pharmaceutical Elixir Market Outlook, by Type, Value (US$ Bn), 2018 - 2030
5.1.1. Key Highlights
5.1.1.1. Non-Medicated Elixirs
5.1.1.2. Medicated Elixirs
5.2. Europe Pharmaceutical Elixir Market Outlook, by Distribution Channel, Value (US$ Bn), 2018 - 2030
5.2.1. Key Highlights
5.2.1.1. Hospital Pharmacies
5.2.1.2. Retail Pharmacies
5.2.1.3. Online Sales
5.3. Europe Pharmaceutical Elixir Market Outlook, by End-use, Value (US$ Bn), 2018 - 2030
5.3.1. Key Highlights
5.3.1.1. Hospitals
5.3.1.2. Clinics
5.3.1.3. Others
5.3.2. BPS Analysis/Market Attractiveness Analysis
5.4. Europe Pharmaceutical Elixir Market Outlook, by Country, Value (US$ Bn), 2018 - 2030
5.4.1. Key Highlights
5.4.1.1. Germany Pharmaceutical Elixir Market by Type, Value (US$ Bn), 2018 - 2030
5.4.1.2. Germany Pharmaceutical Elixir Market Distribution Channel, Value (US$ Bn), 2018 - 2030
5.4.1.3. Germany Pharmaceutical Elixir Market End-use, Value (US$ Bn), 2018 - 2030
5.4.1.4. U.K. Pharmaceutical Elixir Market by Type, Value (US$ Bn), 2018 - 2030
5.4.1.5. U.K. Pharmaceutical Elixir Market Distribution Channel, Value (US$ Bn), 2018 - 2030
5.4.1.6. U.K. Pharmaceutical Elixir Market End-use, Value (US$ Bn), 2018 - 2030
5.4.1.7. France Pharmaceutical Elixir Market by Type, Value (US$ Bn), 2018 - 2030
5.4.1.8. France Pharmaceutical Elixir Market Distribution Channel, Value (US$ Bn), 2018 - 2030
5.4.1.9. France Pharmaceutical Elixir Market End-use, Value (US$ Bn), 2018 - 2030
5.4.1.10. Italy Pharmaceutical Elixir Market by Type, Value (US$ Bn), 2018 - 2030
5.4.1.11. Italy Pharmaceutical Elixir Market Distribution Channel, Value (US$ Bn), 2018 - 2030
5.4.1.12. Italy Pharmaceutical Elixir Market End-use, Value (US$ Bn), 2018 - 2030
5.4.1.13. Turkey Pharmaceutical Elixir Market by Type, Value (US$ Bn), 2018 - 2030
5.4.1.14. Turkey Pharmaceutical Elixir Market Distribution Channel, Value (US$ Bn), 2018 - 2030
5.4.1.15. Turkey Pharmaceutical Elixir Market End-use, Value (US$ Bn), 2018 - 2030
5.4.1.16. Russia Pharmaceutical Elixir Market by Type, Value (US$ Bn), 2018 - 2030
5.4.1.17. Russia Pharmaceutical Elixir Market Distribution Channel, Value (US$ Bn), 2018 - 2030
5.4.1.18. Russia Pharmaceutical Elixir Market End-use, Value (US$ Bn), 2018 - 2030
5.4.1.19. Rest of Europe Pharmaceutical Elixir Market by Type, Value (US$ Bn), 2018 - 2030
5.4.1.20. Rest of Europe Pharmaceutical Elixir Market Distribution Channel, Value (US$ Bn), 2018 - 2030
5.4.1.21. Rest of Europe Pharmaceutical Elixir Market End-use, Value (US$ Bn), 2018 - 2030
5.4.2. BPS Analysis/Market Attractiveness Analysis
6. Asia Pacific Pharmaceutical Elixir Market Outlook, 2018 - 2030
6.1. Asia Pacific Pharmaceutical Elixir Market Outlook, by Type, Value (US$ Bn), 2018 - 2030
6.1.1. Key Highlights
6.1.1.1. Non-Medicated Elixirs
6.1.1.2. Medicated Elixirs
6.2. Asia Pacific Pharmaceutical Elixir Market Outlook, by Distribution Channel, Value (US$ Bn), 2018 - 2030
6.2.1. Key Highlights
6.2.1.1. Hospital Pharmacies
6.2.1.2. Retail Pharmacies
6.2.1.3. Online Sales
6.3. Asia Pacific Pharmaceutical Elixir Market Outlook, by End-use, Value (US$ Bn), 2018 - 2030
6.3.1. Key Highlights
6.3.1.1. Hospitals
6.3.1.2. Clinics
6.3.1.3. Others
6.3.2. BPS Analysis/Market Attractiveness Analysis
6.4. Asia Pacific Pharmaceutical Elixir Market Outlook, by Country, Value (US$ Bn), 2018 - 2030
6.4.1. Key Highlights
6.4.1.1. China Pharmaceutical Elixir Market by Type, Value (US$ Bn), 2018 - 2030
6.4.1.2. China Pharmaceutical Elixir Market Distribution Channel, Value (US$ Bn), 2018 - 2030
6.4.1.3. China Pharmaceutical Elixir Market End-use, Value (US$ Bn), 2018 - 2030
6.4.1.4. Japan Pharmaceutical Elixir Market by Type, Value (US$ Bn), 2018 - 2030
6.4.1.5. Japan Pharmaceutical Elixir Market Distribution Channel, Value (US$ Bn), 2018 - 2030
6.4.1.6. Japan Pharmaceutical Elixir Market End-use, Value (US$ Bn), 2018 - 2030
6.4.1.7. South Korea Pharmaceutical Elixir Market by Type, Value (US$ Bn), 2018 - 2030
6.4.1.8. South Korea Pharmaceutical Elixir Market Distribution Channel, Value (US$ Bn), 2018 - 2030
6.4.1.9. South Korea Pharmaceutical Elixir Market End-use, Value (US$ Bn), 2018 - 2030
6.4.1.10. India Pharmaceutical Elixir Market by Type, Value (US$ Bn), 2018 - 2030
6.4.1.11. India Pharmaceutical Elixir Market Distribution Channel, Value (US$ Bn), 2018 - 2030
6.4.1.12. India Pharmaceutical Elixir Market End-use, Value (US$ Bn), 2018 - 2030
6.4.1.13. Southeast Asia Pharmaceutical Elixir Market by Type, Value (US$ Bn), 2018 - 2030
6.4.1.14. Southeast Asia Pharmaceutical Elixir Market Distribution Channel, Value (US$ Bn), 2018 - 2030
6.4.1.15. Southeast Asia Pharmaceutical Elixir Market End-use, Value (US$ Bn), 2018 - 2030
6.4.1.16. Rest of Asia Pacific Pharmaceutical Elixir Market by Type, Value (US$ Bn), 2018 - 2030
6.4.1.17. Rest of Asia Pacific Pharmaceutical Elixir Market Distribution Channel, Value (US$ Bn), 2018 - 2030
6.4.1.18. Rest of Asia Pacific Pharmaceutical Elixir Market End-use, Value (US$ Bn), 2018 - 2030
6.4.2. BPS Analysis/Market Attractiveness Analysis
7. Latin America Pharmaceutical Elixir Market Outlook, 2018 - 2030
7.1. Latin America Pharmaceutical Elixir Market Outlook, by Type, Value (US$ Bn), 2018 - 2030
7.1.1. Key Highlights
7.1.1.1. Non-Medicated Elixirs
7.1.1.2. Medicated Elixirs
7.2. Latin America Pharmaceutical Elixir Market Outlook, by Distribution Channel, Value (US$ Bn), 2018 - 2030
7.2.1. Key Highlights
7.2.1.1. Hospital Pharmacies
7.2.1.2. Retail Pharmacies
7.2.1.3. Online Sales
7.3. Latin America Pharmaceutical Elixir Market Outlook, by End-use, Value (US$ Bn), 2018 - 2030
7.3.1. Key Highlights
7.3.1.1. Hospitals
7.3.1.2. Clinics
7.3.1.3. Others
7.3.2. BPS Analysis/Market Attractiveness Analysis
7.4. Latin America Pharmaceutical Elixir Market Outlook, by Country, Value (US$ Bn), 2018 - 2030
7.4.1. Key Highlights
7.4.1.1. Brazil Pharmaceutical Elixir Market by Type, Value (US$ Bn), 2018 - 2030
7.4.1.2. Brazil Pharmaceutical Elixir Market Distribution Channel, Value (US$ Bn), 2018 - 2030
7.4.1.3. Brazil Pharmaceutical Elixir Market End-use, Value (US$ Bn), 2018 - 2030
7.4.1.4. Mexico Pharmaceutical Elixir Market by Type, Value (US$ Bn), 2018 - 2030
7.4.1.5. Mexico Pharmaceutical Elixir Market Distribution Channel, Value (US$ Bn), 2018 - 2030
7.4.1.6. Mexico Pharmaceutical Elixir Market End-use, Value (US$ Bn), 2018 - 2030
7.4.1.7. Argentina Pharmaceutical Elixir Market by Type, Value (US$ Bn), 2018 - 2030
7.4.1.8. Argentina Pharmaceutical Elixir Market Distribution Channel, Value (US$ Bn), 2018 - 2030
7.4.1.9. Argentina Pharmaceutical Elixir Market End-use, Value (US$ Bn), 2018 - 2030
7.4.1.10. Rest of Latin America Pharmaceutical Elixir Market by Type, Value (US$ Bn), 2018 - 2030
7.4.1.11. Rest of Latin America Pharmaceutical Elixir Market Distribution Channel, Value (US$ Bn), 2018 - 2030
7.4.1.12. Rest of Latin America Pharmaceutical Elixir Market End-use, Value (US$ Bn), 2018 - 2030
7.4.2. BPS Analysis/Market Attractiveness Analysis
8. Middle East & Africa Pharmaceutical Elixir Market Outlook, 2018 - 2030
8.1. Middle East & Africa Pharmaceutical Elixir Market Outlook, by Type, Value (US$ Bn), 2018 - 2030
8.1.1. Key Highlights
8.1.1.1. Non-Medicated Elixirs
8.1.1.2. Medicated Elixirs
8.2. Middle East & Africa Pharmaceutical Elixir Market Outlook, by Distribution Channel, Value (US$ Bn), 2018 - 2030
8.2.1. Key Highlights
8.2.1.1. Hospital Pharmacies
8.2.1.2. Retail Pharmacies
8.2.1.3. Online Sales
8.3. Middle East & Africa Pharmaceutical Elixir Market Outlook, by End-use, Value (US$ Bn), 2018 - 2030
8.3.1. Key Highlights
8.3.1.1. Hospitals
8.3.1.2. Clinics
8.3.1.3. Others
8.3.2. BPS Analysis/Market Attractiveness Analysis
8.4. Middle East & Africa Pharmaceutical Elixir Market Outlook, by Country, Value (US$ Bn), 2018 - 2030
8.4.1. Key Highlights
8.4.1.1. GCC Pharmaceutical Elixir Market by Type, Value (US$ Bn), 2018 - 2030
8.4.1.2. GCC Pharmaceutical Elixir Market Distribution Channel, Value (US$ Bn), 2018 - 2030
8.4.1.3. GCC Pharmaceutical Elixir Market End-use, Value (US$ Bn), 2018 - 2030
8.4.1.4. South Africa Pharmaceutical Elixir Market by Type, Value (US$ Bn), 2018 - 2030
8.4.1.5. South Africa Pharmaceutical Elixir Market Distribution Channel, Value (US$ Bn), 2018 - 2030
8.4.1.6. South Africa Pharmaceutical Elixir Market End-use, Value (US$ Bn), 2018 - 2030
8.4.1.7. Egypt Pharmaceutical Elixir Market by Type, Value (US$ Bn), 2018 - 2030
8.4.1.8. Egypt Pharmaceutical Elixir Market Distribution Channel, Value (US$ Bn), 2018 - 2030
8.4.1.9. Egypt Pharmaceutical Elixir Market End-use, Value (US$ Bn), 2018 - 2030
8.4.1.10. Nigeria Pharmaceutical Elixir Market by Type, Value (US$ Bn), 2018 - 2030
8.4.1.11. Nigeria Pharmaceutical Elixir Market Distribution Channel, Value (US$ Bn), 2018 - 2030
8.4.1.12. Nigeria Pharmaceutical Elixir Market End-use, Value (US$ Bn), 2018 - 2030
8.4.1.13. Rest of Middle East & Africa Pharmaceutical Elixir Market by Type, Value (US$ Bn), 2018 - 2030
8.4.1.14. Rest of Middle East & Africa Pharmaceutical Elixir Market Distribution Channel, Value (US$ Bn), 2018 - 2030
8.4.1.15. Rest of Middle East & Africa Pharmaceutical Elixir Market End-use, Value (US$ Bn), 2018 - 2030
8.4.2. BPS Analysis/Market Attractiveness Analysis
9. Competitive Landscape
9.1. End-use vs Distribution Channel Heatmap
9.2. Manufacturer vs Distribution Channel Heatmap
9.3. Company Market Share Analysis, 2022
9.4. Competitive Dashboard
9.5. Company Profiles
9.5.1. Pfizer Inc.
9.5.1.1. Company Overview
9.5.1.2. Product Portfolio
9.5.1.3. Financial Overview
9.5.1.4. Business Strategies and Development
9.5.2. Novartis AG
9.5.2.1. Company Overview
9.5.2.2. Product Portfolio
9.5.2.3. Financial Overview
9.5.2.4. Business Strategies and Development
9.5.3. Roche Holding AG
9.5.3.1. Company Overview
9.5.3.2. Product Portfolio
9.5.3.3. Financial Overview
9.5.3.4. Business Strategies and Development
9.5.4. Johnson & Johnson
9.5.4.1. Company Overview
9.5.4.2. Product Portfolio
9.5.4.3. Financial Overview
9.5.4.4. Business Strategies and Development
9.5.5. Merck & Co., Inc
9.5.5.1. Company Overview
9.5.5.2. Product Portfolio
9.5.5.3. Financial Overview
9.5.5.4. Business Strategies and Development
9.5.6. Sanofi S.A.
9.5.6.1. Company Overview
9.5.6.2. Product Portfolio
9.5.6.3. Financial Overview
9.5.6.4. Business Strategies and Development
9.5.7. GlaxoSmithKline plc
9.5.7.1. Company Overview
9.5.7.2. Product Portfolio
9.5.7.3. Financial Overview
9.5.7.4. Business Strategies and Development
9.5.8. AstraZeneca plc
9.5.8.1. Company Overview
9.5.8.2. Product Portfolio
9.5.8.3. Financial Overview
9.5.8.4. Business Strategies and Development
9.5.9. Eli Lilly and Company
9.5.9.1. Company Overview
9.5.9.2. Product Portfolio
9.5.9.3. Financial Overview
9.5.9.4. Business Strategies and Development
9.5.10. Bristol-Myers Squibb Company
9.5.10.1. Company Overview
9.5.10.2. Product Portfolio
9.5.10.3. Financial Overview
9.5.10.4. Business Strategies and Development
9.5.11. Gilead Sciences, Inc.
9.5.11.1. Company Overview
9.5.11.2. Product Portfolio
9.5.11.3. Financial Overview
9.5.11.4. Business Strategies and Development
9.5.12. AbbVie Inc
9.5.12.1. Company Overview
9.5.12.2. Product Portfolio
9.5.12.3. Financial Overview
9.5.12.4. Business Strategies and Development
9.5.13. Bayer AG
9.5.13.1. Company Overview
9.5.13.2. Product Portfolio
9.5.13.3. Financial Overview
9.5.13.4. Business Strategies and Development
9.5.14. Biogen Inc.
9.5.14.1. Company Overview
9.5.14.2. Product Portfolio
9.5.14.3. Financial Overview
9.5.14.4. Business Strategies and Development
9.5.15. Moderna, Inc.
9.5.15.1. Company Overview
9.5.15.2. Product Portfolio
9.5.15.3. Financial Overview
9.5.15.4. Business Strategies and Development
10. Appendix
10.1. Research Methodology
10.2. Report Assumptions
10.3. Acronyms and Abbreviations