The global plastics chemical recycling market will rise at a significant pace of 30% CAGR during the period of assessment 2023 - 2030, reaching a market value of around US$50 Bn at the end of 2030.
Market Analysis in Brief
Plastic chemical recycling involves dissolving discarded plastic into its chemical constituents through various chemical reactions. The recovered chemicals can then be used as a raw materials to make new polymers, fuels, or other valuable goods. Chemical recycling focuses on altering the molecular structure of plastic polymers, as opposed to mechanical recycling, which involves melting and reshaping plastics. Contamination, mixed compositions, or degradation makes it possible to recover more plastics than possible with conventional recycling techniques.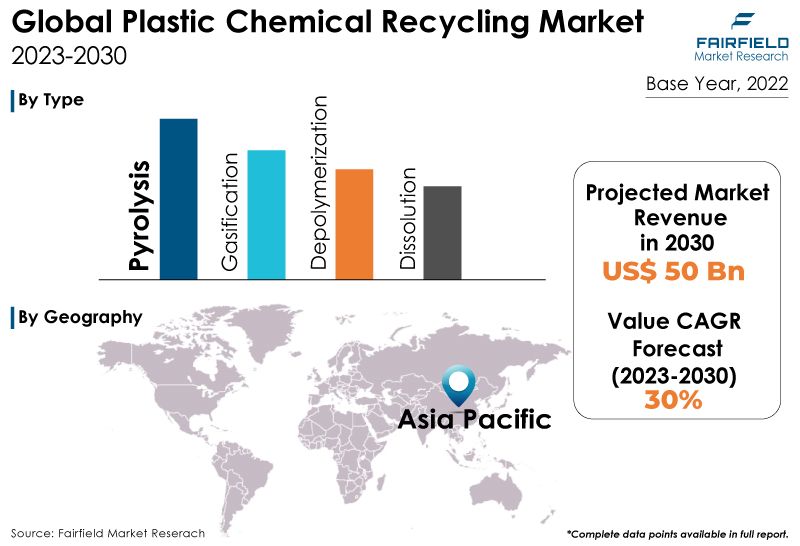 Furthermore, the chemical industry has been effective in researching and developing consumer goods such as refrigerator parts, food packaging, carpets, beds, and automobile dashboards. The industry intends to implement these innovations at the industrial level as part of the subsequent stage. The market for plastics chemical recycling is expanding quickly due to the growing worldwide plastic waste challenge and the demand for more environmentally friendly waste management techniques. Chemical recycling is superior to mechanical recycling in several ways, including the processing of a wider variety of plastic waste streams and the generation of high-quality feedstocks to manufacture new polymers. Furthermore, the market is fueled by strict environmental restrictions, rising consumer concerns about plastic pollution, and the desire for products made of recycled plastic.
However, issues, including high initial investment costs, technological constraints, and the need for supportive legislative frameworks, must be solved for the market to fully develop. The market is characterised by fierce competition and the presence of both well-established companies and new entrepreneurs. The main tactics businesses use to obtain a competitive edge include strategic partnerships, collaborations, and R&D investments.
Key Report Findings
The market for plastics chemical recycling will demonstrate huge multifold expansion in revenue over the decade, i.e., between 2023 and 2030.
The growing problem of plastic waste worldwide and the need for more ecologically acceptable waste management methods drive the market for plastics chemical recycling to rapid growth.
The depolymerization demand for plastics chemical recycling will boost the market.
Asia Pacific will continue to lead its way, whereas North America's plastics chemical recycling market will experience the strongest growth till 2030.
Growth Drivers
Rising Public Concerns Around Environmental Impact and Recycling Advancements
The plastic recycling business has expanded significantly in recent years due to various factors. Growing awareness of the negative environmental consequences of plastic waste and the desire to reduce carbon emissions are some of the primary drivers driving the growth of the plastic recycling industry. As a result of cutting-edge recycling technologies such as chemical recycling and pyrolysis, a larger range of plastics can now be recycled, which has benefited the market. In general, an increasing appreciation of the significance of circular economy concepts and the necessity to transition to a more sustainable future drive the plastic recycling business. In just one year, 359 million tonnes of plastic were manufactured worldwide. Regrettably, a substantial portion of that material is either burned or dumped in landfills since it cannot be recycled.
There are numerous prospects for entrepreneurs and investors in the plastic chemical recycling industry. As people worldwide become more aware of the detrimental impacts of plastic trash on the environment, there is a growing need for alternatives. Plastic recycling is an important step towards minimising plastic waste and keeping it out of landfills and the ocean. Setting up a recycling factory, creating cutting-edge recycling technologies, or purchasing interests in pre-existing recycling enterprises are just a few ways to invest in the plastic recycling industry. Entrepreneurs may also consider developing new products from recycled plastic or providing recycling-related services. Thus, this is anticipated to boost the market expansion.
Globally Expanding Government Policies to Reduce Plastic Waste is Fueling the Market Growth
Government incentives and laws from all around the world are forcing the plastic recycling business forward. Government policies considerably impact the growth of the recycled plastic sector. Many countries worldwide have enacted policies to encourage sustainable practices and the growth of the recycling industry. Single-use plastic products have been banned in numerous countries, and plastic bag levies have been imposed. For instance, the Environment Ministry of India published draught regulations in 2021 directing plastic packaging material producers to gather all their produce by 2024 and guarantee that a certain amount of it is recycled and used in the following supplies. As they encourage the development of innovative recycling technologies and increase consumer demand for recycled plastics, these policies foster a more favorable climate for expanding the plastic chemical recycling market.
Furthermore, the plastic recycling market is developing and implementing several cutting-edge technologies, such as chemical recycling and pyrolysis, which have the potential to completely transform the sector. More than 40 businesses, including Shell, Dow, and Chevron Phillips, were working on or managing chemical recycling projects in the United States as of 2022. Chemical recycling involves breaking down wasted plastic into chemical components that can be utilised to create new plastic goods. This method can process a wider range of plastic trash, including mixed and contaminated plastics, and generate higher-quality recovered materials. Many companies are already creating and marketing chemical recycling techniques.
Market Challenges
High Capital Investments
High capital investment is a significant market barrier for the global recycling of plastic chemicals. It includes a range of expenses related to putting in place the technology and infrastructure required to turn plastic waste into useful chemical feedstocks. This restriction may hinder the development and general use of chemical recycling to dispose of plastic trash. Reactors, processing units, and expensive and specialised equipment are needed for plastic chemical recycling. These technologies are frequently capital-intensive and may require a sizable upfront cost to acquire and deploy. The processes may also require ongoing technical improvements to increase productivity and efficiency, increasing the capital expense.
Furthermore, extensive R&D activities are needed to develop and improve chemical recycling methods. Businesses and academic organisations invest significantly in comprehending intricate chemistry, refining reaction conditions, and developing scalable technologies. The high overall capital investment is a result of these R&D expenses. Moreover, chemical recycling facilities demand high building expenses to build. Furthermore, obtaining the required permits and adhering to regulatory compliance requirements may increase the total capital investment, particularly if the regulatory environment is complicated or unclear.
Overview of Key Segments
Pyrolysis and Gasification Leading Market Segments
Pyrolysis and gasification holds a significant portion of the plastic chemical recycling sector, disassembles waste plastic into feedstocks. These tehcnologies collectively represent around 80% of the chemical recycling planned capacities. In pyrolysis, plastics are broken down into a range of basic hydrocarbons by heating in the absence of oxygen. By distillation, these hydrobarbons can be converted into range of products from heavy wax and oils to light oils and gas. These processes diverts plastic waste from landfills and the environment. Plastic waste is gathered from several places, including homes, businesses, and enterprises. It goes through sorting to separate various plastic types according to their chemical makeup and characteristics.
Depolymerization is another process used in chemical recycling of plastics. It has many benefits, such as the ability to recycle a variety of plastic kinds, a decrease in greenhouse gas emissions compared to the production of plastics from fossil fuels, and a contribution to the circular economy by encouraging the reuse of plastic waste. However, the process can be energy-intensive and may need more technological development to become commercially and economically feasible.
Growth Opportunities Across Regions
Asia Pacific Retains Top Position
Asia Pacific will continue to dominate new projects in the the plastics chemical recycling market. Insufficient recycling facilities and disposal challenges have raised environmental concerns in the region. A potential answer to these problems and the reduction of plastic pollution is plastic chemical recycling. Additionally, a number of countries in Asia Pacific have begun putting rules and policies in place to support practices for a circular economy and sustainable waste management. Through incentives and supportive policies, governments have promoted investments in cutting-edge recycling technology, such as recycling plastic chemicals.
Private businesses and investors have funded commercial-scale operations, research, and development because they recognise the promise of recovering plastic chemicals. The market in the area has grown more quickly due to these investments. Additionally, ongoing research and technology improvements have increased the effectiveness and affordability of plastic chemical recycling technologies, increasing their appeal to regional stakeholders.
Europe to Provide a Strong Breeding Ground
The market for plastics chemical recycling across Europe will display a significant growth over the forecast period. The management of plastic waste has been a serious concern for the Europe. Governments, corporations, and consumers are looking for sustainable solutions, including cutting-edge recycling techniques like plastic chemical recycling, as a result of plastic pollution, landfill overflow, and a lack of recycling infrastructure. Numerous businesses in Europe have established high-stakes sustainability objectives, including promises to use more recycled materials in their goods. Recycling plastic chemicals provides a means of achieving these goals while lowering their negative environmental effects.
Sustainable solutions are becoming more in demand as a result of growing public concern over plastic pollution and its negative effects on the environment. Companies invest in cutting-edge recycling technologies because consumers are more likely to support products manufactured from recycled materials. Additionally, several countries in Eurpe have enacted laws and rules to encourage eco-friendly recycling and garbage management. To assist the creation and application of cutting-edge recycling technology, incentives, grants, and funding programs have been developed.
Plastics Chemical Recycling Market Players
Some of the leading players at the forefront in the plastics chemical recycling market space include Agilyx ASA, NextChem S.p.A., INEOS, Recycling Technologies Ltd., Exxon Mobil Corporation, JEPLAN Inc., and BlueAlp Innovations BV.
Recent Notable Developments
In 2018, one of the biggest chemical manufacturers, BASF SE, started the ChemCycling project to recycle plastic trash. The business is now working on developing pyrolysis oil, a process that transforms plastic waste into a secondary raw resource. This secondary raw material can be employed early in BASF's verbund production's value chain, saving fossil fuels.
In 2018, Agylx, one of the companies offering solutions for plastic recycling technology, is essential in promoting the use of chemical recycling technologies in the entire sector. In Tigard, Oregon, the firm built a plastic recycling facility. The facility, which is being run as a joint venture with polystyrene manufacturer Americas Styrenics, can convert ten metric tonnes of polystyrene waste into styrene material daily.
In 2021, The expected investment in chemical recycling has significantly increased from US$3 Bn in 2025 to US$8.3 Bn in 2030, according to PlasticEurope, a European group of plastic producers. Additionally, PlasticEurope anticipates introducing stronger and more unified regulatory rules to further support investments in the transition to a circular economy.
The Global Plastics Chemical Recycling Market is Segmented as Below:
By Type
Pyrolysis
Gasification
Depolymerization
Dissolution
By Geographic Coverage
North America
Europe

Germany
U.K.
France
Italy
Turkey
Russia
Rest of Europe

Asia Pacific

China
Japan
South Korea
India
Southeast Asia
Rest of Asia Pacific

Latin America

Brazil
Mexico
Rest of Latin America

Middle East & Africa

GCC
South Africa
Rest of Middle East & Africa
Leading Companies
INEOS
Recycling Technologies Ltd.
Trinseo
JEPLAN Inc.
Borealis AG
Ioniqa Technologies B.V.
Sepco Industries Co., Ltd.
BlueAlp Innovations BV
Clean Planet Group
Versalis
1. Executive Summary
1.1. Global Plastics Chemical Recycling Market Snapshot
1.2. Future Projections
1.3. Key Market Trends
1.4. Regional Snapshot, by Value, 2022
1.5. Analyst Recommendations

2. Market Overview
2.1. Market Definitions and Segmentations
2.2. Market Dynamics
2.2.1. Drivers
2.2.2. Restraints
2.2.3. Market Opportunities
2.3. Value Chain Analysis
2.4. Porter's Five Forces Analysis
2.5. Covid-19 Impact Analysis
2.5.1. Supply
2.5.2. Demand
2.6. Impact of Ukraine-Russia Conflict
2.7. Plastic Recycling Techniques – Overview
2.8. Economic Overview
2.8.1. World Economic Projections
2.9. PESTLE Analysis

3. Global Plastics Chemical Recycling Market Outlook, 2018 - 2030
3.1. Global Plastics Chemical Recycling Market Outlook, by Type, Value (US$ Mn), 2018 - 2030
3.1.1. Key Highlights
3.1.1.1. Pyrolysis
3.1.1.2. Gasification
3.1.1.3. Dissolution
3.1.1.4. Depolymerization
3.2. Global Plastics Chemical Recycling Market Outlook, by Region, Value (US$ Mn), 2018 - 2030
3.2.1. Key Highlights
3.2.1.1. North America
3.2.1.2. Europe
3.2.1.3. Asia Pacific
3.2.1.4. Latin America
3.2.1.5. Middle East & Africa


4. North America Plastics Chemical Recycling Market Outlook, 2018 - 2030
4.1. North America Plastics Chemical Recycling Market Outlook, by Type, Value (US$ Mn), 2018 - 2030
4.1.1. Key Highlights
4.1.1.1. Pyrolysis
4.1.1.2. Gasification
4.1.1.3. Dissolution
4.1.1.4. Depolymerization
4.1.2. Market Attractiveness Analysis
4.2. North America Plastics Chemical Recycling Market Outlook, by Country, Value (US$ Mn), 2018 - 2030
4.2.1. Key Highlights
4.2.1.1. U.S. Plastics Chemical Recycling Market by Type, Value (US$ Mn), 2018 - 2030
4.2.1.2. Canada Plastics Chemical Recycling Market by Type, Value (US$ Mn), 2018 - 2030
4.2.2. BPS Analysis/Market Attractiveness Analysis

5. Europe Plastics Chemical Recycling Market Outlook, 2018 - 2030
5.1. Europe Plastics Chemical Recycling Market Outlook, by Type, Value (US$ Mn), 2018 - 2030
5.1.1. Key Highlights
5.1.1.1. Pyrolysis
5.1.1.2. Gasification
5.1.1.3. Dissolution
5.1.1.4. Depolymerization
5.1.2. BPS Analysis/Market Attractiveness Analysis
5.2. Europe Plastics Chemical Recycling Market Outlook, by Country, Value (US$ Mn), 2018 - 2030
5.2.1. Key Highlights
5.2.1.1. Germany Plastics Chemical Recycling Market by Type, Value (US$ Mn), 2018 - 2030
5.2.1.2. U.K. Plastics Chemical Recycling Market by Type, Value (US$ Mn), 2018 - 2030
5.2.1.3. France Plastics Chemical Recycling Market by Type, Value (US$ Mn), 2018 - 2030
5.2.1.4. Italy Plastics Chemical Recycling Market by Type, Value (US$ Mn), 2018 - 2030
5.2.1.5. Turkey Plastics Chemical Recycling Market by Type, Value (US$ Mn), 2018 - 2030
5.2.1.6. Russia Plastics Chemical Recycling Market by Type, Value (US$ Mn), 2018 - 2030
5.2.1.7. Rest of Europe Plastics Chemical Recycling Market by Type, Value (US$ Mn), 2018 - 2030
5.2.2. BPS Analysis/Market Attractiveness Analysis
6. Asia Pacific Plastics Chemical Recycling Market Outlook, 2018 - 2030
6.1. Asia Pacific Plastics Chemical Recycling Market Outlook, by Type, Value (US$ Mn), 2018 - 2030
6.1.1. Key Highlights
6.1.1.1. Pyrolysis
6.1.1.2. Gasification
6.1.1.3. Dissolution
6.1.1.4. Depolymerization
6.1.2. BPS Analysis/Market Attractiveness Analysis
6.2. Asia Pacific Plastics Chemical Recycling Market Outlook, by Country, Value (US$ Mn), 2018 - 2030
6.2.1. Key Highlights
6.2.1.1. China Plastics Chemical Recycling Market by Type, Value (US$ Mn), 2018 - 2030
6.2.1.2. Japan Plastics Chemical Recycling Market by Type, Value (US$ Mn), 2018 - 2030
6.2.1.3. South Korea Plastics Chemical Recycling Market by Type, Value (US$ Mn), 2018 - 2030
6.2.1.4. India Plastics Chemical Recycling Market by Type, Value (US$ Mn), 2018 - 2030
6.2.1.5. Southeast Asia Plastics Chemical Recycling Market by Type, Value (US$ Mn), 2018 - 2030
6.2.1.6. Rest of Asia Pacific Plastics Chemical Recycling Market by Type, Value (US$ Mn), 2018 - 2030
6.2.2. BPS Analysis/Market Attractiveness Analysis
7. Latin America Plastics Chemical Recycling Market Outlook, 2018 - 2030
7.1. Latin America Plastics Chemical Recycling Market Outlook, by Type, Value (US$ Mn), 2018 - 2030
7.1.1. Key Highlights
7.1.1.1. Pyrolysis
7.1.1.2. Gasification
7.1.1.3. Dissolution
7.1.1.4. Depolymerization
7.1.2. BPS Analysis/Market Attractiveness Analysis
7.2. Latin America Plastics Chemical Recycling Market Outlook, by Country, Value (US$ Mn), 2018 - 2030
7.2.1. Key Highlights
7.2.1.1. Brazil Plastics Chemical Recycling Market by Type, Value (US$ Mn), 2018 - 2030
7.2.1.2. Mexico Plastics Chemical Recycling Market by Type, Value (US$ Mn), 2018 - 2030
7.2.1.3. Rest of Latin America Plastics Chemical Recycling Market by Type, Value (US$ Mn), 2018 - 2030
7.2.2. BPS Analysis/Market Attractiveness Analysis
8. Middle East & Africa Plastics Chemical Recycling Market Outlook, 2018 - 2030
8.1. Middle East & Africa Plastics Chemical Recycling Market Outlook, by Type, Value (US$ Mn), 2018 - 2030
8.1.1. Key Highlights
8.1.1.1. Pyrolysis
8.1.1.2. Gasification
8.1.1.3. Dissolution
8.1.1.4. Depolymerization
8.1.2. BPS Analysis/Market Attractiveness Analysis
8.2. Middle East & Africa Plastics Chemical Recycling Market Outlook, by Country, Value (US$ Mn), 2018 - 2030
8.2.1. Key Highlights
8.2.1.1. GCC Plastics Chemical Recycling Market by Type, Value (US$ Mn), 2018 - 2030
8.2.1.2. South Africa Plastics Chemical Recycling Market by Type, Value (US$ Mn), 2018 - 2030
8.2.1.3. Rest of Middle East & Africa Plastics Chemical Recycling Market by Type, Value (US$ Mn), 2018 - 2030
8.2.2. BPS Analysis/Market Attractiveness Analysis

9. Competitive Landscape
9.1. Type vs Application Heatmap
9.2. Manufacturer vs Application Heatmap
9.3. Company Market Share Analysis, 2022
9.4. Competitive Dashboard
9.5. Company Profiles
9.5.1. Agilyx ASA
9.5.1.1. Company Overview
9.5.1.2. Product Portfolio
9.5.1.3. Financial Overview
9.5.1.4. Business Strategies and Development
9.5.2. NextChem S.p.A.
9.5.2.1. Company Overview
9.5.2.2. Product Portfolio
9.5.2.3. Financial Overview
9.5.2.4. Business Strategies and Development
9.5.3. INEOS
9.5.3.1. Company Overview
9.5.3.2. Product Portfolio
9.5.3.3. Financial Overview
9.5.3.4. Business Strategies and Development
9.5.4. Recycling Technologies Ltd.
9.5.4.1. Company Overview
9.5.4.2. Product Portfolio
9.5.4.3. Financial Overview
9.5.4.4. Business Strategies and Development
9.5.5. Exxon Mobil Corporation
9.5.5.1. Company Overview
9.5.5.2. Product Portfolio
9.5.5.3. Financial Overview
9.5.5.4. Business Strategies and Development
9.5.6. JEPLAN Inc.
9.5.6.1. Company Overview
9.5.6.2. Product Portfolio
9.5.6.3. Financial Overview
9.5.6.4. Business Strategies and Development
9.5.7. Trinseo
9.5.7.1. Company Overview
9.5.7.2. Product Portfolio
9.5.7.3. Financial Overview
9.5.7.4. Business Strategies and Development
9.5.8. Shaw Industries Group
9.5.8.1. Company Overview
9.5.8.2. Product Portfolio
9.5.8.3. Financial Overview
9.5.8.4. Business Strategies and Development
9.5.9. Borealis AG
9.5.9.1. Company Overview
9.5.9.2. Product Portfolio
9.5.9.3. Financial Overview
9.5.9.4. Business Strategies and Development
9.5.10. Ioniqa Technologies B.V.
9.5.10.1. Company Overview
9.5.10.2. Product Portfolio
9.5.10.3. Financial Overview
9.5.10.4. Business Strategies and Development
9.5.11. Sepco Industries Co., Ltd.
9.5.11.1. Company Overview
9.5.11.2. Product Portfolio
9.5.11.3. Financial Overview
9.5.11.4. Business Strategies and Development
9.5.12. BlueAlp Innovations BV
9.5.12.1. Company Overview
9.5.12.2. Product Portfolio
9.5.12.3. Financial Overview
9.5.12.4. Business Strategies and Development
9.5.13. Clean Planet Group
9.5.13.1. Company Overview
9.5.13.2. Product Portfolio
9.5.13.3. Financial Overview
9.5.13.4. Business Strategies and Development
9.5.14. Versalis
9.5.14.1. Company Overview
9.5.14.2. Product Portfolio
9.5.14.3. Financial Overview
9.5.14.4. Business Strategies and Development

10. Appendix
10.1. Research Methodology
10.2. Report Assumptions
10.3. Acronyms and Abbreviations