Preeclampsia Laboratory Testing Market Outlook
Preeclampsia Laboratory Testing Market to Gain Traction from Significantly Unmet Preeclampsia Diagnostics
Preeclampsia is known to be potential multisystem progressive pregnancy complication characterized by high blood pressure and organ dysfunction mostly kidney and liver amongst various other symptoms. However, these symptoms are not considered as reliable signs of preeclampsia, owing to their overlap with those occurring in many normal pregnancies. This thus complicates the diagnosis of preeclampsia. Screening of preeclampsia plays a significant role, since at present, delivery is the only mode of cure for preeclampsia.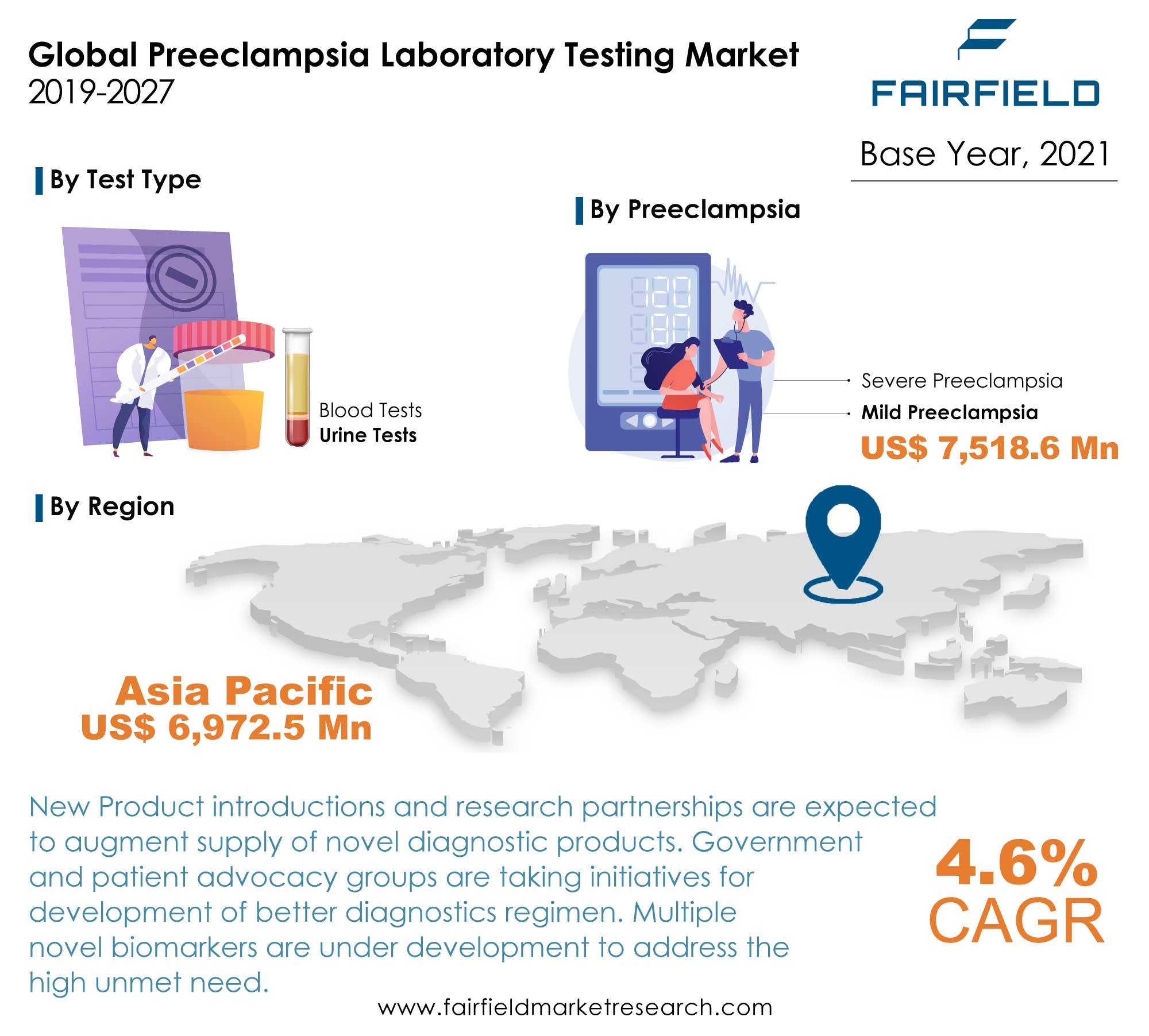 The global preeclampsia laboratory testing market will register revenue worth US$13,863.3 Mn in 2022 and is set to witness robust revenue growth between 2022 and 2027. Rising burden of preeclampsia due to lifestyle disorders, coupled with growth in advancements in medical technologies observed over the recent past across the globe are known to increase the probability of preeclampsia in pregnant women. Fairfield Market Research indicates that the global preeclampsia laboratory testing market will rise at healthy pace of 4.6% CAGR during the period of assessment (2022-2027), reaching market value of US$17,386.1 Mn and volume of 1,22,998 (,000) indicating potential number of women undergoing diagnostic tests by the end of 2027.
Preeclampsia Laboratory Testing Market in Developing Countries Eyes Innovative Diagnostic Solutions
Globally, incidence of preeclampsia ranges between 2-10% of pregnancies. The World Health Organization (WHO) estimates the incidence of preeclampsia to be seven times higher in developing countries than in developed ones. Several clinical and biochemical tests are under evaluation for prediction or early detection of preeclampsia, However, none of them present reliable and cost-effective screening for preeclampsia for use in most developing countries. Large population-based studies are missing, and results are to be validated, albeit intensive research underway. Companies are collaborating with research institutes and universities to develop new kits with low costs.
Development of early diagnostic tests for preeclampsia would minimize the maternal and infant mortality. The awareness around preeclampsia is on the rise recently, mostly because of the campaigns from patient advocacy groups, and welfare associations, viz. Preeclampsia Foundation, Accelerated Access Collaborative, amongst others. This remains a strong factor providing lucrative growth opportunity for development of innovative tests in view of significant unmet need for preeclampsia diagnosis across the globe.
Government and academic institutions are collaborating for better diagnostics and treatment for preeclampsia. The researchers at the University of Strathclyde in partnership with King's College London have received an Artificial Intelligence Health and Care award and funding from U.K. Government. Furthermore, rapid emergence of innovative alternatives such as hand-held screening devices would also boost the uptake of diagnostic tests in the preeclampsia laboratory testing market.
Novel Biomarkers Promise Improved Diagnostics for Patients Boosting Uptake in Preeclampsia Laboratory Testing Market
Multiple novel biomarkers are under development to address the high unmet need. Lack of precision in diagnosis leads to over and under diagnosis due to clinical variation. Inclusion of biomarkers has the potential to lead to greater precision and accuracy thus preventing unnecessary preterm births, hospitalization and medical intervention. Novel biomarkers will lead to improved diagnostic assessment of preeclampsia and its severity.
cfRNA hold great promise in non-invasive diagnostics, though there is still a need for more detailed studies to map the signatures of cfRNA in disease pathogenesis and create disease-specific reference databases. The report estimates that the blood tests segment will contribute to ~41% to the global preeclampsia laboratory testing market in 2021.
Developed Countries Hold Lion's Share in Preeclampsia Laboratory Testing Market, Asia Pacific Follows Suit
The presence of technologically sophisticated diagnostic laboratories along with ready acceptance of importance of preeclampsia screening at an early stage contribute to the dominance of North America and Europe. Europe is expected to witness a highest CAGR of 6.2% during the forecast period 2022-2027 owing to numerous investigational diagnostic tests for preeclampsia in pipeline.
Preeclampsia laboratory testing market research reveals that Asia Pacific has maintained its high-growth potential and will demonstrate the same till the end of forecast year 2027 due large population base of women of reproductive age. Low- and Middle-Income countries are anticipated to record highest growth rates owing to increasing incidences of preeclampsia and thus urgent need for its diagnosis. A study published in the Pregnancy Hypertension journal (October 2019) reveals that the prevalence of preeclampsia in China has risen from 5.79% in 2005 to 9.50% in 2019. In addition, these regions provide lucrative growth prospects due to huge patient population, increase in research activities, rise in government funding for research & development, and surge in the number of biotechnology companies as compared to the developed countries. Despite high prevalence rate, lack of awareness, reliable and cost-effective screening tests hinders the potential market growth in these regions.
Decline in Fertility Rates and Introduction of Intervening Procedures to Hinder the Market Growth in Near Future
Relative lack of awareness and inadequacy of reliable and cost-effective screening tests for preeclampsia, especially in developing economies, continue to hinder the growth of preeclampsia laboratory testing market. Thus, certain lifestyle and therapeutic interventions are under evaluation which are known to lower the risk of developing preeclampsia. This might impede the market growth. Some of them include low aspirin dose and calcium supplements along with certain lifestyle changes. Significant drop-in fertility rates across the globe would lower the demand for f preeclampsia diagnostic tests and pose a challenge to the market growth.
Key Market Players Prioritizing R&D and Collaborative Activities to Strengthen Market Positioning
Market players holding substantial share in the global preeclampsia laboratory testing market include PerkinElmer Inc., Siemens Healthineers AG, and Thermo Fisher Scientific Inc. The report also profiles and provide insights for other prominent industry players, comprising, F. Roche Hofmann Progenity, Inc., GestVision, Inc. Metabolomic Diagnostics Ltd., DiabetOmics Inc., DRG INSTRUMENTS GmbH, Lifeassay Diagnostics (Pty) Ltd, and Quidel Corporation, amongst others.
The Global Preeclampsia Laboratory Testing Market is Segmented as Below:

By Test Type
By Preeclampsia Type
Mild Preeclampsia
Severe Preeclampsia
By End User
Hospitals and Clinics
Diagnostic Centres
Others
By Geographic Coverage
North America
Europe

United Kingdom
Germany
France
Italy
Spain
Rest of Europe

Asia Pacific

Japan
China
India
Australia
South East Asia
Rest of Asia Pacific

Latin America

Brazil
Mexico
Rest of Latin America

Middle East and Africa

GCC
South Africa
Rest of Middle East and Africa
Leading Companies
DiabetOmics
DRG Instruments GmbH
Hoffmann-La Roche Ltd.
GestVision, Inc.
Lifeassay Diagnostics (Pty) Ltd.
Metabolomic Diagnostics
Perkin Elmer, Inc.
Progenity, Inc.
Quidel Corporation
Siemens Healthineers
Thermo Fisher Scientific, Inc.
Inside This Report You Will Find:

1. Executive Summary
2. Market Overview
3. Global Preeclampsia Laboratory Testing Market Outlook, 2019 - 2027
4. North America Preeclampsia Laboratory Testing Market Outlook, 2019 - 2027
5. Europe Preeclampsia Laboratory Testing Market Outlook, 2019 - 2027
6. Asia Pacific Preeclampsia Laboratory Testing Market Outlook, 2019 - 2027
7. Latin America Preeclampsia Laboratory Testing Market Outlook, 2019 - 2027
8. Middle East & Africa Preeclampsia Laboratory Testing Market Outlook, 2019 - 2027
9. Competitive Landscape
10. Appendix

Post Sale Support, Research Updates & Offerings:
We value the trust shown by our customers in Fairfield Market Research. We support our clients through our post sale support, research updates and offerings.
The report will be prepared in a PPT format and will be delivered in a PDF format.
Additionally, Market Estimation and Forecast numbers will be shared in Excel Workbook.
If a report being sold was published over a year ago, we will offer a complimentary copy of the updated research report along with Market Estimation and Forecast numbers within 2-3 weeks' time of the sale.
If we update this research study within the next 2 quarters, post purchase of the report, we will offer a Complimentary copy of the updated Market Estimation and Forecast numbers in Excel Workbook.
If there is a geopolitical conflict, pandemic, recession, and the like which can impact global economic scenario and business activity, which might entirely alter the market dynamics or future projections in the industry, we will create a Research Update upon your request at a nominal charge.
1. Executive Summary
1.1. Global Preeclampsia Laboratory Testing Market Outlook, 2019 - 2027 (US$ Million) and Volume (,000)
1.2. Global Preeclampsia Laboratory Testing Market Incremental Opportunity, 2022- 2027 (US$ Million) and Volume (,000)
1.3. Global Preeclampsia Laboratory Testing Market Outlook (Serviceable Available Market), 2019 - 2027 (US$ Million) and Volume (,000)
1.4. Global Preeclampsia Laboratory Testing Market (Serviceable Available Market) Incremental Opportunity, 2019 - 2027 (US$ Million) and Volume (,000)
1.5. Key Industry Trends

2. Market Overview
2.1. Market Definitions and Segmentations
2.2. Market Dynamics
2.2.1. Market Drivers
2.2.2. Market Threats
2.2.3. Market Opportunities
2.3. Preeclampsia Epidemiology
2.4. Market Landscape
2.5. Preeclampsia Diagnostics Overview
2.6. MicroRNAs: Promising Biomarker in Preeclampsia
2.7. Medical Management of Preeclampsia: An Overview
2.8. Impact of Covid 19 on the Market

3. Global Preeclampsia Laboratory Testing Market Outlook, 2019 - 2027
3.1. Global Preeclampsia Laboratory Testing Market Outlook, By Test Type, 2019 - 2027
3.1.1. Key Highlights
3.1.2. Global Preeclampsia Laboratory Testing Market Outlook, by Test Type, Value (US$ Million) and Volume (,000), 2019 - 2027
3.1.2.1. Blood Tests
3.1.2.2. Urine Tests
3.1.3. Global Preeclampsia Laboratory Testing Market Share and BPS Analysis, by Test Type, Value and Volume, 2022 and 2027
3.1.4. Global Preeclampsia Laboratory Testing Market Attractiveness Analysis, by Test Type, Value and Volume, 2022 - 2027
3.2. Global Preeclampsia Laboratory Testing Market Outlook, By Preeclampsia Type, 2019 - 2027
3.2.1. Key Highlights
3.2.2. Global Preeclampsia Laboratory Testing Market Outlook, by Preeclampsia Type, Value (US$ Million) and Volume (,000), 2019 - 2027
3.2.2.1. Mild Preeclampsia
3.2.2.2. Severe Preeclampsia
3.2.3. Global Preeclampsia Laboratory Testing Market Share and BPS Analysis, by Preeclampsia Type, Value and Volume, 2022 and 2027
3.2.4. Global Preeclampsia Laboratory Testing Market Attractiveness Analysis, by Preeclampsia Type, Value and Volume, 2022 - 2027
3.3. Global Preeclampsia Laboratory Testing Market Outlook, By End User, 2019 - 2027
3.3.1. Key Highlights
3.3.2. Global Preeclampsia Laboratory Testing Market Outlook, by End User, Value (US$ Million) and Volume (,000), 2019 - 2027
3.3.2.1. Hospitals & Clinics
3.3.2.2. Diagnostics Centres
3.3.2.3. Others
3.3.3. Global Preeclampsia Laboratory Testing Market Share and BPS Analysis, by End User, Value and Volume, 2022 and 2027
3.3.4. Global Preeclampsia Laboratory Testing Market Attractiveness Analysis, by End User, Value and Volume,2022 - 2027
3.4. Global Preeclampsia Laboratory Testing Market Outlook, By Region, 2019 - 2027
3.4.1. Key Highlights
3.4.2. Global Preeclampsia Laboratory Testing Market Outlook, by Region, Value (US$ Million) and Volume (,000), 2019 - 2027
3.4.2.1. North America
3.4.2.2. Europe
3.4.2.3. Asia Pacific
3.4.2.4. Latin America
3.4.2.5. Middle East & Africa
3.4.3. Global Preeclampsia Laboratory Testing Market Share and BPS Analysis, by Region, Value and Volume, 2022 and 2027
3.4.4. Global Preeclampsia Laboratory Testing Market Attractiveness Analysis, by Region, Value and Volume, 2022 - 2027

4. North America Preeclampsia Laboratory Testing Market Outlook, 2019 - 2027
4.1. North America Preeclampsia Laboratory Testing Market Outlook, By Test Type, 2019 - 2027
4.1.1. Key Highlights
4.1.2. North America Preeclampsia Laboratory Testing Market Outlook, by Test Type, Value (US$ Million) and Volume (,000), 2019 - 2027
4.1.2.1. Urine Tests
4.1.2.2. Blood Tests
4.1.3. North America Preeclampsia Laboratory Testing Market Share and BPS Analysis, by Test Type, Value and Volume, 2022 and 2027
4.1.4. North America Preeclampsia Laboratory Testing Market Attractiveness Analysis, by Test Type, Value and Volume, 2022 - 2027
4.2. North America Preeclampsia Laboratory Testing Market Outlook, By Preeclampsia Type, 2019 - 2027
4.2.1. Key Highlights
4.2.2. North America Preeclampsia Laboratory Testing Market Outlook, by Preeclampsia Type, Value (US$ Million) and Volume (,000), 2019 - 2027
4.2.2.1. Mild Preeclampsia
4.2.2.2. Severe Preeclampsia
4.2.3. North America Preeclampsia Laboratory Testing Market Share and BPS Analysis, by Preeclampsia Type, Value and Volume, 2022 and 2027
4.2.4. North America Preeclampsia Laboratory Testing Market Attractiveness Analysis, by Preeclampsia Type, Value and Volume, 2022 - 2027
4.3. North America Preeclampsia Laboratory Testing Market Outlook, By End User, 2019 - 2027
4.3.1. Key Highlights
4.3.2. North America Preeclampsia Laboratory Testing Market Outlook, by End User, Value (US$ Million) and Volume (,000), 2019 - 2027
4.3.2.1. Hospitals & Clinics
4.3.2.2. Diagnostics Centres
4.3.2.3. Others
4.3.3. North America Preeclampsia Laboratory Testing Market Share and BPS Analysis, by End User, Value and Volume, 2022 and 2027
4.3.4. North America Preeclampsia Laboratory Testing Market Attractiveness Analysis, by End User, Value and Volume, 2022 - 2027
4.4. North America Preeclampsia Laboratory Testing Market Outlook, By Country, 2019 - 2027
4.4.1. Key Highlights
4.4.2. North America Preeclampsia Laboratory Testing Market Outlook, by Country, Value (US$ Million) and Volume (,000), 2019 - 2027
4.4.2.1. United States
4.4.2.2. Canada
4.4.3. North America Preeclampsia Laboratory Testing Market Share and BPS Analysis, by Country, Value and Volume, 2022 and 2027
4.4.4. North America Preeclampsia Laboratory Testing Market Attractiveness Analysis, by Country, Value and Volume, 2022 - 2027

5. Europe Preeclampsia Laboratory Testing Market Outlook, 2019 - 2027
5.1. Europe Preeclampsia Laboratory Testing Market Outlook, By Test Type, 2019 - 2027
5.1.1. Key Highlights
v5.1.2. Europe Preeclampsia Laboratory Testing Market Outlook, by Test Type, Value (US$ Million) and Volume (,000), 2019 - 2027
5.1.2.1. Blood Tests
5.1.2.2. Urine Tests
5.1.3. Europe Preeclampsia Laboratory Testing Market Share and BPS Analysis, by Test Type, Value and Volume, 2022 and 2027
5.1.4. Europe Preeclampsia Laboratory Testing Market Attractiveness Analysis, by Test Type, Value and Volume, 2022 - 2027
5.2. Europe Preeclampsia Laboratory Testing Market Outlook, By Preeclampsia Type, 2019 - 2027
5.2.1. Key Highlights
5.2.2. Europe Preeclampsia Laboratory Testing Market Outlook, by Preeclampsia Type, Value (US$ Million) and Volume (,000), 2019 - 2027
5.2.2.1. Mild Preeclampsia
5.2.2.2. Severe Preeclampsia
5.2.3. Europe Preeclampsia Laboratory Testing Market Share and BPS Analysis, by Preeclampsia Type, Value and Volume, 2022 and 2027
5.2.4. Europe Preeclampsia Laboratory Testing Market Attractiveness Analysis, by Preeclampsia Type, Value and Volume, 2022 - 2027
5.3. Europe Preeclampsia Laboratory Testing Market Outlook, By End User, 2019 - 2027
5.3.1. Key Highlights
5.3.2. Europe Preeclampsia Laboratory Testing Market Outlook, by End User, Value (US$ Million) and Volume (,000), 2019 - 2027
5.3.2.1. Hospitals & Clinics
5.3.2.2. Diagnostics Centres
5.3.2.3. Others
5.3.3. Europe Preeclampsia Laboratory Testing Market Share and BPS Analysis, by End User, Value and Volume, 2022 and 2027
5.3.4. Europe Preeclampsia Laboratory Testing Market Attractiveness Analysis, by End User, Value and Volume, 2022 - 2027
5.4. Europe Preeclampsia Laboratory Testing Market Outlook, By Country, 2019 - 2027
5.4.1. Key Highlights
5.4.2. Europe Preeclampsia Laboratory Testing Market Outlook, by Country, Value (US$ Million) and Volume (,000), 2019 - 2027
5.4.2.1. Germany
5.4.2.2. France
5.4.2.3. United Kingdom
5.4.2.4. Italy
5.4.2.5. Spain
5.4.2.6. Rest of Europe
5.4.3. Europe Preeclampsia Laboratory Testing Market Share and BPS Analysis, by Country, Value and Volume, 2022 and 2027
5.4.4. Europe Preeclampsia Laboratory Testing Market Attractiveness Analysis, by Country, Value and Volume, 2022 - 2027

6. Asia Pacific Preeclampsia Laboratory Testing Market Outlook, 2019 - 2027
6.1. Asia Pacific Preeclampsia Laboratory Testing Market Outlook, By Test Type, 2019 - 2027
6.1.1. Key Highlights
6.1.2. Asia Pacific Preeclampsia Laboratory Testing Market Outlook, by Test Type, Value (US$ Million) and Volume (,000), 2019 - 2027
6.1.2.1. Urine Tests
6.1.2.2. Blood Tests
6.1.3. Asia Pacific Preeclampsia Laboratory Testing Market Share and BPS Analysis, by Test Type, Value and Volume, 2022 and 2027
6.1.4. Asia Pacific Preeclampsia Laboratory Testing Market Attractiveness Analysis, by Test Type, Value and Volume, 2022 - 2027
6.2. Asia Pacific Preeclampsia Laboratory Testing Market Outlook, By Preeclampsia Type, 2019 - 2027
6.2.1. Key Highlights
6.2.2. Asia Pacific Preeclampsia Laboratory Testing Market Outlook, by Preeclampsia Type, Value (US$ Million) and Volume (,000), 2019 - 2027
6.2.2.1. Mild Preeclampsia
6.2.2.2. Severe Preeclampsia
6.2.3. Asia Pacific Preeclampsia Laboratory Testing Market Share and BPS Analysis, by Preeclampsia Type, Value and Volume, 2022 and 2027
6.2.4. Asia Pacific Preeclampsia Laboratory Testing Market Attractiveness Analysis, by Preeclampsia Type, Value and Volume, 2022 - 2027
6.3. Asia Pacific Preeclampsia Laboratory Testing Market Outlook, By End User, 2019 - 2027
6.3.1. Key Highlights
6.3.2. Asia Pacific Preeclampsia Laboratory Testing Market Outlook, by End User, Value (US$ Million) and Volume (,000), 2019 - 2027
6.3.2.1. Hospitals & Clinics
6.3.2.2. Diagnostics Centres
6.3.2.3. Others
6.3.3. Asia Pacific Preeclampsia Laboratory Testing Market Share and BPS Analysis, by End User, Value and Volume, 2022 and 2027
6.3.4. Asia Pacific Preeclampsia Laboratory Testing Market Attractiveness Analysis, by End User, Value and Volume, 2022 - 2027
6.4. Asia Pacific Preeclampsia Laboratory Testing Market Outlook, By Country, 2019 - 2027
6.4.1. Key Highlights
6.4.2. Asia Pacific Preeclampsia Laboratory Testing Market Outlook, by Country, Value (US$ Million) and Volume (,000), 2019 - 2027
6.4.2.1. Japan
6.4.2.2. China
6.4.2.3. India
6.4.2.4. Australia
6.4.2.5. South East Asia
6.4.2.6. Rest of Asia Pacific
6.4.3. Asia Pacific Preeclampsia Laboratory Testing Market Share and BPS Analysis, by Country, Value and Volume, 2022 and 2027
6.4.4. Asia Pacific Preeclampsia Laboratory Testing Market Attractiveness Analysis, by Country, Value and Volume, 2022 - 2027

7. Latin America Preeclampsia Laboratory Testing Market Outlook, 2019 - 2027
7.1. Latin America Preeclampsia Laboratory Testing Market Outlook, By Test Type, 2019 - 2027
7.1.1. Key Highlights
7.1.2. Latin America Preeclampsia Laboratory Testing Market Outlook, by Test Type, Value (US$ Million) and Volume (,000), 2019 - 2027
7.1.2.1. Urine Tests
7.1.2.2. Blood Tests
7.1.3. Latin America Preeclampsia Laboratory Testing Market Share and BPS Analysis, by Test Type, Value and Volume, 2022 and 2027
7.1.4. Latin America Preeclampsia Laboratory Testing Market Attractiveness Analysis, by Test Type, Value and Volume, 2022 - 2027
7.2. Latin America Preeclampsia Laboratory Testing Market Outlook, By Preeclampsia Type, 2019 - 2027
7.2.1. Key Highlights
7.2.2. Latin America Preeclampsia Laboratory Testing Market Outlook, by Preeclampsia Type, Value (US$ Million) and Volume (,000), 2019 - 2027
7.2.2.1. Mild Preeclampsia
7.2.2.2. Severe Preeclampsia
7.2.3. Latin America Preeclampsia Laboratory Testing Market Share and BPS Analysis, by Preeclampsia Type, Value and Volume, 2022 and 2027
7.2.4. Latin America Preeclampsia Laboratory Testing Market Attractiveness Analysis, by Preeclampsia Type, Value and Volume, 2022 - 2027
7.3. Latin America Preeclampsia Laboratory Testing Market Outlook, By End User, 2019 - 2027
7.3.1. Key Highlights
7.3.2. Latin America Preeclampsia Laboratory Testing Market Outlook, by End User, Value (US$ Million) and Volume (,000), 2019 - 2027
7.3.2.1. Hospitals & Clinics
7.3.2.2. Diagnostics Centres
7.3.2.3. Others
7.3.3. Latin America Preeclampsia Laboratory Testing Market Share and BPS Analysis, by End User, Value and Volume, 2022 and 2027
7.3.4. Latin America Preeclampsia Laboratory Testing Market Attractiveness Analysis, by End User, Value and Volume, 2022 - 2027
7.4. Latin America Preeclampsia Laboratory Testing Market Outlook, By Country, 2019 - 2027
7.4.1. Key Highlights
7.4.2. Latin America Preeclampsia Laboratory Testing Market Outlook, by Country, Value (US$ Million) and Volume (,000), 2019 - 2027
7.4.2.1. Brazil
7.4.2.2. Mexico
7.4.2.3. Rest of Latin America
7.4.3. Latin America Preeclampsia Laboratory Testing Market Share and BPS Analysis, by Country, Value and Volume, 2022 and 2027
7.4.4. Latin America Preeclampsia Laboratory Testing Market Attractiveness Analysis, by Country, Value and Volume, 2022 - 2027

8. Middle East & Africa Preeclampsia Laboratory Testing Market Outlook, 2019 - 2027
8.1. Middle East & Africa Preeclampsia Laboratory Testing Market Outlook, By Test Type, 2019 - 2027
8.1.1. Key Highlights
8.1.2. Middle East & Africa Preeclampsia Laboratory Testing Market Outlook, by Test Type, Value (US$ Million) and Volume (,000), 2019 - 2027
8.1.2.1. Urine Tests
8.1.2.2. Blood Tests
8.1.3. Middle East & Africa Preeclampsia Laboratory Testing Market Share and BPS Analysis, by Test Type, Value and Volume, 2022 and 2027
8.1.4. Middle East & Africa Preeclampsia Laboratory Testing Market Attractiveness Analysis, by Test Type, Value and Volume, 2022 - 2027
8.2. Middle East & Africa Preeclampsia Laboratory Testing Market Outlook, By Preeclampsia Type, 2019 - 2027
8.2.1. Key Highlights
8.2.2. Middle East & Africa Preeclampsia Laboratory Testing Market Outlook, by Preeclampsia Type, Value (US$ Million) and Volume (,000), 2019 - 2027
8.2.2.1. Mild Preeclampsia
8.2.2.2. Severe Preeclampsia
8.2.3. Middle East & Africa Share and BPS Analysis, by Preeclampsia Type, Value and Volume, 2022 and 2027
8.2.4. Middle East & Africa Preeclampsia Laboratory Testing Market Attractiveness Analysis, by Preeclampsia Type, Value and Volume, 2022 - 2027
8.3. Middle East & Africa Preeclampsia Laboratory Testing Market Outlook, By End User, 2019 - 2027
8.3.1. Key Highlights
8.3.1. Middle East & Africa Preeclampsia Laboratory Testing Market Outlook, by End User, Value (US$ Million) and Volume (,000), 2019 - 2027
8.3.1.1. Hospitals & Clinics
8.3.1.2. Diagnostics Centres
8.3.1.3. Others
8.3.2. Middle East & Africa Preeclampsia Laboratory Testing Market Share and BPS Analysis, by End User, Value and Volume, 2022 and 2027
8.3.3. Middle East & Africa Preeclampsia Laboratory Testing Market Attractiveness Analysis, by End User, Value and Volume, 2022 - 2027
8.4. Middle East & Africa Preeclampsia Laboratory Testing Market Outlook, By Country, 2019 - 2027
8.4.1. Key Highlights
8.4.2. Middle East & Africa Preeclampsia Laboratory Testing Market Outlook, by Country, Value (US$ Million) and Volume (,000), 2019 - 2027
8.4.2.1. GCC Countries
8.4.2.2. South Africa
8.4.2.3. Rest of Middle East & Africa
8.4.3. Middle East & Africa Preeclampsia Laboratory Testing Market Share and BPS Analysis, by Country, Value and Volume, 2022 and 2027
8.4.4. Middle East & Africa Preeclampsia Laboratory Testing Market Attractiveness Analysis, by Country, Value and Volume, 2022 - 2027

9. Competitive Landscape
9.1. Market Share Analysis, 2019
9.2. Company Profiles
9.2.1. PerkinElmer Inc.
9.2.1.1. Company overview
9.2.1.2. Financial performance
9.2.1.3. Test Type Portfolio
9.2.1.4. Recent Developments
Above details will include, but not be limited to below list of companies based on availability
9.2.2. DiabetOmics Inc.,
9.2.3. DRG Diagnostics GMBH
9.2.4. GestVision, Inc.
9.2.5. F. Hoffmann-La Roche Ltd.
9.2.6. Lifeassay Diagnostics (Pty) Ltd
9.2.7. Metabolomic Diagnostics Ltd.
9.2.8. Progenity Inc.
9.2.9. Quidel Corporation
9.2.10. Siemens Healthineers AG
9.2.11. ThermoFischer Scientific Inc.
Other Leading Players

10. Appendix
10.1. Research Methodology
10.2. Report Specific Research Approach