Global Probiotics Market Forecast
Global probiotics market valuation poised to take a leap from US$52.1 Bn in 2022 to US$98.6 Bn in 2030
Market size slated for a robust CAGR of 8.3% between

2023 and 2030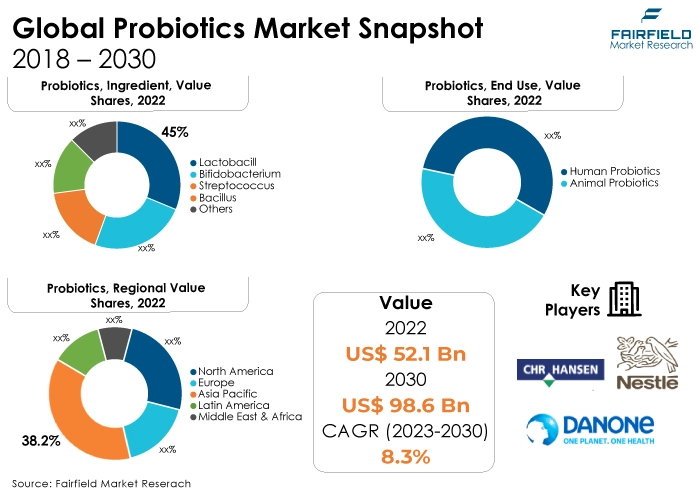 Quick Report Digest
The key trend anticipated to drive the probiotics market growth is an increasing demand for probiotics for skin health. Furthermore, Skincare is becoming more popular, and holistic methods for skin health are becoming more popular. Customers are increasingly looking for products that use probiotics and address both the interior and outward aspects of skin health.
Another major market trend expected to drive the probiotics market growth is the rapidly expanding Probiotics for sports nutrition. The value of intestinal health for overall performance is becoming more and more recognized by athletes. For nutritional absorption, energy production, and immunological function, a healthy gut flora is crucial, and probiotics can help maintain it.
Probiotic strains might be difficult to keep viable and potent for the duration of the product's shelf-life. Consistent quality and effectiveness are important yet challenging to guarantee, especially when using live microorganisms.
In 2022, the lactobacilli category dominated the industry. The immune system is thought to be strengthened by lactobacilli. As a result, the risk of allergies and infections may be reduced. They can alter the immunological response.
In 2022, the probiotic food and beverages category dominated the industry. Probiotics are being added to dairy-free substitutes like almond milk yogurt, and coconut milk kefir more frequently these days. These goods are suitable for vegans and consumers with lactose sensitivity.
The animal probiotics category is expected to experience the fastest growth within the forecast time frame. Animals are especially vulnerable to the negative effects of stress during stressful situations like weaning and transportation. Probiotics are sometimes used to support immunological health and stress management in animals.
Asia Pacific is expected to dominate the probiotics market during the forecast period. Asia Pacific has seen an increase in the prevalence of Western eating habits, including a higher intake of processed foods. In order to offset the effects of such diets, this has increased digestive problems, which has increased the demand for probiotics.
North America is expected to be the fastest-growing probiotics market region. Probiotic products are widely available in North America and include supplements, yogurt, kefir, fermented meals, and more. This variety accommodates a range of consumer tastes and nutritional needs.
A Look Back and a Look Forward - Comparative Analysis
Chronic inflammation is a prevalent aspect of chronic diseases, which may exacerbate symptoms and speed up the course of the illness. Probiotics contain anti-inflammatory properties and can help control inflammation in the body. Probiotics are frequently used as an adjunctive or complementary therapy in conjunction with traditional therapies for chronic disorders. They might improve treatment results and quality of life.
Cardiovascular problems are more likely in those with certain chronic conditions, including diabetes and hypertension. Researchers are looking into the possibility of some probiotics enhancing heart health by regulating blood pressure and cholesterol levels.
The market witnessed staggered growth during the historical period 2018 - 2022. Synbiotics were particularly popular with customers who placed a high priority on digestive health. People started looking for synbiotic remedies as a result of problems like irritable bowel syndrome (IBS), constipation, and general digestive pain.
The demand for synbiotics extended beyond specific regions, contributing to the growth of the global probiotics market. Companies provided options for a wide range of consumers by offering synbiotic products suited to particular health issues, age groups, and dietary preferences.
Probiotics can be used as a prophylactic step to reduce the risk of oral health issues, possibly lowering the need for invasive dental procedures in the coming years. Additionally, Probiotics may help in the management of bad breath (halitosis) by fostering a more favorable balance of oral bacteria and minimizing the presence of bacteria that produce odours.
Furthermore, Advanced Many people prefer non-invasive, all-natural approaches to maintaining oral health. Probiotics offer a non-abrasive, mild method of supporting dental hygiene during the next five years.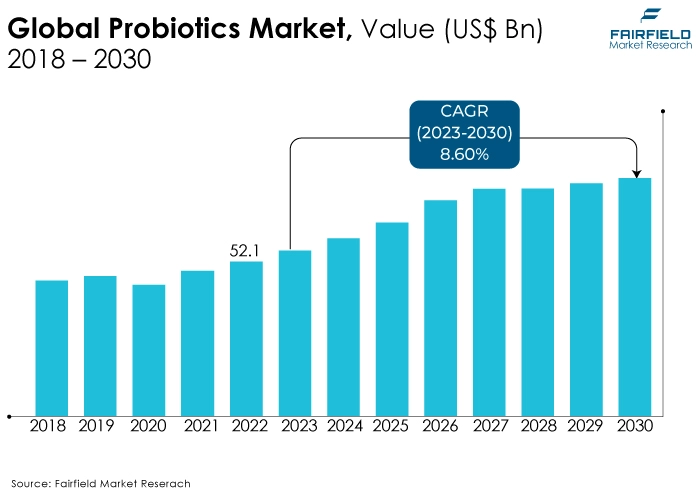 Key Growth Determinants
Perceived Health Benefits
Probiotics are associated with immune system support as well. Consumers are becoming more and more interested in ways to improve their immune systems, especially in the wake of health emergencies like the COVID-19 epidemic. The demand for probiotics marketed for their immune-boosting qualities has increased as a result of this increased awareness. Probiotics are thought of as a proactive strategy to keep one's health in check and delay the beginning of a number of diseases.
The probiotics industry is being further stimulated by this proactive attitude to health and wellbeing, which fits with a larger trend towards holistic and natural solutions.
Probiotics have grown in popularity among both consumers and healthcare professionals due to ongoing research into their advantages and a growing amount of scientific data. Probiotics are seen as a reliable and practical health remedy because of this expanding body of information.
Swelling Market for Probiotic Supplements
Customers can easily incorporate probiotics into their everyday routines by using probiotic pills. Because of its simplicity of usage, it is more available to people who might not routinely eat foods high in probiotics. Probiotic supplements are frequently created to address particular health conditions, including digestive problems, immune system support, and women's health.
Customers looking for specialized solutions for their well-being are drawn to this personalization. Probiotic supplements often have higher probiotic strain concentrations than food items, making them a more robust and concentrated supply of good bacteria.
Probiotic supplement producers frequently keep a careful eye on the consistency and quality control of their products, which helps to establish confidence with customers who want reassurance that the product is both effective and safe.
Pacing R&D Around Probiotics
Research and development activities result in the creation of enhanced probiotic formulations that increase the viability and stability of probiotics, ensuring that they endure the challenging circumstances of the digestive system and reach the intestines unharmed.
Research identifies synergistic interactions between probiotics and prebiotics that result in the creation of synbiotic products. Consumer interest is increased by these combinations' potential to provide improved health advantages.
Probiotics are now used in more contexts beyond only standard foods and supplements because of R&D initiatives. Probiotics are now being included in cosmetics, oral health, and other goods, expanding the market and creating new prospects.
Major Growth Barriers
Limited Scientific Understanding
Many probiotic strains have distinct health benefits, but the precise processes by which they work could be clearer. This lack of specificity makes it challenging for both consumers and healthcare professionals to choose the optimal probiotics for certain health concerns.
Due to differences in strains, doses, and study populations, scientific studies on probiotics might provide contradictory results. Consumers and healthcare professionals may need clarification about which probiotics to prescribe or use as a result of this variance.
Probiotics have been the subject of comparatively few long-term studies. It is challenging to evaluate the potential risks and advantages associated with the long-term usage of probiotics because there is a lack of long-term data.
High Expenses Involved in R&D of New Probiotic Strains
Many companies, especially smaller ones, may decide against investing in the creation of novel probiotic strains due to high R&D costs. This innovation restriction can hamper the release of innovative strains that may be more potent.
The significant costs incurred by R&D, including clinical trials and research studies, may increase the cost of producing probiotic products. Customers can be hesitant to buy probiotic pills or meals that cost more money as a result.
The high cost of R&D can make it difficult for new businesses and startups to compete in the market. A smaller number of competitors in the market may result in a smaller selection of products and higher pricing for consumers.
Key Trends and Opportunities to Look at
The Personalised Probiotics Buzz
Personalized probiotics are made to treat specific health issues, which may make them more successful than probiotic products that are made to fit all people. The likelihood that consumers would see a difference in their health will raise demand.
Based on the unique health circumstances and microbiome profile of a patient, healthcare practitioners may suggest personalised probiotics. This recommendation may increase sales and consumer confidence. By providing specialized health solutions, personalized probiotics engage customers more deeply. A higher level of brand loyalty and repeat business may result from this involvement.
Rising Use of Probiotics in Mental Health Sector
The connection between gut health and mental health is becoming increasingly more widely known. Probiotic products are becoming increasingly popular among customers as they become more aware of the benefits for mental health.
Probiotics have been studied for their potential to alleviate anxiety, stress, and even depressive symptoms. Probiotics may be used as a supplemental treatment or as a preventative step by consumers who are suffering from these illnesses.
Rise of Plant-based Probiotics
Many consumers are adopting vegetarian, vegan, or plant-based diets for health, environmental, or ethical reasons. Plant-based probiotics provide an option that aligns with these dietary preferences.
By providing plant-based probiotics, businesses can reach a wider customer base that includes vegans, vegetarians, and people who have lactose intolerance or dairy allergies. Sales may rise as a result of this wider distribution.
Probiotics and plant-based meals combine to provide useful items that help intestinal health as well as the nutritional advantages of plant-based diets.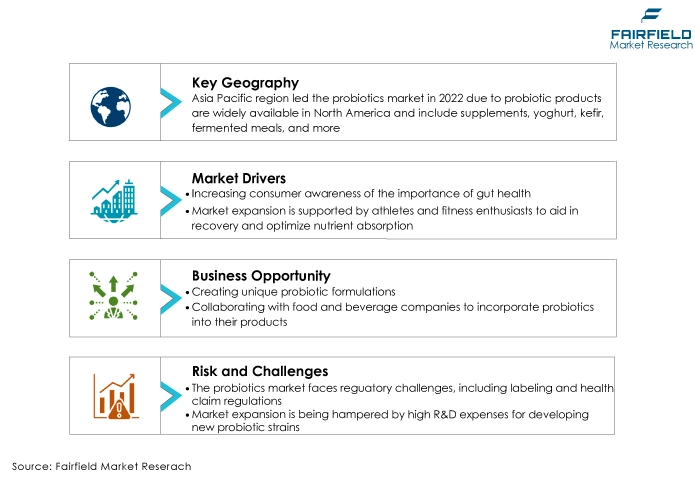 How Does the Regulatory Scenario Shape this Industry?
Over the last three years, probiotics have been regulated by the Food and Drug Administration (FDA) as either dietary supplements or as ingredients in food. Manufacturers must abide by labeling and safety regulations. The FDA's rules affect how probiotics are sold and labeled in the United States.
Stricter laws may impact marketing tactics and product claims. In the European Union (EU), the European Food Safety Authority (EFSA) assesses probiotic product health claims. Scientific data must support health claims, and only authorized claims may be made by products. This regulatory monitoring impacts the EU's marketing and sales of probiotics. Probiotic products are governed in Canada by Health Canada.
Manufacturers must adhere to strict guidelines for the safety and caliber of their products. Probiotics sold in the Canadian market are held to set criteria because of Health Canada's regulations. In Australia, the Therapeutic Goods Administration (TGA) regulates therapeutic goods, including some probiotic products with therapeutic claims. Probiotics must adhere to TGA regulations in order to be marketed in Australia.
Fairfield's Ranking Board
Top Segments
Lactobacilli Category Maintains Dominance over Bifidobacterium Segments
The lactobacilli segment dominated the market in 2022. Lactobacilli is one of the most well-liked probiotic strains for improving digestive health. As a result, the indications and symptoms of digestive disorders such as diarrhea, IBS, and constipation are lessened. They can also help maintain a healthy gut microbiota.
Some strains of lactobacilli, including Lactobacillus acidophilus, generate the enzyme lactase that helps in the digestion of lactose. By making dairy products easier to digest, this is advantageous for people who are lactose intolerant.
Furthermore, the bifidobacterium category is projected to experience the fastest market growth. One of the first bacterial species that populate a baby's stomach is bifidobacterium. Natural Bifidobacterium found in breast milk helps newborns develop a balanced gut flora. Infant feeds frequently contain probiotics that contain bifidobacterium.
Probiotic F&B Sales Spearhead
The probiotic food and beverages segment dominated the market in 2022. Enzymes and probiotics are being added to food and beverage products by manufacturers more frequently. The demand from consumers for foods with higher nutrient and fiber contents is to blame for this.
Probiotics and other digestive components are frequently used in fish oil and yogurt to lower the risk of troubles with gut health. Due to rising awareness of ways to improve quality of life and a rise in disposable income, probiotics have gained popularity among consumers as a treatment for various health issues.
The probiotics dietary supplements category is anticipated to grow substantially throughout the projected period. Due to the rising interest in wellness programs as a result of rising health-related problems like high blood pressure, unhealthy lifestyles, obesity, and improper nutrition. In order to treat various gastrointestinal conditions, dental caries, and breast cancer, these supplements help develop a robust immune system.
Human Probiotics Retain Dominance
The human probiotics segment dominated the market in 2022. Globally, the aging population is rapidly growing, and this trend is likely to cause an increase in chronic diseases. This, in turn, is expected to increase the demand for probiotics and other microbes to control the threat of the most serious chronic diseases, such as colon cancer, inflammatory bowel disease (IBD), and diarrheal diseases.
The segment of animal probiotics is anticipated to grow at the fastest rate during the projected period. Probiotics have become more widely used in farm animals' diets during the past few years.
Probiotics have been successfully used in animal feed to improve animal performance, digestion, and immune systems. The need to use fewer antibiotics in animal husbandry and the growing emphasis on animal welfare has increased the demand for animal probiotics.
Regional Frontrunners
Asia Pacific Represents the Largest Playing Ground for Probiotics Brands
Throughout the projected period, Asia Pacific is anticipated to dominate the probiotics market. The Asia Pacific countries considered for the market study are China, Japan, India, Australia, and New Zealand. Due to the popularity of the Japanese brand "Yakult," one of the key reasons affecting the market acceptance of probiotics is customer awareness of the health advantages associated with them.
The largest probiotic markets in the area are in China and Japan, whereas the nations with the greatest economic growth are Australia and New Zealand. Japan's large elderly population is expected to lead to a significant demand for probiotic dietary supplements.
Due to the increasing demand for meat in the area, the feed probiotics business is also well-established. China, a significant probiotics market, is the world's largest producer and consumer of meat, which stimulates demand for probiotics for animal feed.
Moreover, the market is anticipated to increase in the future due to the rising population, booming economies, and rising demand for functional foods.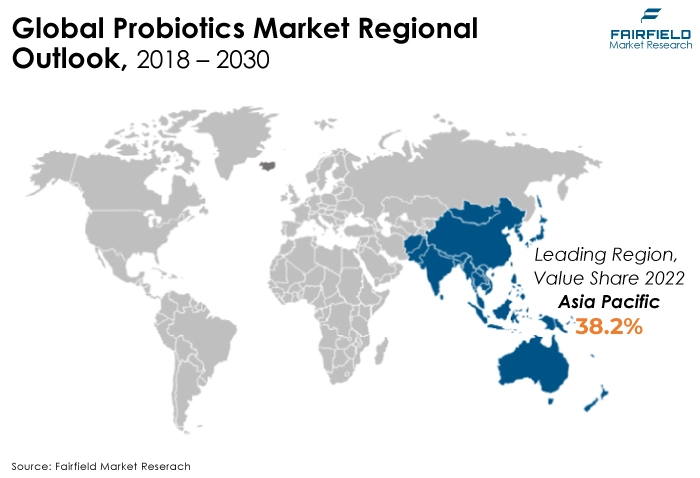 North America Boasts Strong Market Presence
The region with the fastest-growing probiotics market is predicted to be North America. The functional food and beverage market in North America is well-established. Products containing probiotics are frequently promoted as functional foods, which appeal to customers seeking both flavour and health advantages.
The probiotics industry has a strong presence in North America. Research and development expenditures by academic institutions and industry participants have resulted in the development of new probiotic strains and commercial formulations. Probiotic products are subject to rules and oversight from North American regulatory agencies like the U.S. FDA and Health Canada. Consumers can feel confident with probiotics thanks to this regulatory system, which helps ensure product safety and quality.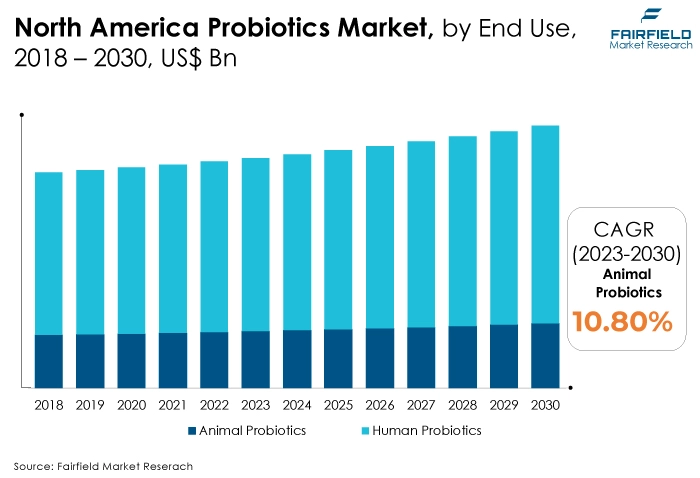 Fairfield's Competitive Landscape Analysis
A smaller group of well-known companies dominates the consolidated global market for probiotics. Large corporations are introducing new products and updating their distribution networks in an effort to grow internationally. Moreover, Fairfield Market Research is expecting the market to witness more consolidation over the coming years.
Who are the Leaders in the Global Probiotics Space?
Significant Company Developments
New Product Launches
September 2022: In China, Nestle Garden of Life launched its first probiotic product that may be used in baby food. Infant cereal is a significant contributor to the infant food category's market share, driven by the industry's expanding innovations.
July 2022: A new product was launched by BioGaia. A probiotic supplement called BioGaia Pharax is available on the UK market to improve children's respiratory health.
October 2021: General Mills Inc. (US) launched the fruit and fiber-rich snack known as Doolies for young children. The immune system and digestive system are supported by the stable probiotic BC-30 that is present in it. The company will benefit from the product introduction by being able to increase the selection of probiotics it offers for children.
Distribution Agreements
August 2023: ADM, an industry leader in nutrition solutions, and Lallemand Health Solutions, a leading probiotic company, have announced a new distribution partnership. Customers of ADM in more than 200 countries will now have access to Lallemand's probiotic products due to the deal.
February 2022: To increase the availability of AB21 probiotics through different pharmacies and online channels in South Korea, AB-Biotics and AceBiome entered into a strategic partnership. This strategic move was made by the company in order to broaden its clientele, reach new markets, and take advantage of growing business prospects in the Asia Pacific area.
An Expert's Eye
Demand and Future Growth
As per Fairfield's Analysis, consumers have greater financial flexibility to spend on probiotics and other health and wellness items as disposable incomes rise. They are more likely to be able to buy functional meals and probiotic supplements that cost more money.
Furthermore, higher-income consumers frequently go for premium or specialized probiotic products with extra features like particular strain combinations, improved efficacy, or convenience, which helps the industry grow. However, the probiotics market is expected to face considerable challenges because of limited scientific understanding.
Supply Side of the Market
According to our analysis, the North American probiotics market is the largest supplier in the world, accounting for over 30% of the global market share. In North America, the probiotics market is mostly concentrated in the United States. Danone, Procter & Gamble, Nestlé, Yakult Honsha, and Lallemand are some of the top probiotics suppliers in the US.
A significant number of vendors are active in the probiotics market, which is very competitive. To create novel probiotic products, the leading providers are significantly funding research and development. To satisfy the rising demand for probiotics, the suppliers are also increasing their production capacity.
The largest market in North America is in the United States, followed by Canada. In North America, 30 billion CFUs of probiotics are consumed on average per day. With more than 25% of the global market share, the
European probiotics market is the second largest in the world. The largest market in Europe is in Germany, followed by France. Around 25 billion CFUs of probiotics are consumed on a daily basis in Europe. Probiotic consumption varies widely from country to country. This is caused by a variety of factors, including the level of probiotic awareness, the accessibility of probiotic products, and probiotic cultural views.
Global Probiotics Market is Segmented as Below:
By Ingredient:
Lactobacilli
Bifidobacterium
Streptococcus
Bacillus
Others
By Application:
Probiotic Food and Beverages
Dairy products
Nondairy products
Cereals
Baked food
Fermented meat products
Dry food probiotics
Probiotics Dietary Supplements
Food supplement
Nutritional supplements
Specialty nutrients
Infant formula
Animal Feed Probiotics
By End Use:
Human Probiotics
Animal Probiotics
By Geographic Coverage:
North America
Europe

Germany
U.K.
France
Italy
Turkey
Russia
Rest of Europe

Asia Pacific

China
Japan
South Korea
India
Southeast Asia
Rest of Asia Pacific

Latin America

Brazil
Mexico
Argentina
Rest of Latin America

Middle East & Africa

GCC
South Africa
Egypt
Nigeria
Rest of Middle East & Africa
1. Executive Summary
1.1. Global Probiotics Market Snapshot
1.2. Future Projections
1.3. Key Market Trends
1.4. Regional Snapshot, by Value, 2022
1.5. Analyst Recommendations

2. Market Overview
2.1. Market Definitions and Segmentations
2.2. Market Dynamics
2.2.1. Drivers
2.2.2. Restraints
2.2.3. Market Opportunities
2.3. Value Chain Analysis
2.4. Porter's Five Forces Analysis
2.5. COVID-19 Impact Analysis
2.5.1. Supply
2.5.2. Demand
2.6. Impact of Ukraine-Russia Conflict
2.7. Economic Overview
2.7.1. World Economic Projections
2.8. PESTLE Analysis

3. Global Probiotics Market Outlook, 2018 - 2030
3.1. Global Probiotics Market Outlook, by Ingredient, Value (US$ Bn), 2018 - 2030
3.1.1. Key Highlights
3.1.1.1. Lactobacilli
3.1.1.2. Bifidobacterium
3.1.1.3. Streptococcus
3.1.1.4. Bacillus
3.1.1.5. Others
3.2. Global Probiotics Market Outlook, by Application, Value (US$ Bn), 2018 - 2030
3.2.1. Key Highlights
3.2.1.1. Probiotic Food and Beverages
3.2.1.2. Dairy products
3.2.1.3. Nondairy products
3.2.1.4. Cereals
3.2.1.5. Baked food
3.2.1.6. Fermented meat products
3.2.1.7. Dry food probiotics
3.2.1.8. Probiotics Dietary Supplements
3.2.1.9. Food supplement
3.2.1.10. Nutritional supplements
3.2.1.11. Specialty nutrients
3.2.1.12. Infant formula
3.2.1.13. Animal Feed Probiotics
3.3. Global Probiotics Market Outlook, by End Use, Value (US$ Bn), 2018 - 2030
3.3.1. Key Highlights
3.3.1.1. Human Probiotics
3.3.1.2. Animal Probiotics
3.4. Global Probiotics Market Outlook, by Region, Value (US$ Bn), 2018 - 2030
3.4.1. Key Highlights
3.4.1.1. North America
3.4.1.2. Europe
3.4.1.3. Asia Pacific
3.4.1.4. Latin America
3.4.1.5. Middle East & Africa

4. North America Probiotics Market Outlook, 2018 - 2030
4.1. North America Probiotics Market Outlook, by Ingredient, Value (US$ Bn), 2018 - 2030
4.1.1. Key Highlights
4.1.1.1. Lactobacilli
4.1.1.2. Bifidobacterium
4.1.1.3. Streptococcus
4.1.1.4. Bacillus
4.1.1.5. Others
4.2. North America Probiotics Market Outlook, by Application, Value (US$ Bn), 2018 - 2030
4.2.1. Key Highlights
4.2.1.1. Probiotic Food and Beverages
4.2.1.2. Dairy products
4.2.1.3. Nondairy products
4.2.1.4. Cereals
4.2.1.5. Baked food
4.2.1.6. Fermented meat products
4.2.1.7. Dry food probiotics
4.2.1.8. Probiotics Dietary Supplements
4.2.1.9. Food supplement
4.2.1.10. Nutritional supplements
4.2.1.11. Specialty nutrients
4.2.1.12. Infant formula
4.2.1.13. Animal Feed Probiotics
4.3. North America Probiotics Market Outlook, by End Use, Value (US$ Bn), 2018 - 2030
4.3.1. Key Highlights
4.3.1.1. Human Probiotics
4.3.1.2. Animal Probiotics
4.3.2. BPS Analysis/Market Attractiveness Analysis
4.4. North America Probiotics Market Outlook, by Country, Value (US$ Bn), 2018 - 2030
4.4.1. Key Highlights
4.4.1.1. U.S. Probiotics Market by Ingredient, Value (US$ Bn), 2018 - 2030
4.4.1.2. U.S. Probiotics Market Application, Value (US$ Bn), 2018 - 2030
4.4.1.3. U.S. Probiotics Market End Use, Value (US$ Bn), 2018 - 2030
4.4.1.4. Canada Probiotics Market by Ingredient, Value (US$ Bn), 2018 - 2030
4.4.1.5. Canada Probiotics Market Application, Value (US$ Bn), 2018 - 2030
4.4.1.6. Canada Probiotics Market End Use, Value (US$ Bn), 2018 - 2030
4.4.2. BPS Analysis/Market Attractiveness Analysis

5. Europe Probiotics Market Outlook, 2018 - 2030
5.1. Europe Probiotics Market Outlook, by Ingredient, Value (US$ Bn), 2018 - 2030
5.1.1. Key Highlights
5.1.1.1. Lactobacilli
5.1.1.2. Bifidobacterium
5.1.1.3. Streptococcus
5.1.1.4. Bacillus
5.1.1.5. Others
5.2. Europe Probiotics Market Outlook, by Application, Value (US$ Bn), 2018 - 2030
5.2.1. Key Highlights
5.2.1.1. Probiotic Food and Beverages
5.2.1.2. Dairy products
5.2.1.3. Nondairy products
5.2.1.4. Cereals
5.2.1.5. Baked food
5.2.1.6. Fermented meat products
5.2.1.7. Dry food probiotics
5.2.1.8. Probiotics Dietary Supplements
5.2.1.9. Food supplement
5.2.1.10. Nutritional supplements
5.2.1.11. Specialty nutrients
5.2.1.12. Infant formula
5.2.1.13. Animal Feed Probiotics
5.3. Europe Probiotics Market Outlook, by End Use, Value (US$ Bn), 2018 - 2030
5.3.1. Key Highlights
5.3.1.1. Human Probiotics
5.3.1.2. Animal Probiotics
5.3.2. BPS Analysis/Market Attractiveness Analysis
5.4. Europe Probiotics Market Outlook, by Country, Value (US$ Bn), 2018 - 2030
5.4.1. Key Highlights
5.4.1.1. Germany Probiotics Market by Ingredient, Value (US$ Bn), 2018 - 2030
5.4.1.2. Germany Probiotics Market Application, Value (US$ Bn), 2018 - 2030
5.4.1.3. Germany Probiotics Market End Use, Value (US$ Bn), 2018 - 2030
5.4.1.4. U.K. Probiotics Market by Ingredient, Value (US$ Bn), 2018 - 2030
5.4.1.5. U.K. Probiotics Market Application, Value (US$ Bn), 2018 - 2030
5.4.1.6. U.K. Probiotics Market End Use, Value (US$ Bn), 2018 - 2030
5.4.1.7. France Probiotics Market by Ingredient, Value (US$ Bn), 2018 - 2030
5.4.1.8. France Probiotics Market Application, Value (US$ Bn), 2018 - 2030
5.4.1.9. France Probiotics Market End Use, Value (US$ Bn), 2018 - 2030
5.4.1.10. Italy Probiotics Market by Ingredient, Value (US$ Bn), 2018 - 2030
5.4.1.11. Italy Probiotics Market Application, Value (US$ Bn), 2018 - 2030
5.4.1.12. Italy Probiotics Market End Use, Value (US$ Bn), 2018 - 2030
5.4.1.13. Turkey Probiotics Market by Ingredient, Value (US$ Bn), 2018 - 2030
5.4.1.14. Turkey Probiotics Market Application, Value (US$ Bn), 2018 - 2030
5.4.1.15. Turkey Probiotics Market End Use, Value (US$ Bn), 2018 - 2030
5.4.1.16. Russia Probiotics Market by Ingredient, Value (US$ Bn), 2018 - 2030
5.4.1.17. Russia Probiotics Market Application, Value (US$ Bn), 2018 - 2030
5.4.1.18. Russia Probiotics Market End Use, Value (US$ Bn), 2018 - 2030
5.4.1.19. Rest of Europe Probiotics Market by Ingredient, Value (US$ Bn), 2018 - 2030
5.4.1.20. Rest of Europe Probiotics Market Application, Value (US$ Bn), 2018 - 2030
5.4.1.21. Rest of Europe Probiotics Market End Use, Value (US$ Bn), 2018 - 2030
5.4.2. BPS Analysis/Market Attractiveness Analysis

6. Asia Pacific Probiotics Market Outlook, 2018 - 2030
6.1. Asia Pacific Probiotics Market Outlook, by Ingredient, Value (US$ Bn), 2018 - 2030
6.1.1. Key Highlights
6.1.1.1. Lactobacilli
6.1.1.2. Bifidobacterium
6.1.1.3. Streptococcus
6.1.1.4. Bacillus
6.1.1.5. Others
6.2. Asia Pacific Probiotics Market Outlook, by Application, Value (US$ Bn), 2018 - 2030
6.2.1. Key Highlights
6.2.1.1. Probiotic Food and Beverages
6.2.1.2. Dairy products
6.2.1.3. Nondairy products
6.2.1.4. Cereals
6.2.1.5. Baked food
6.2.1.6. Fermented meat products
6.2.1.7. Dry food probiotics
6.2.1.8. Probiotics Dietary Supplements
6.2.1.9. Food supplement
6.2.1.10. Nutritional supplements
6.2.1.11. Specialty nutrients
6.2.1.12. Infant formula
6.2.1.13. Animal Feed Probiotics
6.3. Asia Pacific Probiotics Market Outlook, by End Use, Value (US$ Bn), 2018 - 2030
6.3.1. Key Highlights
6.3.1.1. Human Probiotics
6.3.1.2. Animal Probiotics
6.3.2. BPS Analysis/Market Attractiveness Analysis
6.4. Asia Pacific Probiotics Market Outlook, by Country, Value (US$ Bn), 2018 - 2030
6.4.1. Key Highlights
6.4.1.1. China Probiotics Market by Ingredient, Value (US$ Bn), 2018 - 2030
6.4.1.2. China Probiotics Market Application, Value (US$ Bn), 2018 - 2030
6.4.1.3. China Probiotics Market End Use, Value (US$ Bn), 2018 - 2030
6.4.1.4. Japan Probiotics Market by Ingredient, Value (US$ Bn), 2018 - 2030
6.4.1.5. Japan Probiotics Market Application, Value (US$ Bn), 2018 - 2030
6.4.1.6. Japan Probiotics Market End Use, Value (US$ Bn), 2018 - 2030
6.4.1.7. South Korea Probiotics Market by Ingredient, Value (US$ Bn), 2018 - 2030
6.4.1.8. South Korea Probiotics Market Application, Value (US$ Bn), 2018 - 2030
6.4.1.9. South Korea Probiotics Market End Use, Value (US$ Bn), 2018 - 2030
6.4.1.10. India Probiotics Market by Ingredient, Value (US$ Bn), 2018 - 2030
6.4.1.11. India Probiotics Market Application, Value (US$ Bn), 2018 - 2030
6.4.1.12. India Probiotics Market End Use, Value (US$ Bn), 2018 - 2030
6.4.1.13. Southeast Asia Probiotics Market by Ingredient, Value (US$ Bn), 2018 - 2030
6.4.1.14. Southeast Asia Probiotics Market Application, Value (US$ Bn), 2018 - 2030
6.4.1.15. Southeast Asia Probiotics Market End Use, Value (US$ Bn), 2018 - 2030
6.4.1.16. Rest of Asia Pacific Probiotics Market by Ingredient, Value (US$ Bn), 2018 - 2030
6.4.1.17. Rest of Asia Pacific Probiotics Market Application, Value (US$ Bn), 2018 - 2030
6.4.1.18. Rest of Asia Pacific Probiotics Market End Use, Value (US$ Bn), 2018 - 2030
6.4.2. BPS Analysis/Market Attractiveness Analysis

7. Latin America Probiotics Market Outlook, 2018 - 2030
7.1. Latin America Probiotics Market Outlook, by Ingredient, Value (US$ Bn), 2018 - 2030
7.1.1. Key Highlights
7.1.1.1. Lactobacilli
7.1.1.2. Bifidobacterium
7.1.1.3. Streptococcus
7.1.1.4. Bacillus
7.1.1.5. Others
7.2. Latin America Probiotics Market Outlook, by Application, Value (US$ Bn), 2018 - 2030
7.2.1. Key Highlights
7.2.1.1. Probiotic Food and Beverages
7.2.1.2. Dairy products
7.2.1.3. Nondairy products
7.2.1.4. Cereals
7.2.1.5. Baked food
7.2.1.6. Fermented meat products
7.2.1.7. Dry food probiotics
7.2.1.8. Probiotics Dietary Supplements
7.2.1.9. Food supplement
7.2.1.10. Nutritional supplements
7.2.1.11. Specialty nutrients
7.2.1.12. Infant formula
7.2.1.13. Animal Feed Probiotics
7.3. Latin America Probiotics Market Outlook, by End Use, Value (US$ Bn), 2018 - 2030
7.3.1. Key Highlights
7.3.1.1. Human Probiotics
7.3.1.2. Animal Probiotics
7.3.2. BPS Analysis/Market Attractiveness Analysis
7.4. Latin America Probiotics Market Outlook, by Country, Value (US$ Bn), 2018 - 2030
7.4.1. Key Highlights
7.4.1.1. Brazil Probiotics Market by Ingredient, Value (US$ Bn), 2018 - 2030
7.4.1.2. Brazil Probiotics Market Application, Value (US$ Bn), 2018 - 2030
7.4.1.3. Brazil Probiotics Market End Use, Value (US$ Bn), 2018 - 2030
7.4.1.4. Mexico Probiotics Market by Ingredient, Value (US$ Bn), 2018 - 2030
7.4.1.5. Mexico Probiotics Market Application, Value (US$ Bn), 2018 - 2030
7.4.1.6. Mexico Probiotics Market End Use, Value (US$ Bn), 2018 - 2030
7.4.1.7. Argentina Probiotics Market by Ingredient, Value (US$ Bn), 2018 - 2030
7.4.1.8. Argentina Probiotics Market Application, Value (US$ Bn), 2018 - 2030
7.4.1.9. Argentina Probiotics Market End Use, Value (US$ Bn), 2018 - 2030
7.4.1.10. Rest of Latin America Probiotics Market by Ingredient, Value (US$ Bn), 2018 - 2030
7.4.1.11. Rest of Latin America Probiotics Market Application, Value (US$ Bn), 2018 - 2030
7.4.1.12. Rest of Latin America Probiotics Market End Use, Value (US$ Bn), 2018 - 2030
7.4.2. BPS Analysis/Market Attractiveness Analysis

8. Middle East & Africa Probiotics Market Outlook, 2018 - 2030
8.1. Middle East & Africa Probiotics Market Outlook, by Ingredient, Value (US$ Bn), 2018 - 2030
8.1.1. Key Highlights
8.1.1.1. Lactobacilli
8.1.1.2. Bifidobacterium
8.1.1.3. Streptococcus
8.1.1.4. Bacillus
8.1.1.5. Others
8.2. Middle East & Africa Probiotics Market Outlook, by Application, Value (US$ Bn), 2018 - 2030
8.2.1. Key Highlights
8.2.1.1. Probiotic Food and Beverages
8.2.1.2. Dairy products
8.2.1.3. Nondairy products
8.2.1.4. Cereals
8.2.1.5. Baked food
8.2.1.6. Fermented meat products
8.2.1.7. Dry food probiotics
8.2.1.8. Probiotics Dietary Supplements
8.2.1.9. Food supplement
8.2.1.10. Nutritional supplements
8.2.1.11. Specialty nutrients
8.2.1.12. Infant formula
8.2.1.13. Animal Feed Probiotics
8.3. Middle East & Africa Probiotics Market Outlook, by End Use, Value (US$ Bn), 2018 - 2030
8.3.1. Key Highlights
8.3.1.1. Human Probiotics
8.3.1.2. Animal Probiotics
8.3.2. BPS Analysis/Market Attractiveness Analysis
8.4. Middle East & Africa Probiotics Market Outlook, by Country, Value (US$ Bn), 2018 - 2030
8.4.1. Key Highlights
8.4.1.1. GCC Probiotics Market by Ingredient, Value (US$ Bn), 2018 - 2030
8.4.1.2. GCC Probiotics Market Application, Value (US$ Bn), 2018 - 2030
8.4.1.3. GCC Probiotics Market End Use, Value (US$ Bn), 2018 - 2030
8.4.1.4. South Africa Probiotics Market by Ingredient, Value (US$ Bn), 2018 - 2030
8.4.1.5. South Africa Probiotics Market Application, Value (US$ Bn), 2018 - 2030
8.4.1.6. South Africa Probiotics Market End Use, Value (US$ Bn), 2018 - 2030
8.4.1.7. Egypt Probiotics Market by Ingredient, Value (US$ Bn), 2018 - 2030
8.4.1.8. Egypt Probiotics Market Application, Value (US$ Bn), 2018 - 2030
8.4.1.9. Egypt Probiotics Market End Use, Value (US$ Bn), 2018 - 2030
8.4.1.10. Nigeria Probiotics Market by Ingredient, Value (US$ Bn), 2018 - 2030
8.4.1.11. Nigeria Probiotics Market Application, Value (US$ Bn), 2018 - 2030
8.4.1.12. Nigeria Probiotics Market End Use, Value (US$ Bn), 2018 - 2030
8.4.1.13. Rest of Middle East & Africa Probiotics Market by Ingredient, Value (US$ Bn), 2018 - 2030
8.4.1.14. Rest of Middle East & Africa Probiotics Market Application, Value (US$ Bn), 2018 - 2030
8.4.1.15. Rest of Middle East & Africa Probiotics Market End Use, Value (US$ Bn), 2018 - 2030
8.4.2. BPS Analysis/Market Attractiveness Analysis

9. Competitive Landscape
9.1. End Use vs End Use Heatmap
9.2. Manufacturer vs End Use Heatmap
9.3. Company Market Share Analysis, 2022
9.4. Competitive Dashboard
9.5. Company Profiles
9.5.1. DANONE
9.5.1.1. Company Overview
9.5.1.2. Product Portfolio
9.5.1.3. Financial Overview
9.5.1.4. Business Strategies and Development
9.5.2. Chr. Hansen
9.5.2.1. Company Overview
9.5.2.2. Product Portfolio
9.5.2.3. Financial Overview
9.5.2.4. Business Strategies and Development
9.5.3. Nestle
9.5.3.1. Company Overview
9.5.3.2. Product Portfolio
9.5.3.3. Financial Overview
9.5.3.4. Business Strategies and Development
9.5.4. PepsiCo Inc.
9.5.4.1. Company Overview
9.5.4.2. Product Portfolio
9.5.4.3. Financial Overview
9.5.4.4. Business Strategies and Development
9.5.5. Lifeway Foods Inc.
9.5.5.1. Company Overview
9.5.5.2. Product Portfolio
9.5.5.3. Financial Overview
9.5.5.4. Business Strategies and Development
9.5.6. Yakult Honsha Co. Ltd.
9.5.6.1. Company Overview
9.5.6.2. Product Portfolio
9.5.6.3. Financial Overview
9.5.6.4. Business Strategies and Development
9.5.7. BioGaia AB
9.5.7.1. Company Overview
9.5.7.2. Product Portfolio
9.5.7.3. Financial Overview
9.5.7.4. Business Strategies and Development
9.5.8. Kerry
9.5.8.1. Company Overview
9.5.8.2. Product Portfolio
9.5.8.3. Financial Overview
9.5.8.4. Business Strategies and Development
9.5.9. General Mills Inc.
9.5.9.1. Company Overview
9.5.9.2. Product Portfolio
9.5.9.3. Financial Overview
9.5.9.4. Business Strategies and Development
9.5.10. Arla Foods
9.5.10.1. Company Overview
9.5.10.2. Product Portfolio
9.5.10.3. Financial Overview
9.5.10.4. Business Strategies and Development
9.5.11. Probi AB
9.5.11.1. Company Overview
9.5.11.2. Product Portfolio
9.5.11.3. Financial Overview
9.5.11.4. Business Strategies and Development
9.5.12. DuPont De Nemours, Inc.
9.5.12.1. Company Overview
9.5.12.2. Product Portfolio
9.5.12.3. Financial Overview
9.5.12.4. Business Strategies and Development
9.5.13. i-Health, Inc.
9.5.13.1. Company Overview
9.5.13.2. Product Portfolio
9.5.13.3. Financial Overview
9.5.13.4. Business Strategies and Development
9.5.14. Lallemand Inc.
9.5.14.1. Company Overview
9.5.14.2. Product Portfolio
9.5.14.3. Financial Overview
9.5.14.4. Business Strategies and Development
9.5.15. Mother Dairy Fruit & Vegetable Pvt. Ltd
9.5.15.1. Company Overview
9.5.15.2. Product Portfolio
9.5.15.3. Financial Overview
9.5.15.4. Business Strategies and Development

10. Appendix
10.1. Research Methodology
10.2. Report Assumptions
10.3. Acronyms and Abbreviations